Puerto Rican Guava and Cream Cheese Dip | This Puerto Rican guava dip combines guava and cream cheese in a velvety, flavorful addition to your first course, cheese board, or potluck spread.
When I go to Puerto Rico, I go for two reasons: family and food. I visit family and I eat my way through Puerto Rico. It's awful. But I have been told that any food consumed while on vacation is calorie-free. Don't tell me it's not true! I don't want to hear it.
Normally when I go to Puerto Rico to eat…er, visit. I focus on classic comfort food: alcapurria, pernil, mofongo, and food like that. But while I was visiting last time, I came across a dip that flipped my lid. In Guaynabo, there is a gourmet market called La Hacienda. They sell guava, honey, and cream cheese dip, and it's amazing.
My mom bought some for Christmas Eve, and I pretty much parked myself right next to it. I knew that I had to recreate it and share it with the world!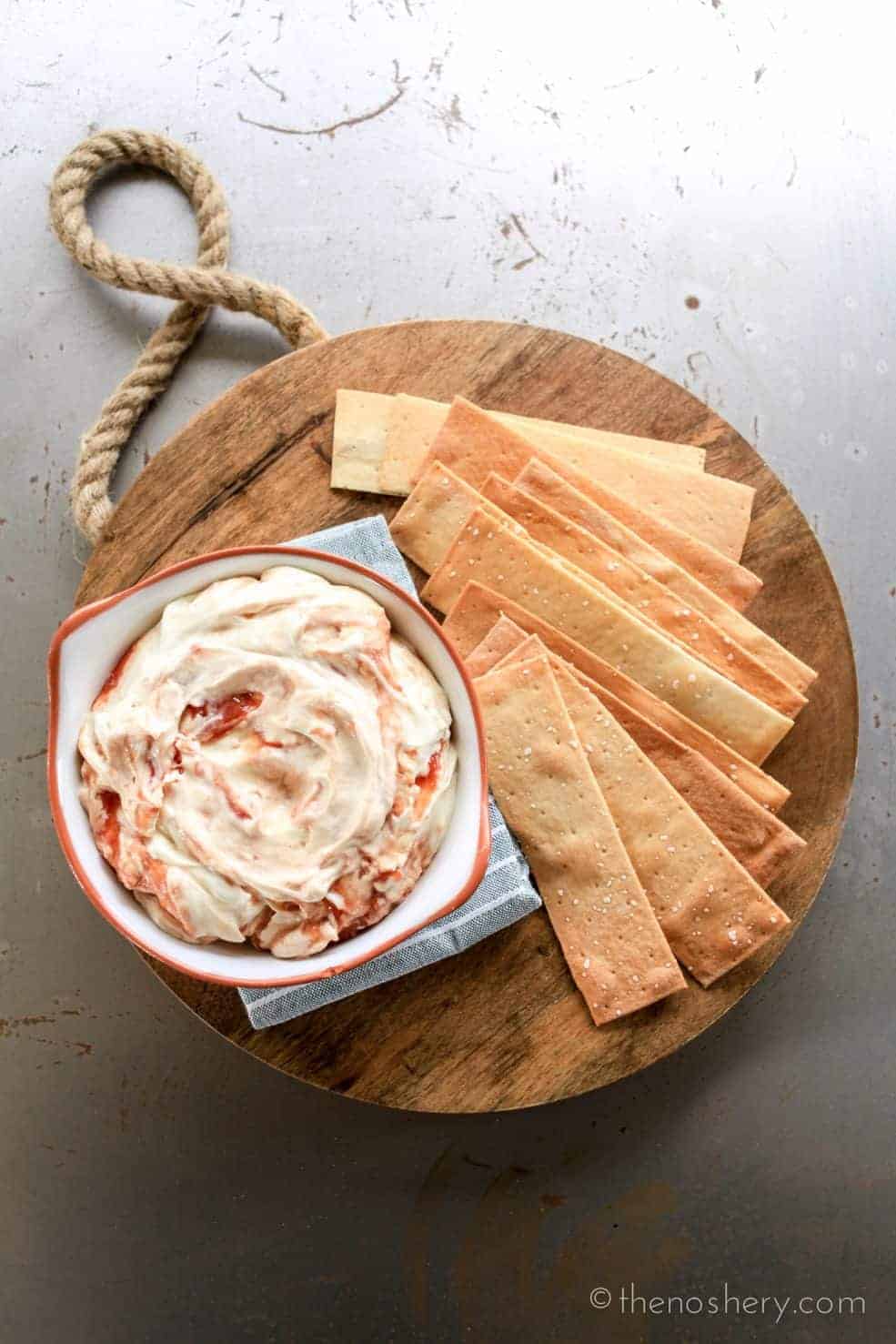 Ingredients for Puerto Rican Guava Dip
guava paste
cream cheese
sour cream
honey
minced garlic
salt to taste
What is Guava Paste in Puerto Rican guava dip?
TheKitchn.com sums it up pretty perfectly. "Guava paste – also known as guayabate or goiabada – is a very thick puree of guava fruit and sugar, often with added pectin. The consistency is similar to membrillo, or quince paste."
Where your fridges and pantries might always have bottles of ketchup, mustard, or ranch dressing, mine always has guava paste. It's sweet, the fruit tastes almost mango-like, and looks a little like a cranberry jelly but is much thicker and denser. Spanish carribean pastries also commonly feature guava.
Where to Buy Guava Paste
If you live near a big grocery store, you will likely find guava paste (or pasta de guayaba) in the international or Hispanic aisle. If not, visit your nearby Hispanic specialty grocery store or order it online.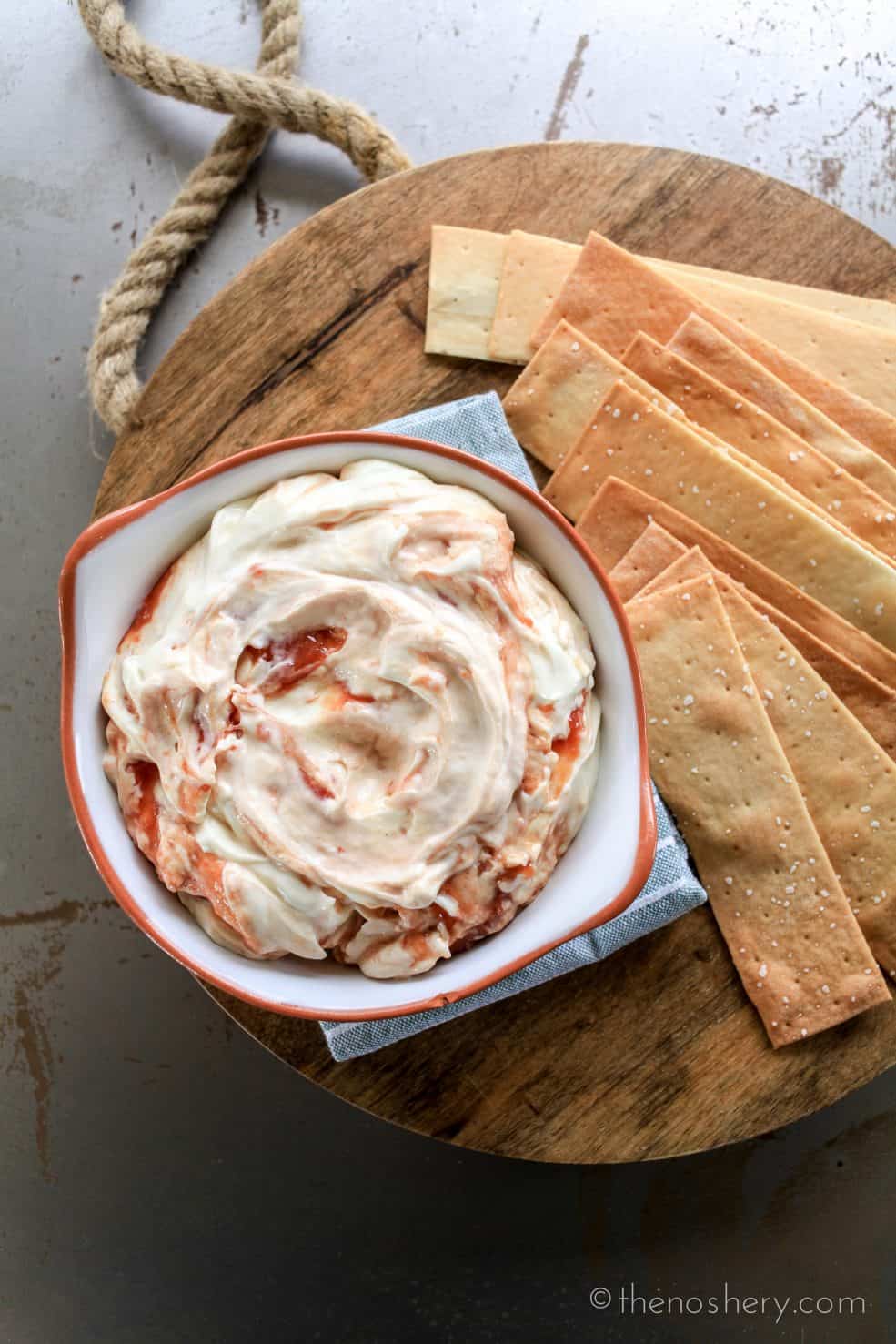 How to Use Guava Paste
Growing up I would enjoy guava paste as an after-school snack on crackers with cheese. Or give me a baking sheet and a frozen puff pastry square, and I would have all kinds of fun with guava fillings.
It adds flavor to savory guava appetizers and mains like Guava BBQ Chicken, Spicy Guava Glazed Shrimp & Coconut Milk Grits, and Easy Guava BBQ Ribs.
And it's quite the tasty ingredient in desserts like Guava and Cream Cheese Mini Fried Pies, Mantecaditos con Guayaba (Shortbread Almond Cookies with Guava), and Guava Swirl Cheesecake. Give me all the pastelitos de guayaba!
Cream Cheese and Guava
Cream cheese and guava (guayaba y queso) have always been a classic pairing. If you thought Cream Cheese Dip and Cheese Balls were delicious, wait until you try cream cheese with guava!
I've been enjoying this pairing for as long as I can remember. For a long time, I thought the best way to enjoy cream cheese and guava was in quesitos (guava cream cheese pastries). And, it still is, but now it has some serious competition.
Once I tasted this Puerto Rican guava dip, I read through the ingredient list and tasted it over and over trying to imprint it in my brain. Today, I share with you the dip that will blow your mind. BLOW-YOUR-MIND! It's creamy, sweet, a little savory, and freaking amazing!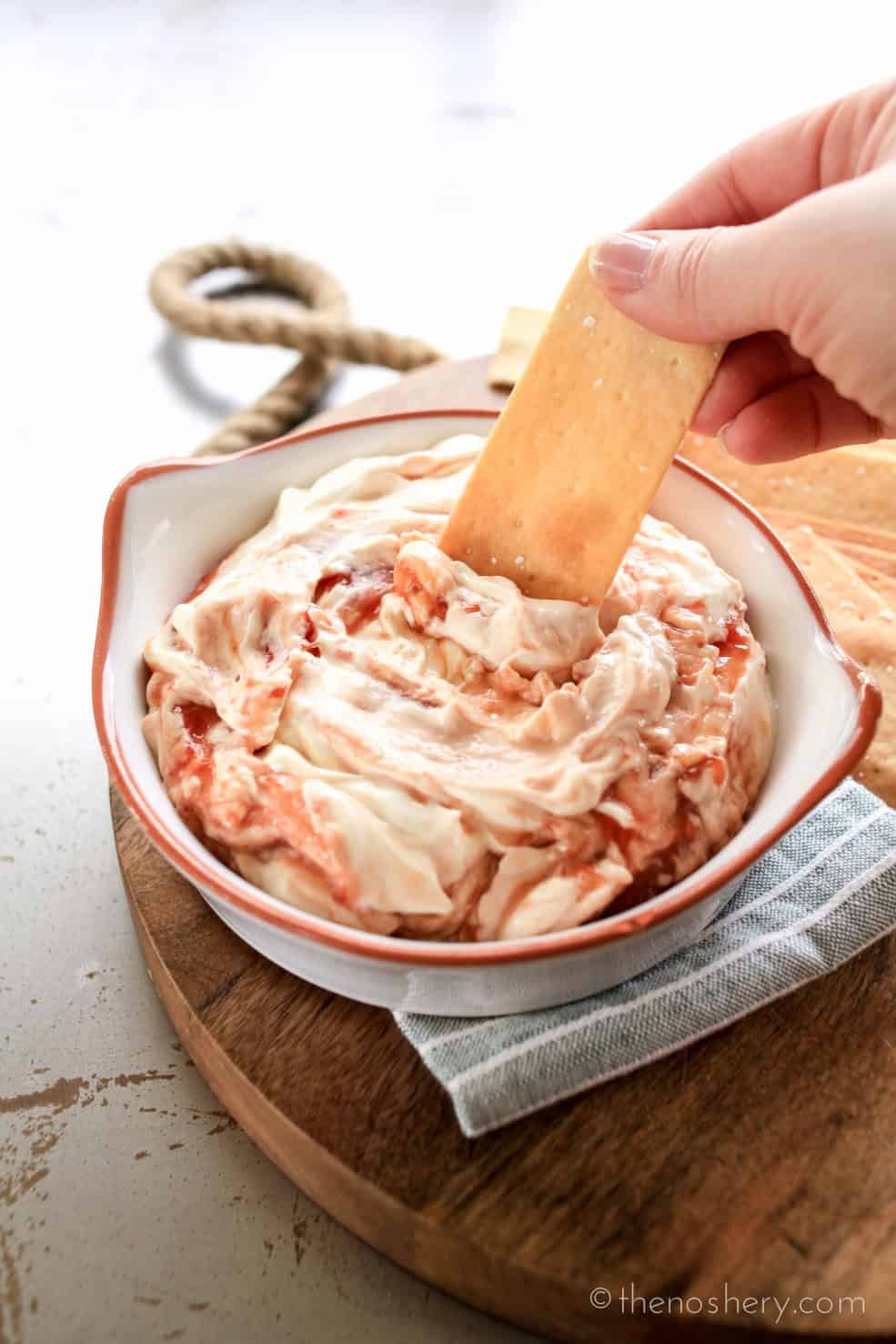 How to Make Puerto Rican Guava Dip
Add your guava paste and hot water to the bowl of a food processor. Blend until it's smooth and the paste has thinned out a little. Set this aside in a bowl.
Now, rinse the food processor and blend up the sour cream, honey, and garlic. Taste it and add a pinch of salt to make those flavors pop.
Pour this into a large bowl and fold in the guava. Your Puerto Rican guava dip can then be chilled in the refrigerator until you're ready to serve it.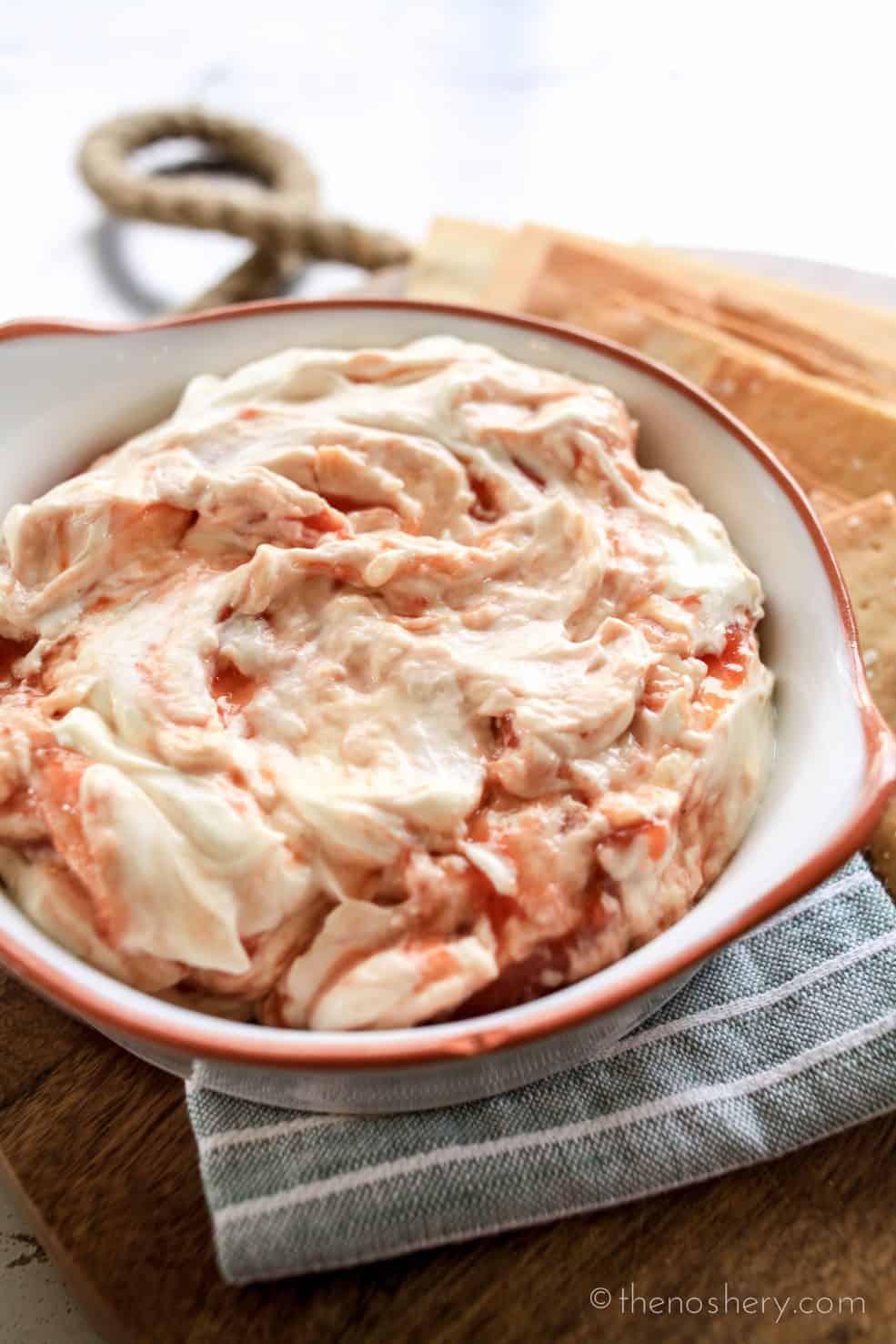 Puerto Rican guava dip is heaven in a bowl
I love this dip because it tastes like heaven, and it's ridiculously easy to make. If you can use a food processor, you're a few steps away from making this magic whenever you want.
The official annual dip day is right around the corner, people! If you don't know what I mean, I am talking about the Super Bowl. It's America's official dip day, and this is the dip that will make you the Super Bowl king/queen! GET IT!
I can guarantee that Puerto Rican guava dip will shine among the boring pasta salads at your next potluck or gathering. All your friends will be asking about this magical dip and begging you to bring it next time!
more Puerto Rican appetizers
For even more ideas, visit my entire Puerto Rican Recipe Collection!
Yield: 4 cups
Guava and Cream Cheese Dip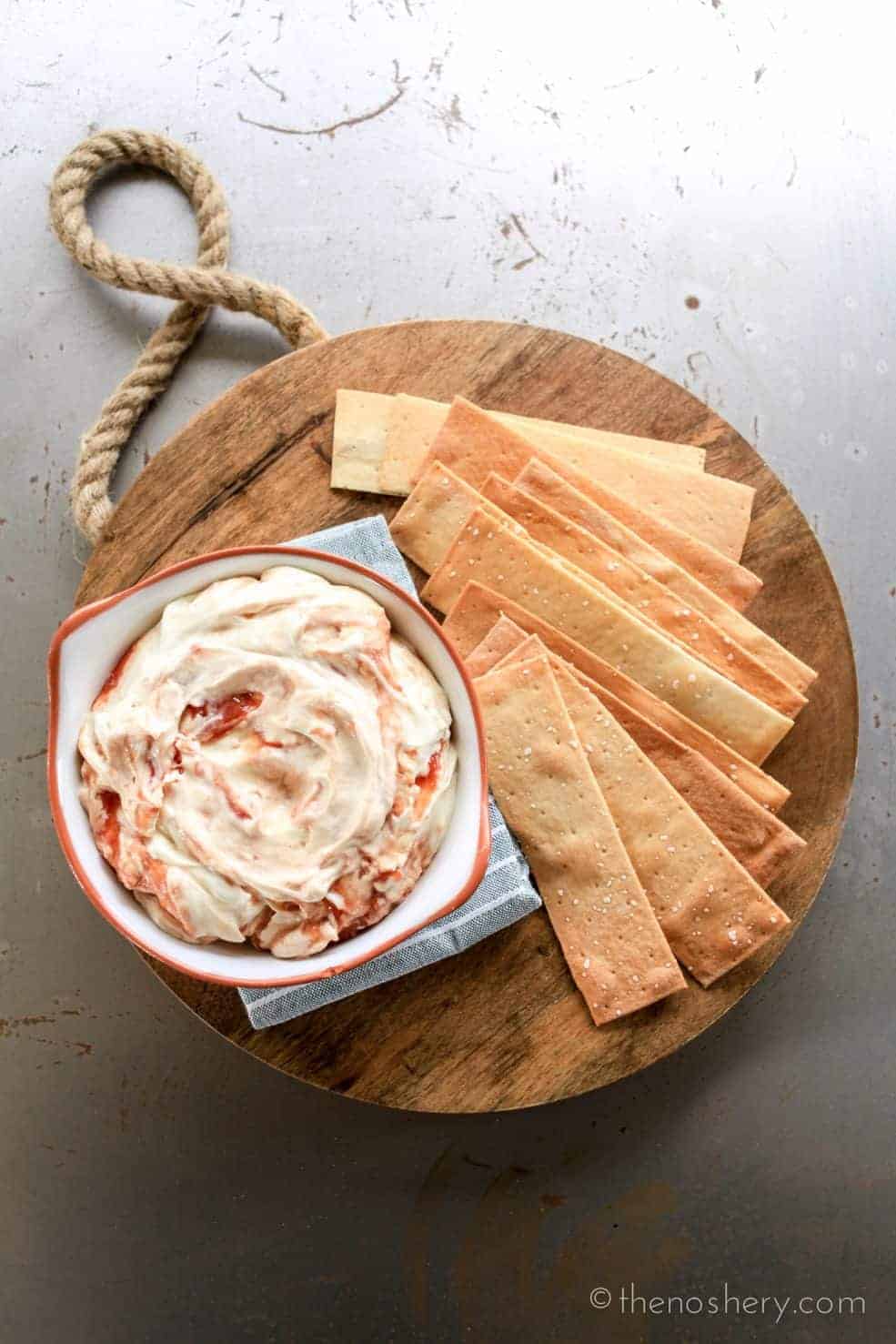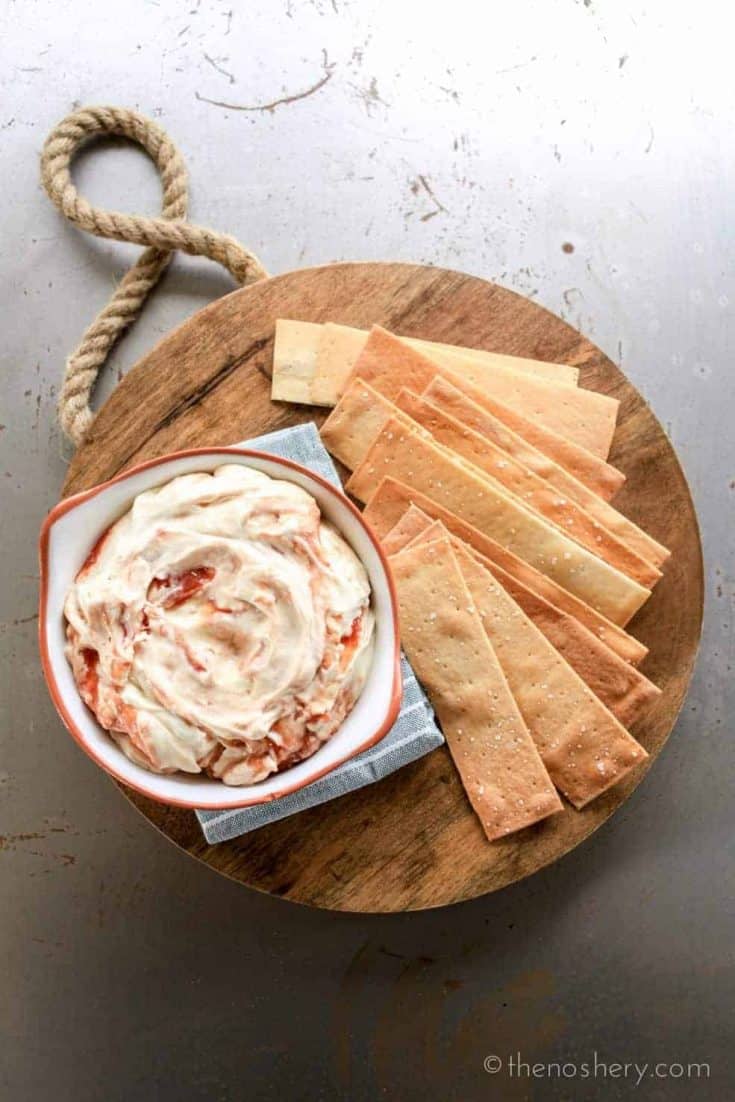 This Puerto Rican guava dip combines guava and cream cheese in a velvety, flavorful addition to your first course, cheese board, or potluck spread.
Ingredients
10.5 oz guava paste (half a 21 oz can)
16 oz cream cheese
1/2 cup sour cream
1/4 cup honey
1 teaspoon minced garlic
salt to taste
Instructions
In a food processor combine guava paste and 1/4 cup of hot water. Blend until smooth. Transfer to a bowl and set aside.
Rinse out food processor. In the food processor combine remaining ingredients and blend until smooth.
Season with salt to taste. Transfer cream cheese mixture to a large bowl and fold in guava. Refrigerate covered until ready to serve.
Recommended Products
As an Amazon Associate and member of other affiliate programs, I earn from qualifying purchases.
Nutrition Information:
Yield:
20
Serving Size:
2 tablsp
Amount Per Serving:
Calories:

114
Total Fat:

9g
Saturated Fat:

5g
Trans Fat:

0g
Unsaturated Fat:

3g
Cholesterol:

26mg
Sodium:

103mg
Carbohydrates:

7g
Fiber:

1g
Sugar:

6g
Protein:

2g