Pinchos de Pollo | As I write this, I am sitting on a plane on my way home to Puerto Rico. I am so excited to visit my beautiful little island, spend time with family, and eat all the food. And if there is one thing Puerto Rico does well, it's food. Especially street food.
Growing up, my family and I would spend Sunday afternoons driving around the island. Sometimes we would drive along the coast and other times we would venture into the mountains. We rarely had a set plan except to see the sights and eat at any roadside kiosk we stumbled upon.
I've made it my mission to recreate my favorite street foods from home and have already tackled tostones, my favorite plantain and steak sandwich jibarito, crispy and creamy croquetas de jamon, and yuca frita. Today I'm continuing that quest.
One of my personal favorite street foods is pinchos de pollo. If I am really hungry, there is nothing more satisfying than a stick of marinated chicken with a bbq glaze. They are typically served with a slice of white bread, making them a complete meal.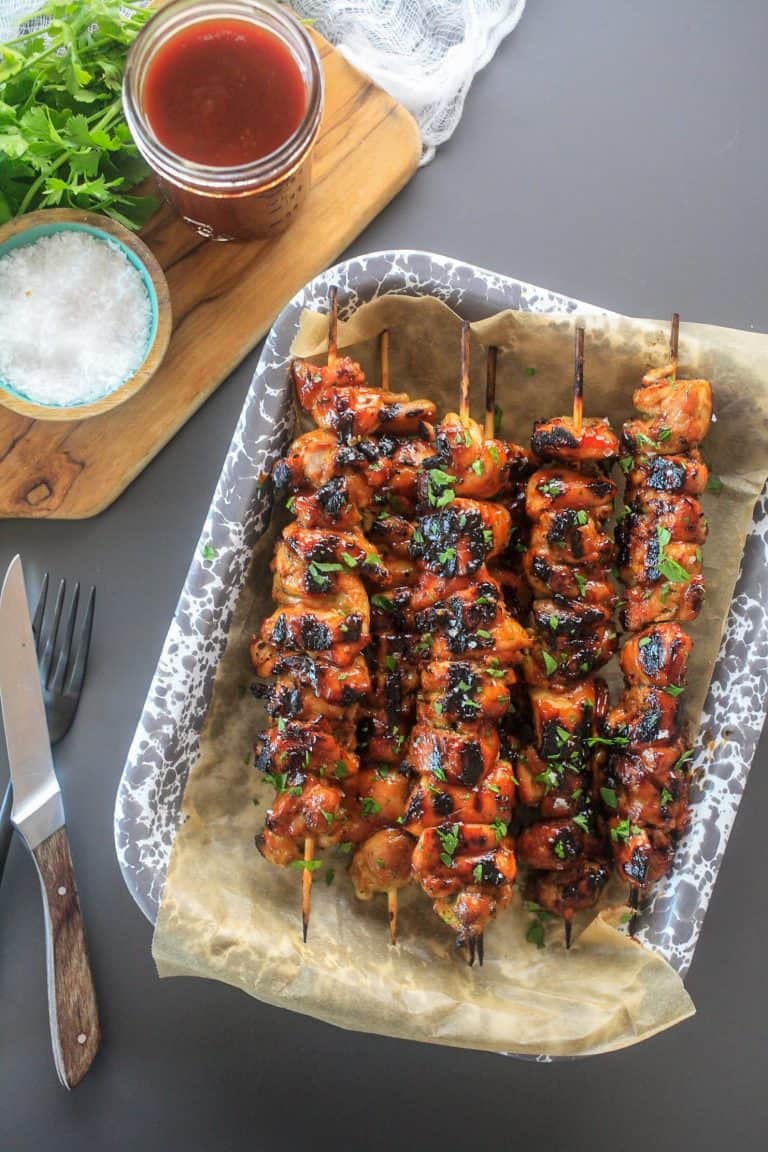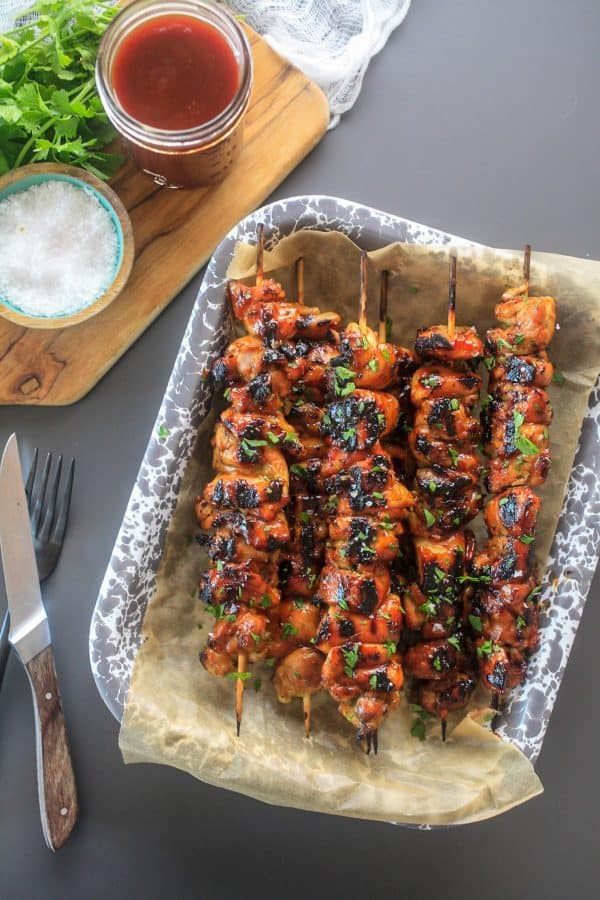 What are Pinchos?
The origins of pinchos come from the Basque country of northern Spain. In English, the name means "skewers" but it literally translates as "thorn" or "spike." In northern Spain, they are small snacks of proteins that are skewered and served with a piece of bread — good bar food.
Puerto Rico, on the other hand, has a variety of pinchos with different proteins. Most commonly, however, it's chicken thigh pieces that have been basted with BBQ sauce and served with a piece of bread.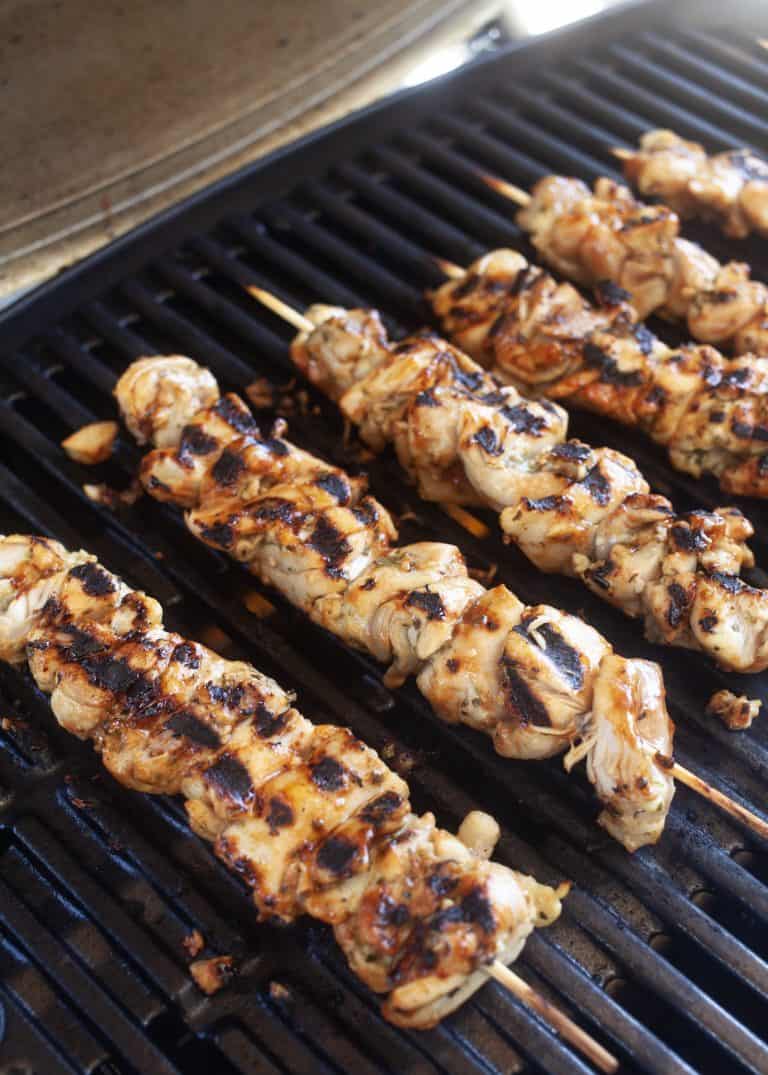 Where can you eat pinchos in Puerto Rico?
While pinchos can be found at bars and restaurants throughout Puerto Rico as they are in Spain, they are more of a staple street food sold at roadside kiosks. I'm not the only one who likes to drive around the island on weekends and eat at the roadside kiosks and eateries. It's a tradition!
But you don't have to wander the Puerto Rican coastline to enjoy this mouthwatering dish. I'm going to show you how easy they are to make and enjoy at home.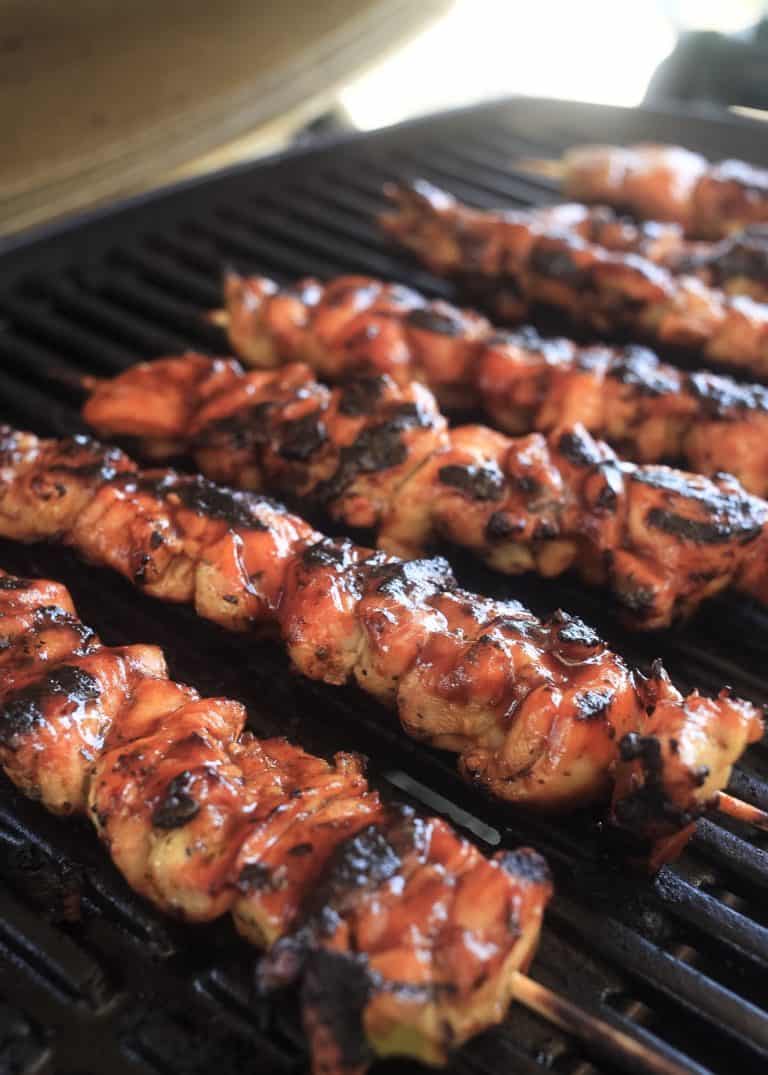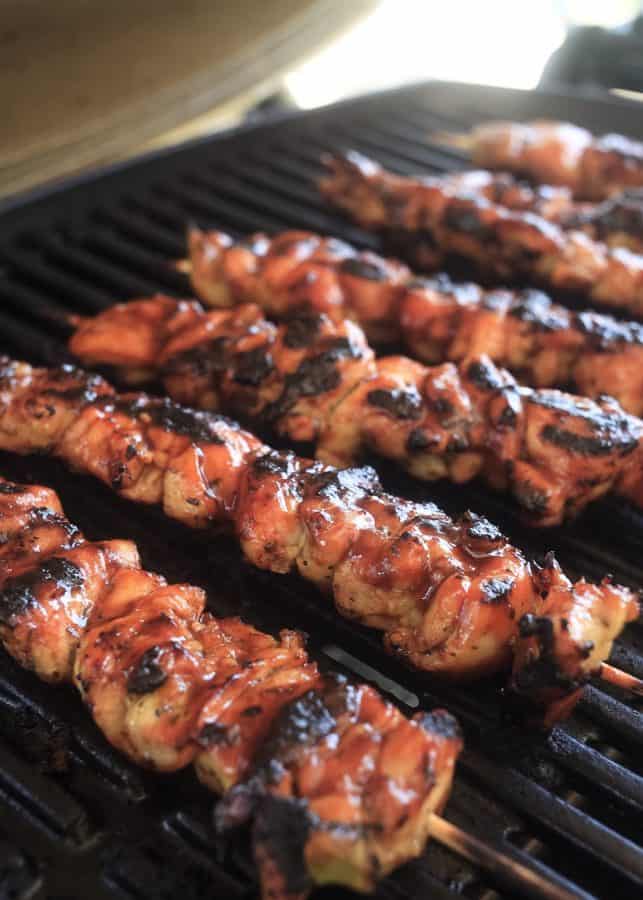 Pinchos De Pollo Recipe Ingredients
chicken thighs
 olive oil
Adobo seasoning
salt
sazón spice blend
oregano
white vinegar
bay leaves
bbq sauce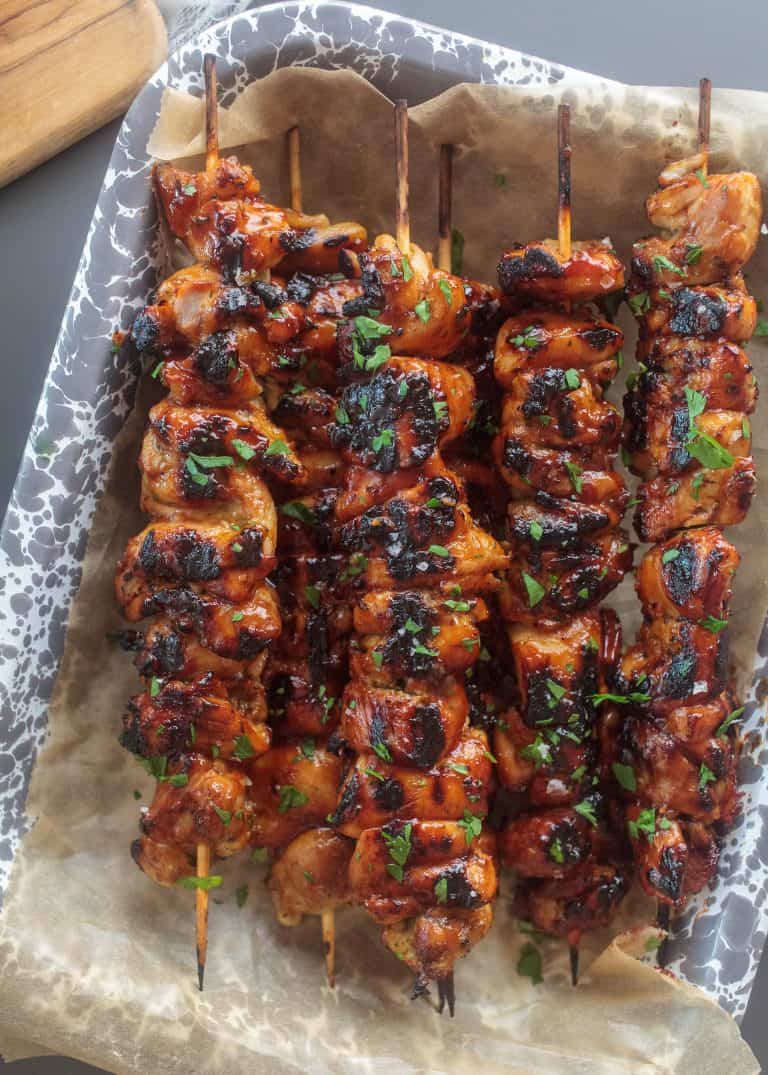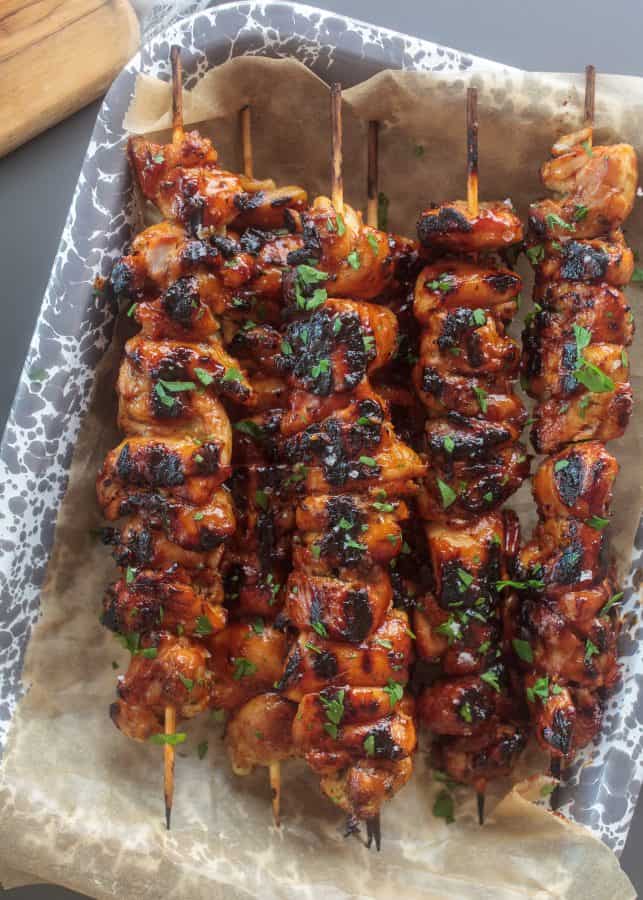 How to Make Pinchos de Pollo
First, you dice the chicken thighs into bite-sized pieces and get them marinating by combining the chicken, olive oil, adobo, salt, sazón, oregano, white vinegar, and bay leaves in a large zip-top bag. Remove the air from the bag, seal it, and then mix up the chicken so a little marinade gets on every side. Then refrigerate them for at least a 1 hour or overnight.
About 30 minutes before you cook, soak the bamboo skewers in water so they don't burn. When 30 minutes have passed, thread the chicken on the skewers, making sure not to pack them in too tightly. Now, lightly brush the chicken with your barbecue sauce to give it a little sweetness. If you really want to take it up a notch, you can use my guava barbecue sauce.
Preheat the grill on high to 500 degrees. If you lightly oil the grill grate, the sticky skewers will be less likely to stick. When your grill is nice and hot, sear the skewers on each side for 3 minutes. 
When they've cooked on both sides, brush the chicken again with bbq sauce on both sides. Now, lower the heat to about 400 degrees (or medium) and grill for 4 minutes. Then they're ready to serve!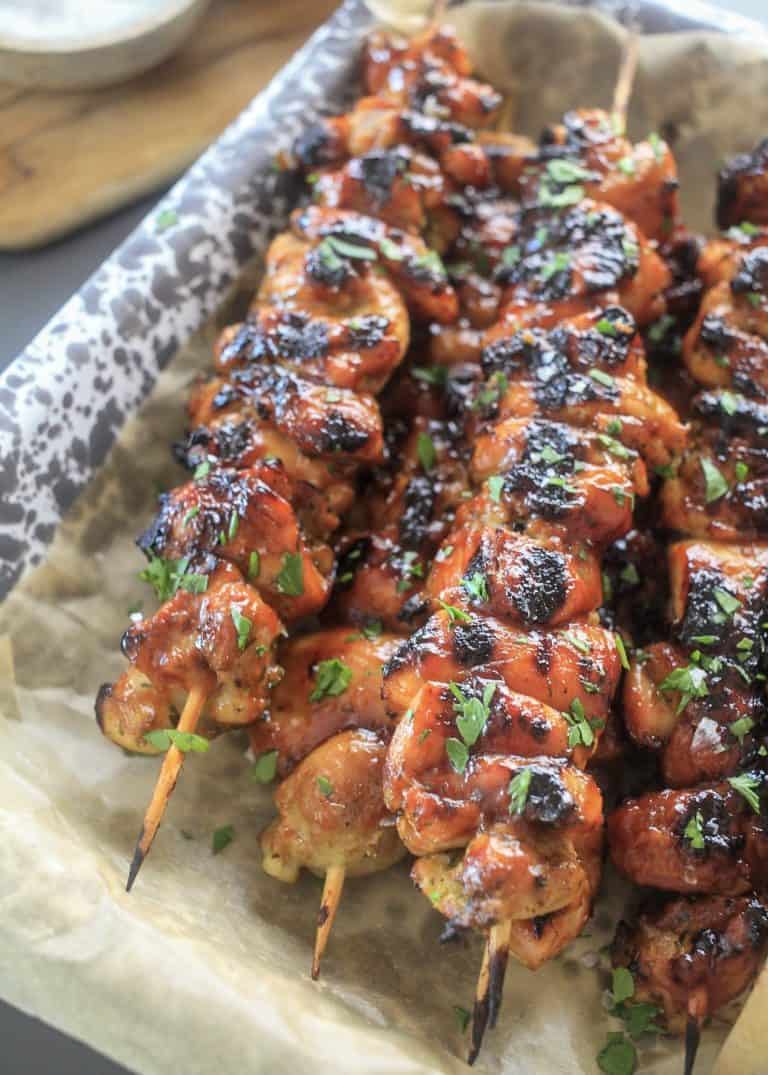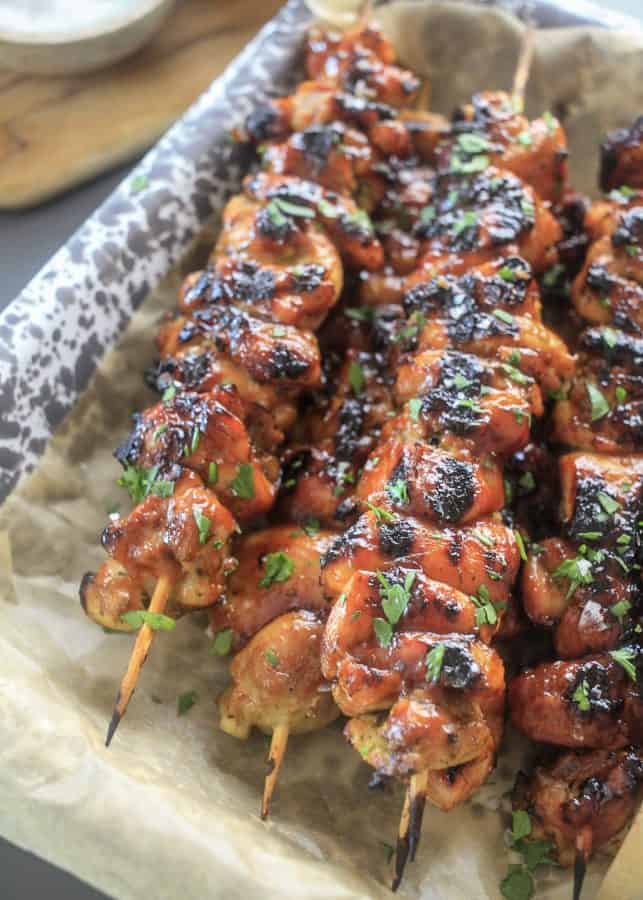 What makes Pinchos de Pollo so magical
These chicken skewers may look like your typical barbecue skewers, but what makes them really special is the marinade. The chicken marinates in a mixture of olive oil, vinegar, adobo, sazón, garlic, oregano, and bay leaf. It's basically a flavor party.
And it's a perfect base for marinating your favorite proteins. Add this delicious party on a plate to your grilling rotation pronto! You won't regret it! 
Are you looking for more Puerto Rican dishes or street foods? Try my pastelillos de carne, arepas de coco, or explore my entire Puerto Rican recipe collection.
more grilling love
Yield: 6
Pinchos de Pollo (Puerto Rican Chicken Skewers)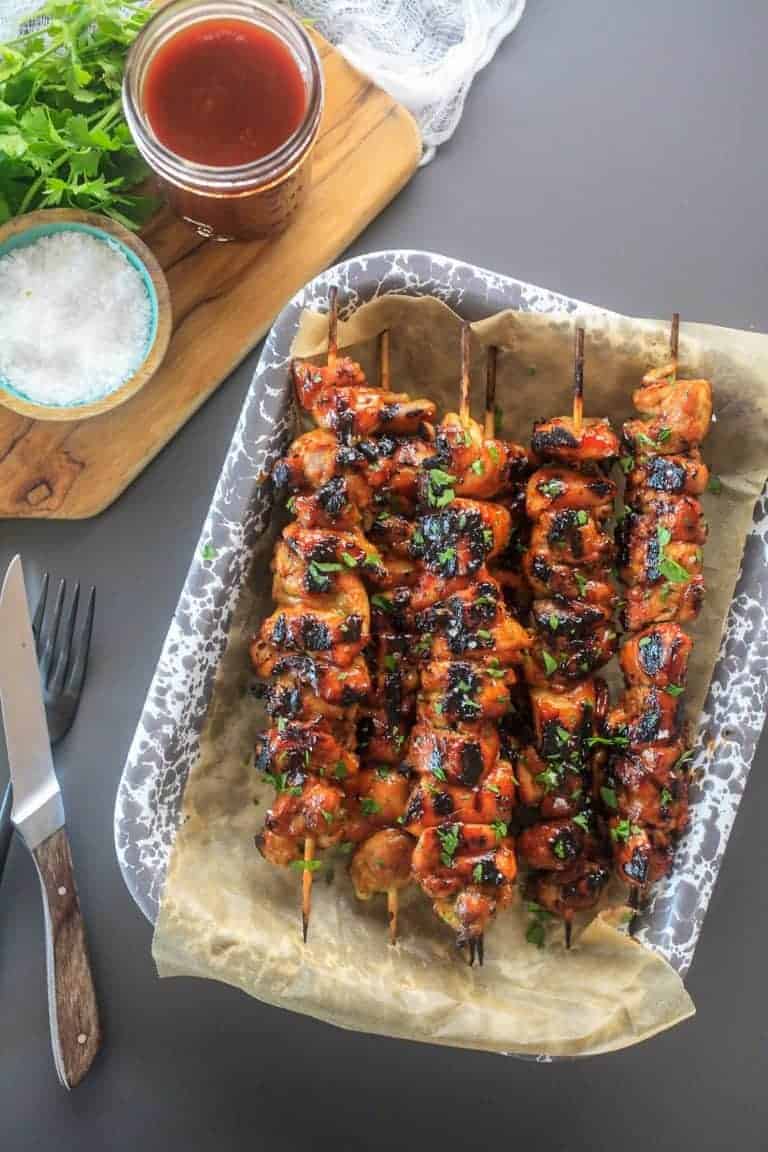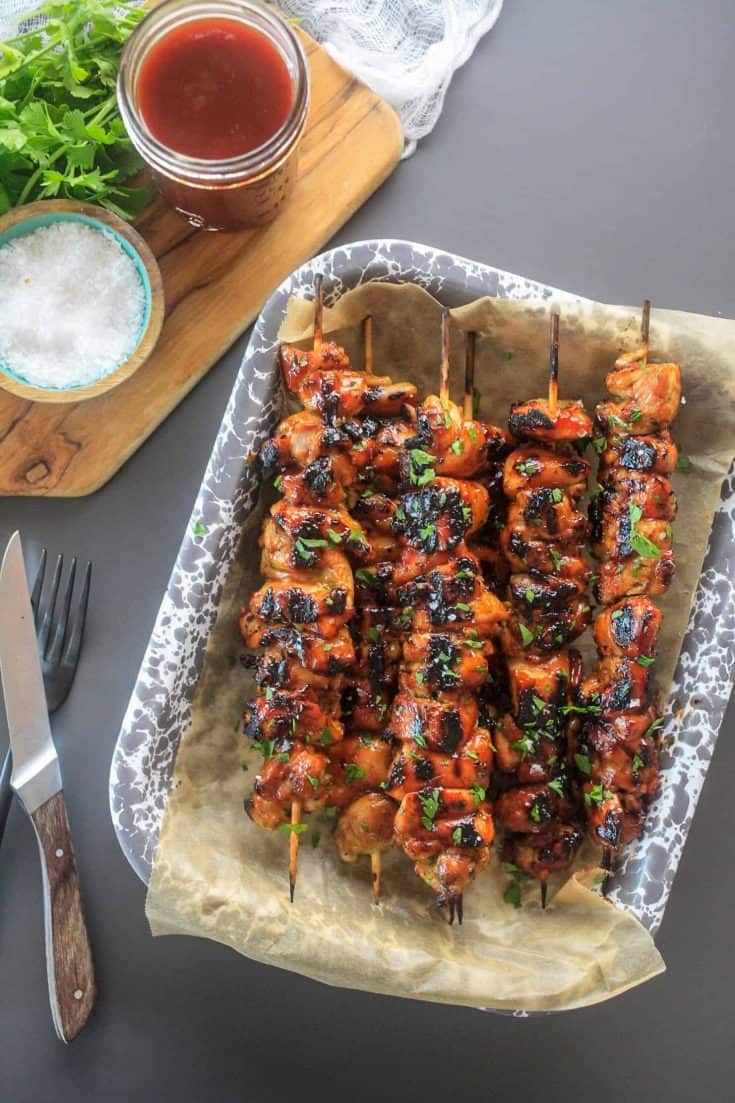 These are one of my favorite street foods from home. The chicken marinades in a mixture of adobo, sazón, garlic, vinegar, & olive oil. It's then lightly brushed with a sweet bbq sauce and grilled to perfection.
Cook Time
1 hour
50 minutes
Total Time
2 hours
5 minutes
Ingredients
2 lbs chicken thighs
2 tablespoons Pompeian Robust Extra Virgin Olive Oil
1 teaspoon Adobo
1/2 teaspoon salt
1 envelope sazón
1 tablespoon oregano
1 tablespoon white vinegar
2 bay leaves
1/2 cup barbecue sauce
Instructions
Cut chicken thighs into 1-inch dice. Combine chicken, olive oil, adobo, salt, sazón, oregano, white vinegar, and crumbled bay leaves in a large resealable bag. Seal the bag and mix the chicken until well combined. Refrigerate for 1 hour or overnight.
Soak bamboo skewers in water for 30 minutes. Thread chicken on to skewers making sure not to pack the chicken too tightly. Brush the skewers lightly with barbecue sauce.
Heat grill to on high to 500 degrees. Lightly oil the grill grate to help the skewers from sticking. Place the skewers on the grill and sear on each side for 3 minutes. Brush the chicken skewers again with barbecue on both sides. Lower the heat to medium, about 400 degrees, and grill for 4 minutes. Serve.
Recommended Products
As an Amazon Associate and member of other affiliate programs, I earn from qualifying purchases.
Nutrition Information:
Yield:
6
Serving Size:
1
Amount Per Serving:
Calories:

406
Total Fat:

26g
Saturated Fat:

7g
Trans Fat:

0g
Unsaturated Fat:

18g
Cholesterol:

194mg
Sodium:

681mg
Carbohydrates:

10g
Fiber:

1g
Sugar:

8g
Protein:

36g