Croquetas de Jamón | If you like your treats crispy on the outside with a savory creamy center I have the perfect treat — croquetas de jamón. These ham croquettes are delicious, addictive, and pretty awesome.
When I was a teen living in Puerto Rico, there was a small shopping center behind the subdivision where we lived. In the shopping center, there was a small bakery and sandwich shop. On Saturday mornings, I would sometimes walk to the bakery to pick up some bread, pastries, and one of my favorite treats, croquetas de jamón. I stinking love croquettes! Of course, I would get enough to share, but I always got myself one to eat on the walk back home.
They are perfection, crispy on the outside with a savory, creamy inside. The croquette's filling is a basic, seasoned roux with ham. They are then twice coated with saltine crumbs, making them super crispy. My personal favorites are ham croquettes, but croquettes can be made with chicken, turkey, beef, seafood, or vegetables.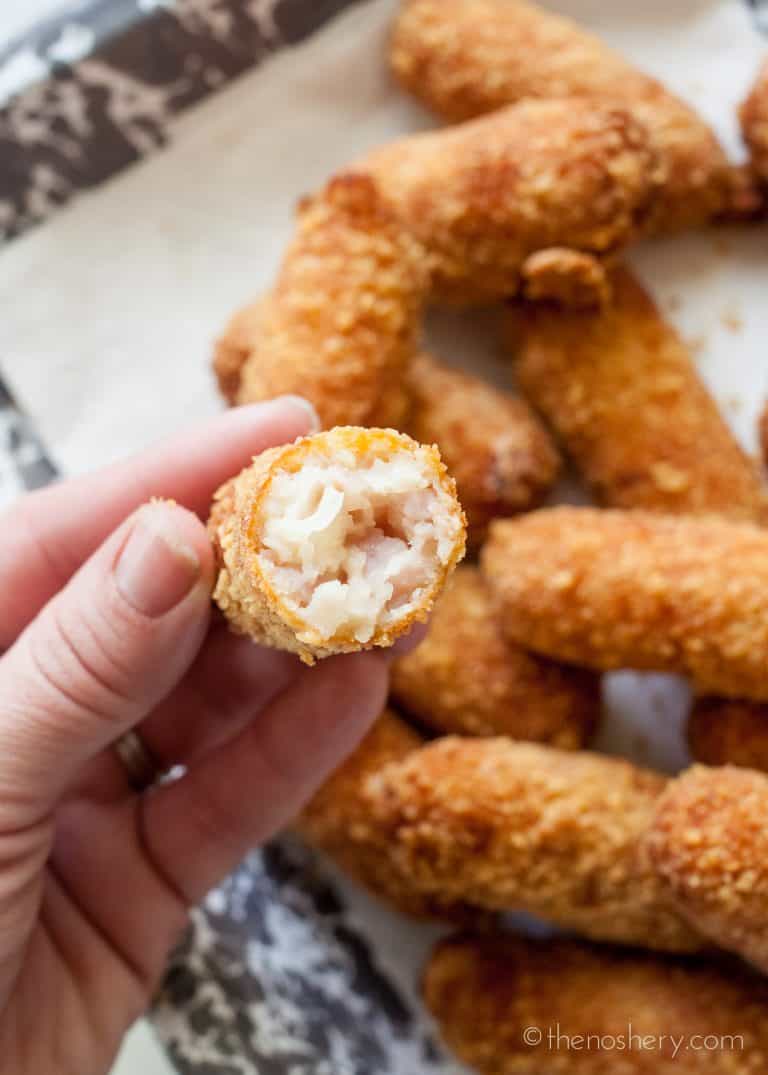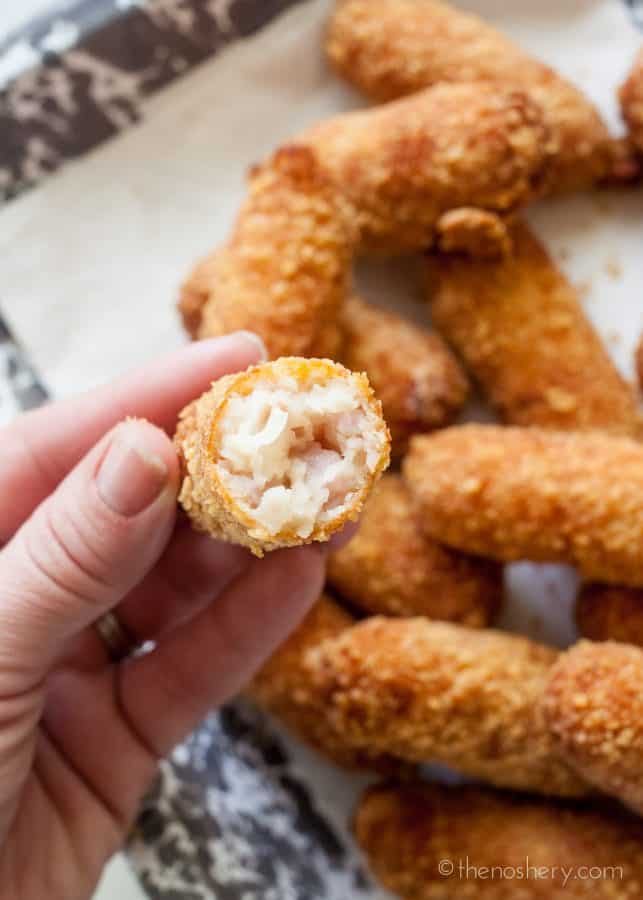 What are croquetas?
I believe most think of croquettes as a snack or appetizer, but I will always think of them as a breakfast food. All throughout Puerto Rico, there are bakeries, roadside kiosks, and food trucks selling deep fried treats for breakfast. I started many mornings with a cup of coffee, a pastelillo, and a croqueta. It was the ultimate on-the-go breakfast. Maybe not the healthiest option in the morning, but I was young! I didn't care.
Where are croquettes originally from?
For a long time, I thought they originated from Spain and they were Spanish croquettes. But croquettes were created in 1898 by Escoffier, the founder of classical French Cuisine. And when you think about crepes, croissants, and all the bakery items they love to pack with goodies, it makes a lot of sense that they're French, doesn't it?
What are croquetas made of?
Some ham croquettes are essentially an Easter dinner packed in a small fritter with the ham, mashed potatoes, and cheese. But my croquetas de jamón highlight that Spanish cured serrano ham with a delicious and pillowy bechamel middle (going back to those French roots), breaded and fried in a crunchy cracker crust.
Here what's what you need to make this croquetas recipe:
butter
onion
garlic
salt and pepper
flour
milk
ham
saltine crackers
eggs
oil for frying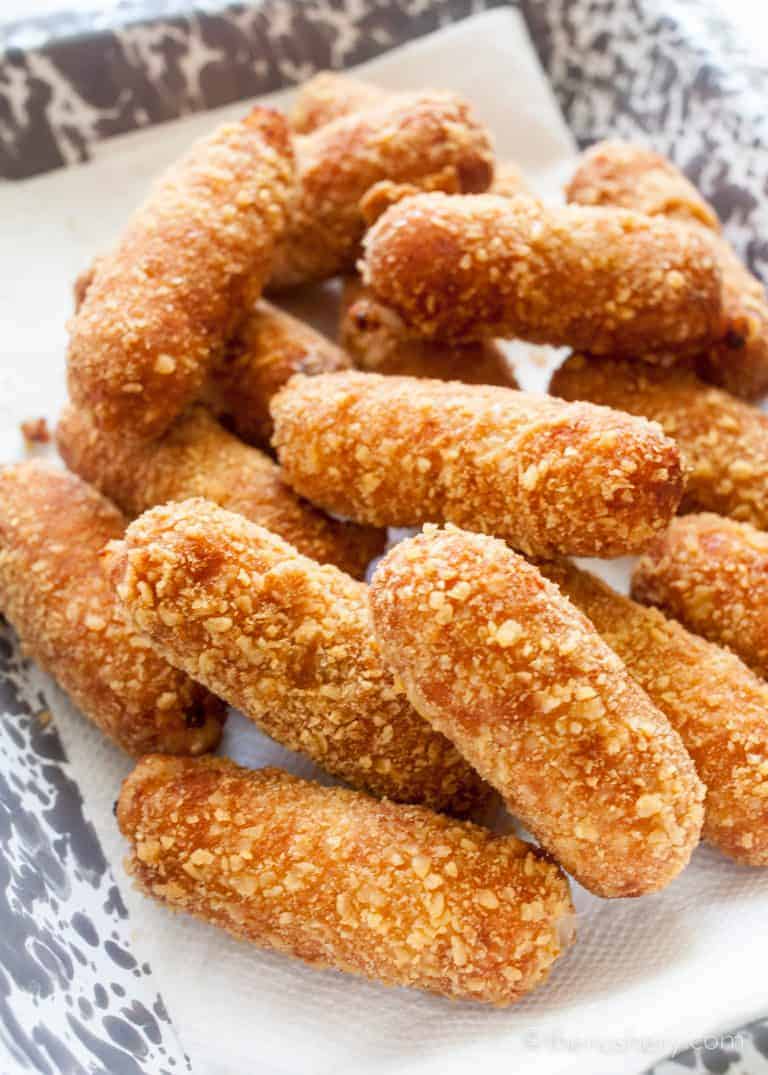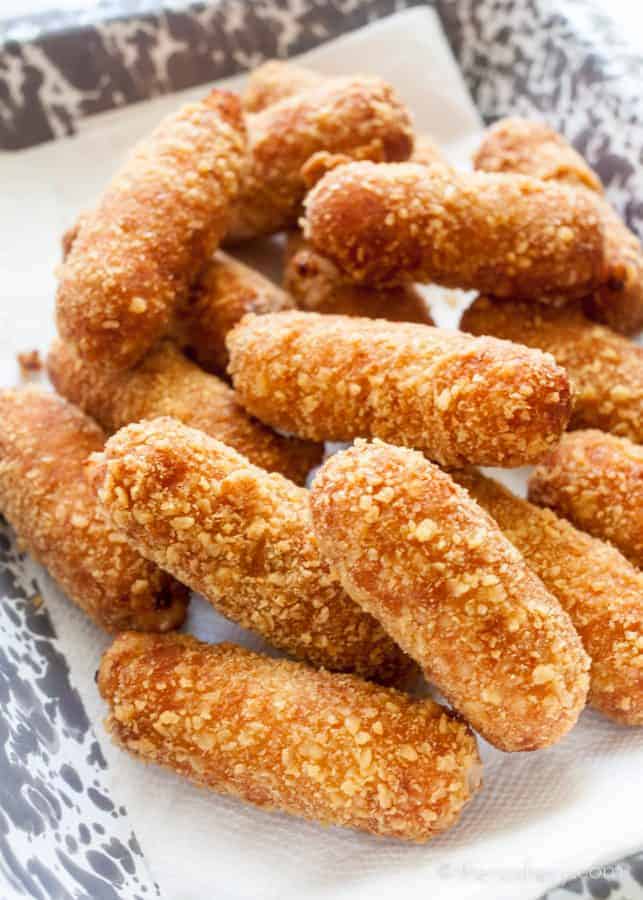 How to make croquetas:
In a heavy skillet, melt butter over medium-high heat—and yes, it's best to use butter instead of olive oil because of the sauce we're building. Then sauté your onion, garlic, and salt about 3 minutes until your kitchen starts smelling like heaven.
Next, make your bechamel sauce. Add the flour over the onions and garlic and stir until it turns a pale brown color and that flour taste is cooked off. Then gradually add the milk, stirring constantly until a paste forms. Now, turn off the heat and stir in the ham. Set the pan aside to cool.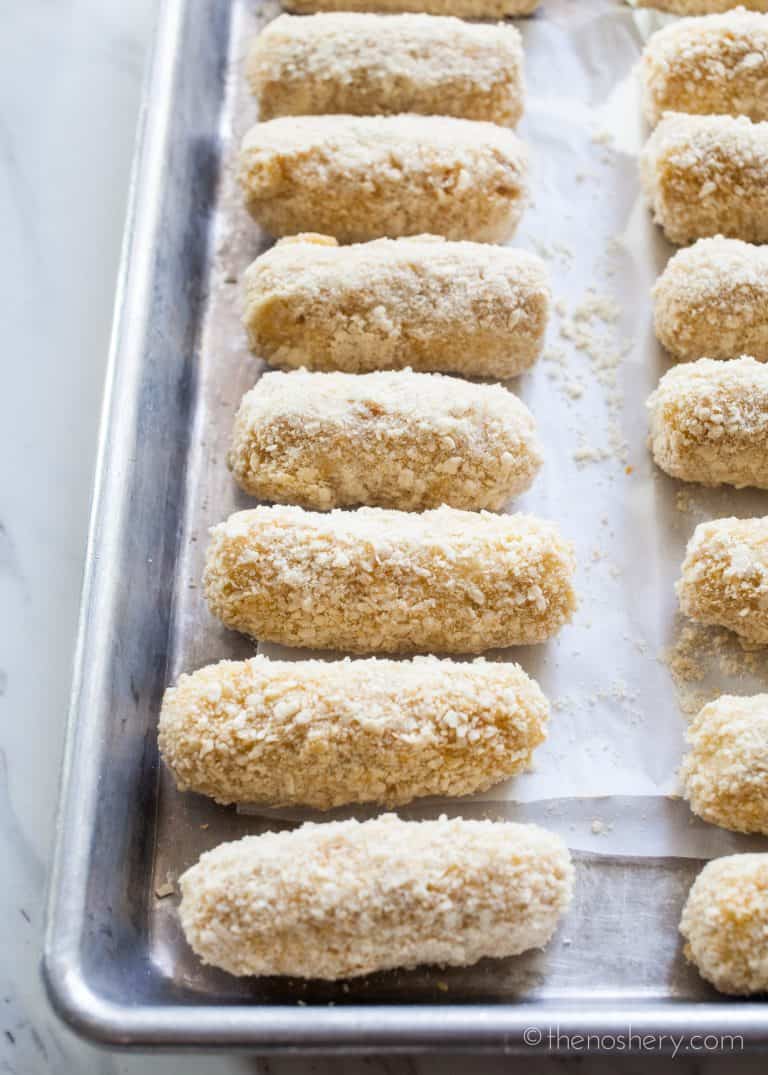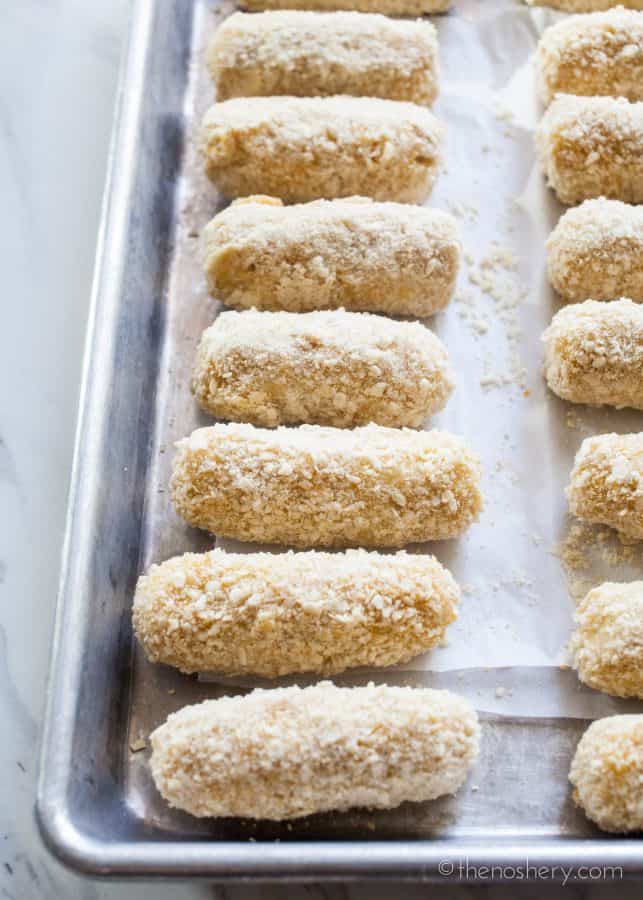 While your filling is cooling and turning nice and creamy, get your oil heated to 350 degrees. In the meantime, you can get started on your dredging station. Blitz the saltine crackers in a food processor until it forms a fine crumb for your coating and place them in a shallow bowl. If you don't have crackers on hand, bread crumbs will do. In a second shallow bowl, whisk eggs.
Now, assemble your jamón croquetas by taking a medium cookie scoop of your filling, molding each one into an oblong fritter shape. Then you dredge them first in the crumbs, then coated in the beaten egg mixture, and again in the cracker crumbs for optimum crunch. You can use a fork when you dip them into the eggs to keep things as clean as possible, but sometimes the best things in life are worth a little mess.
Ready a plate with paper towels for the finished croquettes to rest. When your oil is heated to 350, carefully drop in and fry the croquettes until their cracker coating turns golden brown. Let them drain on paper towels and then eat up!
How to reheat ham croquettes:
If you don't plan on serving the croquetas immediately, you can keep them warm in the oven. But if needed, they can be reheated in the oven at 350 degrees for about 8 to 10 minutes before serving.
Can you freeze cooked croquettes?
These fortunately freeze well because of the double coating, as long as you allow any leftover croquettes to cool completely.
To ensure they don't stick together, first line them on a parchment-lined cookie sheet or non-stick baking pan and freeze them spread out. Once they're frozen, you can transfer them to a plastic freezer bag.
Now comes the easy part. You can reheat frozen croquettes directly from the freezer, without thawing them first, in a 400 degree oven for 10 to 12 minutes, or until they're crisp and heated through.
How long can you keep croquettes?
They will last in your freezer for up to a year. Otherwise, store in an airtight container in the refrigerator for up to 5 days.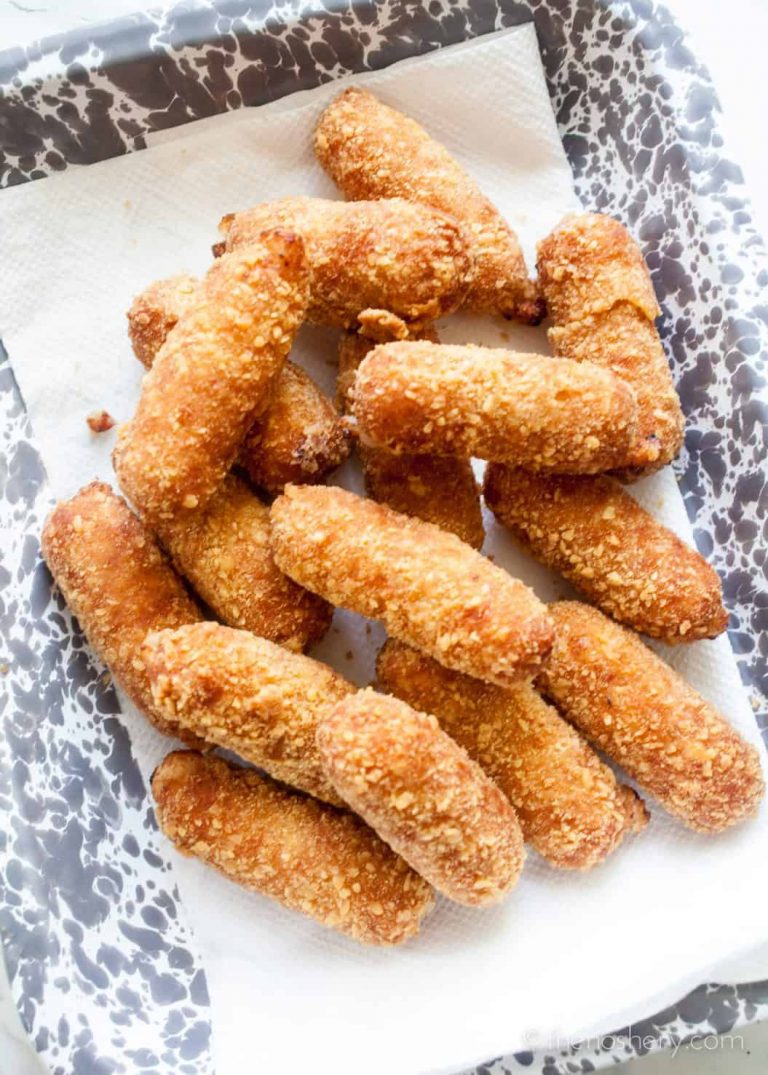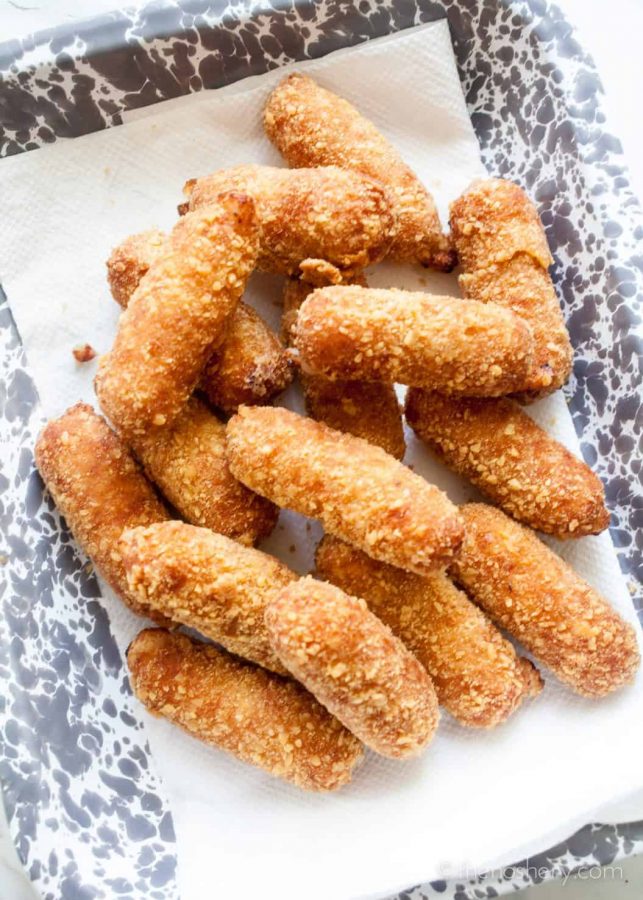 Make it a tapas party!
These would go great as a tapas dish at a game night, potluck, or gathering with loved ones. You could host a Puerto Rican-themed party with these croquetas de jamón, some sandwiches like my jibarito (plantain steak sandwich) or a plate of sandwich de mezcla, some pastelillos de carne (meat turnovers), pillowy arepas de coco, and alcapurria, another of my favorite fritters.
I could never serve small Puerto Rican bites without tostones or my guava and cream cheese dip. It would be blasphemy. But these croquetas de jamón are quickly becoming a MUST for my party table, and once you taste them, you'll know exactly why!
For more delicious dishes from back home, visit my entire Puerto Rican recipe collection here!
If you love ham, try:
Items used in making this recipe:
Yield: 18
Croquetas de Jamón | Ham Croquettes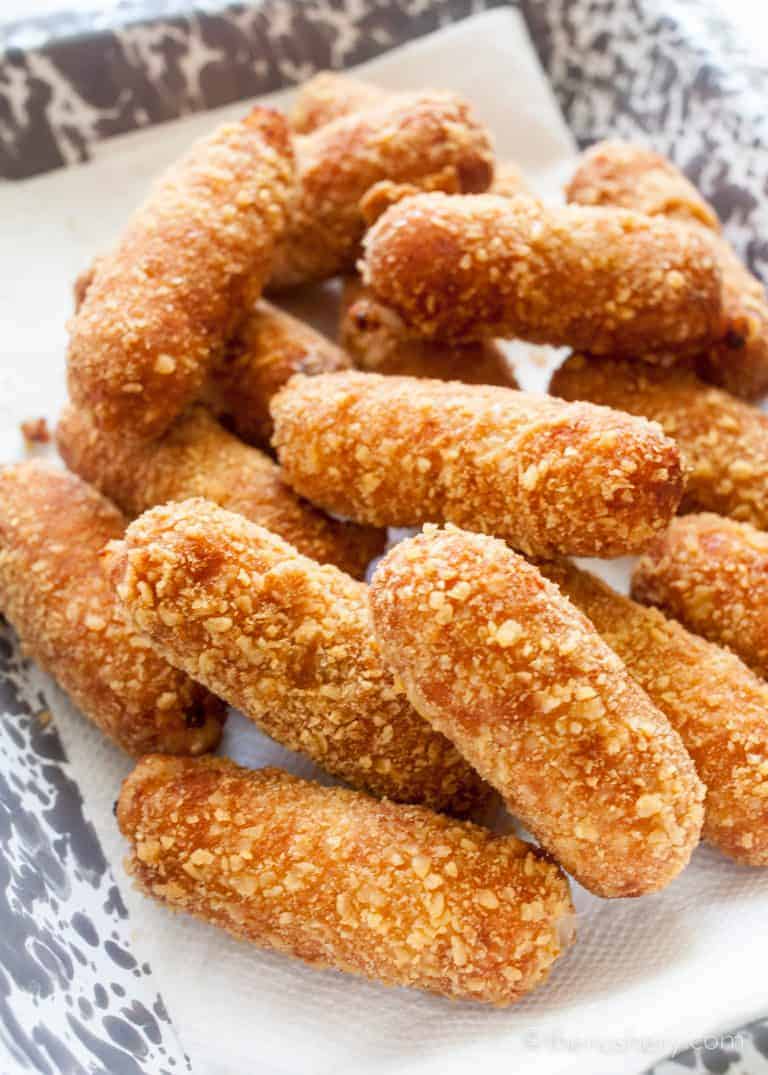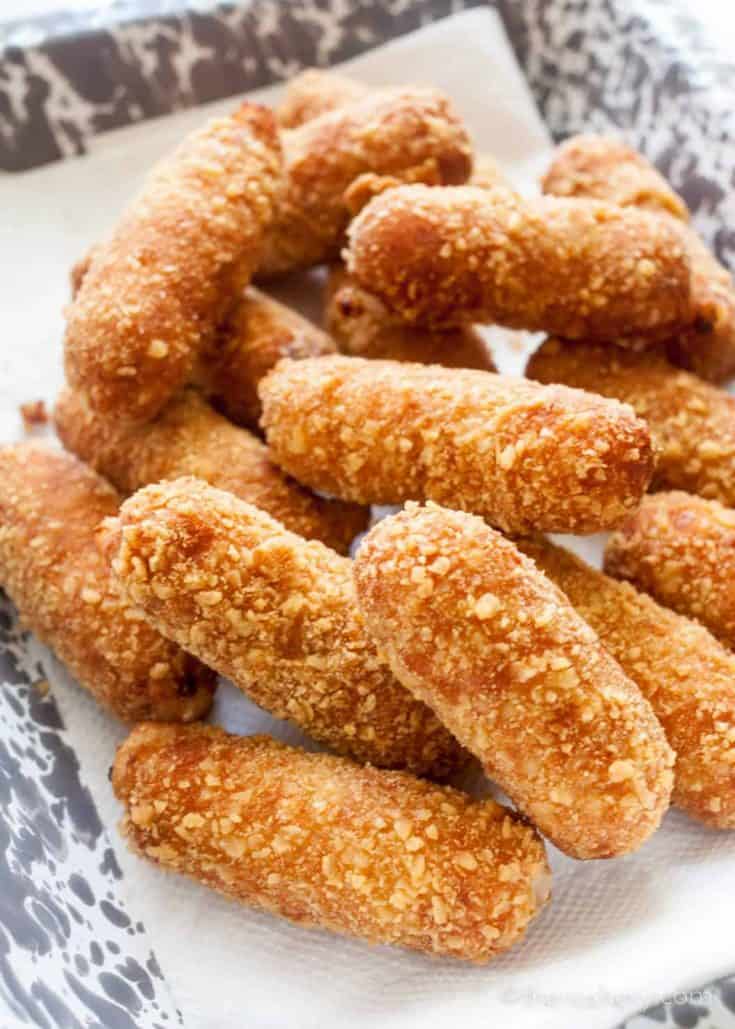 Crispy on the outside with a savory, creamy center, I have the perfect treat -- croquetas de jamón. Ham croquettes are delicious, addictive, and amazing!
Ingredients
3 tbsp butter
1/2 small onion, finely chopped
2 cloves garlic, minced
1/2 teaspoon salt
3/4 cup flour
1 cup milk
8 oz ham, finely diced
1 sleeve saltine crackers
3 eggs
2 cups oil, for frying
Instructions
Heat a heavy skillet over medium-high heat. Melt butter in a skillet, add onion, garlic, and salt, saute until fragrant, about 3 minutes.
Add milk and whisk until a paste forms. Turn off heat, add ham to flour mixture and mix until well combined. Set aside.
Place crackers into a food processor and process into fine crumbs. Pour crumbs into a shallow bowl. In a separate bowl beat eggs.
Using a medium cookie scoop the croquette filling and shape the croquettes. First roll the croquette in the crumbs, using a fork dip in beaten eggs, and finally again in the breadcrumbs.
Line a plate with paper towels set aside. Heat oil to 350 degrees. Working in batches carefully drop croquettes into the oil and fry until golden brown. Transfer the croquettes to the prepared plate to drain.
Recommended Products
As an Amazon Associate and member of other affiliate programs, I earn from qualifying purchases.
Nutrition Information:
Yield:
18
Serving Size:
1
Amount Per Serving:
Calories:

294
Total Fat:

29g
Saturated Fat:

3g
Trans Fat:

0g
Unsaturated Fat:

24g
Cholesterol:

45mg
Sodium:

218mg
Carbohydrates:

5g
Fiber:

0g
Sugar:

0g
Protein:

5g