If you like your treats crispy on the outside with a savory creamy center I have the perfect treat, croquetas de jamón. They are delicious, addictive, and pretty awesome.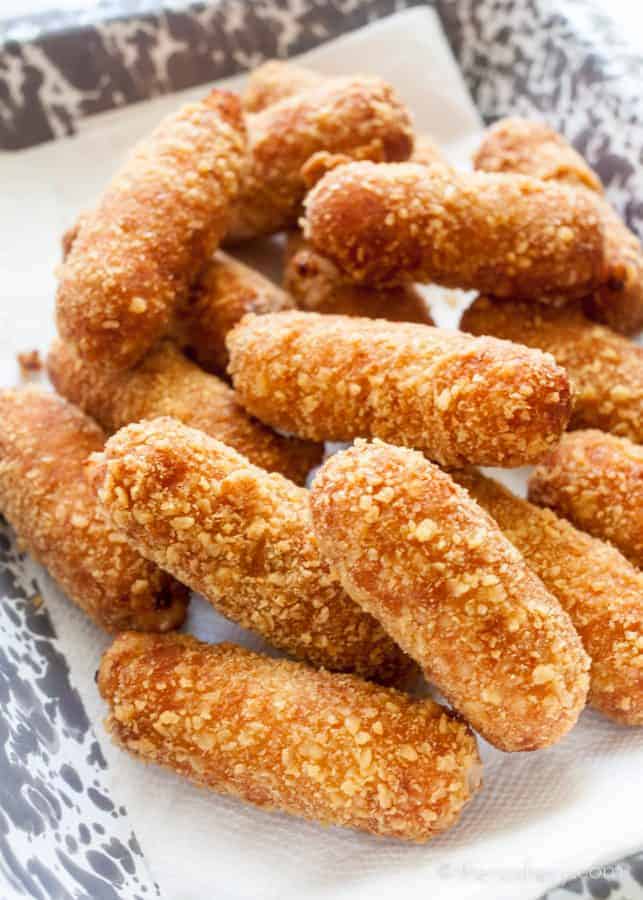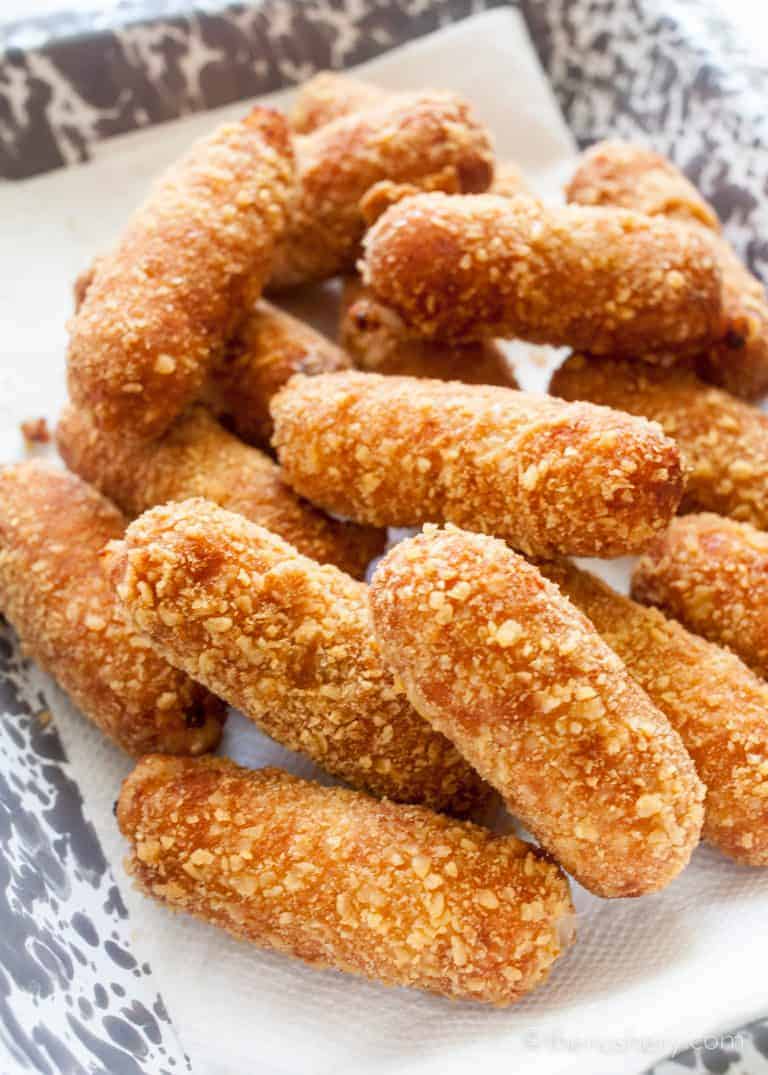 When I was a teen living in Puerto Rico there was a small shopping center behind the subdivision where we lived. In the shopping center, there was a small bakery and sandwich shop. On Saturday mornings, I would sometimes walk to the bakery to pick up some bread, pastries, and one of my favorite treats croquetas de jamón. I stinking love croquettes! Of course, I would get enough croquettes to share but I always got myself one to eat on the walk back home.
I know I already said this but, I stinking love croquettes! They are crispy on the outside with a savory creamy inside. They are perfection. The croquettes filling is a basic seasoned roux with ham. They are then twice coated with saltine crumbs, making them super crispy. My personal favorites are ham croquettes but croquettes can be made with chicken, turkey, beef, seafood, or vegetables.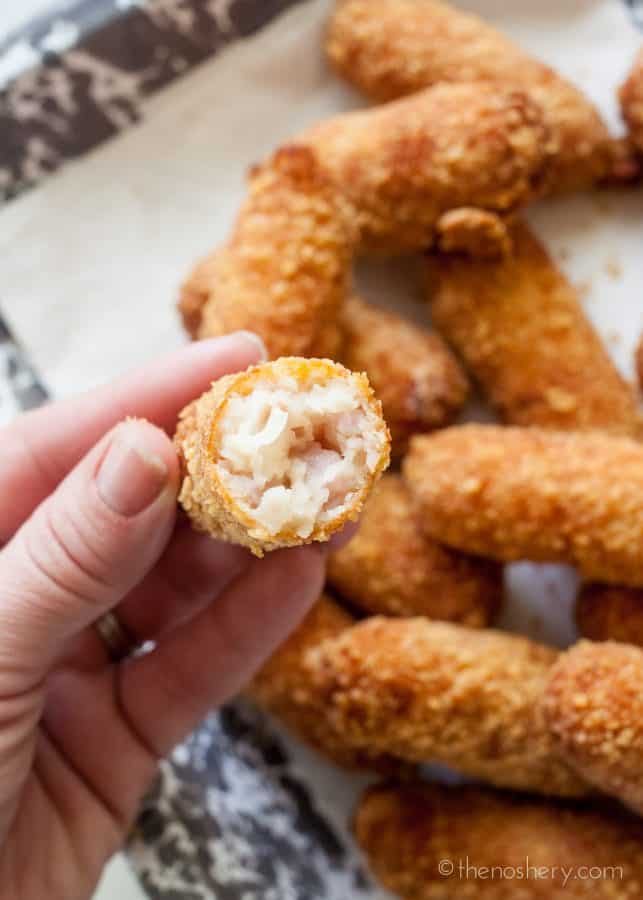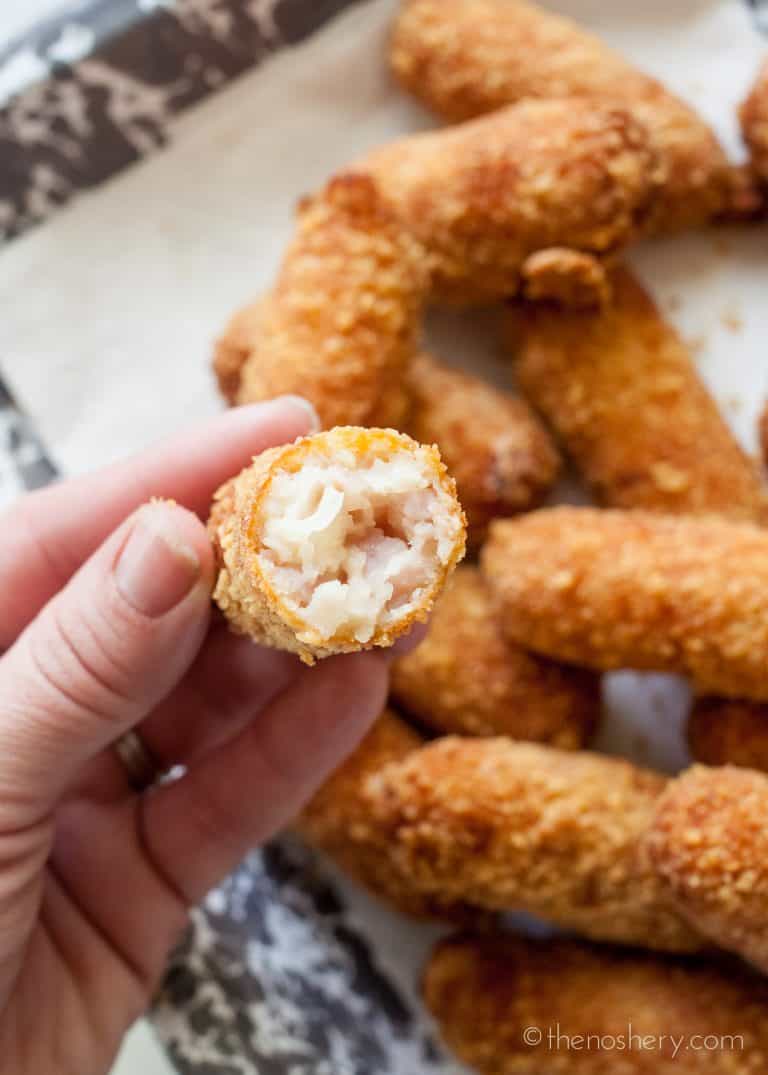 I believe most think of croquettes as a snack or appetizer but I will always think of them as a breakfast food. All though out Puerto Rico there are bakeries, roadside kiosks, and food trucks selling deep fried treats for breakfast. I started many mornings with a cup of coffee, a pastelillo, and a croqueta. It was the ultimate on-the-go breakfast. Maybe not the healthiest option in the morning but I was young I didn't care.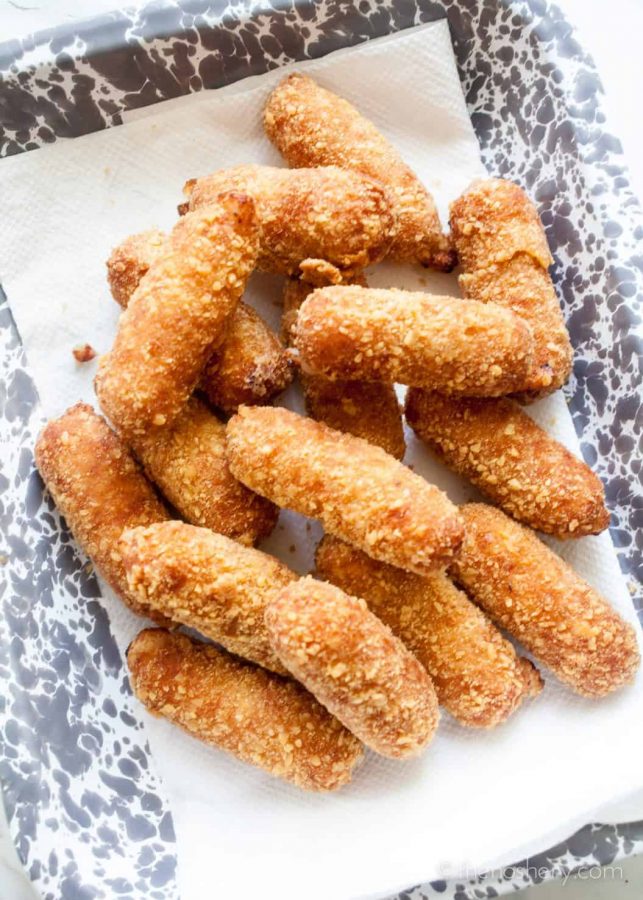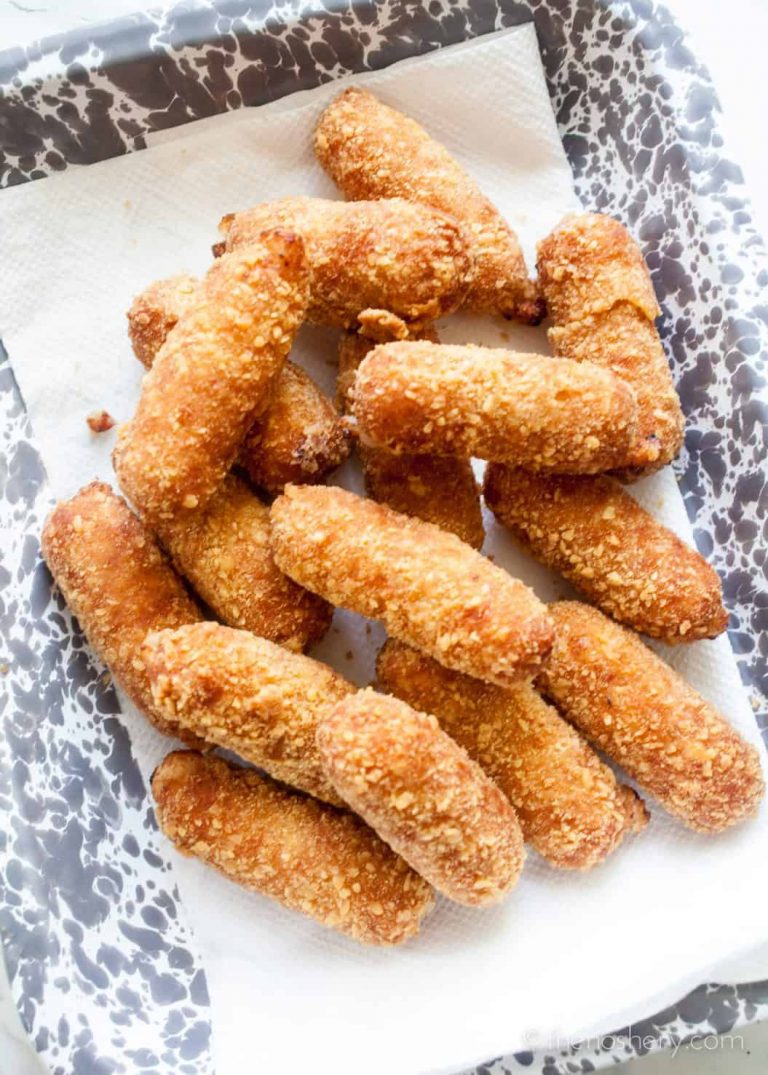 What is great about these is that you can make a large batch and freeze them for later. Then when you're in the mood for a croquette simply drop them in the hot fryer and let them fry for an extra minute or two. In no time you will have a perfectly crispy and creamy croquette.
One More Thing!
The holiday season is officially here! Get my new ebook with a collection of 14 traditional Puerto Rican Christmas recipes to help you get your holiday party season going. I got all the essentials! From pernil to tembleque and the ultimate Christmas drink coquito! 
Items used in making this recipe
Yield: 18
Croquetas de Jamón | Ham Croquettes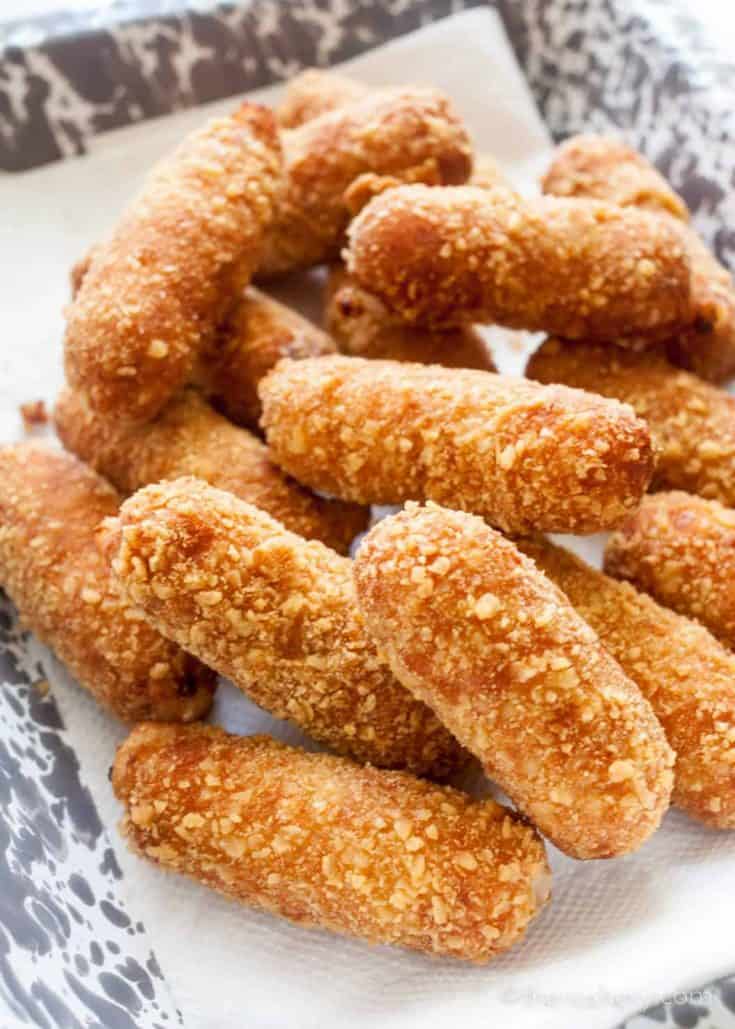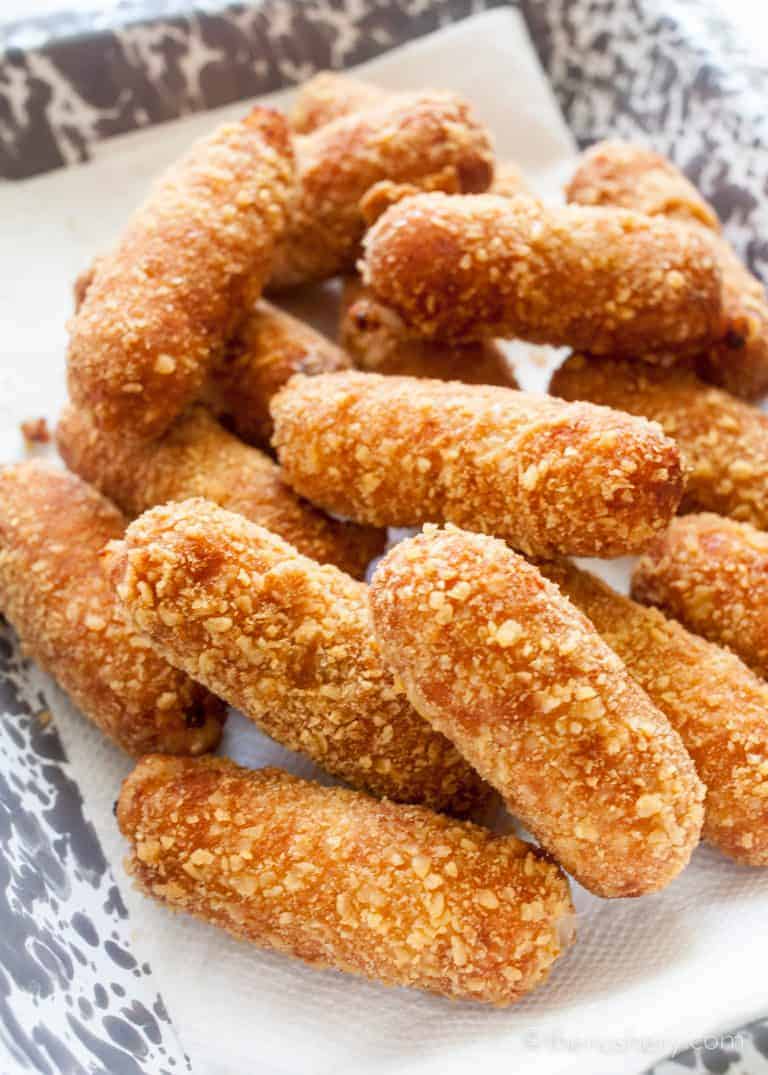 Prep Time 20 minutes

Cook Time 15 minutes

Total Time 35 minutes
Ingredients
3 tbsp butter
1/2 small onion, finely chopped
2 cloves garlic, minced
1/2 teaspoon salt
3/4 cup flour
1 cup milk
8 oz ham, finely diced
1 sleeve saltine crackers
3 eggs
2 cups oil, for frying
Instructions
Heat a heavy skillet over medium-high heat. Melt butter in skillet, add onion, garlic, and salt, saute until fragrant, about 3 minutes. Add milk and whisk until a paste forms. Turn off heat, add ham to flour mixture and mix until well combined. Set aside.


Place crackers into a food processor and process into fine crumbs. Pour crumbs into a shallow bowl. In a separate bowl beat eggs. Using an medium cookie scoop the croquette filling and shape the croquettes. First roll the croquette in the crumbs, using a fork dip in beaten eggs, and finally again in the breadcrumbs.


Line a plate with paper towels set aside. Heat oil to 350 degrees. Working in batches carefully drop croquettes into the oil and fry until golden brown. Transfer the croquettes to prepared plate to drain.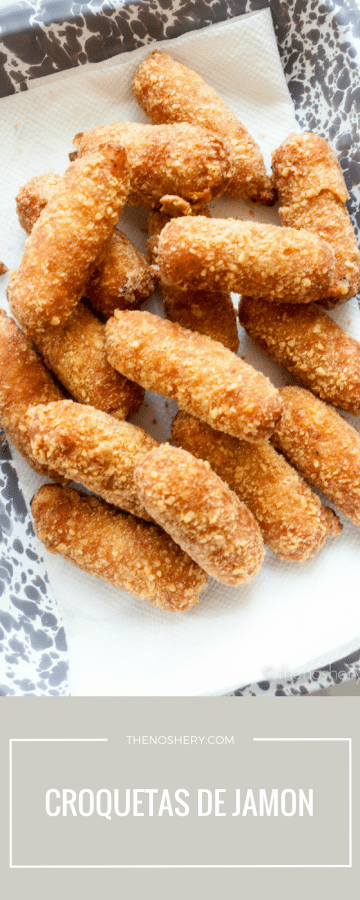 43