Sandwich de Mezcla | It's not a party in Puerto Rico without a hearty, cheesy sandwich de mezcla. Soft bread filled with a tasty spread makes for a delicious, portable addition to your table.
When you're planning for a big gathering, you want a variety of dishes that are easy, delicious, and portable, and sandwiches fit the bill. Today, I'm bringing you the Puerto Rican solution, sandwiches de mezcla.
It isn't a birthday party or a family celebration without them on the table. No boring luncheon meat sandwiches at our parties (though I'll take a hot ham and cheese party sandwich any day).
They're like our take on a pimento cheese sandwich. And let me tell you, if you've never been to a party in Puerto Rico, get to that tray pronto because they will go fast.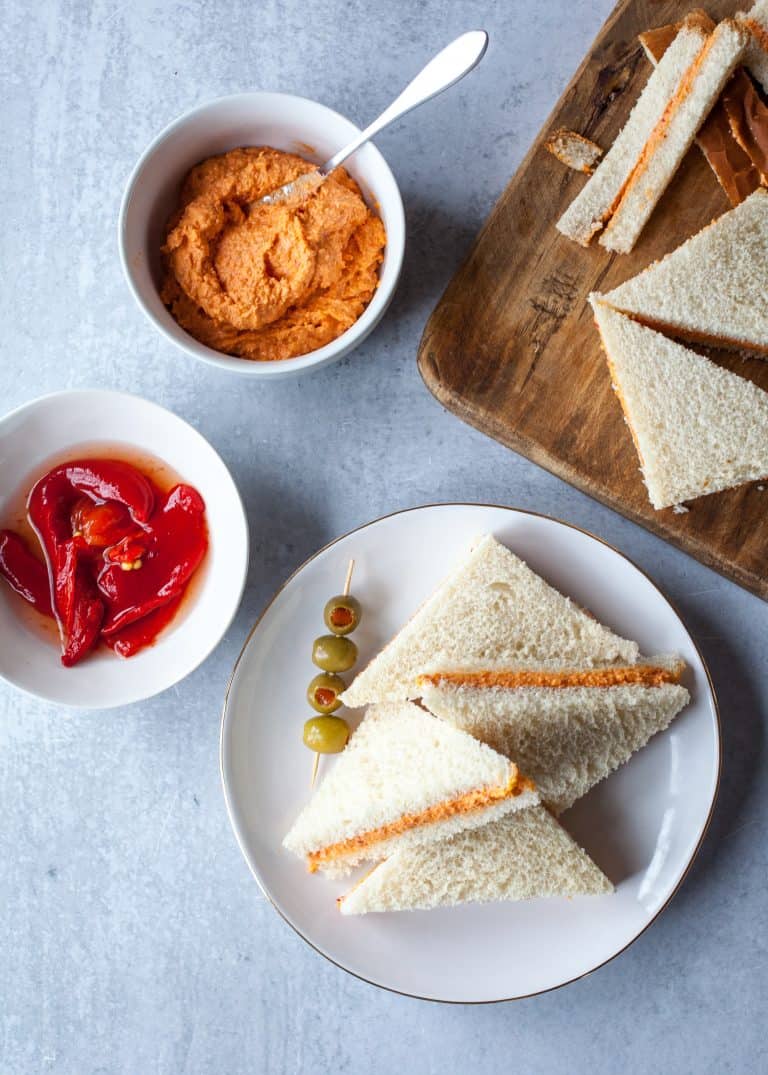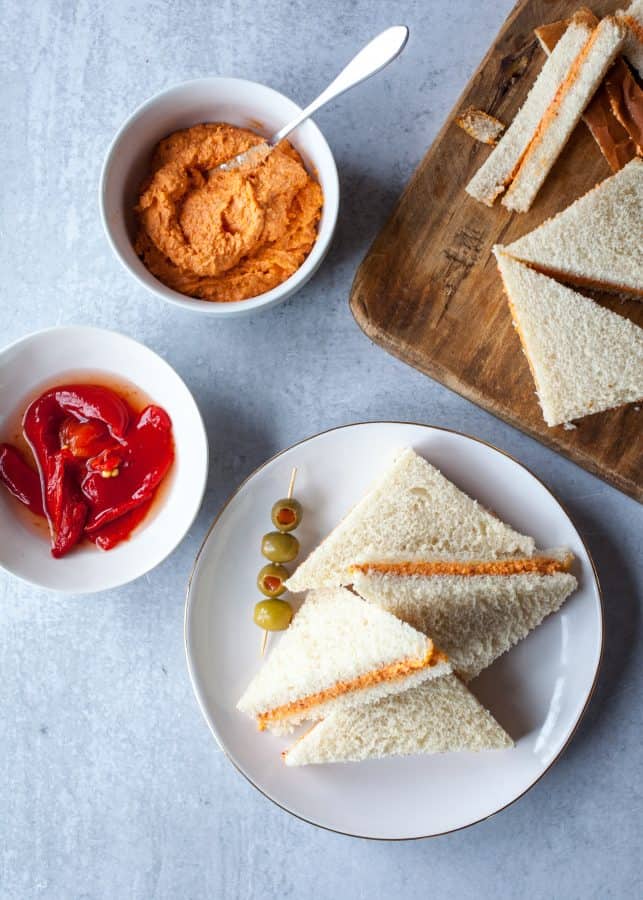 What is mezcla?
Mezcla is a delicious sandwich cheese spread made up of canned ham (like Spam), cheese dip, and other flavorings. A mezcla sandwich might not be healthy, but it sure is filling and comforting. Besides, we're celebrating here!
Now before you hear "SPAM" and write off this Sandwich de Mezcla recipe completely, know that the meat and ingredients get processed into a creamy mixture you could honestly eat with a spoon. The texture is hearty and velvety and delicious.
How to make creamy mezcla cheese spread
Mezcla cheese spread should be creamy and easily spreadable. To achieve this perfect texture, start with room temperature cheeses, process the meat until finely chopped, and blend everything together until luscious and smooth.
One thing that I make sure to do is to pat dry the pimento peppers and olives as to not add additional liquid to the mixture. If you don't properly drain them, the filling could end up too runny–and runny filling equals soggy bread. Nobody likes soggy bread!
Sandwich de Mezcla recipe ingredients:
canned meat (like SPAM)
jarred cheese sauce
cream cheese
pimentos
pimento-stuffed olives
white bread

What's the best bread for Puerto Rican sandwiches?
Traditionally, the mezcla is served between two slices of simple white bread with the crusts cut off. Some genius got this idea in the 1950s, so white bread is very fitting for that time period.
But there is no wrong in making the sandwiches with another favorite sandwich bread. You can even serve it as a dip with crackers or veggies. OMG that sounds so good!
How to make sandwiches de mezcla:
Into a food processor, you add the meat, cheeses, pimento peppers, olives, evaporated milk, lemon juice, and spices. Blend until everything's well combined. If it's creamy and a consistency that will easily spread, you're doing it right. You can taste it at this point to see if the filling is seasoned to your liking.
With a sharp knife, cut the crusts off your bread to make for soft sandwiches. Then spread about a tablespoon or two of the filling on one slice of bread until it's completely covered and top with a second bread slice.
Next, make a diagonal cut through the sandwich square so you have two triangles. Repeat this whole process, wiping your knife off between each cut, until you've used all the filling. It's as easy as that!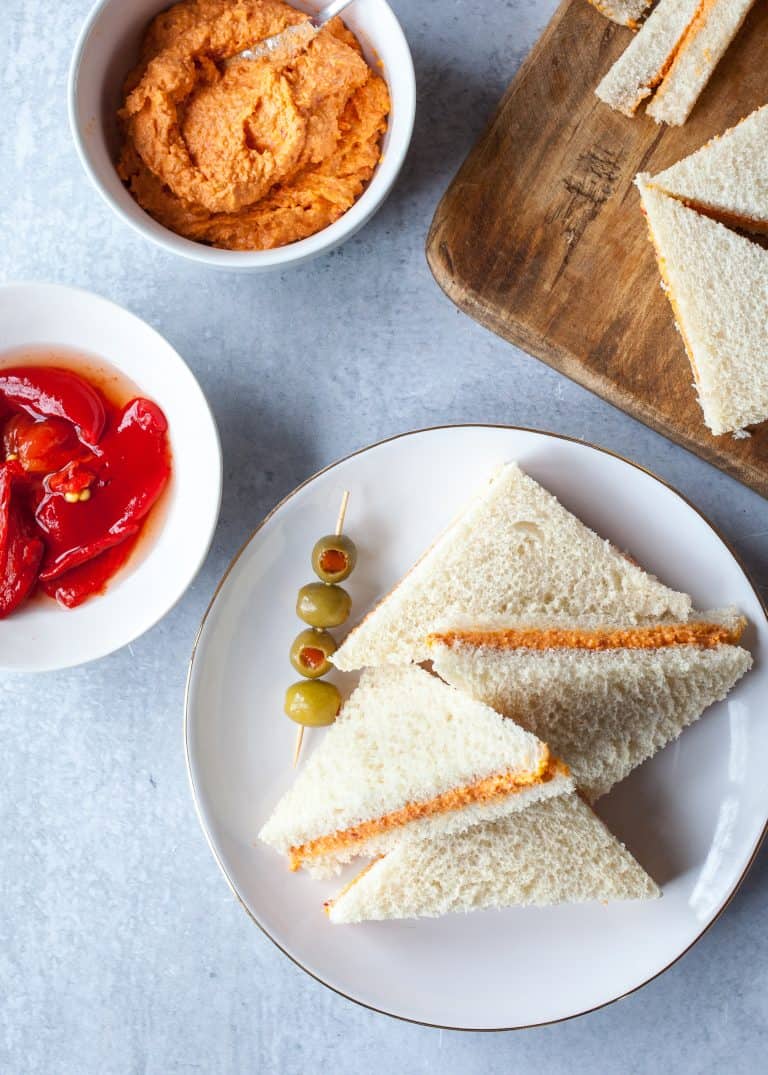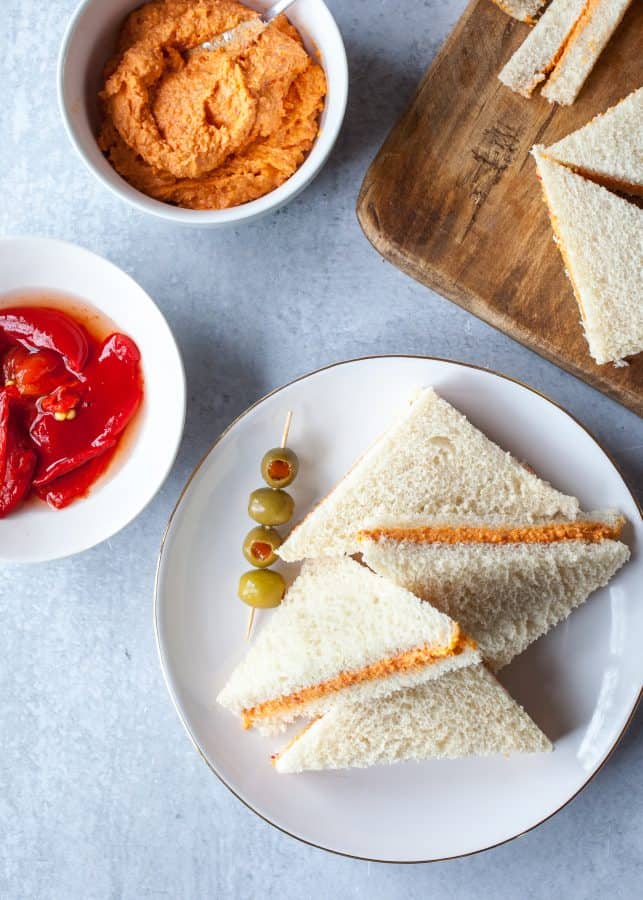 How to store mezcla spread:
Your mezcla spread can be refrigerated in an airtight container up to two weeks. It's best to store the spread BEFORE assembling the mezcla sandwiches to avoid the bread getting too mushy.
Since the spread has such a good shelf life in the refrigerator, that means you can make it ahead of your party or gathering and simply assemble the sandwiches day of!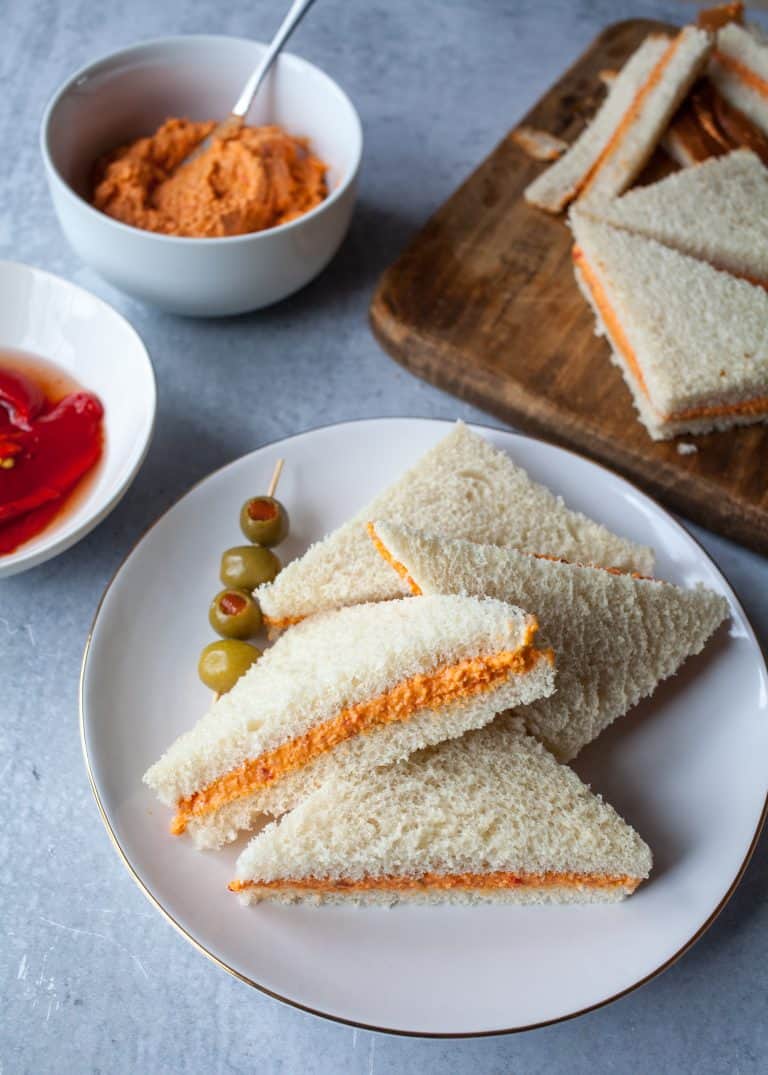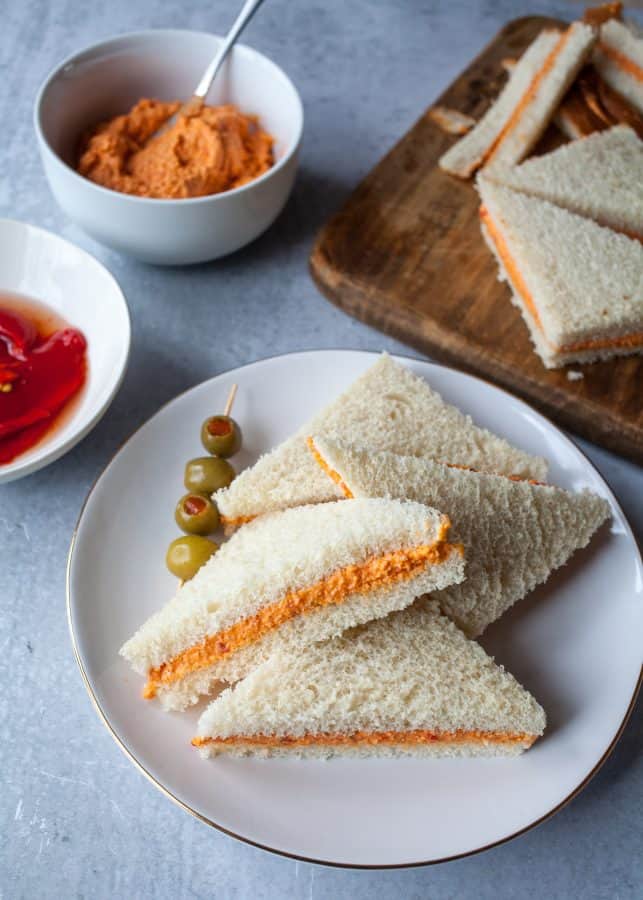 It's party time!
If you're having a big party and don't want to rent tables, portable food is the way to go! To stick with the Puerto Rican theme, you can make some crunchy tostones, pillowy arepas de coco, these Puerto Rican chicken skewers, another favorite Puerto Rican sandwich jibarito, or these tasty yuca fries.
And don't forget dessert! Finish off your meal with tembleque (coconut pudding) or my flan de queso, and your guests will leave with full bellies and happy hearts!
For my entire Puerto Rican recipe collection, click here.
more Puerto Rican favorites:
Yield: 26
Sandwich de Mezcla | Puerto Rican Party Sandwiches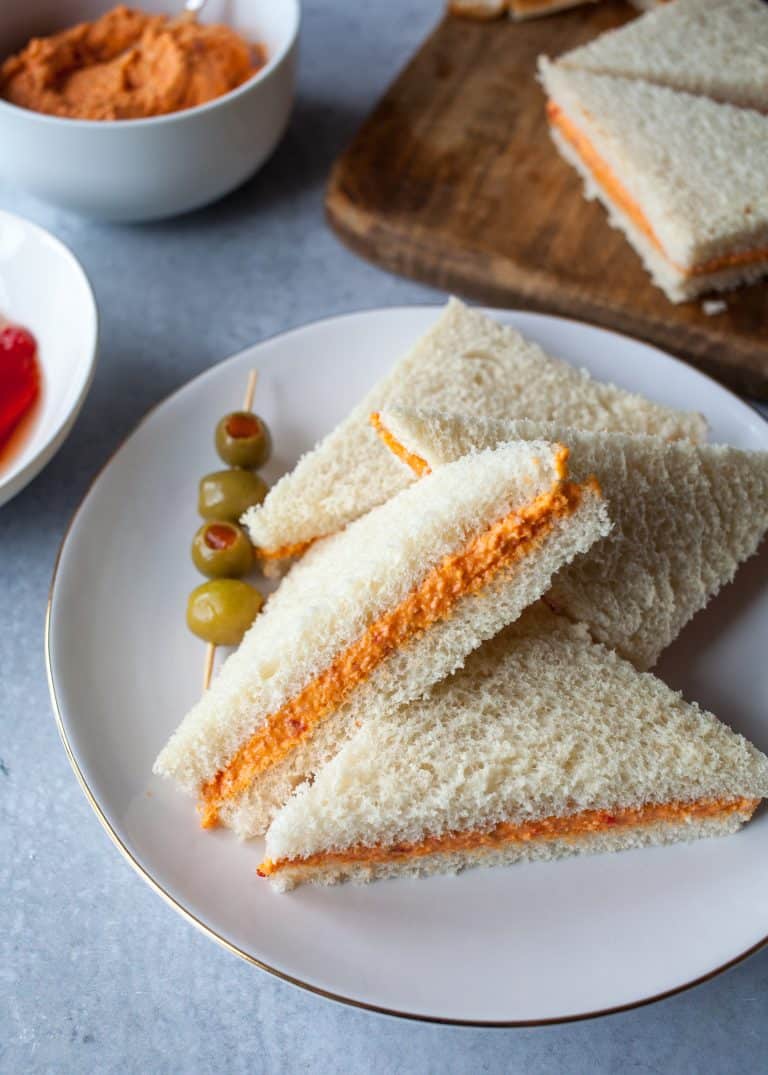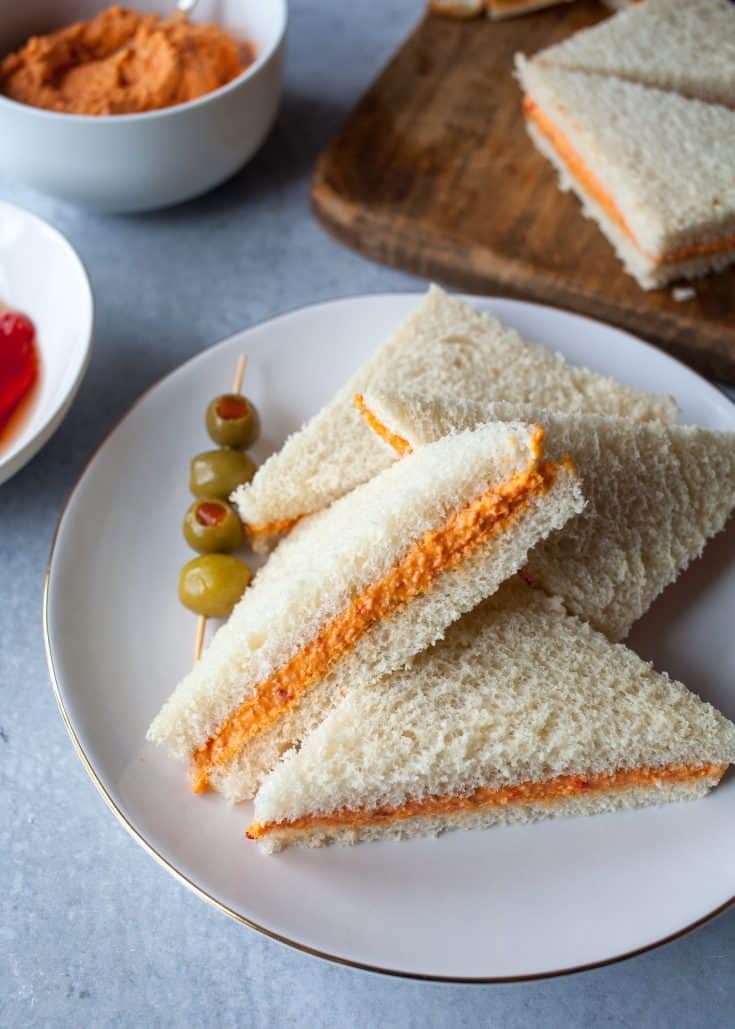 It's not a party in Puerto Rico without a hearty, cheesy sandwich de mezcla. Soft bread filled with a tasty spread makes for an easy party plate!
Ingredients
3/4 cup cheese dip room temperature
4 ounces cream cheese room temperature, cubed
4 ounces pimentos
1 12 ounce can luncheon meat-like SPAM, cubed
3 loaves white sandwich bread
8 pimento-stuffed olives (optional)
Instructions
Combine cheese dip, cream cheese, pimiento (save the juice) and luncheon meat in the bowl of a food processor.
Process until well combined and smooth. Add pimento brine to the mixture a tablespoon at a time processing each time, until a spreadable consistency.
Spread 2 tablespoons of mezcla on a slice of bread. Top with another slice of bread and trim crust using a serrated knife.
Cut sandwiches diagonally to form triangles. Wipe knife clean in between slices.
Recommended Products
As an Amazon Associate and member of other affiliate programs, I earn from qualifying purchases.
Nutrition Information:
Yield:
26
Serving Size:
1
Amount Per Serving:
Calories:

60
Total Fat:

4g
Saturated Fat:

2g
Trans Fat:

0g
Unsaturated Fat:

2g
Cholesterol:

13mg
Sodium:

293mg
Carbohydrates:

3g
Fiber:

0g
Sugar:

1g
Protein:

4g