Pollo Asado | Big hearty dinner salads are my jam lately. Which is shocking because when growing up salad was sad iceberg lettuce with some tomato slices or canned mixed vegetables. Neither of this made a salad very appetizing while growing up. It made me pretty averse to anything "salad".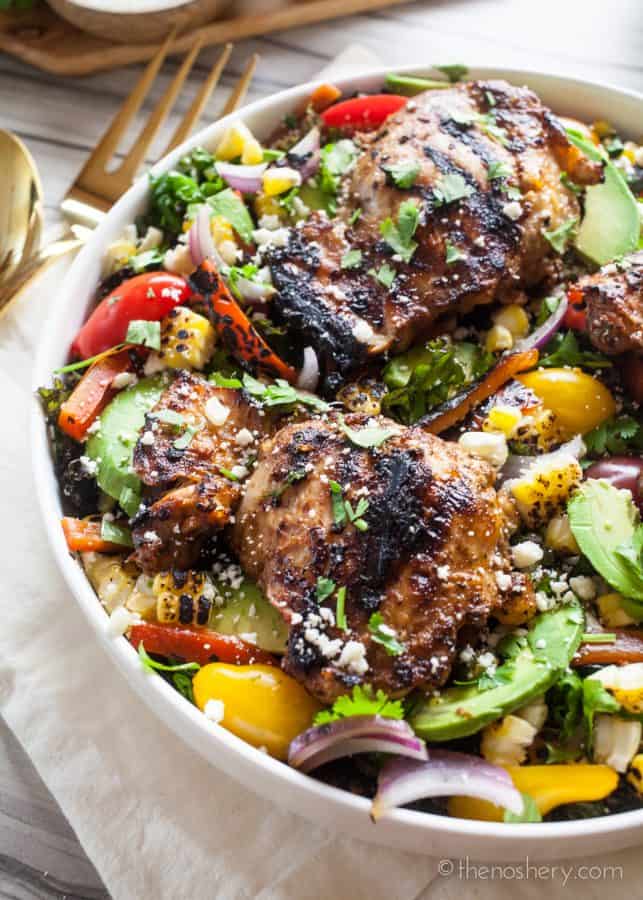 You see, growing up in a Puerto Rican household a typical dinner plate was a starch, another starch, and some meat. If a vegetable did make an appearance it was in the form of iceberg and tomato or mixed canned vegetables. There was a lot of nopes and head shaking whenever I was offered a salad.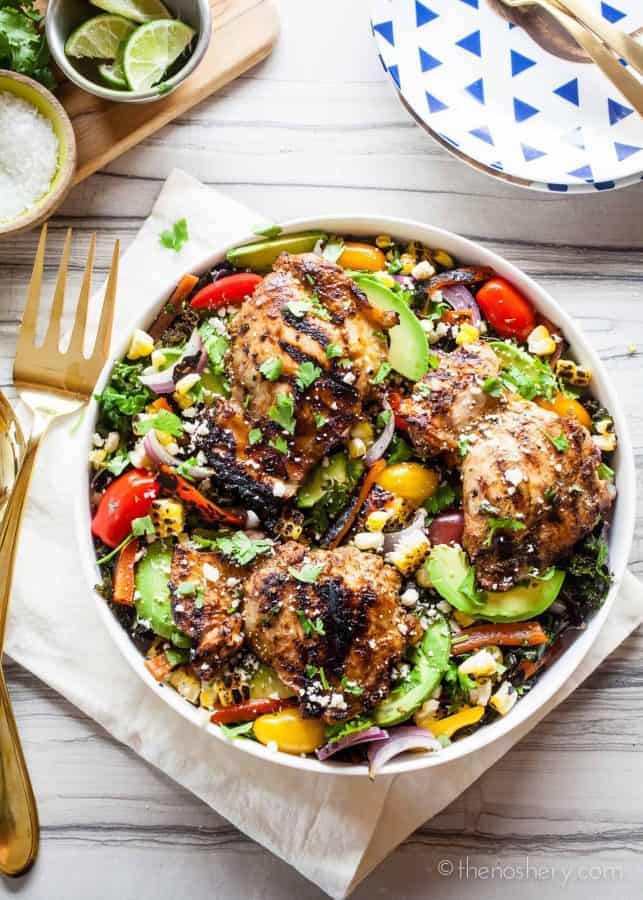 Thank goodness I saw the light and learned how to make a really satisfying salad. The possibilities when it comes to the salad are endless. So many different combinations and preparations you can never get bored with salad.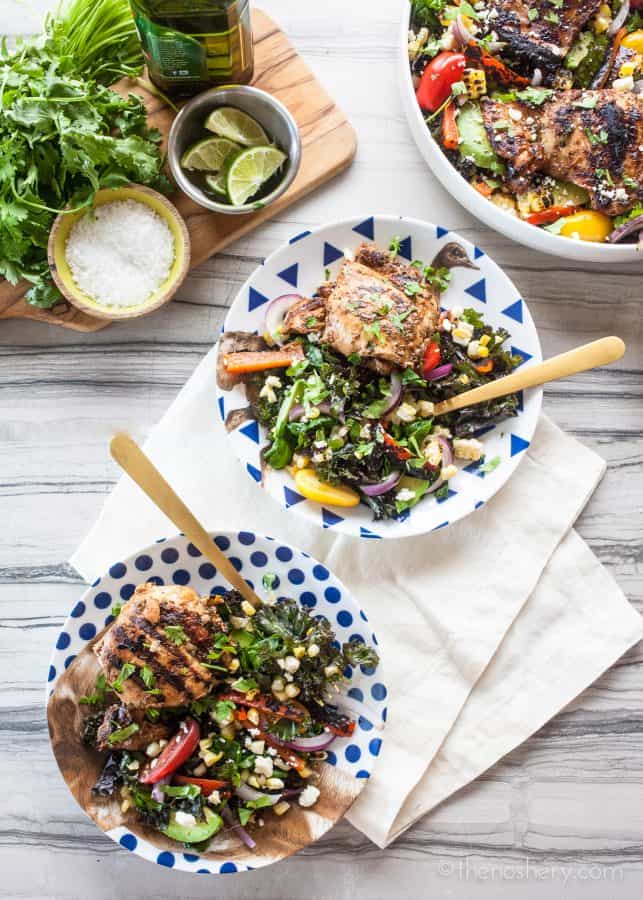 This salad is loaded with delicious charred vegetables, massaged hearty kale, creamy avocado, tangy cotija cheese, and topped with pollo asado. It's a salad full of smokey flavor and bright citrus notes. Using the hearty greens makes for a more satisfying and substantial salad.
If you prefer a lighter salad you can substitute the greens with arugula or salad greens. Because salad greens are already tender there will be no need to massage them.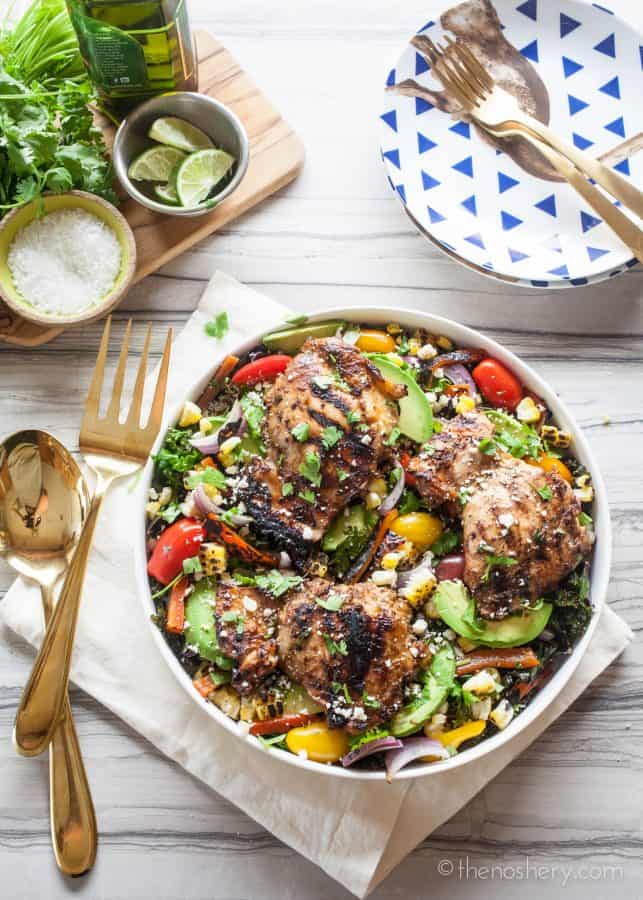 This is a great salad to serve for dinner party or backyard barbecue. Make it easy by making a batch of massaged greens and marinading the pollo asado ahead of time. There is nothing like a bountiful colorful salad to impress your guest.
If you are looking for a full Mexican inspired meal try elote corn, queso fundito con chorizo, spicy chorizo burger, roasted tomatillo salsa verde, or spicy pineapple margaritas.
Follow me on Instagram!
more kale love
Yield: 6
Pollo Asado and Massaged Kale Salad

A salad loaded with delicious charred vegetables and topped with pollo asado. It's a salad full of smokey flavor and bright citrus notes.

Prep Time 20 minutes

Cook Time 2 hours 10 minutes

Total Time 2 hours 30 minutes
Ingredients
Chicken
6 boneless skinless chicken thighs
1 dry guajillo peppers, stems and seeds removed
1/2 medium red onion
juice of 1 lime
3 tablespoons olive oil
1 tablespoon cumin
1 teaspoons chipotle crushed red pepper
3 cloves garlic, minced
1 teaspoon kosher salt
Salad
1 tablespoon olive oil
juice of 1 lime
1 teaspoon chili powder
1 teaspoon kosher salt
1 bunch kale, torn
1 bunch chard, torn
2 ears corn, husks removed
2 red bell peppers
1/2 small red onion
1 small Hass avocado, halved and sliced
1 cup grape tomatoes, halved
1/4 cup crumbled cotija cheese
1/4 cup cilantro
Instructions
Trim the excess fat from chicken thighs. Place thighs in a resealable plastic bag set aside.


Place guajillo peppers in the microwave for 10 seconds. In a blender combine pepper, onion, and remaining chicken ingredients. Blend until smooth.


Pour the marinade over the chicken. Seal the bag and toss until evenly coated with marinade. Open the bag and reseal being careful not to let leave in any air. Refrigerate for at least 1 hour or overnight.


In a small air-tight container combine olive oil, lime juice, chili powder, and salt. Shake until emulsified. Place kale and chard in a large bowl and drizzle with dressing. Using your hands massage the greens until it becomes soft and wilted, about 2 to 3 minutes, set aside.


If you have a gas stove char the corn, red peppers, and onion over the open fire. If not place corn, red peppers, and onion on a sheet pan and char under the broiler, turning as needed. Let the vegetables cool. Thinly slice the red peppers and onion. Cut the corn kernels away from the cob.


Add sliced peppers, onions, corn kernels, and remaining ingredients to the kale. Toss until well combined and set aside.


Heat the grill to high heat, close grill and preheat for 10 minutes. Scrub and oil the grilling grate.


Remove chicken from marinade and shake off excess. Place the chicken directly over the hot side of the grill. If using a gas grill, cover; if using a charcoal grill, leave exposed. Gill for 5 minutes each side or until the center registers 165°F on an instant-read thermometer, 10 - 12 minutes total.


Serve chicken with salad.



6