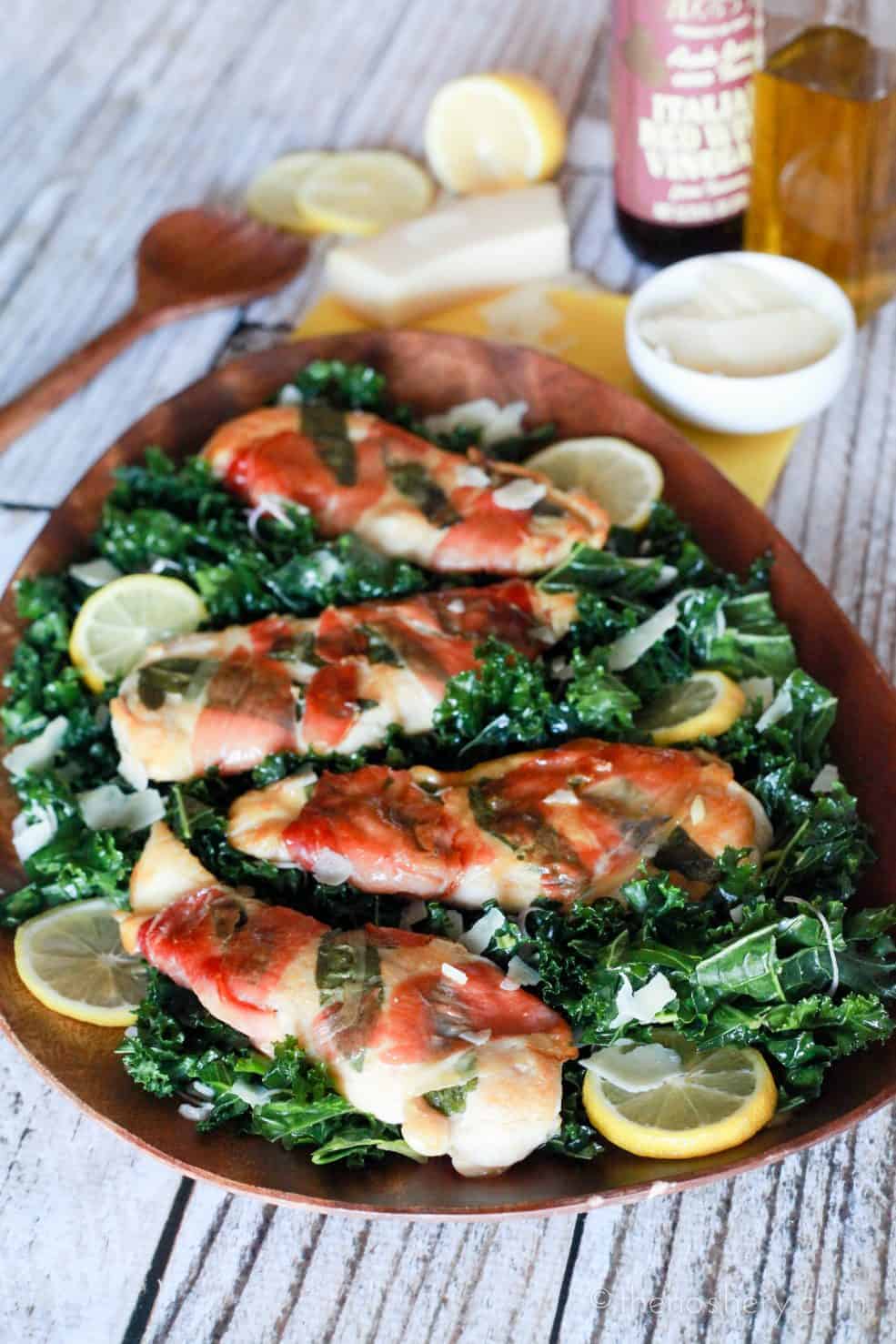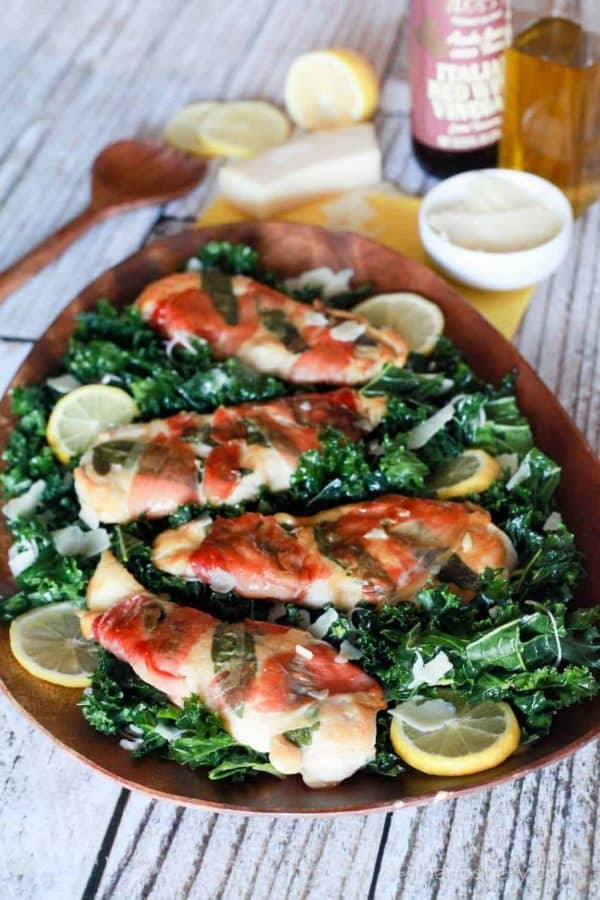 I made this for Lunchner, that weird time between lunch and dinner.  It happens mostly on the weekends.  You know because you sleep in on the weekend and have brunch.  It makes sense that if you have brunch you then have lunchner.  Right?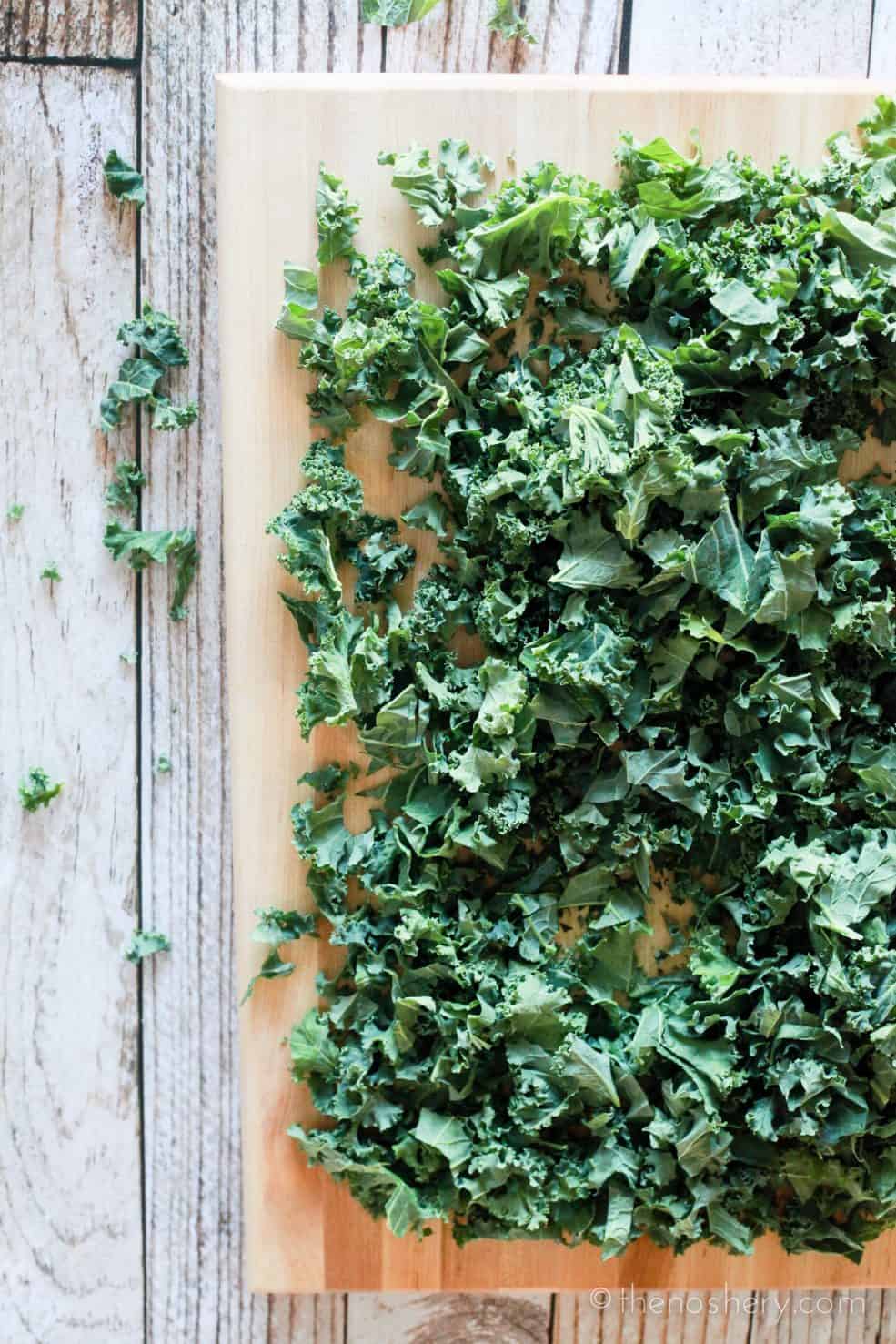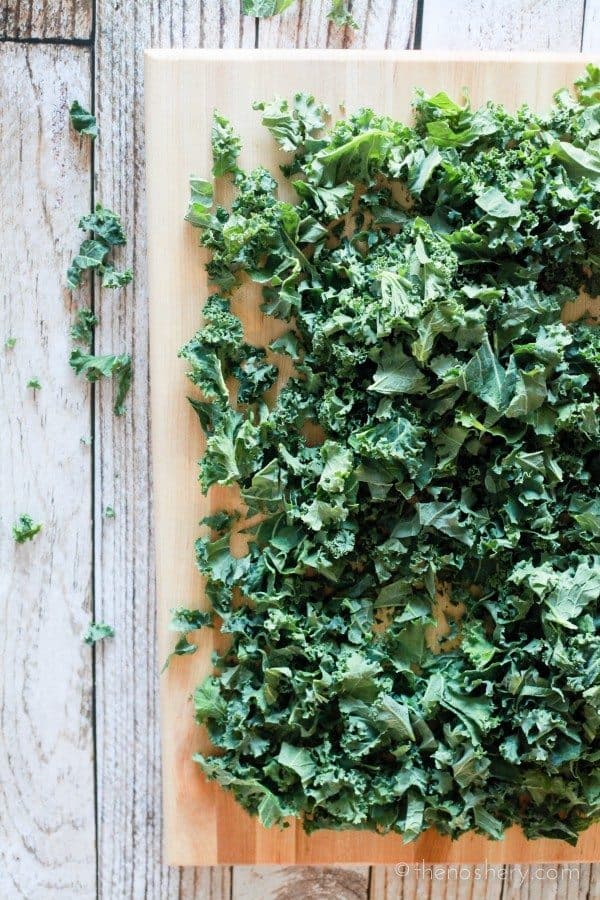 Don't give me that look!  Lunchner is a real thing.  I know they don't offer it in restaurants and such, but if there is a brunch it it would stand to reason there is a lunchner.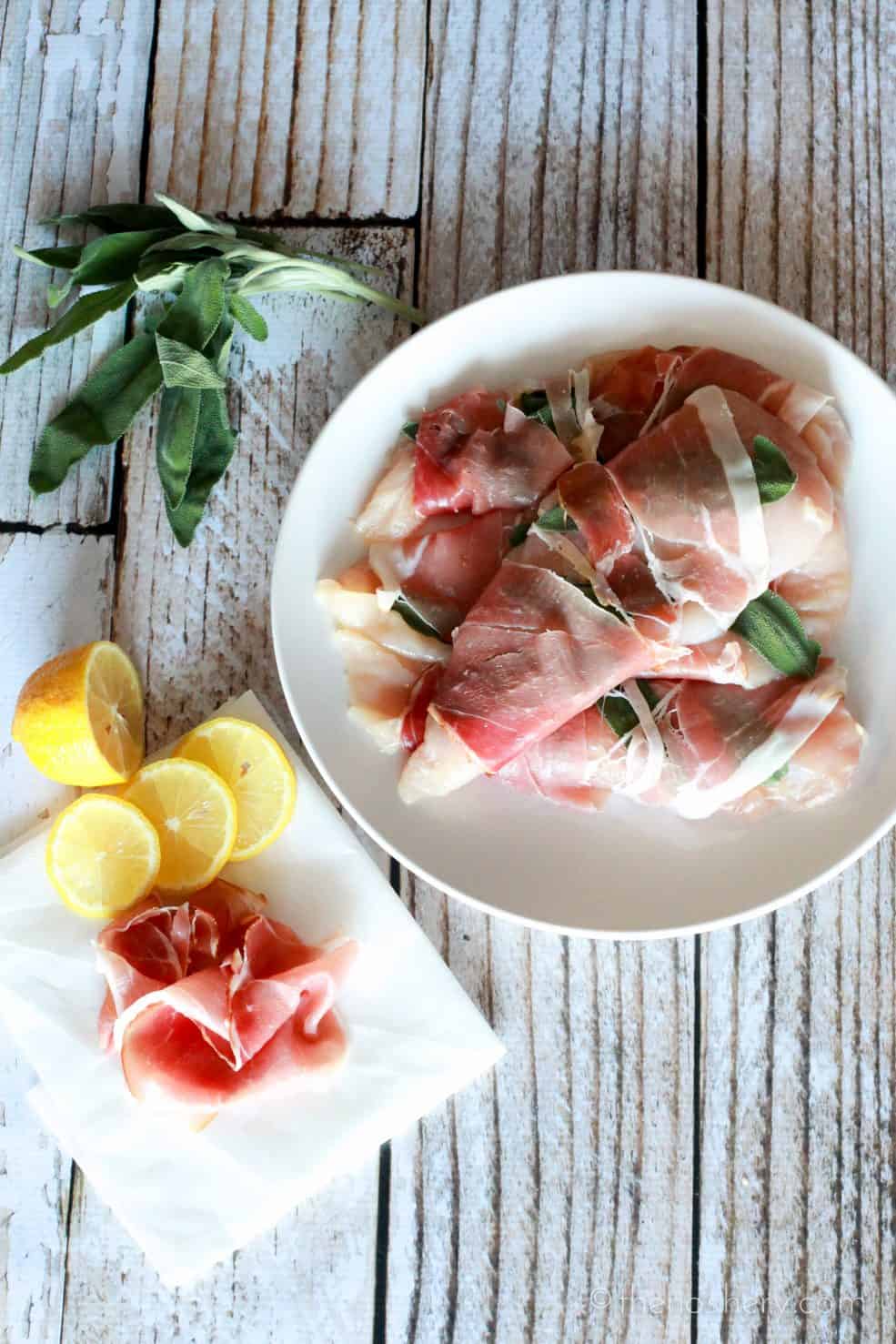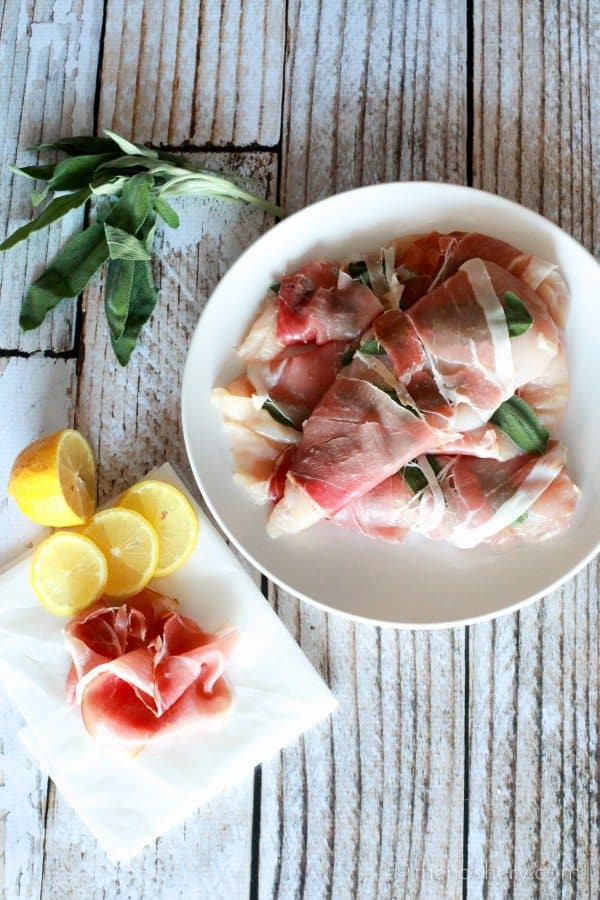 Ok…so, I made lunchner up, but I think I have a legitimate argument.  If it did exist this dish would be perfect.  It's filling but not heavy and very, very satisfying.  I should know I just had a heaping plateful.  Not the plate below that would be excessive although I wouldn't put it past my abilities.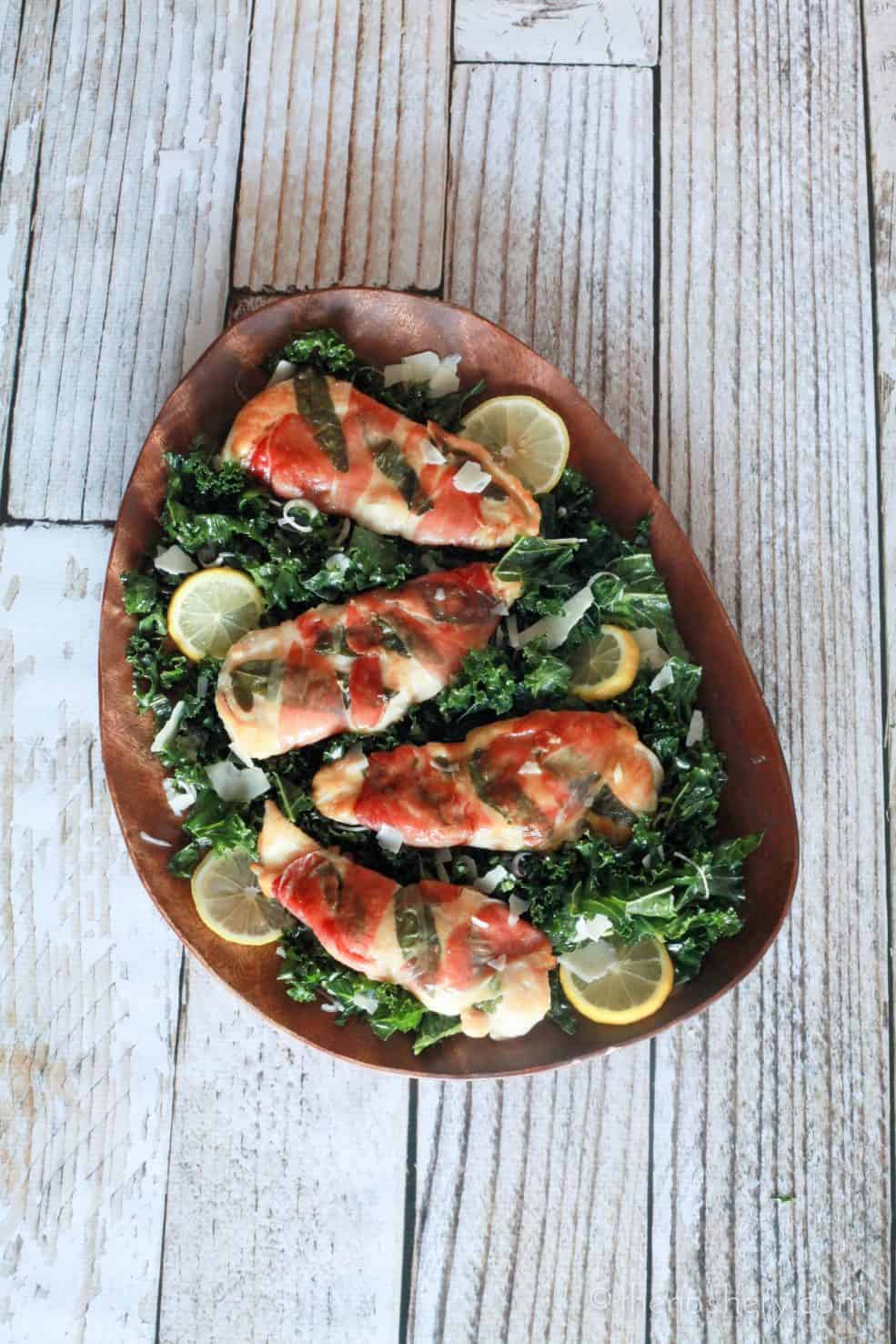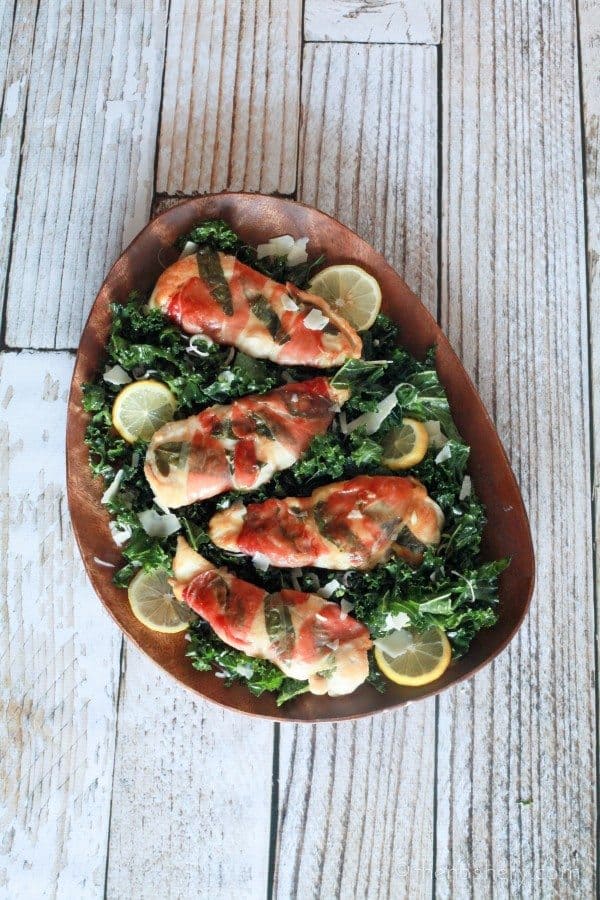 Saltimbocca is Italian for "jumps in mouth" and this dish does just that.  I love this chicken! The prosciutto gives it just the right touch of saltiness, the sage a hearty earthiness and the lemon brightens the dish and makes it jump in your mouth. It's literally a party in your mouth!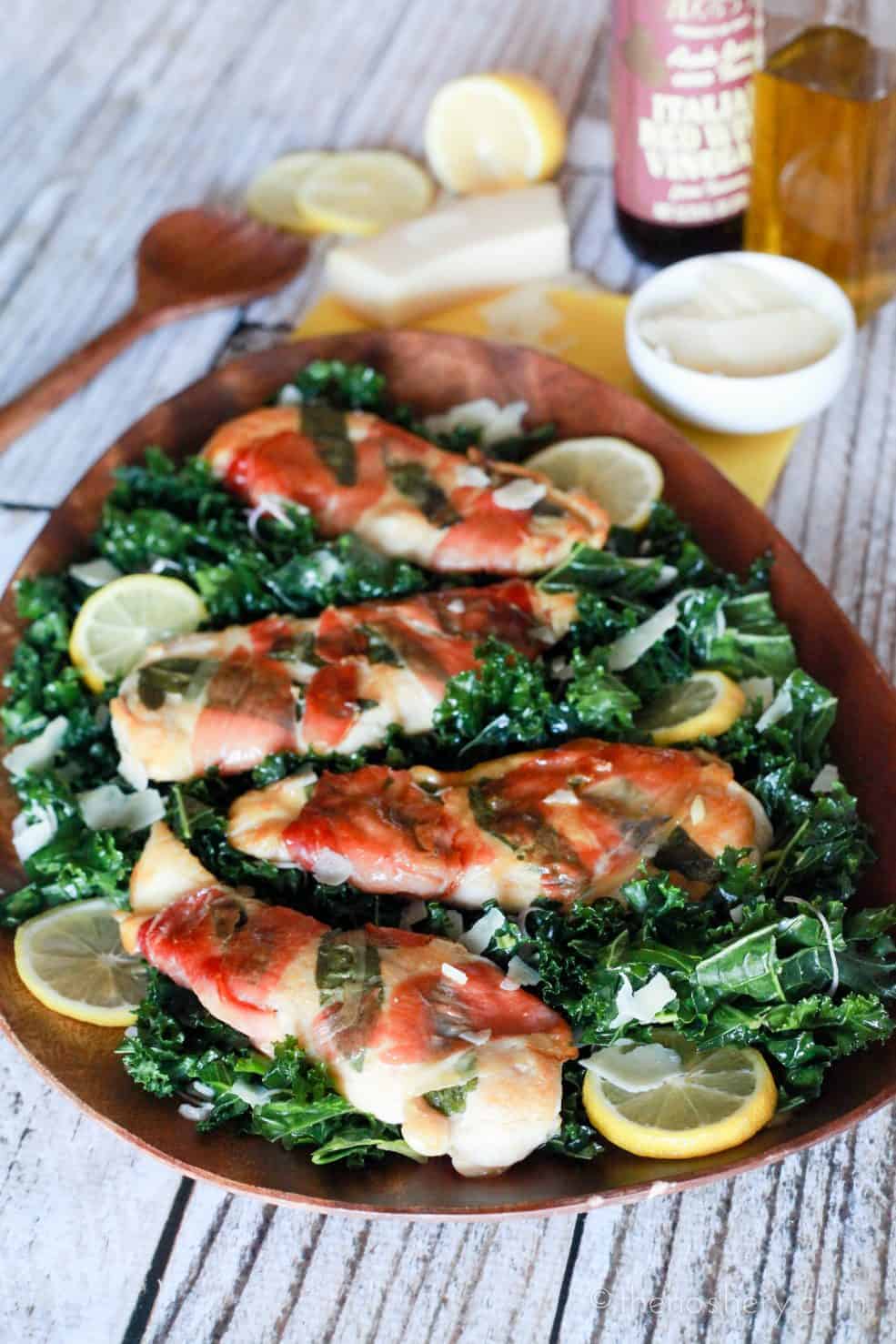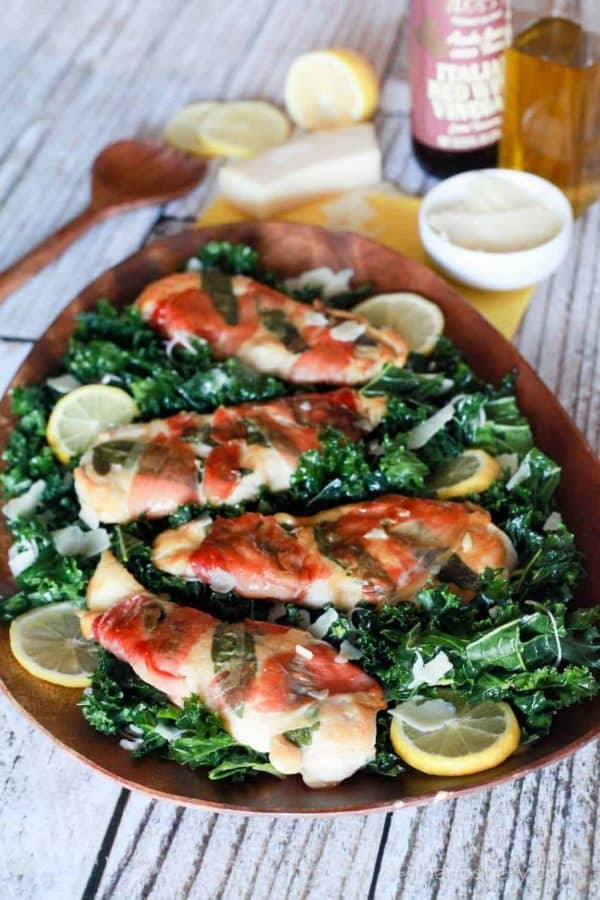 Kale salad with shaved parmesan seemed like the perfect pairing for lemon chicken saltimbocca.  Kale loves lemon and prosciutto and I love it!  It's oh so satisfying and good for you, which is perfect for those still trying or/and on track with their New Year's Resolutions.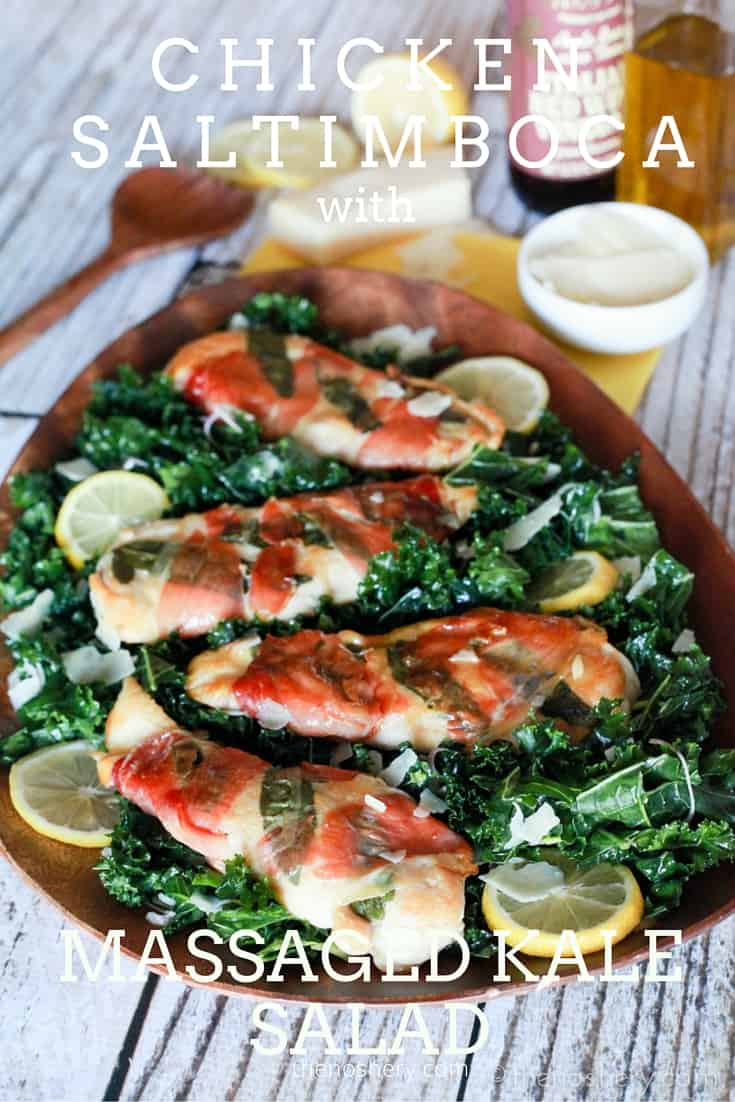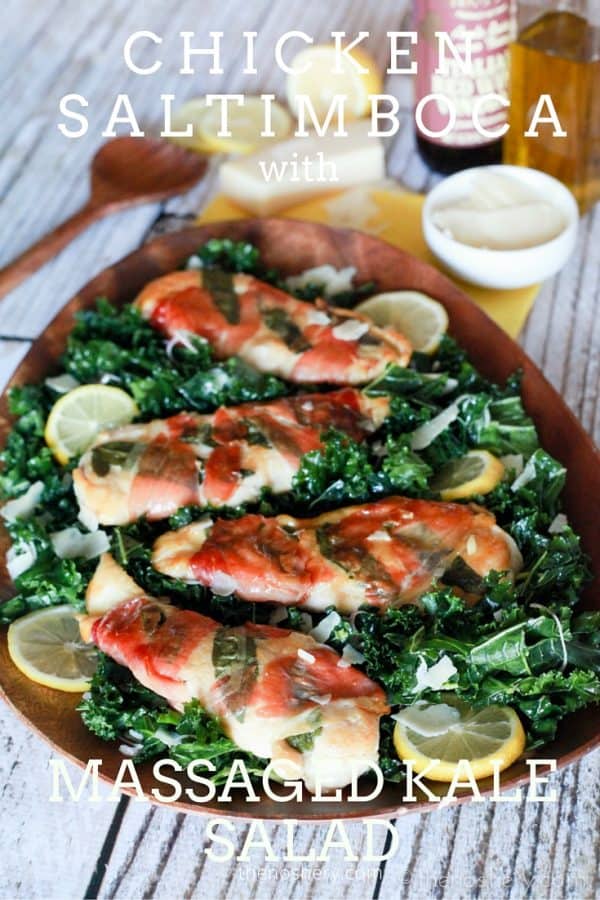 Yield: 4
Lemon Chicken Saltimbocca with Massaged Kale Salad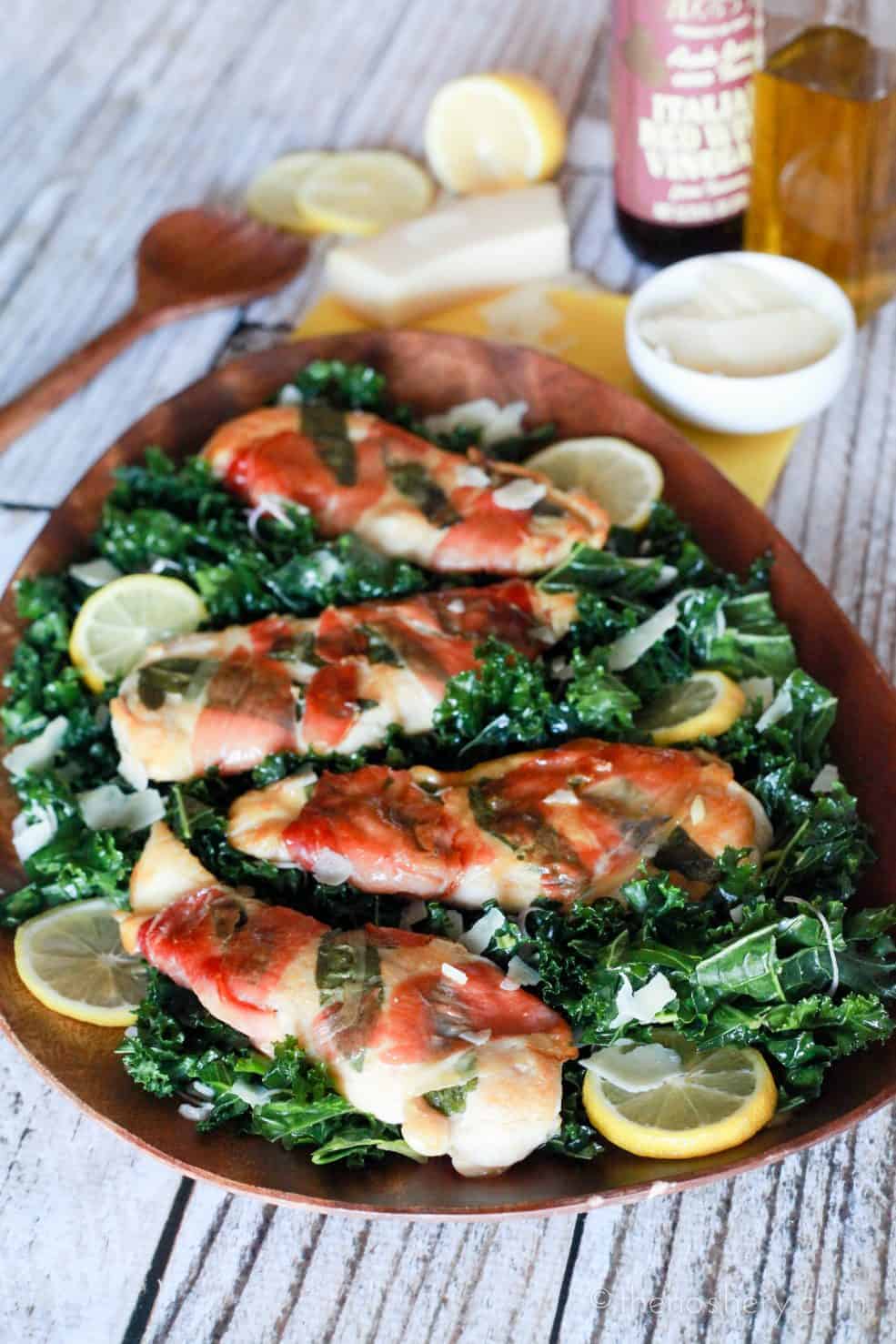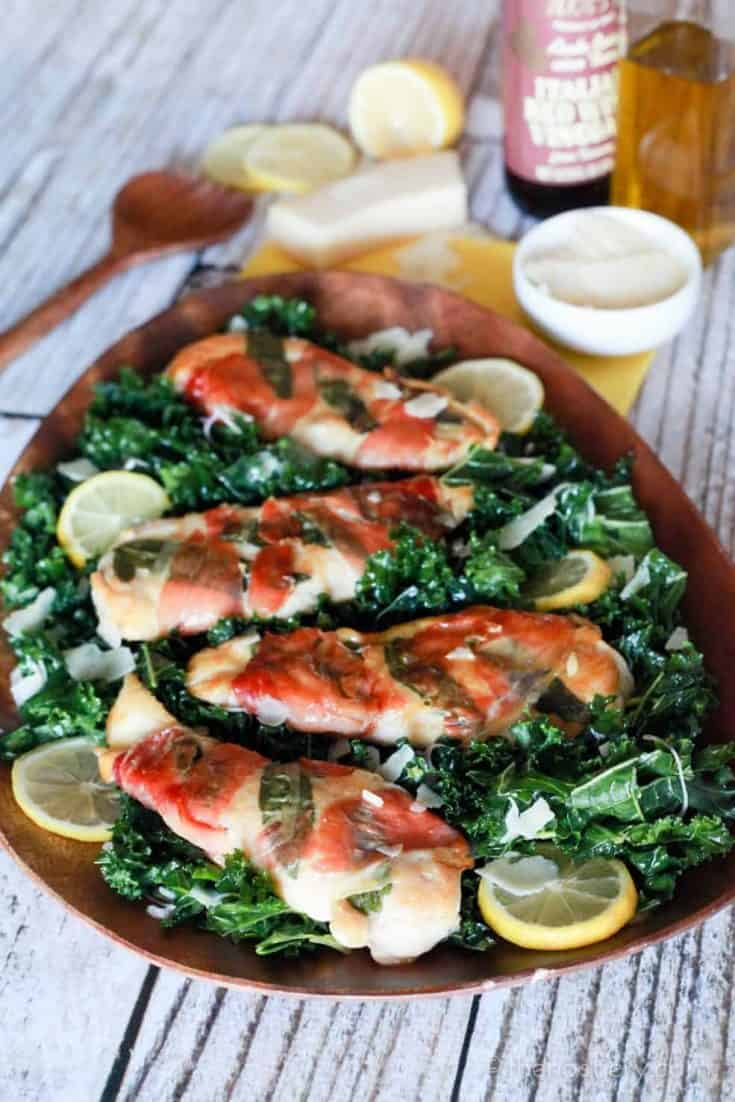 Ingredients
Chicken
4 4 oz chicken breast or 2 chicken breast split lengthwise
12 fresh sage leaves
4 slices thinly sliced prosciutto
1 tablespoon olive oil
1/3 cup chicken broth
1/4 cup fresh lemon juice
1 teaspoon honey
1/2 teaspoon cornstarch
Lemon slices
Salad
6 cups chopped kale leaves with stems removed
juice from 1/2 lemon
1 tablespoon olive oil
1 teaspoon red wine vinegar
1 shallot, thinly sliced
shaved parmesan
Instructions
Chicken
Set oven to warm or set to 180 degrees.
Rinse chicken and pat dry with paper towels, sprinkle with salt. Place 3 whole sage leaves on each chicken breast; wrap each piece of chicken with prosciutto slices, securing sage leaves. If slices are too short cut them into 2 strips and wrap chicken.
Heat a large skillet over medium heat. Add olive oil to pan and swirl to coat. Add chicken to hot pan and cook for 2 minutes on each side or until done, prosciutto should be crispy. Remove chicken from pan and transfer to sheet pan, place in the oven to keep warm.
Salad
In a small bowl combine broth, lemon juice, honey and cornstarch in a small bowl stir with a fork until smooth. Add cornstarch mixture to pan, using a wooden spoon or spatula scrap all the brown bits, bring to a boil, stirring constantly. Cook until slightly thickened, about 1 minute, stirring constantly with a whisk. Spoon sauce over chicken.
In a large bowl combine chopped kale, lemon juice, vinegar, olive oil and a sprinkle of kosher salt. Using your hands massage the kale until it becomes soft and wilted, about 2 to 3 minutes. Toss with shallot and parmesan. Some chopped walnuts would also be a good addition.
Serve chicken over kale salad.
Nutrition Information:
Amount Per Serving:
Calories:

274
Carbohydrates:

10g
Protein:

59g