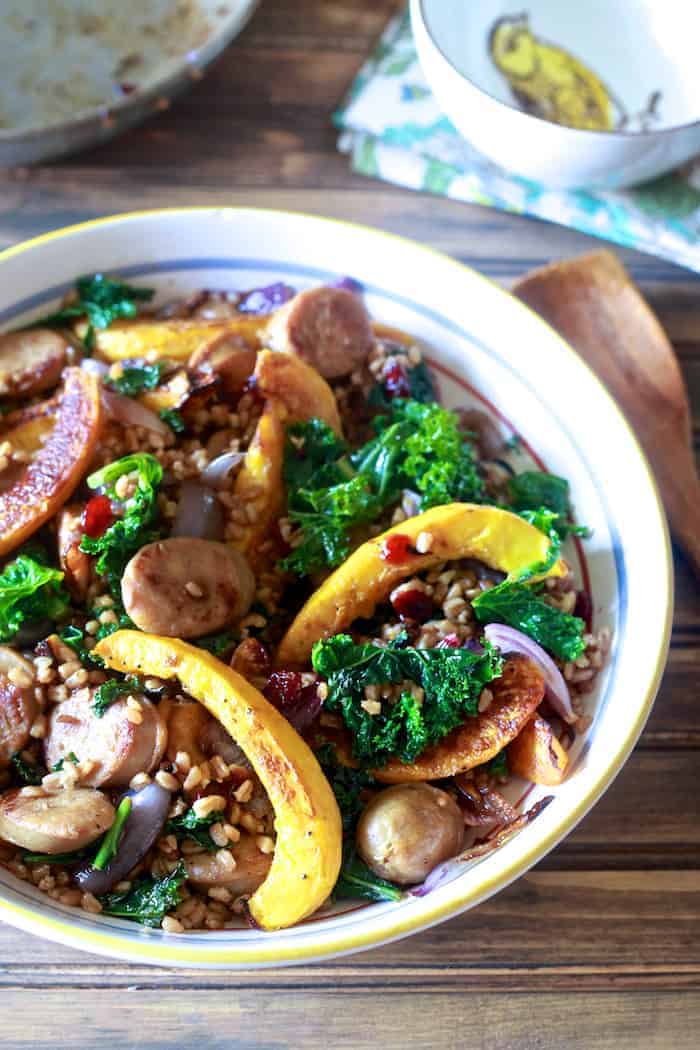 We got back from Puerto Rico late Thursday night which gave us the weekend to get back into the routine of life. Which is easier said than done when returning from vacation. Your body wants to remain on vacation but your brain starts checking off all the things that need to be done. One of those things was restocking the pantry and refrigerator. While I was accessing our pantry I found an acorn squash that I bought before we left. Since it's a new year and my system is in need of a reboot after eating my way through Puerto Rico I thought I do something healthy.
I've been wanting to play with farro for awhile. What is farro? It's a grain from farro-way…get it? I'm sorry I couldn't resist. But, it is. It's the grain of Italy; a hearty wheat grain cooked similar to rice and has a toothsome texture. Have you ever tried farro? I love farro! It's chewy texture, and nutty flavor makes it perfect for hearty soups and salads. It can also be used in place of rice to make farrotto, a variation of risotto.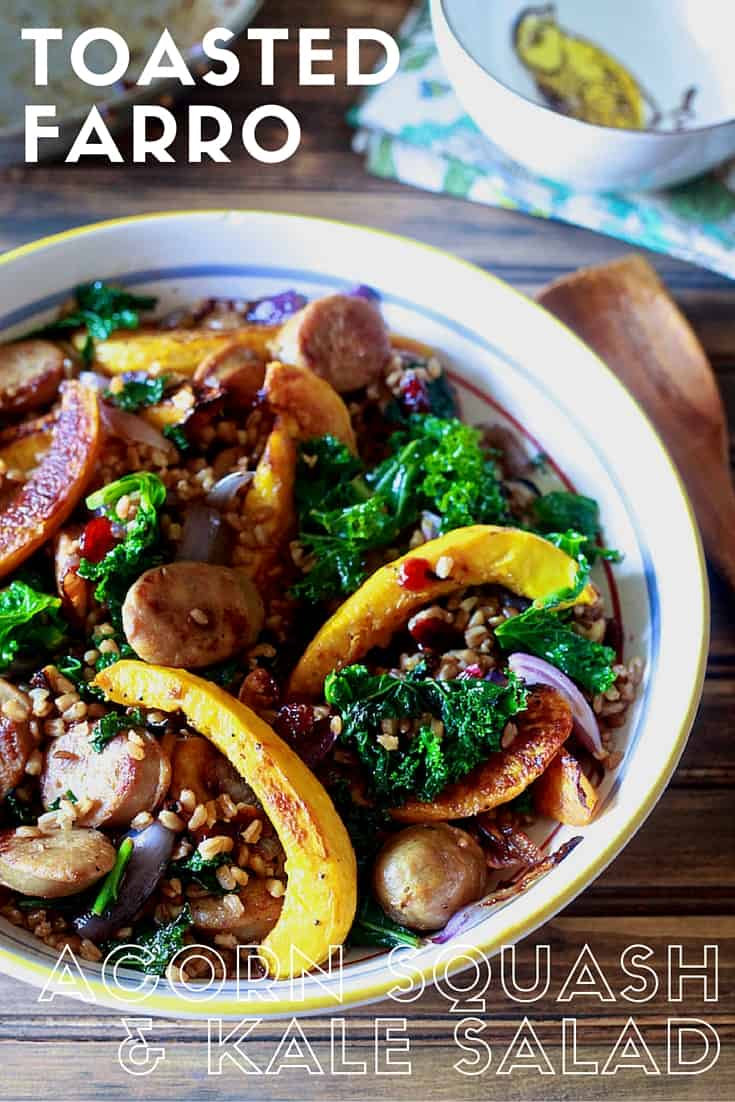 This is most definitely a main dish salad. Full of all types of filling deliciousness like roasted acorn squash, roasted onion, cranberries, kale and my favorite sweet apple chicken sausage. This sausage is absolutely a perfect pairing with this salad. It's packed full of sweet, nutty and savory notes. Everything that makes this girl happy!
Yield: 4
Toasted Farro with Acorn Squash, Kale and Chicken Sausage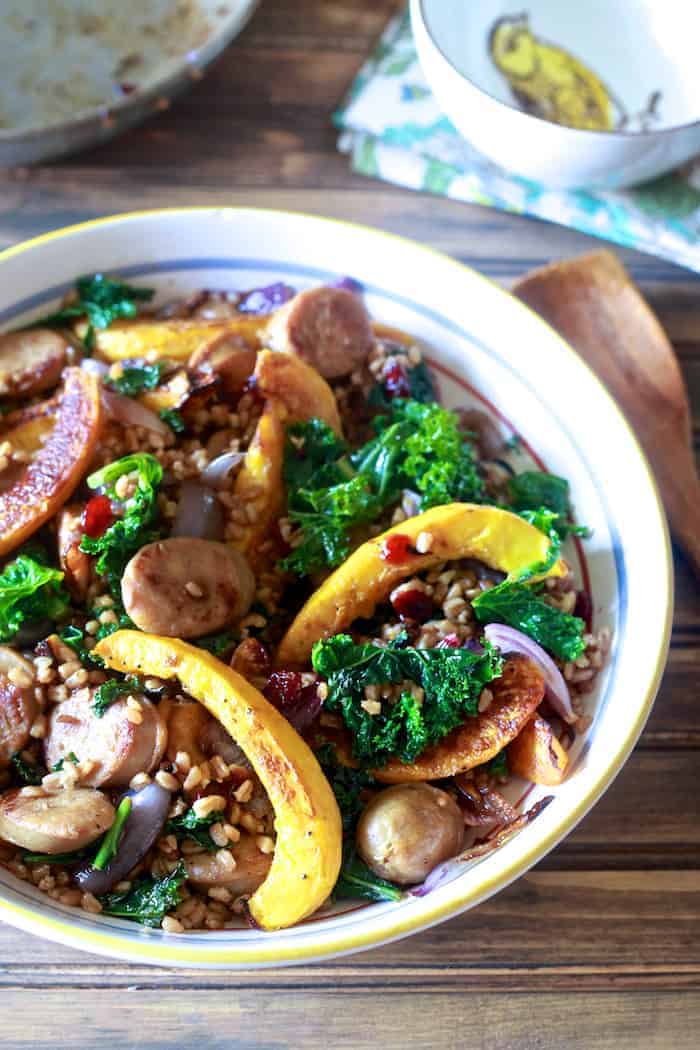 Ingredients
1 cup farro
1 small acorn squash, about 1 lb
1 medium red onion, quartered and halved
2 tablespoons olive oil
1 tablespoon vegetable oil
2 cloves garlic, minced
2 tablespoons butter
4 chicken sweet apple sausages
1/4 cup white wine
2 cups chopped kale
1/4 cup cranberries
Instructions
In a saucepan, cover the farro with water and bring to a boil. Cover and cook over moderate heat until just tender, 12 minutes. Drain and transfer to a medium bowl. Refrigerate for about 30 minutes, until chilled.
Heat oven to 400 degrees.
Cut acorn squash in half and using a spoon remove the center pulp and seeds. Slice the squash along its natural segments. Peel using a vegetable peeler. Toss squash and onions with olive oil, season with salt and pepper. Roast in the oven until browned and tender, turning one, about 30 minutes. Set aside.
In a skillet, heat the vegetable oil, add garlic and sauté until fragrant, about 1 minute. Add the farro in an even layer and cook over high heat, stirring once, until toasted, about 5 minutes. Transfer to bowl.
In the same skillet melt 2 tablespoons of butter, add the sausages and cook until browned. Add wine to deglaze the pan, scraping all the brown bits at the bottom. Add kale and cranberries, cover to allow the kale to wilt, about 2 minutes.
Toss sausage mixture and roasted vegetables with farro and serve.