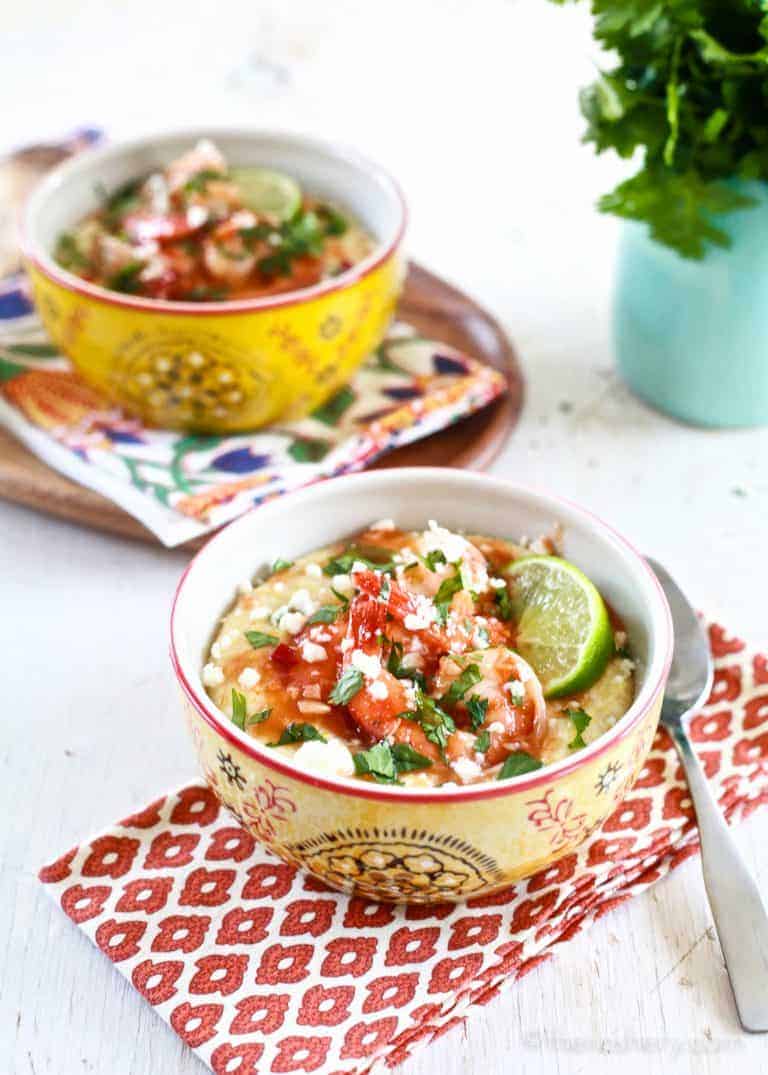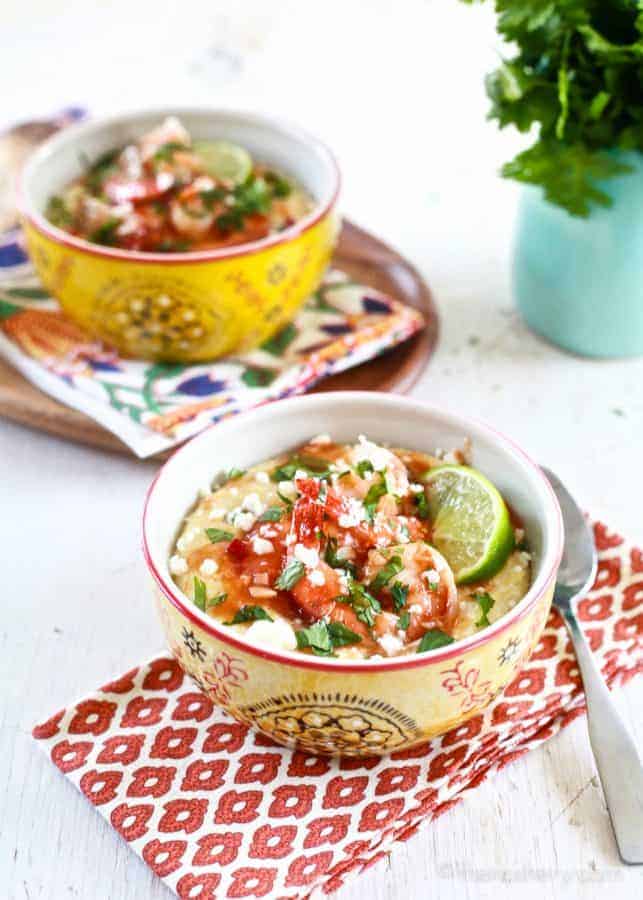 Having spent a good chunk of my childhood stationed in Georgia, I became very familiar with shrimp and grits. And, I have to confess I was not a fan of grits. In fact, for years, I declared my hate for them without abandon. I would make twisted and contorted faces whenever I even heard them mentioned. Then I learned how to make grits for myself, and my world changed. This is what I have come to learn about grits. I like to make mine with some milk. Milk adds a creaminess to grits that are a must for my pallet. Add some cheese, and I can eat grits all day long.
When preparing these grits I add a teaspoon of baking soda. This is a little trick one of my culinary school instructors taught me. Adding, a teaspoon of baking soda to every 1 cup of grits or polenta cuts the cooking time in half. Instead of having to wait 30 – 40 minutes for your creamy, cheesy grits, they are ready in just 15 minutes. I promise they will be the creamiest tastiest you've ever tasted.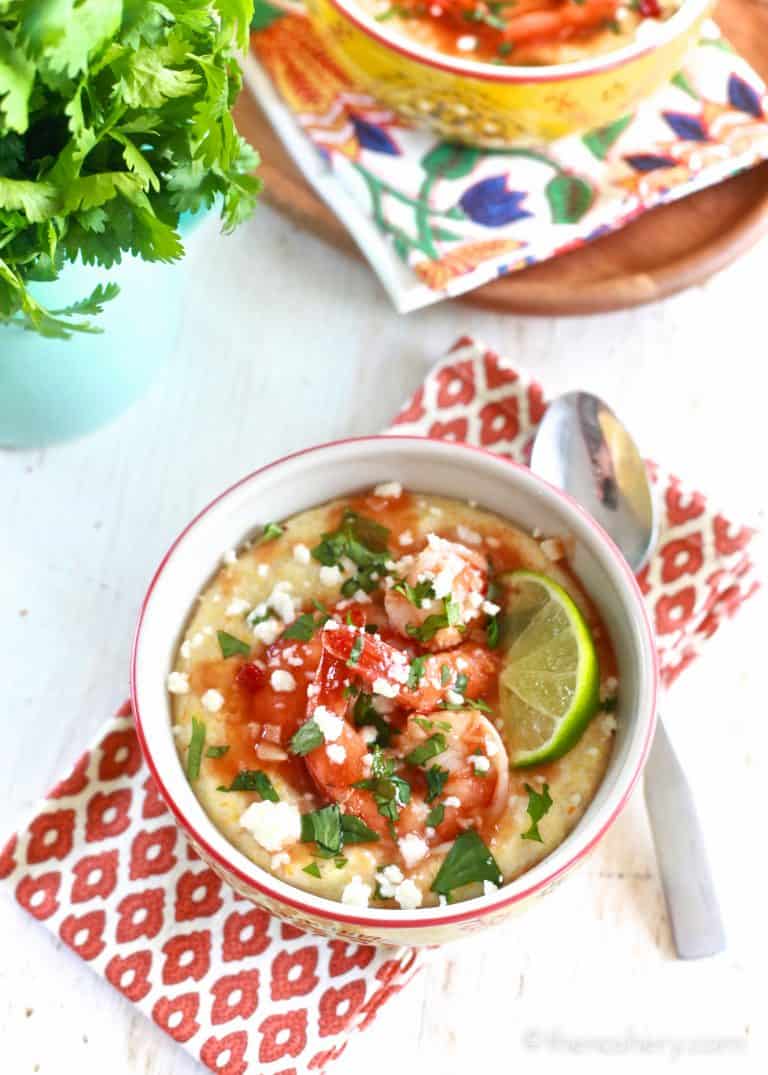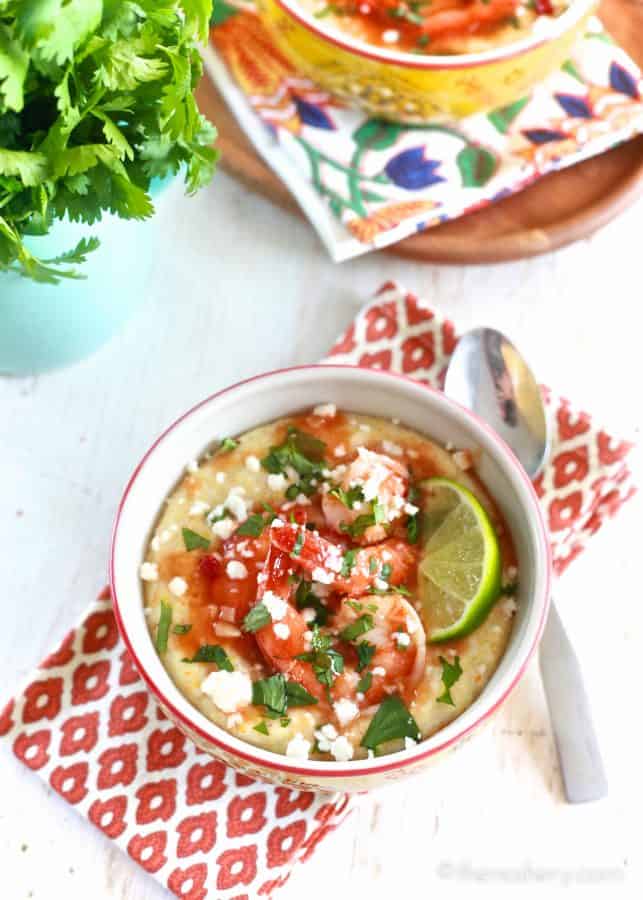 I am often asked, what's the difference between grits and polenta? The answer is nothing, both are made from stone-ground cornmeal, and both are prepared in the same manner. The difference between grits and polenta is regional, grits being from the south and polenta from Italy. In fact, the same dish in the Caribbean is called "funche".
I thought it would be fun to do a little twist on shrimp and grits.I love guava! So, I glazed the shrimp with a spicy guava sauce. Guava is one of my favorite ingredients. I've used it to make a bbq sauce and one of my favorite dips of all time! To balance out the sweet and spicy guava shrimp I prepared the grits with coconut milk. It's a magical dish.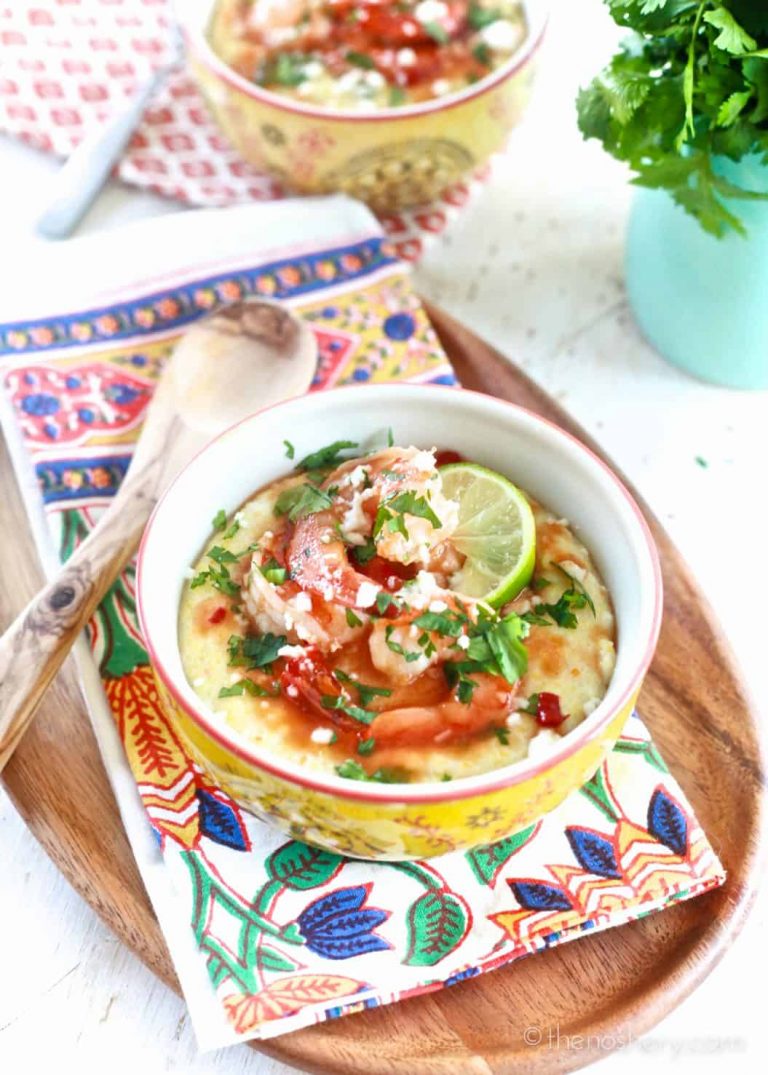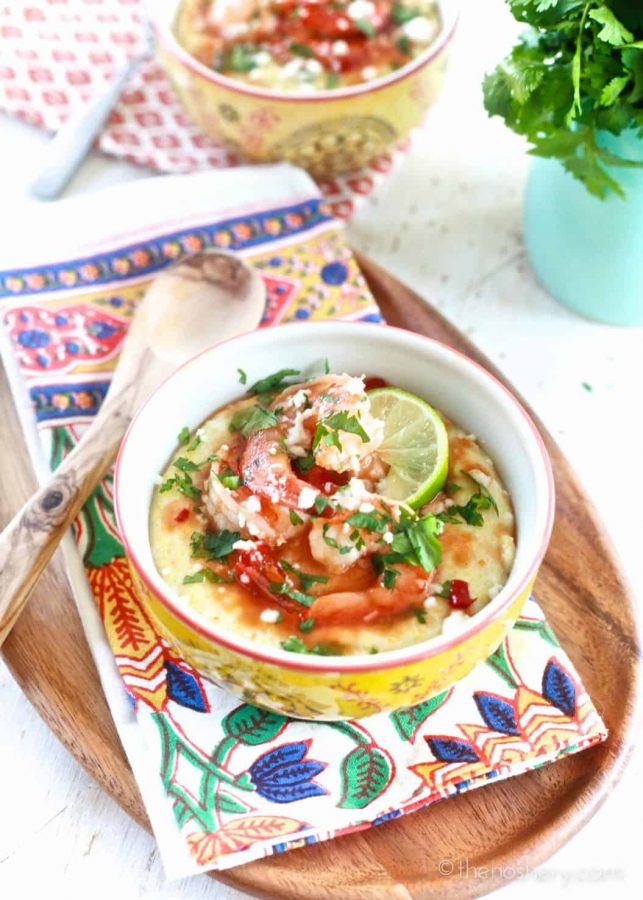 There is some difference when it comes to the corn. Grits in the South are traditionally made from dent corn having an almost mushy texture when prepared, whereas, in Italy, polenta is made with flint corn, which holds its texture better and is more toothsome. However, if you ever have a recipe that calls for grits or polenta, and you can't find it all you need is stone-ground cornmeal. With this recipe, I married all of these worlds together, and it's a perfect marriage. The shrimp is just the right amount of sweet and spicy. Almost too spicy at first but, the coconut milk smooth out the heat for you with all its creaminess. It's kind of amazing. It's a great comforting dish that makes you think you're hanging out at the beach. It's a getaway meal. 😉
Spicy Guava Glazed Shrimp with Coconut Milk Grits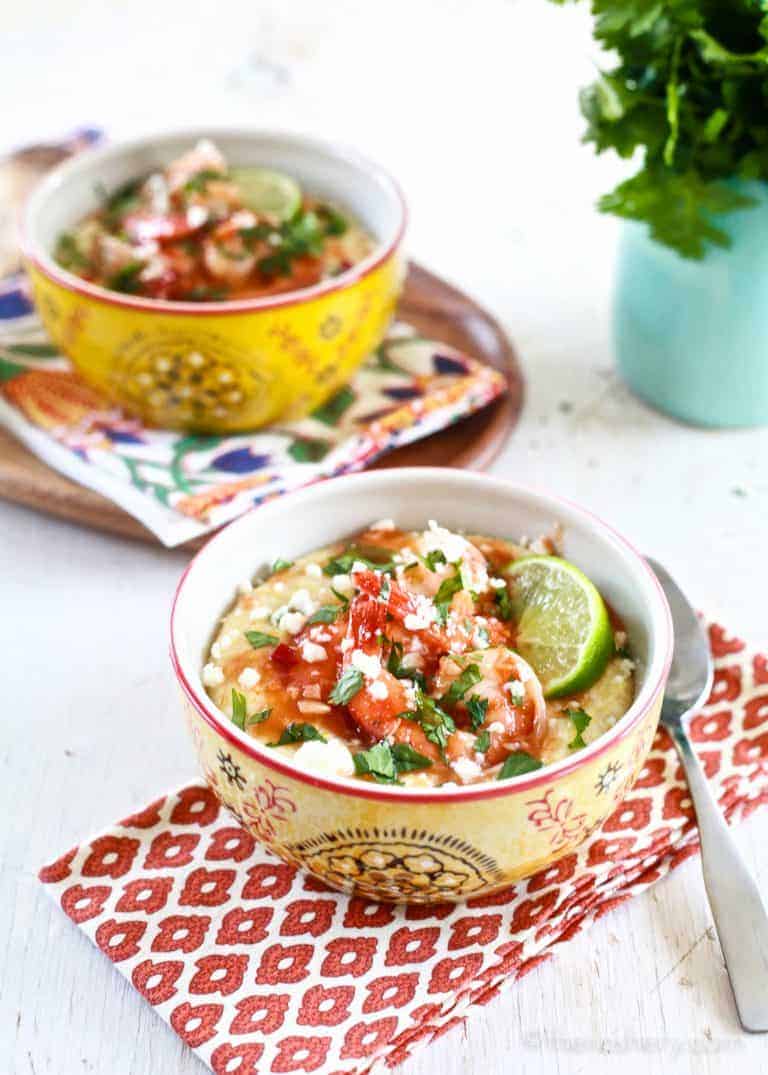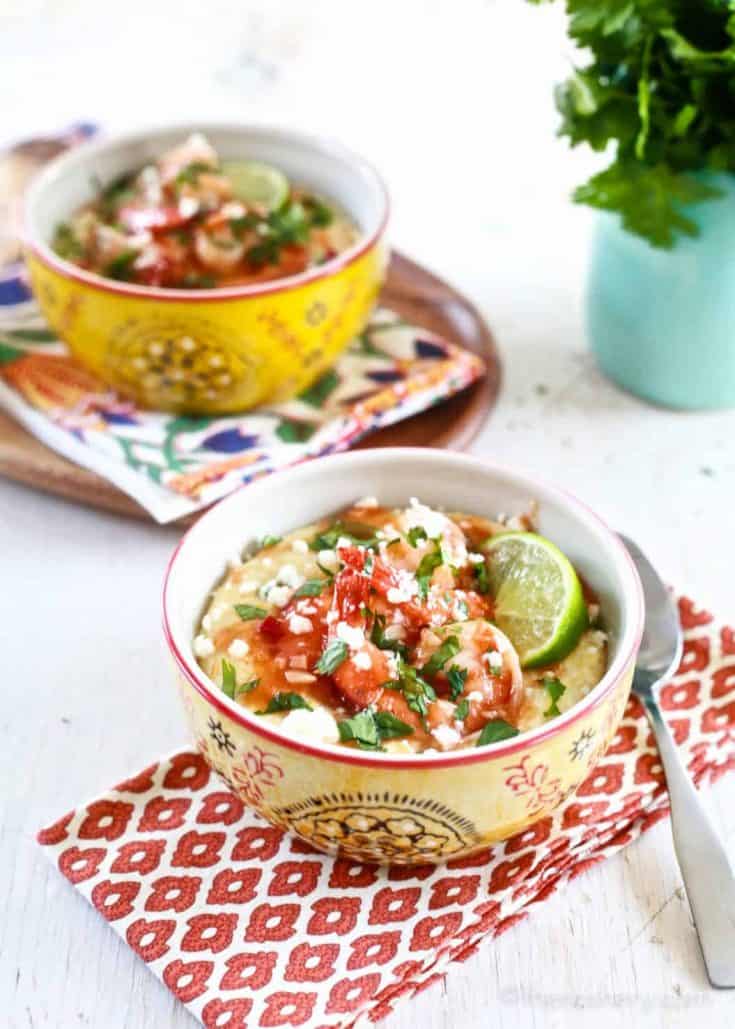 Ingredients
Shrimp
1/2 cup guava marmalade
juice of 1 lime
1 tablespoon coconut butter
2 garlic cloves, minced
2 dry red chili peppers, minced
1 tablespoon spiced rum
16 jumbo shrimp, about 1/2 lb peeled and deveined
Polenta
2 cups water
2 cups coconut milk
1 clove garlic, minced
1 teaspoon salt
1 cup polenta
1 teaspoon baking soda
1 tablespoon coconut butter
1/4 cup queso fresco
Garnish
Instructions
Shrimp
In a small sauce pot combine guava marmalade, lime, coconut butter, garlic, chili peppers and rum. Bring to a boil. Lower heat and simmer for 3 - 5 minutes, stirring occasionally. Set aside to cool completely. You can place in the freezer for a few minutes to hurry the process.
Place shrimp in resealable bag. Add marinade and refrigerate for 15 - 30 minutes to marinade.
Polenta
In a large sauce pot water, coconut milk, garlic and salt. Bring to a boil. While whisking gently, pour the polenta into the boiling water in a steady stream. Add baking soda. Turn down the heat to low and continue whisking until the polenta has thickened, about 15 minutes. Once it is thick and creamy add coconut butter and queso fresco and stir.
Heat large skillet over medium-high heat. Add shrimp with marinade to skillet. Cook until shrimp is tender and pink, about 5 minutes.
Serve polenta topped with shrimp and drizzled with sauce. Garnish with cilantro and queso fresco crumbles.