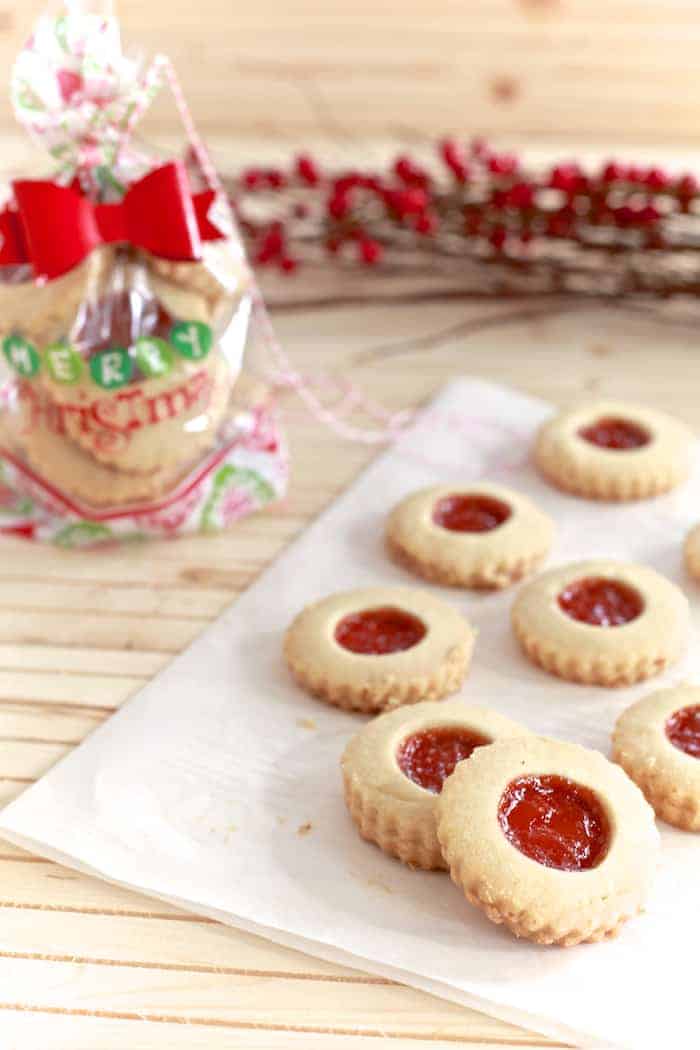 Today the internet will be flooded with cookies. Glorious cookies! Every every year the Great Food Blogger Cookie Swap begins and food bloggers from across the world exchange cookies through the mail and post them on their blogs to share with the world. All proceeds raised during the cookie swap go towards Cookies for Kids Cancer. This year 566 bloggers from 7 countries participated and raised $2,417, with brand partner donations a total of just over $12,000 was raised!
I got amazing cookies from Chocolate Shortbread from Wendy at The Monday Box, Iced Ginger Molasses Cookie Bars from Allison at Celebrating Sweets and Chocolate Chip Coconut Macaroons from Heather at Castle Walk Kitchen! I sent these tasty cookies to Linda and Allison at 2 Cooking Mamas, Kristen at Dinner for Two and Kat at I Want Crazy Blog. So many cookies!!!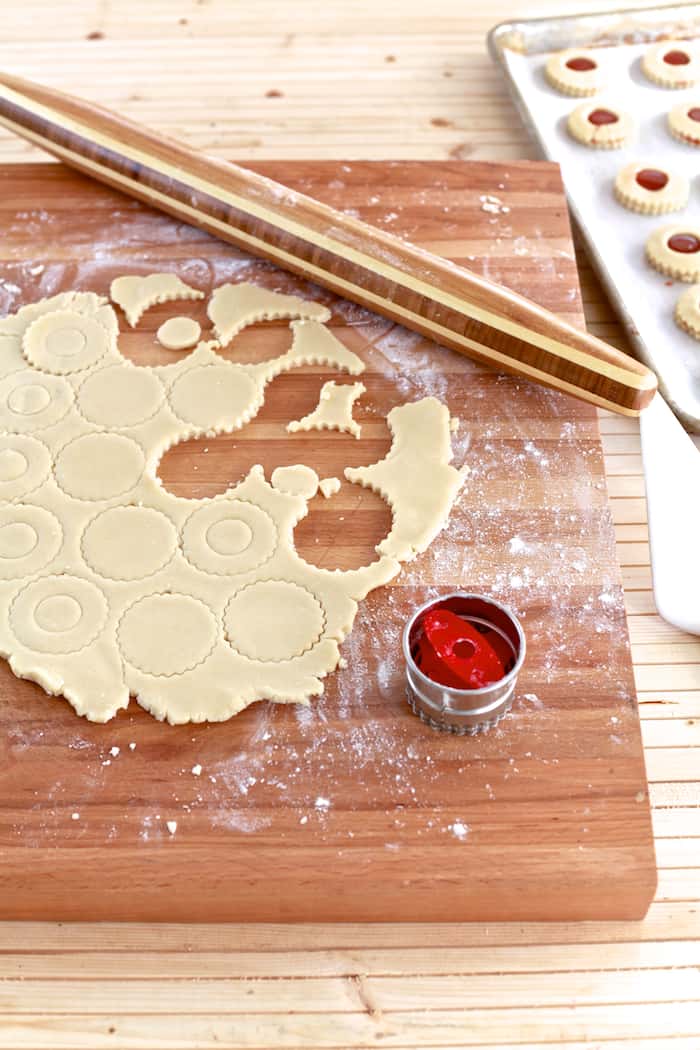 I adore these cookies. My mother use to make them all the time for my sister and I. She would usually fill the dimple with strawberry jelly, which would melt and become chewy. It was my favorite part because it would stick to my teeth. Don't ask me why….it just was. You can fill them with whatever you want. I have seen them plain or topped with sprinkles. I have seen them fill them with coconut, chocolate, any fruit preserve or caramel, the possibilities are endless.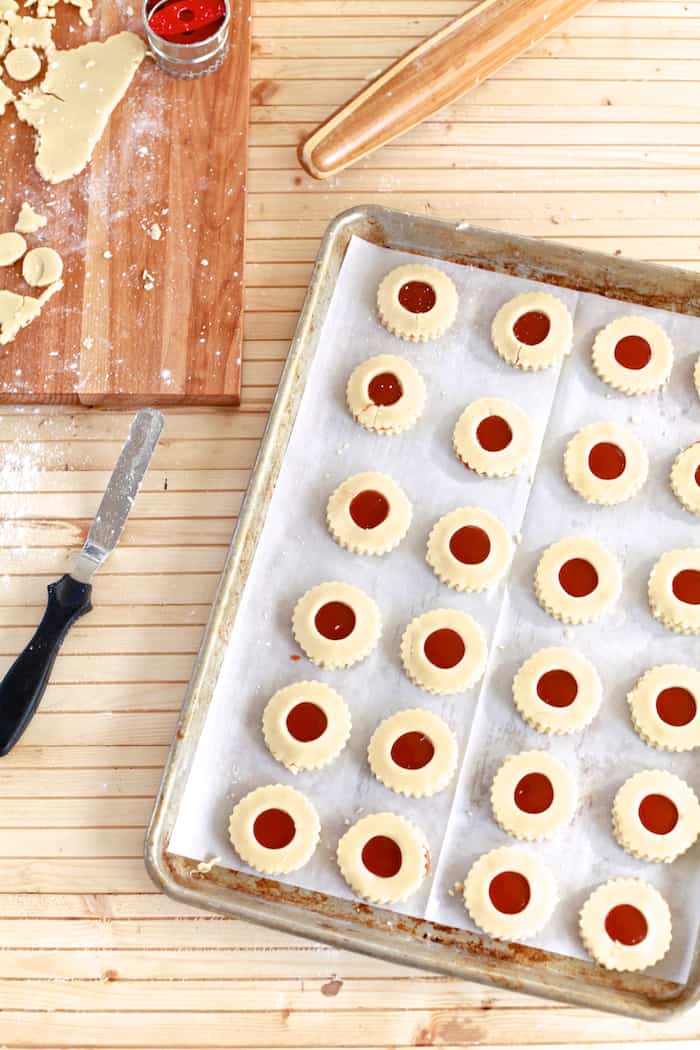 The name "mantecadito" comes from the ingredient "manteca" which translates to shortening. The cookie is basically a shortbread cookie that is made with half butter and half shortening or all shortening. I like the 1/2 and 1/2 recipe because I just love butter. I filled these cookies with guava marmalade, giving them a little tropical twist.
It is a very popular cookie during the holidays in Puerto Rico. You can find them in some stores, in cute little packages tied with ribbons. They make a great gift!
I love…love…love these cookies and probably ate 8 of them last night. Don't tell anyone….I am a little ashamed.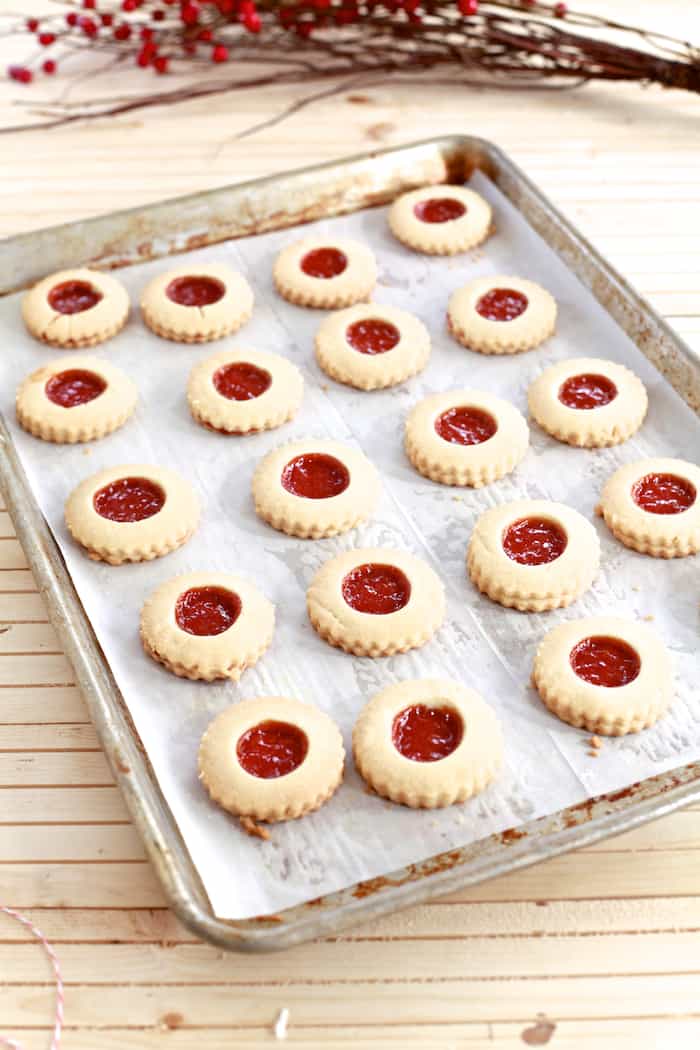 Shhhhhhh! Shhhhhhh! Listen……do you hear that? It is the sound of angels singing over this delicious buttery crisp cookie. Hmmmm Seriously do you hear them? I'm not crazy! Don't make fun….the voices keep me company. Look at this cookie! It is golden, crumbly, buttery and delicious. Why wouldn't angels sing?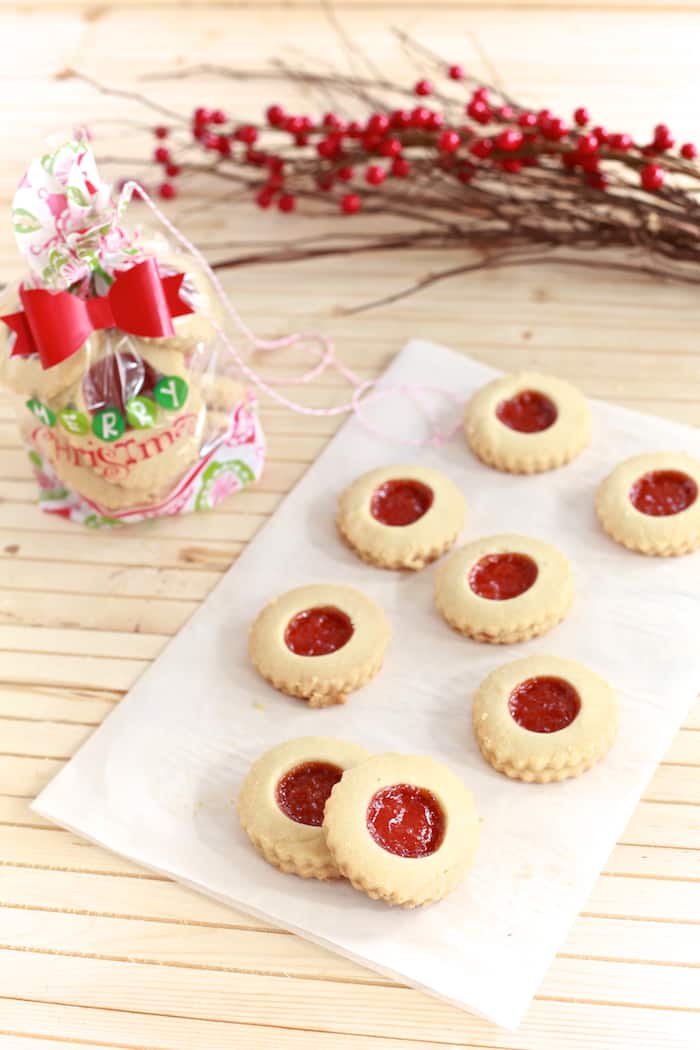 I declare! Go now and make these cookies, get yourself a glass of milk and eat 15 of them. They are just heavenly. I suggest you make a double batch so you can hide in a corner and eat them all by yourself, because they go fast. Just be sure to discard the evidence…ie, buttery crumbs on your shirt and floor.
Nom..nom…nom…
Yield: 18 cookies
Mantecaditos con Guayaba ( Shortbread Almond Cookies with Guava)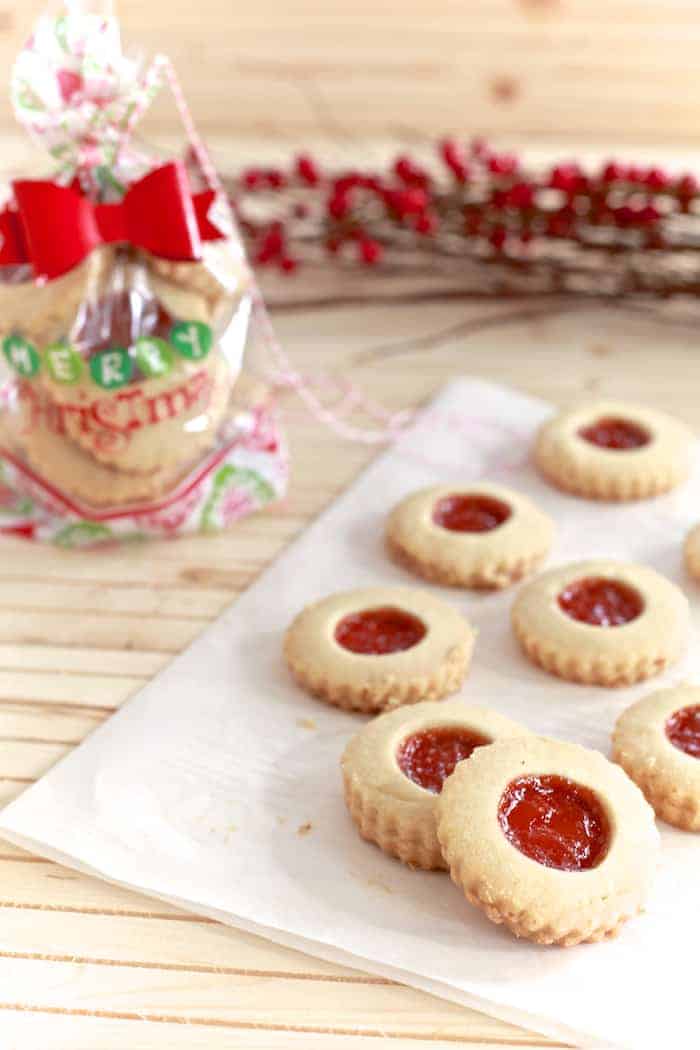 Ingredients
1/2 cup sugar
1/2 cup (1 stick) butter
1/2 cup shortening
1 egg yolk
1 teaspoon almond extract
2 1/4 cups all-purpose flour
1 16 oz bottle guava marmalade
Instructions
Preheat the oven to 350 F. Cream sugar, shortening and butter in a large bowl. Mix in egg yolk and almond extract. Blend in the flour a little at a time, until well combined and chunky.
Roll-out Method
Press dough together into a large ball. Wrap with plastic wrap and transfer to refrigerator to cool for 15 - 20 minutes.Line a sheet pan with parchment paper. Lightly flour a clean work surface with flour. Roll out half of the dough to 1/8 inch thick.
Using a linzer cookie cutter cut out cookie shapes. Make sure you have an even number of top (with hole) and bottom (without hole) cookies.Transfer bottom cookies to prepared sheet pan. Top with about a teaspoon of guava marmalade in the center of the cookie. Lay top cookies (with hole) over top and gently press. Repeat with remaining dough
The cookies can be placed relatively close together as the spread very little. Transfer to refrigerator to chill for 30 minutes.
Scooping Method
Shape a tablespoon of dough into a ball. Repeat with the remaining dough. Place the cookies on cookie sheet lined with parchment paper. Using your thumb press the down on the cookie. Fill the dimple with about 1 tsp of guava marmalade.
The cookies can be placed relatively close together as the spread very little. Transfer to refrigerator to chill for 30 minutes.
Bake for 20 - 25 minutes, or until light golden brown. Tranfer to cooling rack.
Tools & Special Ingredients Used