guava I know! Fall has officially started, so why am I posting a bbq recipe? Because it's delicious and it was 88 degrees today. Welcome to fall, right? I decided to embrace the still warm weather and prepare our favorite grilled chicken recipe, guava bbq chicken!  I love this bbq sauce, it's sweet, savory and sticky. Everything you would want in a bbq sauce and it's easy to make.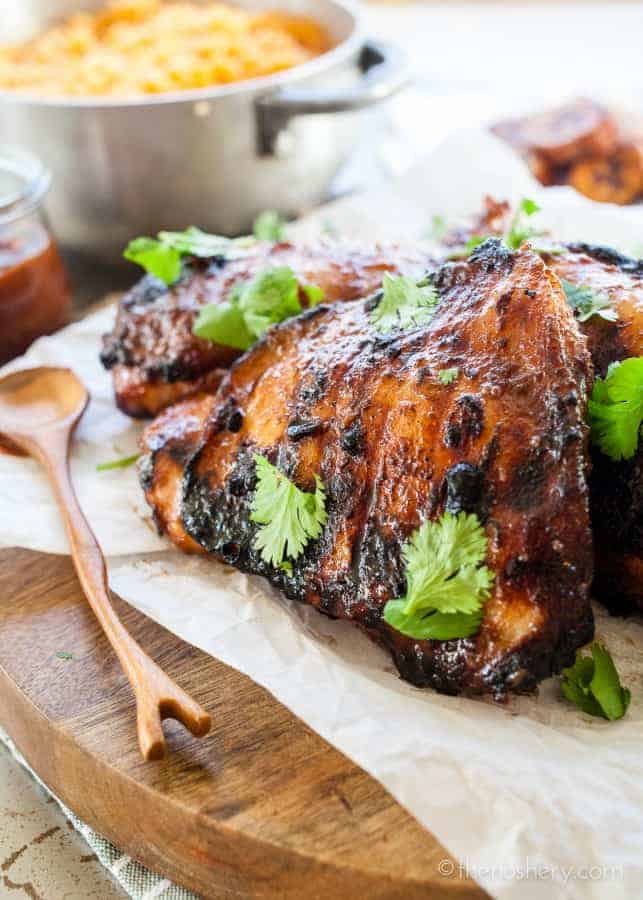 I love to grill! Let me clarify, I love to prep food to give to OB to grill. All summer OB gets texts messages while at work informing him that I have prep food for him to grill. He loves to grill and it saves me some time so it's a win-win!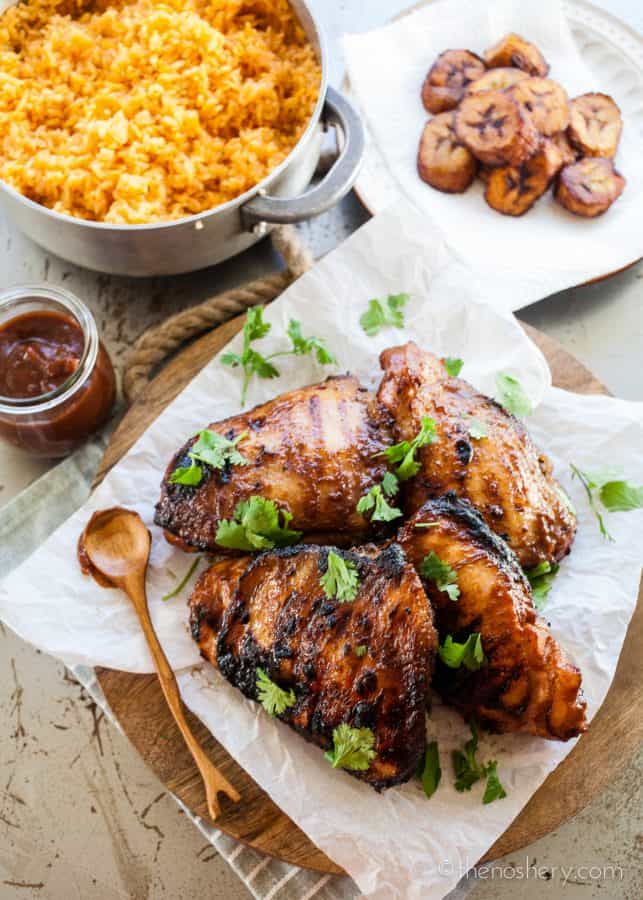 Fall is actually my favorite time of year to grill. Texas summers are HOT! Which is mainly why I leave the grilling to OB. But, during the fall it's perfect and you may even catch me on the grill a few times. You see, it's not the action of grilling I don't like. It's the buckets of sweat that accompanies grilling. The only place I want to sweat is in the air-conditioned gym.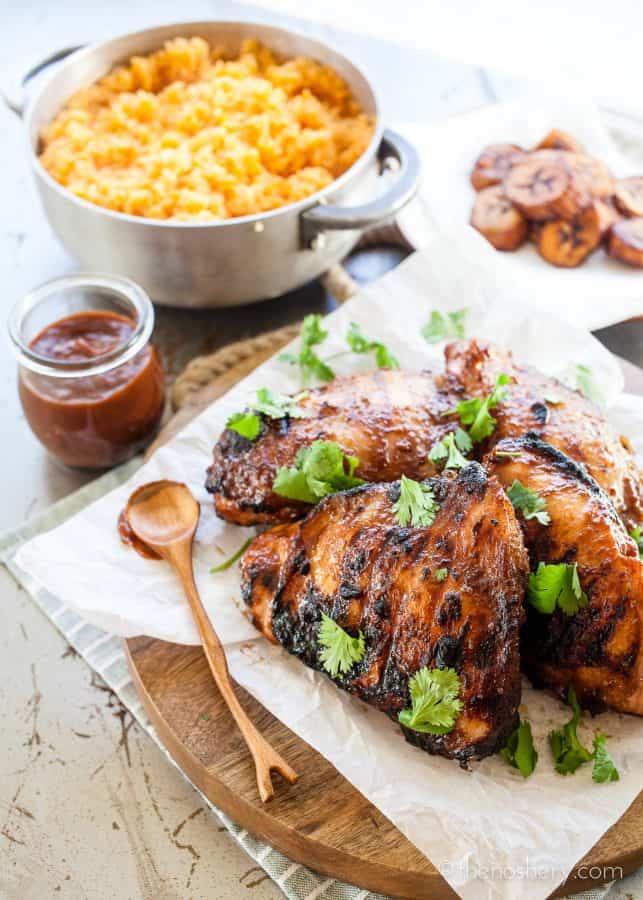 If grilling isn't your thing you can make these in the oven and they turn out just as wonderful. If you're not in the mood for chicken this sauce is great with grilled shrimp or pulled pork!
more barbecue love
Yield: 6
Guava BBQ Chicken Thighs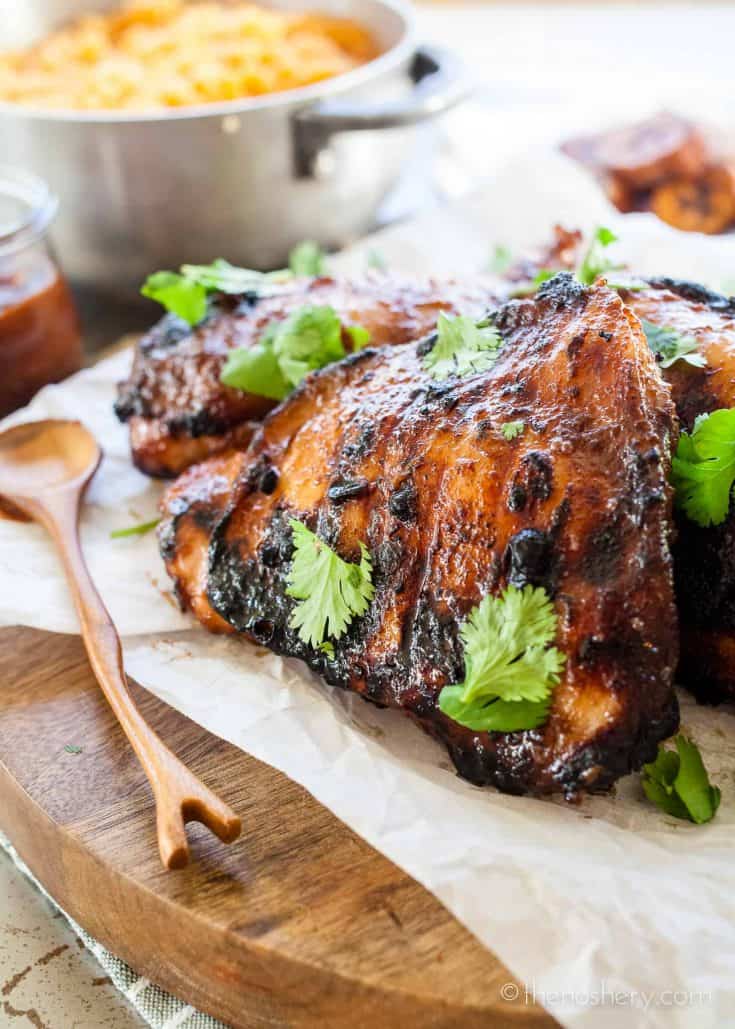 Guava paste is a great base for a sweet and savory guava bbq sauce. The chicken is grilled at a low and slow for tender, crispy, and wonderfully sticky chicken.

Prep Time 15 minutes

Cook Time 1 minute

Inactive Time 1 hour 39 minutes

Total Time 1 hour 55 minutes
Ingredients
6 chicken thighs
10 oz of guava paste (about half of a 21 oz tin)
1 Tbs cocoa powder
1 Tbs olive oil
4 large cloves of garlic, minced
1/4 cup small diced onion
juice of 1 lime
1/2 cup water
3 tablespoons ketchup
1/2 teaspoon cumin
1/2 teaspoon smoked paprika
1/8 teaspoon cayenne pepper
salt & pepper to taste
cilantro, to garnish
Instructions
Trim fat off of chicken thighs. Place chicken in a large bowl, drizzle two tablespoons of olive oil over the chicken. Season with 2 teaspoons of kosher salt & 1 teaspoon of black pepper toss until combined and set aside.


Heat oil over medium heat in a sturdy pot and saute the garlic and onion until tender. Add guava paste, lime juice, and water. Stir constantly over medium-high heat, until guava paste begins to dissolves.


Add the remaining ingredients, cook until smooth and saucy about 5-8 mins, constantly stirring. Be careful to not let the sauce over boil. Pour sauce into a bowl and set aside.


Prepare your grill for high, direct heat. If you are using charcoal or wood, make sure there is a cool side to the grill where there are fewer coals. If you are using a gas grill keep once side on low heat.


Place the chicken on the grill skin-side down over direct heat. Sear the skin and grill for 5 - 10 minutes, being careful to not burn. Move the chicken to the cooler side of the grill, still skin side down. Close the grill and cook undisturbed for 20 - 30 minutes.


Turn the chicken thighs, skin side up, and baste them with your guava bbq sauce. Close the grill and cook for another 15-20 minutes. Turning the chicken pieces over, basting them with sauce, covering, and cooking for another 10-30 minutes. (SEE NOTE)


The chicken is done when you the internal temperature reaches 170°F or the juices should run clear when pierced.


Do a final sear, skin side down, on the hot side of grill for a minute or two. Baste with more barbecue sauce and serve.
Notes
The timing will depend on your grill set-up, the size of your chicken pieces, and how cold your chicken pieces are to start with! If you are grilling smaller pieces of chicken on a charcoal grill, they may be done much earlier. The goal is to maintain a low enough grill temp so that the chicken cooks "low and slow".


Store any remaining bbq sauce in an air-tight container in the refrigerator for up to one month.



21