There are rankings when it comes to proteins in Puerto Rico and in Puerto Rico pork is king, followed by chicken, beef and rabbit is tossed in there somewhere. But, there is no doubt that pork is the most loved.  In fact, there is a whole area in the mountains of Cayey called Guavate where the street is lined with pork vendors. Small restaurants with whole roast pigs in the windows line Carr. 184 in Cayey.  It's a roast pork oasis.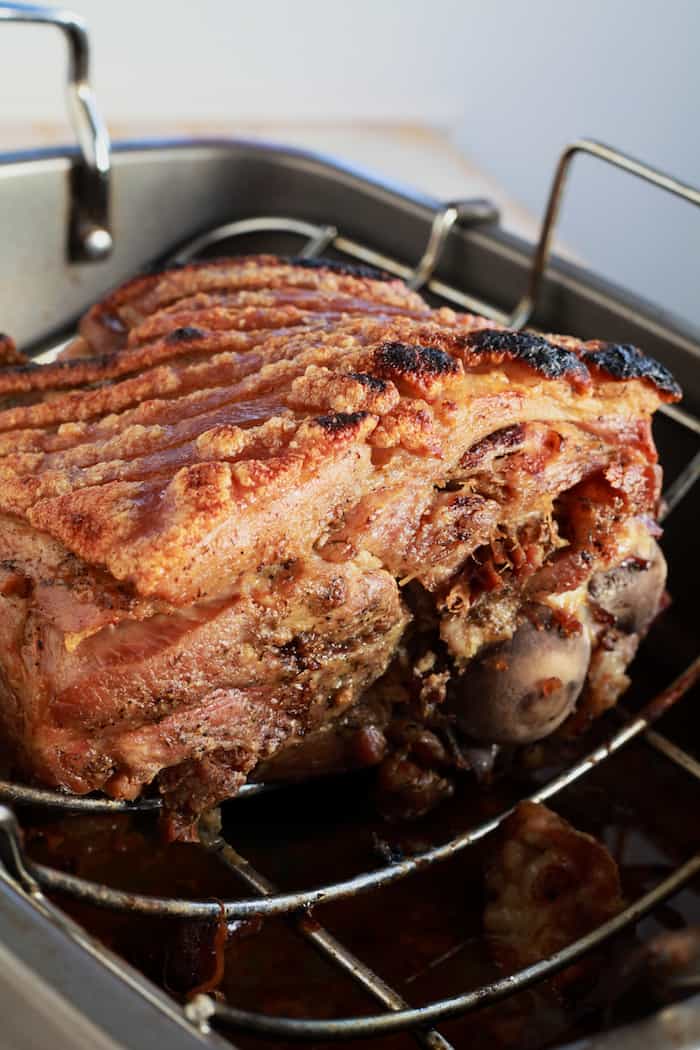 If there is ever a time of year when pernil is most popular it's Christmas! Every Puerto Rican Christmas Eve dinner requires three things arroz con gandules, pasteles and, of course, pernil! It's not Christmas without this trinity. In the states you have glazed ham, we do tender roasted pork with crispy skin. Oooooh! That crispy skin is worth fighting over.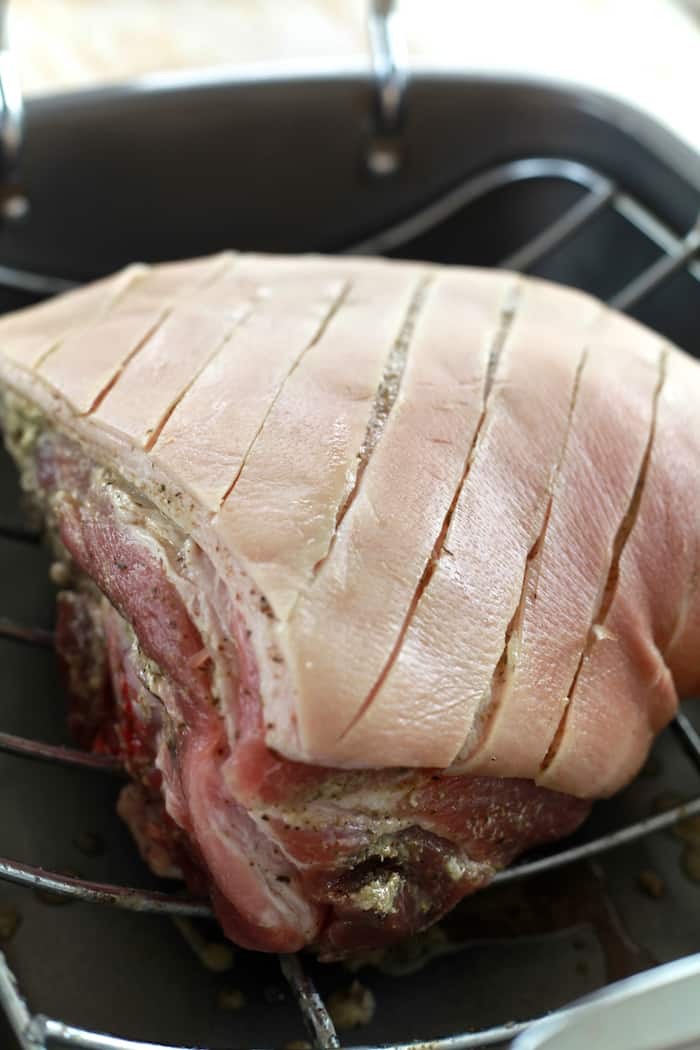 There is a trick to getting a fork tender roast and crispy skin. First, score the skin to allow the fat to render and baste the meat. But, be careful only to score the skin till you just begin to see fat. You do not want to score it all the way down to the meat. Also, roasting covered low and slow allows the meat to get fork tender. Finally, hit it with high heat to crisp the skin.
In the past, I use to separate the skin completely from the shoulder and season the meat underneath. The problem with doing this was that the skin would start to shrink and create folds.  Making it harder to crisp the skin. Also, with the skin the fat would shrink back also, meaning it would no longer naturally baste the meat.   To resolve this, I started cutting long pockets under the skin and fat, stuffing them with seasoning. By keeping the skin still attached it gets more taught during the cooking process, resulting in a thinner crispier skin.
If you want an effortless smaller version, I have a pernil that you can make in the slow cooker. You won't get the crispy skin, but you will get amazing tender pork.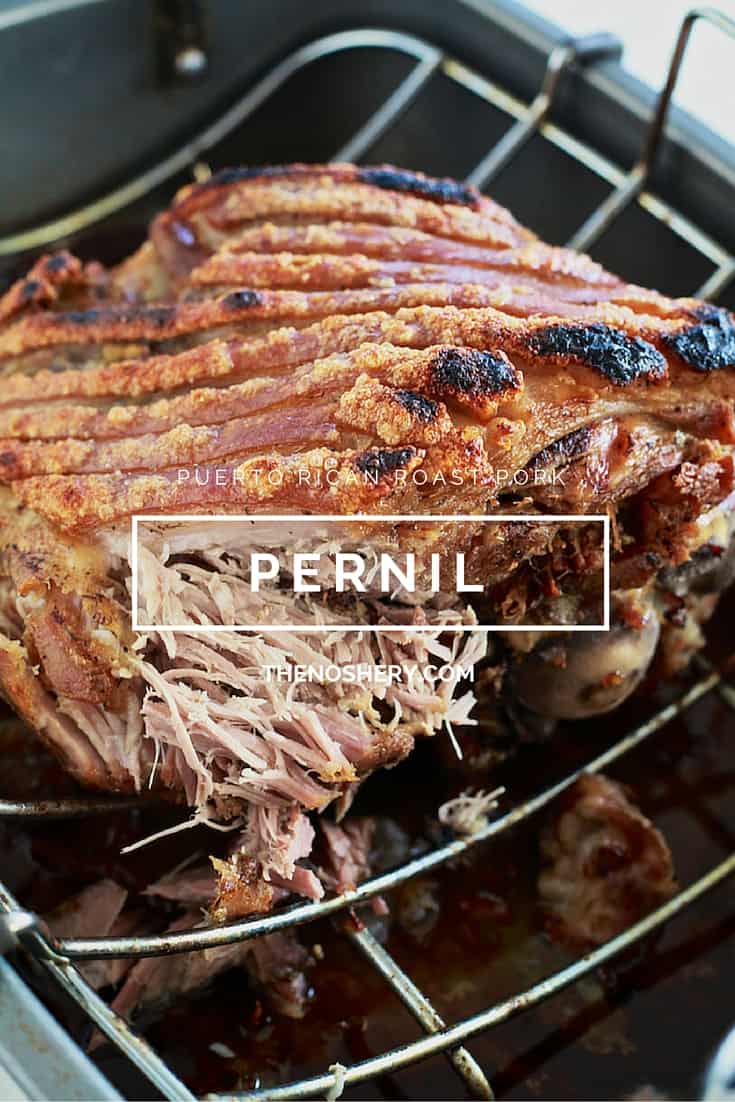 Oh, pork! How I love thee! With your tender, juicy meat and tooth-cracking skin. We have made so many memories together and celebrated so many Christmases. You have made my belly happy and my hips wide. But, I love you so much I wouldn't have it any other way.
more puerto rican recipes
Roasted Pernil
A traditional Pernil (Puerto Rican Pork Shoulder) with tender meat and crispy skin.
Ingredients
Basic seasoning per 1 lb of pork shoulder*



1 garlic clove
1 peppercorn
¼ teaspoon oregano
1 teaspoon kosher salt
1 teaspoon olive oil
½ teaspoon white vinegar


1 pork shoulder skin on


Equipment Needed


Instructions
Rinse pork shoulder under cold water and pat dry. Slip a boning knife under the skin creating a pocket 1 inch wide down the whole length of the pork shoulder. Do this two or three times depending on the size of the shoulder. You DO NOT want to completely separate the skin from the shoulder. Using the same knife make several crosscut holes on all sides of the shoulder, about 3 - 5 on each side depending on the size. Score the skin just enough till you see the fat. Sprinkle with salt and let it sit uncovered for 10 minutes.


In a food processor combine seasoning ingredients according to the weight of the pork shoulder. Process it until almost resembling a runny paste. (If you don't have a processor you can use an immersion blender or mortar and pestle.) Using a small spoon stuff a spoonful of seasoning in each hole and the pockets under the skin. Making sure to leave some to rub the outside of the shoulder. Rub remaining seasoning on the outside and into the scored skin. Using a paper towel pat the skin dry.


Transfer the shoulder to a roasting rack and cover tightly with heavy-duty aluminum foil. Refrigerate overnight to marinade.


Heat oven to 325 degrees. Pull shoulder from the refrigerator and let it sit on the counter about 20 minutes to let off some of the chill.


Roast shoulder covered in the oven 35 - 40 minutes for every pound or until fork tender. For example, a 7-pound shoulder would take about 4 hours.


Increase oven to 450°F. Cook pork, uncovered, adding water in ¼ cup measures if pan becomes dry until skin is brown and crisp, 20 - 35 minutes, checking pan every 10 minutes. If you want to get a really bubbly crisp you can broil on low for a few minutes. Make sure to keep an eye on it!
Transfer pork to cutting board and let rest 20 minutes. Remove skin and cut into pieces. Cut meat from bone and serve with skin and any pan juices.
Notes
The average yield of a pork shoulder is 62% and the average serving is 6 oz per person.

Weight | No. of People

4 lb | 5
5 lb | 7
6 lb | 9
7 lb | 11
8 lb | 13
9 lb | 15
10 lb | 17
11 lb | 19
12 lb | 21
410