I recently realized that my blog us NINE years old! Nine years is crazy! This orange chicken post has been up on the blog for eight years.  It made me go poking around in my archives and I came across this gem. I had almost forgotten all about this orange chicken recipe. At one time it was one of my more popular recipes.  So, I decided I needed to make it again and give the post a facelift.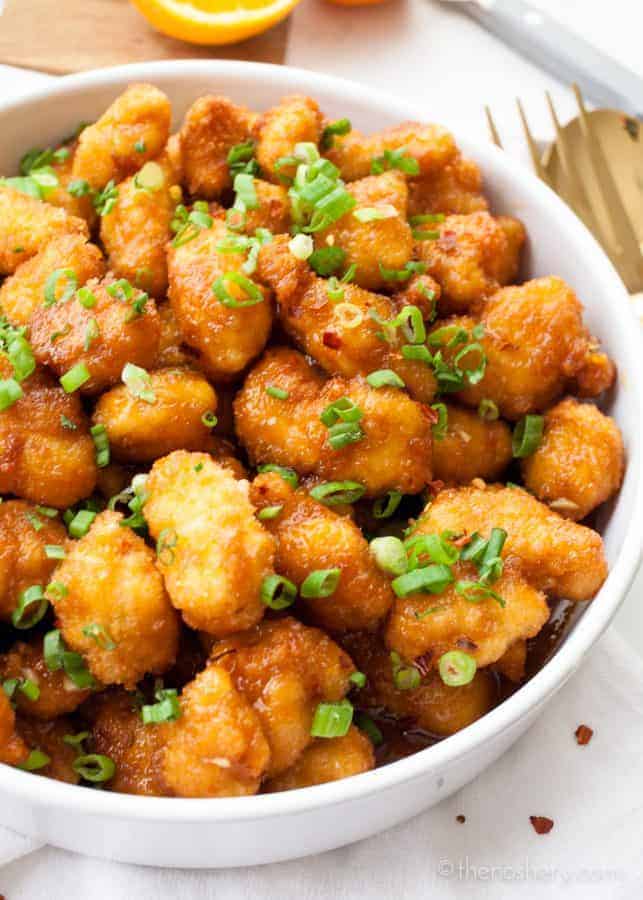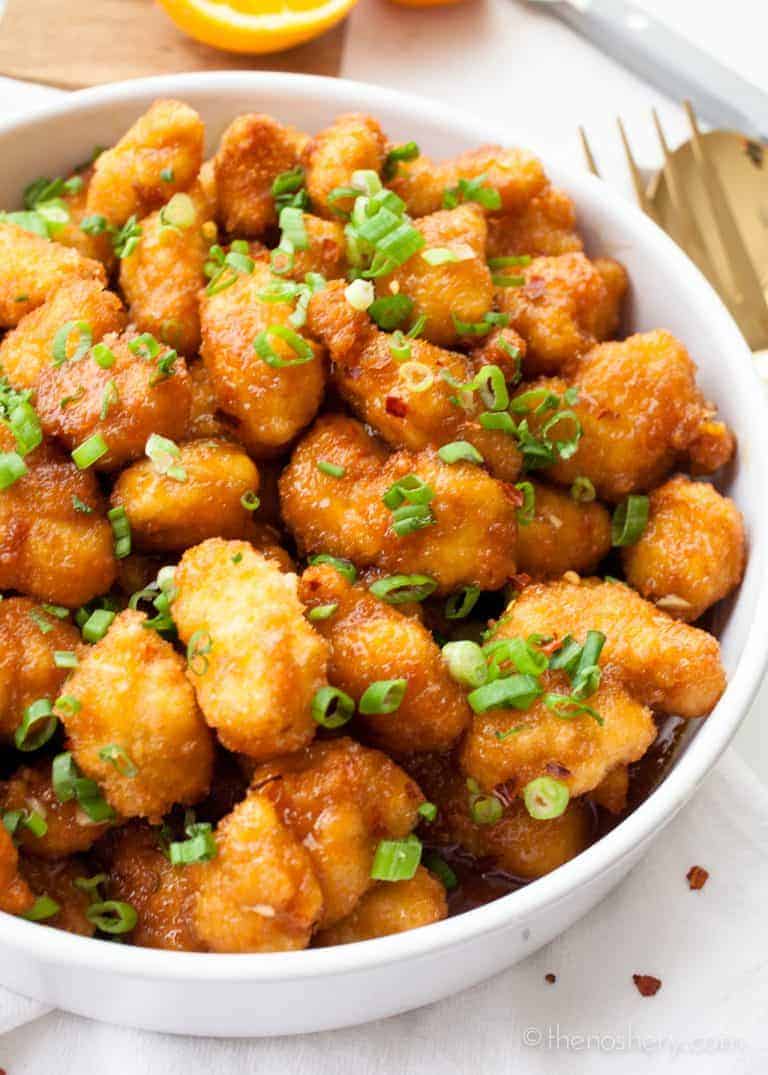 When I look back at old posts it's like reading my diary from middle school. The posts are awkward and don't even get me started on the photos. If your curious to see the original photo of this post just scroll down to the bottom. It's embarrassing but I thought it would be fun to share how much things have changed.
Dang! I had forgotten how good this recipe is! One evening when I was suddenly hit with a craving for orange chicken, I could have picked up the phone and ordered some orange chicken. But, I wondered to myself if I could make it better at home. And, this recipe delivered! Ha ha Chinese food…delivered….get it? I'm a dork.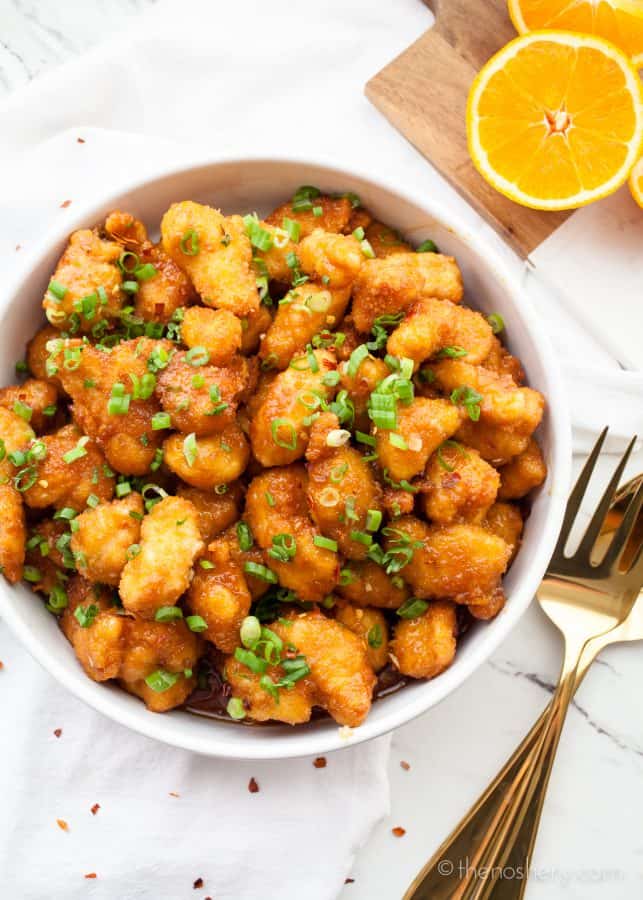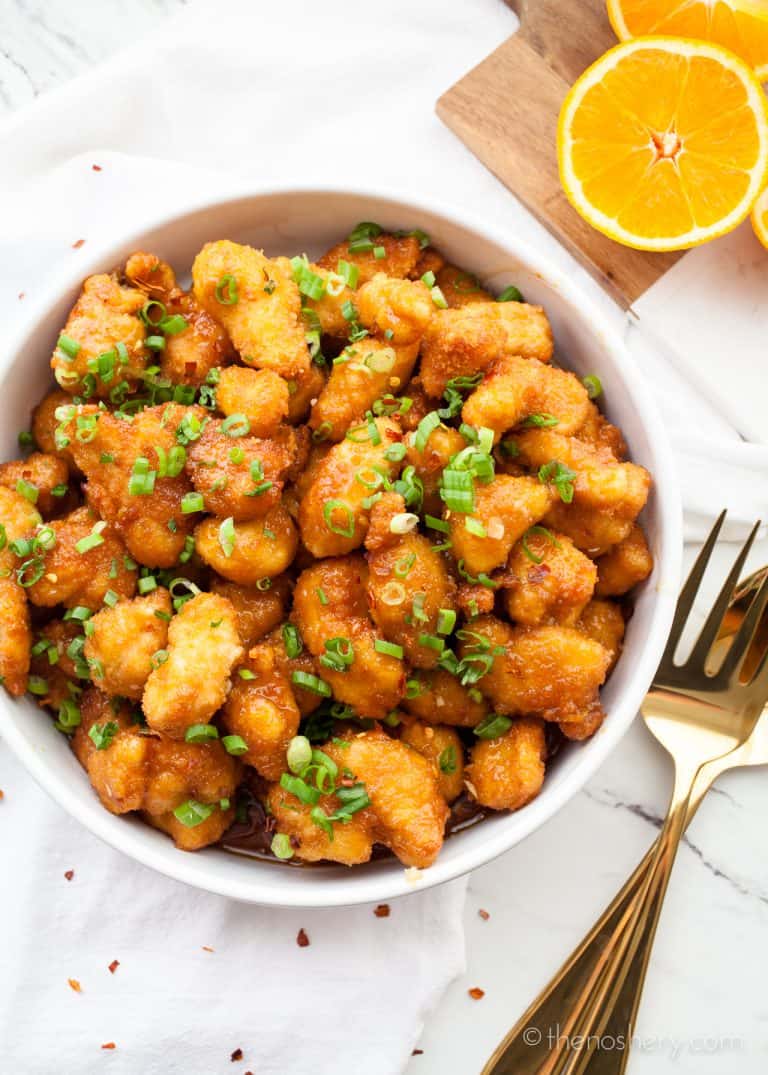 Even though the post was awkward and the photo kind of hideous the recipe was still spot on. The sauce is sweet, tangy, there is no lack of orange flavor, and the red pepper flakes give it just a touch of heat. I thought I would dredge the chicken in corn starch instead of flour to keep it light and also in Panko breadcrumbs to give it a little crunch. It was the right call. The chicken came out lightly breaded and still held a bit of a crunch when tossed in the sauce. Delicious!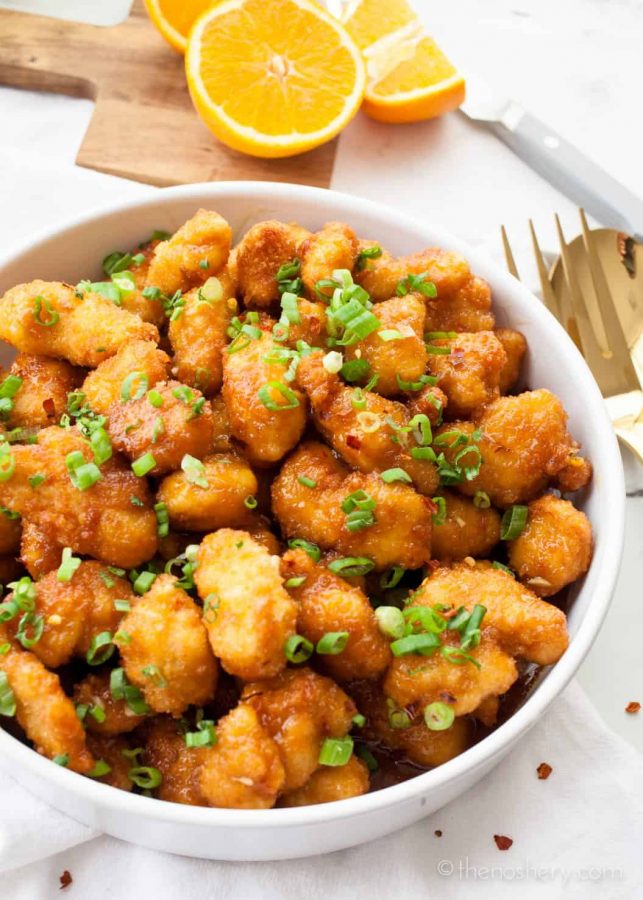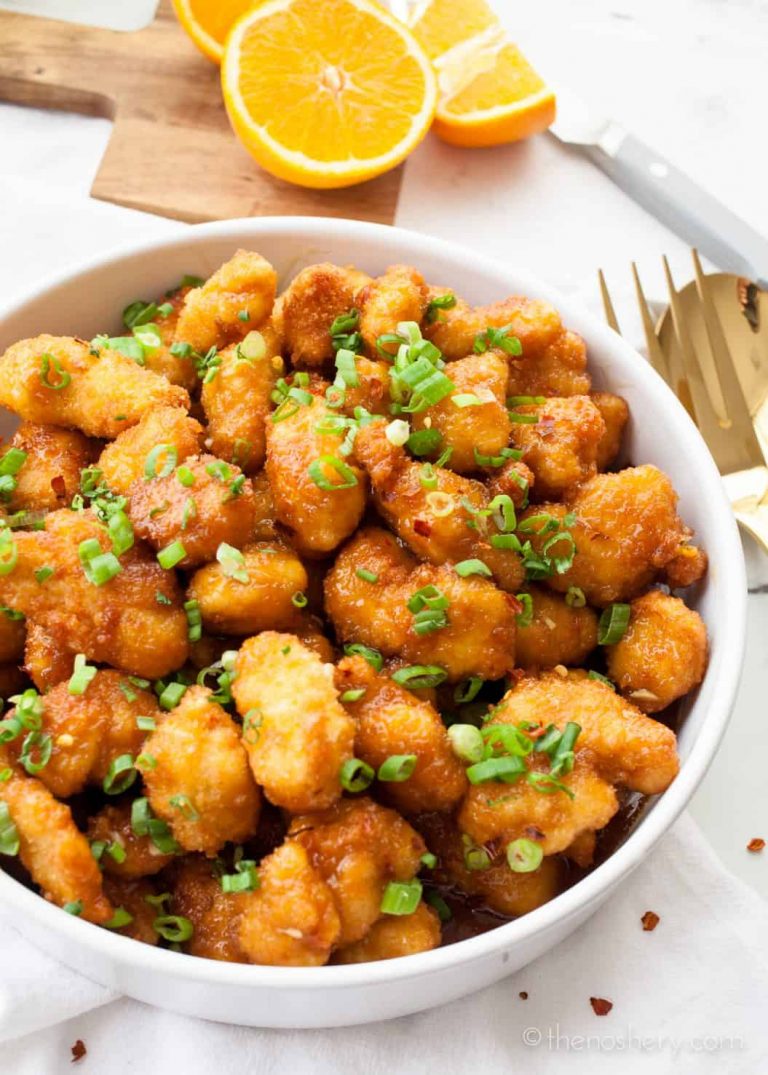 How to Cook Orange Chicken
This recipe has a long list of ingredients. To help everything go smoothly gather and measure all of your ingredients ahead of time.
Bread the chicken in small batches. Using one hand for wet and one hand for dry helps things from getting too messy.
Before you start cooking make sure you have everything ready, including a plate or sheet pan lined with paper towels.
Don't walk away from the chicken while it is frying. The moment you do is the moment it will probably burn.
The oil's temperature will immediately drop when you add the chicken. Give the oil time to come back to temperature between batches. If the oil is too cold it will result in oily soggy breading.
I like to place the chicken in a fine mesh strainer after dredging in the corn starch to help shake off any excess.
For the sauce to thicken it is important that is comes to a low boil. Once it starts to boil it will quickly start to thicken.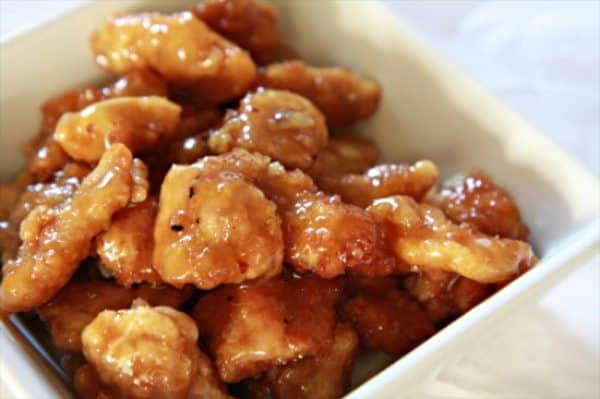 more comfort chicken love
items used in this recipe
Better Than Takeout Orange Chicken
Ingredients
Chicken
2 lbs boneless skinless chicken breasts or thighs, cut into 1-inch cubes
2 cups cornstarch
2 cup panko bread crumbs
4 eggs, beaten
¼ teaspoon salt
¼ teaspoon pepper
Oil (for frying)


Orange Sauce
1½ cups water
¼ cup orange juice
⅓ cup rice vinegar
2½ tablespoons soy sauce
1 tablespoon orange zest, grated
1 cup packed brown sugar
½ teaspoon ginger root, minced
½ teaspoon garlic, minced
2 tablespoons green onion, chopped
¼ teaspoon red pepper flakes
3 tablespoons cornstarch
2 tablespoons water
Instructions
In a large saucepan combine 1 ½ cups water, orange juice, rice vinegar, and soy sauce. Blend well over medium heat for a few minutes. Stir in brown sugar, orange zest, ginger, garlic and red pepper flakes. Bring to a boil.


Combine 3 tablespoons of cornstarch with 2 tablespoons of water and mix thoroughly. Slowly stir cornstarch mixture into sauce, simmer and stir until it thickens. Hold sauce on the stove top over low heat.


Heat a dutch oven with vegetable oil to 355 degrees.


Combine cornstarch, salt, and pepper. Prepare a bowl with beaten eggs, another with panko bread crumbs and another with corn starch. Dip chicken in egg mixture, dredge in cornstarch, then again in the eggs and finally in the panko breadcrumbs. Working in batches fry chicken until golden brown and completely cooked about 4 minutes.


Pour sauce over breaded chicken, toss, and garnish with green onions.
91