This post was sponsored by Pompeian. All opinions expressed on my site are my own.
Nothing says healthy and Spring more than a big green salad! This salad if full of nutrient rich green vegetables drizzled with a bright mint and dill vinaigrette.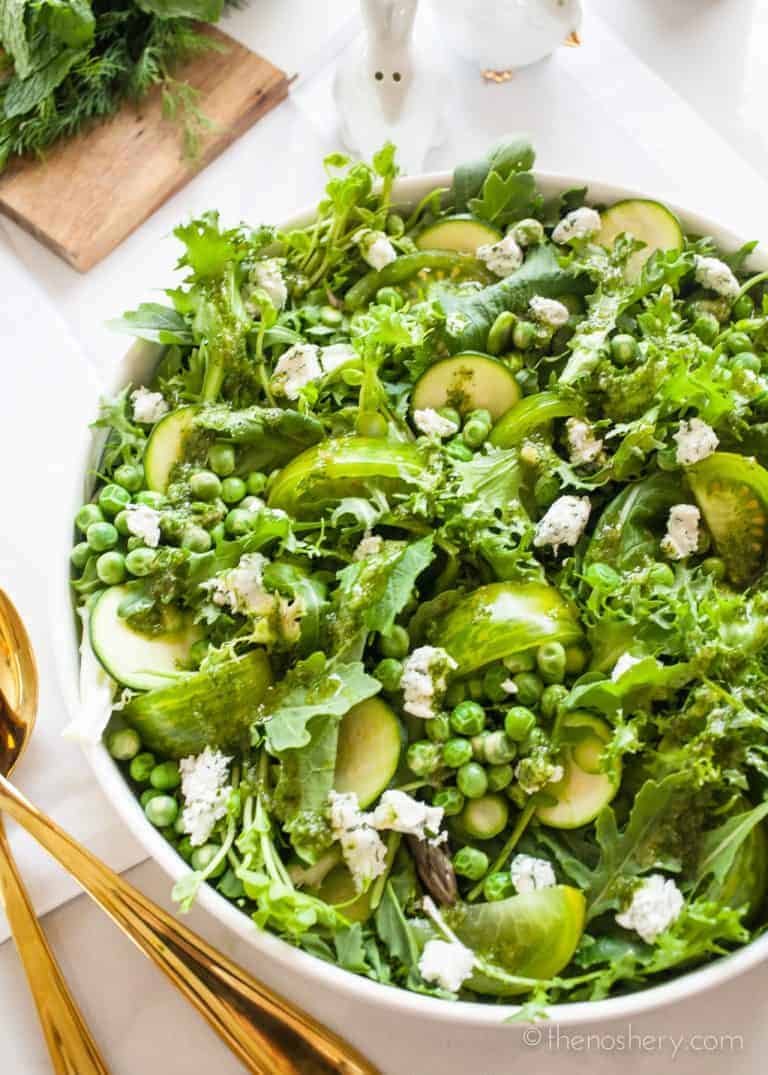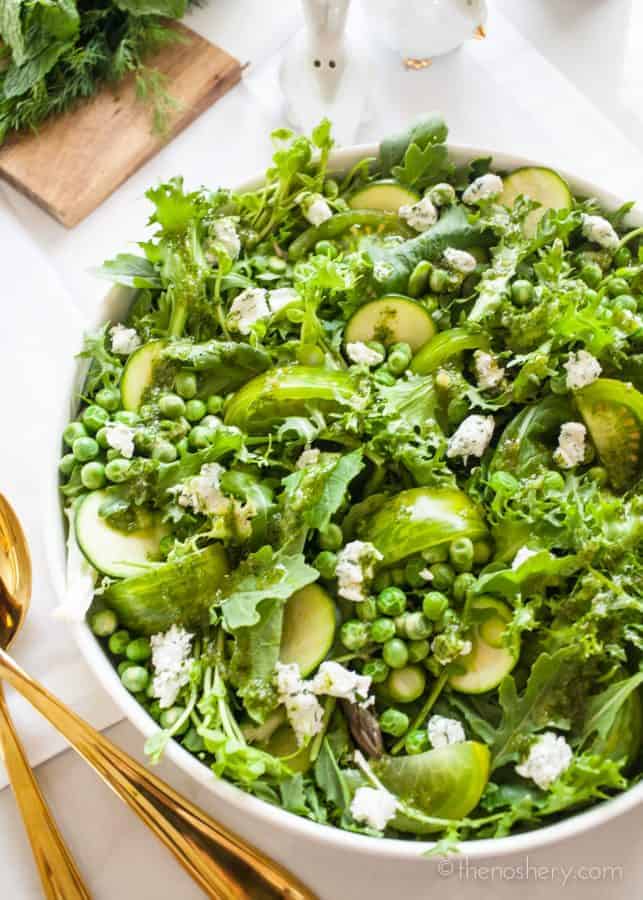 I love springtime! After a long season of cold weather, bare trees, and brown grass it's great to see things begin to bloom. Right now everything outside is lush green and I am loving it! This weekend we fired up the grill and had dinner on the deck. We toss some steaks on the grill and I made a big green salad.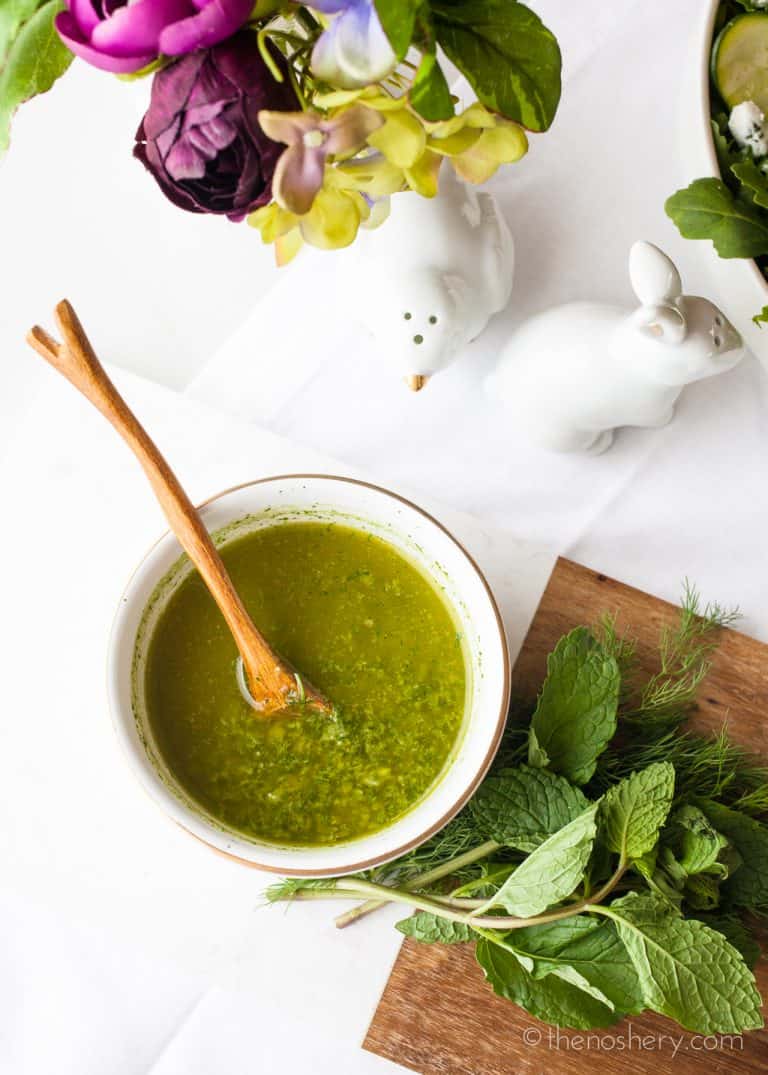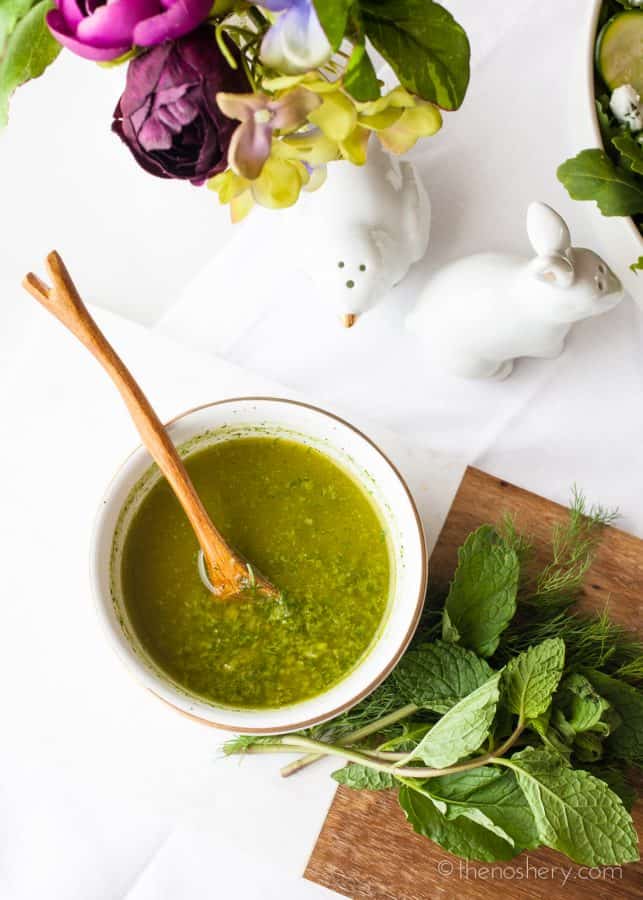 When the temperatures rise I love to make big beautiful salads. A platter overflowing with a bounty of fresh vegetables is a beautiful site.This month in partnership with Pompeian we are focusing on springtime and healthy dishes. Pompeian knows that for today's home cooks, mealtime is not just about fueling up, it's about experimenting with the latest food trends to create shareable, Instagram-worthy dishes. This month is all about springtime and healthy eating.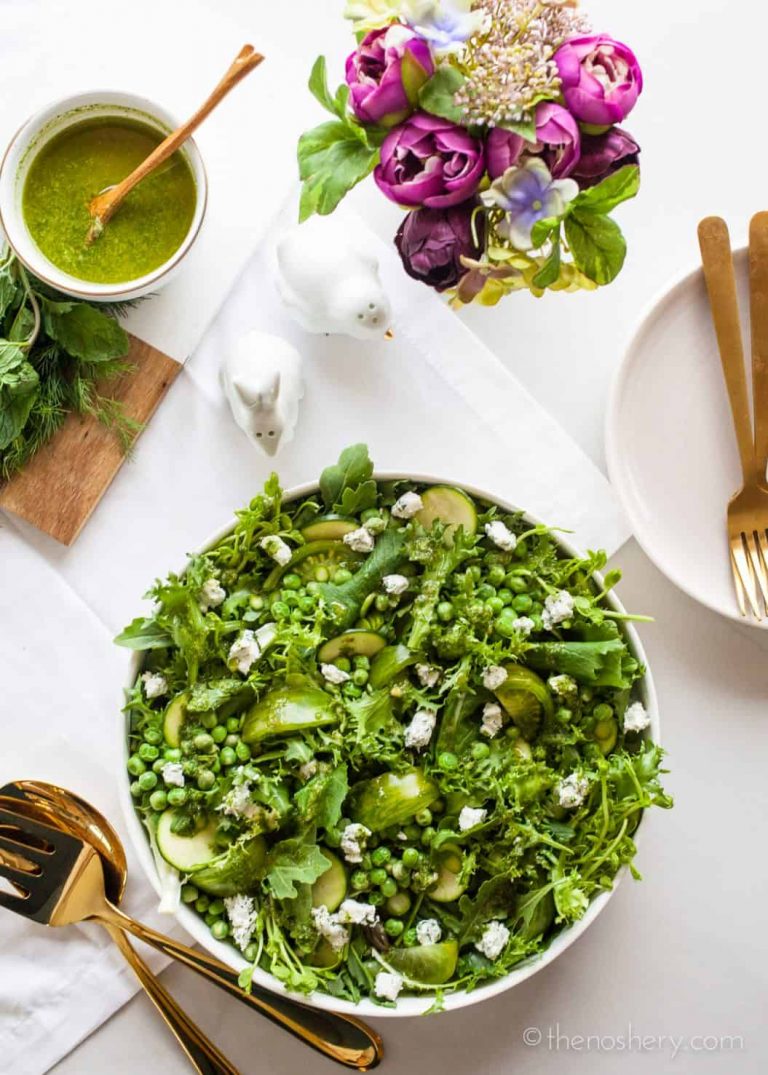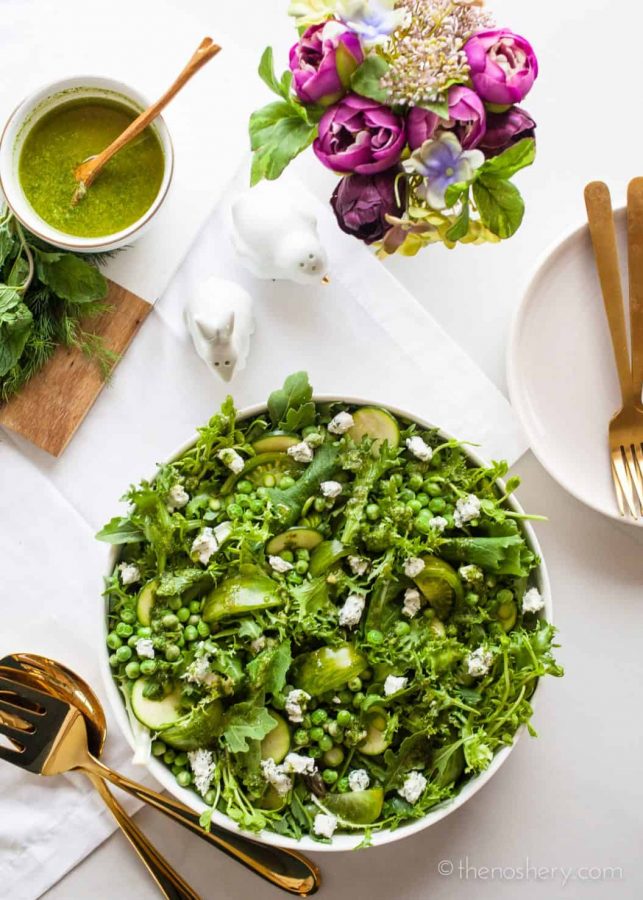 Benefit of Green Vegetables
This salad is huge and I used every green vegetable I could get my hands on. Green vegetables are nature's multivitamin. They and are packed with antioxidants and nutrients such as vitamins A, C & K, calcium, potassium, and iron, just to name a few. These nutrients are great for your body, they help reduce levels of bad cholesterol, improve vision, help to manage your weight and boost immunity. In summation, green vegetables are very good for you.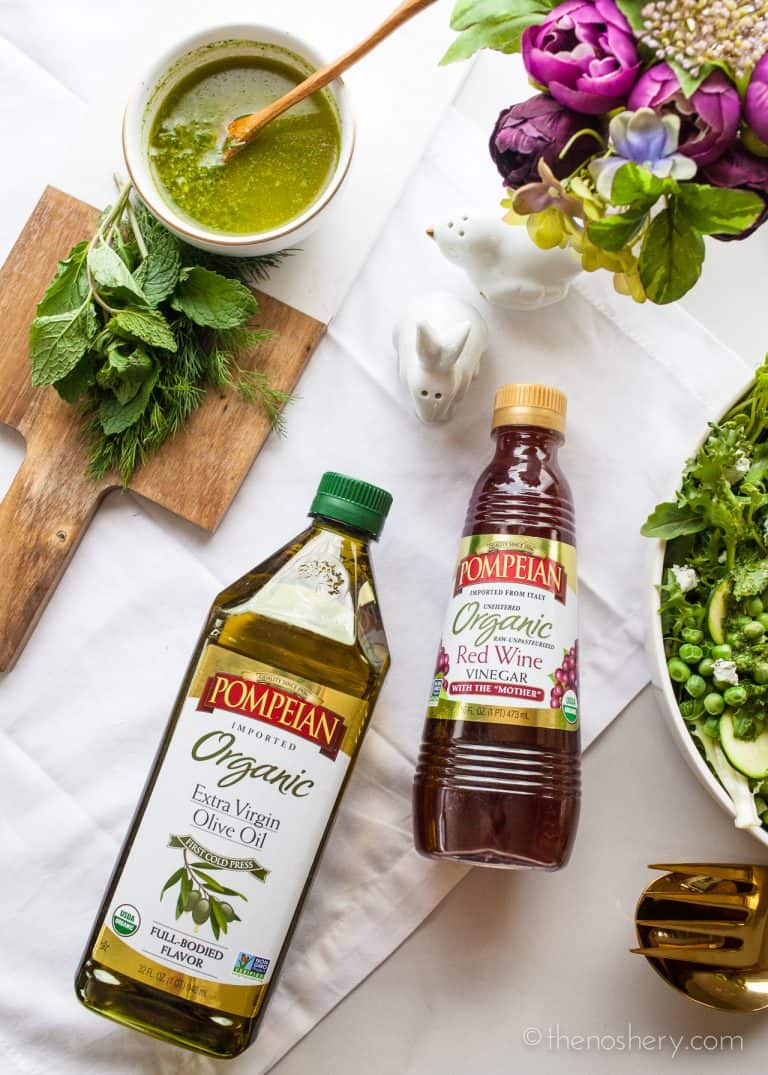 Why are polyphenols awesome?
With my big beautiful green salad, I needed a delicious green dressing. I decided on a mint and dill vinaigrette. Mint and dill are a classic pairing and I love it because it's very bright and fresh. Keeping with the healthy theme I used Pompeian Organic Extra Virgin Olive Oil as the base which ensures those of us of the careful handling and production we treasure, along with the flavor we expect from Pompeian. You can't have vinaigrette without vinegar, I used Pompeian Organic Red Wine Vinegar with the mother. Of all the vinegars red wine is one of my favorites. I love it's tart bright flavor. This vinegar is unfiltered, unpasteurized organic vinegar with the mother which mean it has a high volume of polyphenols. Why are polyphenols awesome? They help improve digestion, boost the immune system, combat cholesterol, prevent dandruff, soothe sore throats, keep skin healthy, and reduce excess fat in cells, promoting weight loss!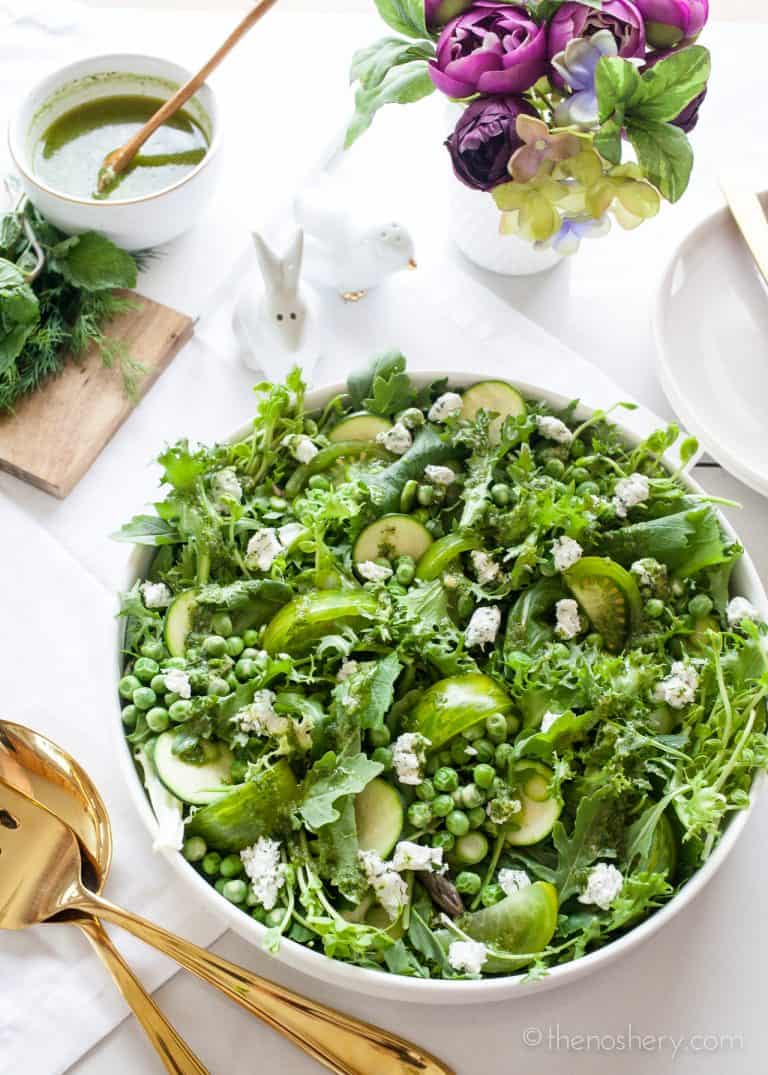 In my big green salad, I used arugula, rapini, peas, zucchini, pea shoots, green zebra tomatoes, and asparagus but you can you whichever combination of vegetables your heart desires. Feel free to make it your own and to cater to your taste. As long as you got some green you will get your antioxidants and don't forget the delicious mint dill vinaigrette.
more salad love
items used in the recipe
White Marble And Acacia Wood Paddle Cutting Board
Gray Spinwash Salad Plates
Mini Mixed Floral Bunches
Graham Dinner Flatware Stainless Steel Gold
Celeste Serving Set 2-pc. Stainless Steel Gold – Threshold
Bunny Salt Shaker with Real Gold – Threshold
Stoneware Dip Bowl 6oz Speckled White – Threshold
Amazon Prime Free 2-Day Shipping (Try a 30-Day Free Trial)
Big Green Salad with Mint Dill Vinaigrette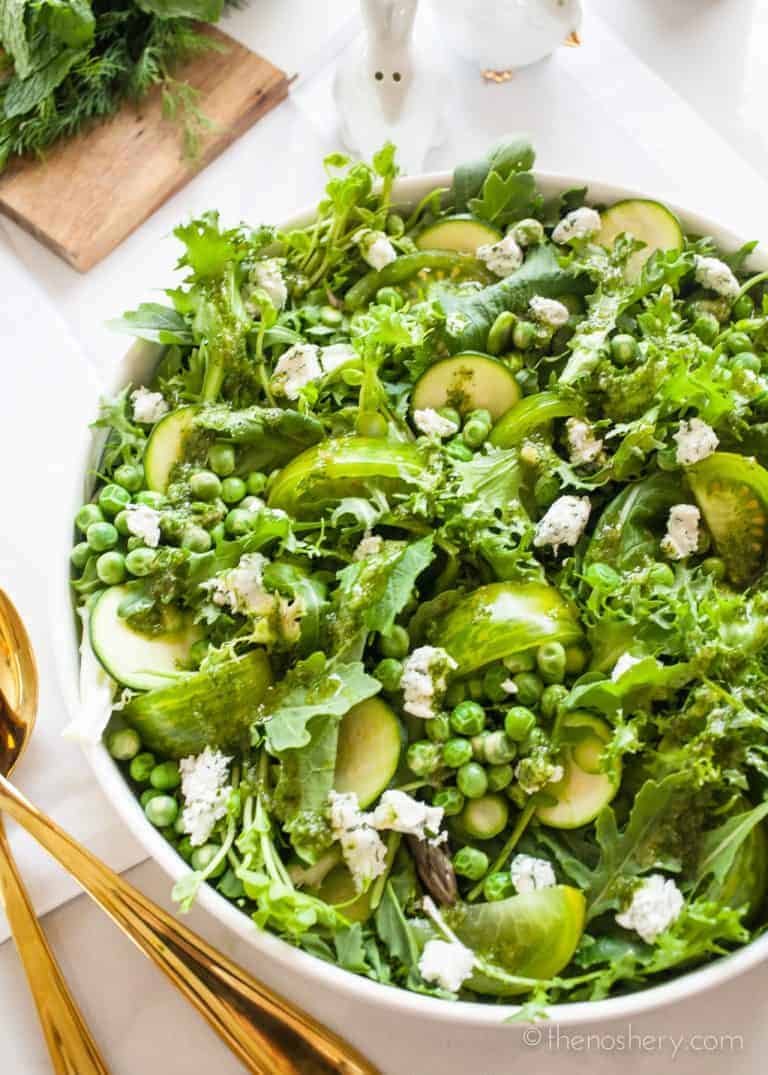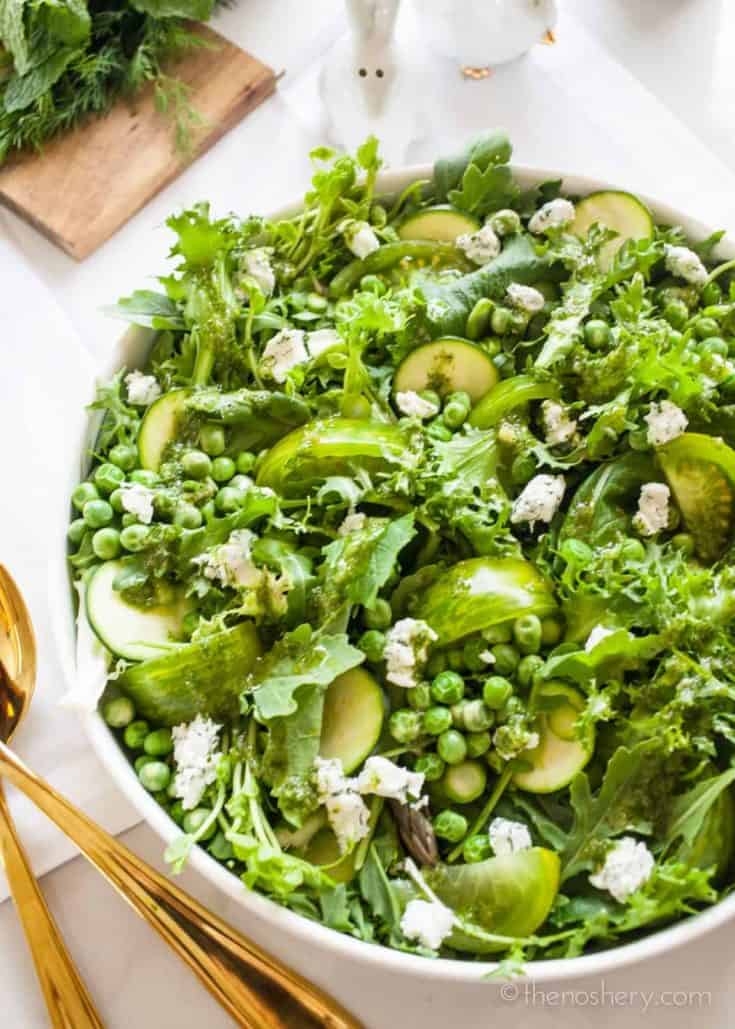 Big Green Salad with Mint Dill Vinaigrette Prep time: 10 mins Cook time: 3 mins Total time: 13 mins Serves: 6 Nothing says healthy and Spring more than a big green salad! This salad if full of nutrient rich green vegetables with a bright mint & dill vinaigrette.
Ingredients
Salad
4 cups salad greens (arugula, kale, rapini, and/or spinach)
2 small green zebra heirloom tomatoes, quartered
1 small zucchini, thinly sliced
1 cup fresh peas, blanched
3 - 4 asparagus, thinly sliced
1 cup pea shoots
[br]
Goat Cheese
4 oz goat cheese
1 1/2 teaspoons finely minced mint
1 1/2 teaspoons finely minced dill
[br]
Dressing
1 shallot, roughly chopped
1 cup mint leaves
1/2 cup dill sprigs
1 clove garlic
1 teaspoon salt
Instructions
In a blender combine vinaigrette ingredients and blend for 3 minutes until completely smooth.
Combine goat cheese and herbs in a bowl and mix until well combined. Place in the refrigerator.
Arrange salad greens on a large platter. Top with remaining salad vegetables. Sprinkle with salt and pepper. Crumble herb goat cheese over salad.
Serve with mint dill vinaigrette.
Notes
This salad can be made with any combination of your favorite vegetables.
3.5.3226