Spicy Thai Peanut Noodles | Eating right can get boring sometimes and feel restrictive. But with a few tricks, a noodle dish tossed with a delicious, savory peanut butter and ginger sauce can be enjoyed guilt free. This Thai peanut noodles with chicken dish is one of my favorite easy and healthy weeknight meals.
It's gone through a few tweaks in order to make it as light as possible without sacrificing comfort food level of flavor. One of the things I played with the most were the noodles.
Vegetable noodles are all the rage right now in making dishes lower carb, but I couldn't find a vegetable noodle that didn't conflict with the Thai flavors in the sauce. And you can't mess with Thai food!
Sweet potatoes came close, but when you're counting your carbs, sweet potatoes aren't the best way to go.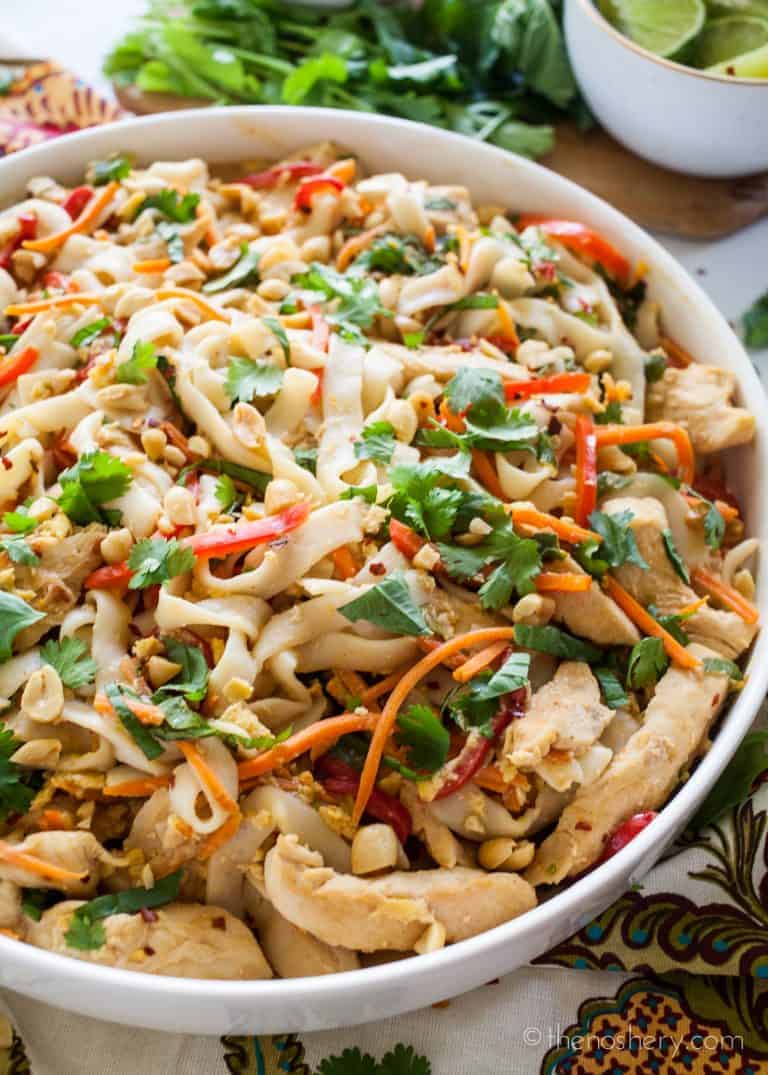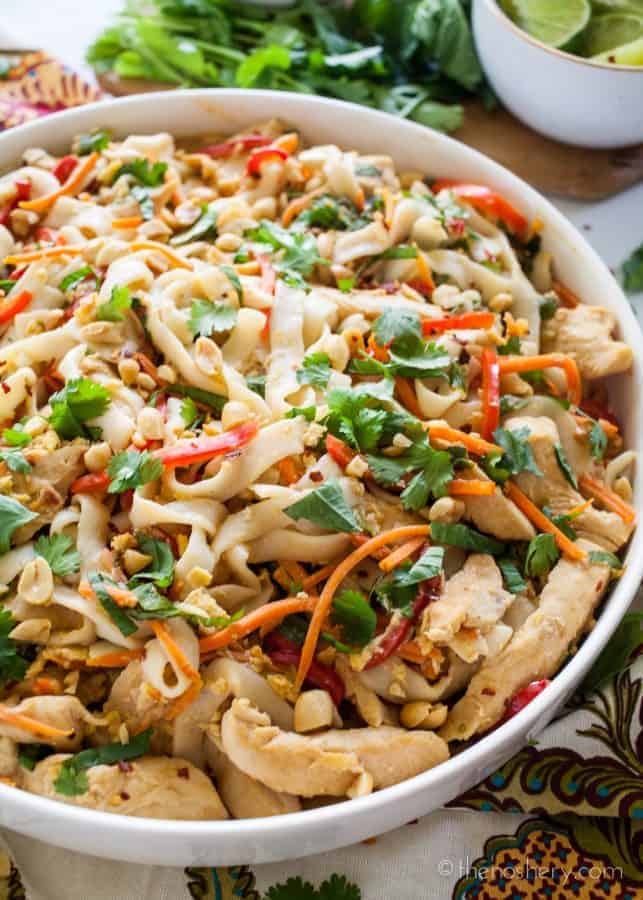 I did a little research and, lo and behold, discovered the magic of shirataki noodles. Since my discovery, I always keep a few packages of shirataki noodles in my fridge. They are great if you are watching your carbs, craving pasta, and need to get dinner on the table fast. If you have never heard of shirataki noodles, you are in for a treat.
What are shirataki noodles?
Shirataki noodles come from a yam-like tuber called Devil's Tongue. The glucomannan starch is extracted from the tubers and mixed with water and limewater. This creates a substance called konnyaku. The konnyaku is then shredded into shirataki noodles.
The outcome makes for long, thin, translucent noodles that are low in digestible carbs and high in fiber and water content. Some call them miracle noodles or konjac noodles after the plant they come from. Sometimes soy is mixed in and they can be called tofu noodles.
The great thing about these noodles is that they are very low calorie and carb free. The noodles can be found bagged and packed in a liquid in the refrigerated food section, usually where vegan alternatives are sold. They are pretty close to flavorless, so they absorb whatever flavors they are prepared in, which makes them great in any noodles dish.
How to cook shirataki noodles
To keep them moist, the noodles are packaged in water. They do need to be rinsed and thoroughly drained in a colander before cooking with them.
But I must warn you: there's a bit of a smell when they're first out of the package. Don't be deterred, though! You won't be able to smell or taste anything but the sauce once they're mixed in.
They don't require cooking, either. A quick sauté in a hot pan or stirring them into warm sauce will heat them through nicely!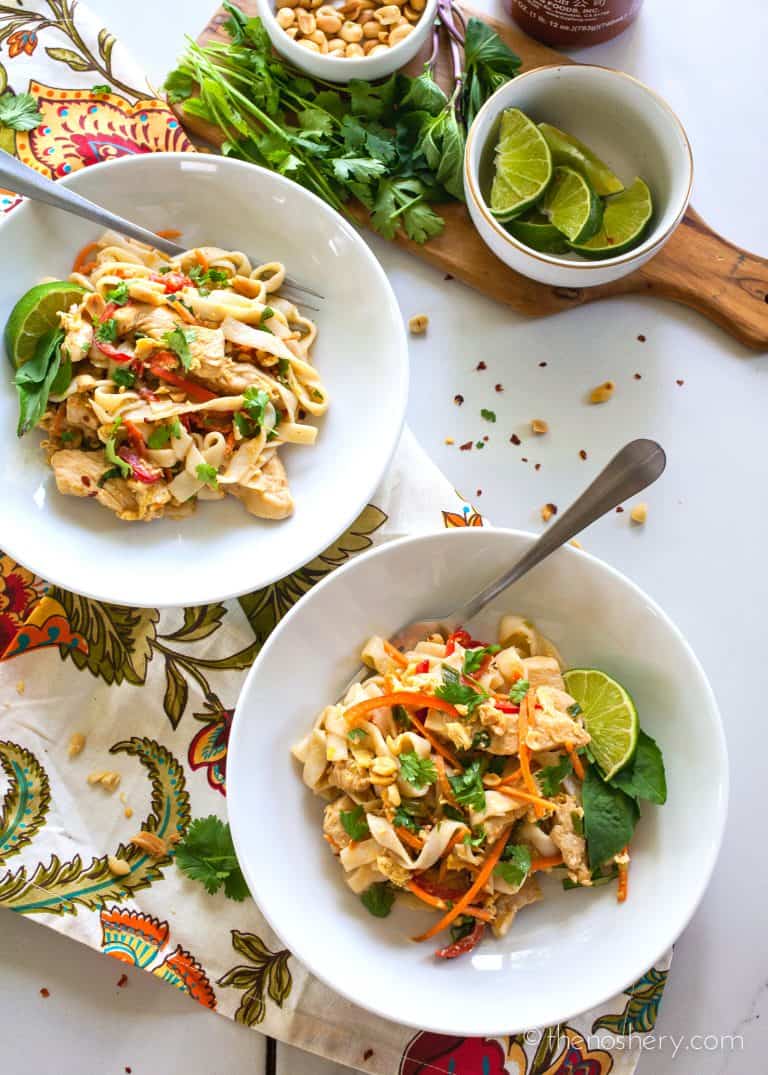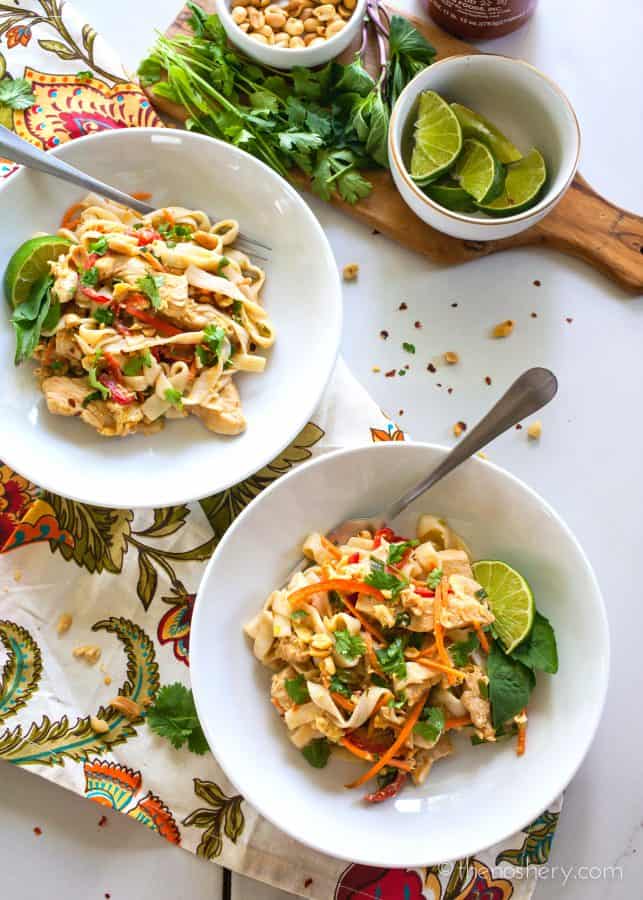 What is in spicy Thai peanut sauce?
peanut butter powder (such as PB2 powder)
coconut aminos
fresh ginger
garlic
lime
chicken stock
Sriracha sauce
rice vinegar
fish sauce
For the Spicy Thai Peanut Noodles
shirataki noodles (such as Miracle Noodles)
salt and pepper
chicken breast
green onions
carrot
red bell pepper
eggs
cilantro
Thai basil
crushed red pepper
roasted peanuts
Healthier swaps in these Spicy Thai Peanut Noodles Recipe
We already talked about how I swapped the traditional stir fry rice noodles or soba noodles for shirataki noodles. Another thing I wanted to conserve in this dish was the amount of fat. I love me a Thai peanut sauce, but unfortunately, peanut butter is high in fat. It's good fat, but it's still fat.
That is when peanut butter powder comes to the rescue. You get all the peanut flavor with 80% less fat, and you can control the texture. I love PB2 powder! The name "Pb2 Peanut Sauce" might not have the same ring to it in this recipe, but the flavor is spot on!
For a final healthy swap, I decided to use coconut aminos in place of soy sauce. Coconut aminos are a great soy alternative. It has a deep, savory flavor like soy sauce with a little sweetness, less salt, and it's naturally gluten-free. If gluten or soy aren't issues for you, feel free to use soy sauce in its place.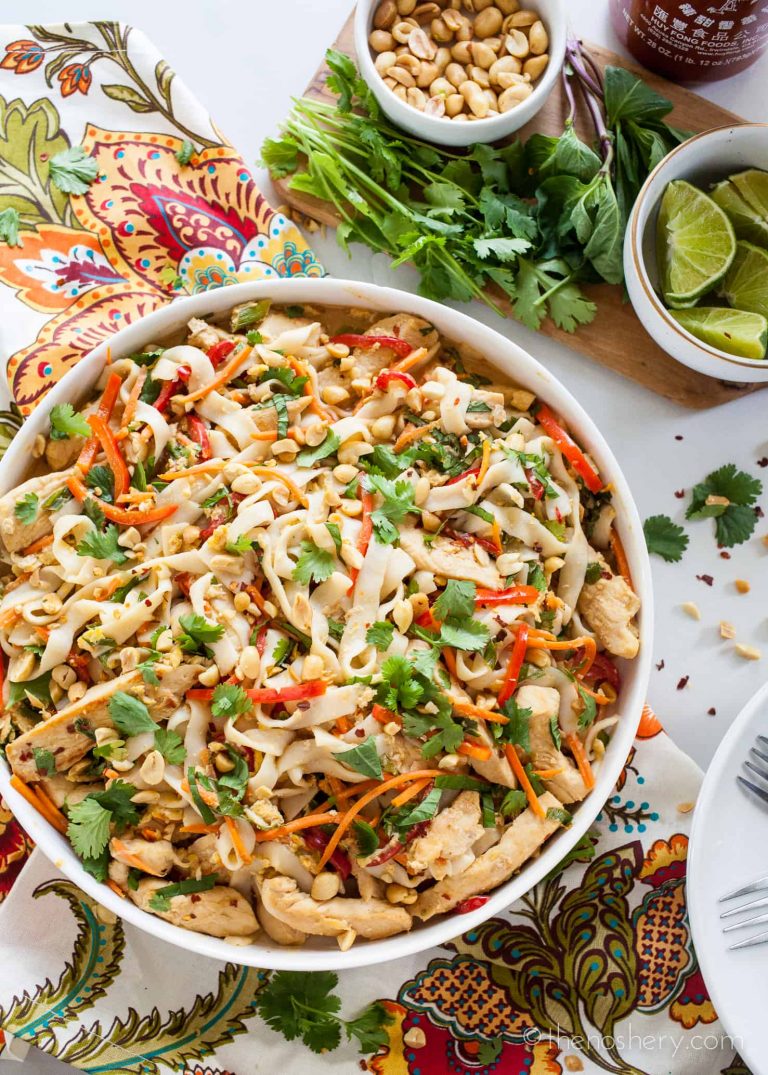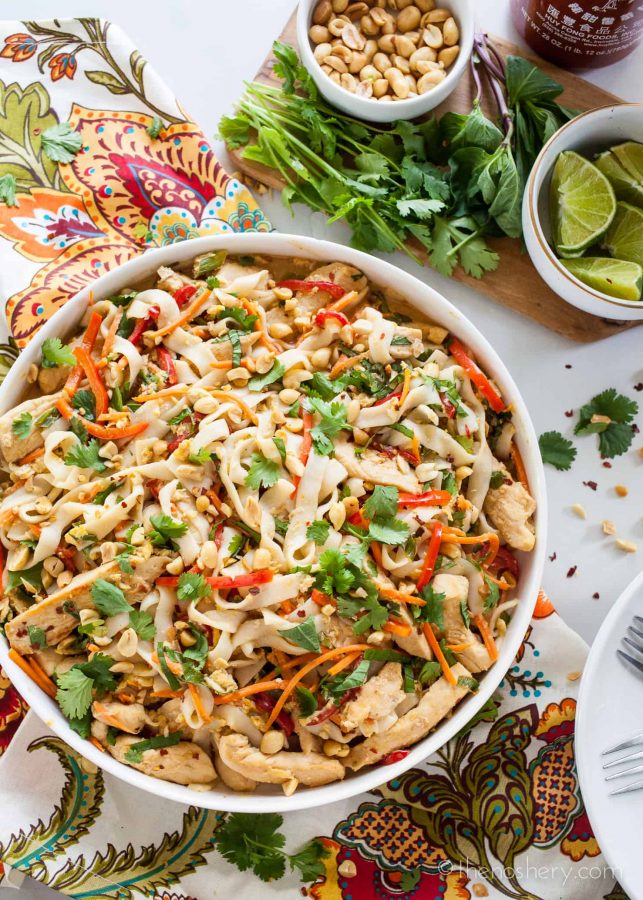 How to make spicy Thai peanut noodles
First, you start by making the sauce. Place the PB2 (or other peanut butter powder), coconut aminos, ginger, garlic, lime juice, chicken stock, sriracha, rice vinegar, and fish sauce in a small bowl. Whisk the ingredients until they form a glorious PB2 peanut sauce and set the mixture aside for later.
Prepare the shirataki noodles according to the package directions. (Make sure to check out my notes on that process above.)
Now prepare the chicken breast. Generously season both sides with salt and pepper. Then cook in a nonstick skillet over medium high heat, working in batches if needed. When the chicken's cooked through, transfer to a plate.
Spray the pan with more cooking spray and sauté the green onion, carrot, and red bell peppers until they're soft, about 4 minutes. Then push them to one side and add already whisked eggs to the bare pan. As they set, stir them until they are nice and scrambled.
Then add the chicken and peanut sauce to the pan and bring the sauce to a simmer for around 3 minutes until it thickens. When it's thick enough to coat the chicken and vegetables, toss in the noodles and cilantro.
Serve up those gorgeous noodles and garnish with chopped peanuts, crushed red pepper, Thai basil, and lime wedges. Prepare to be wowed by each bite of crunchy peanut, flavorful noodles, colorful veggies, and tender, thinly sliced chicken. I need this in my life yesterday!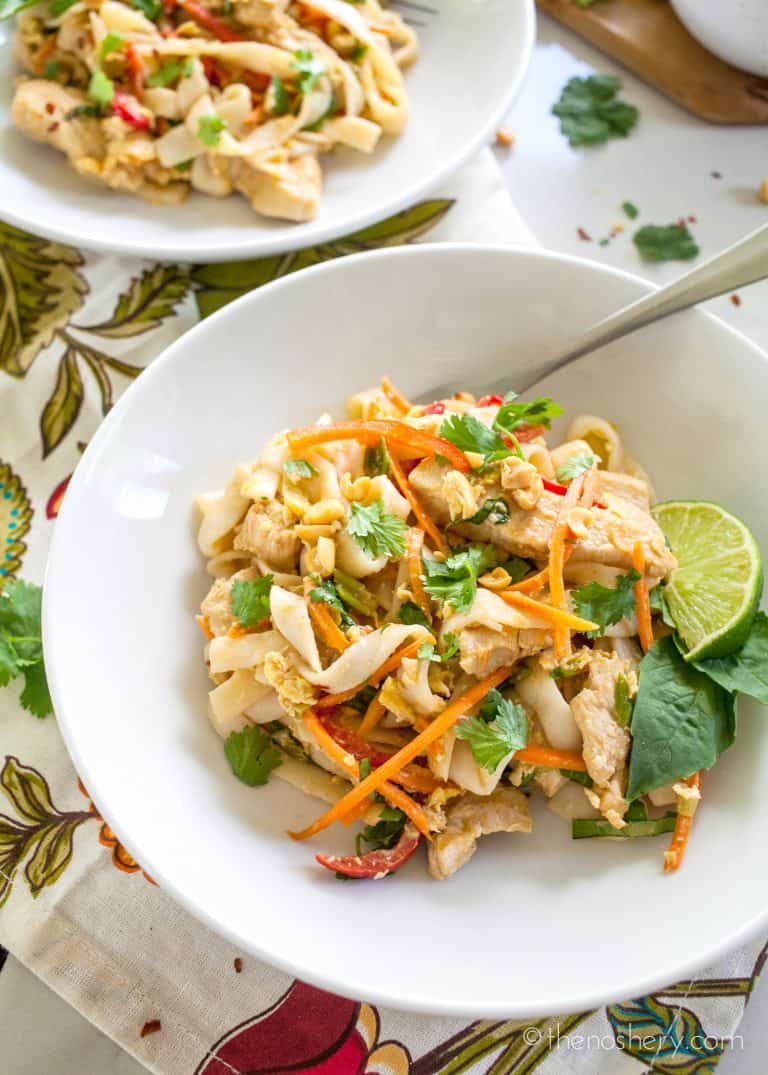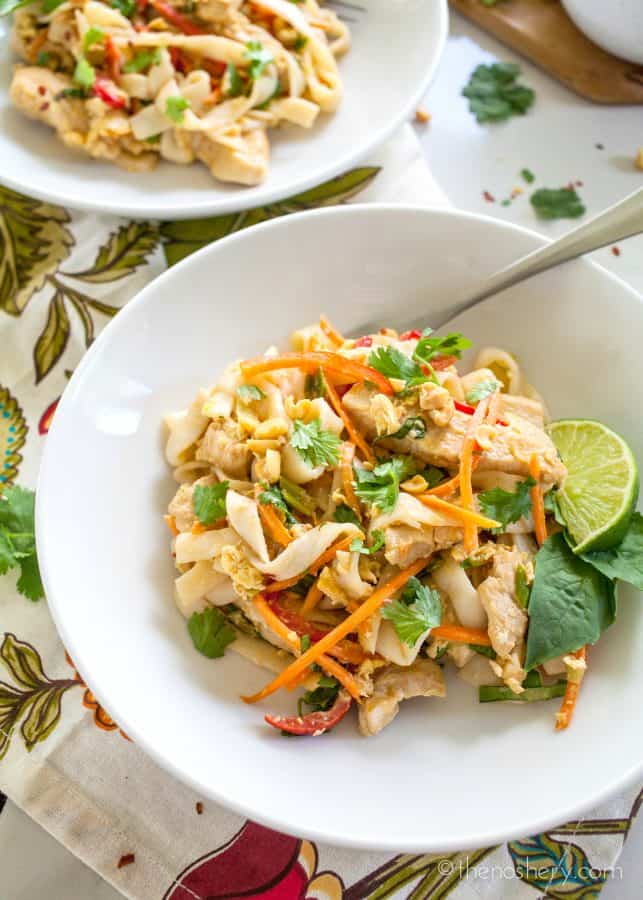 I love this spicy Thai peanut noodle recipe!
When I prepare this dish, I like to make a double batch for lunch leftovers. I find that as the noodles sit and refrigerate, they develop more flavor. In addition to eating this dish served warm, you can even enjoy the noodles straight from the fridge, if you'd like. This is a great dish if you are wanting to load up on protein and conserve carbs and fats — even on the go.
If you want to add more Asian-inspired chicken dishes to your dinner rotation, I also recommend these roasted Asian-glazed chicken thighs, Cooking Classy's chicken Pad Thai, a bowl of my better-than-takeout chicken fried rice, these vermicelli noodles with five spice chicken, gochujang chicken wings made in the Instant Pot, or this Thai chicken salad.
But sometimes, you've had enough chicken for a while. We've all been there. You can get that takeout tastiness by making these bulgogi bibimbap bowls, my pork belly buns, these Asian pork skewers, copycat Bang Bang shrimp. So easy and flavorful!
And I think these Spicy Thai Peanut Noodles would taste amazing with beef, shrimp, or your protein of choice in place of the chicken. It's a dish that's incredibly quick and easy, flavorful, and can be enjoyed by the whole family. I bet they won't even know that it's good for them.
Trust me. I'm not kidding when I say I love this recipe. And even my bacon loving, gluten-obsessed husband has been known to ask for second and thirds.
more asian flavors love
Yield: 4 servings
Skinny Chicken Pad Thai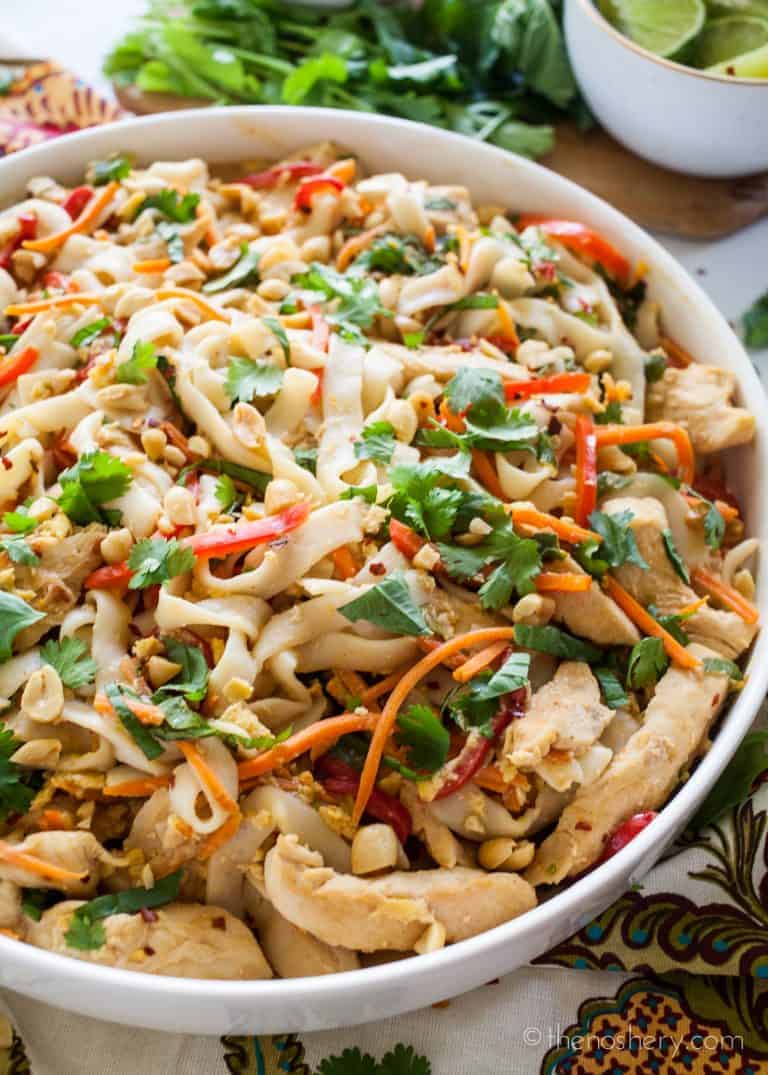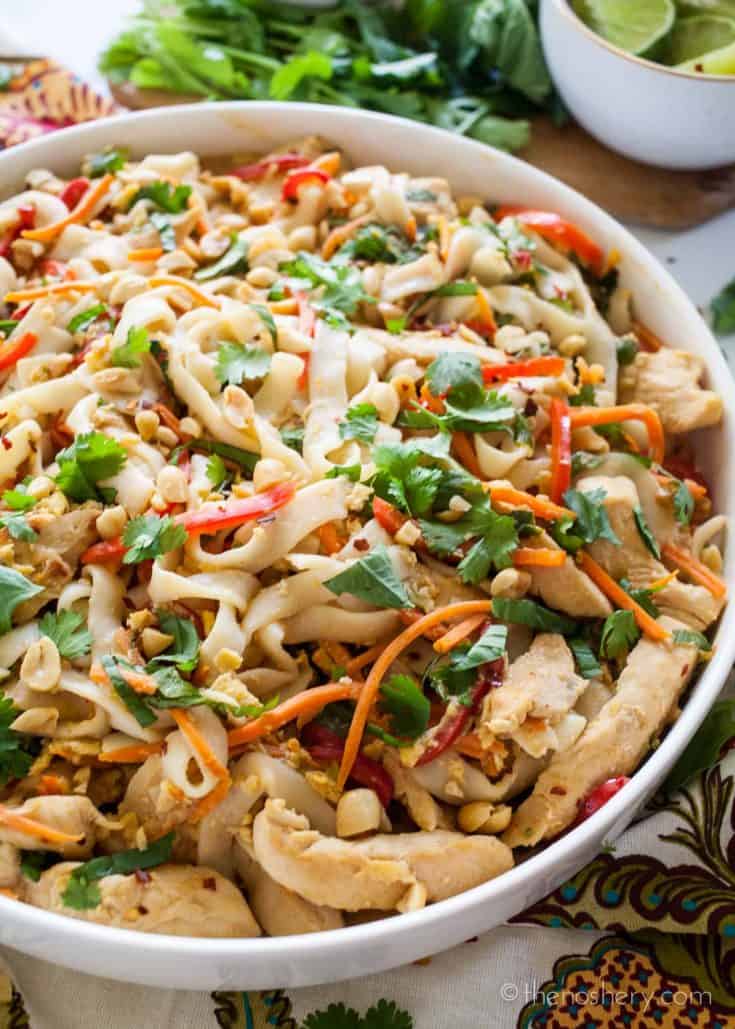 Enjoy all the Thai peanut noodles flavor and none of the guilt. So easy to prepare this dish is the perfect weeknight dinner.
Ingredients
6 tablespoons peanut butter powder
3 tablespoons coconut amino
2 teaspoons grated fresh ginger
2 teaspoons minced garlic
1 small lime juiced
1/4 cup chicken stock
1 teaspoon Siracha
1 tablespoons rice vinegar
1 tablespoons fish sauce
2 pkg shirataki noodles
1 teaspoon kosher salt
1/4 teaspoon pepper
1.5 lb chicken breast, cut into strips
2 green onions, chopped
1/2 cup shredded carrot
1/2 cup thinly sliced peppers
2 eggs
1/4 cup chopped cilantro
Thai basil
crushed red pepper
1/4 cup roasted peanuts, chopped (optional)
Instructions
In a small bowl whisk together peanut butter powder, coconut aminos, ginger, garlic, lime juice, chicken stock, sriracha, rice vinegar, and fish sauce, set aside.
Drain noodles in a strainer and rinse under cold water. Leave noodles in the strainer over sink or bowl to drain.
Season chicken breast with salt and pepper. Heat a non-stick skillet over medium-high heat, spray the pan with cooking spray. Working in batches brown the chicken and transfer to a plate. Spray the pan with cooking spray as needed.
Spray pan with a little cooking spray, add green onion, carrot, and peppers. Saute, for 4 minutes. Push aside and add eggs, scramble, and stir until cooked through. Add peanut sauce and chicken, toss to coat. Bring sauce to a simmer for 3 minutes or until sauce thickens. Add noodles and cilantro, toss until evenly coated.
Divide noodles evenly among 4 plates. Sprinkle with crushed red pepper, chopped peanuts (if using, remember to adjust the calories), and garnished with torn Thai basil and lime wedges.
Notes
Topping with chopped peanuts adds | Calories 160 Fat 13 Carbs 7 Protein 6
Recommended Products
As an Amazon Associate and member of other affiliate programs, I earn from qualifying purchases.
Nutrition Information:
Yield:
4
Serving Size:
1
Amount Per Serving:
Calories:

502
Total Fat:

15g
Saturated Fat:

4g
Trans Fat:

0g
Unsaturated Fat:

9g
Cholesterol:

239mg
Sodium:

1371mg
Carbohydrates:

23g
Fiber:

3g
Sugar:

5g
Protein:

67g