Copycat Bonefish Grill Bang Bang Shrimp | That's right! It's a throwdown. Me vs. The Bonefish Grill's Bang Bang Shrimp. I dedicate this throwdown to my sister-in-law, who I once saw scarf down an entire order of Bang Bang Shrimp in 2.5 seconds, with my own eyes.
And we have a long history with this restaurant. It's where we ate right before my husband proposed! The only drawback is that Bonefish Grill Bang Bang Shrimp is just too good to share, and ordering a separate appetizer for everyone is not good for the moneybags if you know what I mean.
So even though it is a tough competition, I'm up to the challenge of a copycat recipe because I could eat them every day of the week!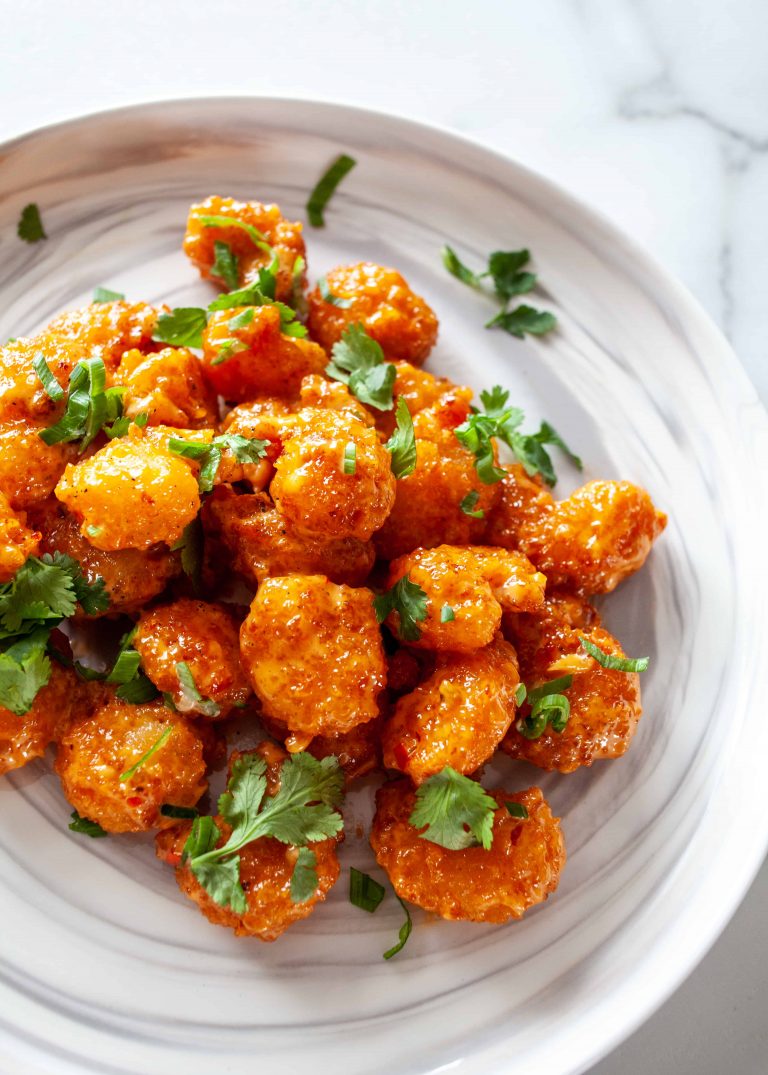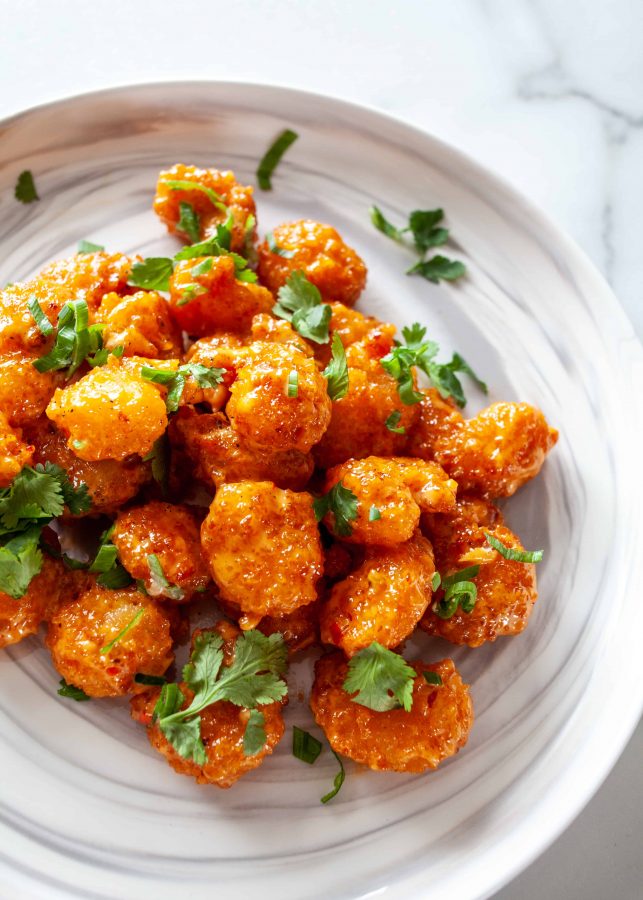 What is Bonefish Grill Bang Bang Shrimp?
If you've never had the Bang Bang Shrimp from Bonefish Grill, let me tell you about their most popular appetizer–at least in my family's opinion. It's tender shrimp coated in crispy breadcrumbs and a sweet and spicy, creamy sauce with just the right amount of chili heat. That's where it gets the name "Bang Bang."
But I figured that Bonefish Grill Bang Bang Shrimp really can't be that hard to make since they serve it as an appetizer and it comes out pretty quick. It is similar to a popcorn shrimp covered in a creamy, spicy sauce.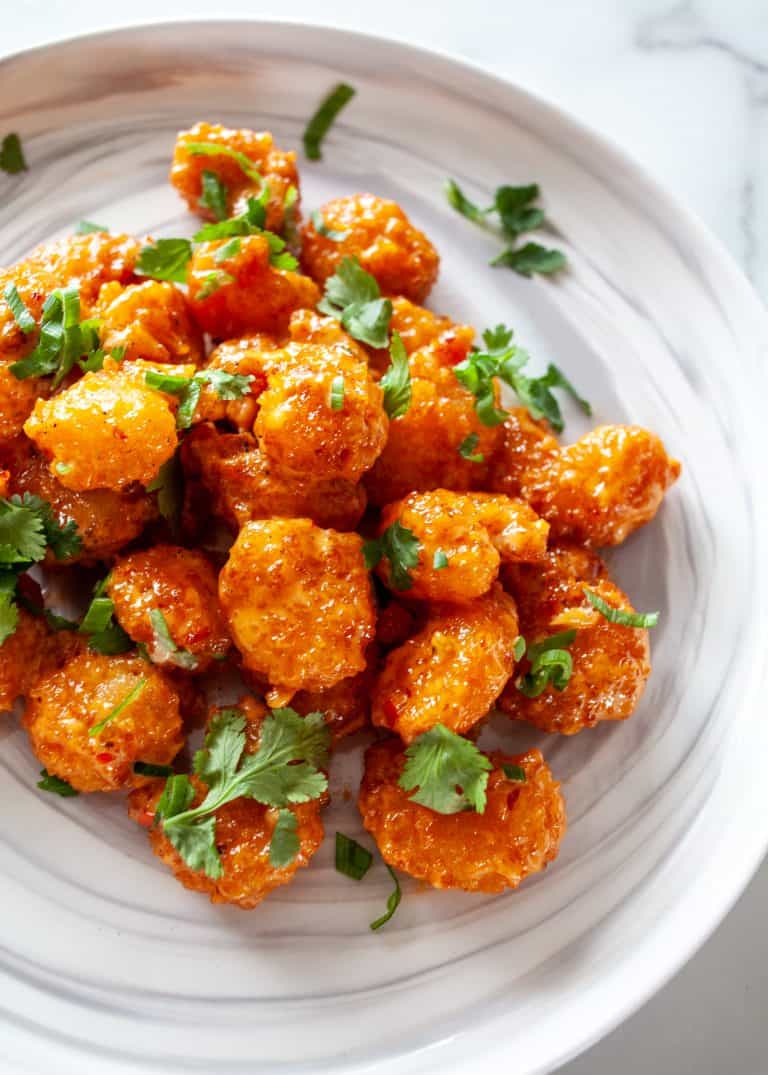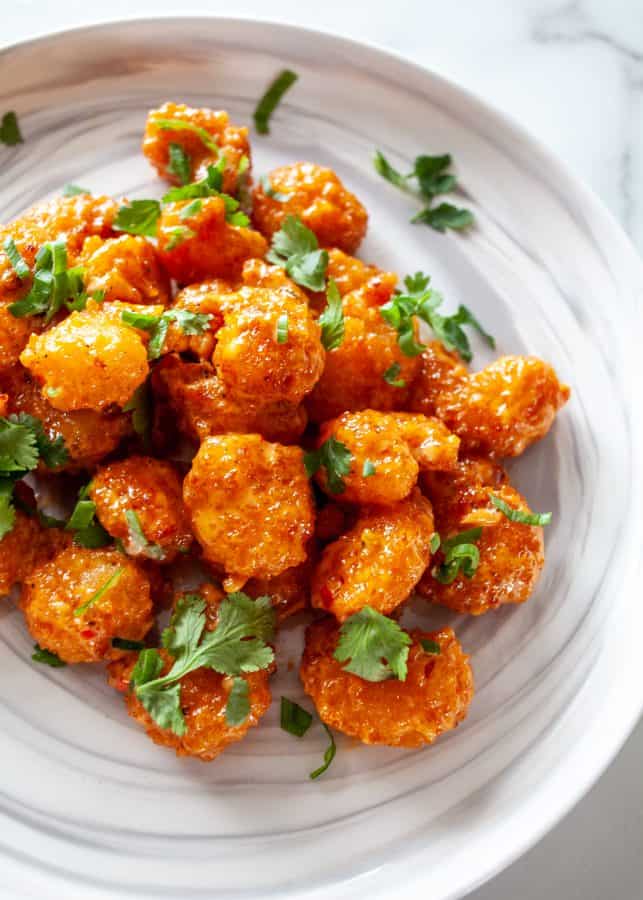 What is in Bang Bang Shrimp sauce?
When I started experimenting, I figured that some of the spicy flavor could come from sriracha, a Thai-originated hot sauce made from peppers, vinegar, garlic, sugar, and salt. This stuff is like Asian ketchup with a kick, making so many things more delicious.
The sweet component to the sauce and those little red pepper flakes come from sweet Thai chili sauce, like the kind many places serve with their wontons and egg rolls. You can get this gorgeous mixture of sweet and heat at most grocery stores in the international aisle.
So we know the red heat comes from the chili sauce and sriracha, but it turns out kind of pale orange with a creamy texture that's all thanks to mayonnaise. I used Japanese kewpie mayo, which is smoother and creamier than regular mayonnaise, made with rice wine vinegar instead of the distilled vinegar in the traditional kind we spread on our ham sandwiches.
But regular mayo will work fine if that's what you have! With a dash of rice wine vinegar, the sauce is complete.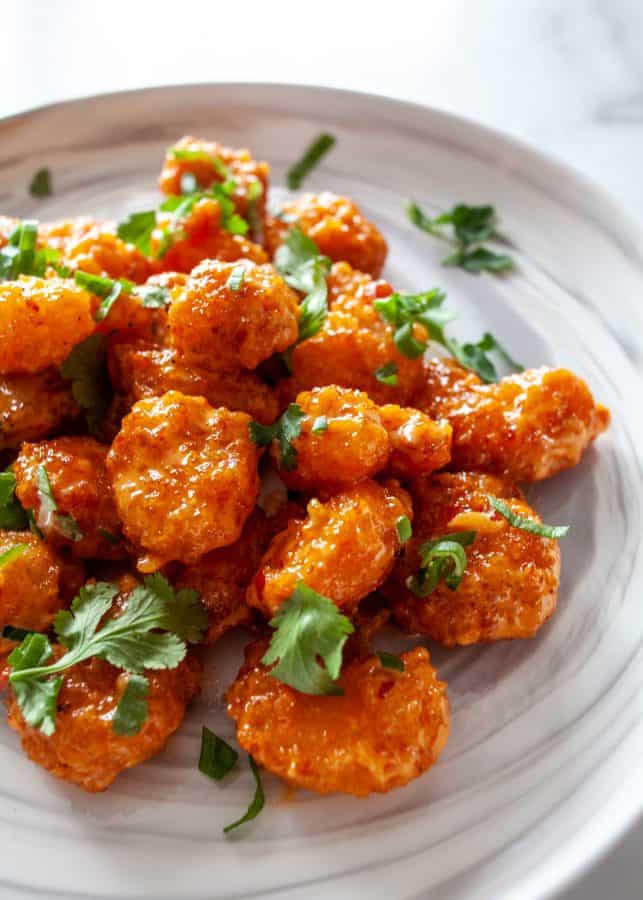 How to make Bang Bang Shrimp
In a bowl, whisk together your rice vinegar, mayonnaise, sriracha, and sweet Thai chili sauce until it turns a lovely pale orange color.
Pro tip: Use a big enough bowl that you can easily toss the shrimp in after it's fried. While your shrimp are deep frying, the sauce just gets tastier and tastier as it sits.
Next, soak your shrimp in a medium bowl of milk and prepare your dredging station. You'll need to fill one dish with panko bread crumbs and another with corn starch.
When you're ready, shake off the excess milk, completely coat the shrimp in the corn starch, go for ANOTHER dip in the milk, and then roll around in the bread crumbs.
Remove shrimp and arrange on a baking sheet to ensure they have plenty of room. This also makes for easier clean up.
Now it's time to fry. In a large skillet, add your oil and heat until a thermometer reaches 300 degrees.
Carefully fry the shrimp until golden brown, making sure you add them in batches so they don't lower the temperature of the oil.
With a slotted spoon, place the cooked shrimp on a paper towel lined plate so they can drain. Add the fried shrimp to your sauce and stir until evenly coated.
Now you have a delicious appetizer you didn't have to pay $7 for, that you can make in your own kitchen any time you want!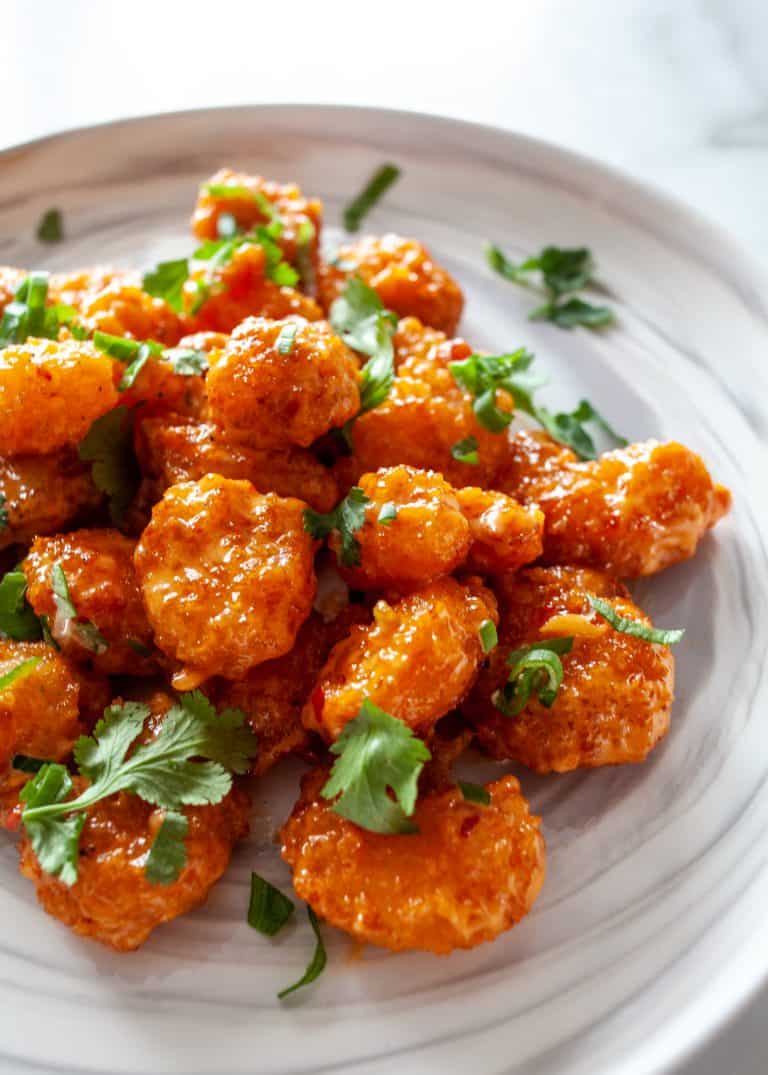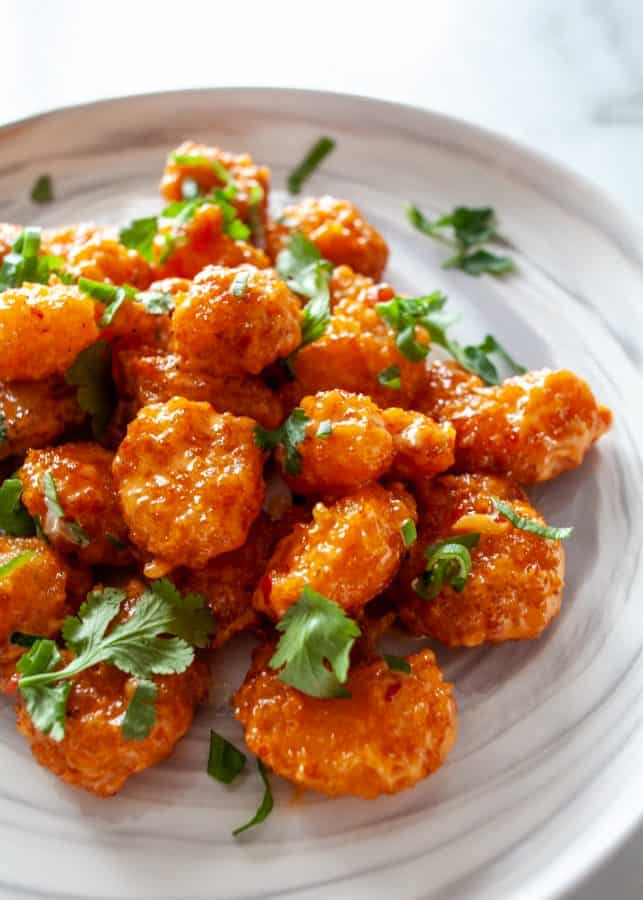 What if I don't eat shrimp?
If you don't like fish or you're allergic, this dish would also taste great with diced chicken thighs. For a vegetarian Meatless Monday dish, you can also make it with cauliflower florets. OMG now I need to go make that!
How to serve Bang Bang Shrimp
As an appetizer, this recipe goes perfectly on a bed of mixed greens or shredded cabbage with chopped scallions and cilantro on top. Like the greens, a little bit of lemon juice also cuts through that creaminess in the best kind of way.
It would also be tasty over an Asian slaw like this one from The View from Great Island. The greens add a fresh component that gives it a little somethin-somethin.
You can make this shrimp recipe a main course by serving over your favorite rice, cauliflower rice (The Minimalist Baker has an excellent tutorial), or in a tortilla topped with slaw for Taco Tuesday.
I bet it would also be divine turned into a pasta with rice noodles, greens, and THAT SAUCE!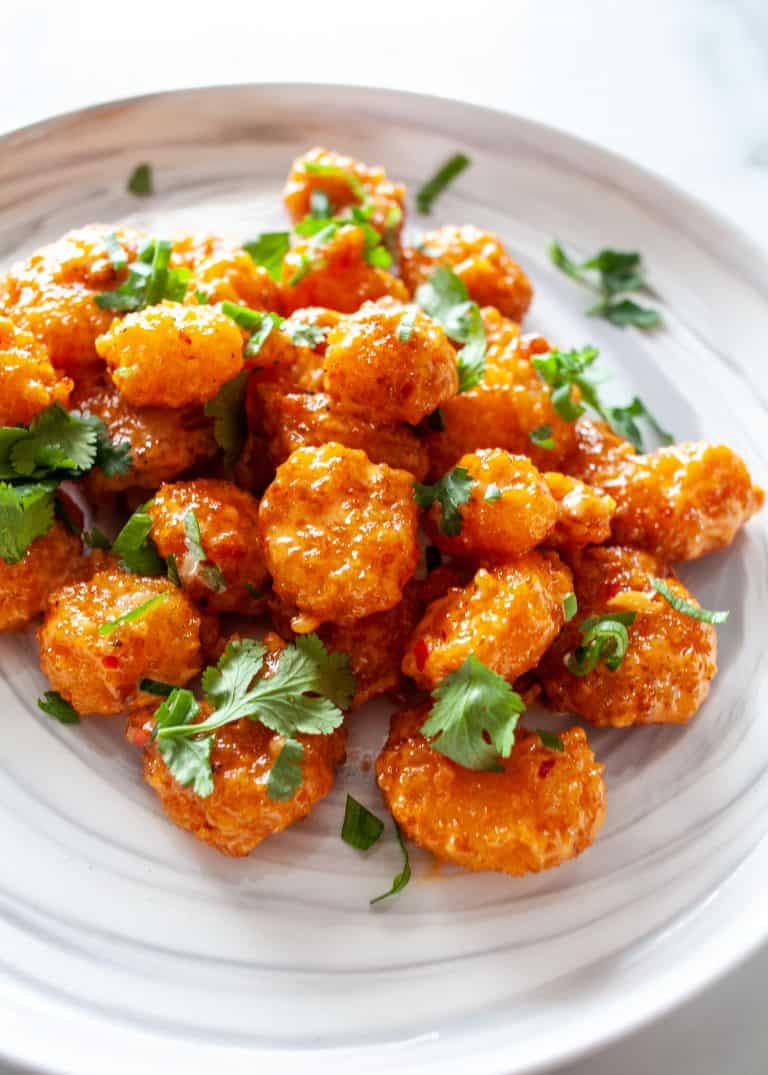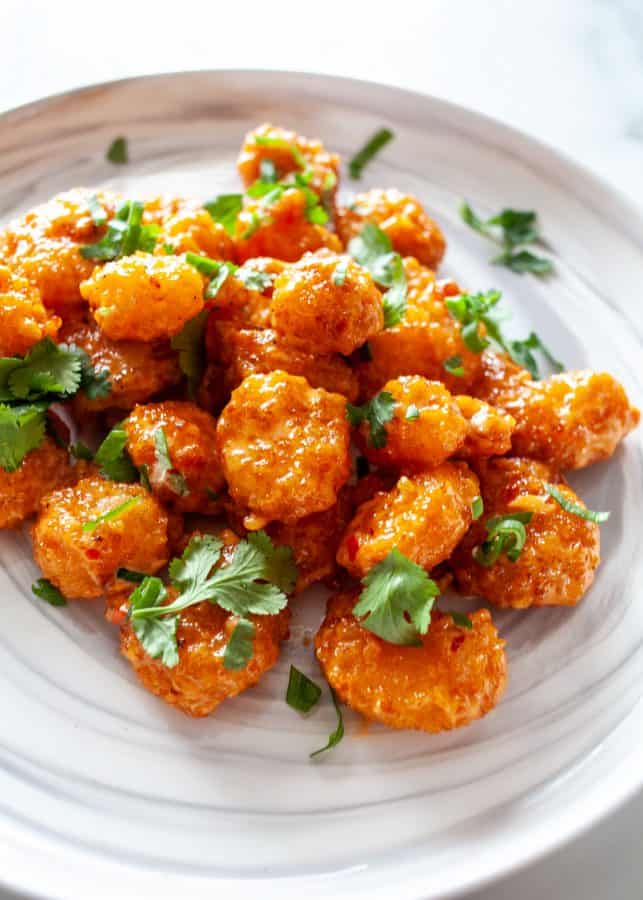 Why I love Bang Bang Shrimp
In every bite, you get a perfect balance of crispy and creamy, meatiness from the shrimp, then spicy and sweet. That's why so many people are bananas about it! And I think I cracked the code, because this dish turned out to be one of my favorite copycat recipes to date.
If you're having an Asian-themed dinner night, this Bonefish Grill Bang Bang Shrimp copycat recipe would make the perfect appetizer for an Asian chicken bowl, served alongside some kimchi Korean pancakes, or part of a game day or movie night spread with sweet and spicy Asian chicken wings.
more seafood love
Yield: 4
Copycat Bonefish Grill Bang Bang Shrimp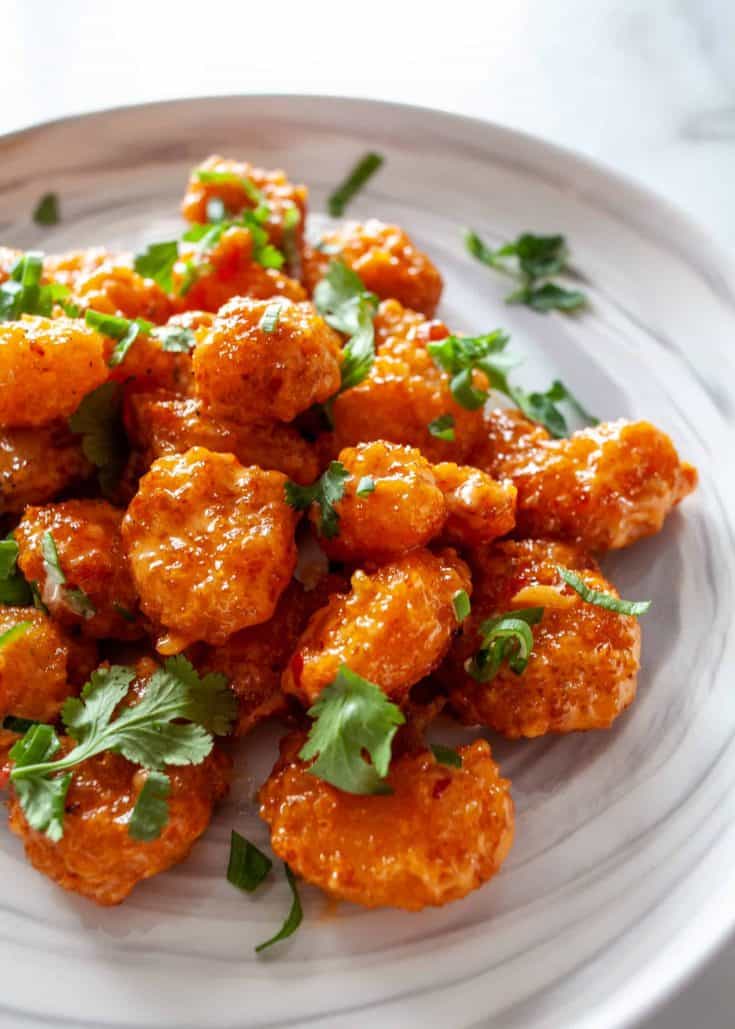 Crispy panko bread shrimp tossed in a spicy and creamy bang bang sauce. Save the drive and make bang bang at home.
Ingredients
12 oz medium shrimp, peeled and deveined
1/2 cup mayonnaise
6 teaspoons sweet Thai chili sauce
3 teaspoons sriracha sauce
2 teaspoons rice vinegar
1 cup buttermilk
1 cup panko bread crumbs
1/2 cup corn starch
shredded cabbage (optional)
scallions (optional)
Instructions
In a bowl combine mayonnaise, sweet Thai chili sauce, sarachi chili sauce, and rice vinegar. Whisk together until well combine, set aside.
Soak shrimp in a bowl with the buttermilk. Prepare a bowl with panko bread crumbs and another with corn starch. Dredge the shrimp in the corn starch, then again in the milk and finally in the panko bread crumbs, set aside.
Heat a large skillet of oil until it reaches 350 degrees. Drop shrimp in and fry until golden brown. Remove from oil with a slotted spoon. Drain fried shrimp on a plate lined with paper towels.
In a large bowl combine fried shrimp with prepared sauce until evenly coated. Pile high on a bed of shredded cabbage and garnish with scallions.
Recommended Products
As an Amazon Associate and member of other affiliate programs, I earn from qualifying purchases.
Nutrition Information:
Yield:
4
Serving Size:
1
Amount Per Serving:
Calories:

428
Total Fat:

24g
Saturated Fat:

4g
Trans Fat:

0g
Unsaturated Fat:

18g
Cholesterol:

59mg
Sodium:

815mg
Carbohydrates:

41g
Fiber:

2g
Sugar:

4g
Protein:

11g