The Best Classic Meatloaf Recipe | When I think of classic American dinnertime, for some reason, I think of June Cleaver in a dress, apron, and pearls. I think of avocado colored refrigerators and frilly window treatments. And, of course, there's meatloaf on the table with mashed potatoes and creamed spinach or buttered peas.
Whether topped with a ketchup crust, onions, mushrooms, barbecue sauce, throughout the ages, there's always been meatloaf.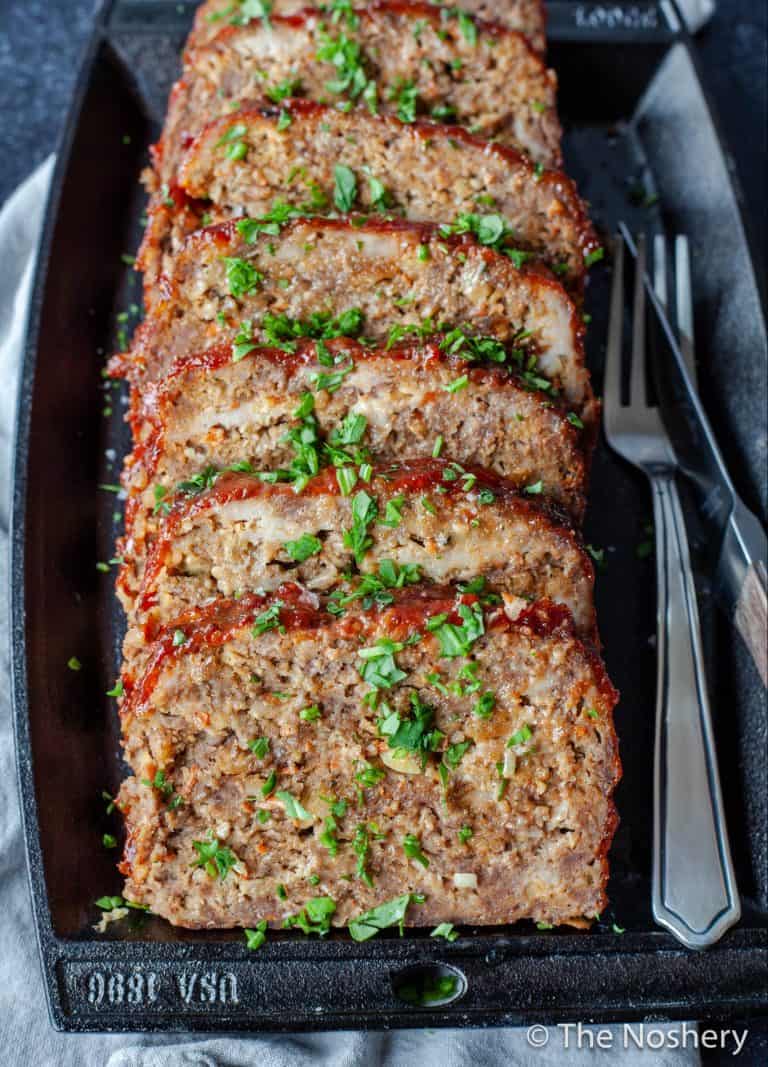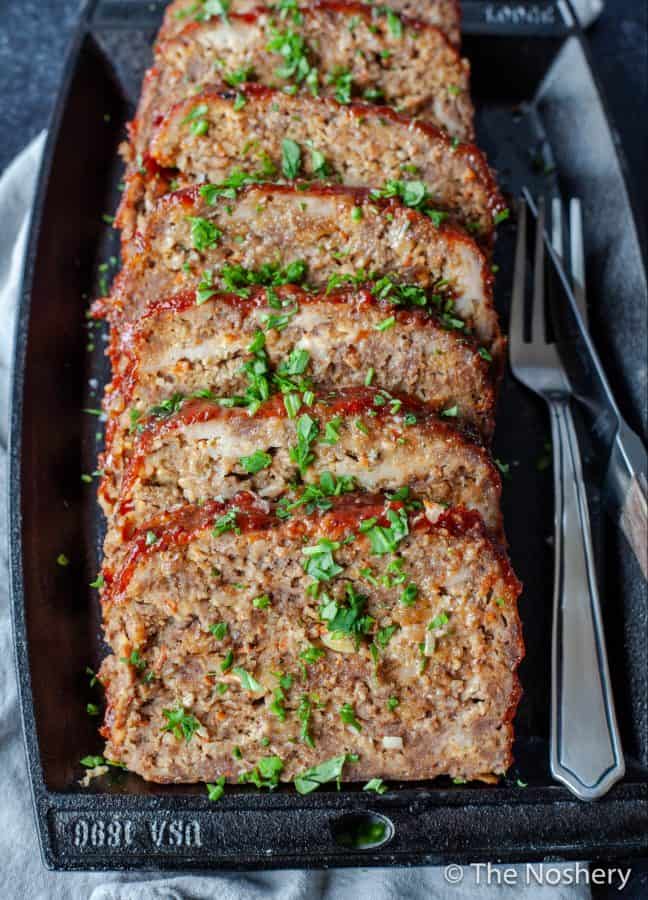 Though its origins date many years earlier, meatloaf became a dinnertime staple in America during times of economic depression because it was a way not to let leftover meats and breads go to waste. So they mixed together meat and aromatics and bound it all together with an egg or breadcrumbs and baked until that delicious crust formed.
With its savory, filling flavors, it's easy to see why this dish has had staying power. And although pearls and heels might never make it into my kitchen, our dinnertime rotation would be seriously lacking if it didn't include a classic meatloaf recipe. So this is my take on an American mealtime legend.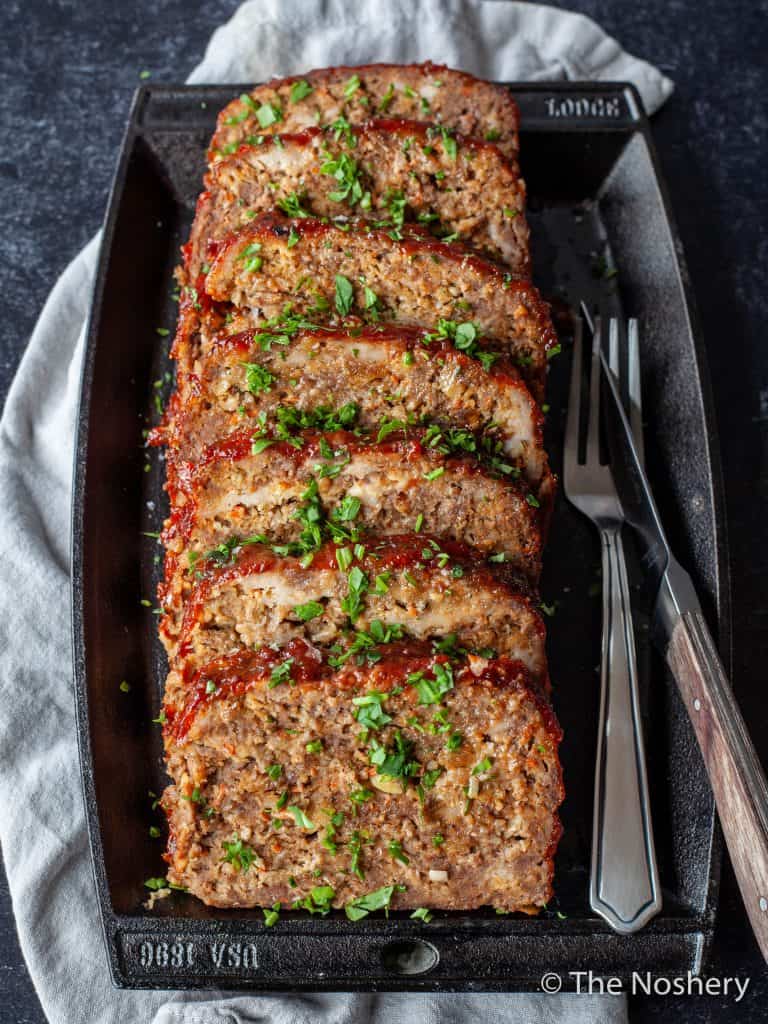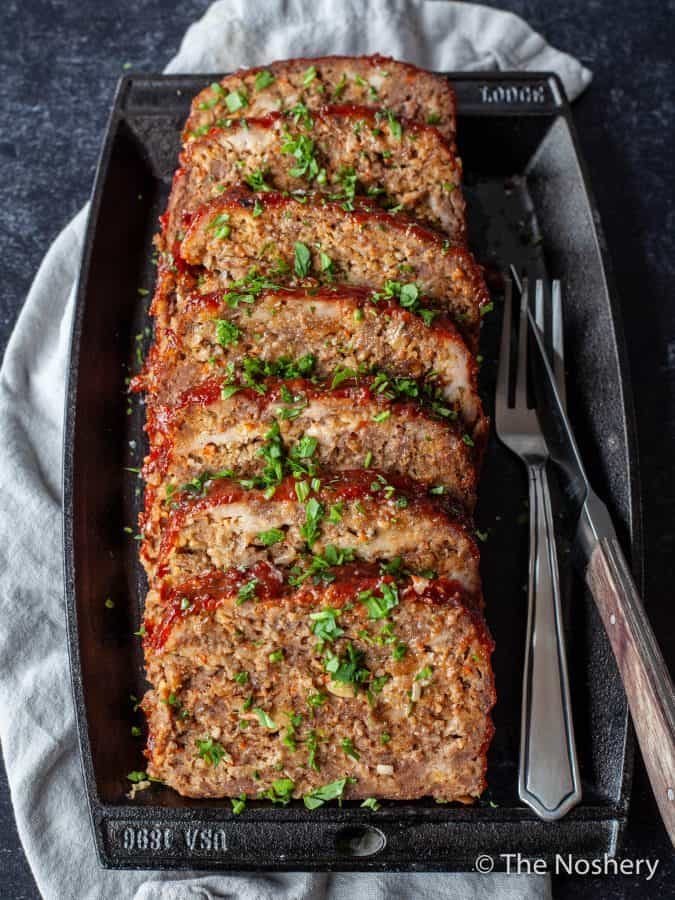 What is the best meat to use for making classic meatloaf?
In all of my experimenting, I've found a blend of meats tastes and holds up best. I use a 1:1 combination of 80/20% fat beef and pork. But any combination of beef, pork, veal, or lamb can work. If you do use a lean ground beef, turkey, or chicken, consider adding 30% ground pork to keep the meatloaf tender as it cooks in the oven.
What ingredients do I need to prepare meatloaf?
For this easy meatloaf, you will need carrot, onion, garlic, fresh thyme leaves for the aromatics. Some seasoned croutons help bind the mixture together, and beef broth keeps it moist. For the bulk of the recipe, my favorite meatloaf calls for equal parts of ground chuck and ground pork.
And, of course, to flavor everything, you will need salt, paprika, garlic powder, and onion powder. Some classic meatloaf recipes call for Worcestershire sauce, but I think these seasonings capture that hearty flavor nicely.
Finally, for the sweet and savory topping, you will need ketchup, a bit of brown sugar, some stone-ground mustard, and onion powder.
Why are bread crumbs used in meatloaf?
Bread crumbs—or in this case, croutons, are typically used as a binding agent. They help keep the classic meatloaf shape and hold it together after cooking. But since it cooks for some time in the oven, it's important to moisten the breadcrumbs until they become mushy so they don't draw moisture away from the meat.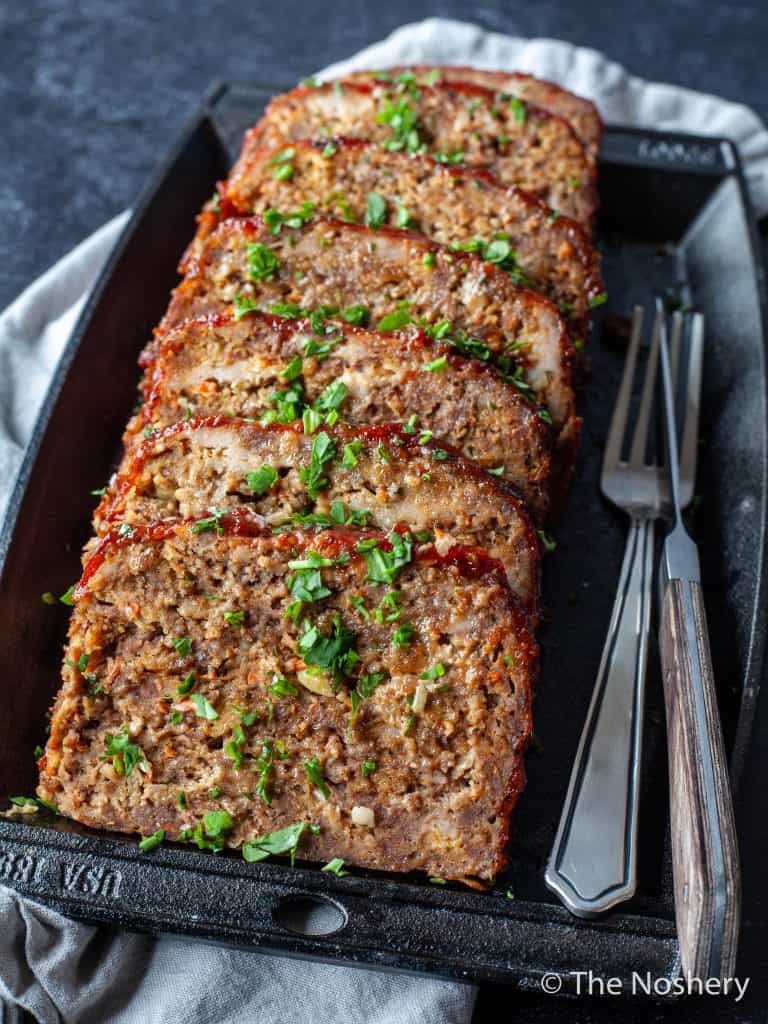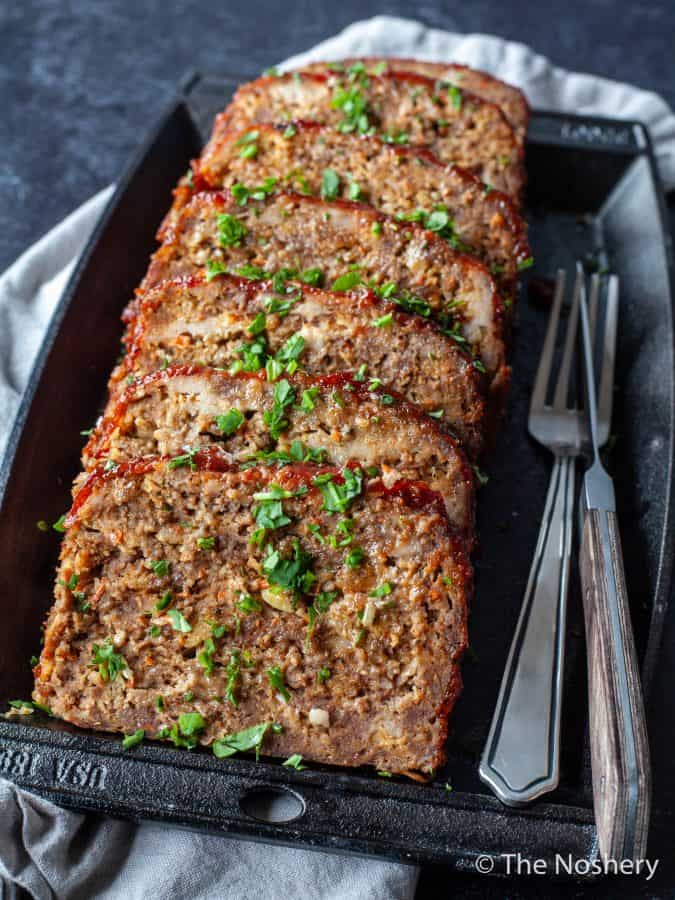 How to make The Best Classic Meatloaf
Let your food processor do the hard work for you, dicing your onions, garlic, and carrots until they're finely minced. You could still be able to see small, definitive pieces opposed to a uniform puree. In a medium-highor skillet, sauté this mixture with some thyme until the vegetables are tender.
While they're cooking, add the croutons to the same food processor and whir them up until they turn into breadcrumbs. You don't even need to wipe it out first because it's all going to the same place! Make a paste by adding beef stock to the breadcrumbs and processing it again.
Now, add the meat mixture, breadcrumbs, vegetables, and seasonings to a large bowl and mix until it's nice and combined. This is a good time to take off those rings and use clean hands, but if you're squeamish about those kinds of things, you can use a spoon.
How to shape meatloaf
Speaking of the meatloaf's shape, a loaf pan makes the process easier. You simply wet the sides of a loaf pan and line the pan with plastic wrap. (The wet sides will help keep the plastic in place.) If you have binder clips, you can also clip the plastic wrap to the sides so it doesn't slide.
Press the meatloaf mixture into the loaf pan, packing it down firmly. Use the plastic wrap to pull the loaf away from the sides. Invert the loaf pan on to a foil-lined sheet pan to remove the meatloaf. Then remove the plastic wrap before baking.

How to cook classic meatloaf
Combine the sauce ingredients in a small bowl and, when it's well-combined, spread HALF of the mixture over the top of the meatloaf. Bake on a foil-lined rimmed baking sheet in your preheated oven for 45 minutes or until a meat thermometer inserted into the middle reads 155 degrees.
I've found that cooking for a slightly longer time on 325 degrees makes for a more tender, flavorful dish than it would in a 350-degree oven.
When the cook time is done, remove the meatloaf from the oven and let it rest for 10 minutes. Once it's cooled, the rest of your topping comes into play. Spread some more of that sweet and savory goodness over the top and you're ready to serve!
What are some good side dishes to serve with meatloaf?
If you want to stick with the classic American theme, go with mashed potatoes, roasted potatoes, crispy Brussels sprouts, macaroni and cheese, buttered peas, or roasted cauliflower.
But if you ask me, there's nothing tastier than a bite with a little bit of that classic meatloaf, mashed potato, and peas on your fork. Get in my belly!
Can you freeze meatloaf?
If you're the type who has your life enough together to meal prep or want to keep some on hand for emergencies, you can freeze them. It works best to make this recipe up until it's time to put it in the oven.
Wrap the shaped uncooked meatloaf first in plastic wrap and then foil to avoid freezer burn. The day before you're ready to cook it, move it from the freezer to the refrigerator and bake as instructed once it's completely thawed (about a day later).
However, if you didn't read the directions and already cooked your meatloaf, there's still an option. Let it cool completely, slice, and individually wrap the slices in parchment paper. These can be reheated in the microwave for about 1-2 minutes for easy meatloaf throughout the week.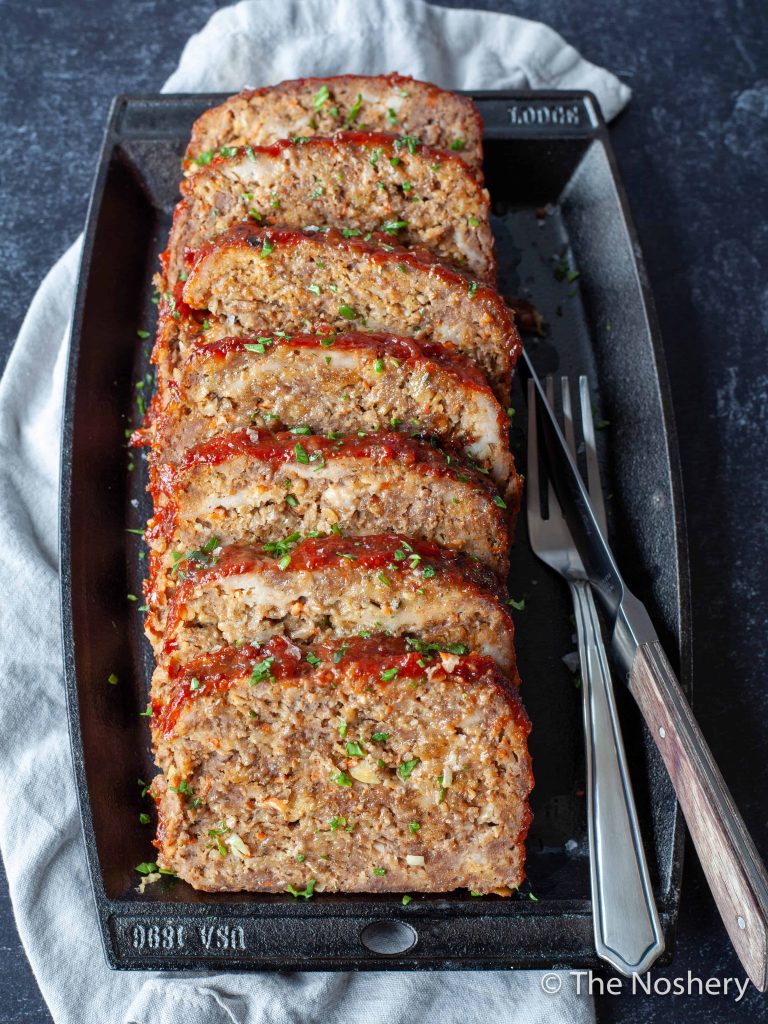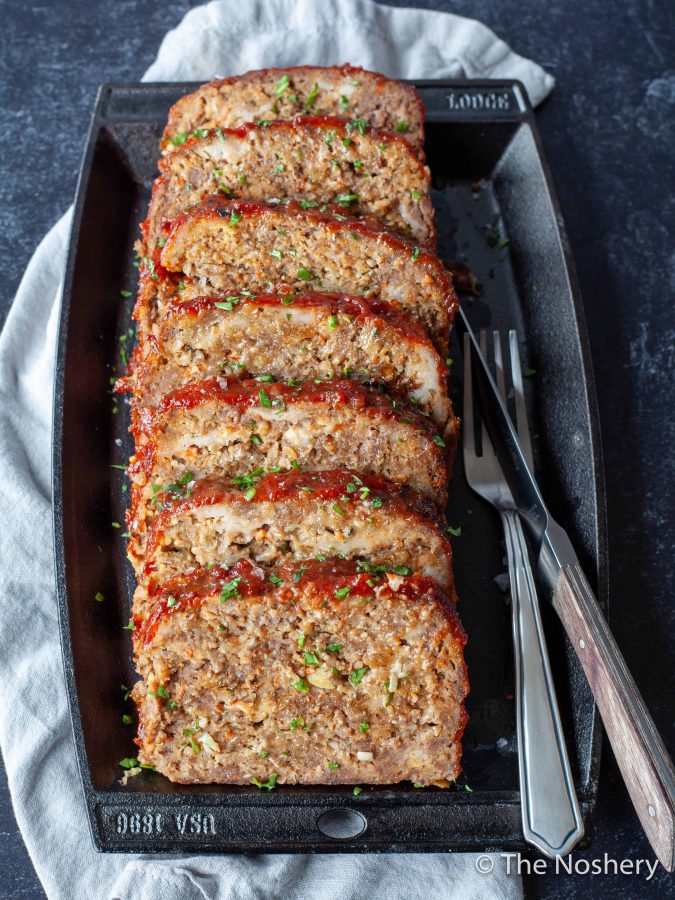 The ultimate comfort food
Let me go ahead and change your world right now with this recommendation. What if you picked a day each week (or 2, who's counting?) devoted to comfort food for dinner? Every Monday after work or every Sunday supper–whatever's easiest for you, you pick from an easy comfort food rotation for warm, flavorful, nostalgic food.
Might I suggest this fall-apart red wine braised beef? These fix-it-and-forget-it slow cooker beef and bell pepper sandwiches? Your list wouldn't be complete without this portobello Philly cheeseburger or these lemon chicken and dumplings. Everyone needs a good stew in their life, and this Moroccan Lamb Stew is the tastiest.
You also MUST try this salisbury steak from Savory Nothings and Cooking Classy's stuffed shells. So magical! But when it comes to comfort food, it doesn't get any better than the flavorful, filling classic meatloaf.
my favorite Puerto Rican comfort food
Yield: 4 - 8
The Best Classic Meatloaf Recipe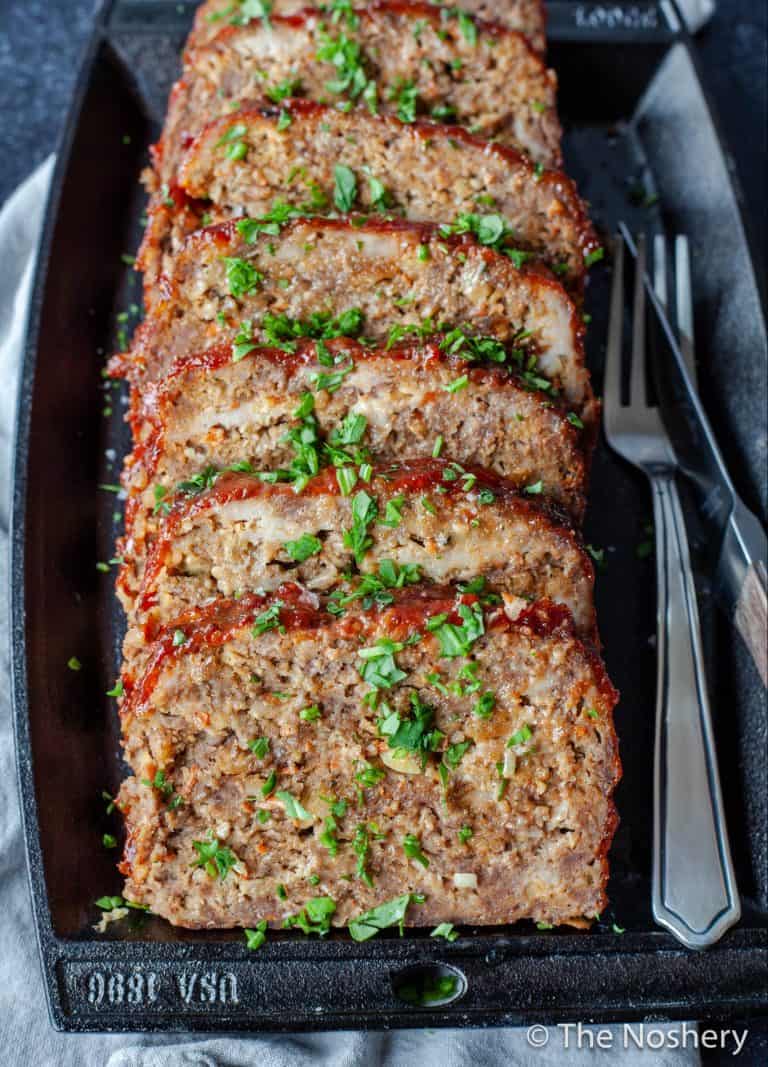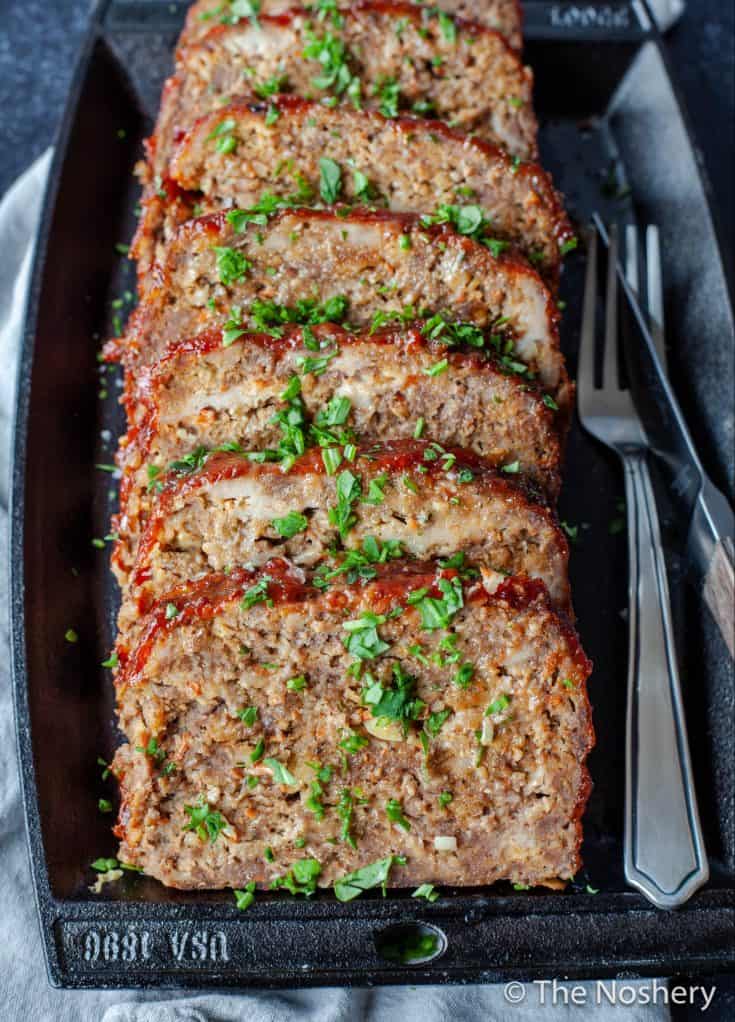 Every kitchen needs a classic meatloaf recipe. This easy dinner comes out of the oven tender, flavorful, and filling with a delicious topping.
Ingredients
Meatloaf
1 medium carrot, chopped
1 small onion, chopped
3 garlic cloves, minced
1 tablespoon fresh thyme leaves, minced
5 oz seasoned croutons
1/3 cup beef broth
18 oz ground chuck
18 oz ground pork
2 teaspoons salt
2 teaspoons paprika
2 teaspoons granulated garlic
2 teaspoons onion powder
Sauce
1/2 cup ketchup
2 tablespoons brown sugar
1 tablespoon stone-ground mustard
1 teaspoon onion powder
Instructions
Heat oven to 325° F. Line a rimmed sheet pan with foil.
In a food processor add carrot, onion, and garlic. Pulse until the onions and carrots are finely minced but not pureed.
Heat a large skillet over medium-high heat and saute the vegetables with the thyme until the vegetables are tender about 5 minutes.
While the vegetables are cooking add the croutons to the food processor and process until they become breadcrumbs. Add the beef stock to the breadcrumbs and process until it becomes a paste.
In a large bowl combine cooked vegetables, breadcrumbs, ground meat, and meatloaf seasonings. Mix together until well combined.
Wet the inside of a 10-in loaf pan. Line the inside of the loaf pan with plastic wrap. The plastic wrap will stick to the wet sides. You can also clip the plastic wrap to the sides with binder clips.
Press the meatloaf mixture tightly into the pan. Using the plastic wrap pull the meatloaf away from the sides.
Invert the meatloaf onto the prepared sheet pan and remove it from the loaf pan and discard plastic wrap.
In a small bowl combine sauce ingredients and mix until well combined. Spread half of the sauce over the meatloaf.
Bake in the oven for 45 minutes or until a meat thermometer reads 155 degrees.
Remove the meatloaf from the oven and let it rest for 10 minutes. Brush remaining sauce over the meatloaf before serving.
Recommended Products
As an Amazon Associate and member of other affiliate programs, I earn from qualifying purchases.
Nutrition Information:
Yield:
8
Serving Size:
1
Amount Per Serving:
Calories:

490
Total Fat:

28g
Saturated Fat:

10g
Trans Fat:

0g
Unsaturated Fat:

15g
Cholesterol:

118mg
Sodium:

1006mg
Carbohydrates:

22g
Fiber:

2g
Sugar:

7g
Protein:

37g