Chocolate truffles are one of the many ways to express your love for Valentine's Day. I mean what goes better with Valentine's Day than chocolate and flowers? This Valentine's Day I got everything you could possibly need to show your Valentine your love.
The truffles are perfectly molded in a silicone mold and filled with creamy hazelnut chocolate. But, not just any hazelnut chocolate. The hazelnut chocolate ganache is flavored with hazelnut liqueur. Because what goes better on Valentine's Day than chocolate? Boozey chocolate, that's what!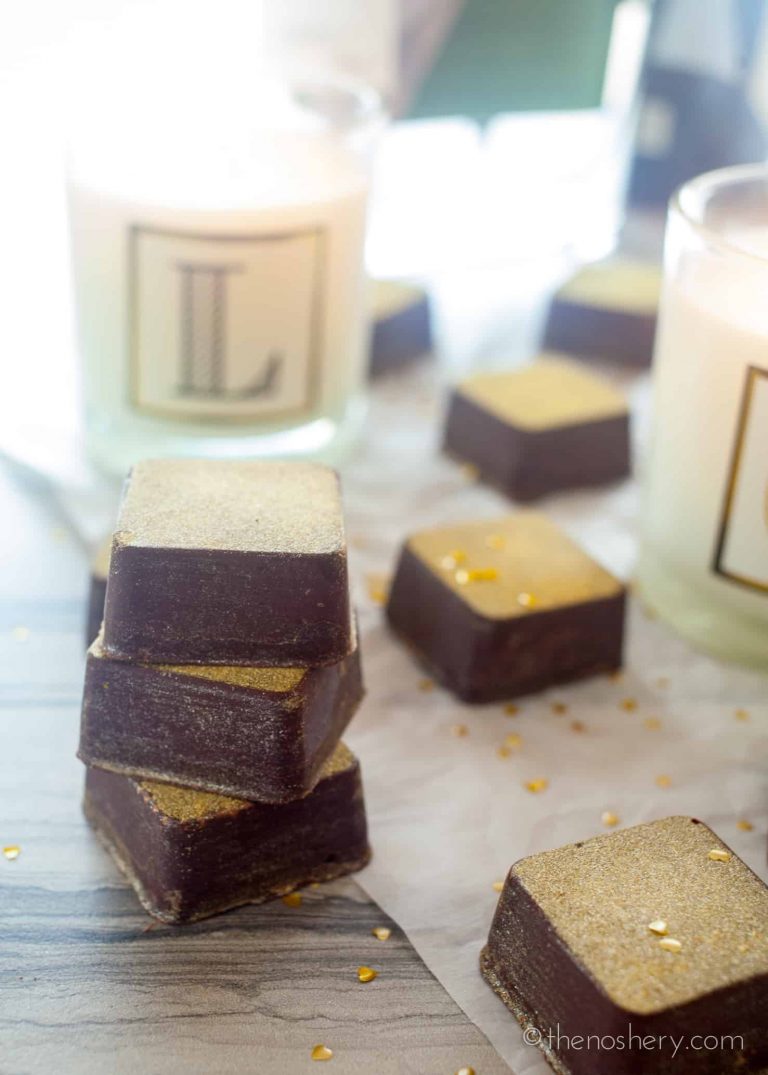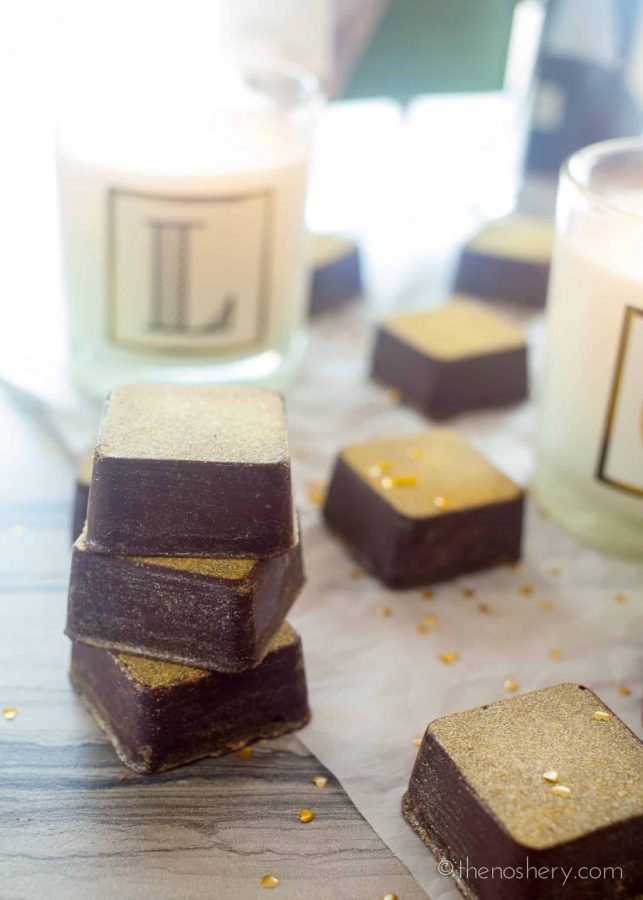 First, let's talk about flowers. I love a large bountiful bouquet of flowers. Hydrangeas are one of my favorite flowers because they are so fluffy. I live in a very small space and nothing brightens up a room your my mood more than flowers. What is great is that I can easily buy fresh beautiful flowers at my local Tom Thumb while doing my groceries. The debi lilly design™ collection offers colorful bouquets that are ready to "chop & drop" – these bouquets are prearranged, so just simply cut the stems to length, and drop them right into a vase, and you're set.
debi lilly design has me covered for my weekly flower fix with their "chop & drop" bouquets and for any special occasion like Valentine's day. The floral department does a great job making gorgeous flower arrangements that don't break the bank. All of these beautiful debi lilly design Valentine's themed flower arrangements can be found at your local Tom Thumb.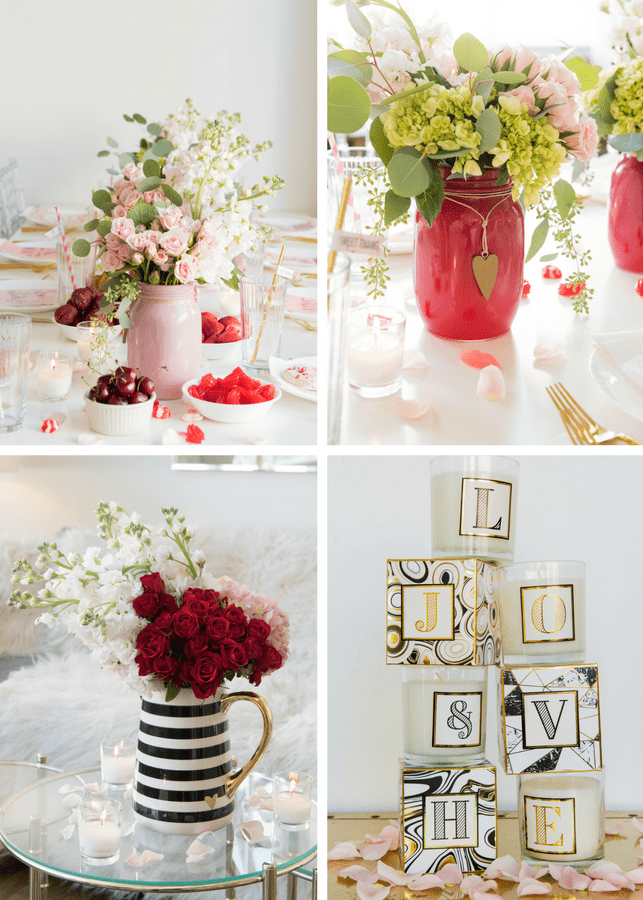 Tom Thumb also carries these adorable alphabet candles (look for them in the floral section). Which I love because they set a romantic mood and you can easily personalize a message for your love.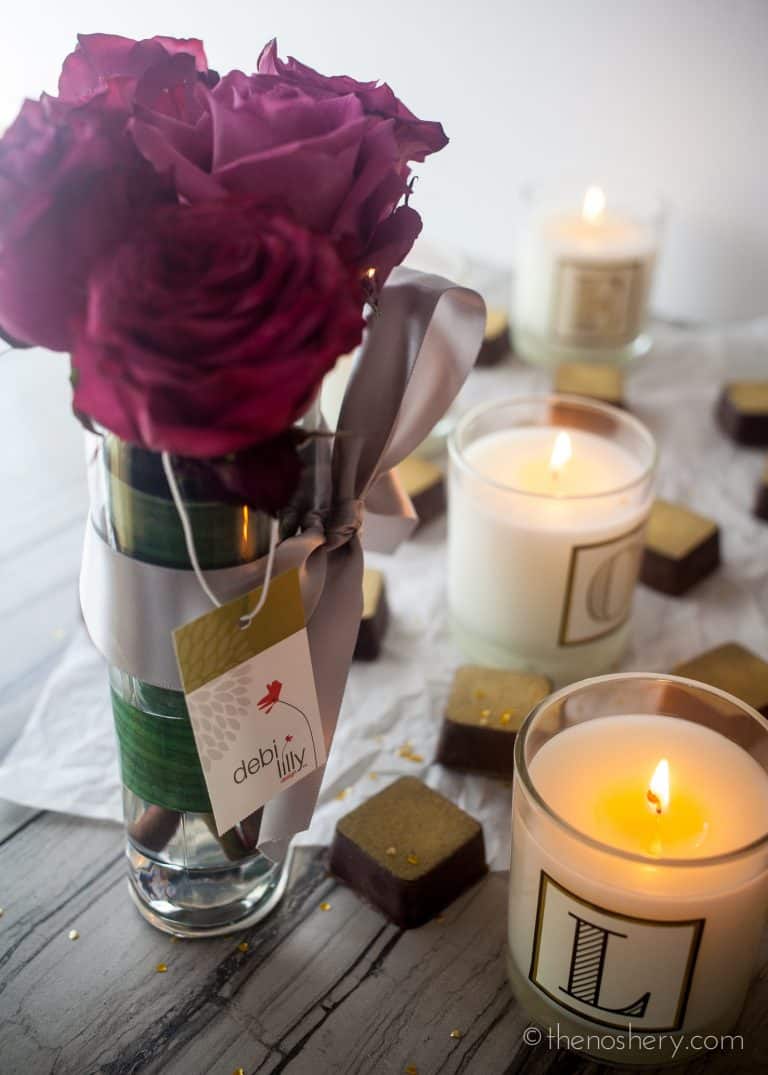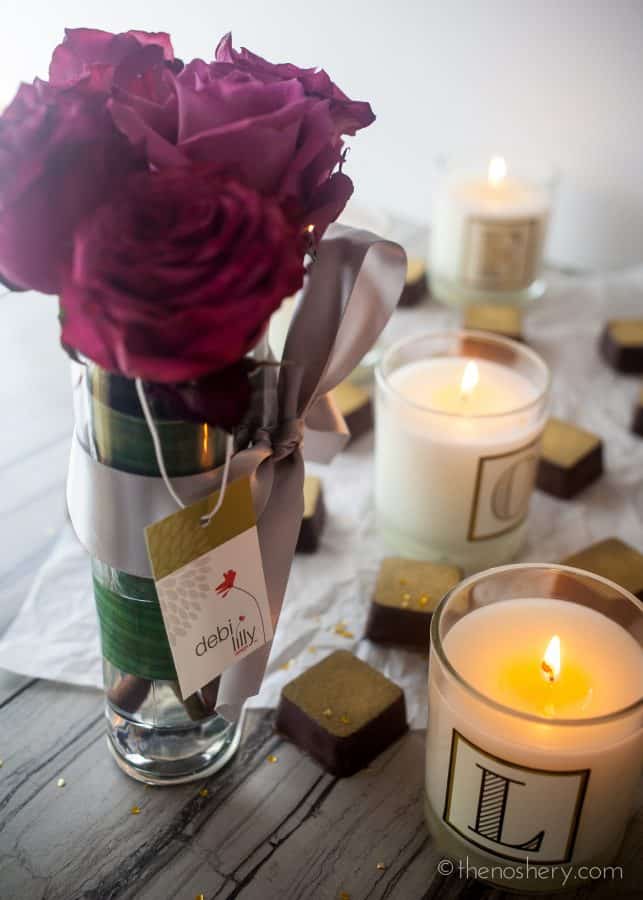 Now that the mood and flowers are set let's talk about chocolate. I don't know a person in the world that doesn't love chocolate. It's creamy and sweet, so what is there not to love? This Valentine's I decided I would tackle chocolate truffles. But, I wanted them to not only be decadent but to look fancy. Armed with chocolate, cream, hazelnut liqueur, a silicone mold, some patience, and gold edible glitter I was ready to make chocolate truffles with hazelnut ganache.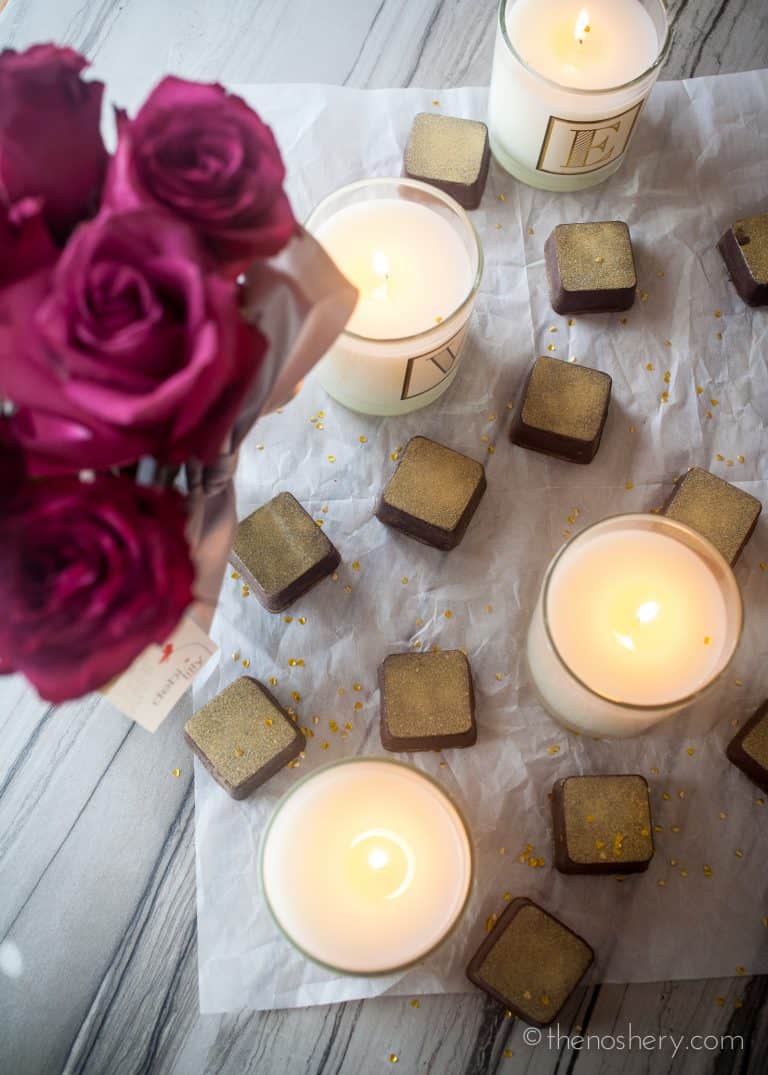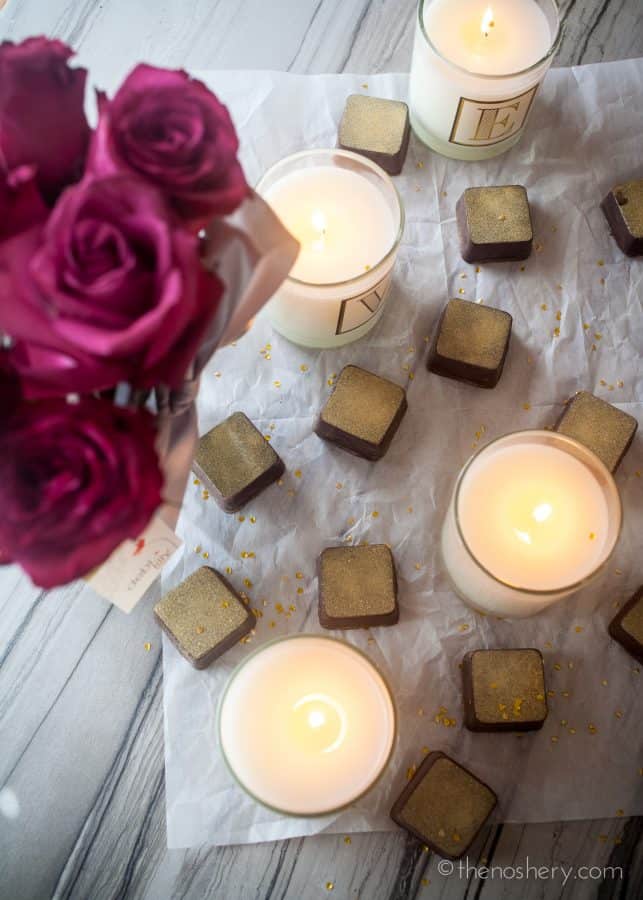 Tips for Making Chocolate Truffles
Chocolate truffles require patience. Give yourself at least 2 to 3 days to make the truffles.
When melting the coating chocolate keep the chocolate between 90 to 92 degrees F; do not allow the chocolate to go above 94 degrees F. If you do, the coating will not have a nice snap to it when you bite into the chocolate.
Have all your supplies and ingredients ready, cleaned, and dried before starting.
Sweating is really condensation which happens when warm air comes in contact with cold air. To prevent sweating I like to let the chocolate sit on the counter for at least 30 minutes before covering or placing in an airtight container and placing in the refrigerator.
A good quality chocolate makes a difference. I find that for the shell of the truffles real bittersweet chocolate works better than melting candies. You do not have to spend a lot of money for quality bittersweet chocolate. O Organics® Bittersweet Chocolate Chunks work great for chocolate truffles.
Have a roll of paper towels ready because chocolate making is messy.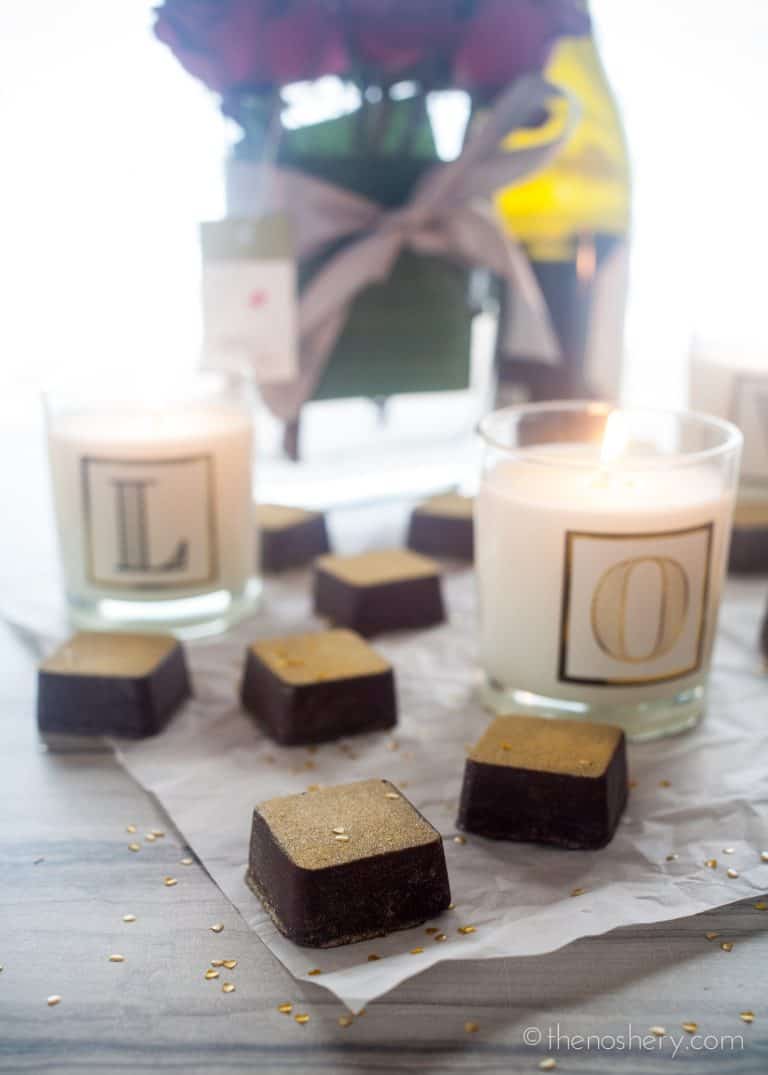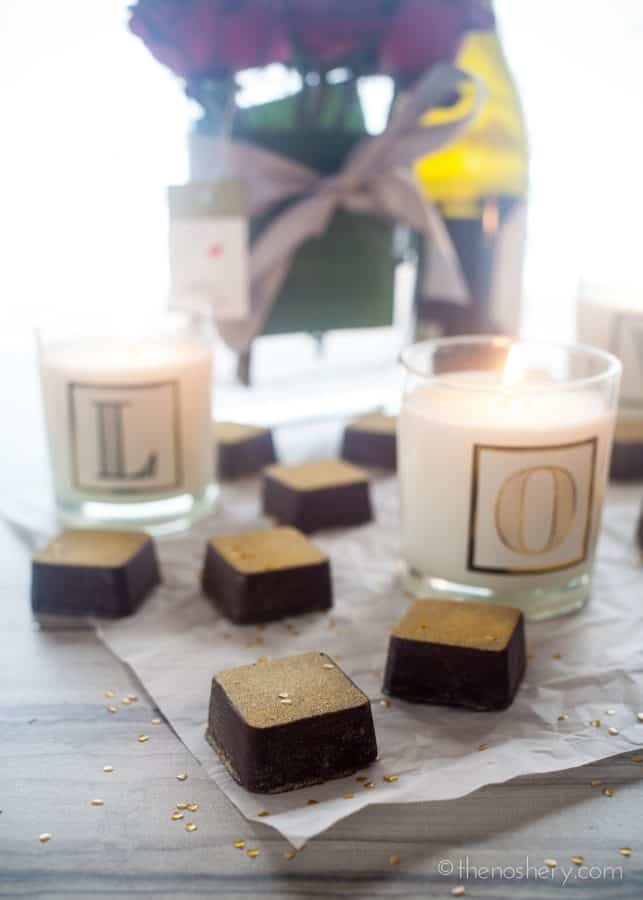 To give these truffles an extra kick I flavored them with hazelnut liqueur but, any flavored liqueur would be great with these truffles. Other great pairing ideas would be orange, coconut, or cherry liqueur.
debi lilly design products are available in my area exclusively at Tom Thumb and Albertsons, and you can also find them at all Albertsons family of grocery stores, including ACME Markets, Jewel-Osco, Vons, Pavilions, Safeway, Shaw's, Star Market, United Express, United and Carrs/Safeway.
I have had so much fun partnering with Tom Thumb and creating delicious recipes like these Low Carb Portobello Philly Cheese Burgers or this Carrot Cake Baked Oatmeal. Visit Albertsons.com and TomThumb.com to find a store near you and discover more meal prep tips and recipe ideas.
This is a sponsored conversation written by me on behalf of Albertsons Companies. The opinions and text are all mine.
Yield: 24
Chocolate Hazelnut Truffles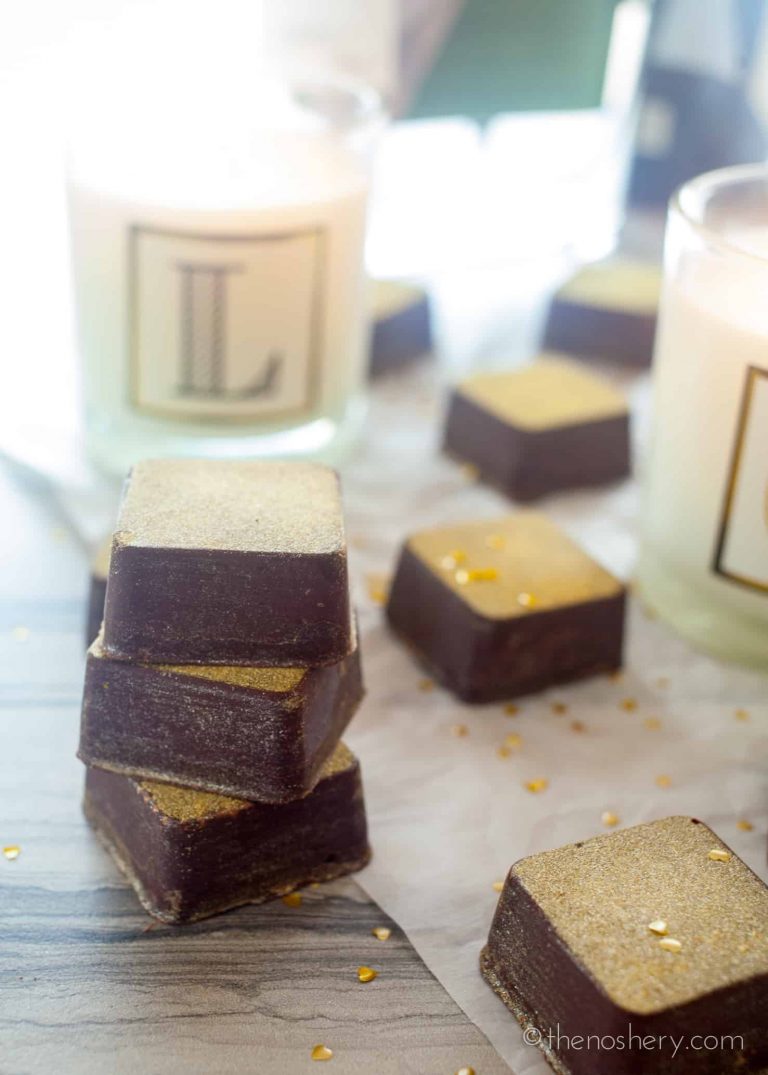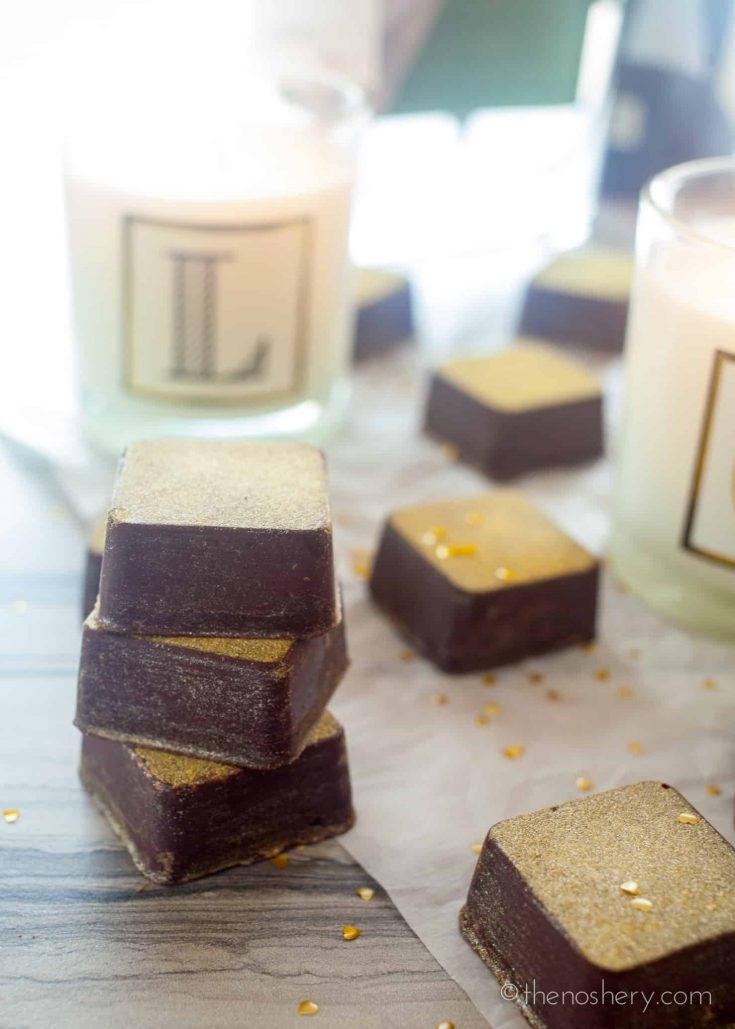 Molded bittersweet chocolate truffles stuffed with a hazelnut liquor chocolate ganache. The perfect homemade gift for the one you love.
Ingredients
10 ounces bittersweet chocolate, chopped fine
3 tablespoons unsalted butter
1/2 cup heavy cream
1 tablespoon light corn syrup
1/4 cup hazelnut liqueur
8 ounces semisweet or bittersweet chocolate, chopped fine
Instructions
Place the 10 ounces of chocolate and butter in a medium size glass mixing bowl. Microwave for 30 seconds. Remove and stir, and repeat this process 1 more time. Set aside.
Heat the heavy cream and corn syrup in a small saucepan over medium heat until simmering. Remove from the heat and pour the mixture over the melted chocolate mixture; let stand for 2 minutes. Using a rubber spatula, stir gently, starting in the middle of the bowl until all chocolate is melted and the mixture is smooth and creamy. Gently stir in the hazelnut liqueur. Pour the mixture into an 8 by 8-inch glass baking dish and let sit in a cool dry place.
In the meantime, place 8 ounces of chocolate into a medium glass mixing bowl. Bring a medium pot of water to a simmer. You want enough water that it will make contact with the bowl when laid over the pot. Stirring the chocolate occasionally, test the temperature of the chocolate and continue heating until it reaches 90 to 92 degrees F. Do not allow the chocolate to go above 94 degrees F. Once you have reached the optimal temperature, adjust the heat to maintain it.
Working quickly spoon a tablespoon of melted chocolate into each of the truffle molds. Carefully and gently swirl the mold to coat the sides with chocolate. If the chocolate doesn't want to move use the back of a small spoon to work the chocolate up the sides. Place a cooling rack over a piece of parchment paper and invert the mold onto the cooling rack. Let sit for 30 mins - 1 hour allowing for excess chocolate to drip and chocolate to partially set. Transfer the mold to the refrigerator to chill. The chocolate shells are ready when firm and no longer shiny.
Transfer the chocolate ganache to a piping bag. Pipe the chocolate into the chocolate molds ¾ of the way full. Gently tap the mold to level the ganache. Return to the refrigerator for 1 hour.
Repeat the melting process with the remaining chocolate. Spoon the melted chocolate over the molds. Gently tap the molds to level the chocolate. Using a cake spreader spread the chocolate removing any excess chocolate. Allow to set in the refrigerator for 1 hour.
Carefully remove the truffles from the molds by popping them out. Store in an airtight container in the refrigerator. Truffles are best when served at room temperature.
Recommended Products
As an Amazon Associate and member of other affiliate programs, I earn from qualifying purchases.