Psst…
Valentine's Day is around the corner. But don't panic! You have one of two choices…run out to the corner pharmacy and buy them out of teddy bears and heart shaped chocolate boxes or make this decadent chocolate raspberry cake with white chocolate glaze. Ok, so you still have time to schedule a dancing gorilla-gram or a surprise weekend getaway, but isn't it easier to make this super awesome chocolate cake.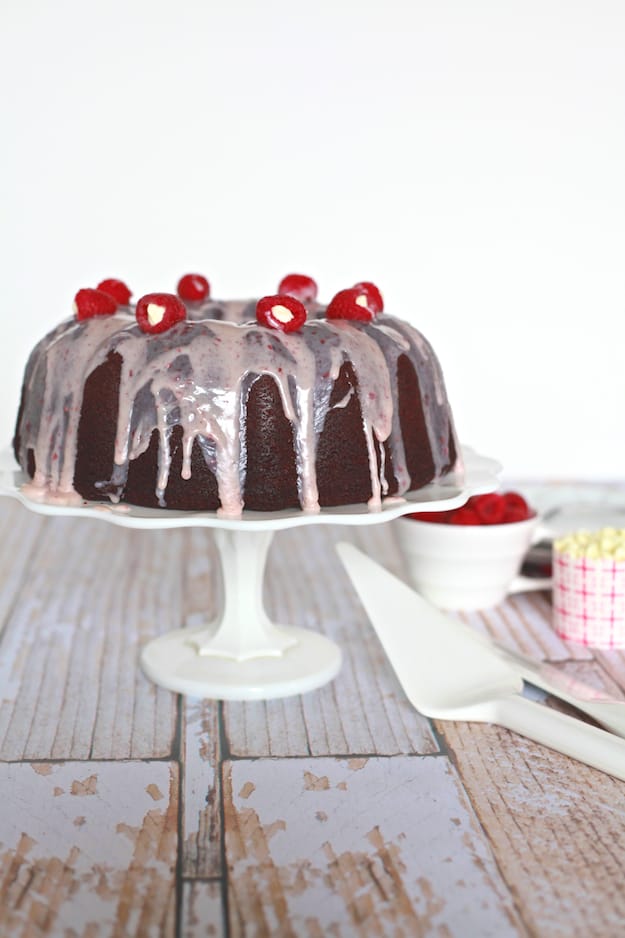 Raspberry and chocolate is one of my top 5 favorite dessert combinations. And, although strawberries and chocolate seem to go hand-in-hand for Valentine's Day, changing it up with raspberry might get you and your valentine feeling extra razzy. 😉 Sorry, I couldn't help it!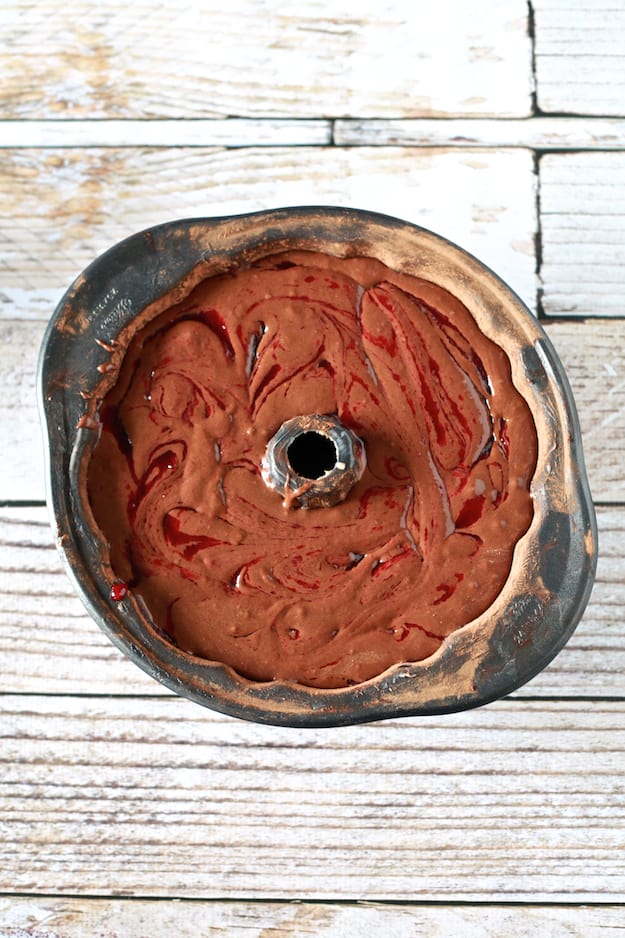 Let talk a little about this cake. I confess in the past bundt cakes were not my friend. In the past I have failed miserably when inverting a bundt cake. Ending up with a crumbled and broken cake. But, I learned that if I generously grease the shiz-niz of every nook and cranny of the pan and dust with flour or cocoa powder the cake will fall right out without any problem.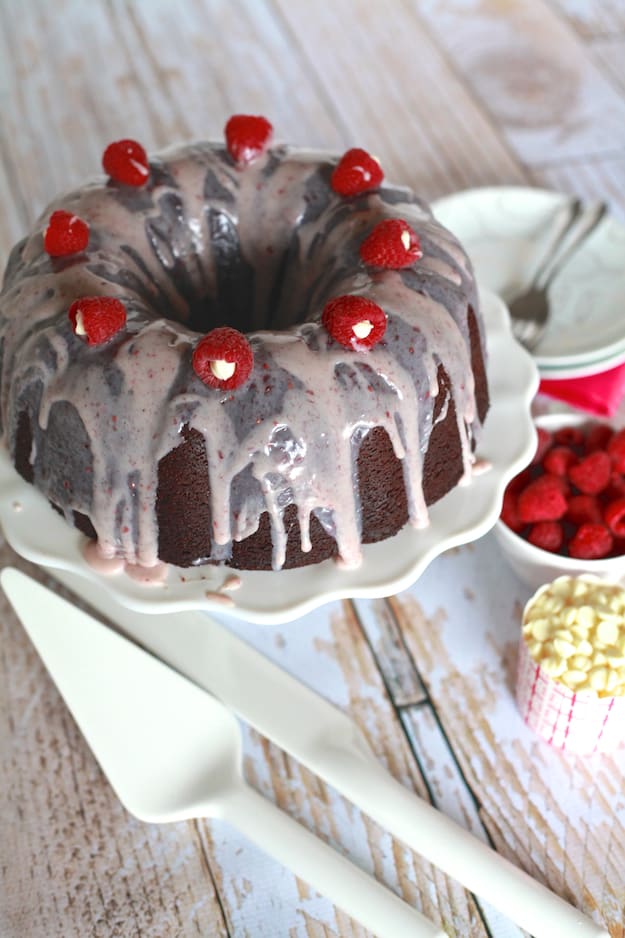 This cake is rich dense chocolate love (because sometimes love can be dense) freckled with raspberry kisses (which sounds kind of messy) and coated with a white chocolate hug (everyone likes a hug). Perfect for your Valentine's Day celebration!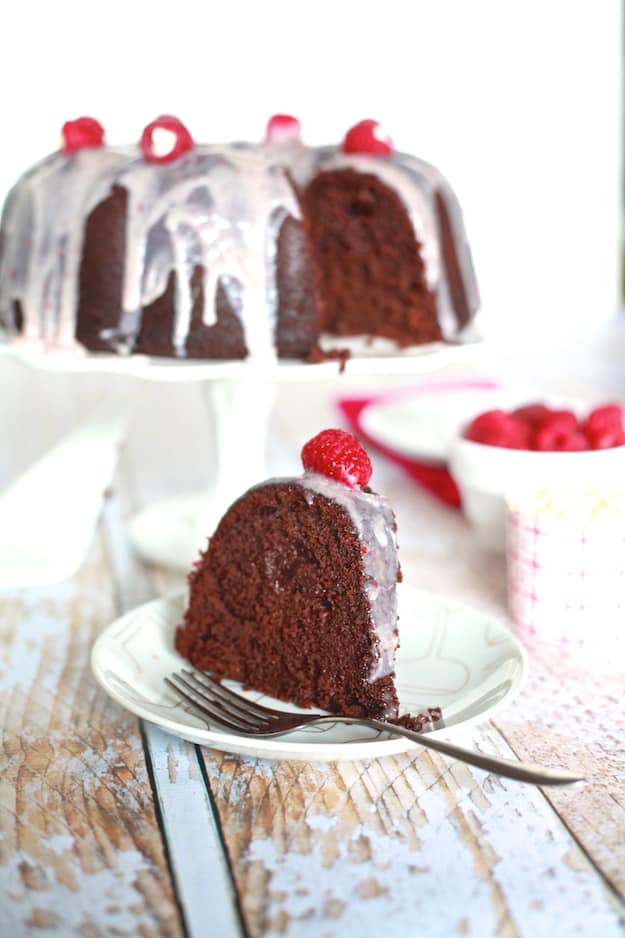 How are you celebrating the designated day of love and friendship? Who are you passing love notes to or giving candies hearts?
This is my valentine to you! Because you're awesome and seem to be ok with my weirdness.
XOXO!
Valentine's Chocolate Raspberry Bundt Cake with White Chocolate Glaze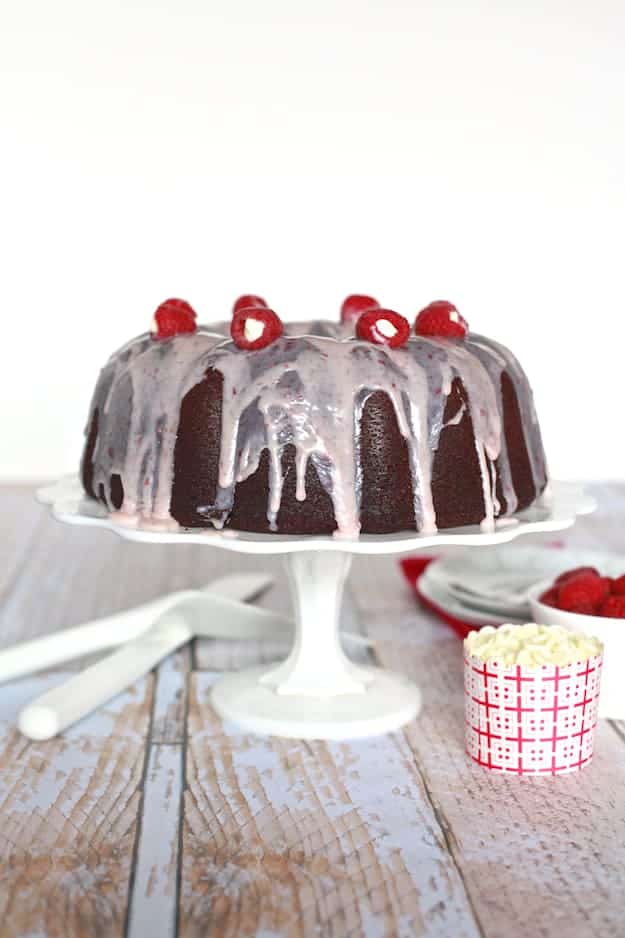 Ingredients
Cake
1 tablespoon butter, melted
1 tablespoon unsweetened cocoa powder
3/4 cup unsweetened cocoa powder
6 ounces bittersweet chocolate chips
1 teaspoon instant espresso powder (optional)
3/4 cup boiling water
1 cup sour cream, room temperature
1 3/4 cups all-purpose flour
1 teaspoon baking soda
1 teaspoon salt
3/4 cup unsalted butter, softened
2 cups light brown sugar
1 tablespoon vanilla extract
5 eggs, room temperature
1/2 cup raspberry preserves
[br]
Glaze
1 cup white chocolate chips
1/4 heavy cream
1/4 cup raspberry preserves
Instructions
Cake
Generously grease 12 cup bundt pan with butter, dust with cocoa powder and set aside until ready to use.
Place rack in the oven's center, preheat to 350 degrees.
In a medium sauce pot combine cocoa powder, chocolate chips and espresso powder. Pour the boiling water over the chocolate mixture and whisk until everything is melted and smooth. Set aside to cool. Once cooled whisk in the sour cream.
In a separate bowl, whisk together flour, baking soda and salt.
In the bowl of a stand mixer or using an electric hand mixer, beat the butter, sugar and vanilla until light and fluffy, about 3 minutes. Reduce the speed to medium and add the eggs one at a time, beating well between each egg and scraping down the sides of the bowl as needed.
Reduce the speed to medium-low and add one-third of the flour mixture and half of the chocolate mixture. Mix until just combined. Scrape down the sides of the bowl and repeat with the remaining flour and chocolate mixture. Beat until just combined. Scrape the sides and bottom of the bowl and beat on medium-low for 30 seconds to make sure the batter is thoroughly combined.
Pour the batter evenly into the prepared bundt pan. Heat raspberry preserves in a small sauce pot until soft and pourable. Dollop raspberry preserves over cake batter. Using a butter knife swirl the preserves into the cake batter.
Bake cake for 45 to 50 minutes or until a skewer test comes out with just a few crumbs attached. Place cake in pan on a wire cooling rack for 10 minutes. Turn the cake out onto the cooling rack and cool to room temperature, about 3 hours or in the refrigerator for 1 1/2 hours.
Glaze
Once cake has cooled, heat heavy cream in a small sauce pan, just before it comes to a boil turn off heat and add white chocolate chips. Whisk until smoothed and well combined. Mix in raspberry preserves. Place a sheet pan under the cooling rack the cake is on. Pour glaze over cake, let set. Serve.