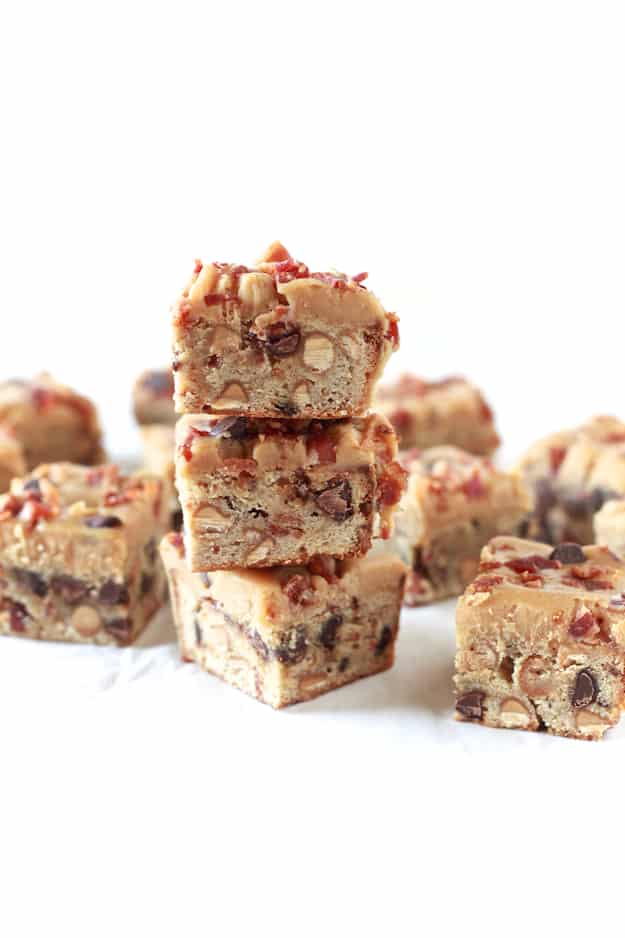 As of late I have been obsessed with the combination of peanut butter and chocolate. Like, completely obsessed!
Peanut butter swirl ice cream with mini peanut butter cups.
Chocolate cake with peanut butter frosting
Nutella and peanut butter sandwich.
Chocolate whoopie pie with peanut butter filling.
Heck, spoons of peanut butter dipped in chocolate chips!
It's become a real tasty problem.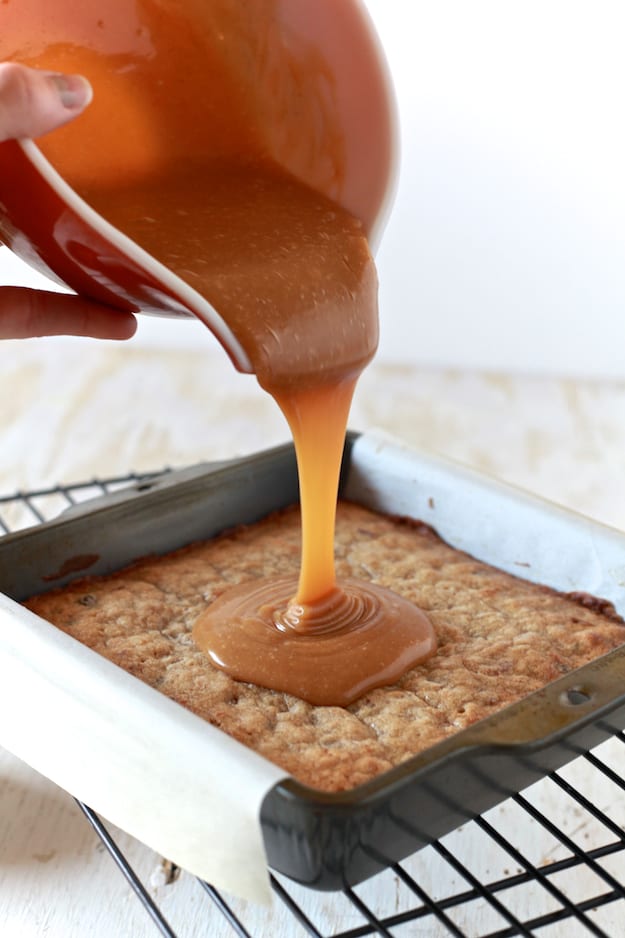 Earlier this week I was sitting on the couch at 11 pm with a spoonful of peanut butter dipped in chocolate chips while surfing the web. (Who still says surfing the web?!) Somehow I came across a slide show which featured Elvis' favorite fried peanut butter, banana and bacon sandwich. Eureka! Time to take the peanut butter and chocolate combo up a notch!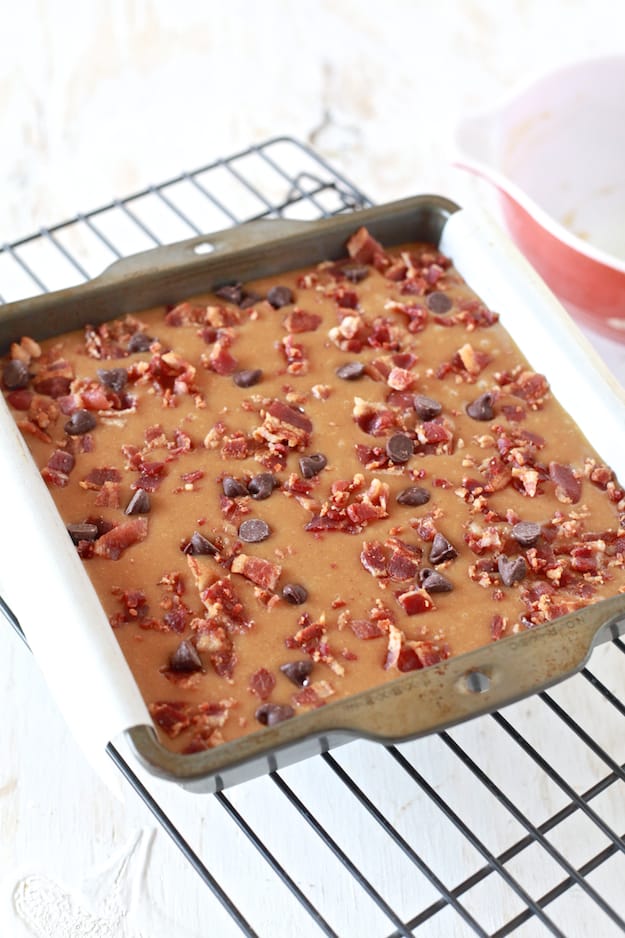 That's when I thought to myself, "How awesome would it be to make peanut butter, banana, bacon and chocolate blondies!" At 11 pm, I inventoried my pantry for ingredients and got to baking. What can I say? I am all about instant gratification.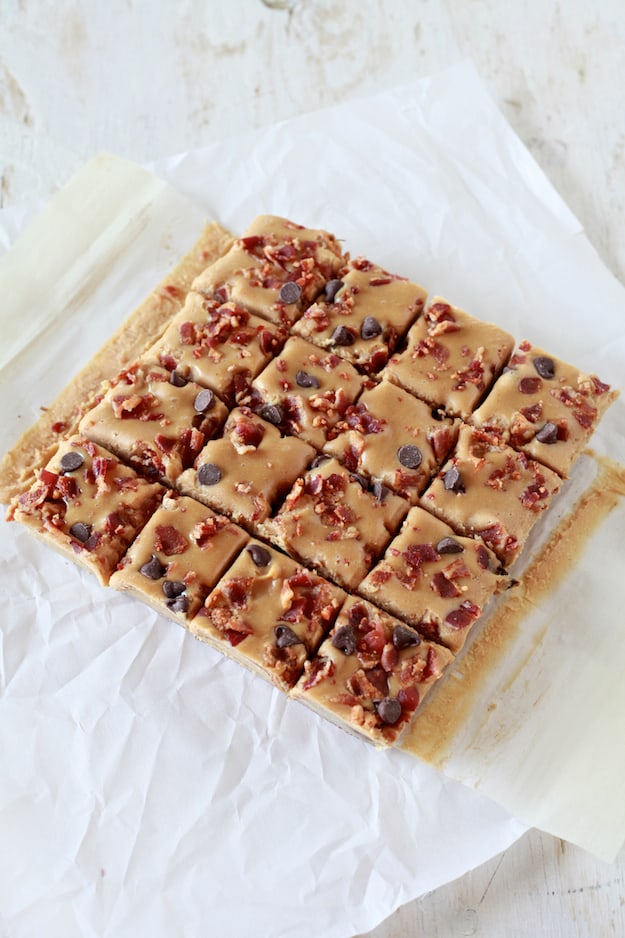 These little square are chock full of surprises and fit for The King! With every bite, you get the ultimate combination of banana, peanut butter, bacon, and chocolate. They are so good you will be dancing in your white jeweled jumper and blue suede shoes!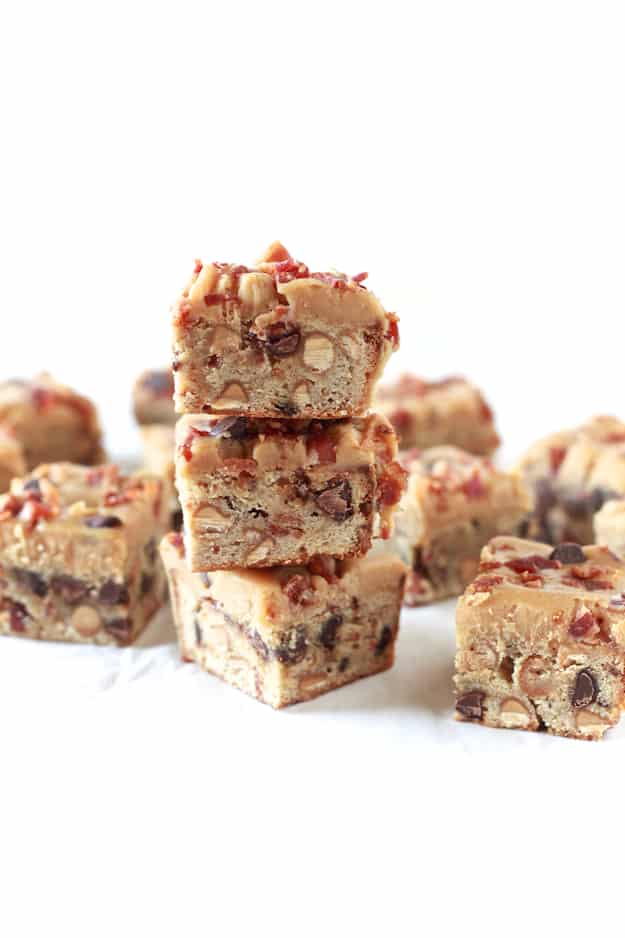 I have never been a big fan of blondies. I always thought of them as brownies' second rate cousin, but these blondies could kick brownies butt! I mean they are draped in peanut butter ganache and filled with bacon! How can a simple chocolate brownie compete with bacon?!
Thank you all again for being so awesome! If it weren't for you, I would just be a crazy lady talking to myself. I luv ya all!!
Elvis Blondies: Peanut Butter, Bacon, Banana and Chocolate Blondies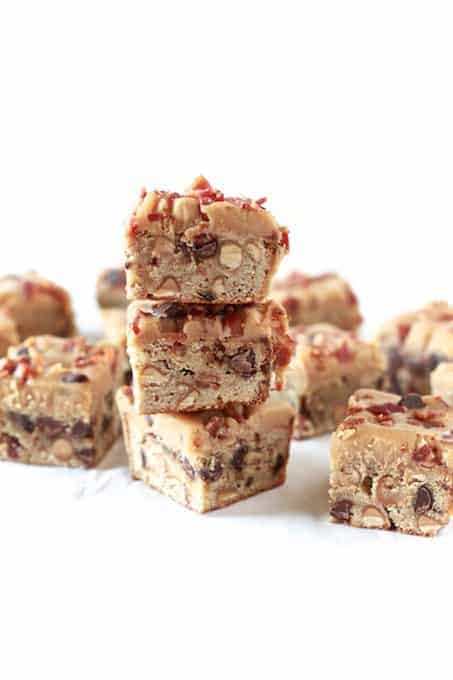 Ingredients
12 oz center cut bacon
1 stick butter, melted
1 cup brown sugar
1 large egg
1 teaspoon vanilla
Pinch salt
1 cup all-purpose flour
1 ripe banana, mashed
1/2 cup chocolate chips
1/2 cup peanut butter chips
[br]
Ganache
1 1/2 cup peanut butter chips
1/2 cup heavy cream
1 tablespoon butter
Instructions
Heat oven to 400 degrees. Line a rimmed sheet pan with parchment paper. Lay bacon on prepared sheet pan. Back in the oven for 15 - 20minutes or until bacon is crispy. Set aside to cool. Roughly chop once cool.
Lower oven to 350 degrees. Generously butter an 8×8 pan. Line pan with parchment paper. Lining only the bottom and draped over two sides. (This help to lift the blondies out of the pan later.)
In the bowl of a stand mixer beat together melted butter with brown sugar, until smooth. Beat in egg mashed banana and vanilla.
Add salt, stir in flour until just combined. Add 1/2 cup chopped bacon (remaining bacon is for garnish), peanut butter chips and chocolate chips.
Pour into prepared pan. Bake at 350°F 20-25 minutes, or until set in the middle. Cool on rack before cutting them.
Ganache
Pour peanut butter chips into a heat-proof bowl. Heat cream on stove top till almost boiling. Pour over peanut butter chips, add butter. Whisk until smooth.
Pour over cooled blondies and sprinkle with bacon. You can also sprinkle with some chocolate chips. Place in refrigerator for 10 minutes to allow the ganache to set. Lift out of the pan and cut into 12 squares.