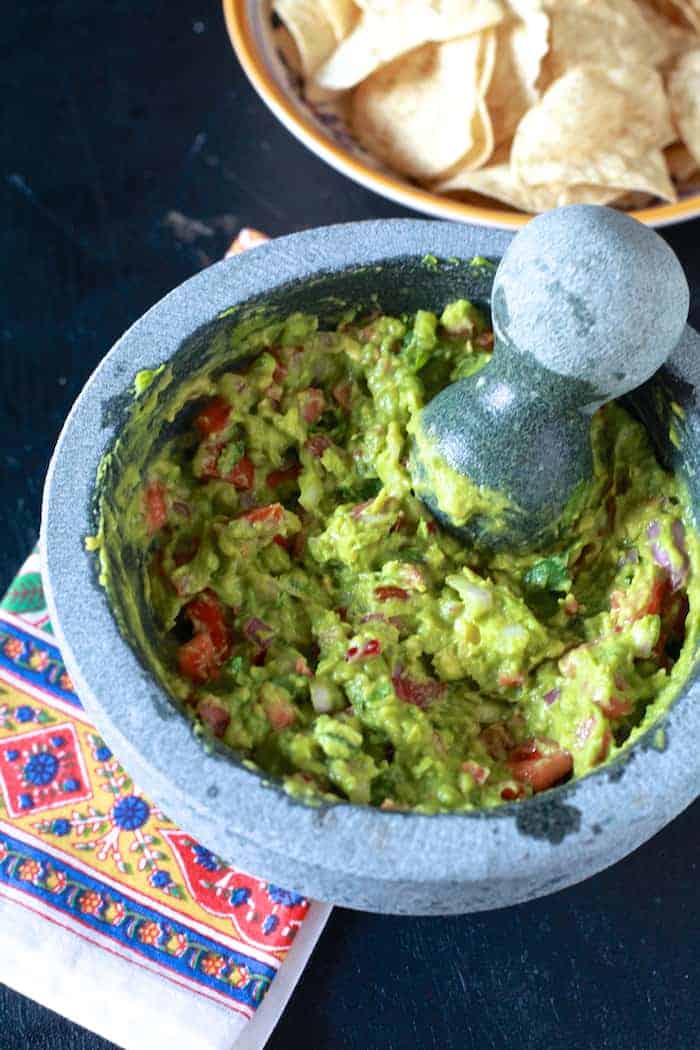 For years, I have skimmed food magazines and coveted pictures with a beautifully seasoned granite mortar and pestles. I just love how rustic they look and how you can see a story in them through their seasoning and wear. Stone grinding has been around for thousands of years making the granite mortar and pestle one of the first kitchen tools. I found this beautiful pestle. But, before you pull this bad boy out let me show you how to season a granite mortar and pestle.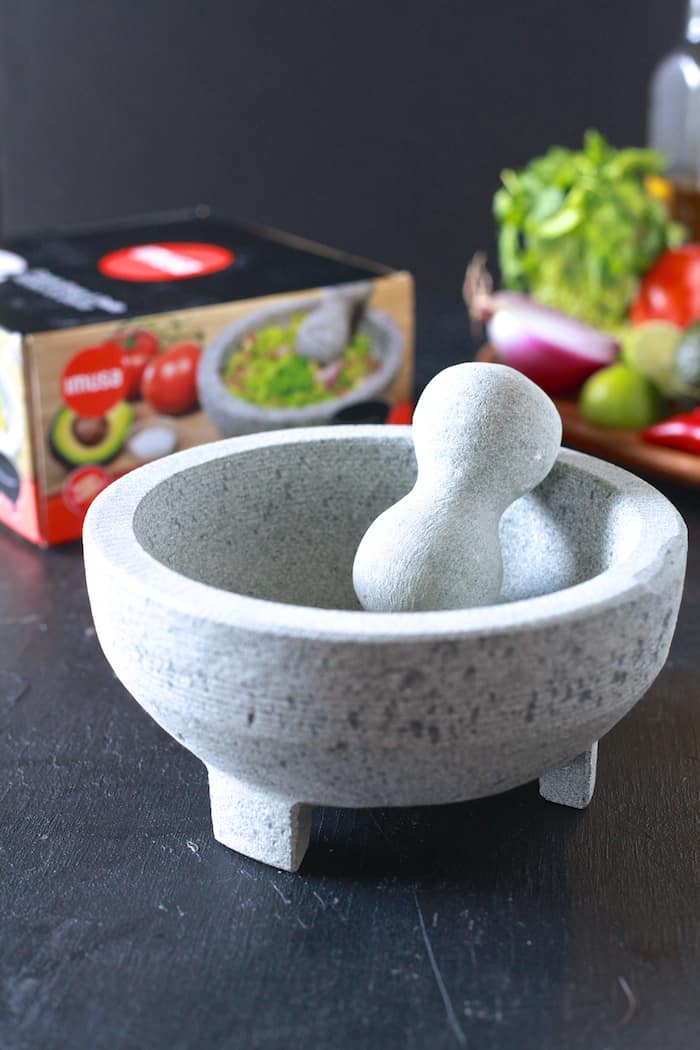 First give your new mortar and pestle a hard scrub with warm water – NO SOAP. Use a mini brush or the scrub side of a new kitchen sponge.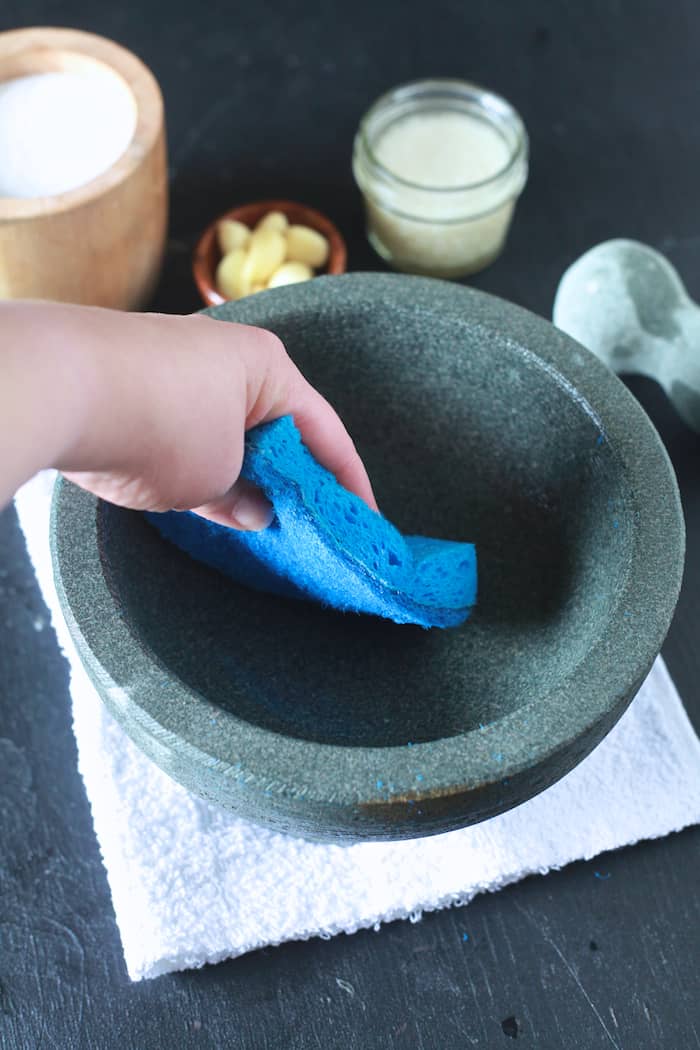 Allow the pestle to dry completely. Now, place an entire bulb of garlic cloves sprinkled with salt in the mortar. Mash the garlic to a paste. Spread the garlic paste all inside the mortar and let sit for 24 hours.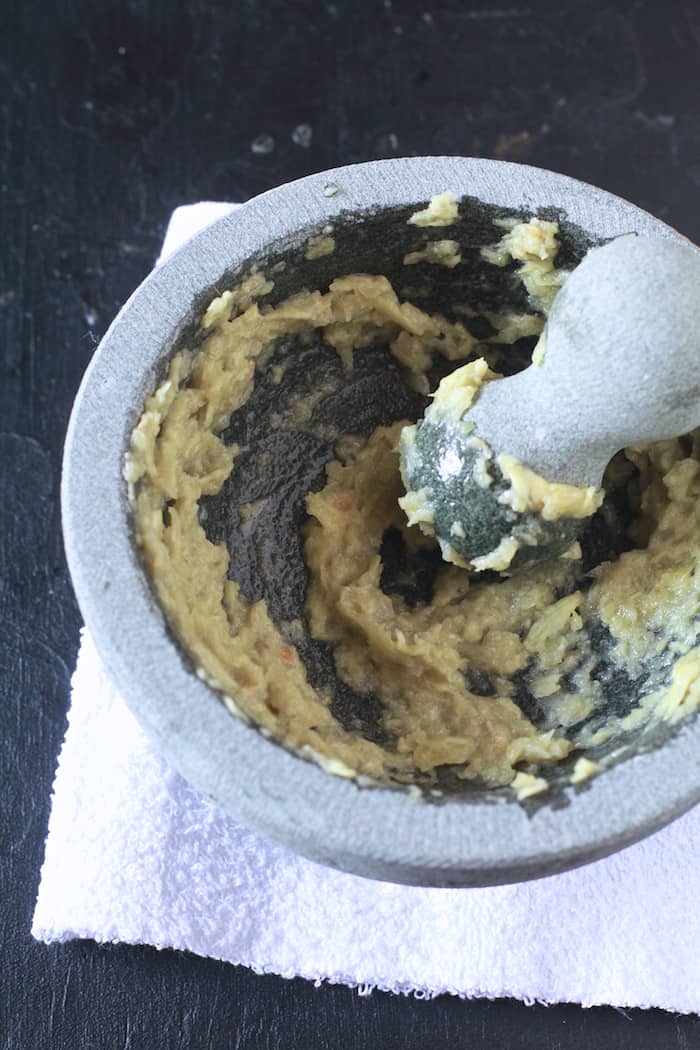 The following day, scrape out the garlic paste and rinse the mortar and pestle with warm water. Add a handful of wet rice into the mortar. Mash the rice to a paste. The rice paste should be white if it's gray or ash color scrape out the paste and repeat. If it's white, move on to the next step.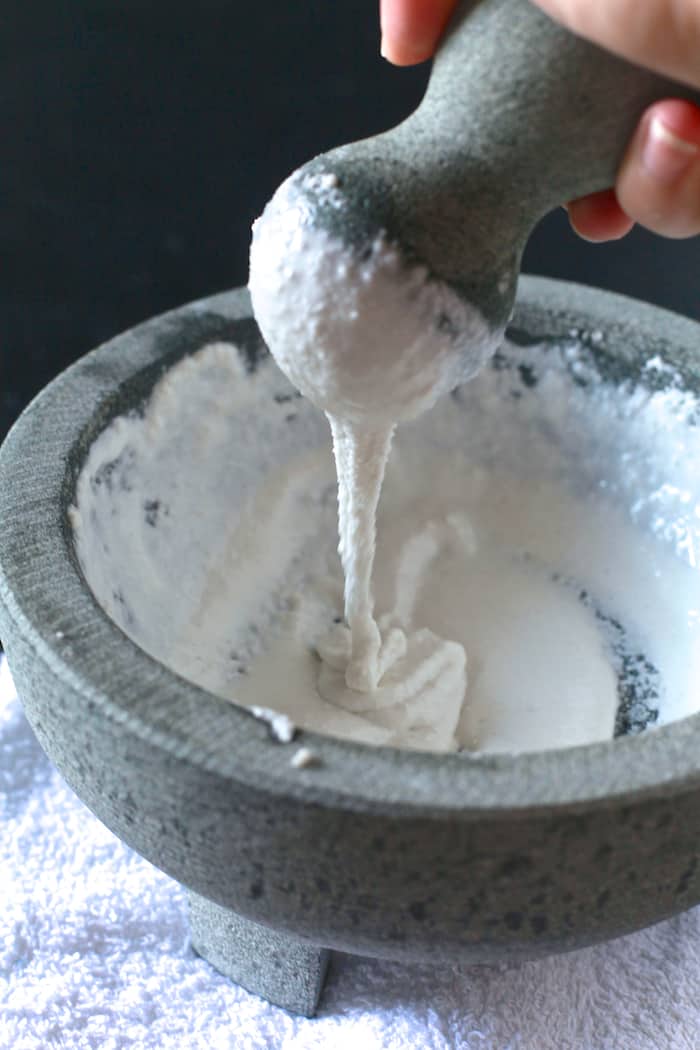 Place two tablespoons of rock salt into the mortar. Grind the salt into a fine powder. Now your mortar and pestle is ready to use. As you use it, the stone will become more seasoned.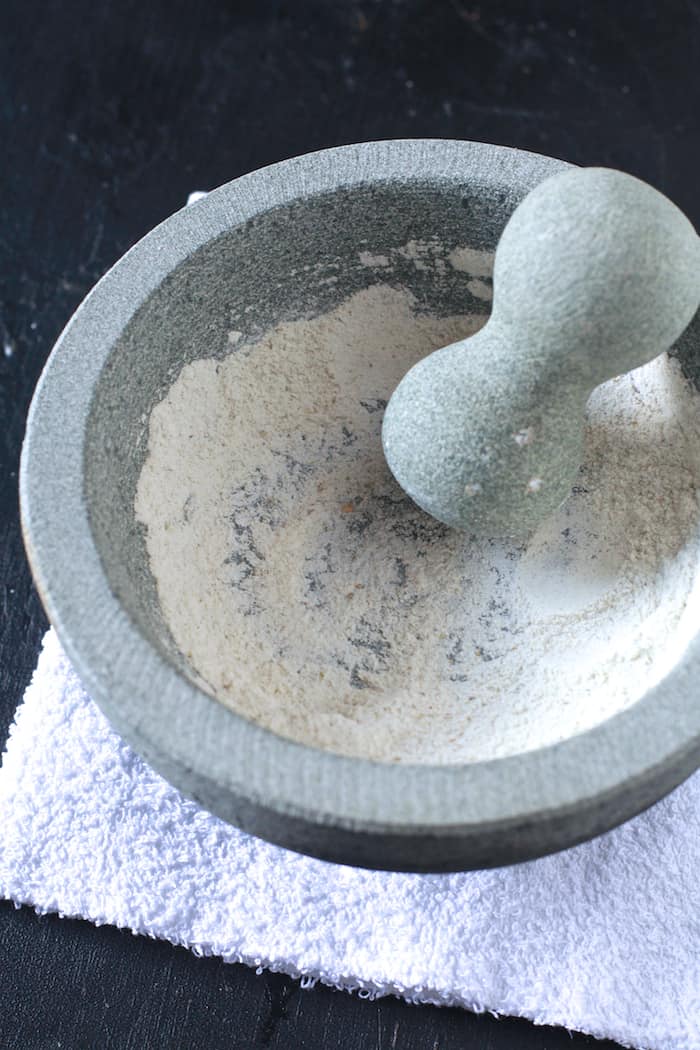 When I stumbled upon this granite mortar and pestle, I squealed with excitement!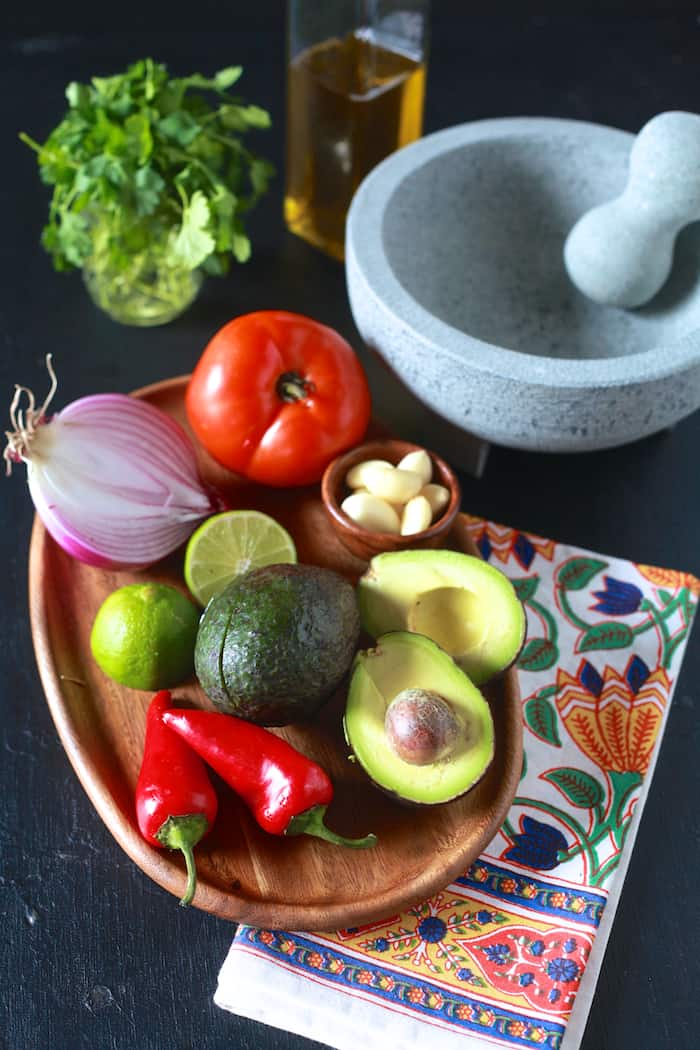 There is nothing more eye roll worthy then freshly made guacamole. First, mash garlic with a sprinkle of salt to a paste. Add avocado and mash until creamy.
Mix in remaining ingredients, season with salt to taste and grab a bowl of tortilla chips.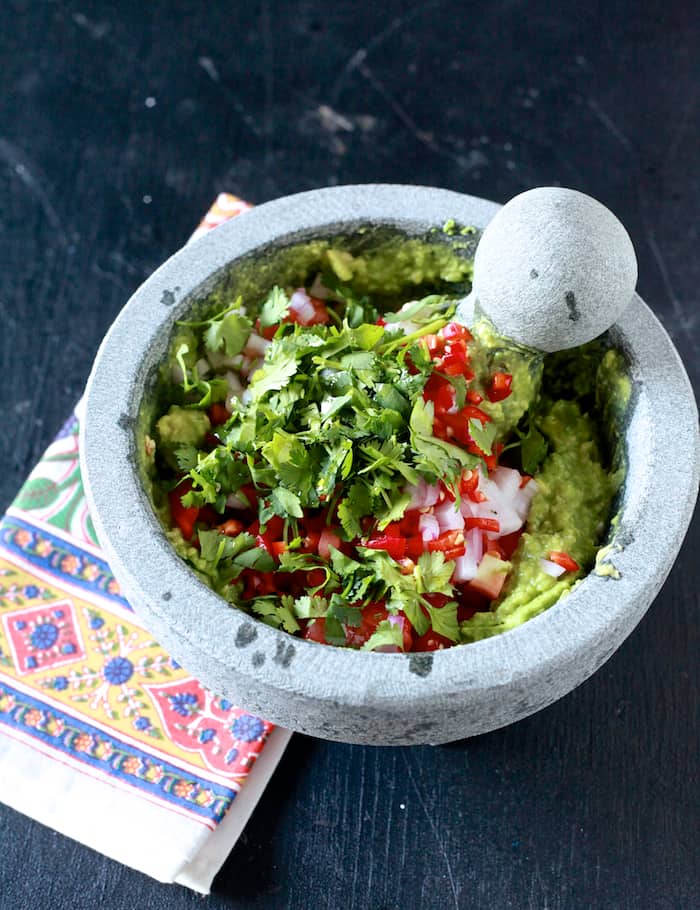 Guacamole and tortillas chips! The ultimate satisfying snack!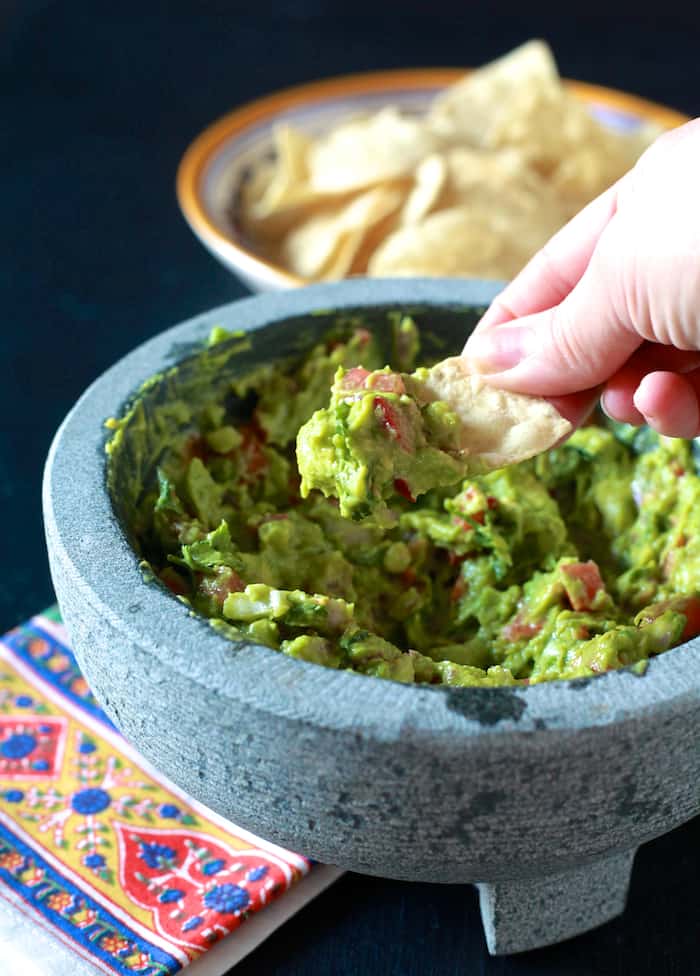 Now that I finally have my own granite mortar and pestle my life is complete. I can smash and pulverize to my heart's content!
Classic Guacamole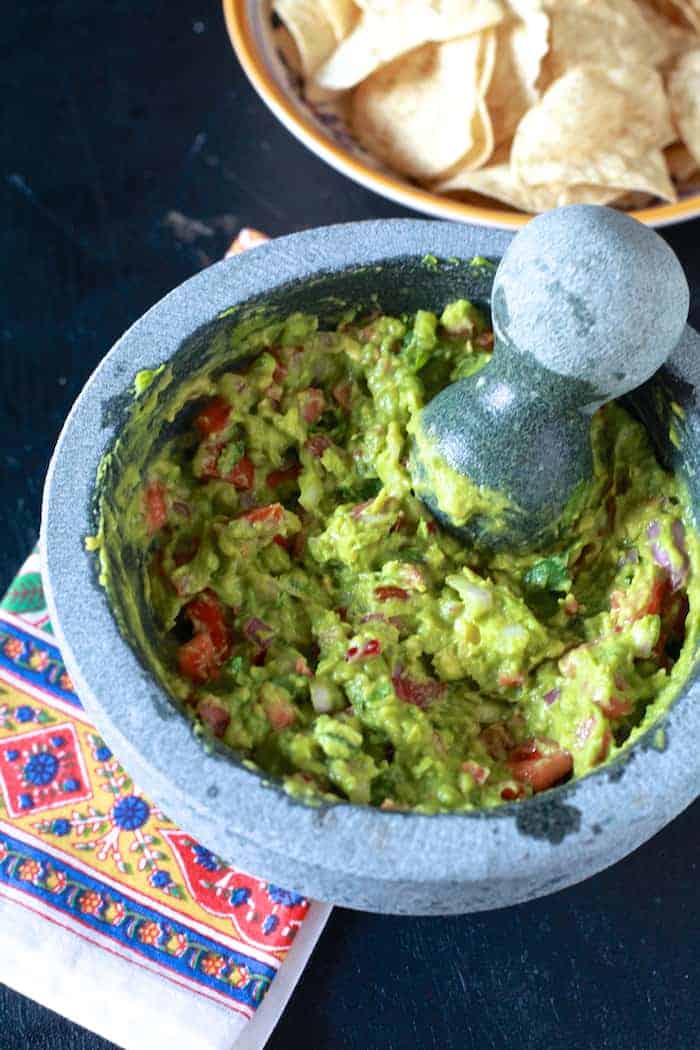 Ingredients
2 cloves garlic
2 whole avocados
1/4 cup small diced tomatoes
1/4 cup small diced red onion
juice of 1/2 a lemon
1/4 cup cilantro leaves, loosely packed
salt to taste
Instructions
If using a granite mortar and pestle, place garlic cloves in mortar, sprinkle with salt and mash with pestle until paste.
Halve the avocados and remove the pit. Using a spoon, spoon avocado flesh into the mortar. Using pestle mash avocado until creamy. Stir in remaining ingredients and serve.