healthy chicken enchiladas | There was a commercial maybe a year or two ago that would chant "enchiladas, enchiladas". For the life of me, I cannot remember what restaurant the campaign was for but now every time I see enchiladas I chant "enchiladas, enchiladas". Guess that campaign sort of worked. Would have been better if I could remember the restaurant.
What it did do was hypnotize me into a deeper love and obsession with enchiladas.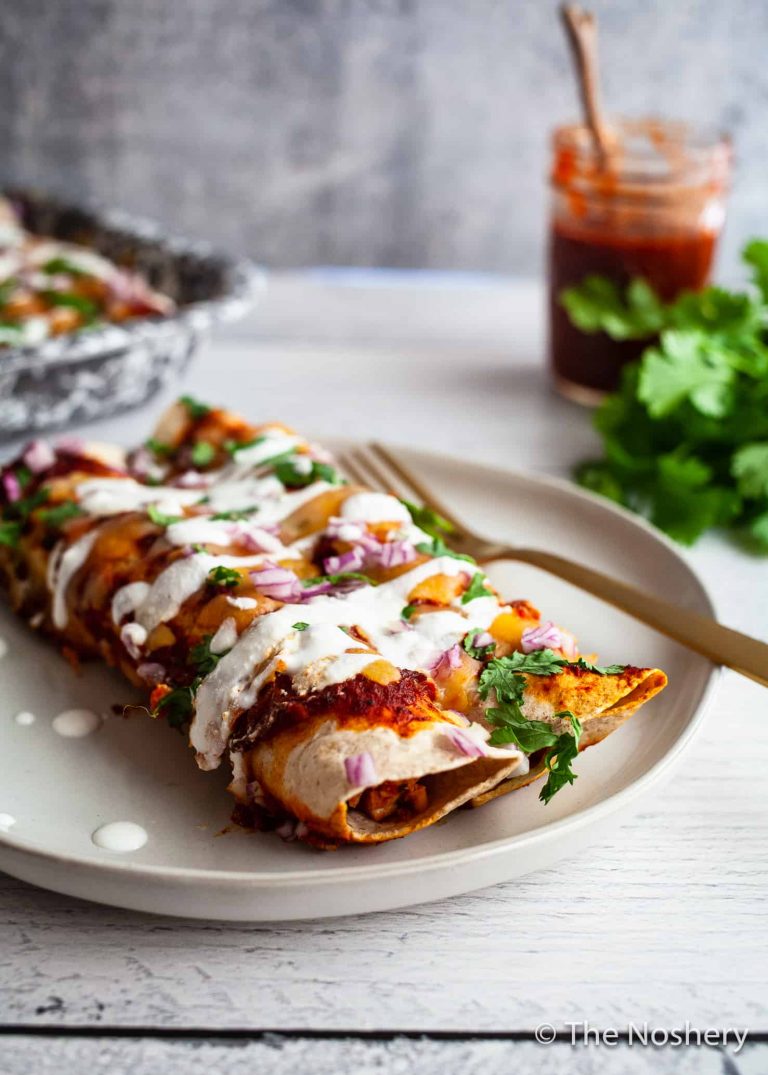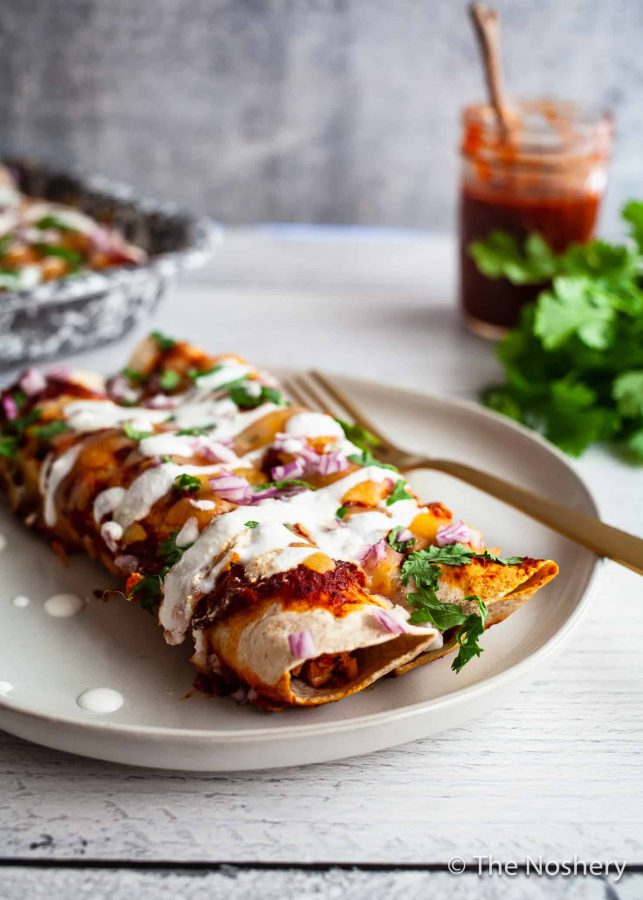 I love all the enchiladas! Cheese, beef, barbacoa *drool*, pork, and chicken. But, some enchiladas can be unforgiving to the waistline. I'm looking at you cheese enchiladas. But, I'm not about to quit on enchiladas.
I make these healthy chicken enchiladas for OB and me regularly now. In fact, they have become my favorite thing to make for dinner when I don't feel like cooking. I know it's still "cooking" but honestly they are so easy it's basically like assembling a few sandwiches…that are cover in cheese and enchiladas sauce and baked in the oven.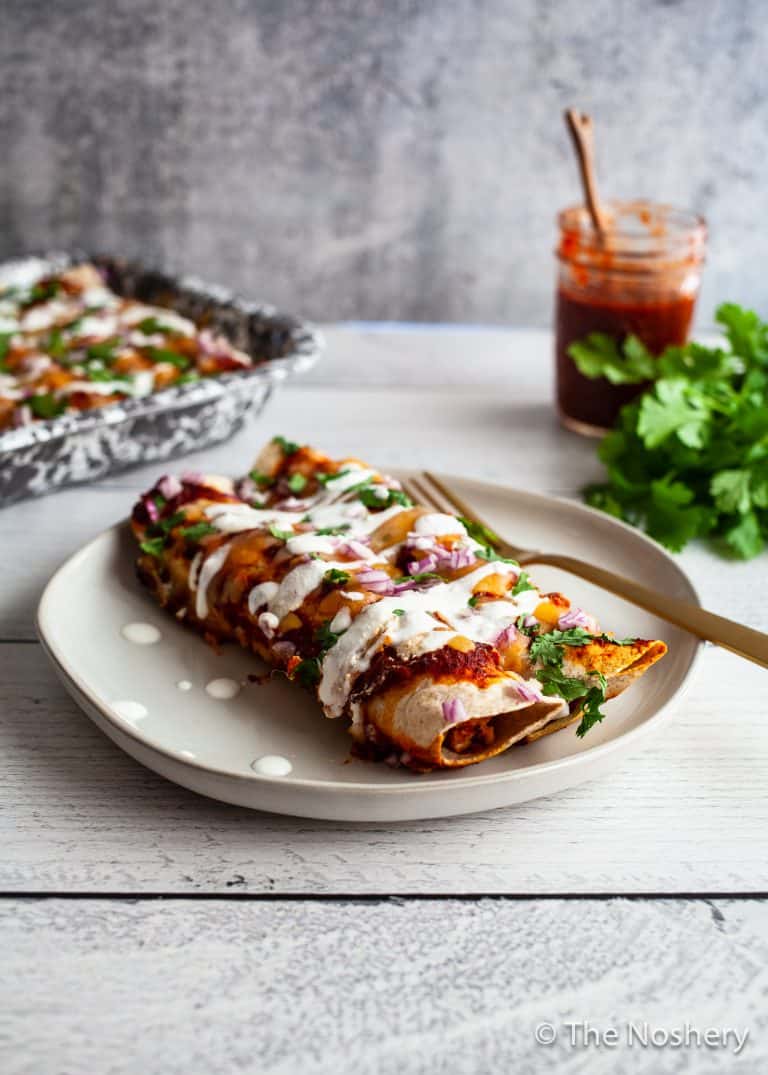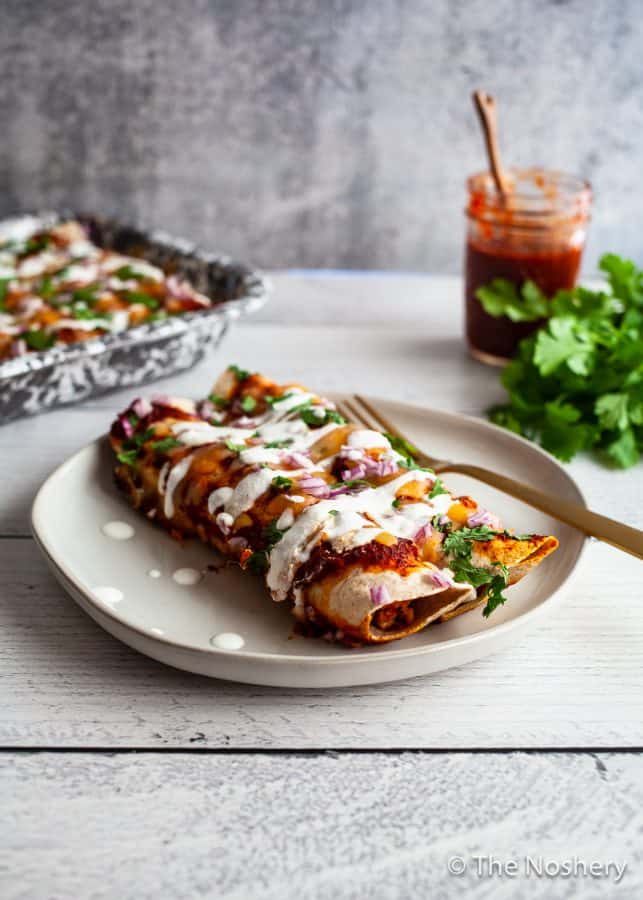 healthy chicken enchilada recipe ingredients
8 low carb taco tortillas
8 oz cooked chicken breast
4 oz Mexican cheese blend
2 cups homemade red enchilada sauce
2 tablespoons fat free greek yogurt
1/2 teaspoon ground cumin
1 teaspoon granulated garlic
1 teaspoon lime juice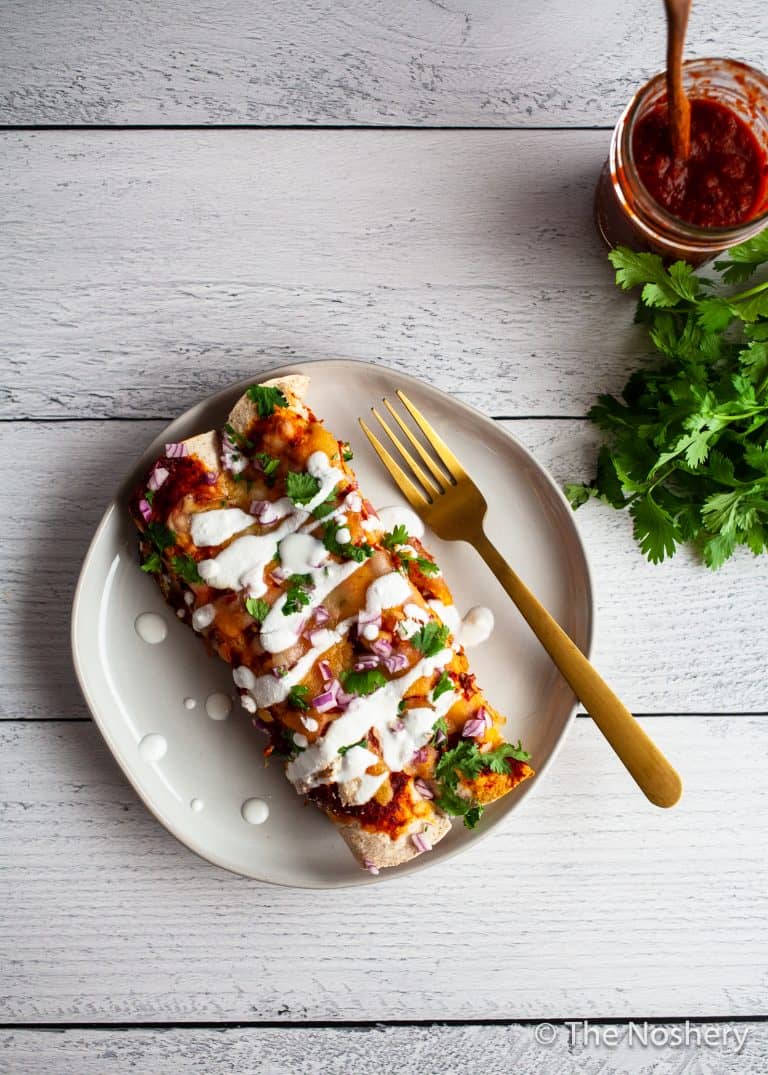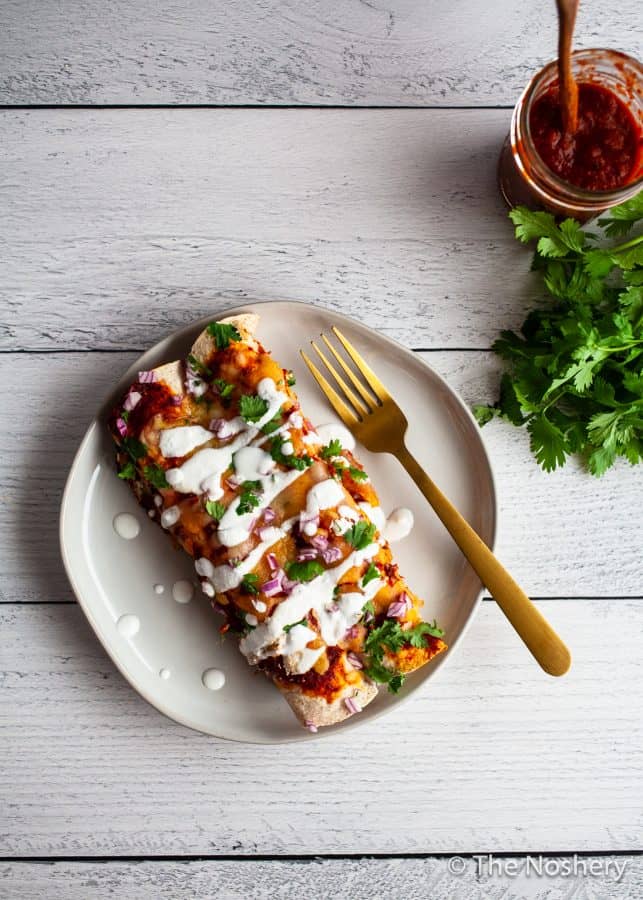 For these healthy chicken enchiladas, I used my go-to homemade red enchilada sauce. It a simple sauce made with dry chili peppers, aromatics, spices, and a touch of acid. No oil in the sauce which means no fat! But, trust me the enchilada sauce is full of flavor.
I like to make the enchilada sauce to have it on hand whenever I need it. I portion the sauce into ice cube trays and freeze. I then store the frozen cubes in a resealable plastic bag in the freezer and defrost it as I need it. Of course, you can use your favorite store-bought enchilada sauce in a pinch.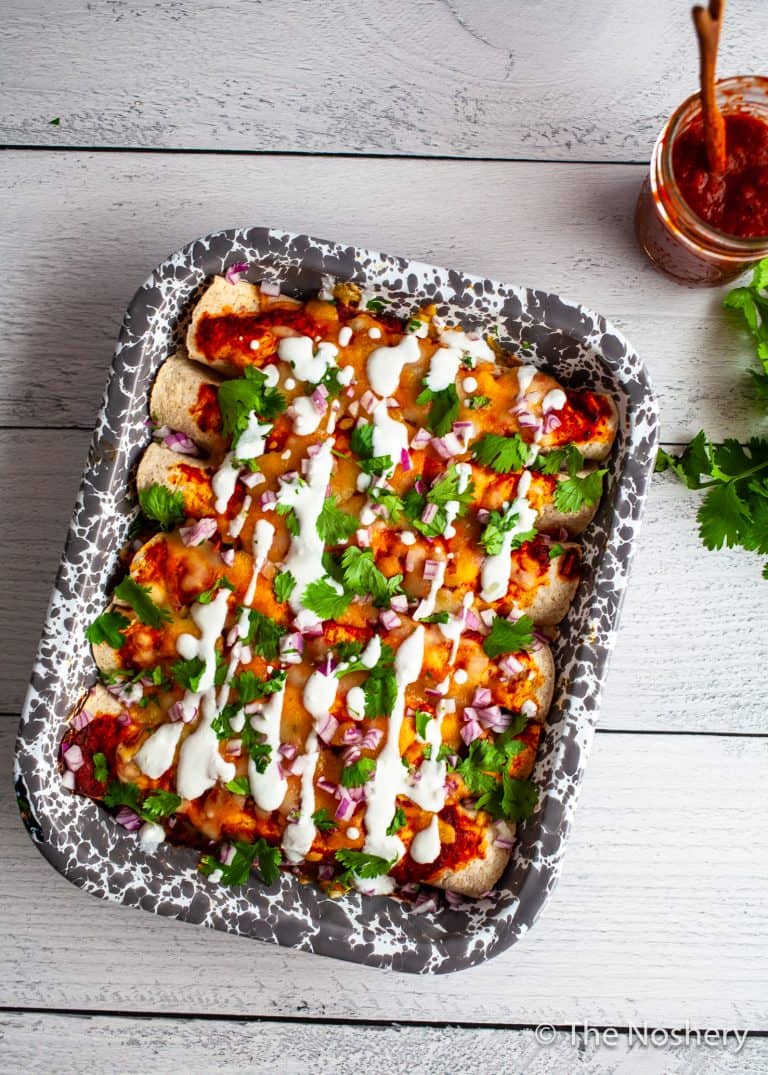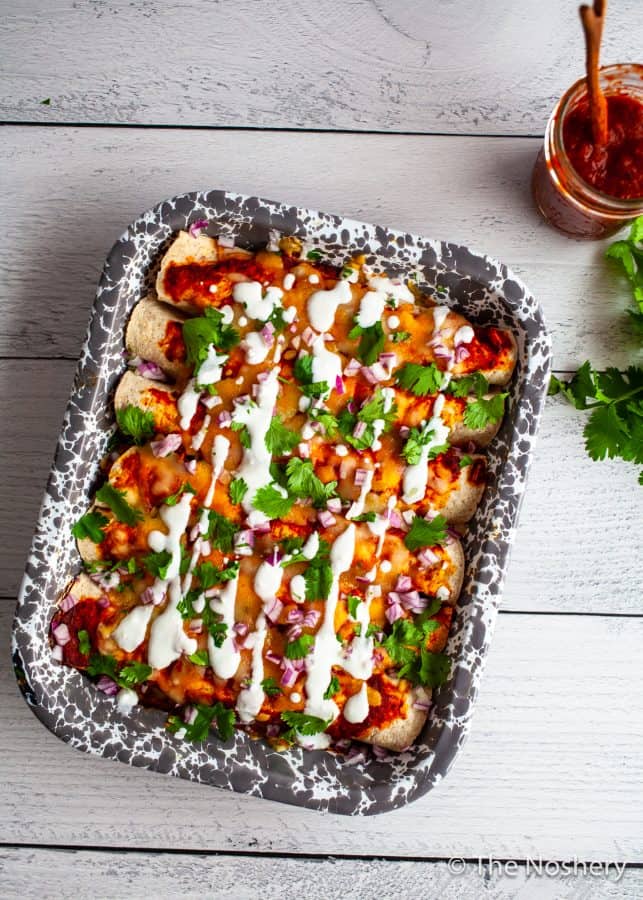 Corn Tortillas vs. Flour Tortillas for Enchiladas
Traditionally corn tortillas are used when making enchiladas. And, if I'm honest I prefer corn tortillas but flour tortillas also work. For this recipe, I typically use 8-inch low carb flour tortillas because it's what I have on hand most of the time. And let's be honest flour tortillas are easier to roll.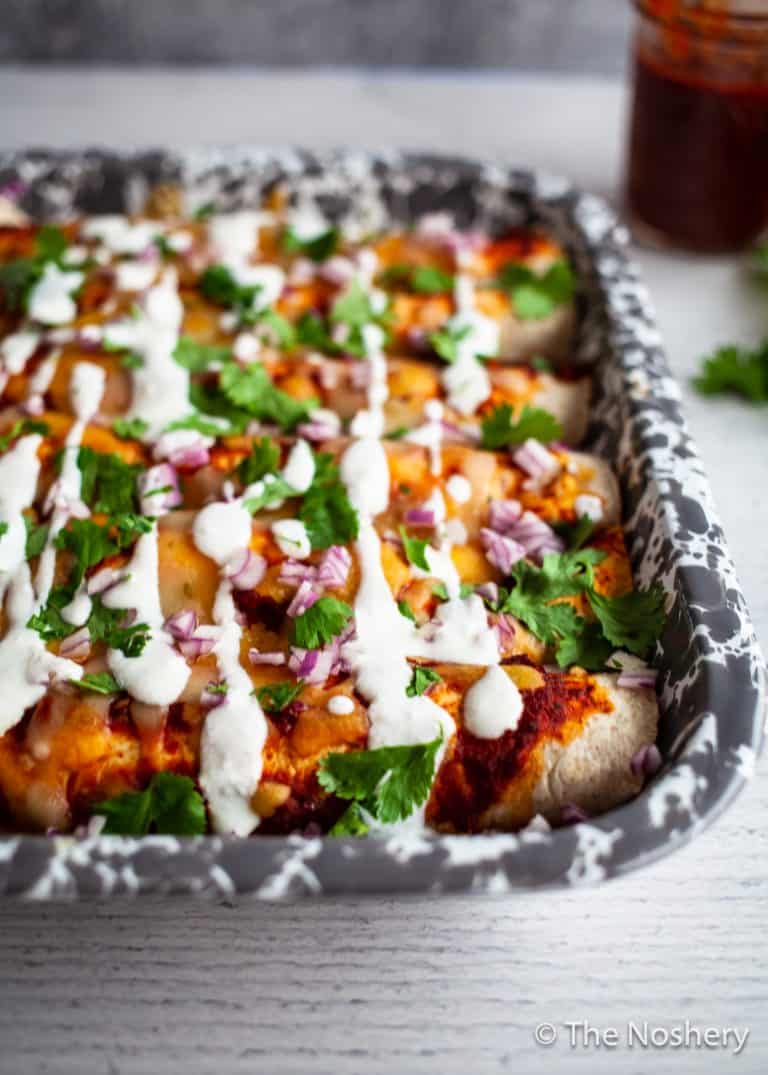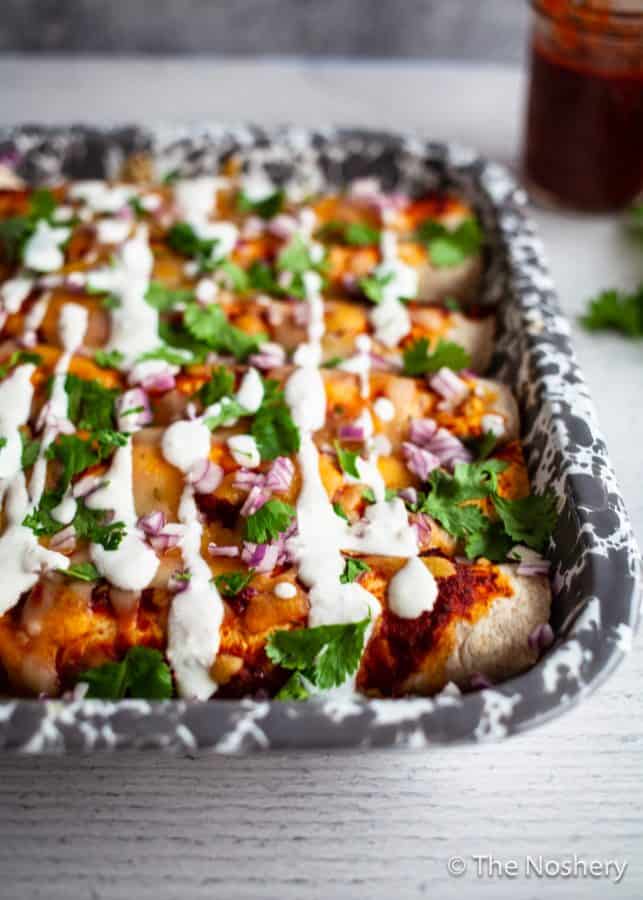 If you prefer enchiladas with green sauce try my Roasted Poblano Chicken Enchiladas Skillet. Equally delicious and even easier to make because the tortillas are layered instead of rolled. If you just want to stretchy boozy cheese I suggest you need to make some Queso Fundido con Chorizo a la Tequila.
These healthy chicken enchiladas are the perfect weeknight meal to make for your family and any enchilada lover. Are you chanting "Enchiladas, enchiladas" yet? If you are looking for more Mexican inspired recipes visit my Mexican recipe collection.
Yield: 4 servings
Healthy Chicken Enchiladas with Homemade Red Enchilada Sauce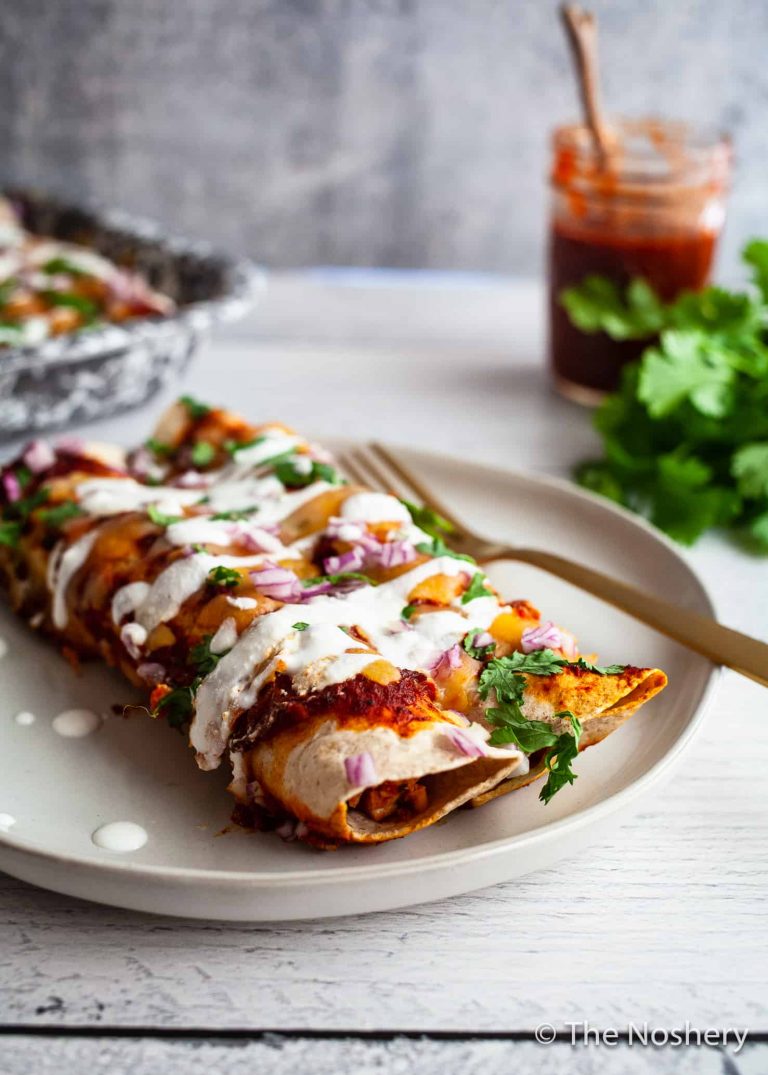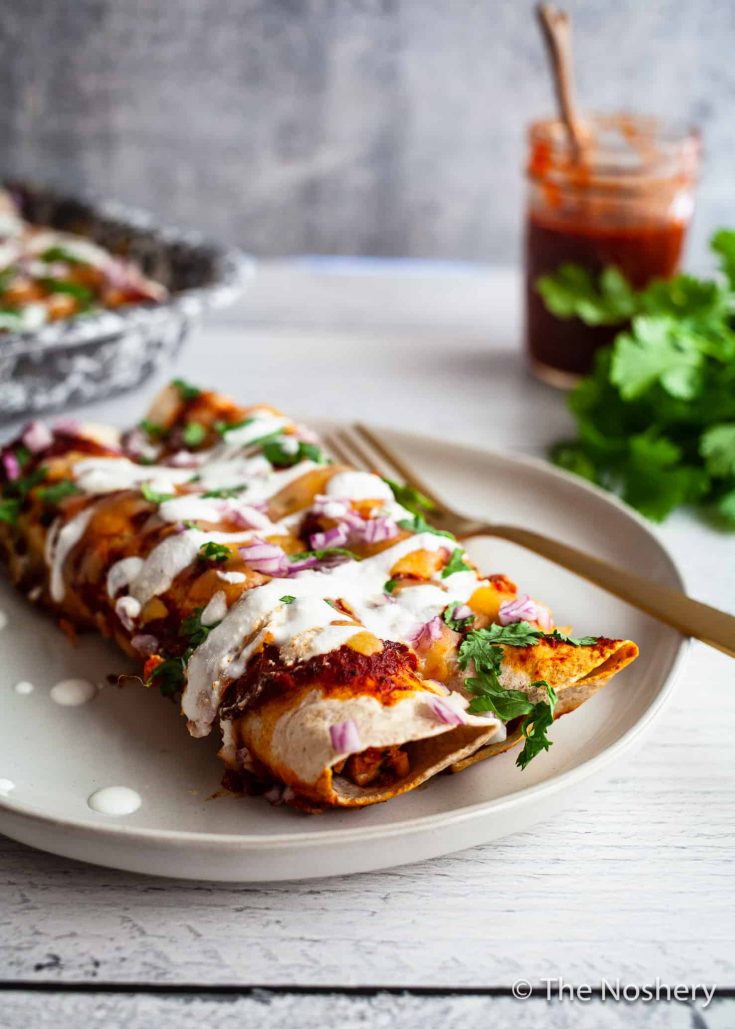 Healthy Chicken Enchiladas | Mexican food is one of the great comfort foods. Chicken enchiladas being one of my favorite. These chicken enchiladas are a healthy twist on that classic comfort food. Satisfy your enchilada craving with none of the guilt.
Ingredients
8 oz cooked chicken breast, small diced
4 oz Mexican cheese blend
2 tablespoons fat free greek yogurt
1/2 teaspoon ground cumin
1 teaspoon granulated garlic
1 teaspoon lime juice
garnish
cilantro
small diced red onion
Instructions
Heat oven to 350° F. In a medium bowl combine diced chicken breast and 1/4 cup of homemade red enchilada sauce. Season with a sprinkle of kosher salt to taste.
Spray a small baking dish with cooking spray. Spread a thin layer of enchilada sauce on the bottom of the pan.
Divide chicken mixture evenly between the tortillas. Roll the tortillas and place in the baking dish seam side down.
Spread the remaining enchilada sauce evenly over the enchiladas. Sprinkle with shredded cheese.
Bake in the oven for 15 - 20 minutes, until enchiladas are heated through and cheese has melted.
While enchiladas are in the oven combine greek yogurt, cumin, granulated garlic, and lime juice in a small bowl. Mix together until well combined. Add a teaspoon of water to yogurt mixture. You should be able to drizzle the yogurt sauce. If it's too thick add a splash of water until it reaches desired consistency.
Serve enchiladas garnished with cilantro, diced red onion, and drizzled with yogurt sauce.
Recommended Products
As an Amazon Associate and member of other affiliate programs, I earn from qualifying purchases.
Nutrition Information:
Yield:
4
Serving Size:
2 enchiladas
Amount Per Serving:
Calories:

334
Total Fat:

15g
Carbohydrates:

28g
Protein:

38g