Apple Brussels Sprout Slaw | Slaws aren't just for summer barbecues anymore! This Apple Brussels Sprout Slaw is loaded with crunch, tanginess, and fall flavors that can be enjoyed alongside your hearty main course favorites any time of the year.
I have always associated slaw with summer barbecues. It seems that without fail, when I'm at a barbecue, there is a large bowl of coleslaw somewhere nearby. And I am here for that bowl that's both rainbow with its gorgeous shredded veggies and pot of gold at the end of the potluck table.
But why does slaw only have to be a summer dish? Why can't we have that crunchy, creamy goodness on the table more often? I decided to make an Autumn slaw with some of the most delicious flavors.
This dish features Brussels sprouts, apples, butternut, cabbage, and radishes for the perfect combination of color and crunch. 
I wanted the slaw to be creamy but still light, so the dressing is made with Greek yogurt, which also ups the tanginess factor. There are so many goodies in every bite, and I'm so excited how perfect (and pretty) this recipe turned out!

What's in this Brussels Sprout Slaw recipe?
Dressing Ingredients:
yogurt
mayonnaise
apple cider vinegar
garlic
ginger paste
salt and pepper
poppy seeds
Slaw Ingredients:
butternut squash
brussels sprouts
radishes
red cabbage
apples (granny smith and honeycrisp)
green onions
Yes, we're working with raw Brussels sprouts, but the dressing makes them delicious — promise. Plus they're shredded, which makes for an almost salad-leaf texture that plays nicely with other chopped ingredients.
When testing this recipe, I played with a honey mustard or Dijon mustard dressing and also debated adding dried cranberries or chopped dried cherries. But in the end, these shredded Brussels sprouts loved this dreamy combination of ingredients.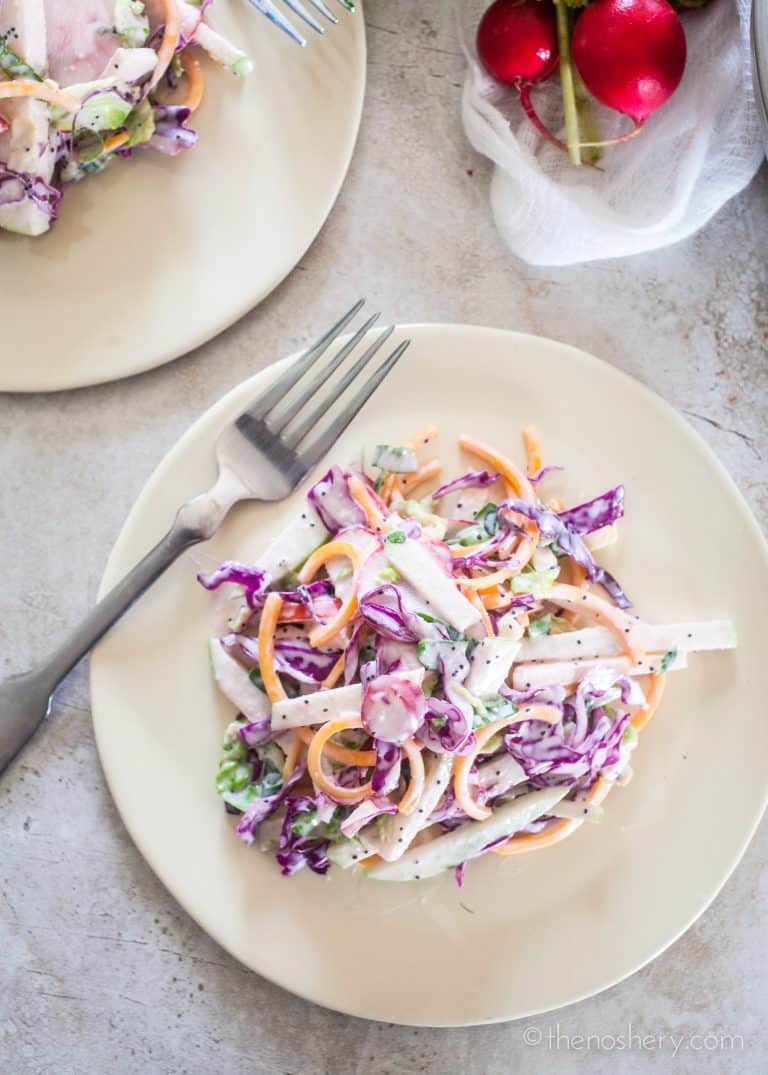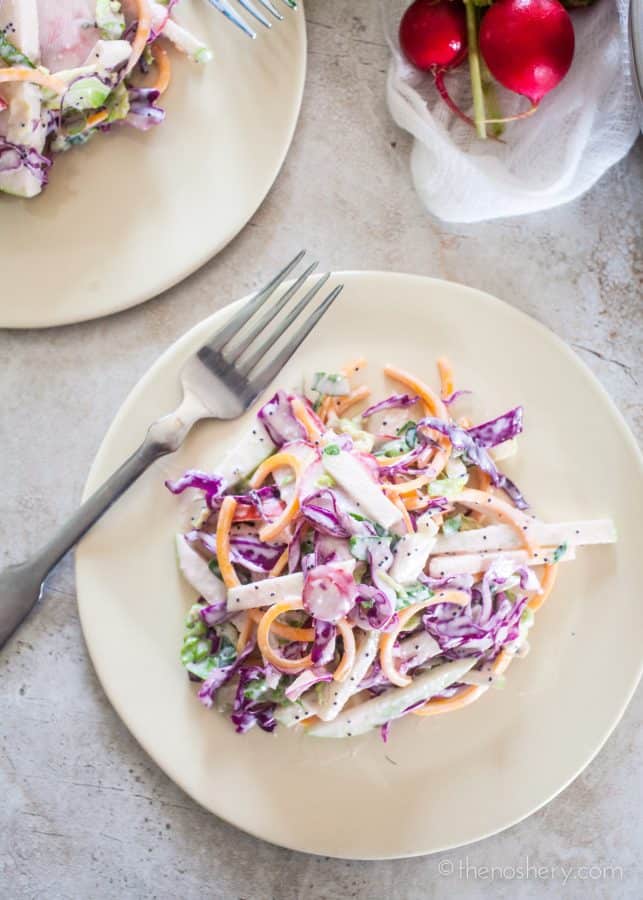 How to make Apple Brussels Sprout Slaw
Make the dressing first. Start by whisking the yogurt, mayo, apple cider vinegar, garlic, and ginger in a small bowl. Fold in the poppy seeds and salt to taste. Set aside so those flavors can get to know each other while you prep the rest of the dish.
Next, you chop up the slaw ingredients. Having a mandoline slicer with an interchangeable blade or a food processor attachment makes this part go much more quickly. But if you don't have one, simply pour yourself a glass of something fun, turn on some dancing music, and have some good old-fashioned fun with your knife!
Start by carefully peeling your butternut squash with a vegetable trader and break it down into slaw-sized pieces using a mandoline, spiralizer, julienne peeler, or the same regular vegetable peeler you used to peel the veggie. You can thinly slice your Brussels sprouts, red cabbage, radishes, and green onions with a sharp knife.
Now, remove the core from your apples. You can also cut them in half, place them cut side down, and thinly slice from the bottom to avoid having to core them. Either way, you want the end result to be tasty little matchsticks.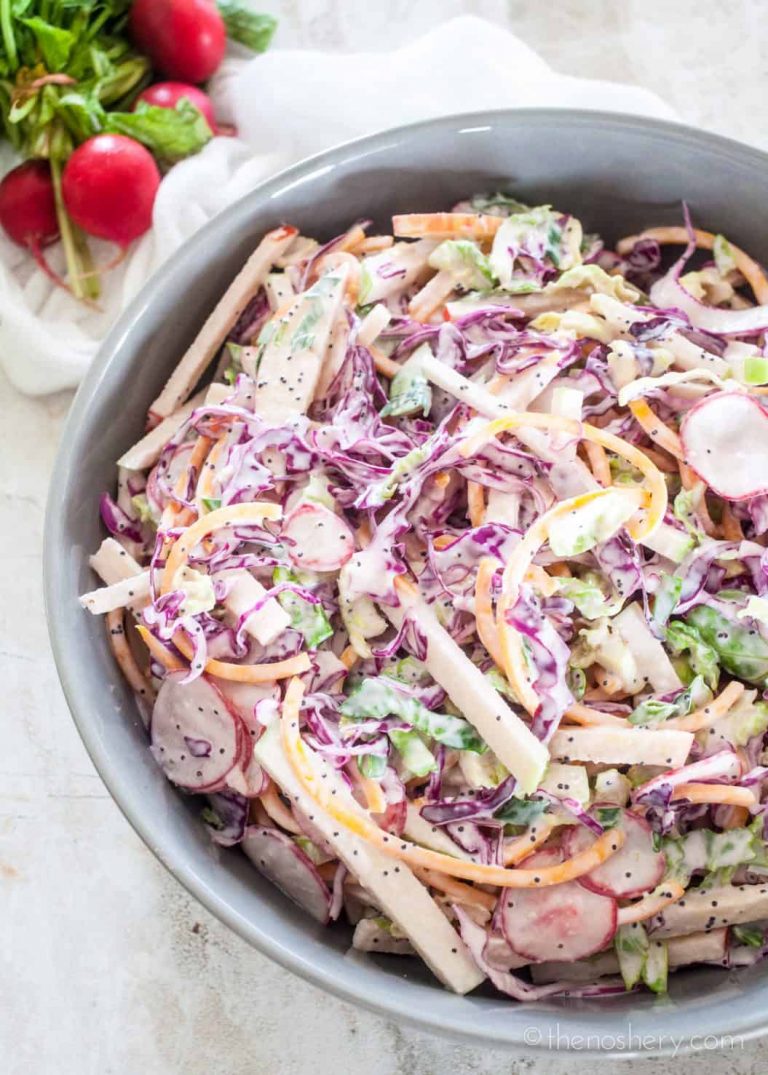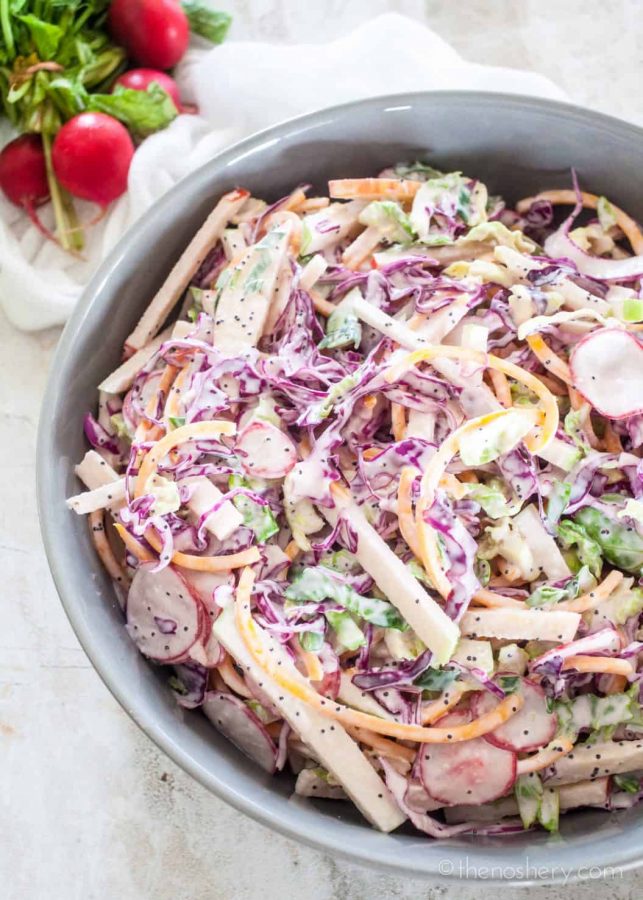 Combine your apples and vegetables in a large serving bowl, tossing to combine with the prepared dressing. Cover it with plastic wrap and let the flavors develop in the refrigerator for at least 30 minute for optimum flavor.
Then it's ready to serve, a delicious Brussels sprout salad for summer or fall. It's creamy and a little sweet with a zing from the apple cider vinegar that makes it the perfect side for a hearty main course.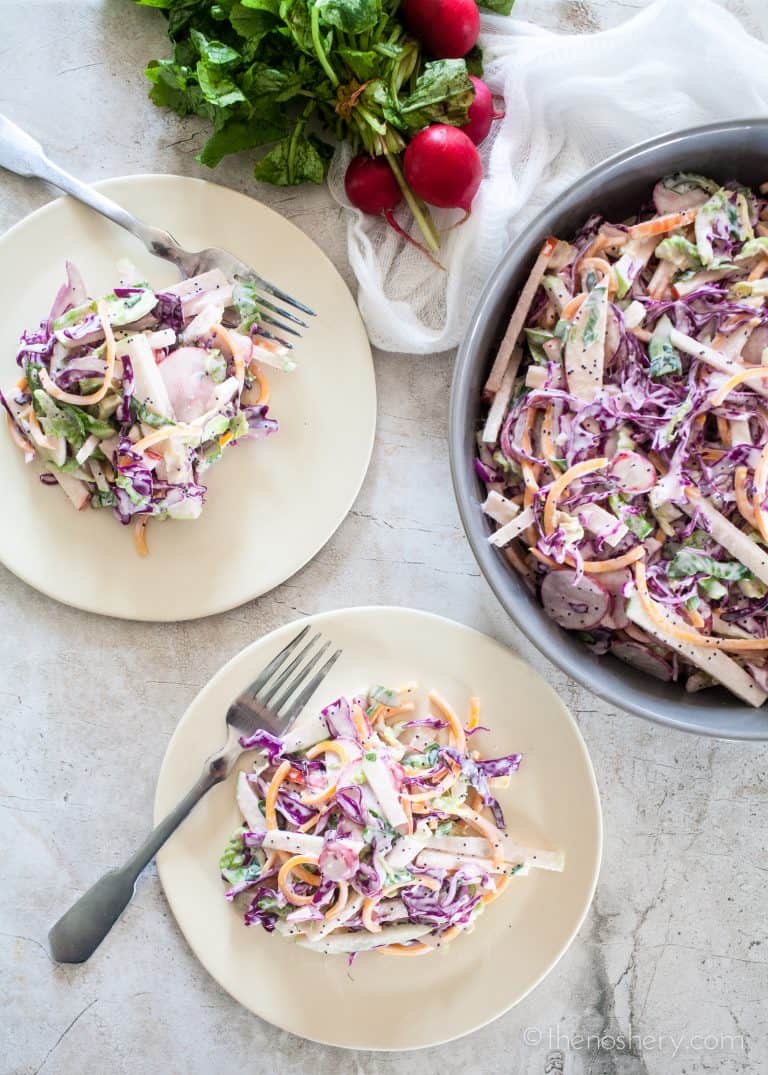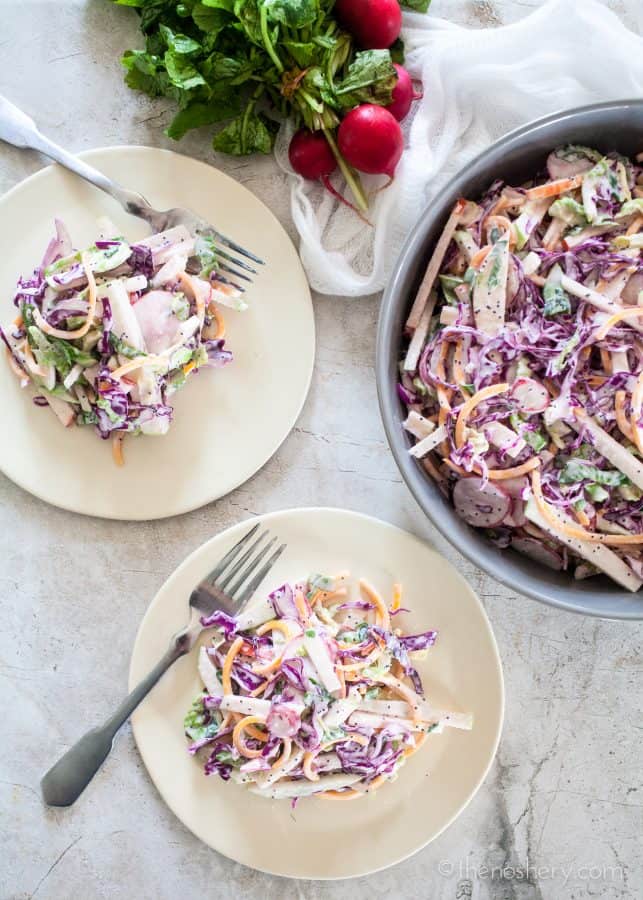 What to serve with Brussels Sprout Slaw
I'm dreaming of all the things this would taste great with. This slaw salad packs a lot of crunch, little hints of sweetness, and a bit of tanginess. It's great to enjoy on its own, as a side, or in your next pulled pork sandwich, maybe with some of this pernil. You will never want to go back to ho-hum coleslaw!
They say you eat with your eyes first, and this dish is a feast. The purple cabbage, that red from the radish. The green Brussels sprouts and scallions tossed with the creamy dressing and flecked with the sesame seeds.
It's flat out a tasty way to sneak in some vegetables in your life. If you're looking for more ways to incorporate veggies into your diet, try this Brussels sprouts and bacon pasta from Bev Cooks, these balsamic roasted fall veggies from Boulder Locavore, these tilapia and vegetable foil packs, or this paleo bulgogi bibimbap bowl. It's all about balance!
This Apple Brussels Sprout Slaw dish will make a tasty addition to your dinner table, whether you serve it at a poolside barbecue when it's 100 degrees out, a fall football watch party, or to brighten up the dead of winter. Your taste buds will thank you!
Yield: 12
Apple Brussels Sprout Slaw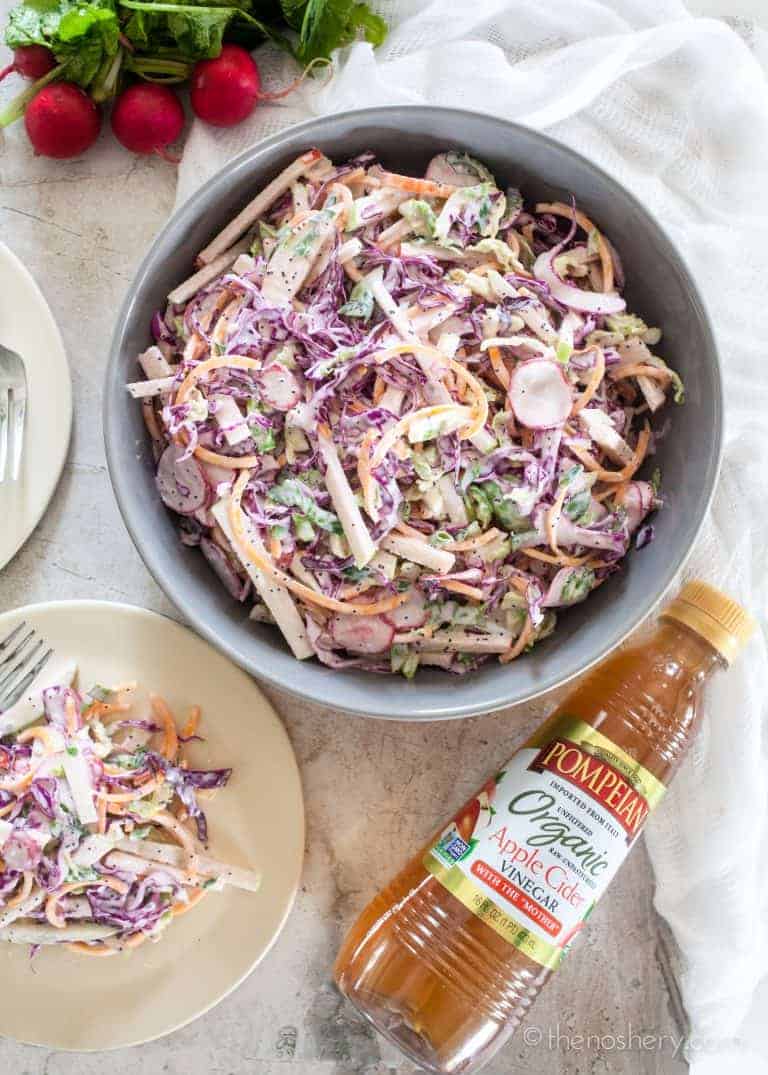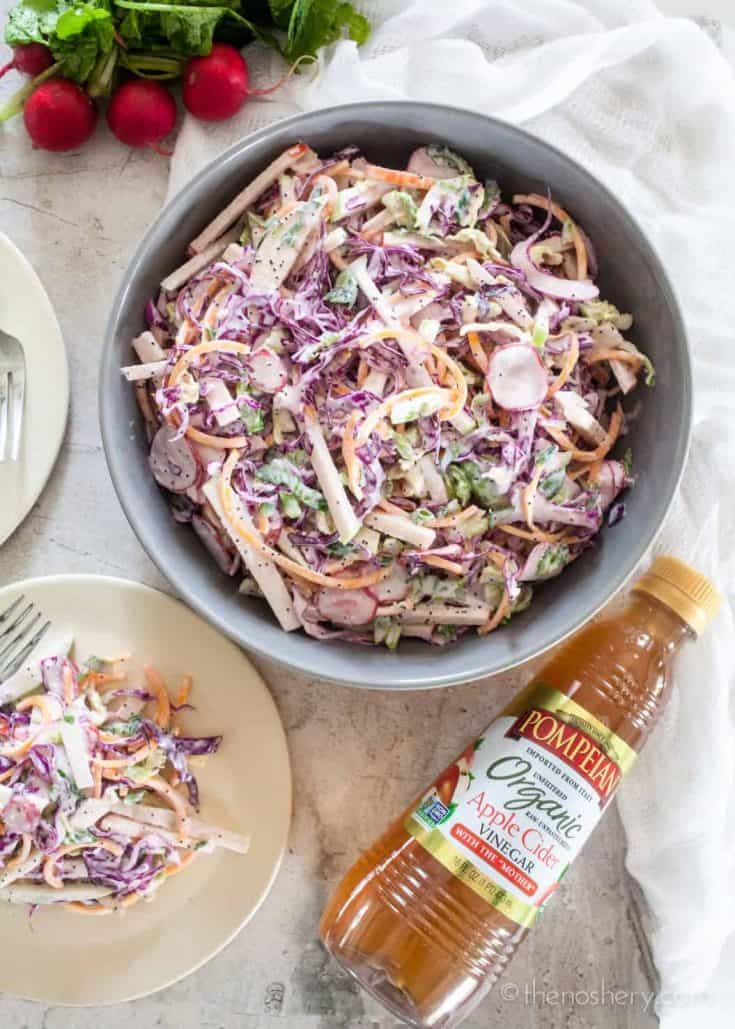 Apple Brussels Sprout Slaw is loaded with creamy, crunchy, tangy flavors that can be enjoyed alongside a hearty main course any time of year!
Ingredients
Dressing
1 cup yogurt
1/2 cup mayonnaise
3 tablespoons apple cider vinegar
1 1/2 teaspoons granulated garlic
1 teaspoon ginger paste
1 teaspoon salt
1 tablespoon poppy seeds
Slaw
2 cups shredded butternut squash
2 cups shaved brussels sprouts
6 small radishes, thinly sliced
2 cups shredded red cabbage
2 apples, matchstick cut (granny smith and honeycrisp)
6 green onions, greens thinly sliced
Instructions
In a small bowl combined dressing ingredients and whisk until well combined. Set aside.
In a large salad bowl combine slaw ingredients and toss until evenly distributed. Add dressing to the slaw and toss until evenly coated.
Cover with plastic wrap and refrigerate for at least 30 minutes. Serve.
Notes
Having a mandoline with an interchangeable blade makes preparing this slaw easy. But if you don't have a mandoline you can use a spiralizer, julienne peeler, or vegetable peeler for the butternut squash. The remaining vegetables can be thinly sliced with a knife.
To prep, the apples cut in half lay cut side down, and thinly slice starting at the bottom of the apple and moving up there is no need to core the apple. Then cut the slices into matchsticks.
Recommended Products
As an Amazon Associate and member of other affiliate programs, I earn from qualifying purchases.
Nutrition Information:
Yield:
6
Serving Size:
1
Amount Per Serving:
Calories:

270
Total Fat:

16g
Saturated Fat:

3g
Trans Fat:

0g
Unsaturated Fat:

12g
Cholesterol:

10mg
Sodium:

533mg
Carbohydrates:

30g
Fiber:

8g
Sugar:

14g
Protein:

7g
More Fall Sides You'll Love!
Include some more sides for your table! Try some of these recipes:
As always you can find tons of delicious PR dishes in my Sides recipe collection.
One More Thing!
Rebecca and I launched the My Plate is Always Full Podcast! Just two friends and former chefs talking obsessively about food. You can go and subscribe now!
New episodes released every Wednesday!
In the meantime follow us on Instagram @my.plate.is.always.full  or visit our website!