This post was sponsored by Pompeian.  All opinions expressed on my site are my own.
Slaws aren't just for summer barbecues anymore! This Autumn Brussels Sprout and Apple Slaw is loaded with crunch, tanginess, and fall flavors.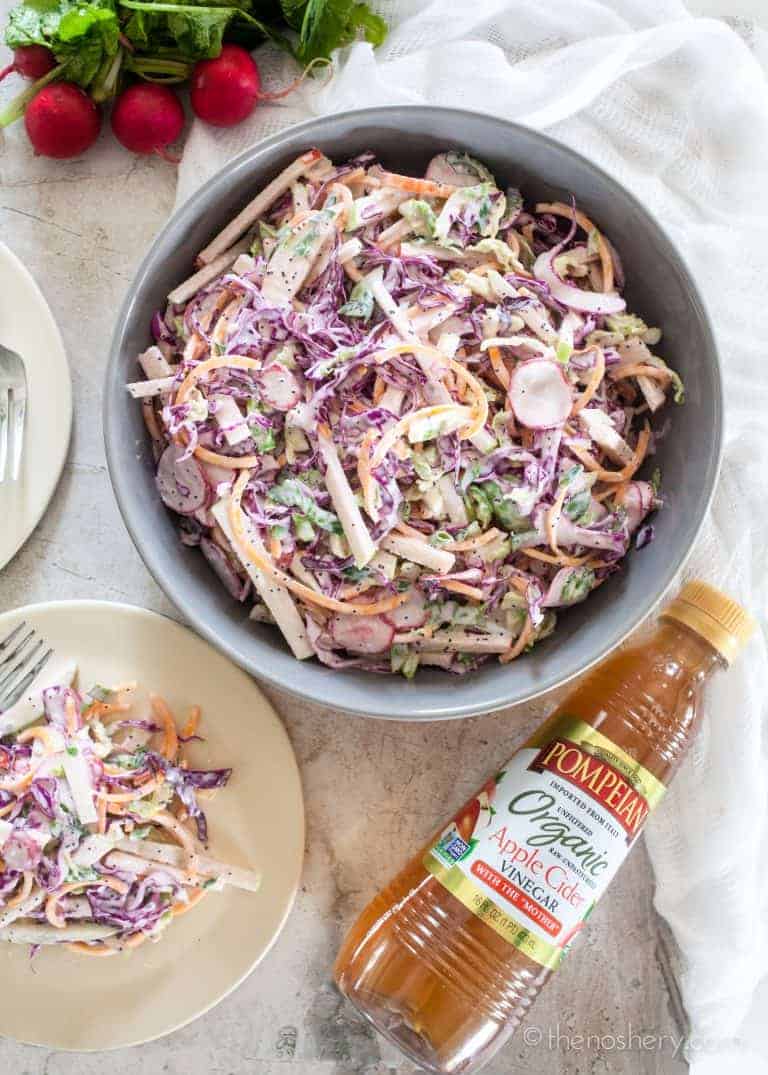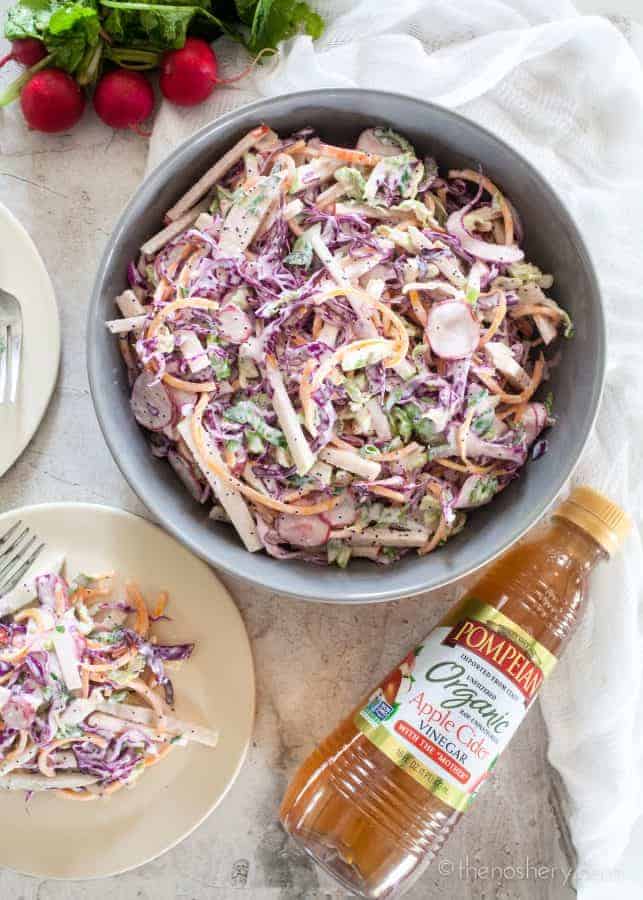 I have always associated slaw with summer barbecues. It seems that without fail that when I'm at a barbecue there is a bowl of coleslaw somewhere nearby. But why does slaw only have to be for summer barbecues? I have partnered with Pompeian to share with you their new line of organic vinegars. Today I am using Pompeian Organic Apple Cider Vinegar to make a sweet and tangy autumn brussels sprout and apple slaw.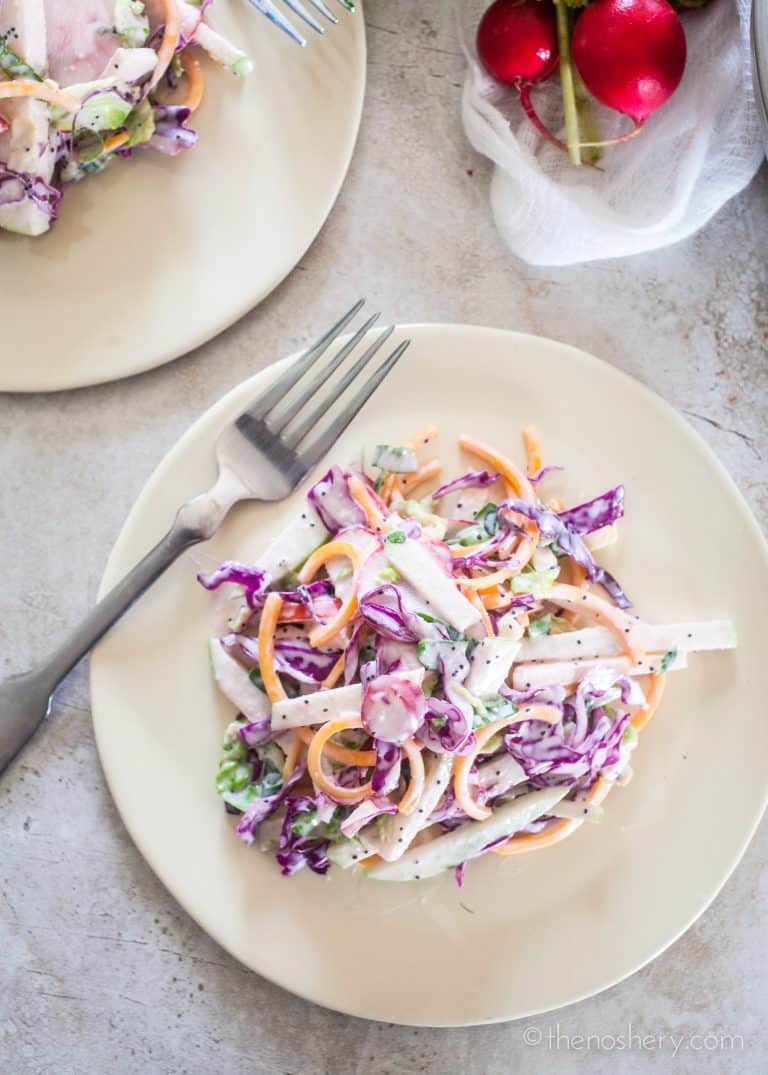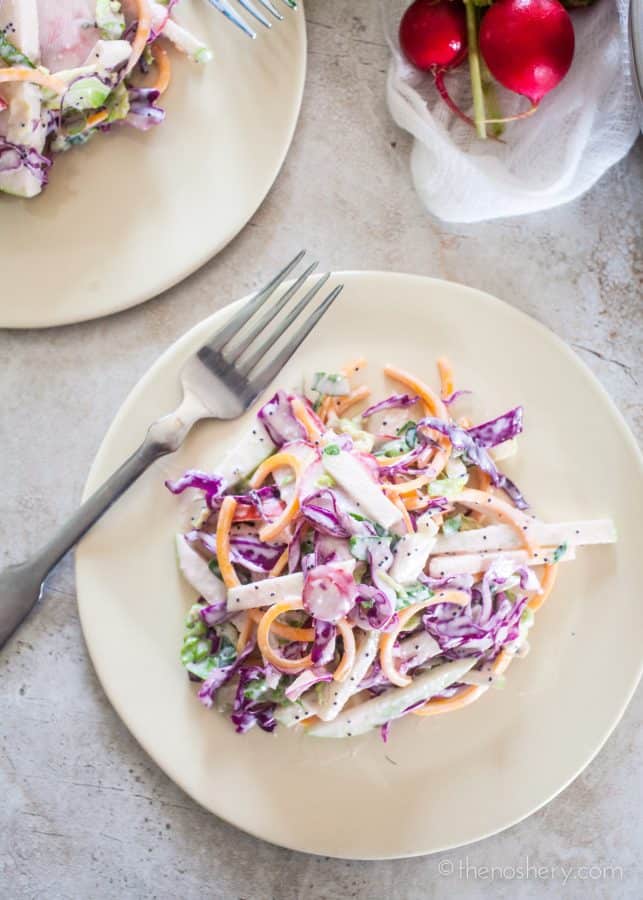 Pompeian Organic Vinegars are naturally gluten free and non-allergenic so they are perfect to use in vinaigrettes, dressings, and marinades for your next get together. Pompeian's first apple cider vinegar is not filtered or pasteurized in order to preserve the presence of the "mother" and its natural health benefits.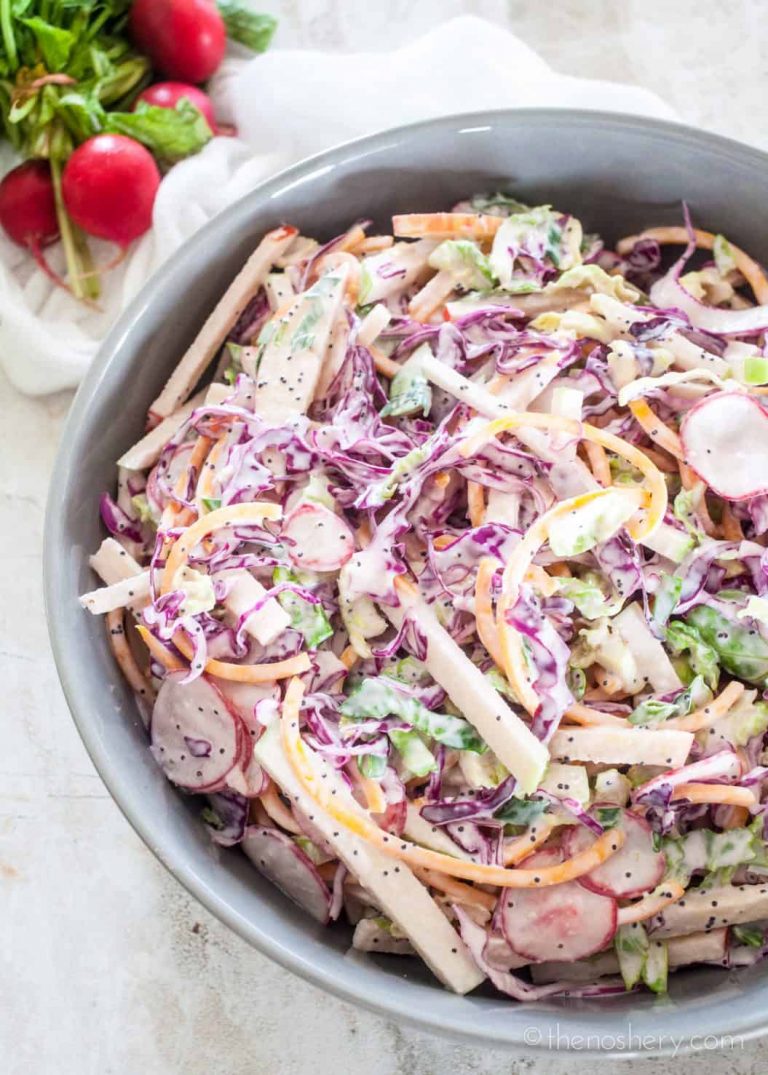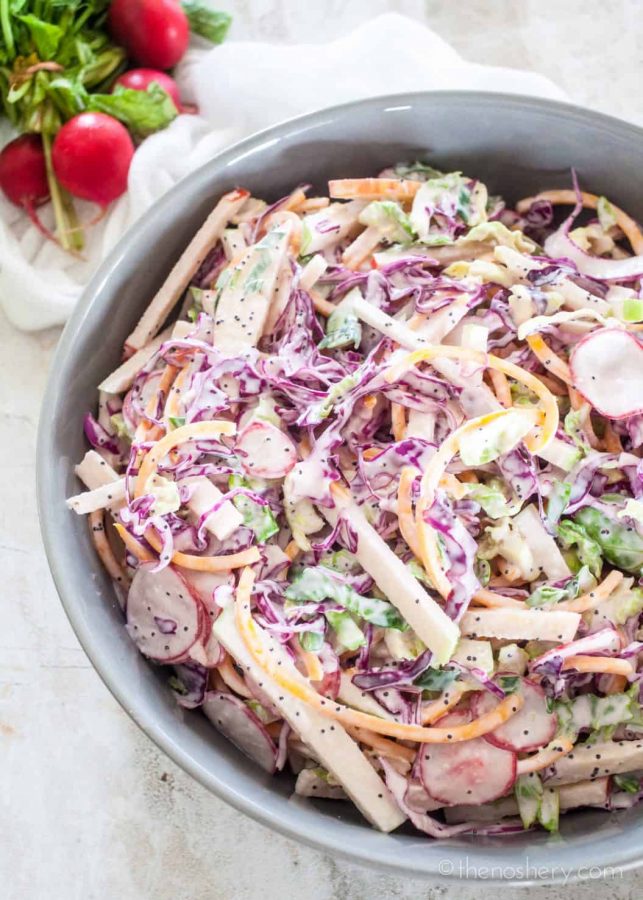 Inspired by the tangy sweetness of Pompeian Organic Apple Cider Vinegar I decided to make an Autumn slaw with brussels sprouts, apples, butternut, cabbage, and radishes. I wanted the slaw to be creamy but still light so, the dressing is made with greek yogurt.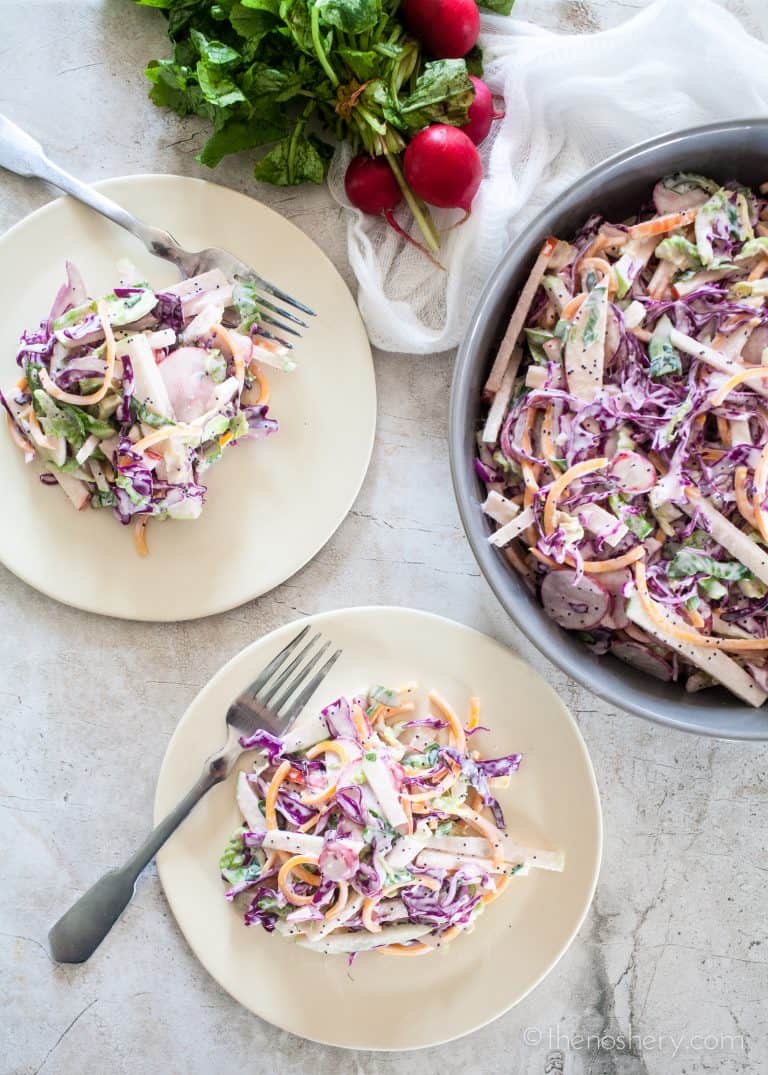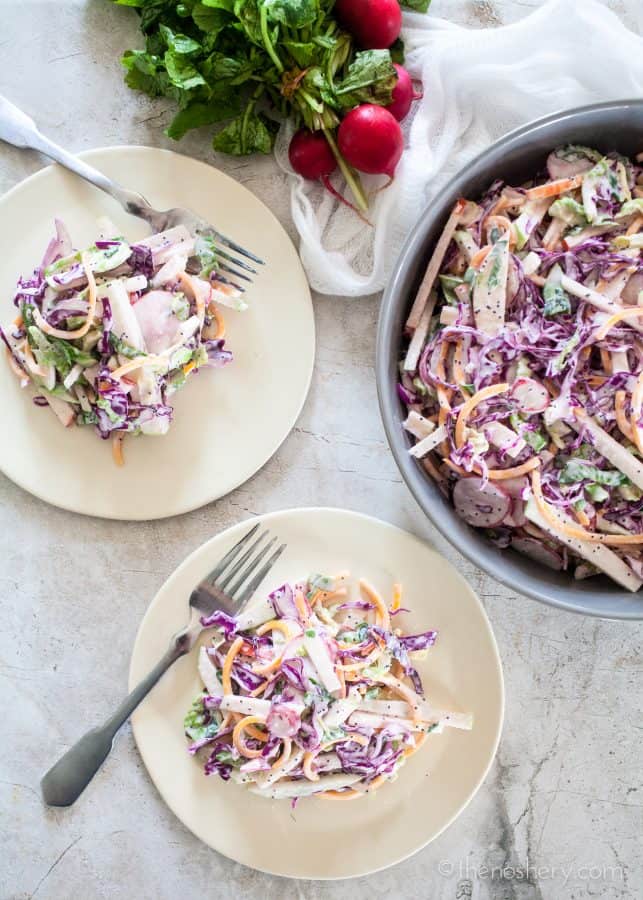 This salad packs a lot of crunch, little hints of sweetness, and a bit of tanginess. It's great to enjoy on its own, as a side, or in your next pulled pork sandwich. You will never want to go back to ho-hum coleslaw!
More Slaws to Love:
Items Used in this Recipe:
Yield: 12
Autumn Brussels Sprout and Apple Slaw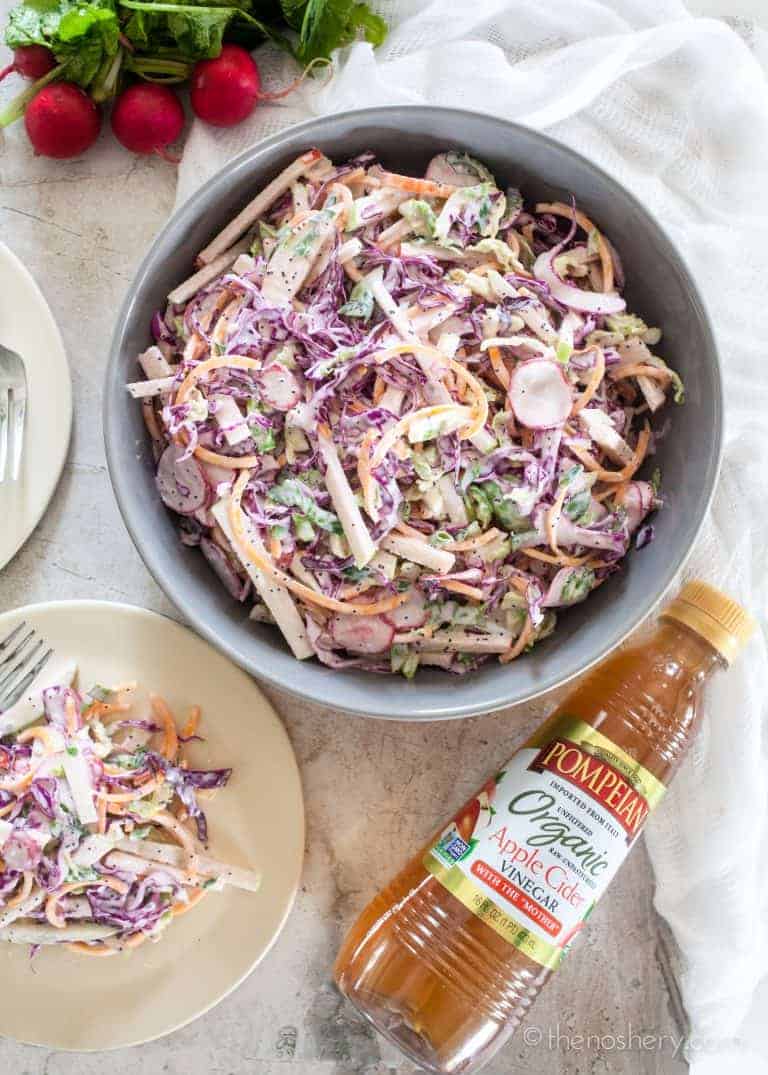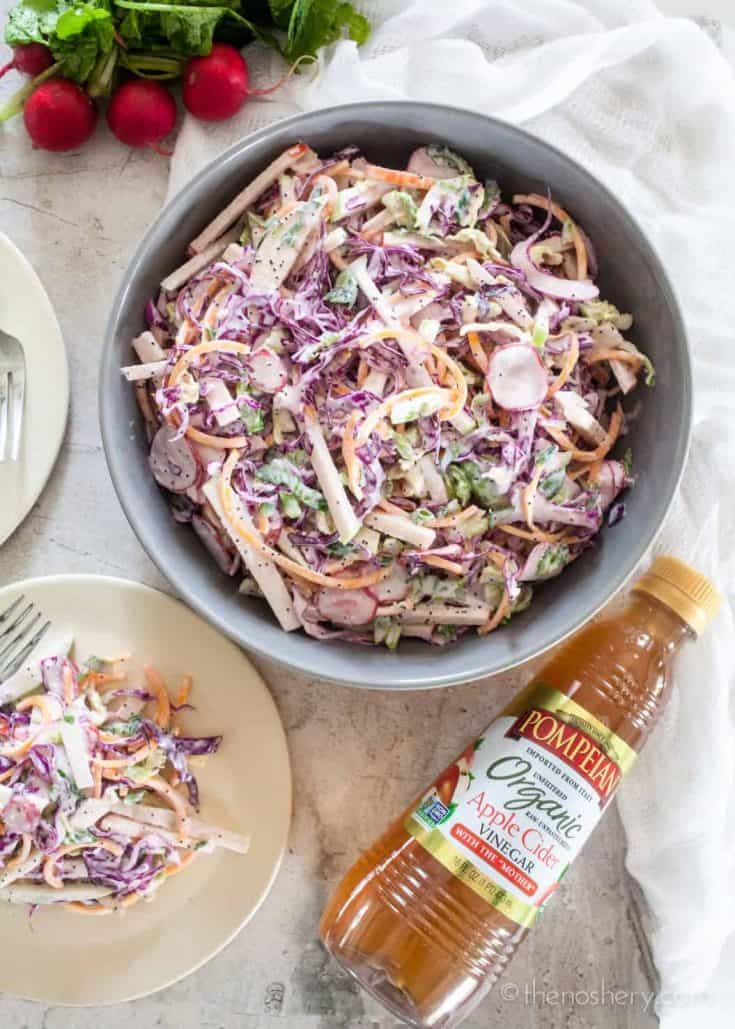 Slaws aren't just for summer barbecues anymore! This Autumn Brussels Sprout and Apple Slaw is loaded with crunch, tanginess, and fall flavors.

Prep Time 15 minutes

Cook Time 30 minutes

Total Time 45 minutes
Ingredients
Dressing
[br]
1 cup yogurt
1/2 cup mayonnaise
1 1/2 teaspoons granulated garlic
1 teaspoon ginger paste
1 teaspoon salt
1 tablespoon poppy seeds
[br]
Slaw
[br]
2 cups shredded butternut squash
2 cups shaved brussels sprouts
6 small radishes, thinly sliced
2 cups shredded red cabbage
2 apples, matchstick cut (granny smith and honeycrisp)
6 green onions, greens thinly sliced
Instructions
In a small bowl combined dressing ingredients and whisk until well combined. Set aside.


In a large salad bowl combine slaw ingredients and toss until evenly distributed. Add dressing to the slaw and toss until evenly coated. Cover with plastic wrap and refrigerate for at least 30 minutes. Serve.
Notes
Having a mandoline with an interchangeable blade makes preparing this slaw easy. But if you don't have a mandoline you can use a spiralizer, julienne peeler, or vegetable peeler for the butternut squash. The remaining vegetables can be thinly sliced with a knife.

To prep, the apples cut in half, lay cut side down, and thinly slice starting at the bottom of the apple and moving up there is no need to core the apple. Then cut the slices into matchsticks.
Nutrition Information:

Amount Per Serving: Calories: 123Carbohydrates: 11gProtein: 2g