Tis the season for hearty yummy soups! With the cold weather rolling in it's the perfect time to curl up with a big bowl of hot hearty soup and a side of crusty bread.
This weekend OB and I headed out the Dallas Farmer's Market in downtown Dallas. It's HUGH! The market is open year round and is spread over three open air sheds and one building. They have everything from farmer's, produce dealers, specialty foods & eateries. While I was there, I got a sweet spread of fruits and vegetables, some homemade linguine from the most delightful Italian lady and some meaty beef bones from a local cattle ranch. It was awesome! Ifs a feast for the eyes and ultimately the belly!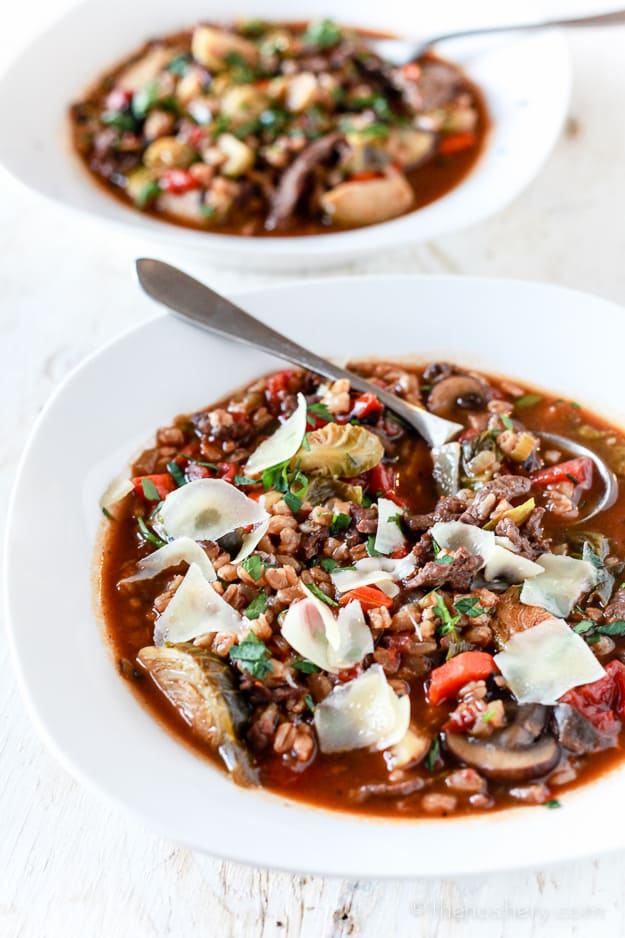 Armed with a fresh vegetable spread and some meaty soup bones it was soup time. I thought I would start with making homemade stock. I love making my own stocks. I think it adds more depth to your soup. This stock recipe uses all the scraps from the vegetables, nothing goes to waste. The beef stock can be made a day in advance, but if you're in a time crunch feel free to use store-bought beef stock.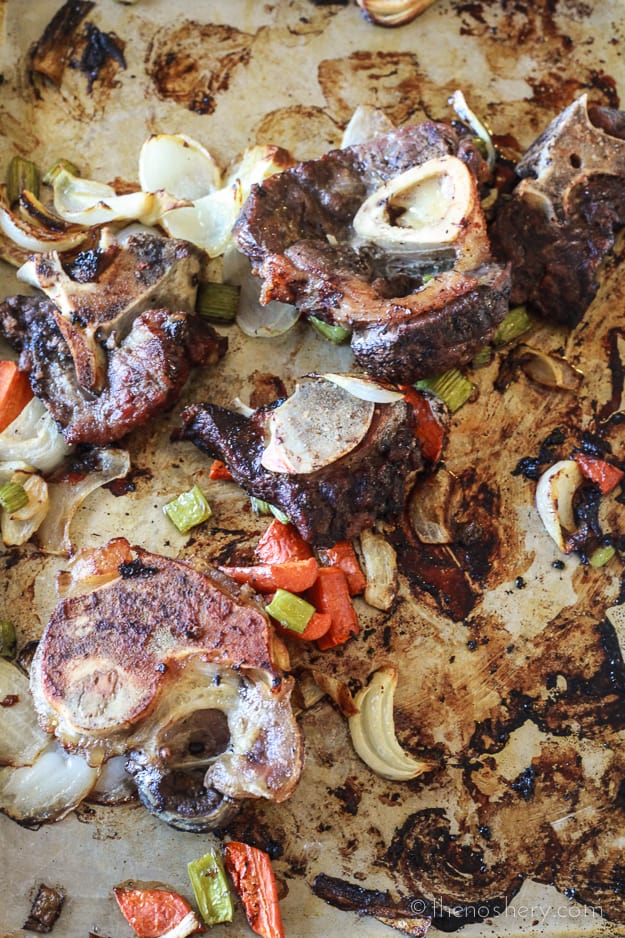 One of my favorite things to make, while I was in culinary school, was stock. Especially beef stock. I love the process of caramelizing the bones and deglazing the pan with wine. The sizzle and steam of a pan when deglazing is one of my favorite sounds! Caramelization is key to getting a deep brown color in your beef broth. You can use beef shanks or ask your local butcher for soup bones.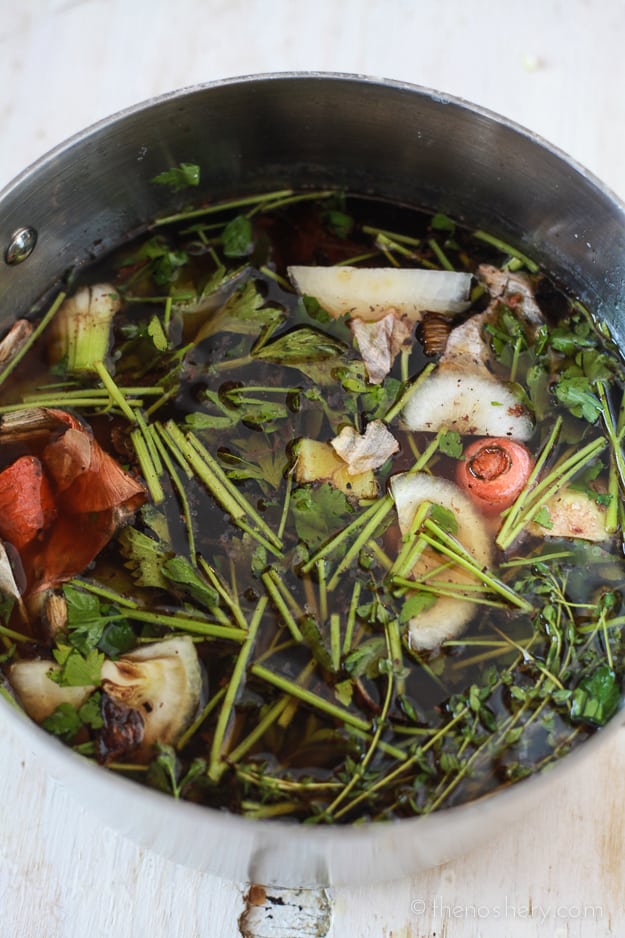 This is the definition of hearty and filling soup. Perfect to curl up with on a cold Fall or Winter day. There are all kinds of tasty nuggets in this one, tender farro, meaty mushrooms and savory beef. The broth is rich and deep in flavor, perfect for dipping with buttered crusty bread.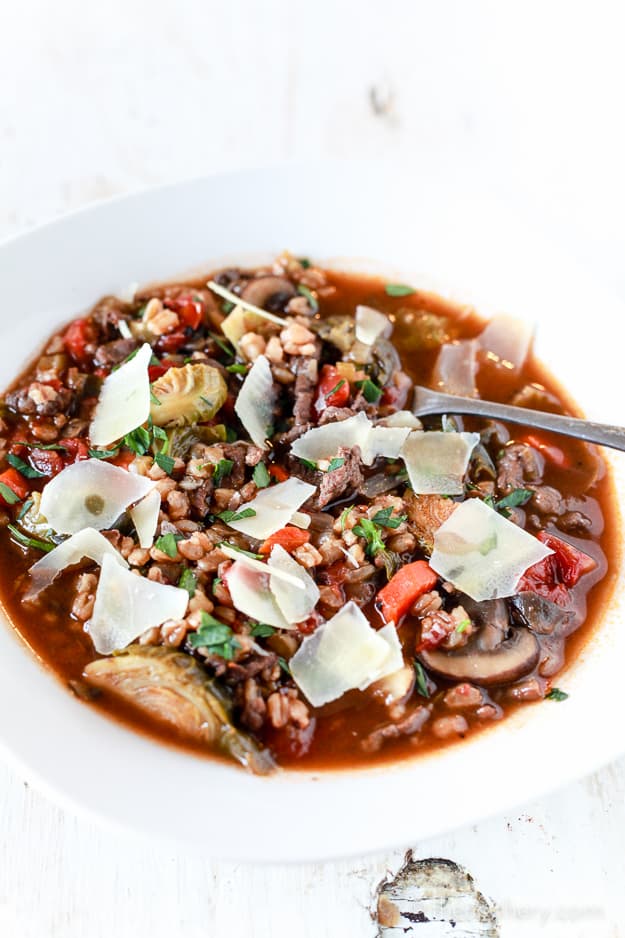 Feel free to make this soup your own. Swap beef for sausage, farro for rice or Brussels for kale. That is the great thing about soup!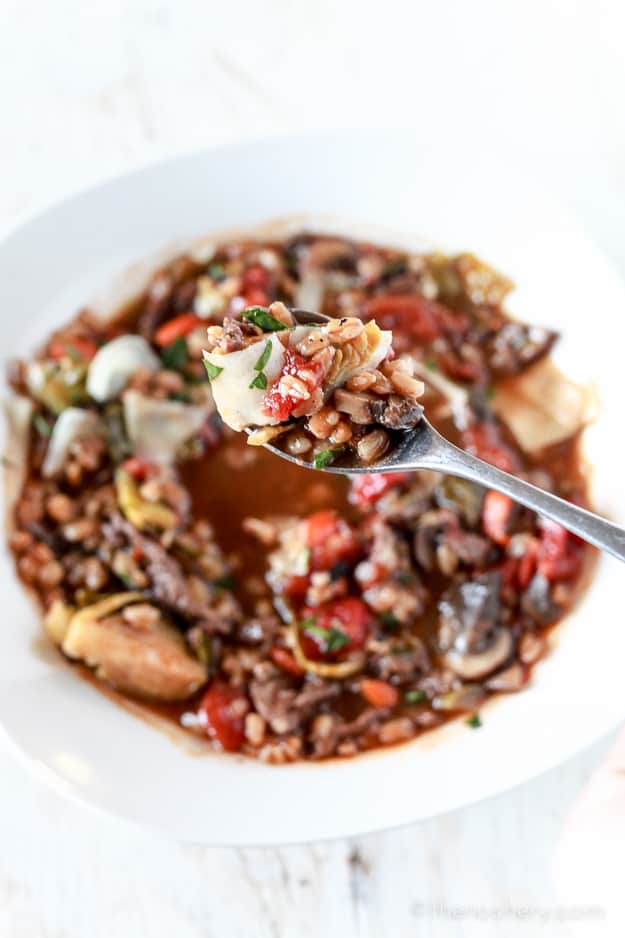 If you are craving something a little lighter try this chunky roasted tomato soup. But, of course, everyone loves a classic Sancocho (Puerto Rican Beef Stew). If you want something hearty and loaded with aromatics and spices you need to try this Moroccan Lamb Stew with Harissa and Garbanzos.
If you are looking for more soup or stew recipes ideas see my collection of soups and stews.
Rustic Beef and Mushroom Farro Soup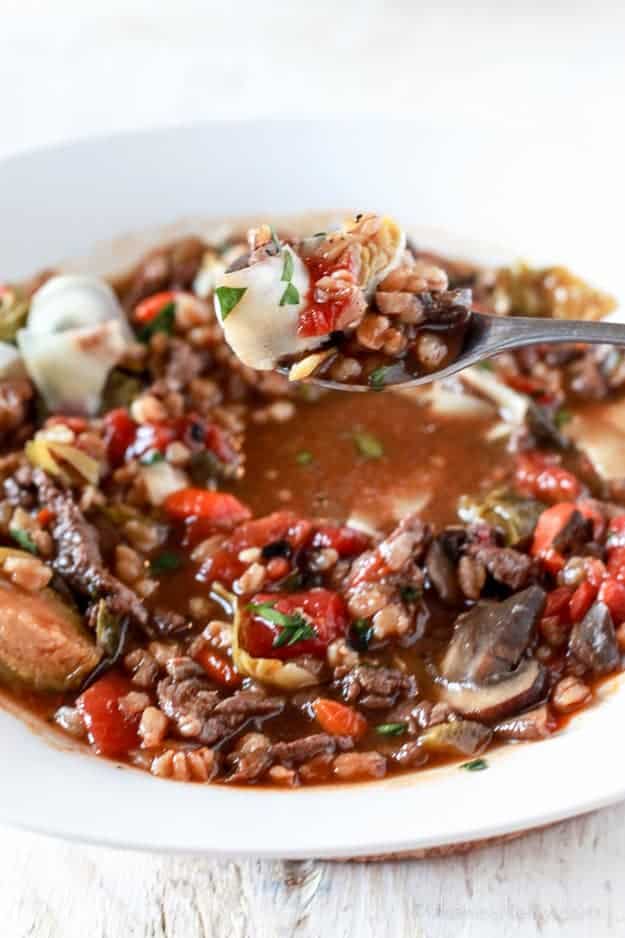 Ingredients
STOCK
[br]
2 tablespoons olive oil
2 lbs beef bones
2 carrots, chopped
1 onion, chopped
2 celery stalks, chopped
1/2 cup red wine
2 bay leaves
4 whole thyme sprigs
6 parsley stems
8 cups water
[br]
SOUP
[br]
7 ounces uncooked farro, rinsed and soaked for several hours or overnight
1/4 cup olive oil
2 carrots, diced
1 celery rib, diced
1 yellow onion, diced
3 garlic cloves, minced
1/2 pound stew beef, cut into small pieces or ground beef
1/2 pound mushrooms, coarsely chopped
1 15 oz can canned diced tomatoes, with liquid
1 cup red wine
4 cups beef broth
1 cup water
1/2 lb brussels sprouts, quartered
3 tablespoons chopped thyme
salt and pepper to taste
shaved parmesan cheese, for garnish
Instructions
Beef Stock
Put oven rack in middle position and preheat oven to 425°F
Toss beef shanks, onions, and carrot in olive oil, spread on in a rimmed baking sheet or a large roasting pan, turning once, until well browned, about 1 hour.
Transfer meat and vegetables to a large stockpot. Lay sheet pan across 2 burners, add red wine and deglaze pan by bringing to a simmer over high heat, scrape up all the brown bits.
Add deglazing liquid to stockpot along with 8 cups water and remaining ingredients. (You can add vegetable scraps if desired.) Bring to a boil and skim froth. Simmer gently, uncovered, 3 hours.
Pour stock through a fine-mesh strainer into a large bowl. If stock measures more than 4 cups, boil until reduced to 4 cups; add water if stock measures less than 4 cups. If using stock right away, skim off and discard fat. If not, cool stock completely, uncovered, before skimming fat (it's easier to remove when cool), then chill, covered.
Soup
In a large pot, heat olive oil over medium-high heat, add carrots, celery, onions and garlic, cook until onions become translucent.
Add beef, when it begins to brown, add mushrooms and continue to cook, stirring occasionally. When mushrooms have released most of their liquid, add brussels sprouts and farro, mix until well combined.
Add tomatoes, wine and stock. Cover and bring to a boil. Reduce heat and simmer covered for 45 - 60 minutes, until farro is almost tender. Add more liquid if a thinner soup is desired, bring to a boil. Stir in thyme, salt and pepper, simmer 3 minutes.
Serve soup hot, garnished with parmesan shavings.
Notes
Farro must be soak for several hours or overnight.

Beef stock can be made several days in advance.