pasteles de yuca
It's Christmas time, and Christmas for Puerto Ricans means it's time for pasteles! If you know what pasteles are you are dancing in your seat.  If you don't know, the best way that I can describe them is the Puerto Rican version of the tamale.  Except it's made with yuca instead of cornmeal, wrapped in banana leaves instead of a corn husk and boiled instead of steamed. pasteles de yuca
Every Puerto Rican table has a spread of pasteles on the table at Christmas time. pasteles de yuca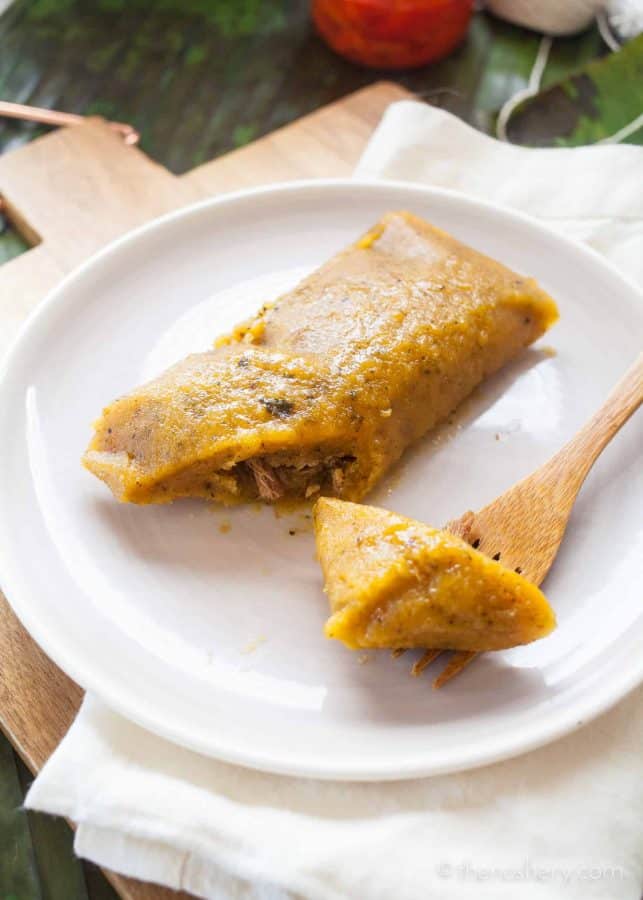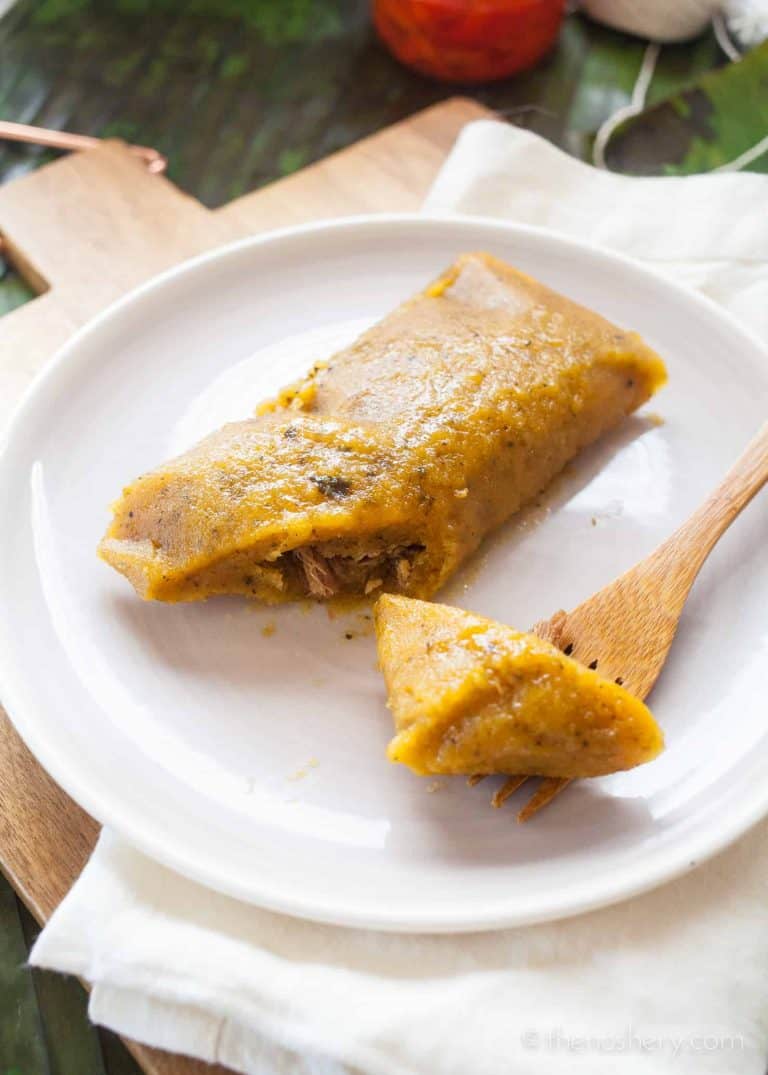 I cannot tell a lie; pasteles are a project so a lot of times people will buy them by the dozen from someone who makes them.   However being in it is difficult to find someone who makes and sells pasteles, I decided to make my own. Besides its more fun to make them yourself.  If you decided to take on this endeavor, it is best if done with some helping hands or spread out through two or three days. pasteles de yuca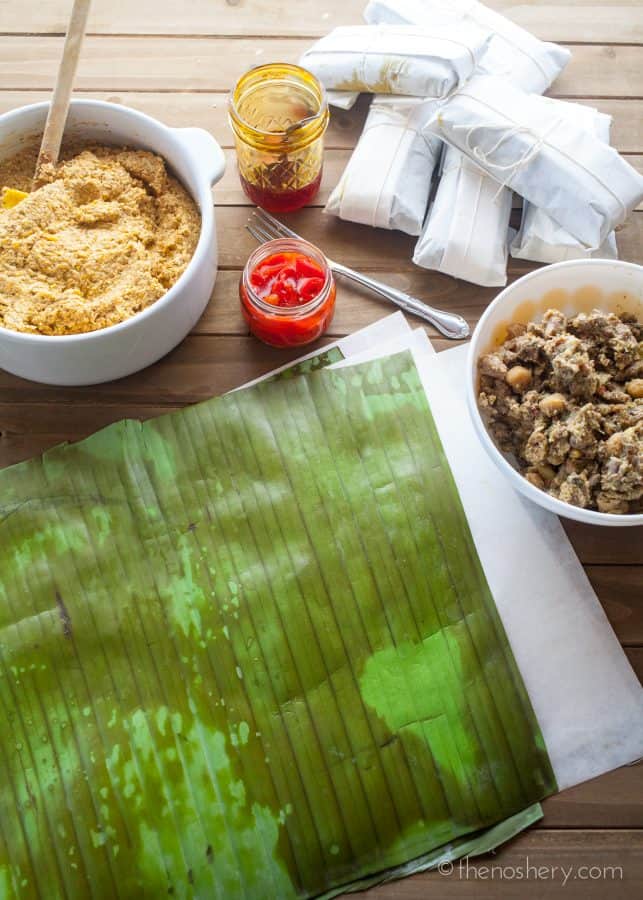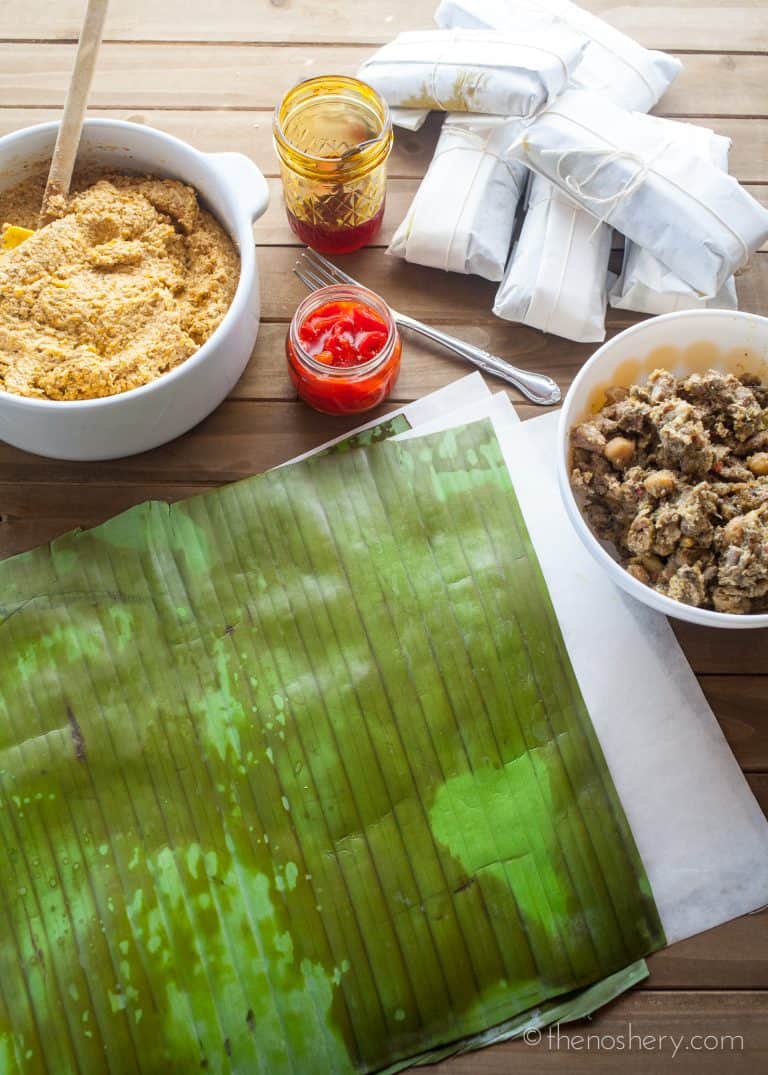 There are two versions of pasteles, one is made with a mixture of plantain, green banana, kabocha pumpkin and yautia (malanga) and the other is made with yuca root.  My favorite is yuca root, so that is what I am going to show you today. pasteles de yuca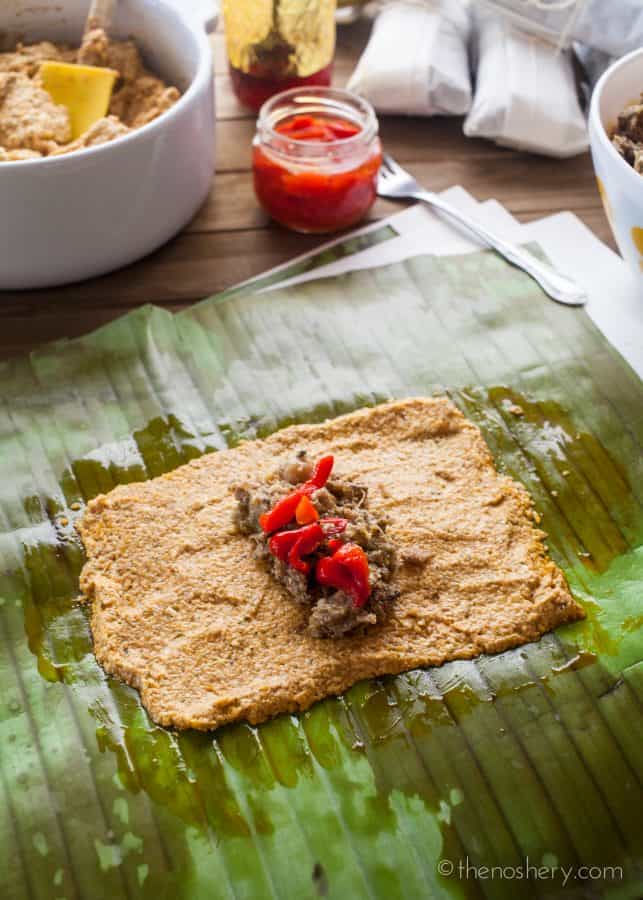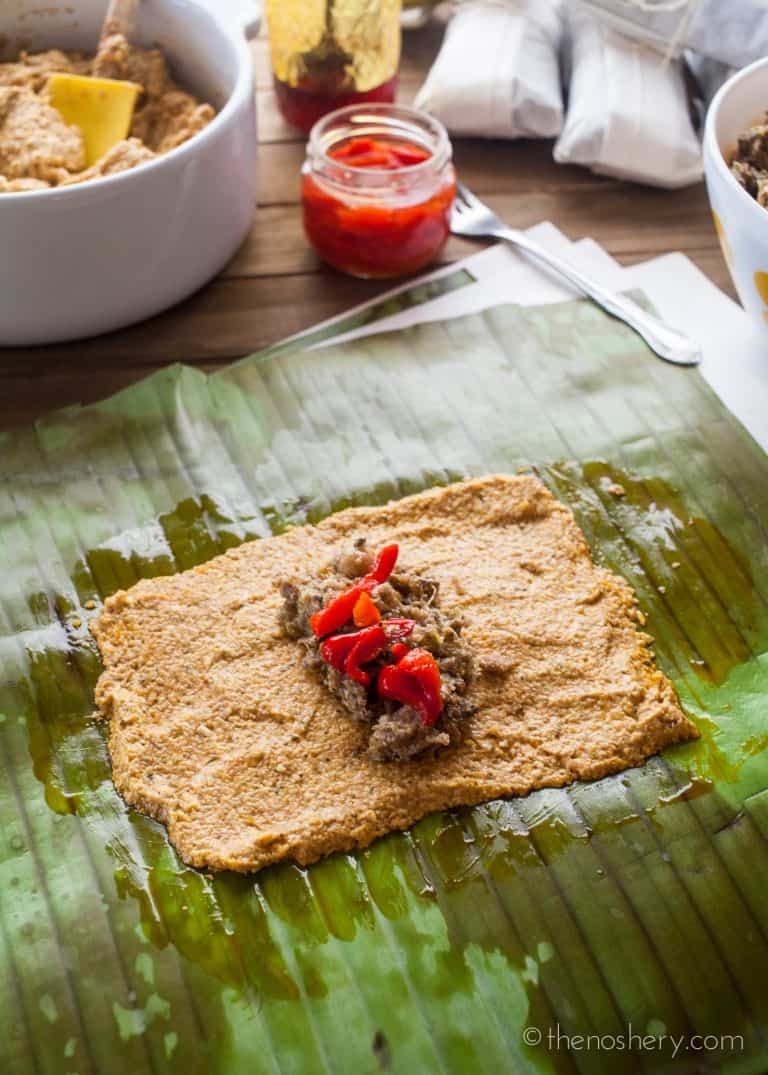 ASSEMBLE PASTELES de Yuca
It is best to divide this project up over 2 days.  You can do this one of two ways.  You can choose to make the yuca and the achiote on day one and the filling and assembly on day two or you can do everything on day one and assembly on day two.  I prefer the second option, but whatever makes you happy. pasteles de yuca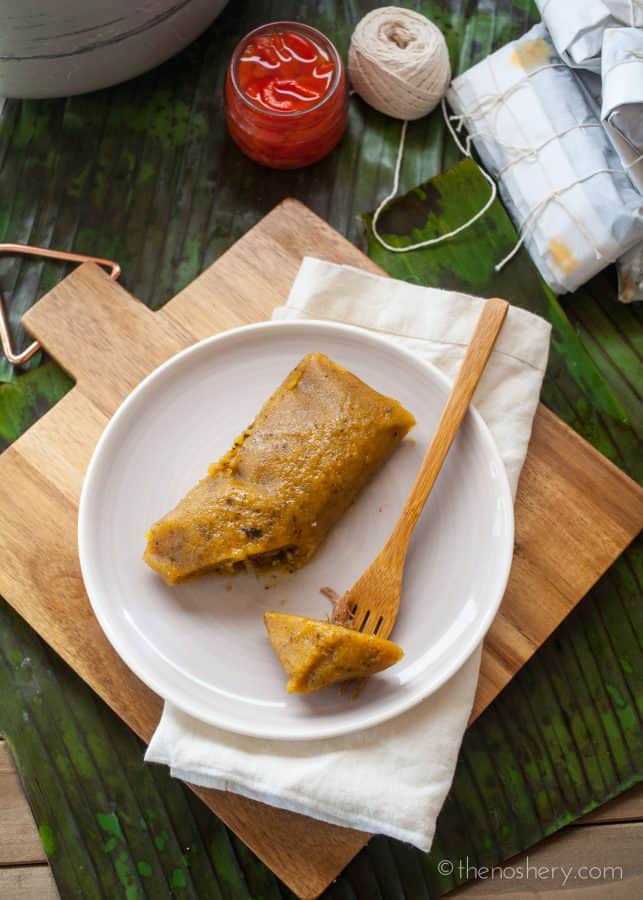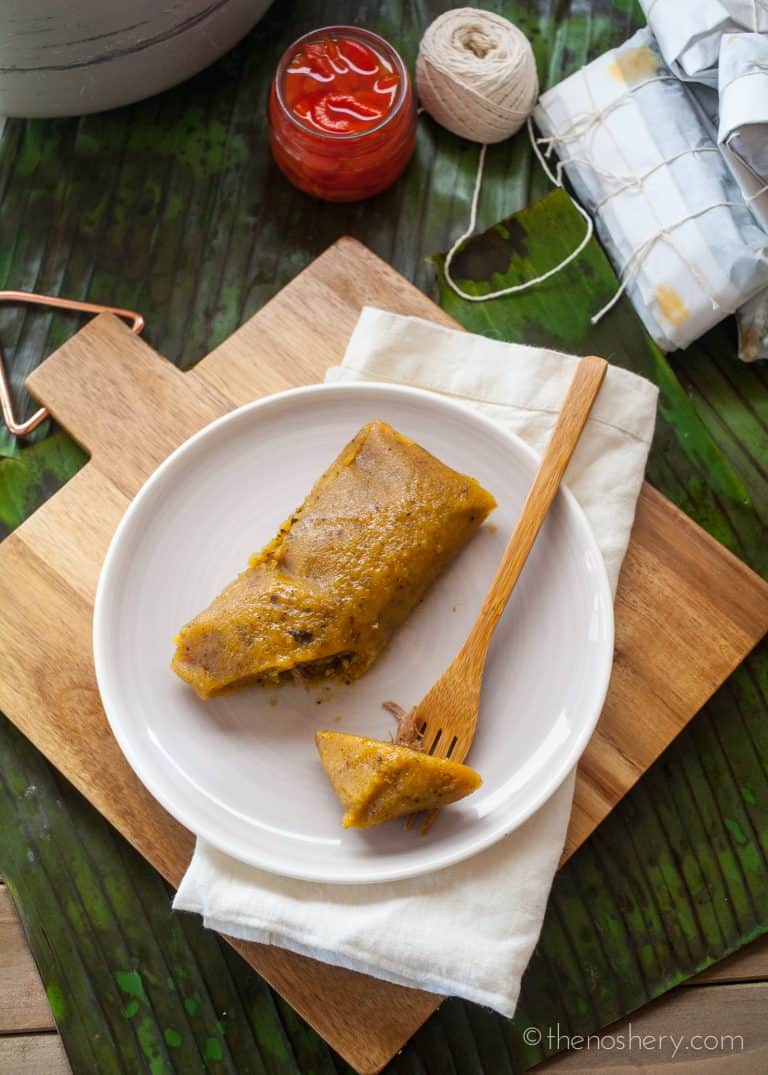 Different things mean Christmas to different people. For me pasteles are a big part of Christmas, taking me back to my warm little island with family, friends and a spread of pernil and arroz con gandules.
Feliz Navidad everyone! pasteles de yuca
more puerto rican christmas recipes
Pasteles de Yuca
Pasteles are a delicious traditional dish served in Puerto Rican during Christmas. Seasoned yuca root "masa" is filled with savory pork.
Ingredients
MASA(dough):
3½ - 4 pounds of yuca (also known as cassava)
½ cup of sofrito
1 small beef broth cube
2 tsp salt
½ tsp onion powder
½ tsp garlic powder
¼ tsp oregano
2 oz of water
ACHIOTE:
6 Tbsp achiote seeds (annatto)
2 cups of vegetable oil
FILLING:
2 lbs boneless pork shoulder
2 oz of sofrito (4 tbs)
1 beef broth cube
¼ tsp salt
½ tsp onion powder
½ tsp garlic powder
¼ tsp oregano
1 ½ cups of water
2 oz of extra virgin olive oil
1 cup Spanish olives cut in half
2 Tbsp capers
1 14.5 oz can of garbanzos
½ cup raisins
1 small jar of pimentos
Equipment: 12 - 14 oz of banana leaves, wax paper & butchers twine
Instructions
MASA (day 1)
Cut the yuca into 3-4 pieces. The yucca should be milky white, if it has dark lines, it's no bueno.
Score the skin, slip the knife under the skin and pry it away from the yuca.


Cut the segments in half and expose a small root that runs down the middle of the yucca. Make a V-shaped cut around the root to remove it. Like you would core a pear.


Using the shredder blade on you food processor or a manual grater, grate the yuca. Place the grated yucca root into the food processor using the blade, run the food processor until the yucca fine and pasty.


Place the yuca paste in a colander lined with cheesecloth, cover with plastic wrap and place in the refrigerator overnight to drain.


ACHIOTE OIL (day 1)


Heat 1½ - 2 cups of vegetable oil, add 6 tbs of annatto seeds to the oil. Allow the seeds to simmer until the oil reaches a bright red color.


Strain the seeds from the oil and discard the seeds. Allow the oil to cool and store in a sealed container until ready to use.


FILLING (day 1 or 2)


Break a boneless pork shoulder down into ½ inch cubes. Season with garlic powder, oregano, onion powder, and salt.


In a large skillet heat ¼ cup of achiote oil and 4 tablespoons of sofrito on low heat for 5 minutes. Add pork, beef broth cube and 1 cup of water to the skillet. Bring to a boil, lower heat to a simmer and cover, for 30 minutes. Add garbanzo beans, raisins, capers, and olives to the skillet, cover and simmer an additional 15-20 minutes.


The meat should finish tender but not falling apart and with a saucy gravy. If the sauce is too watery, uncover and bring to a boil to reduce. Drizzle with two tablespoons of olive oil and combine.


SEASON MASA (day 2)


In a skillet simmer ¼ cup of achiote oil and ¾ cup of sofrito for 5 minutes. Add ¼ cup of water, a beef broth cube, salt, onion powder, garlic powder and oregano, simmer for an additional 5 minutes. Add the seasoning to the grated yucca, mix until combined.


Drizzle ½ cup of achiote oil into the yucca. Mix until well combined and the yuca has an orange color, set aside until ready to use.


PREP BANANA LEAVES (day 2)


Remove the ridge from the leaves. Cut the banana leaves into 12 x 12-inch squares and wash the banana leaves under warm running water. Place them in a hot oven for 5 minutes or toast them over an open flame, this helps make the leaf more flexible.


ASSEMBLY (day 2)
Set up assembly station with yucca mixture, filling, achiote oil, banana leaves, wax paper squares and butchers twine.


Lay out a square of wax paper and a square of banana leave over it, spread 1 tsp of achiote oil on the banana leaf. Scoop ¼ cup of the yucca mixture onto the banana leave and spread out into a rectangle.


Place 2 tbs of filling down the center and top with pimentos if you like. Using the banana leaf fold the yucca over the filling.


Bring the leaf ends together. Fold over twice to create a tight seal. Tuck the ends under, if the banana leaf splits a little don't stress we are going to fold it again in wax paper. Do the same wrap and fold with the wax paper. If you use only wax paper I recommend double wrapping.


Tie two pasteles together with butchers twine like a present with the folded ends facing each other.


At this point, you can get ready to boil them right away, or you can freeze them until ready to use. When ready to cook bring a large pot of water to a boil, drop in pasteles and boil for 45 minutes for fresh and 1 hour for frozen.


Using a pair of tongs pick the pastel out of the water by the string and place on a paper towel. Cut the string and gently unwrap.
Notes
It is best to divide this project up over 2 days. You can do this one of two ways. You can choose to make the yucca and the achiote on day one and the filling and assembly on day two or you can do everything on day one and assembly on day two. I prefer the second option, but whatever makes you happy.

If you want to make "Pasteles de Masa", which are made with plantains and yautia, substitute the yucca with 2 plantains, 2 green bananas, 1½ lbs of yautia and ½ a small kabocha pumpkin. There is no need to strain the water from this mixture.
3.2.2925
74