This is a sponsored conversation written by me on behalf of Albertsons Companies. The opinions and text are all mine.
I am a chronic procrastinator. Especially when the weather starts to get warm. Let's be honest I also procrastinate when it's cold but, that isn't what we are talking about today. We are talking about wonderful warm temperatures and I want to spend my days outside, enjoying the weather and fresh air. I don't want to spend it cooped up inside! Therefore, I appreciate two things this time of year, easy pasta salads and my local Tom Thumb store.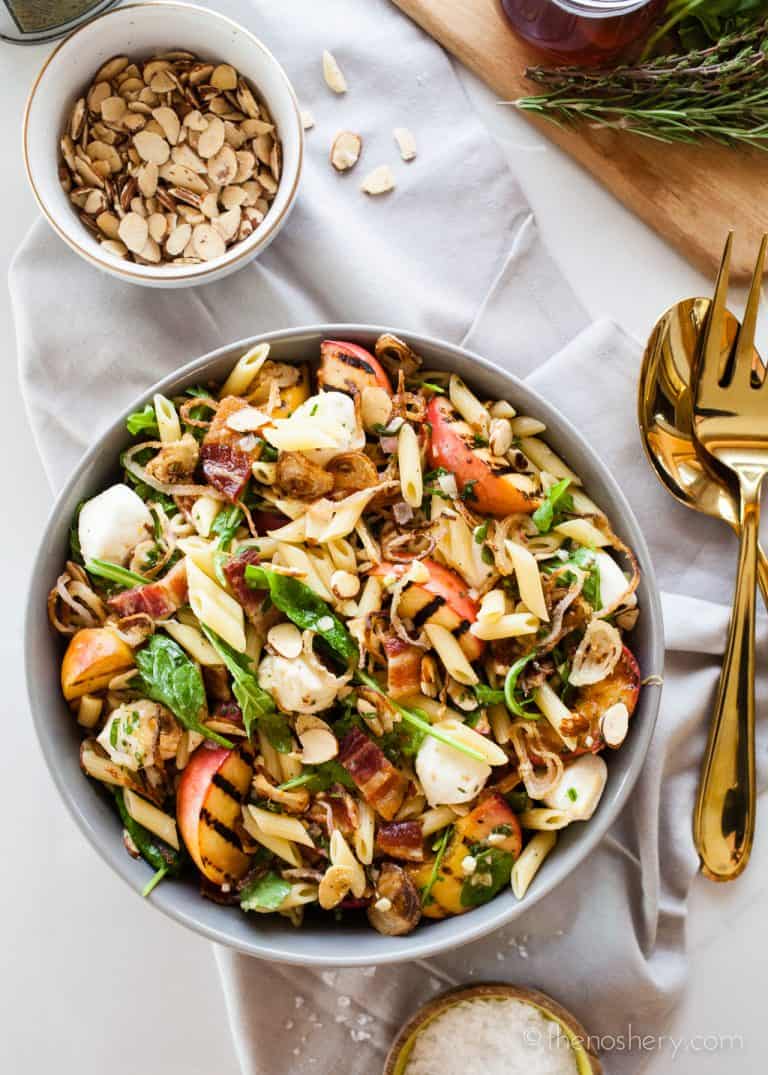 I went to the grocery store knowing I was craving a pasta salad, but I wasn't sure what kind. Following my usual M.O., I walked through Tom Thumb's aisles trying to decide what to make. The first thing I saw when I walked in was a beautiful display of ripe ready to eat peaches. I knew I had to do something with the peaches, so I grabbed a few. Then like a bolt it hit me, bacon! Have you ever had peaches and bacon? If not clearly you have come to the right place. I then made a beeline to the cooler area and grabbed a package of The Signature Farms® Thick Cut Hickory Smoked Bacon. Not only is The Signature Farms bacon a great value but it crisps beautifully and you know that means quality bacon.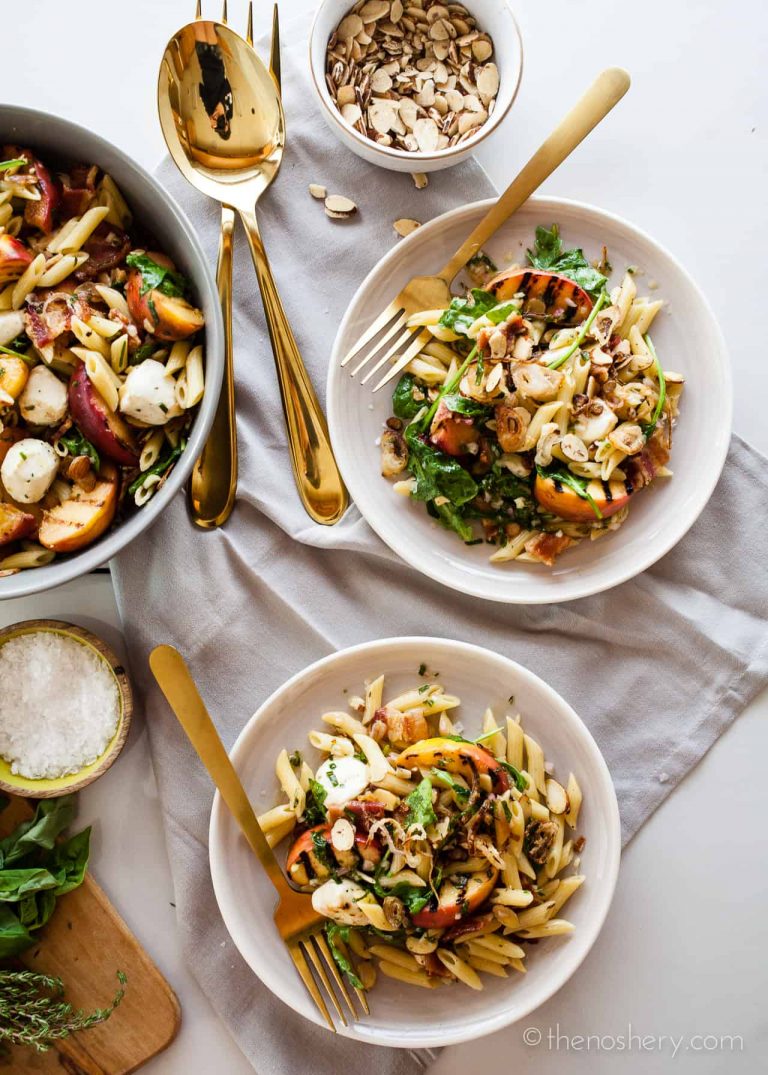 I know what you're thinking, "Fruit in pasta salad?" And my answer is a resounding, YES! Trust me this is a winning combination. Let me explain the method to my madness. If you have been hanging out here at The Noshery for any extended amount of time you know that I absolutely love sweet and savory combinations. Well, peaches pair beautifully with bacon, herbs, and nuts and that sounded like a pasta salad to me.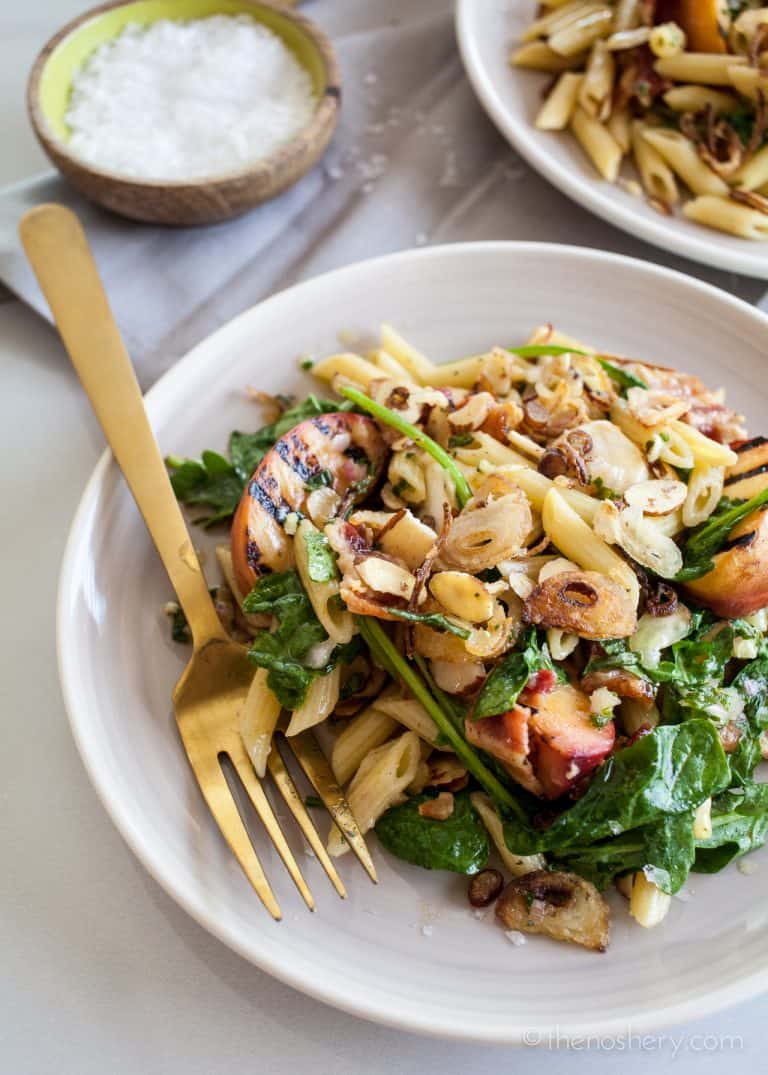 If you have even the smallest doubt about this pasta salad, I assure you it is safe to set it aside. It has everything, peaches, bacon, almonds, arugula, mozzarella, crispy shallots, and it's all tossed in a fabulous honey herb vinaigrette. The awesome thing about pasta salads is that if you want more of any one ingredient you can add more and make it your own.
more peach love
Yield: 4
Grilled Peach and Bacon Pasta Salad with Honey Herb Vinaigrette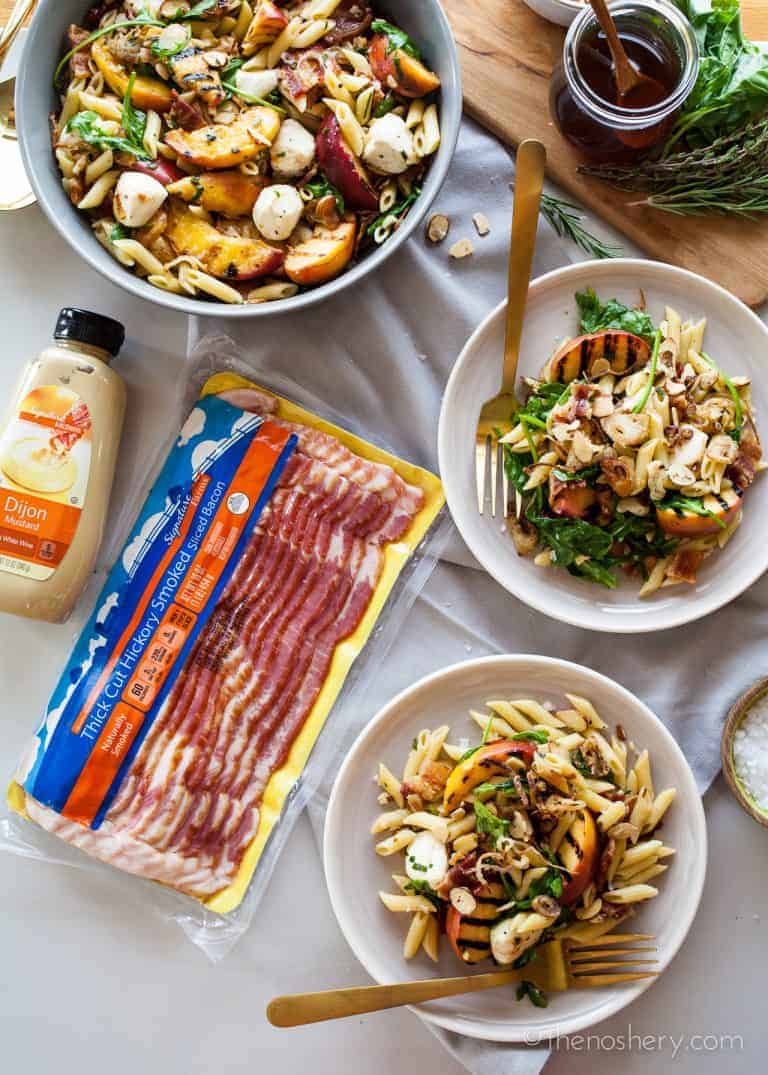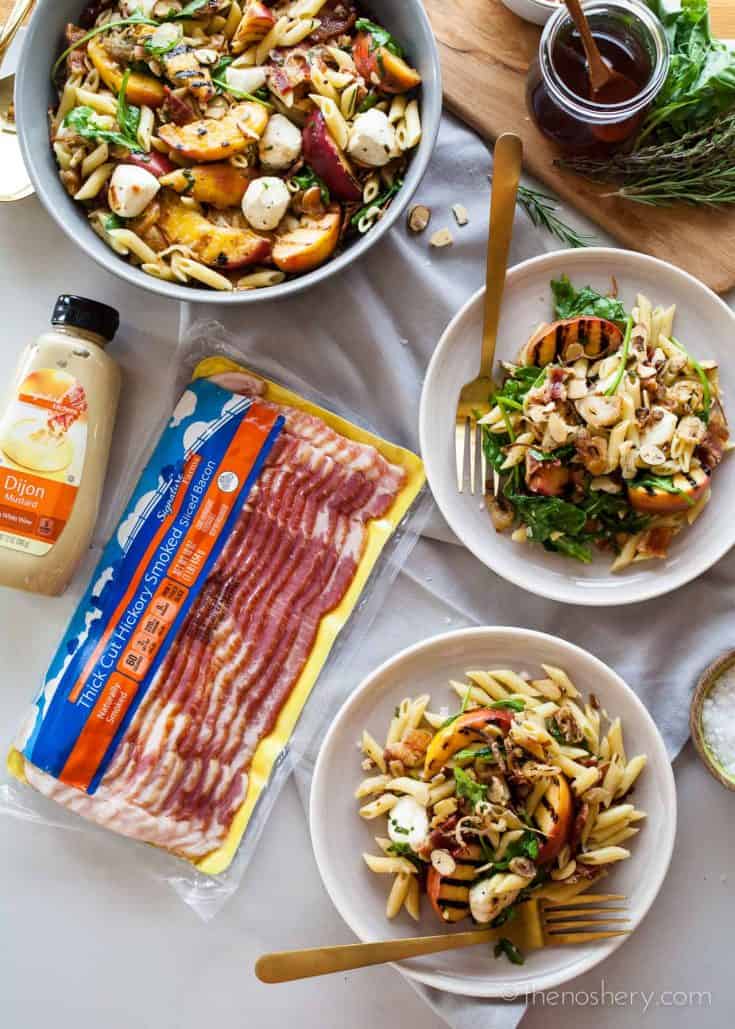 Peaches pair beautifully with bacon, herbs, & nuts and that sounded like a pasta salad to me. It has everything and it's tossed in a honey herb vinaigrette.
Ingredients
Dressing
3 tablespoons white wine vinegar
1/4 cup minced shallot
1 large clove garlic, minced
1 1/2 teaspoons Dijon mustard
2 tablespoons honey
1/3 cup olive oil
1 teaspoon minced fresh basil
1 teaspoon minced fresh chives
1/2 teaspoon minced fresh thyme leaves
Salad
3 cups cooked mini penne pasta, about ½ a box
3 firm peaches, halved pitted and sliced in eighths
6 slices thick cut hickory smoked bacon
1 cup arugula spinach mix
1 large shallot, thinly sliced
1 tablespoon flour
1 lb mozzarella bocconcini
3.5 oz honey roasted sliced almonds
Instructions
Combine the vinegar, minced shallot, garlic, mustard, and honey. Whisk to combine, and then add the oil in a thin, steady stream while whisking until the dressing is emulsified.
Stir in the herbs and season the dressing with salt and pepper to taste, set aside.
Place cooked pasta in a large bowl, drizzle lightly with olive oil and set aside.
Line a rimmed sheet pan with aluminum foil. Arrange bacon slices on the sheet pan. Place the pan in the center of a cold oven.
Set to 450 degrees and bake for 25 minutes or until crispy. Transfer the bacon to a plate lined with paper towels to drain and cool, reserve the bacon drippings.
While bacon is in the oven heat the grill or a stovetop grill skillet to medium-high. Brush the peach slices with olive oil and place directly on the grill.
Grill each side for 2 – 4 minutes or until peaches have grill marks. Transfer peaches to bowl with pasta.
Toss the shallots with flour and set aside. Transfer the bacon drippings to a non-stick skillet. Heat the drippings over medium-high heat.
Carefully sprinkle the shallots in the oil. Fry, turning occasionally until golden brown, about 4 minutes. Transfer to plate lined with paper towel.
Cut the bacon into 1/2 inch pieces. Toss bacon, peaches, shallots, arugula, mozzarella, and almonds with cooked pasta. Add dressing and toss until well combined. Garnish with torn basil and serve.
Recommended Products
As an Amazon Associate and member of other affiliate programs, I earn from qualifying purchases.