Mallorca Bread (pan de mallorca) | I can get a little fixated on an idea. I will think about it over and over again until I can't take it anymore. This week I got fixated on mallorca, a soft eggy bread from Puerto Rico.
At 5:30 am Friday morning my eyes were wide open, and my head was filled with thoughts of soft sweet eggy bread. By 6:00 am before the sun had risen, I was in the car on my way to the store for yeast and eggs.
If you've had mallorca bread (pan de mallorca) before you may understand my sudden and overwhelming obsession. This bread is sweet, soft and supple. Not to mention all the memories I have tied in with this bread.
We lived in Puerto Rico when I was in high school and on many Saturday mornings my mother would take my sister and me to La Bombonera for breakfast. La Bombonera is famous for their delicious plump, buttery rolls of mallorca bread, dusted with powdered sugar. The rolls sit in the window beckoning you to come in.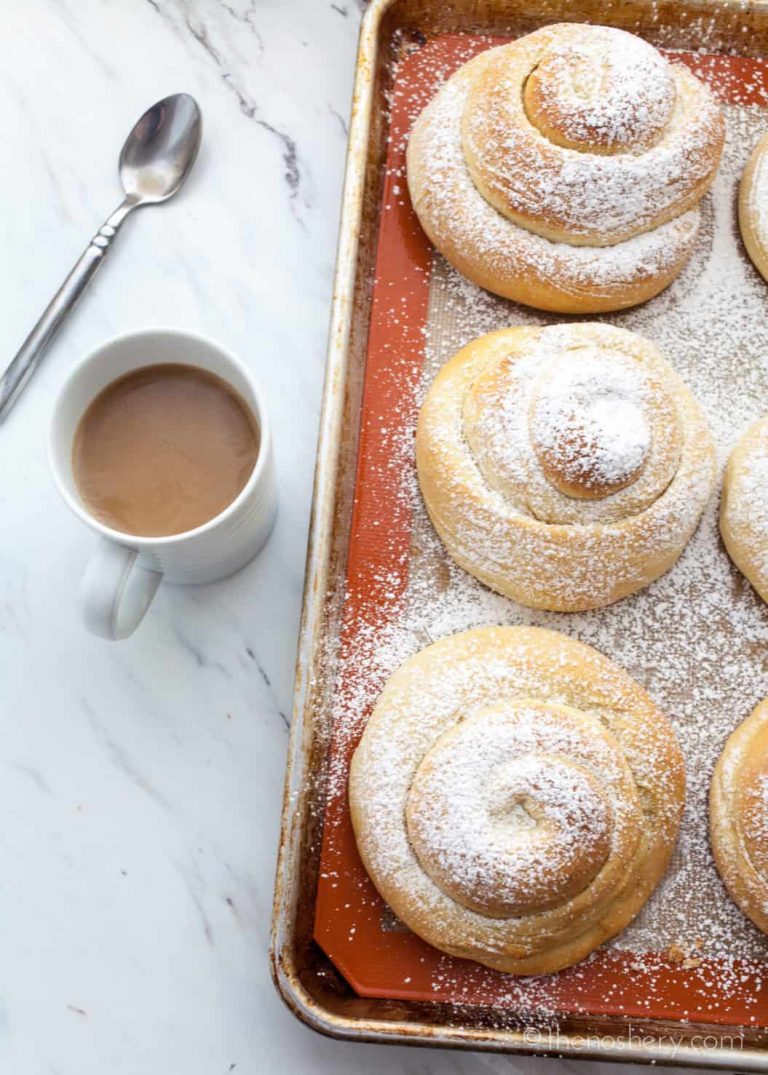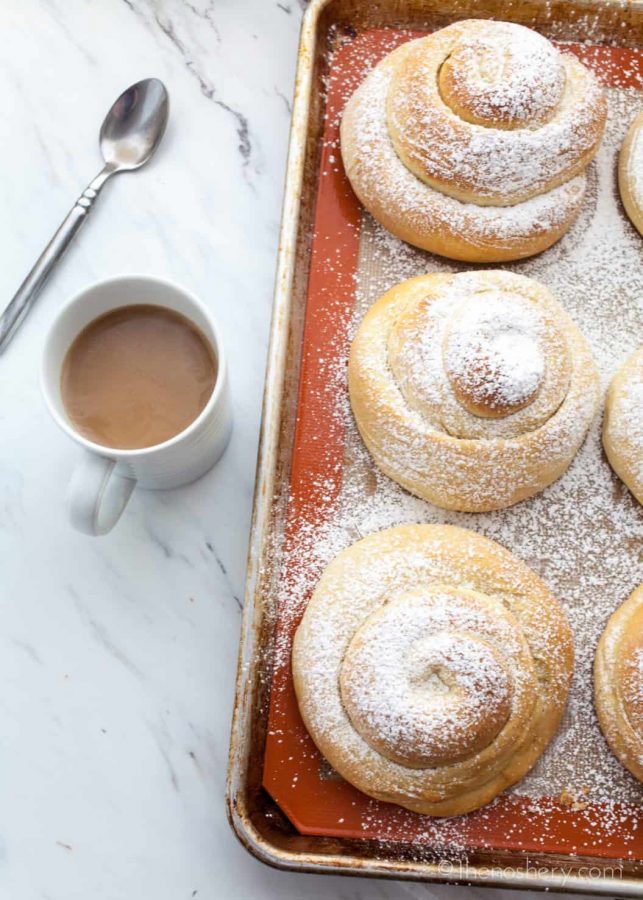 History of Mallorca Bread
Pan de Mallorca (mallorca bread) originates from Ensaïmades bread from the Spanish island of Majorca, which is why we call it mallorca bread. But like much of Puerto Rican cuisine we adopted it and made it part of our culture.
Mallorca bread can be found in most local Puerto Rican reposteria (bakery) along with many Puerto rican treats. Every time I go home I do my best to get my hands on a warm buttery mallorca. But, for the times I can't make it to PR, I can make them at home and so can you.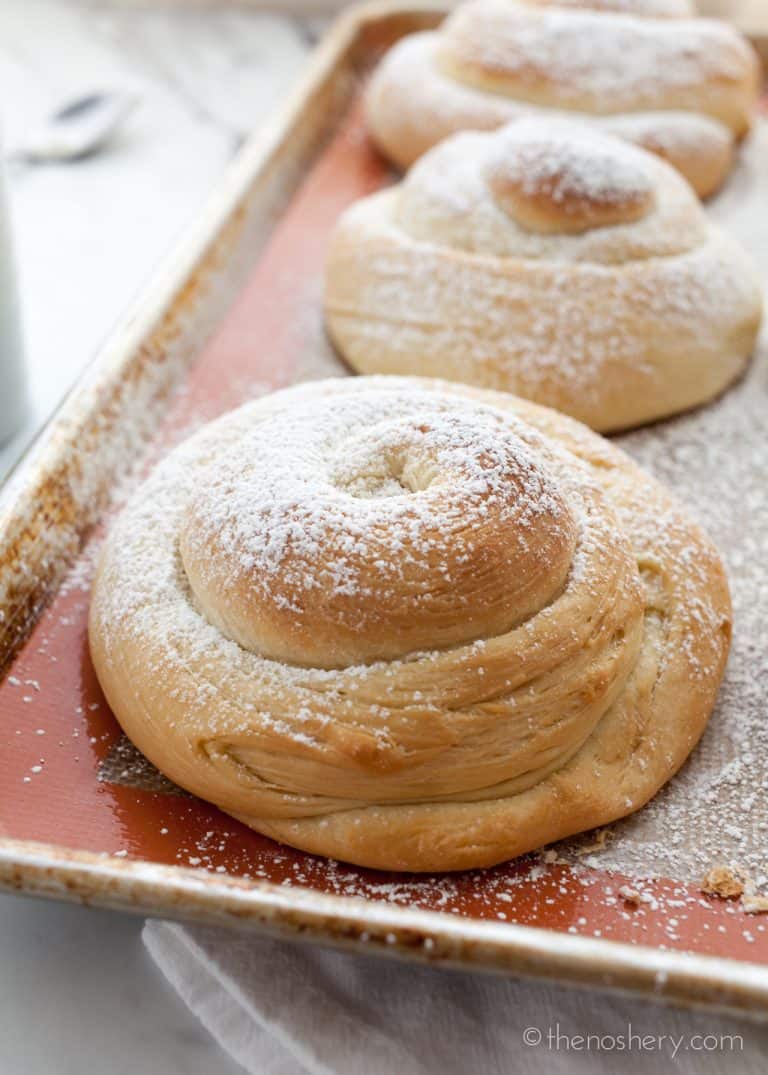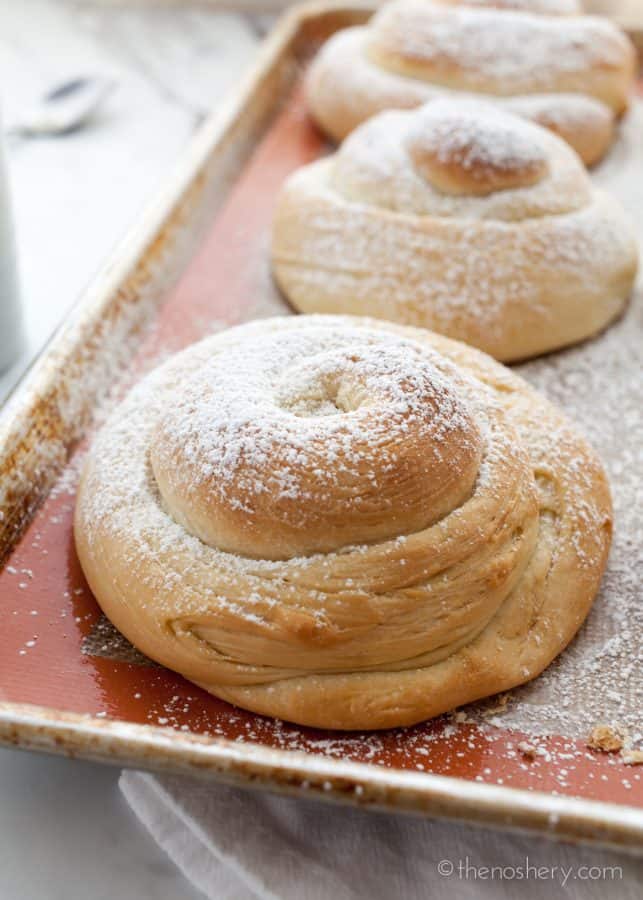 What is the Best Flour for Mallorca Bread
It is important to have unbleached bread flour. I have used bleached AP flour and unbleached AP flour, but unbleached bread flour works best and makes the softest bread. Also, make sure you give yourself time to make this bread, it is almost an all-day process. But worth every minute.
You may be wondering, Is there really a difference between AP flour and bread flour? The answer is yes! It's all about the gluten. Bread flour has more gluten than AP flour which is why it's ideal when making bread. Gluten is what gives the bread an airy light texture.
How to Make Bread Flour
If you're not a regular bread maker you probably don't always have bread flour on hand or want to buy a 5 lb bag to use once in a blue moon. This is when the magic of Amazon steps in and provides you with gluten flour or gluten additive. Keep this on hand and add a tablespoon of gluten flour to a cup of AP flour. TA-DA! You now have bread flour.
Now if don't have the time to order gluten additive to make bread flour you can use AP flour. It will not ruin your rolls. They may not rise as high or be as fluffy but they will still be delicious.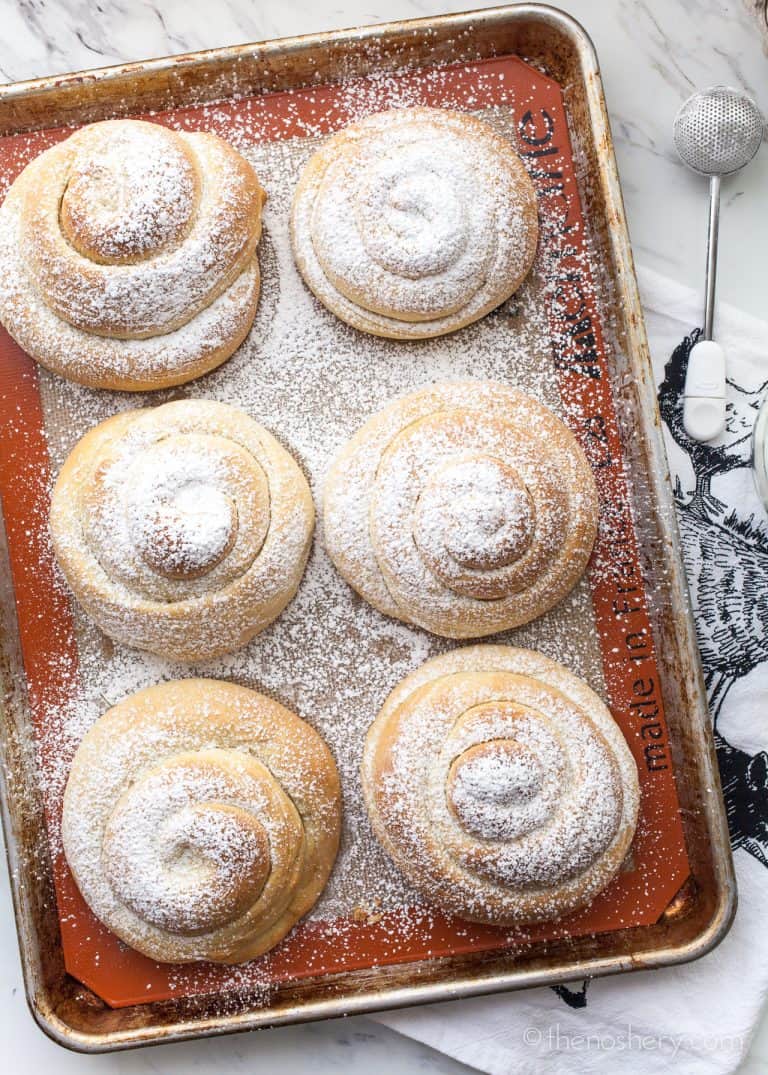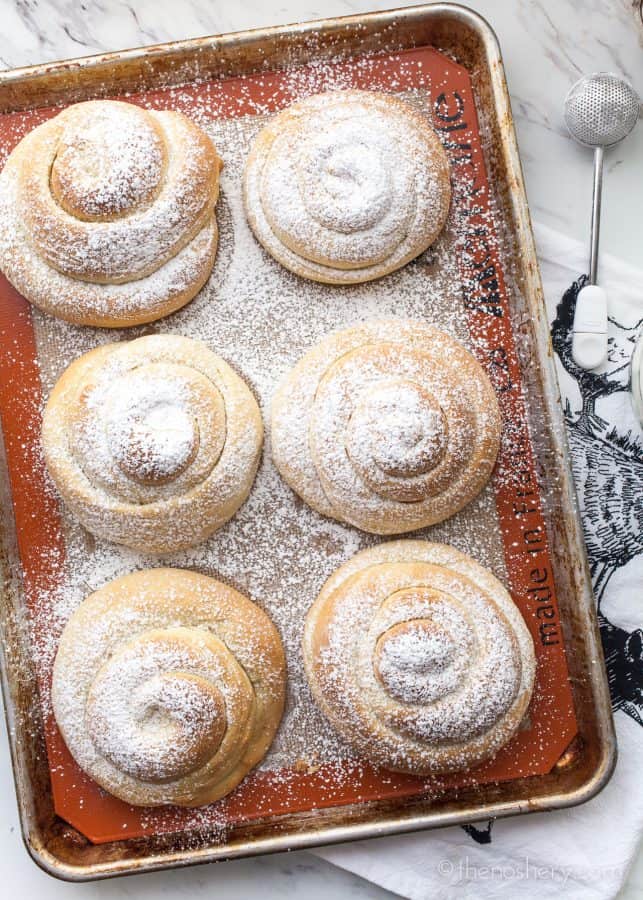 Mallorca Bread Recipe Ingredients
1 pkg dry yeast
1/2 cup milk
1 1/2 cup water
8 egg yolks
3/4 cup white sugar
3 sticks butter
6 1/2 cups bread flour
1 teaspoon salt
powder sugar
Pan de mallorca is the ultimate sweet bread recipe. It's perfect to have sliced and buttered with a cup of coffee in the morning. By the following day, the powder sugar melts into the bread, and it is perfect for making a savory grilled sandwich with ham and cheese.
I like to slice the roll and toast it in a skillet with coconut butter it cut side down. Then I make the ham and cheese sandwich and toast both sides in a skillet. It is divine! I kid you not it almost taste like french toast.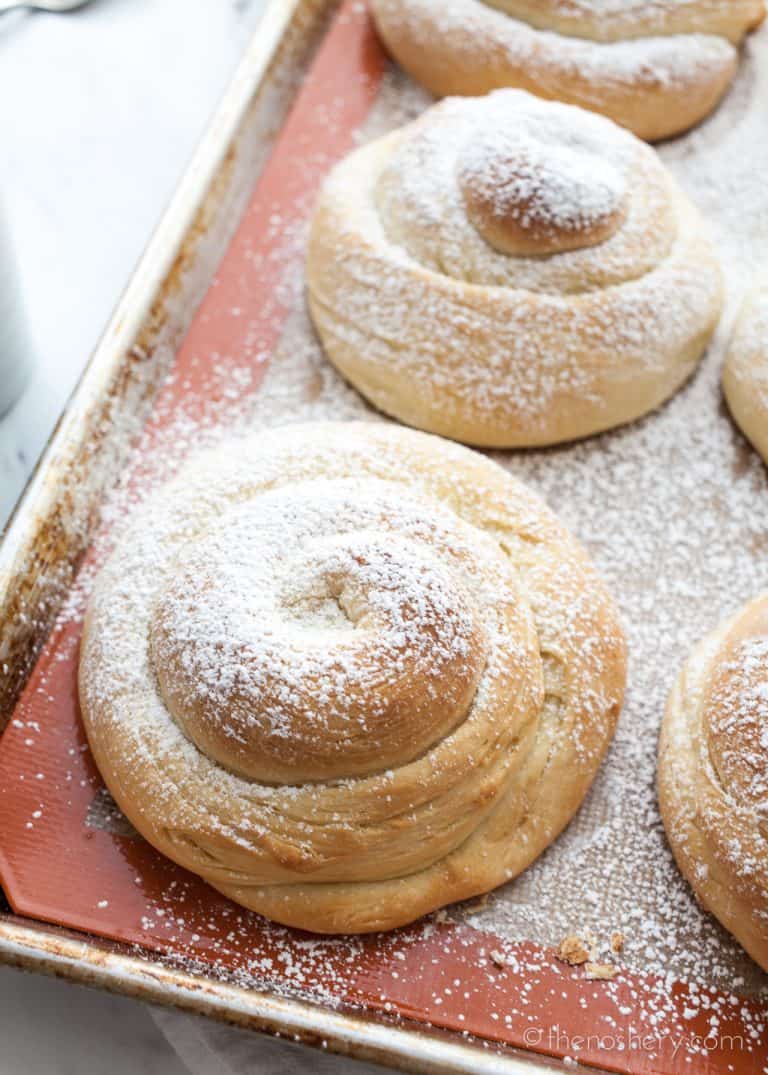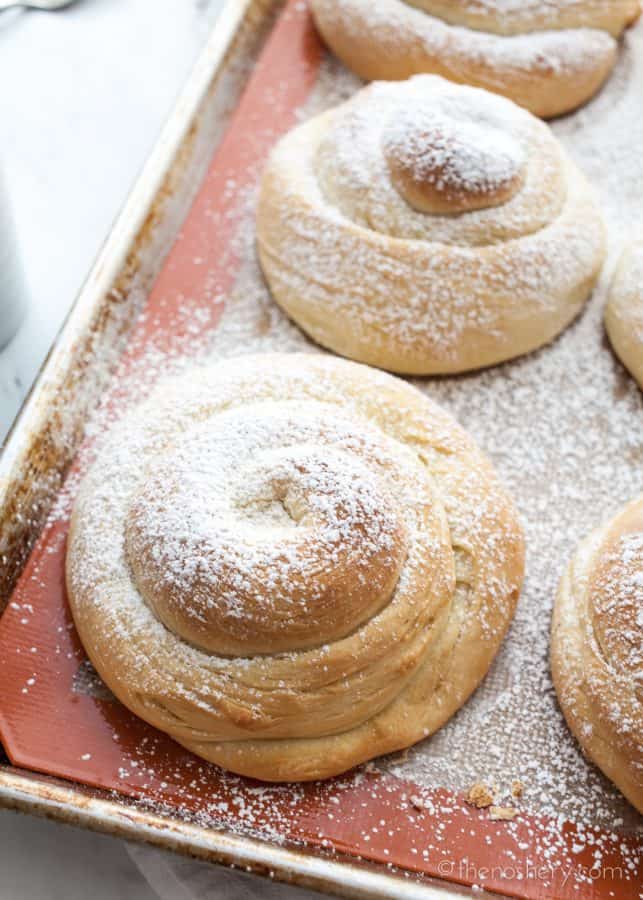 Tips for Mallorca Bread
Do not use dark pans for rolls as it will over darken the bottoms.
If your dough fights you when rolling into coils give it a few minutes to rest to keep from overworking the dough.
Use day old rolls for ham and cheese grilled sandwiches.
Although bread flour is best you can use AP flour if that is all you have on hand.
Now if you will excuse me, I have a soft roll and a cup of coffee to tend to. If you are looking for more sweet dough treats try this Spanish hot chocolate with coconut churros, pan de queso con guava (cheese and guava bread) or some classic quesitos. If you need more Puerto Rican recipes check out my entire Puerto Rican recipe collection.
more sweet bread recipe love
Yield: 12 rolls
Mallorca Bread: Soft Puerto Rican Sweet Bread Rolls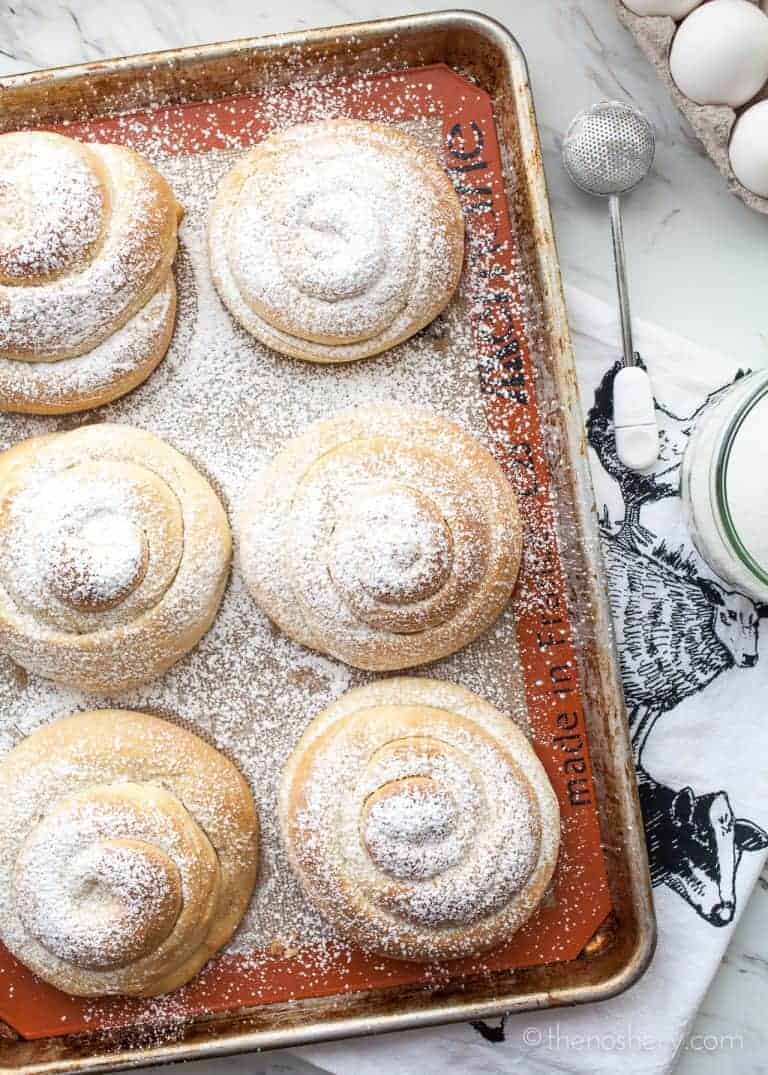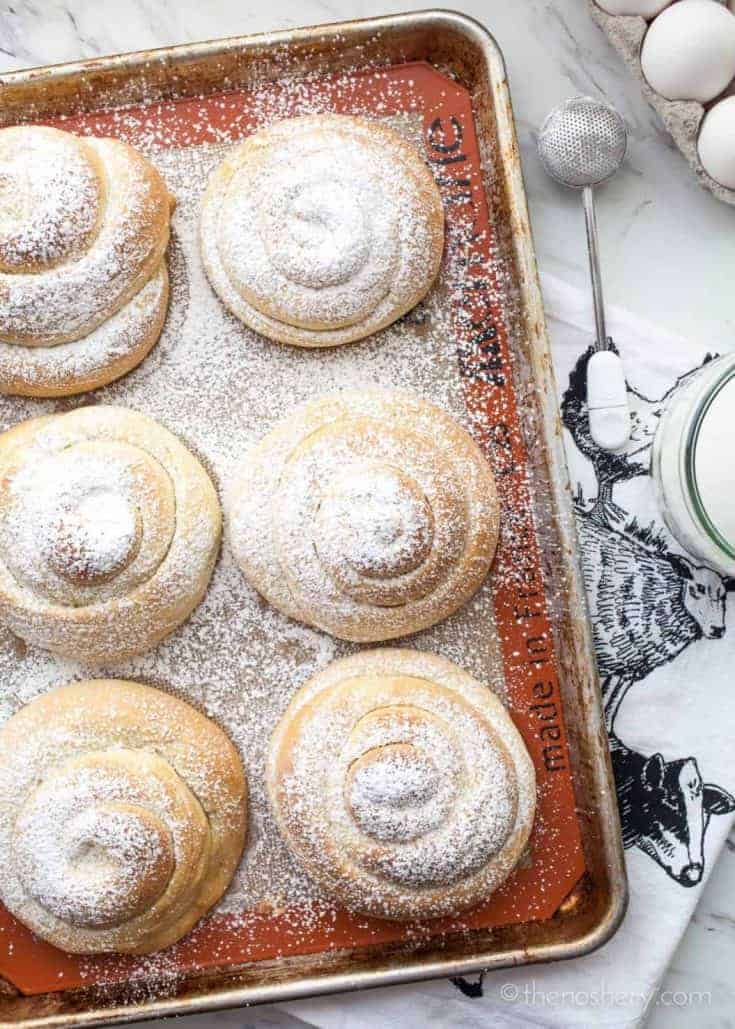 Mallorca bread is Puerto Rican sweet rolls. They are plump, fluffy, buttery rolls dusted with powdered sugar. The perfect compliment to a cup of coffee.
Ingredients
1 pkg dry yeast (1/4 oz)
1/2 cup milk, lukewarm
1 1/2 cup water, lukewarm
8 egg yolks
3/4 cup white sugar
2 sticks butter (1/2 lb.) + 1 stick for brushing, melted and cooled to lukewarm
6 1/2 cups bread flour, plus more for flouring work surface
1 teaspoon salt
powder sugar
Instructions
In the bowl of a stand mixer combine, eggs, sugar, and melted butter, whisk until well combined. In another large bowl pour in milk and water, sprinkle in yeast and let sit for a minute.
Add yeast mixture to egg mixture and whisk until well combined. In a large bowl whisk together salt and flour.
Add flour mixture to the egg mixture one cup at a time, using a dough hook attachment. Mix until dough just comes together. Turn out onto a floured work surface and knead until tacky.
Transfer to a bowl and cover with a kitchen cloth and let rise on the counter for 2 hours or until it doubles in size. The dough can also be refrigerated and rise overnight.
Line two light aluminum sheet pans with parchment paper. (Do not use dark sheet pans because they will over brown the bottom of the rolls.) Generously flour a clean work surface, turn dough out on a work surface, sprinkle with flour. Tear the dough into 12 even pieces. Roll the dough pieces into 1/2-inch ropes. Shape the ropes into coiled buns, tucking the end under the bun.
Pre-heat oven to 350 degrees.
Place 6 rolls per sheet pan, loosely cover with a kitchen towel or plastic wrap and let rise another 45 minutes. Using a pastry brush gently brush rolls with melted butter. Bake for 20-25 minutes, until they are just beginning to brown.
Allow buns to cool, sift generously with powdered sugar. Enjoy with coffee!
Notes
Do not use dark pans for rolls as it will over darken the bottoms.
If your dough fights you when rolling into coils give it a few minutes to rest before overworking the dough.
Use day old rolls for ham and cheese grilled sandwiches.
Recommended Products
As an Amazon Associate and member of other affiliate programs, I earn from qualifying purchases.
Nutrition Information:
Yield:
12
Serving Size:
1
Amount Per Serving:
Calories:

360
Total Fat:

4g
Saturated Fat:

1g
Trans Fat:

0g
Unsaturated Fat:

3g
Cholesterol:

124mg
Sodium:

190mg
Carbohydrates:

68g
Fiber:

2g
Sugar:

13g
Protein:

11g