Piragua de Crema (Cream Shaved Ice) | I am so excited about this series! Every Saturday over the next ten weeks, I will be sharing a new homemade piragua flavor.
And there are so many options. You can choose cherry or berries, maybe citrus or more tropical spin. Light or decadent. The possibilities are endless.
But my number one choice involves decadence. And that means silky, sweet cream to soak up that crunchy shaved ice.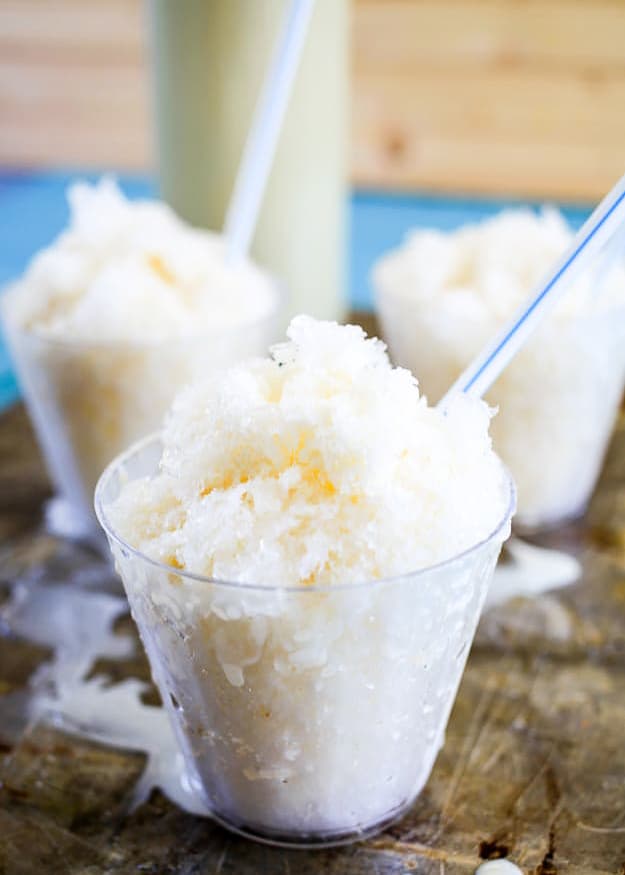 What are Piraguas in Puerto Rico?
If you're not familiar with piraguas de Puerto Rico, it's a flavored shaved ice treat sold by vendors known as piragüeros. Some will shave large blocks of ice by hand right before your eyes.
When I was a kid, my family and I would walk through Old San Juan. After polishing off some pastelillos de carne, pinchos de pollo, or arepas from a street vendor, I would always beg my mom to buy me a piragua.
The street vendors shaved ice and covered with fruit-flavored syrup. It was always a struggle of whether to get crema or parcha (passion fruit) piragua syrup. Most of the time, crema would win. I think it was because crema most resembles ice cream.
The word piragua in most Spanish-speaking countries refers to a canoe-like boat. But unlike the circular-shaped snow cones in the United States, in Puerto Rico, piraguas are often shaped like a pyramid.
I will be sharing some traditional flavors and some creative flavors. But since this is the first post of the series, I thought I would start with a traditional flavor and one of my personal favorites, piragua de crema (cream shaved ice).
Sweet, creamy, and cool, piragua de crema is a great treat on a hot summer day.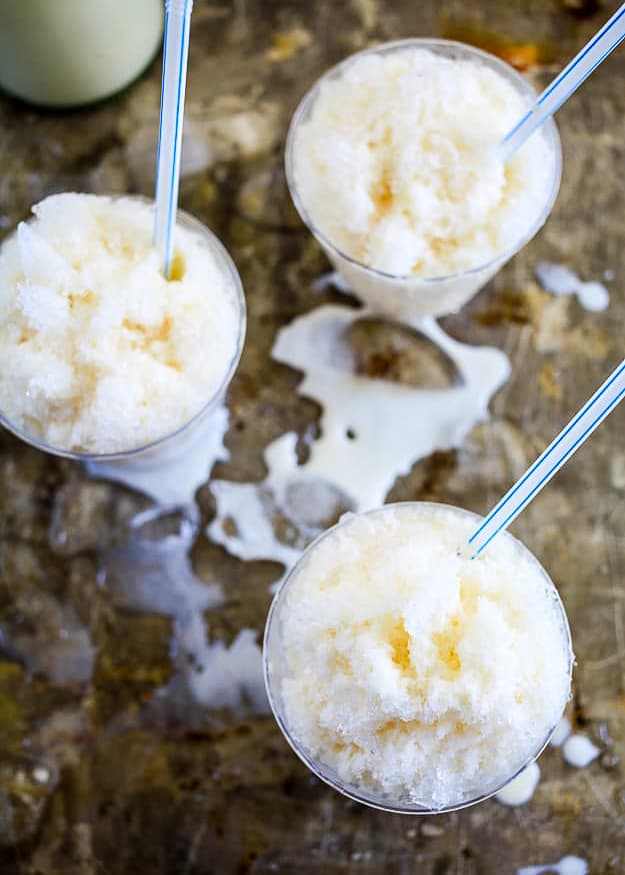 How to make piragua crema syrup
Making the syrup is as simple as a little whisking and chilling. You pour the evaporated milk, condensed milk, heavy cream, and vanilla extract into a large bowl. Then you whisk it until well-combined.
Placing it into a pitcher is ideal for pouring. Finally, it goes in the fridge for at least an hour to get nice and cold.
This mixture should be enough to pour over four generous portions of shaved ice. It's divine with a dash of cinnamon on top, too.
The last step is taking a spoon, digging in, and experiencing instant, refreshing comfort in a glass. Bottoms up!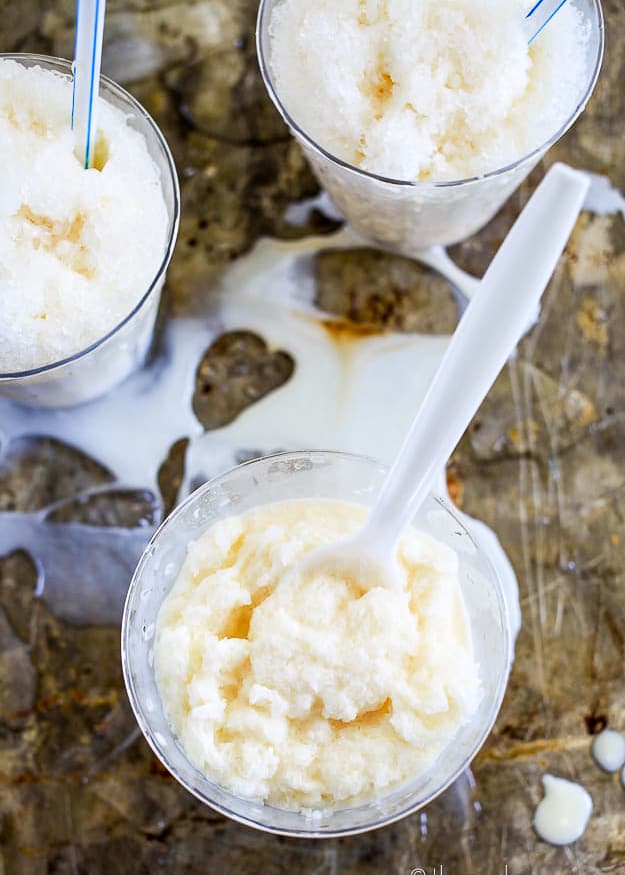 Best way to shave ice for piraguas
You don't have to get out of the house to enjoy a delicious piragua. Those get all melty by the time you get home anyway. The most important thing to note when using a machine is that it shaves ice and doesn't grind it like some American snow cone stands do. Ground ice will deliver a completely different texture.
The shaved ice needs to be made from a block or puck of ice and not ice cubes. The machine I use is a Hawaiian Shaved ice machine and it works great at home. I'm pretty sure this machine paid for itself in no time with all the trips to the shaved iced stand I've saved since I bought it.
But if you don't want to invest in a machine, then you can also purchase a block of ice from a local ice vendor and use a traditional hand shaver.
The difference it makes when you use the right shaved ice machine is phenomenal!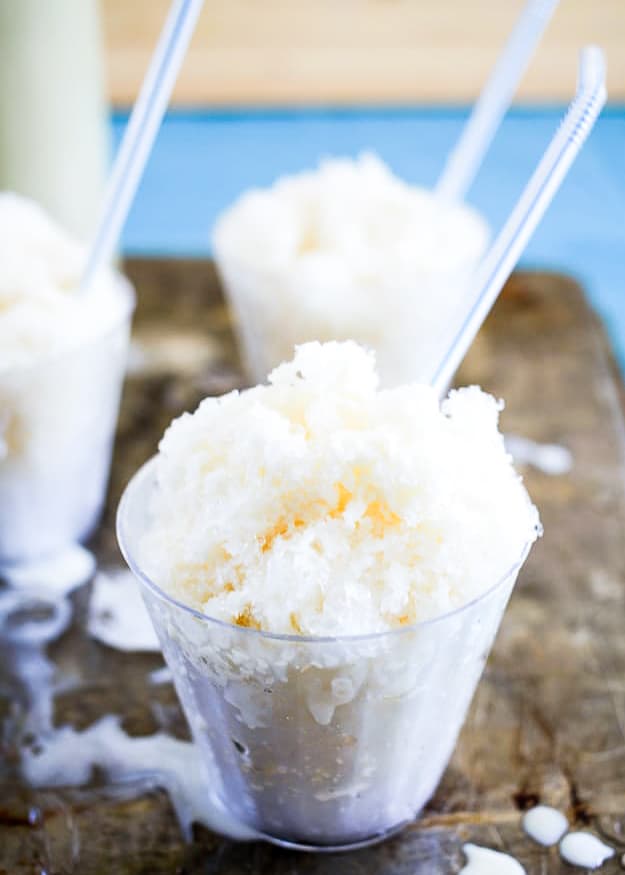 Cold treats aren't just for kids
This flavor is really simple to make which makes it a quick and easy treat to make for the kids (and yourself) on a hot summer day. The ingredients are so simple that they are probably sitting in your pantry right now.
Maybe your tastes have changed since those days of chasing down the ice cream truck. If you're looking for more grown-up flavors, I would highly recommend making these coconut limber popsicles, these jalapeño mango margarita popsicles from Broma Bakery or Boulder Locavore's Jack and Coke popsicles.
You can even create an "adult version" of this piragua de crema by adding a little bit of rum to the mixture.
Nobody here will judge you. I promise.
more tasty Puerto Rican snacks
Yield: 8
Piragua de Crema (Cream Shaved Ice)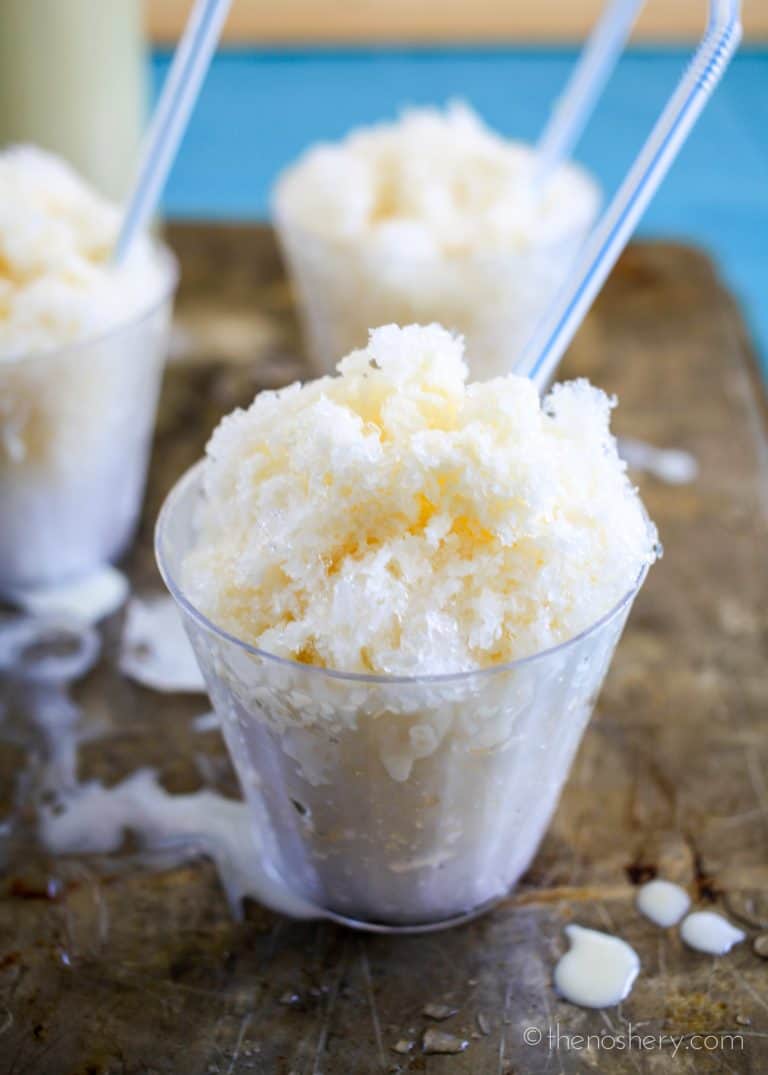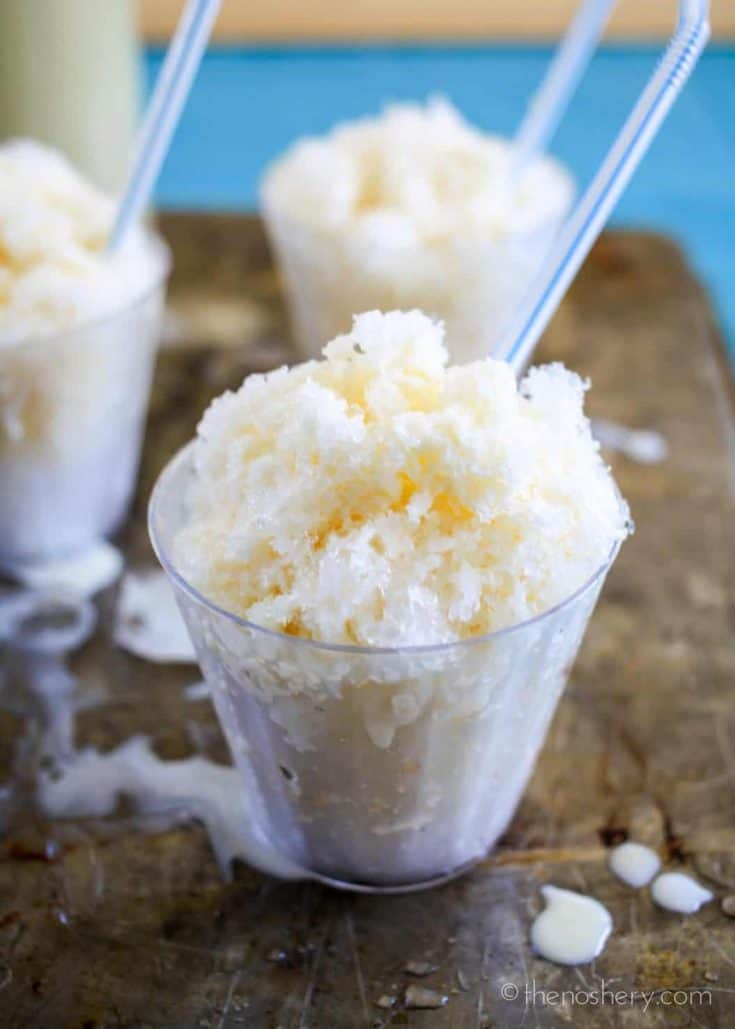 Sweet, creamy, and cool, piragua de crema is a great treat on a hot summer day. It combines shaved ice with luscious cream and vanilla.
Total Time
1 hour
5 minutes
Ingredients
1 12 oz can evaporated milk
1 14 oz can sweet condensed milk
1/2 cup heavy cream
2 teaspoons pure vanilla extract
8 cups of shaved ice
cinnamon (optional)
Instructions
In a large bowl, combine evaporated milk, condensed milk, heavy cream and vanilla extract. Whisk until well combined. Transfer to a pitcher and place in the refrigerator to chill for 1 hour.
Divide the shaved ice between 4 tall glasses and pour cream over each glass. Sprinkle with cinnamon. Enjoy!
Recommended Products
As an Amazon Associate and member of other affiliate programs, I earn from qualifying purchases.
Nutrition Information:
Yield:
8
Serving Size:
1
Amount Per Serving:
Calories:

361
Total Fat:

15g
Saturated Fat:

9g
Trans Fat:

0g
Unsaturated Fat:

5g
Cholesterol:

53mg
Sodium:

144mg
Carbohydrates:

49g
Fiber:

0g
Sugar:

47g
Protein:

9g