The search for a new house continues. We though we may have had a winner today, but two applications slipped in before us. One hour after it was listed! Crazy! I may have to start throwing some elbows soon.
Don't think I won't give someone a black eye for the right house. Well not a literal black eye, just a metaphorical black eye. Ok, fine I'm not going to give anyone a black eye, but I will think about it.
Finding a house is posing to be challenging, but at least I can get pumpkin spice whenever I want. And I need pumpkin spice because it gives me that hug on the inside I need as the clock ticks down to our move date. Especially since we don't know exactly where we are moving.
We all know pumpkin spice has a plan to take over the world, but I am ok with that because dog-gone-it, it makes me happy. It's in every nook and cranny of everyday life right now. Yesterday I drank a pumpkin spice soda for goodness sakes, which was awesome! I also had a white chocolate pumpkin spice pretzel, and a coffee, and a cookie, and a muffin…….and I made those pumpkin fritters. Wow, pumpkin spice really is taking over the world.
But, just in case it doesn't succeed and was suddenly vanquished from the Earth, I made my own pumpkin spice. Besides, homemade pumpkin spice always seems to pack more of a punch. This pumpkin spice has a punch-you-in-the-face kind of punch.
Why am I all "punching" people in the face and "giving" people black eyes? When did I become so violent?
Anyway, I love this pumpkin spice and I hope you will too. I added a sprinkle to my coffee this morning and sighed with joy.
I believe toasting the whole spice makes all the difference, elevating the potency, and the smell that fills the air when toasting the spices is heavenly. It tickles your nose and gives you a warm feeling in your belly.
This pumpkin spice can be used in any of your favorite Fall recipes. Cookies, breads, muffins, pies….whatever. It will even be there for you when you need a hug. Pumpkin spice comes in peace.
Yield: 1/2 cup
Pumpkin Spice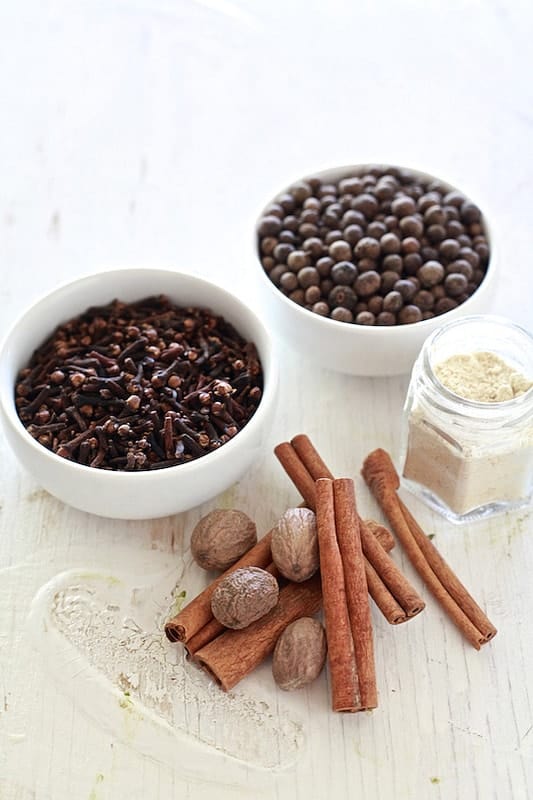 Ingredients
10 cinnamon sticks
1 tablespoon whole allspice
1 tablespoon whole cloves
3 whole nutmeg
2 teaspoons ground ginger
Instructions
Combine all whole spices in a food processor. Pulse a few time to roughly chop the whole spices.
Transfer chopped spices to a skillet. Heat spices in a skillet over medium-high heat until toasted and fragrant, about 5 minutes.
Transfer toasted spices and ground ginger to a spice grinder. Grind to a fine ground. Sift ground spices through a fine mess strainer to catch any remaining large pieces.
Store pumpkin spice in air tight container.