BBQ Sous Vide Pork Belly | Today I'm taking one of the best flavor combinations to the next level and using one of my all-time favorite cooking techniques. So basically it's my best day ever in the kitchen. And the idea for this BBQ pork belly all started with my BBQ Rubbed Pork Chops with Peaches.
It's a dish we crave often and therefore make all the time. But sometimes I like to dust off my chef hat and put something a little more elegant on the table than our usual dinners.
So, the other day when I got the urge to pull out the sous vide, this recipe was born. It's pork belly that's been rubbed in a homemade BBQ seasoning, slow cooked with a sous vide, and then sliced and seared before serving.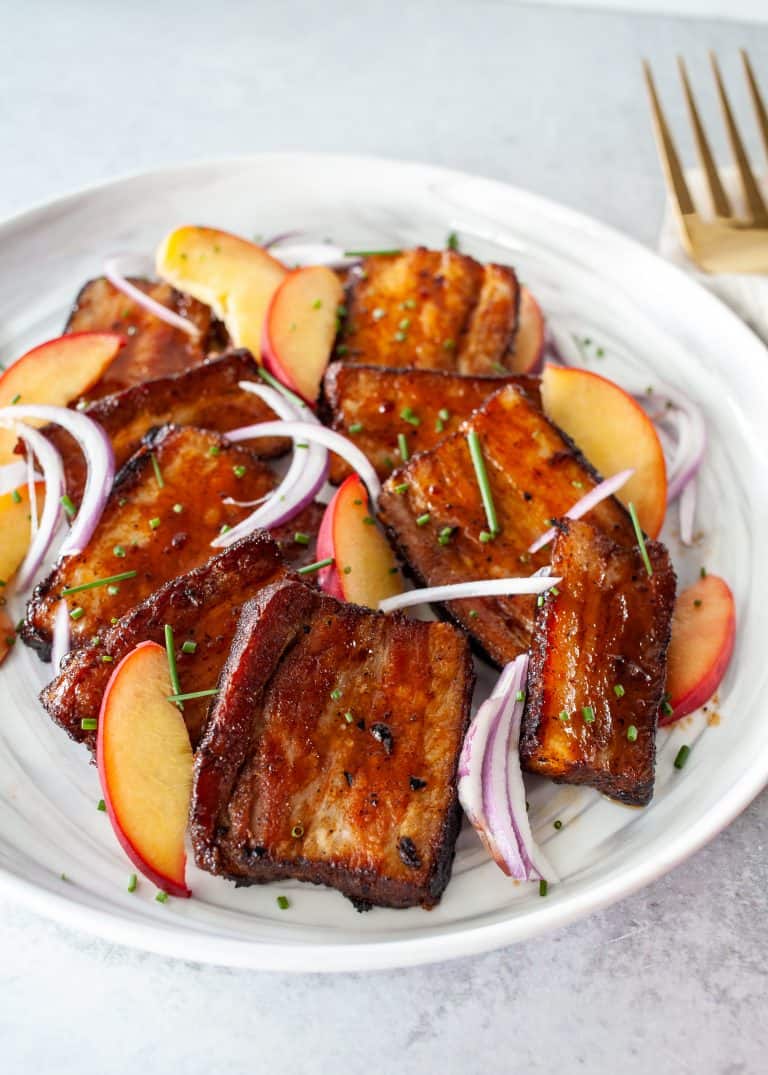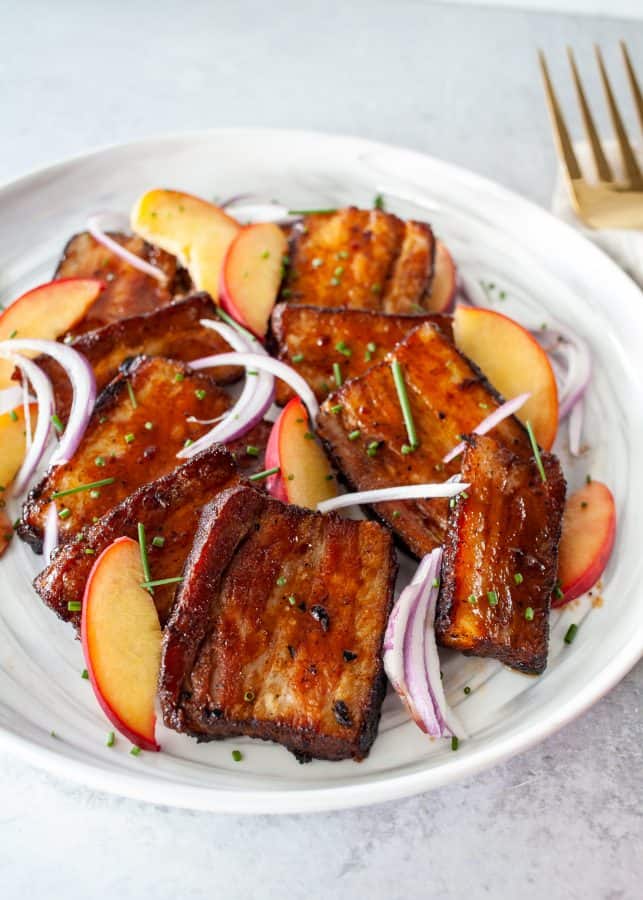 The drippings in the sous vide bag are then used to make the most delicious glaze for the pork belly. I topped it all off with some leftover pickled peaches from one of my favorite appetizer recipes. And let me tell you, once you have pickled peaches with pork, you'll never go back.
The result was a Southern-inspired, more "chefy" version of a BBQ pork recipe I make time and again. And best of all, with sous vide, it can be made ahead!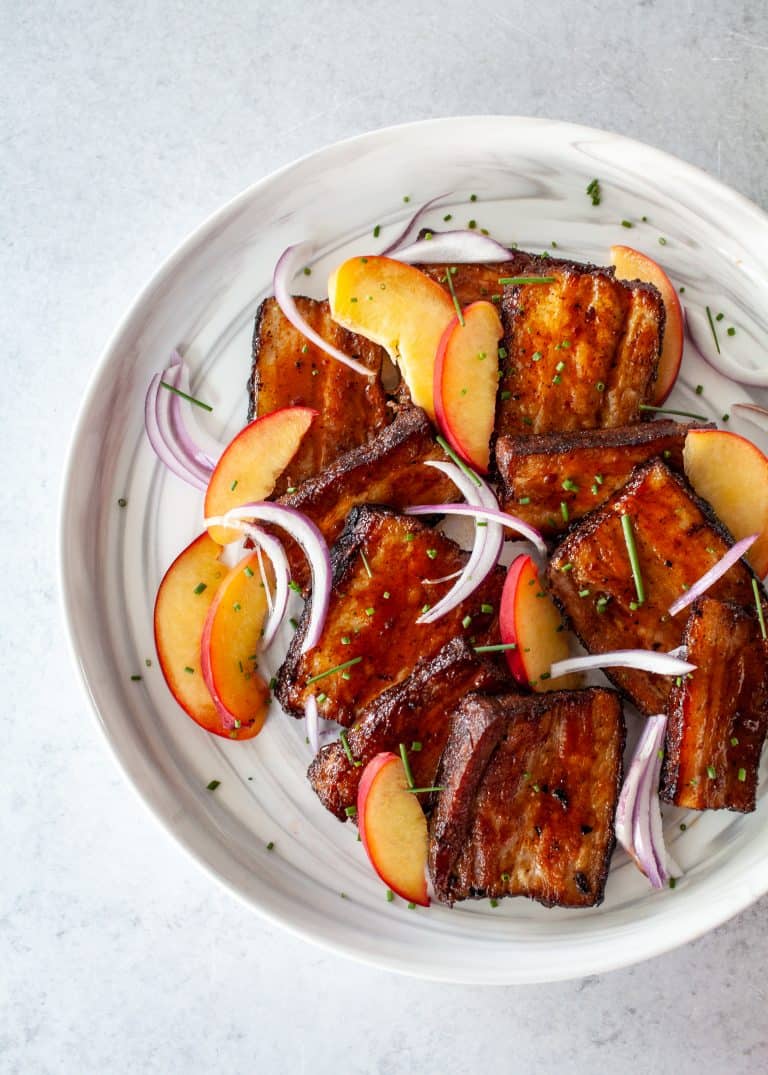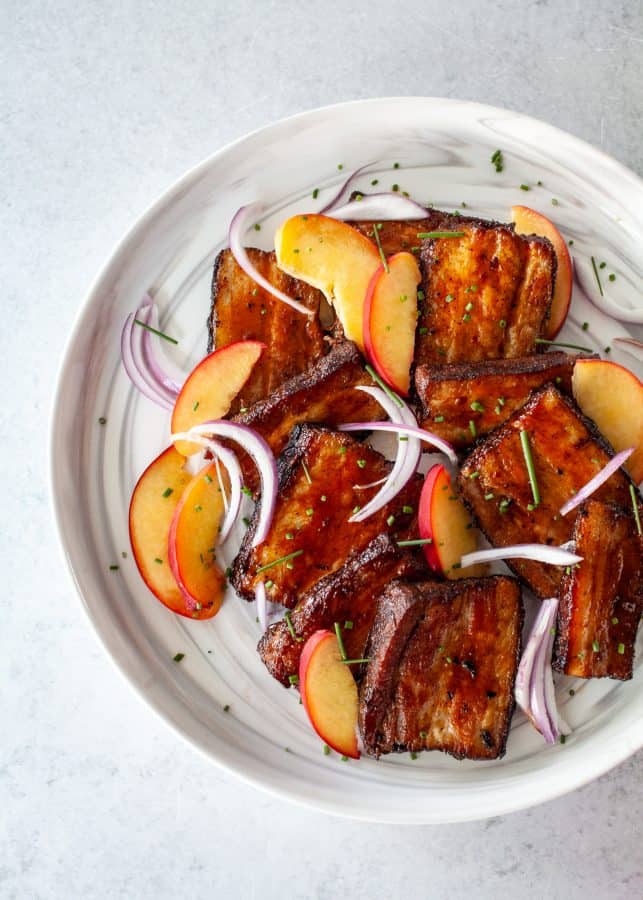 What is sous vide?
Sous vide sounds fancy, mainly because it's a French term, but don't be intimidated. It's basically a slow cooker in water. Sous vide, also known as low-temperature long time cooking, is a cooking method where food is placed in a plastic pouch or glass jar and cooked in a water bath at a low temperature for a long period of time.
The temperature is precisely regulated and maintained by a thermal immersion circulator. Can you blame me for geeking out over technology that takes the guess work out of perfect cook time and temperature?
Why sous vide?
We've done so many versions of pork, from fried chuleta frita and chuletas a la jardinera, to apple cider pork and spicy malta pulled pork, to slow cooked and roasted Puerto Rican pernil. We've even done pork belly buns and ramen. So why make pork belly sous vide style?
My favorite thing about sous vide cooking is that, like a slow cooker, it will cook all day, but it's better than a slow cooker because it can maintain a toothsome texture of food. There is no risk of ending up with a mushy meal.
Once the timer goes off, it can hold in the water bath for up to two hours. Great, for example, for a steak dinner with friends. Each steak will be cooked to the perfect temperature and all you need to do is a quick sear or turn on the grill before serving.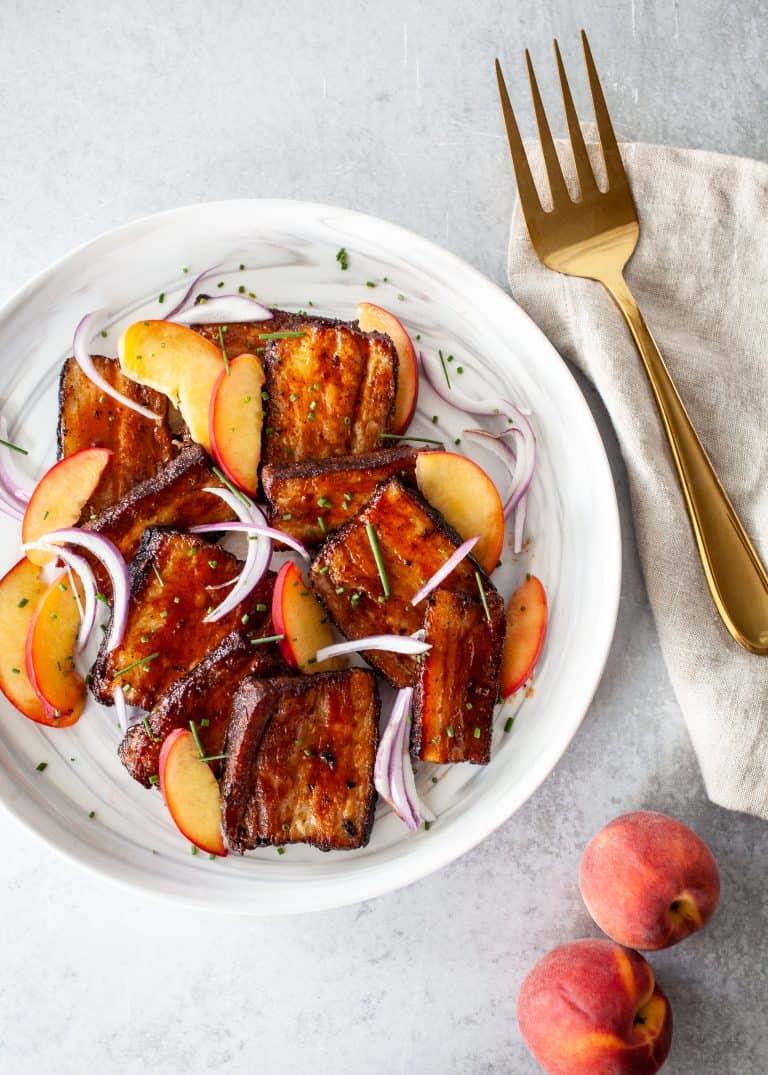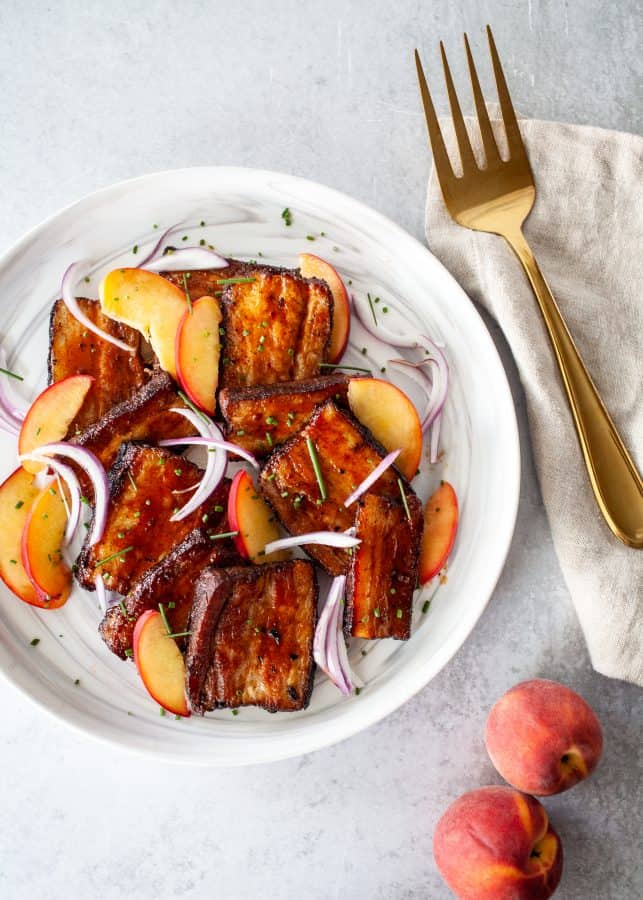 BBQ Sous Vide Pork Belly Ingredients
For the BBQ Rub:
pork belly
Hungarian paprika
garlic powder
brown sugar
kosher salt
onion powder
cayenne pepper
For the glaze:
brown sugar
harissa spice seasoning
apple cider vinegar
salt to taste
How to sous vide pork belly
If you don't have leftover pickled peaches like I did, prepare those first. In a medium saucepan, bring vinegars, salt, and honey to a boil, stirring until the mixture is clear. Then add some cold water to the mixture.
Place your sliced peaches (Note: firm peaches stand up best to the pickling process) and herbs in a container or large jar and cover completely with the cooking liquid. Let those sit for at least 30 minutes while you prepare the rest of the dish.
Next, get the pork belly ready. Coat it with BBQ rub and seal in a bag. Heat up the water with the sous vide until it reaches 165 degrees. Then add the vacuum-sealed bag containing the pork belly to the water, weighing it down with a plate to keep it submerged if it tries to float to the surface.
Cook the dish for 8 hours. At this point, you can remove it from the bag to serve right away or put it in the refrigerator for later.
Just before you're ready to serve the pork belly, make the glaze by adding the pork drippings to a nonstick skillet along with the brown sugar, harissa seasoning, apple cider vinegar, and a little salt to taste.
On the grill or in a cast-iron pan, sear the cooked pork belly on either side so it develops a nice golden-brown crust, brushing it with the glaze as it cooks. Then it's ready to serve alongside some biscuits and topped with the pickled peaches and some arugula or microgreens.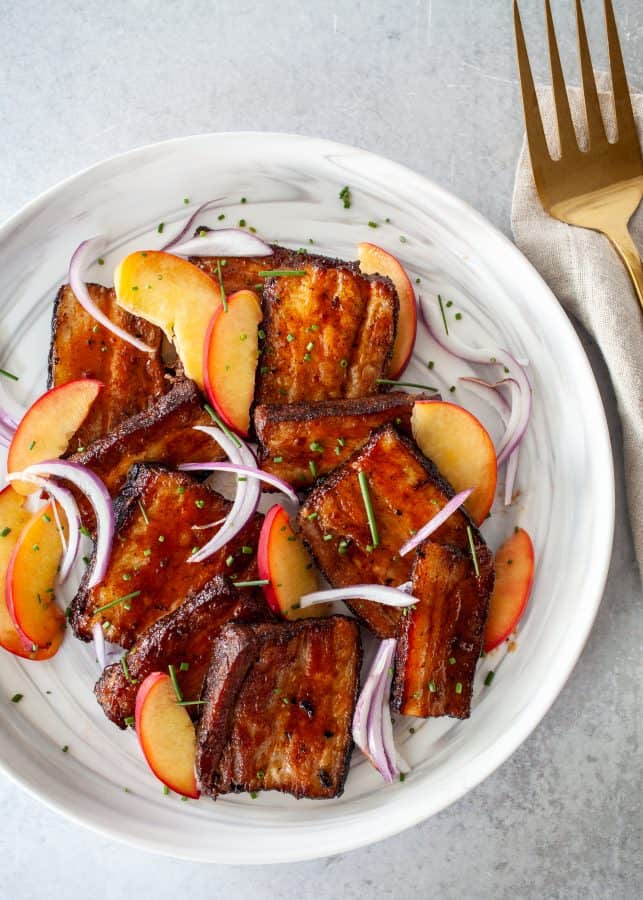 Can I freeze sous vide pork belly?
Yes, the pork belly can be kept in the refrigerator for up to a week or frozen in the pouch. To prepare, defrost the pork, bring it up to room temperature, and continue the recipe as written.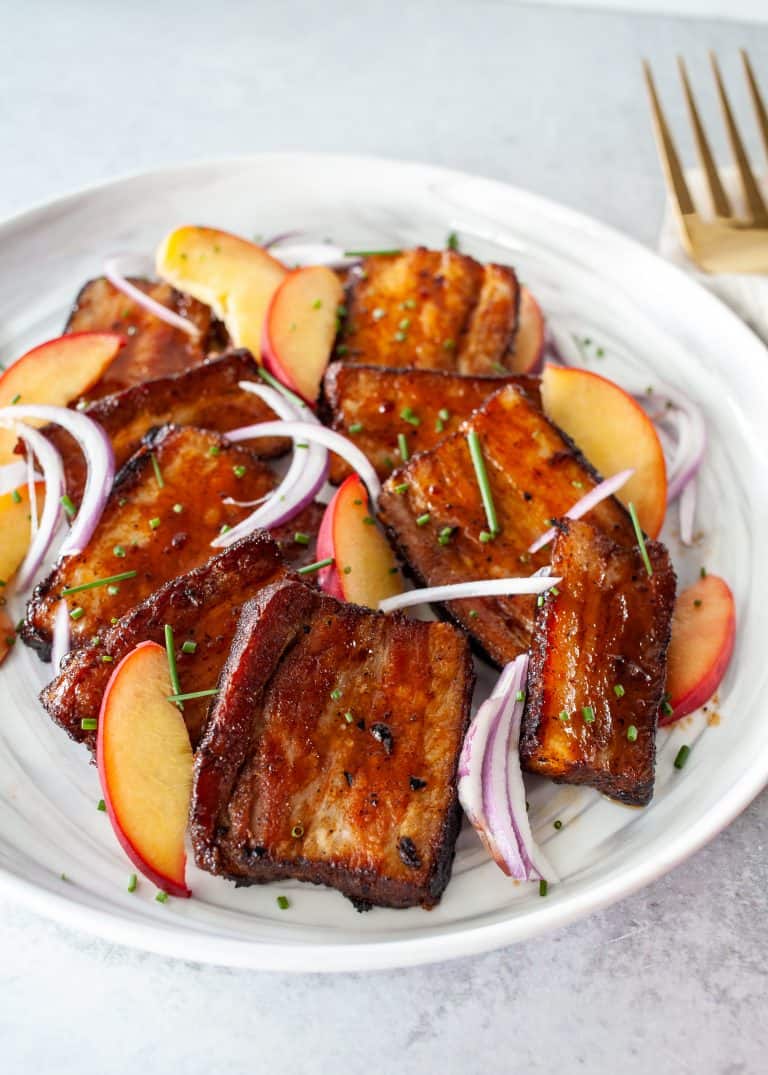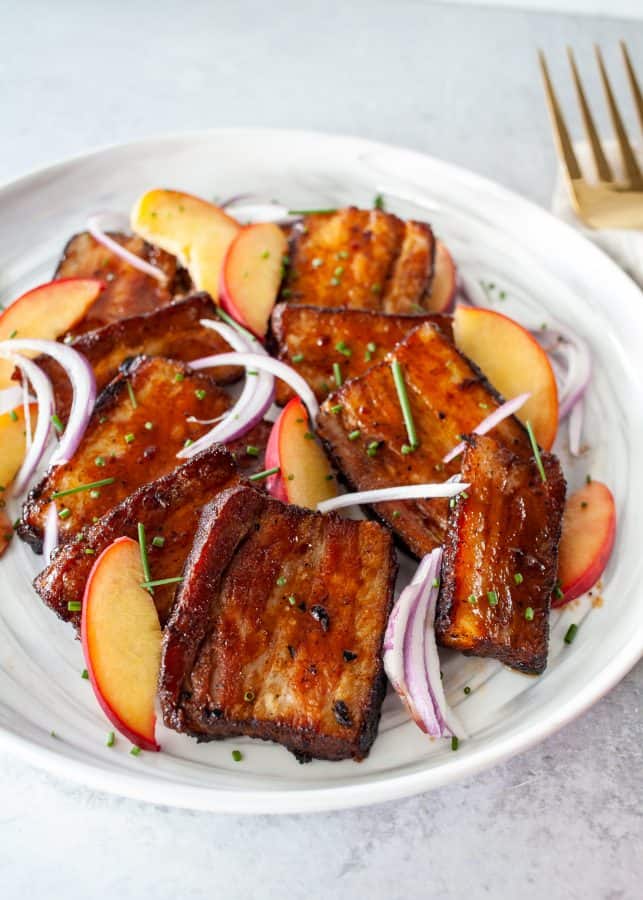 More BBQ love
Sometimes we all need a little fancy in our lives, and mouth-watering sous vide pork belly does it for me. But you don't have to own a sous vide machine to enjoy perfect BBQ.
If you're looking for more inspiration, try these BBQ Buffalo Wings, my Guava BBQ Chicken Thighs, Bourbon BBQ Pulled Pork Totchos, and Blueberry Balsamic BBQ Chicken Pizza.
If you don't want to stand outside over the grill or the weather isn't cooperating, I highly recommend these Spicy BBQ Ribs smoked in the oven or Simply Recipes' Bacon BBQ Meatloaf made in the Instant Pot. Get in my belly!
I don't know if you're like me, but BBQ isn't just a season around here. It's a year-round thing. It's an entire lifestyle we have going on here. And I will enjoy every smoky, sticky, finger-lickin' bite.
BBQ Sous Vide Pork Belly with Pickled Peaches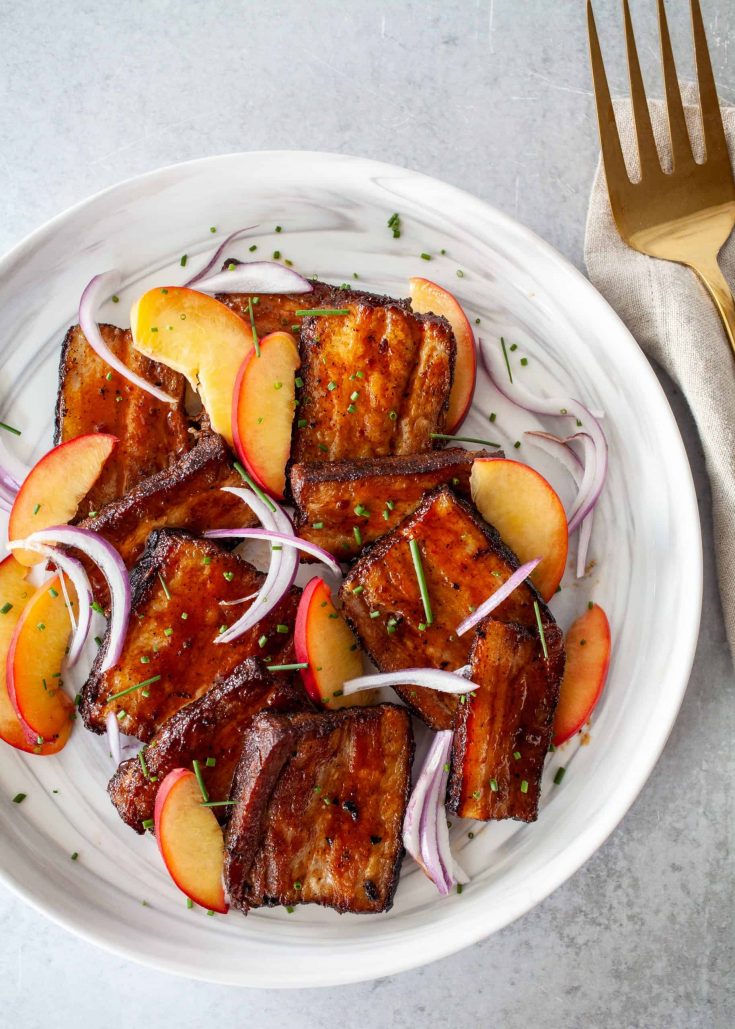 Ingredients
BBQ Pork Belly
2 lbs pork belly
1 tablespoon Hungarian paprika
1 1/2 teaspoons garlic powder
2 tablespoons packed brown sugar
1 1/2 kosher salt
1 teaspoon onion powder
1 teaspoon cayenne pepper
Glaze
1 tablespoon brown sugar
1 - 2 teaspoons harissa
2 teaspoons apple cider vinegar
Salt to taste
Instructions
Prepare pickled peaches and set aside.
In a small bowl combine paprika, garlic powder, brown sugar, salt, onion powder, cayenne pepper, and mix until well combined.
Rub the bbq rub on all sides of the pork belly.
Place the pork belly in a vacuum seal bag and using a food vacuum sealer according to manufacturer instructions to vacuum seal.
Using a sous vide machine heat a pot of water to 165° F.
Once the water reaches 165° F place the pork belly into the pot, weighing down with a plate if needed.
Cover with plastic wrap and cook for 8 hours.
Remove from the bag right away, reserving the liquids in the bag or refrigerate in the bag until ready to use.
To make the glaze, pour the drippings in the bag into a medium non-stick skillet and heat over medium-high heat.
Add brown sugar, harissa, and apple cider vinegar to the pork belly drippings.
Whisk together until well combined and brown sugar has melted. Lower to medium heat and let simmer until it become a sticky glaze, about 3 minutes. Set aside.
Slice the pork belly into 1/2 inch slices and sear in a hot skillet until crispy, brush with glaze, and serve with pickled peaches and red onion.
Recommended Products
As an Amazon Associate and member of other affiliate programs, I earn from qualifying purchases.
Nutrition Information:
Yield:
8
Serving Size:
1
Amount Per Serving:
Calories:

357
Total Fat:

25g
Saturated Fat:

9g
Trans Fat:

0g
Unsaturated Fat:

15g
Cholesterol:

95mg
Sodium:

310mg
Carbohydrates:

6g
Fiber:

1g
Sugar:

4g
Protein:

26g