This is a sponsored conversation written by me on behalf of KC Masterpiece. The opinions and text are all mine.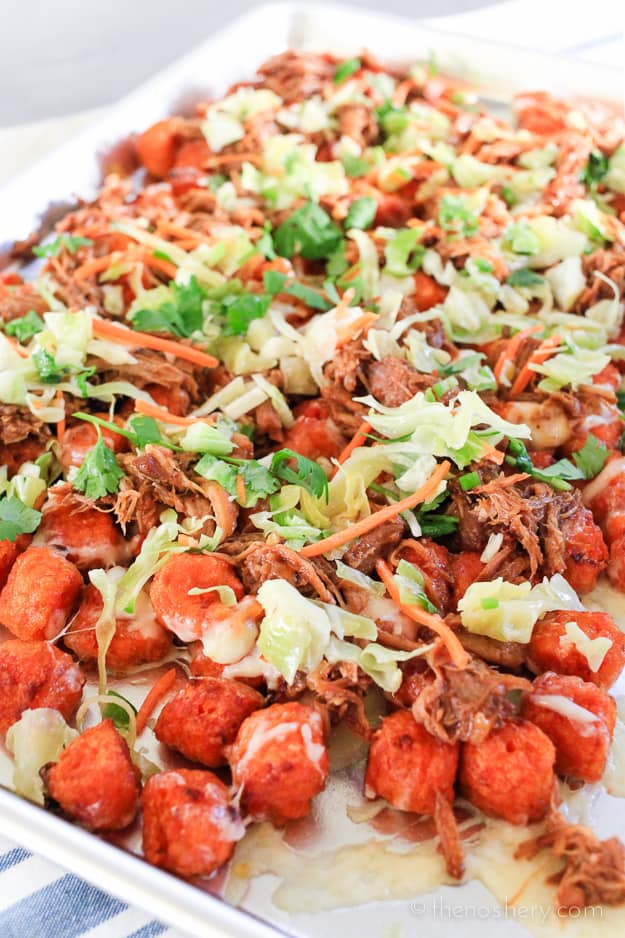 Fall is here! It's finally starting to get cool here in Texas. In fact this weekend I finally switched out my summer clothes for warm cozy sweaters and my sandals for fun boots. As much as I love fall with it's cozy sweaters and evenings around a fire pit, fall also means the busiest time of year is coming. The kids have been in school for awhile now and right when you get into a smooth routine the holidays come along. With all the busyness of life there is one thing that always has to be done, you have to feed your family.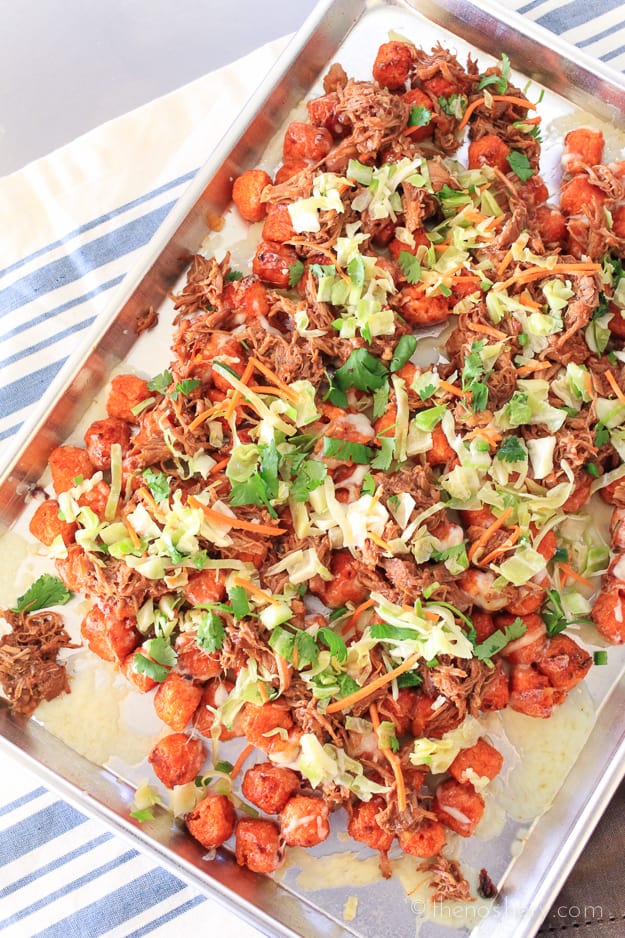 One of the best tools ever invented to make an easy fun meal is the slow cooker. I will be honest it took me some time to warm up to my slow cooker. (I know there is a pun in there somewhere.) For a long time I thought it was just a glorified pot roast cooker but soon enough I learned about all the amazing foods that could come from a slow cooker.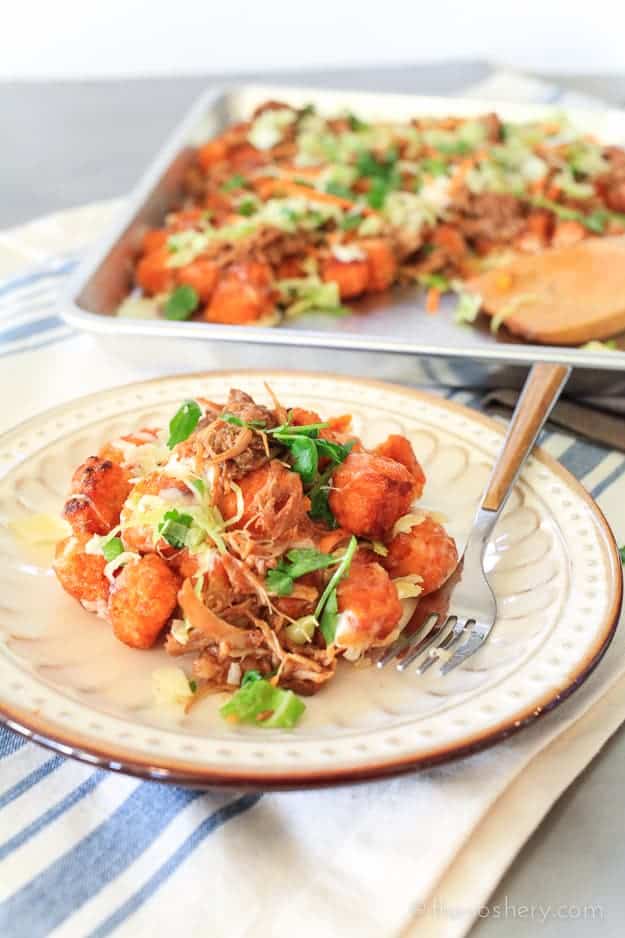 Picture this! You have a busy day ahead. Maybe you have a few meetings at work and your kids have after school activities. Let's get ahead of the game and pull out the trusty slow cooker before you head out to start your day. Toss a boneless pork butt, KC Masterpiece Original Barbecue Sauce and a few other ingredients and dinner is on its way. While you are busy at work and running the kiddos around, the slow cooker will be hard at work making dinner.

When you get home all you have to do is toss coleslaw, toast up tater tots, add cheese, tender saucy pulled pork, and TADA! TOTCHOS! If it's not clear yet, totchos are tater tots dressed up as nachos. Tot + nacho = totchos! The kids will love this because, hello, tater tots that are like nachos! What kid wouldn't love that? And sweet potato tater tots to boot. Your kids will call you a hero and you'll just be happy that everyone is fed and content.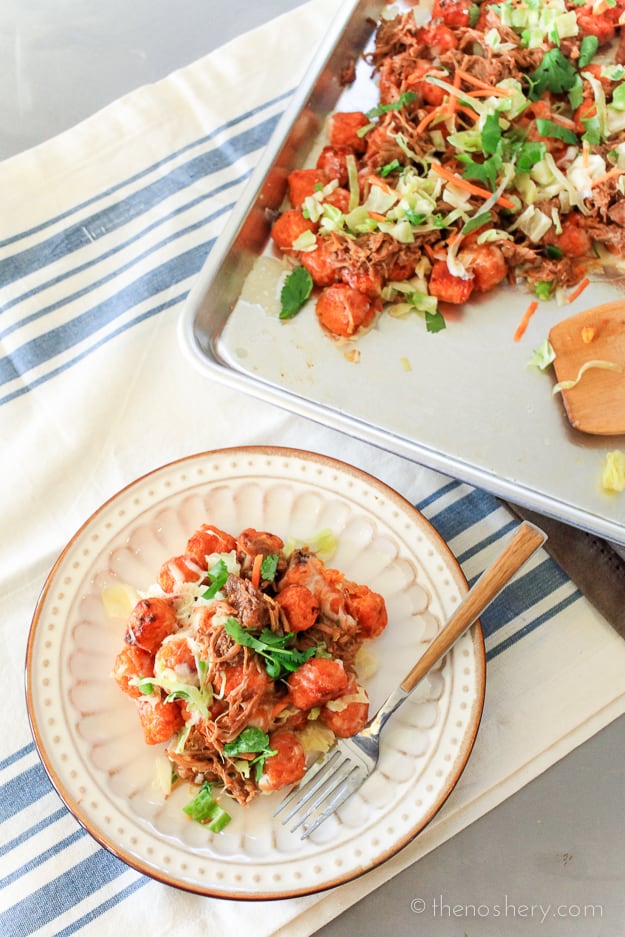 I loved this dish! It has crispy sweet potato tots, tangy crunchy slaw, cheese and savory barbecue pulled pork! It's a flavor party in your mouth. And, this dish is easy to change up. If you don't want sweet potato tots use plain potato tots or french fries. This makes a great dinner and it also makes great party/football grub. Maybe you want to ditch the potato all together? Serve the pork on buns topped with coleslaw. It's all up you! The best part is the leftovers so you pretty much have dinner half way done for later in the week.
Yield: 4
Bourbon BBQ Pulled Pork Totchos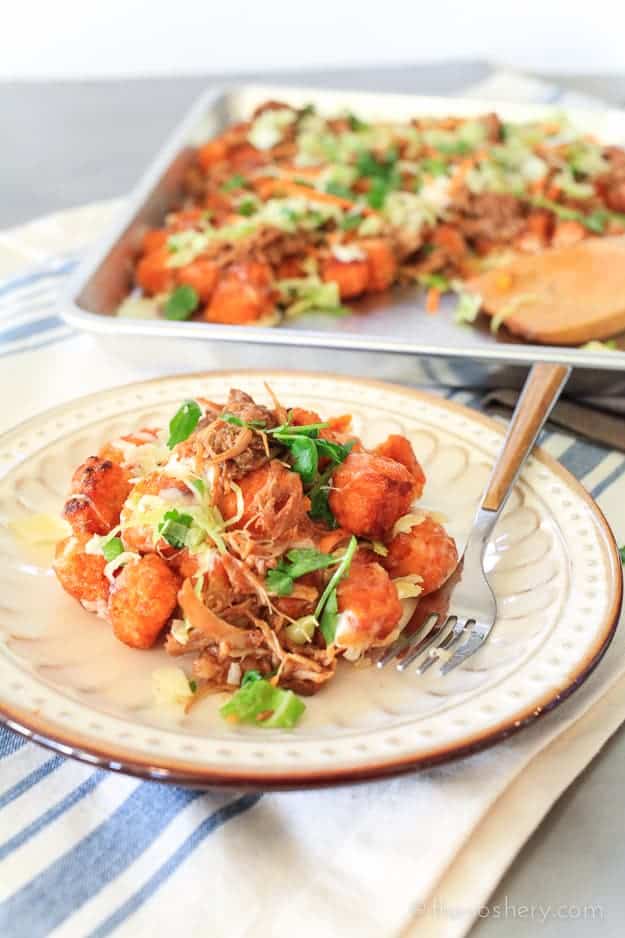 Totchos are tater tots served like nachos. These totchos are topped with bourbon bbq pulled pork, cheese and tangy slaw. The perfect weeknight dinner or party food.
Ingredients
3 - 4 lb boneless pork butt, cubed
1 medium onion, diced
3 cloves garlic, minced
1/2 cup bourbon
1 18 oz bottle KC Masterpiece Original Barbecue Sauce
2 cups cole slaw mix
1 tablespoon olive oil
2 tablespoons apple cider vinegar
1 tablespoon sugar
1 garlic clove, minced
2.5 lbs sweet potato tater tots
1.5 cup shredded Monterey jack cheese
cilantro (optional)
Instructions
In a slow cooker combine pork, onion, garlic, bourbon and KC Masterpiece Original Barbecue Sauce. Set to LOW for 8 hours or HIGH for 4 hours. Using a spoon stir pork until broken up. You can also press the pork with the back of a fork.
Combine slaw mix, olive oil, vinegar, sugar and garlic in a bowl, toss until well combined. Set aside.
Prepare tater tots according to package directions. Sprinkle warm tater tots with cheese and place in the oven for about a minute to let the cheese melt. Top with desired amount of pork and slaw, garnish with cilantro. Serve immediately
Notes
Leftover pork can be refrigerated in an airtight container for a week. Makes great pulled pork sandwiches.


Bourbon can be substituted for beer, stock or water.
Comments submitted may be displayed on other websites owned by the sponsoring brand.