Braised Beef in Red Wine | Of all the possible ways to cook beef, my absolute favorite is braising. Without a doubt, I love to braise. It makes everything tender, delicious, and it's low maintenance. It's the best way to make an inexpensive and tough cut of meat into a delectable, elegant dinner. You could braise a boot and make it delicious. I know this is an extreme example, but it's pretty close to true. Braising is like magic.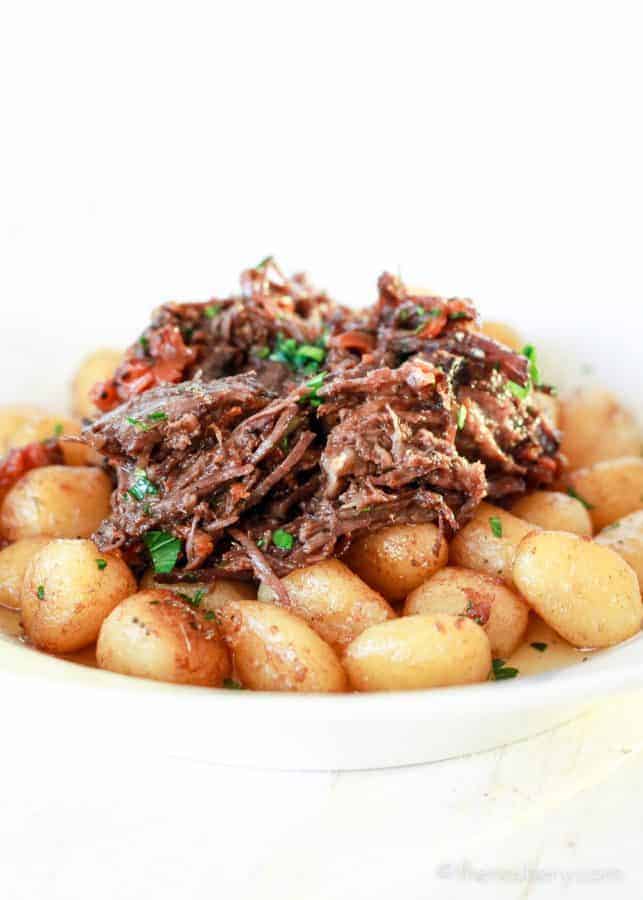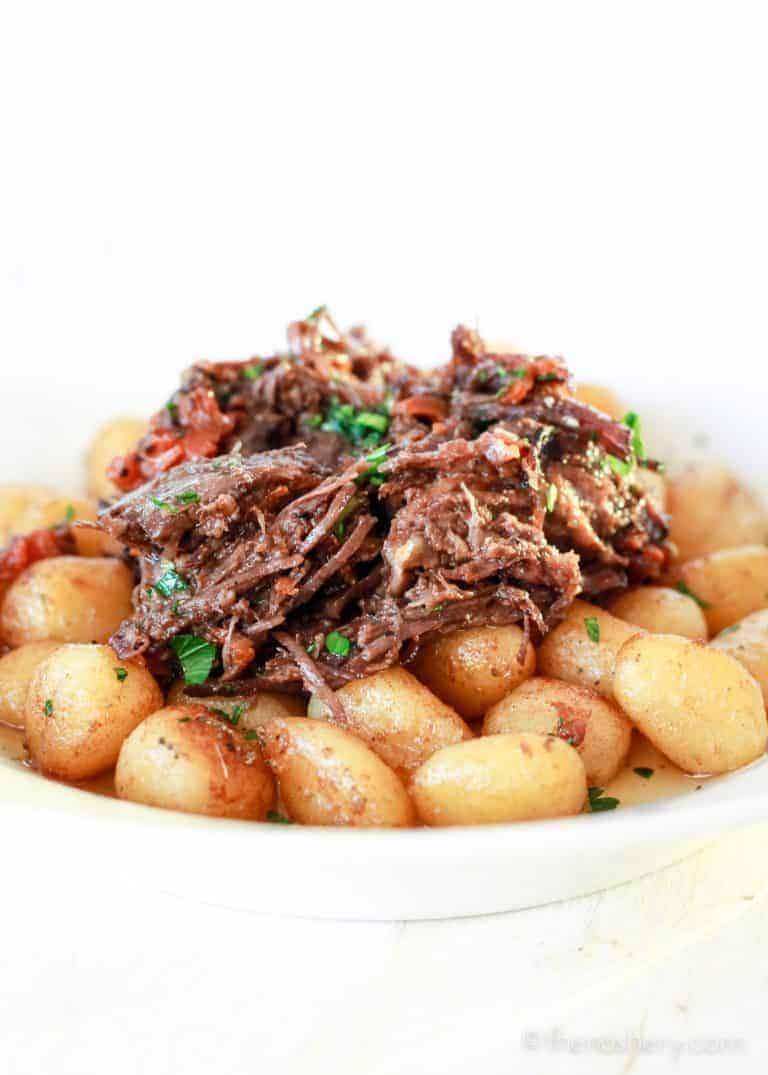 How to Braise Beef
Braising uses both moist and dry heat to break down the tough connective tissues of tough proteins.  A vital step for building flavor when braising is searing the meat first.  By searing the meat, you get all these flavor-boosting crusty brown bits at the bottom of the pot.  You must embrace the brown bits. Brown bits good. Brown bits awesome.   I know it seems like an extra step, but I promise it's a step worth taking.
Braising is essentially what your slow-cooker does, so you could absolutely make this in a slow-cooker, but don't skip the searing. Sear the beef in a separate pan, deglaze the pan using wine, scrape up the brown bits and add them to the slow-cooker.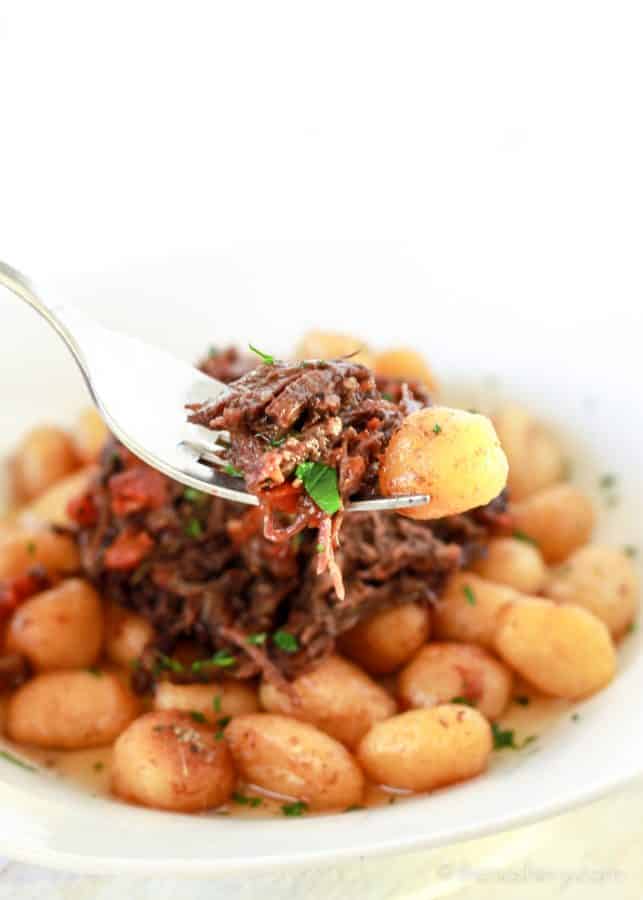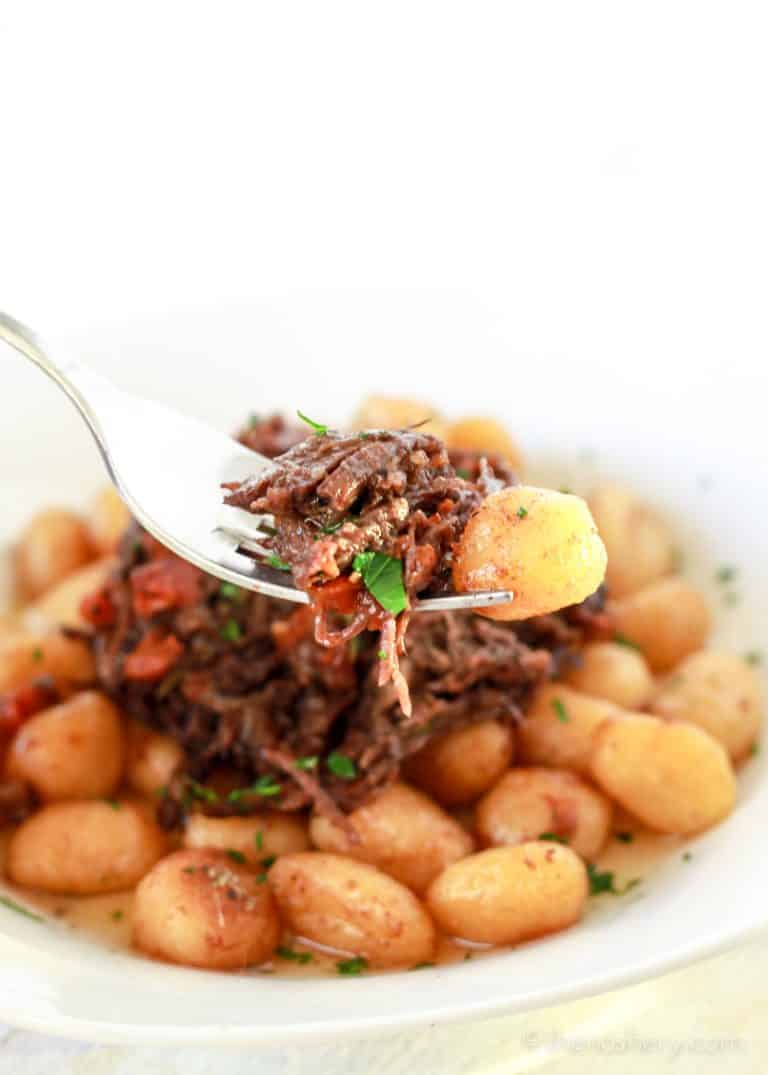 How to Serve Braised Beef
The beef finishes tender and deliciously saucy. There are endless ways to serve braised beef. It can be used as a pasta filling for ravioli. You can serve braised beef and tortelloni, mashed potatoes, polenta, pasta, or gnocchi. In fact, I found some pumpkin gnocchi while grocery shopping and I knew that they would be perfect with red wine braised beef. To serve I tossed the gnocchi in brown butter and topped it with savory braised beef.
"SAY WHAT???!!!" you said.
That's right, you heard me. Pumpkin gnocchi tossed in browned butter, mounded with a generous helping of deliciously braised beef on top. Please refrain from licking the screen; there is a 98.4333% chance that it will just taste like dust.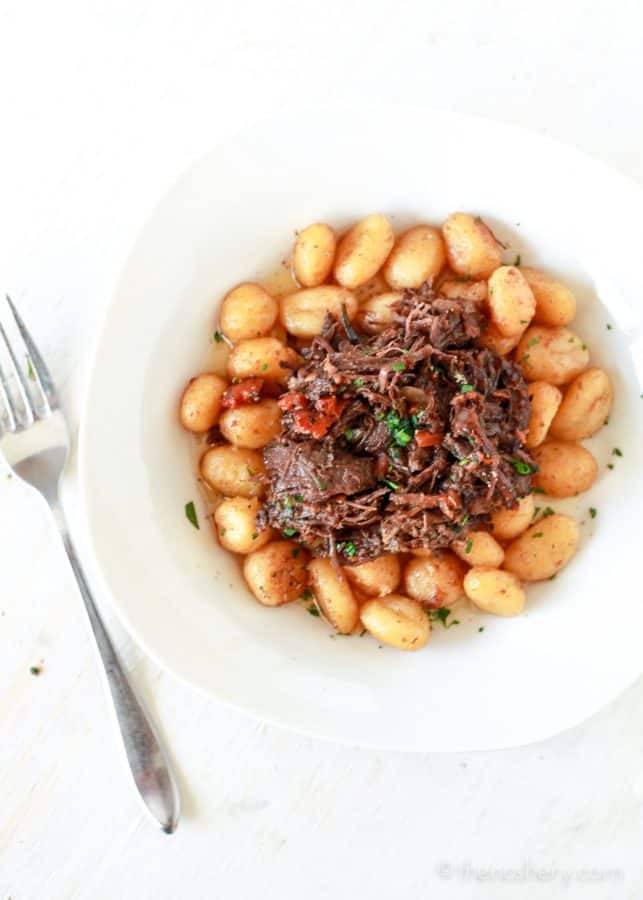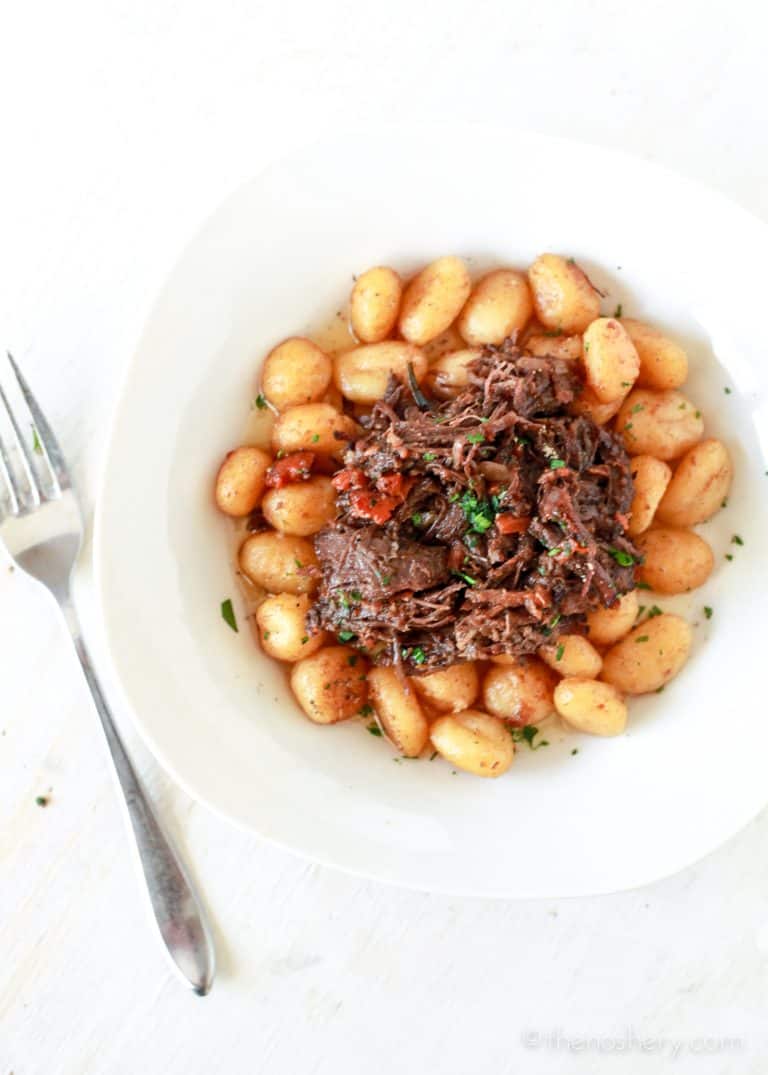 I love braising because it's such a simple technique that results in complex flavors. Once you get it all prepped and in the oven, you just walk away. This braised beef recipe is part of my regular rotation. I love to make a big batch and freeze half. This way I ready to make a beautiful dinner no matter how busy my week gets.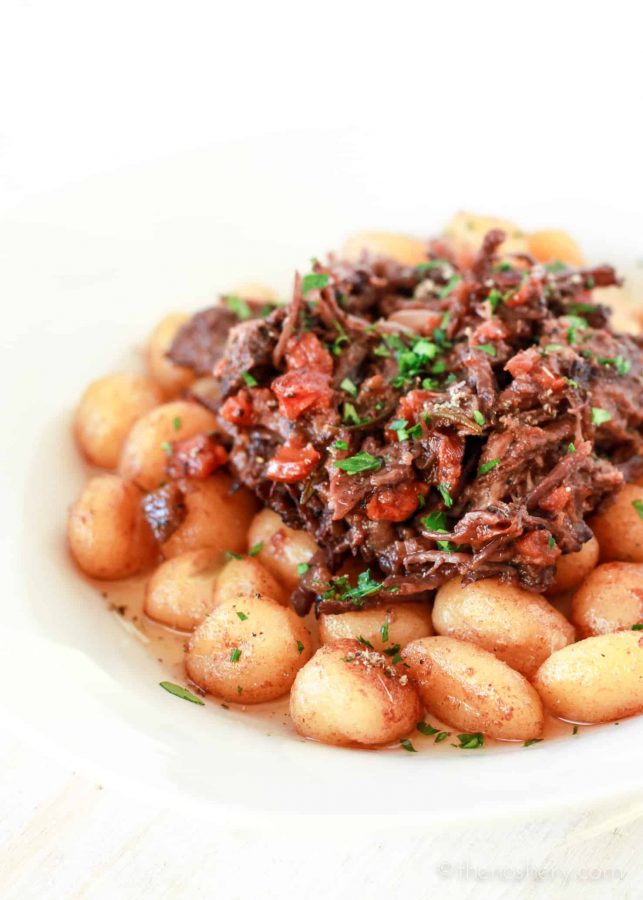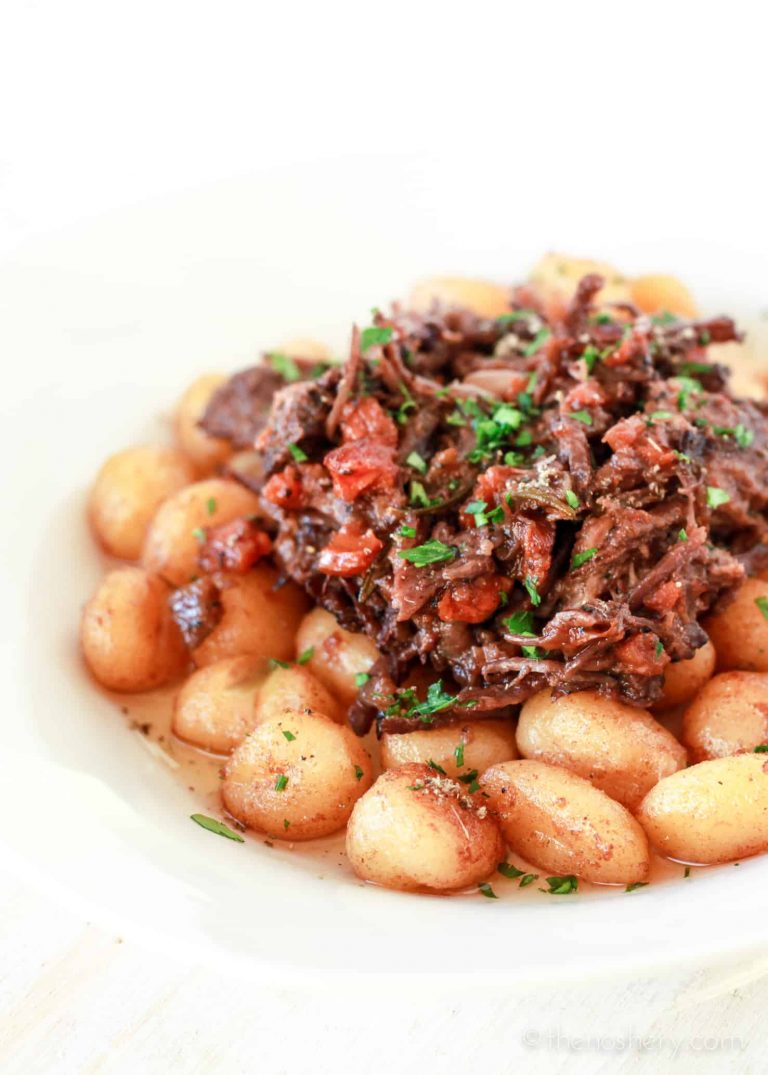 But braising isn't just for beef. I love braising all the meats! Like this moroccan lamb stew with harissa and garbanzos, beef ragù with acorn squash & brown butter tortellini, or braised pork chops and garden vegetables. Need more beef or braised recipes in your life? Check out all of my beef recipes or braised recipes!
more beef recipe love
Yield: 8
Red Wine Braised Beef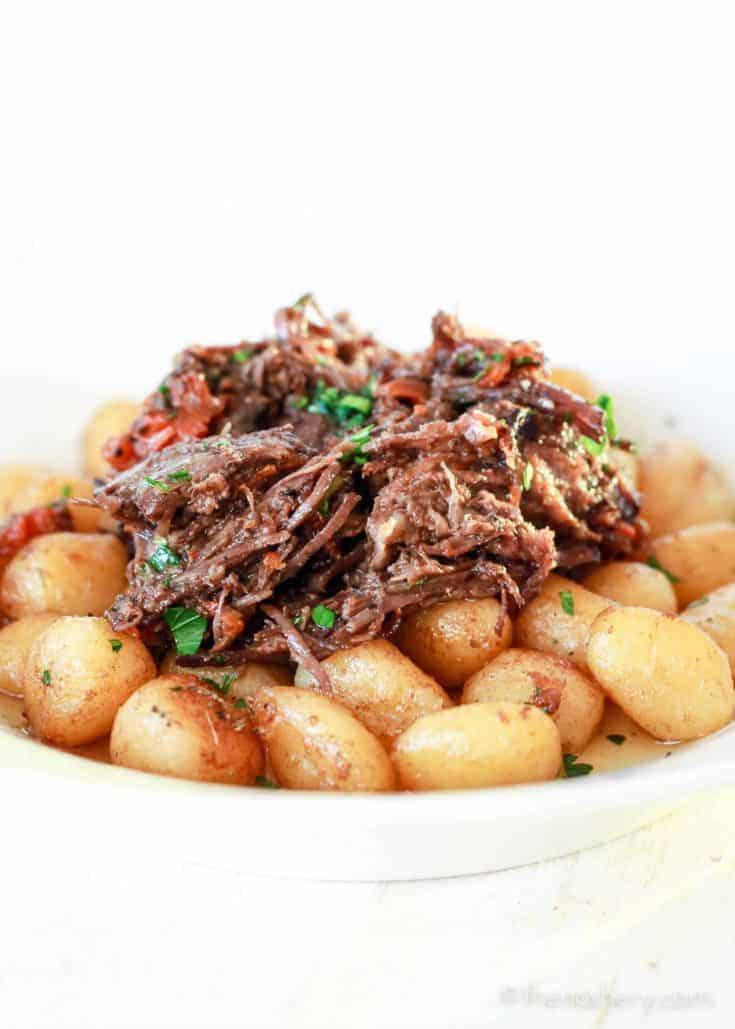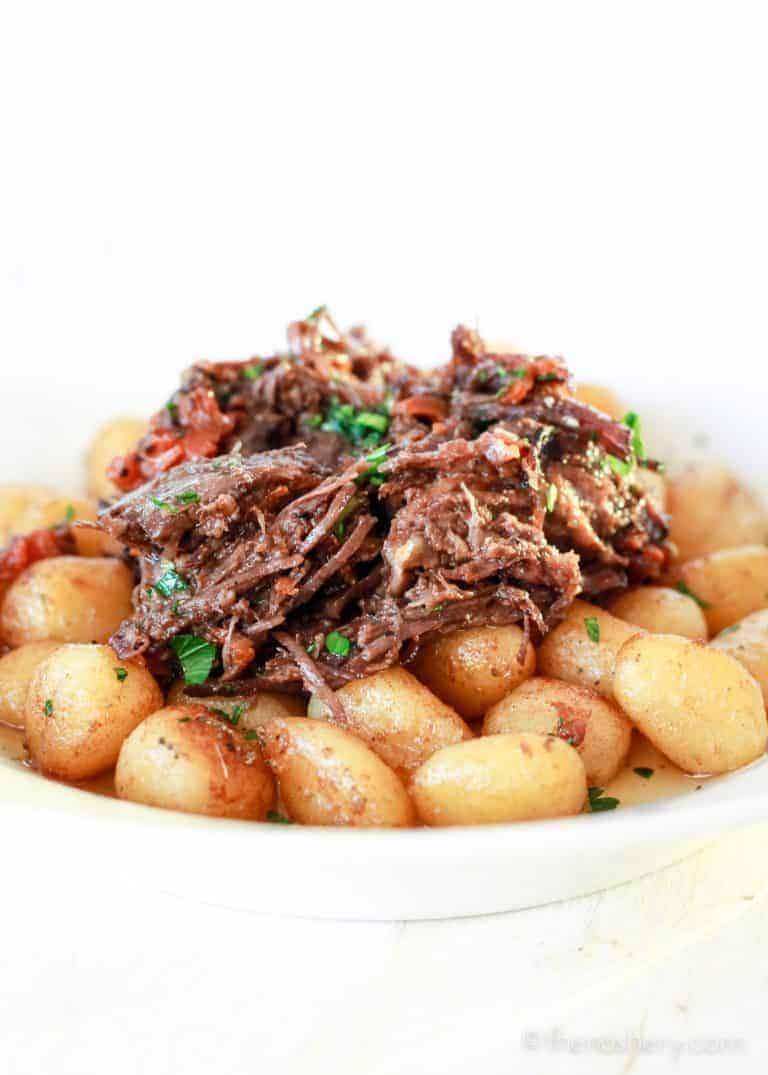 Beef braised in red wine with fresh herbs until tender. Braised beef can be served over gnocchi, polenta or potatoes. A great make ahead dish.
Inactive Time
6 hours
36 minutes
Total Time
6 hours
55 minutes
Ingredients
4 tablespoons butter, divided
2 small onions, halved and thinly sliced
2 carrots, diced
2 ribs celery, diced
1 4 lb beef chuck
salt
pepper
2 cups red wine
2 sprigs rosemary
2 sprigs thyme
2 bay leaves
3 garlic cloves
Instructions
Pre-heat oven to 325 degrees.
Melt 2 tablespoons of butter in a dutch oven or a heavy oven-safe pot. Let it get nice and hot. Add diced carrots and cook until they begin to brown, about 10 minutes. When the carrots start to brown, add the onions and celery.
Cook the vegetables until the onions begin to caramelize. I know you will be tempted to stir and fidget with the vegetables, but trust me: let them sit a bit, stirring occasionally. It's the best way to get some good caramelization. Use a slotted spoon to remove the vegetables and set aside on a plate.
Pat the beef chuck dry and sprinkle generously with salt and pepper. Don't be shy; it's a big piece of meat.
If needed, melt 2 tablespoons of butter in dutch oven, letting it get nice and hot. The butter should shimmer. Sear the beef on each side for about 5 minutes -- don't fidget with it. It should be brown, not grey, and crispy on the edges. Remove beef and set aside.
Pour 1/2 a bottle of red wine into the pot while still hot. Using a firm spatula, scrape up all the brown bits at the bottom of the pot. Return vegetables to the pot. Lay browned beef on top of vegetables.
Add fresh herbs, garlic and bay leaves. Tuck herbs into the liquid and bring to a boil.
Cover and place in oven at 325 degrees for 3-4 hours or until tender. It should fall apart using a spoon, if it's still firm return to the oven and let it go another 30 minutes.
Serve hot, but it makes great leftovers.
Nutrition Information:
Amount Per Serving:
Calories:

628
Carbohydrates:

4g
Protein:

43g
277