Chicken and dumplings is a classic comfort food. This version is lighter and brighter than your typical chicken and dumplings.
The first time I ever had chicken and dumplings I as probably about 11 years old. We were living in Georgia and a friend's mom had made a big o' pot of chicken and dumplings. I'll be honest…I looked at this bowl suspiciously. It was nothing I had ever tried or found remotely familiar. My 11-year-old brain translated it into a big bowl of white goo with lumps and pieces of carrot and chicken. I was not thrilled. But, my friend said it was awesome and I wasn't going to be rude so I said "Thank you" and gave it a try.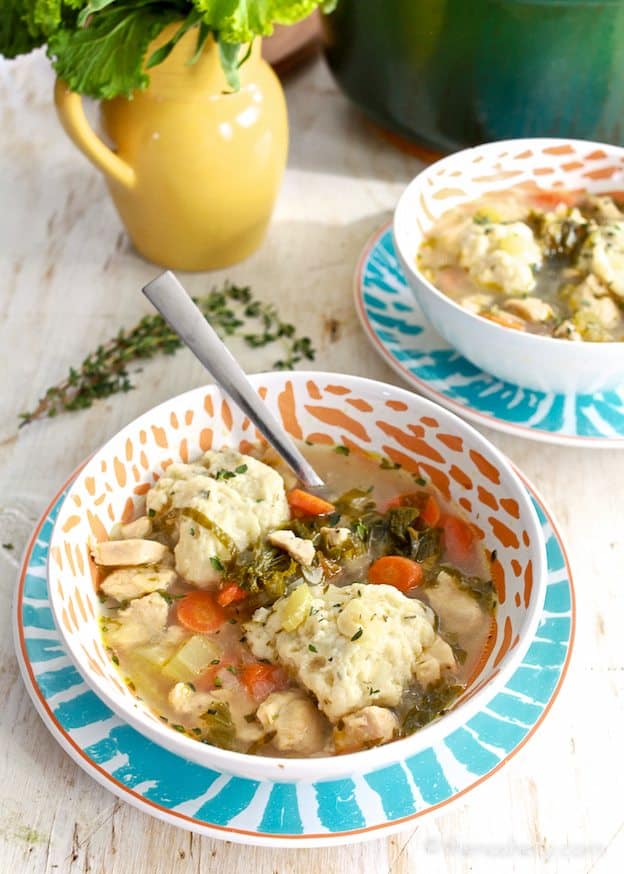 To my surprise it was delicious! I cleaned my bowl and kindly asked for seconds. Obviously, this was when I could still eat two bowls of creamy, delicious chicken and dumplings without consequences. Today, things have changed. Eating two bowls of creamy chicken and dumplings today would result in 15 extra pounds on my butt. However, my love and craving for chicken and dumplings persist.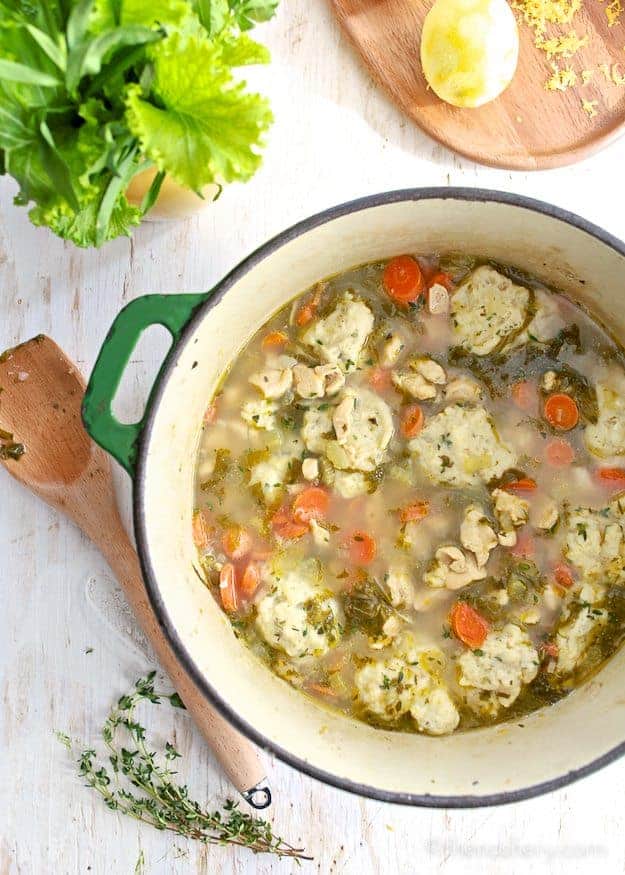 If there is a time that I most crave a warm, comforting bowl of chicken and dumplings it's this time of year. I love all forms of soup but, soup with build in bread holds a special place in my heart. However, I wanted to be able to enjoy chicken and dumpling without feeling guilty.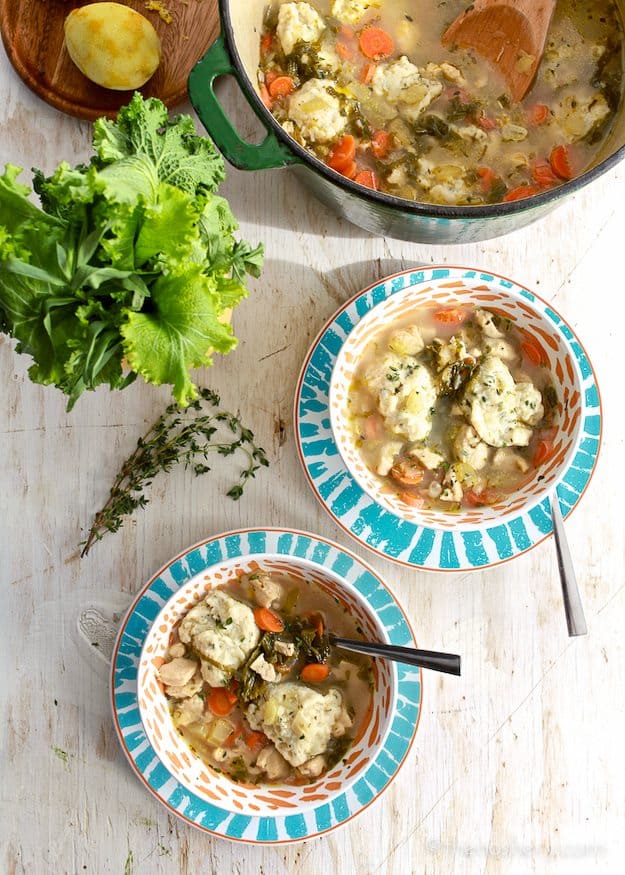 I thought a lighter version of chicken and dumplings with a hint of lemon tang would do the trick. If there is something that pairs perfectly with chicken, it's a lemon. A lemon chicken dish can easily brighten any gloomy day. Let's be honest a small squeeze of lemon added to any dish can do amazing things, and lemons are available year round.
The broth is everything I wanted it to be. It's bright, full of herbs and with a touch of tang. And, the dumplings are light in every way. They are light in texture and light in calories!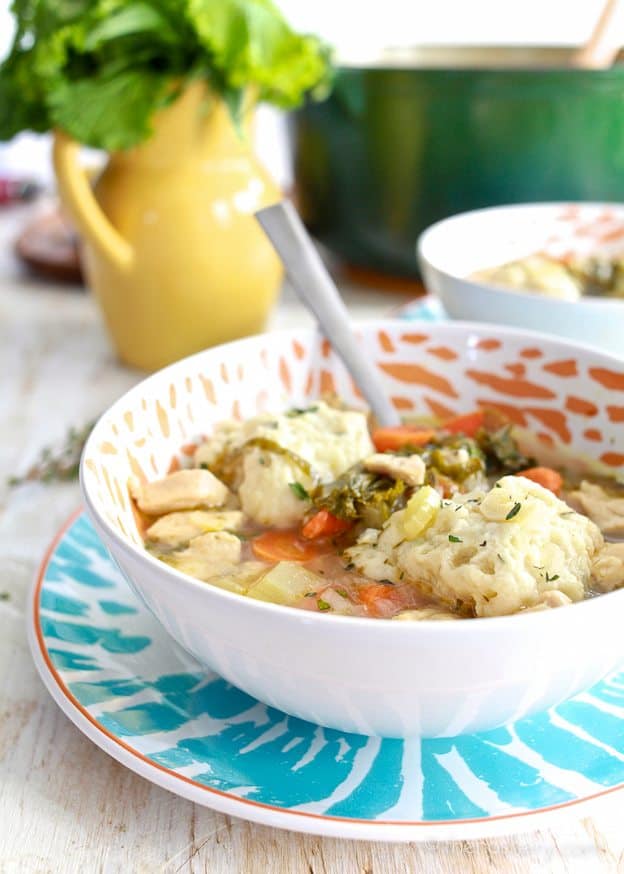 If you are craving something a little lighter try this chunky roasted tomato soup. But, of course, everyone loves a classic Sancocho (Puerto Rican Beef Stew). If you want something hearty and loaded with aromatics and spices you need to try this Moroccan Lamb Stew with Harissa and Garbanzos.
If you are looking for more soup or stew recipes ideas see my collection of soups and stew
Items Used in the Recipe:
Yield: 4
Lemon Chicken and Dumplings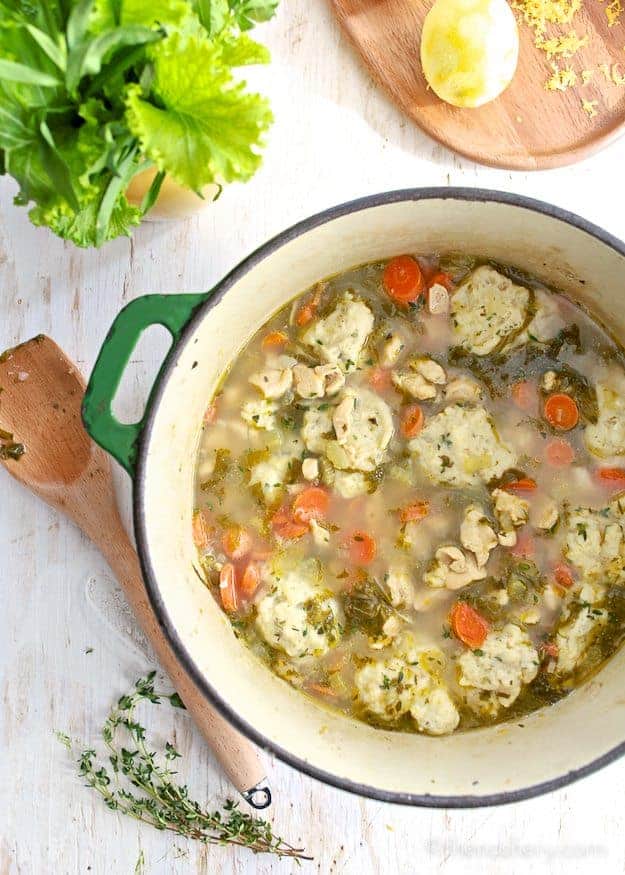 Adapted from Taste of Home
Light lemony broth with tender chicken and herb dumplings.
Ingredients
Soup
1 tablespoons olive oil
3 medium carrots, sliced
2 stalks celery, diced
1 large onion, diced
3 cloves garlic, thinly sliced
2 quarts low sodium chicken stock
1/4 cup white wine vinegar
1 lb chicken tenders or chicken breast, cubed
1 teaspoon minced fresh tarragon
1 teaspoon minced fresh thyme
1 cup chopped mustard greens
juice of 1 lemon
salt to taste
[br]
Dumplings
3 egg whites
1/2 cup cottage cheese
2 tablespoon water
1 cup flour
1/2 teaspoon salt
Instructions
Heat a heavy pot over medium-high heat. Add 2 tablespoons of olive oil. Add carrots and cook until they begin to brown, about 8-10 minutes. Add celery onion and garlic, cook until soft, about 5 minutes.
Add chicken stock and white wine vinegar, bring to a boil. Lower to a simmer, add chicken, tarragon and thyme. Allow to simmer until the chicken is cooked through about 10 minutes. Stir in lemon juice and mustard greens. Season with salt to taste.
In a medium bowl whisk egg whites, cottage cheese and water until well combined. Stir in flour with salt until just combined.
Bring soup to a boil. Using a small kitchen spoon drop dumplings onto the boiling soup. Reduce to a simmer and cover for 15 minutes or until a toothpick inserted in dumplings comes out clean.
Enjoy!
Nutrition Information:
Amount Per Serving:
Calories:

450
Fiber:

4g
Protein:

45g