Baked Rum Coconut French Toast (Coquito Baked French Toast) | Baked French toast soaked overnight in an egg and Coquito (Puerto Rican Coconut Nog) custard.
If I could pick any meal to eat for the rest of my life, it would be brunch. (Let's be real—as long as pork could be involved.) There's nothing like waking up on the weekend with no alarm clock and hopefully nowhere to be. And French toast is kind of the poster child of brunch.
You might be surprised that I'm adding yet another to my collection of French toast recipes. I'm happy to go over the top with my peanut butter, banana & honey stuffed almond crusted French toast or my French toast cups with sausage and apples. And my Blueberry Cinnamon Crumb Baked French Toast on The Pioneer Woman's Food and Friends has also been known to make an appearance on my table.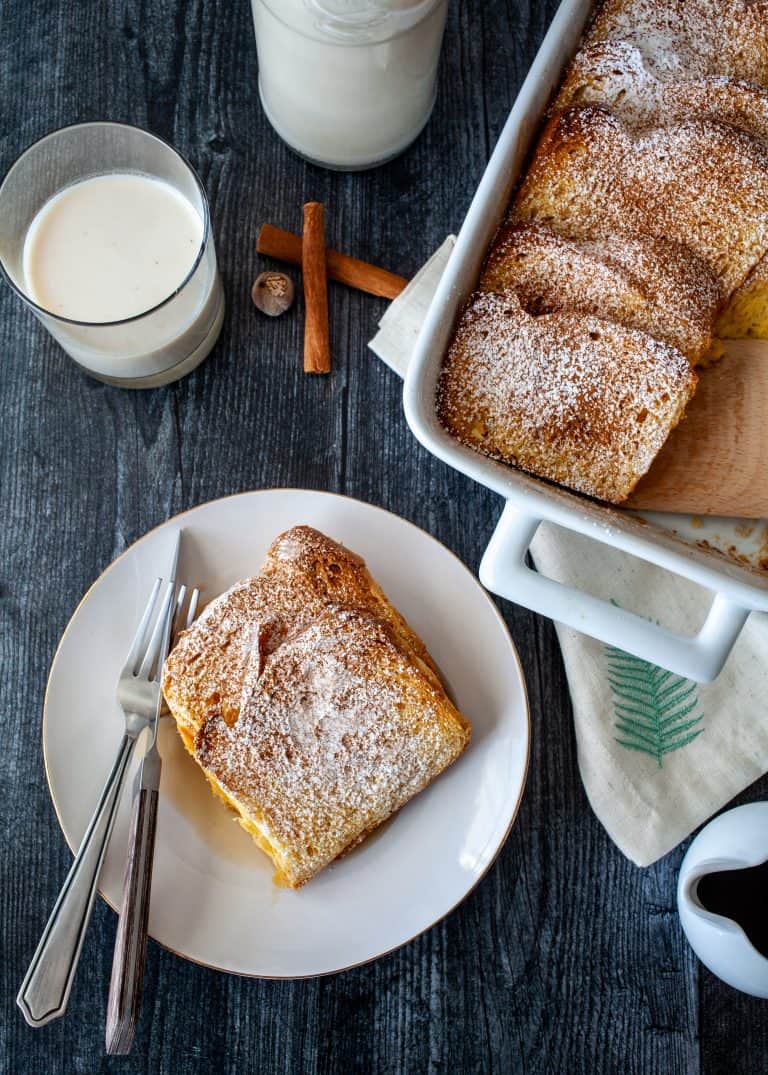 But then I got this idea to combine my beloved coquito with my favorite brunch dish, and Baked Rum Coconut French Toast had to happen. It's sweet, hearty with the custard, and tastes like my home Puerto Rico in breakfast form.
In terms of sweet, doughy goodness, the coconut flavor with the rum MIGHT even make it taste more like home than pan de mallorca, but good thing I will never have to choose!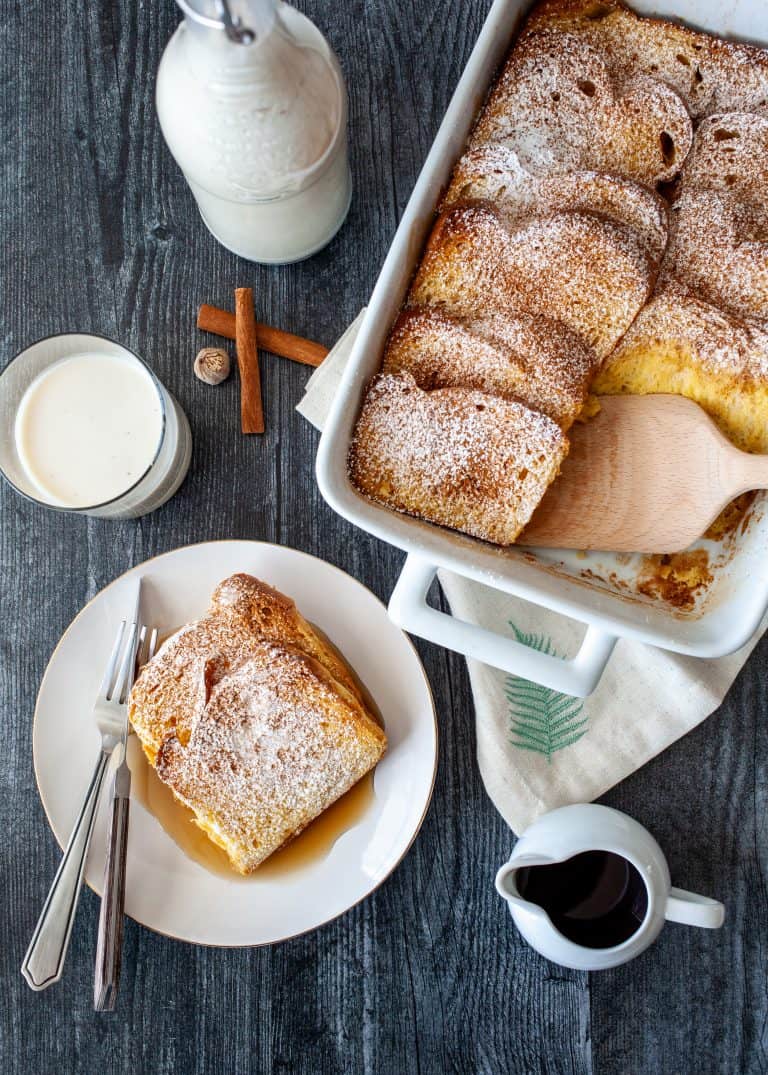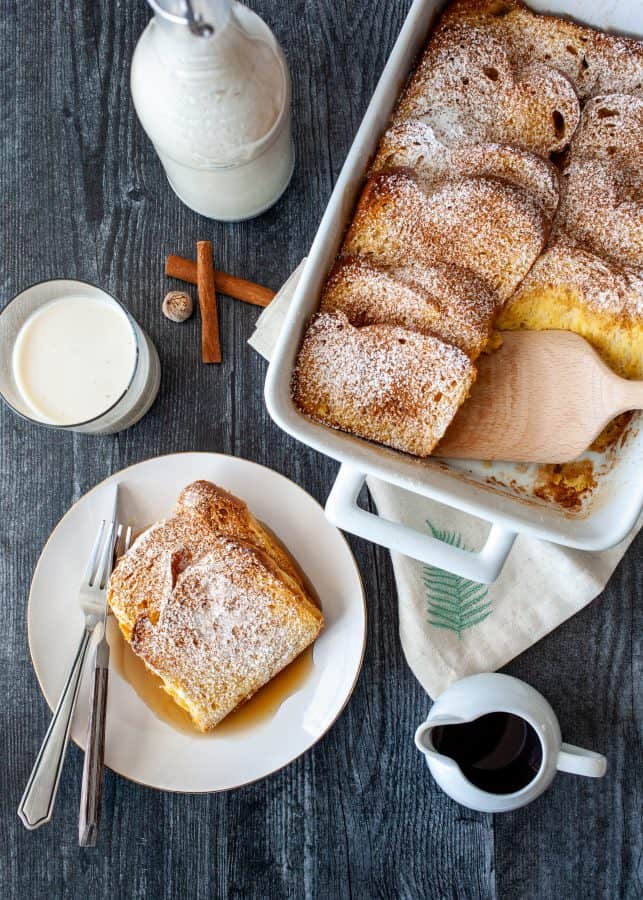 What is Coquito?
If you're new around here, meet my favorite beverage! The word "coquito" means "little coconut." It's rich and smooth and filling, best served cold. In Puerto Rico, it's traditionally served around Christmastime. (Or enjoyed year-round if you're like me.) It is compared to egg nog and although there are recipes which incorporate egg into their coquito I do not. I am strongly in the no egg camp, it's NOT coconut eggnog, it's coquito.
It's made with a combination of canned coconut milk, evaporated milk, and sweetened condensed milk with cream of coconut and classic Don Q Puerto Rican rum. Amen. To round out the flavors, it includes cinnamon, nutmeg, and vanilla extract.
And now I've learned that this creamy, coconut rum creation makes an amazing base for French toast. It's mind boggling good! My coquito recipe calls for 1.5 cups of rum, so in this French toast, you still get the perfect amount of rum flavor in each bite.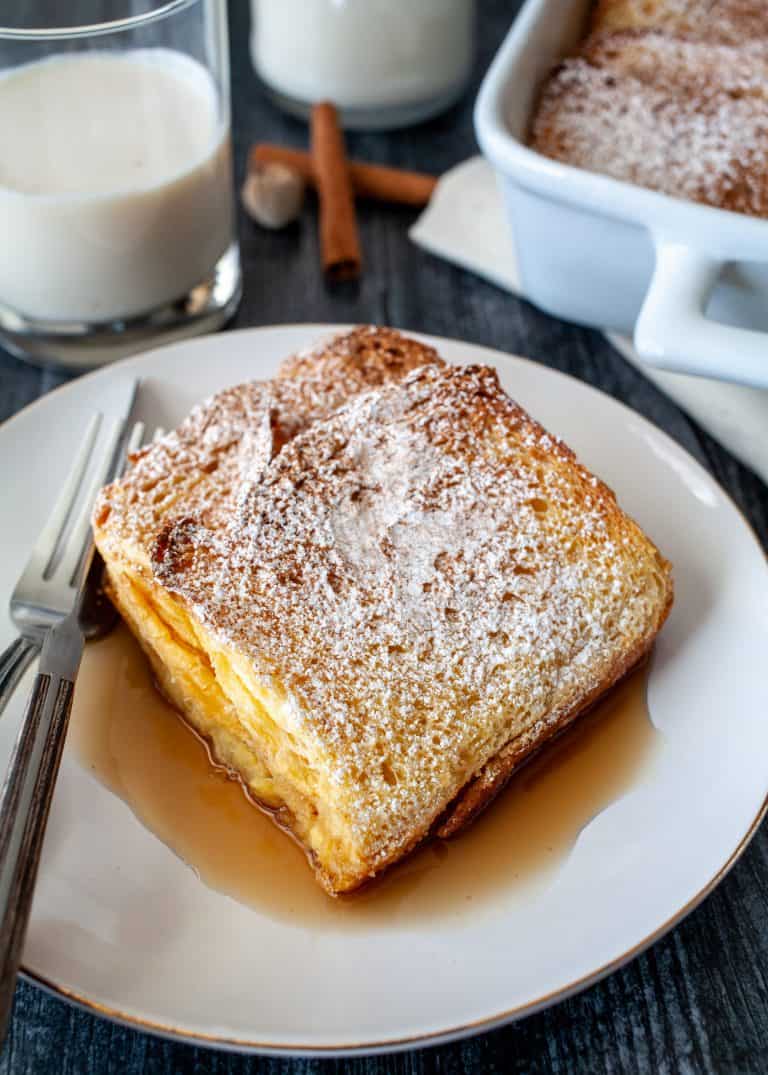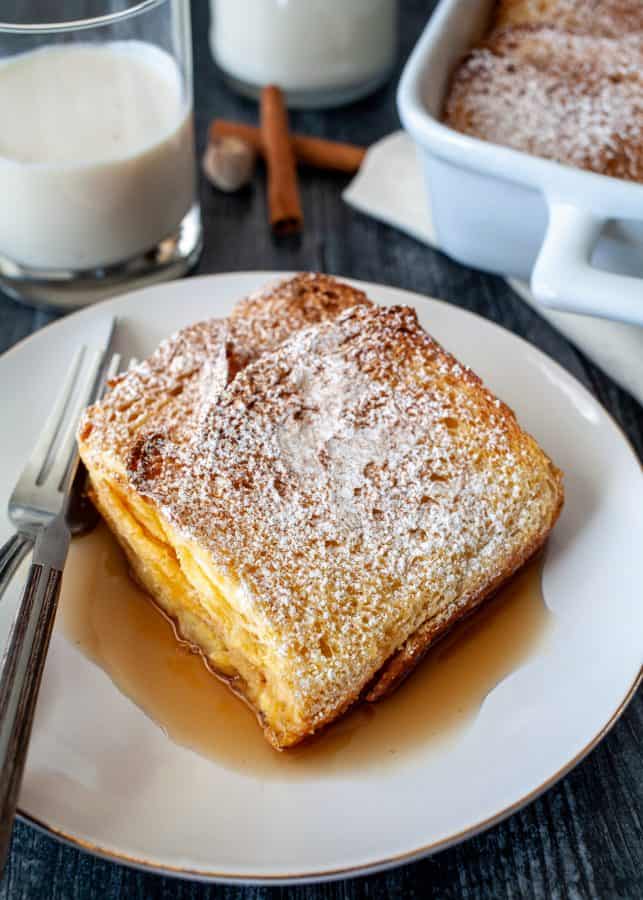 What are the ingredients for Rum Coconut French Toast?
One of the best parts is, that if you have leftover coquito, this recipe only requires four ingredients:
butter
a loaf of hearty bread (like brioche)
eggs
coquito
What kind of bread makes the best French toast?
A loaf of hearty or egg-enriched bread is best for standing up to the milk mixture. Think of a brioche or challah. French bread will also work if you can't find those. A whole loaf is also favorable over pre-sliced bread so you can control the size of the pieces instead of buying bread slices that are usually too thin.
Thinly sliced, soft white breads (like Wonder bread) will be too mushy after soaking overnight and will likely fall apart.
Should I toast bread for baked French toast?
Toasted or stale bread is the best option when making French toast. In this recipe, we stick the bread in the oven before assembling to dry it out a little.
Using fresh bread can result in a soggier texture. But removing some of the bread's moisture before you begin the process will end up with more of the delicious custard texture that makes French toast so great!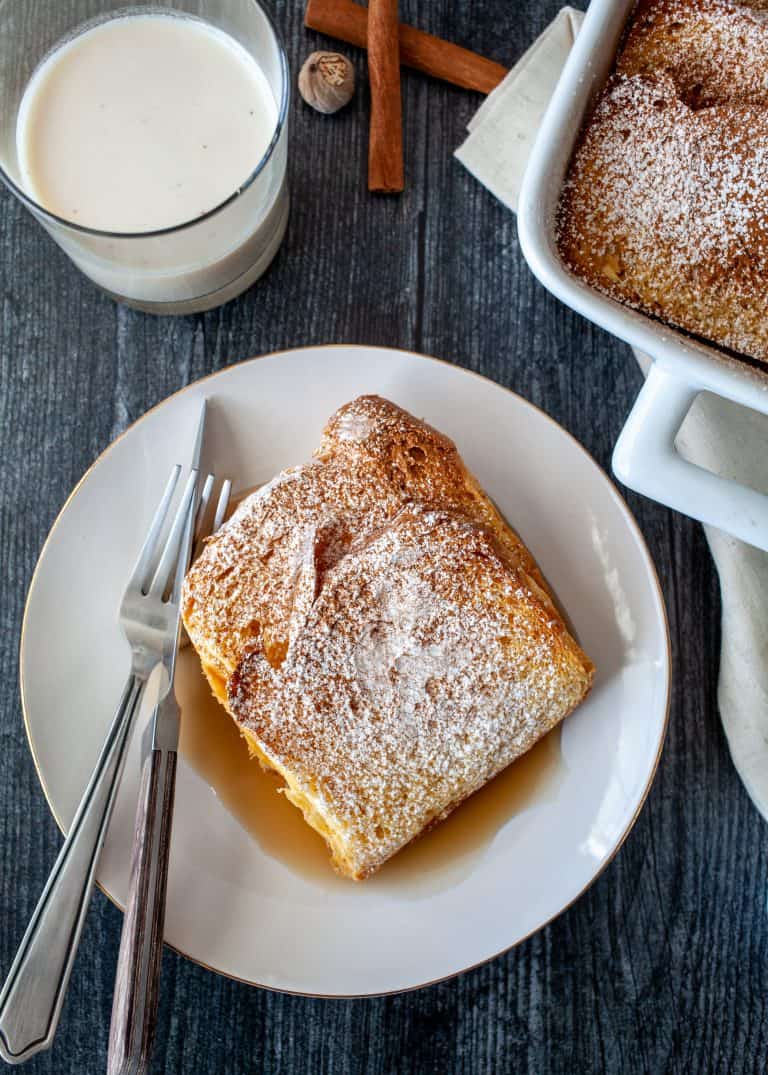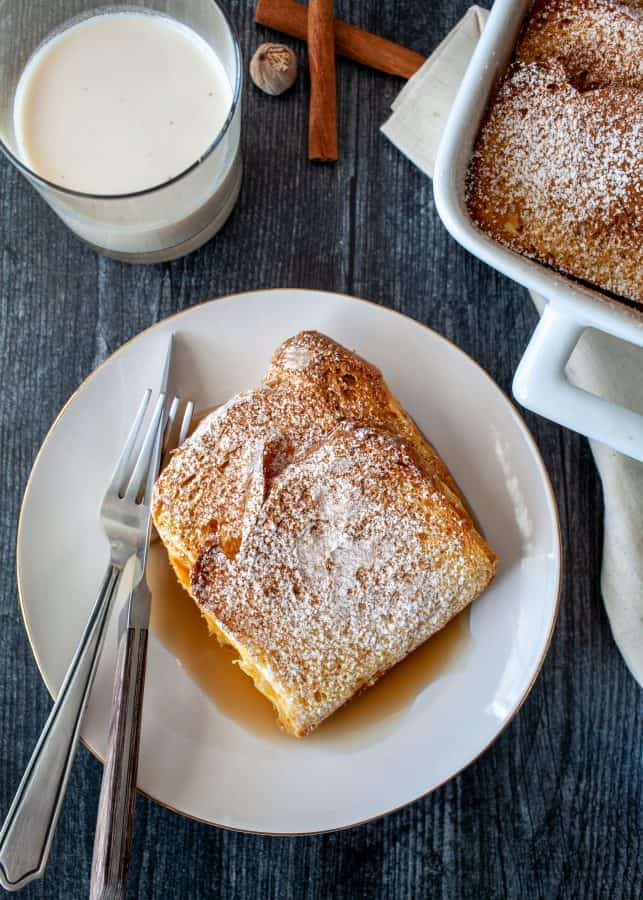 How to make Baked Rum Coconut French Toast
First thing you need to know is that this process will need to be started at least 8 hours in advance, preferably overnight!
Slice the bread into 1-inch slices and spread them out on a wire rack. Bake in a 300-degree oven for about 8-10 minutes until the bread dries out. This will result in a sturdier texture that's magic when soaked with that milk rum egg mixture!
Meanwhile, butter a 9×13" casserole dish. In a large bowl, whisk the eggs with your creamy, coconutty coquito until the mixture is smooth.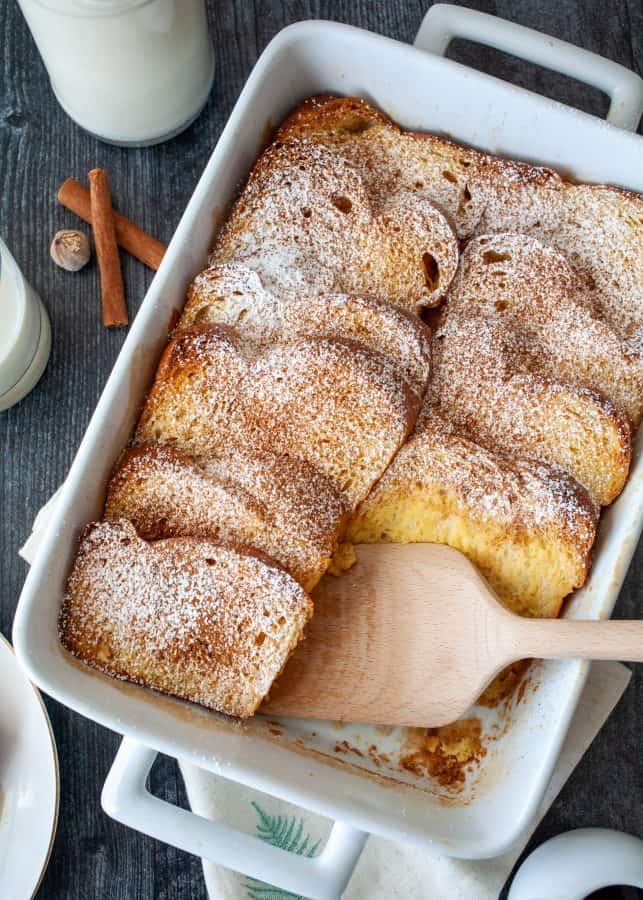 When the bread is nice and dry, arrange it at the bottom of the dish. It's okay if the pieces slightly overlap. Pour the egg mixture in, evenly distributing it over the bread.
And now you put it in the refrigerator covered and wait. Sleep, go out for a night on the town, do your taxes, or whatever. Just don't mess with this dish for at least 8 hours.
After you've done whatever it is that you do, preheat your oven and let the dish come to room temperature on the counter. Then bake it uncovered for 35-40 minutes. It will be puffy and golden brown!
Now, dust your finished product with powdered sugar and cinnamon, serve with maple syrup and coconut flakes if you're feeling extra. Then dig in!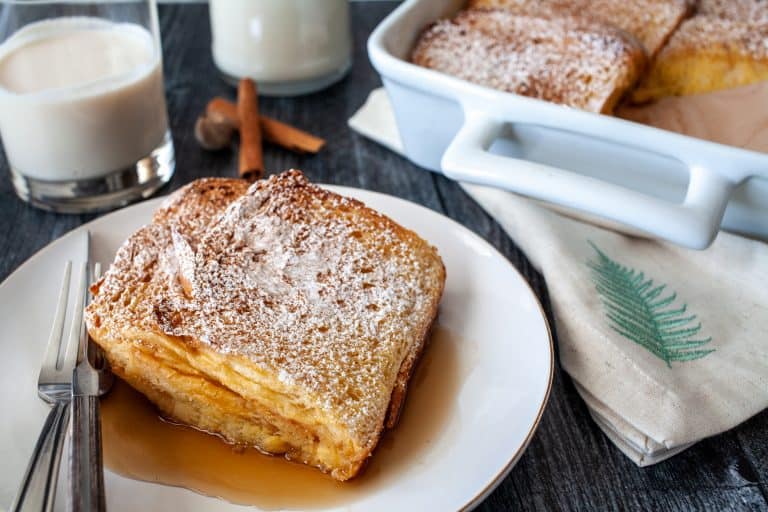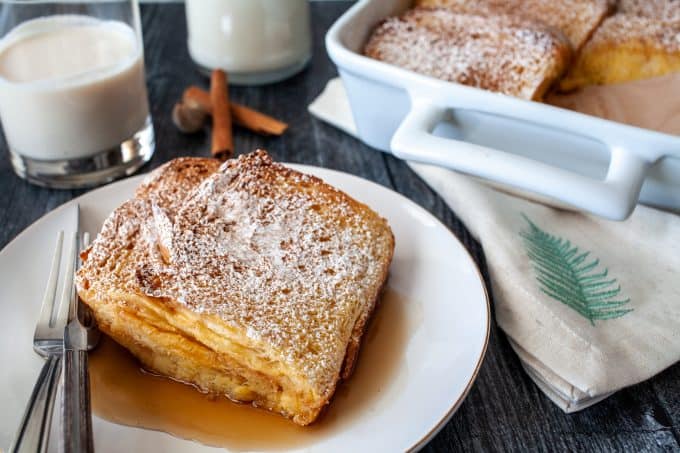 Make it a party!
This is such a great recipe to make when you have overnight guests or a brunch gathering with friends. It can be made ahead of time so all you have to do is stick it in the oven in the morning. But if you prefer a fried French toast, simply melt some butter or coconut oil in a skillet and fry until each side is golden brown.
If you have a big crowd coming, these sheet pan pancakes will make your life easier, and Café Delites' breakfast casserole would be divine! Cook up some protein like bacon, sausage, or scrambled eggs, pour the mimosas, and you're set.
Why hang out in the kitchen all morning when you can serve up this Baked Rum Coconut French Toast and enjoy the best meal of all with your guests?
more brunch love:
Yield: 8
Baked Rum Coconut French Toast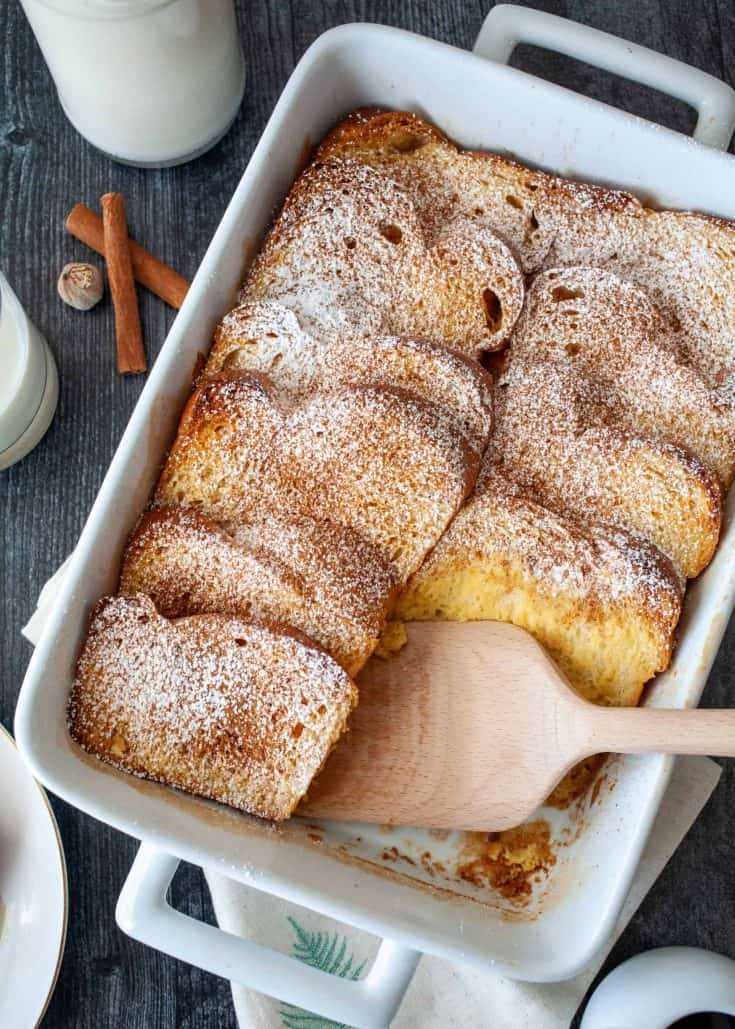 Easy baked french toast soaked overnight in an egg and Coquito (Puerto Rican Coconut Nog) custard.
Total Time
8 hours
55 minutes
Ingredients
1 tablespoon butter
1 loaf brioche bread, sliced into (1-inch) thick slices
5 eggs
Instructions
Heat oven to 300°F
Arrange the bread slices on a wire rack and place on the oven rack for 8 - 10 minutes to dry the bread.
Butter a 9x13 inch baking dish with butter.
Arrange the bread slices in a single layer in the dish slightly overlapping.
In a large bowl whisk together eggs and coquito until evenly combined.
Pour the egg mixture over the bread. Cover, and chill at least 8 hours, or overnight.
Preheat oven to 350° F. Remove the French toast from the refrigerator and bring to room temperature.
Bake uncovered for 35 to 40 minutes, until puffy and lightly browned.
Serve French toast dusted with powdered sugar and cinnamon.
Recommended Products
As an Amazon Associate and member of other affiliate programs, I earn from qualifying purchases.
Nutrition Information:
Yield:
8
Serving Size:
1
Amount Per Serving:
Calories:

355
Total Fat:

17g
Saturated Fat:

10g
Trans Fat:

0g
Unsaturated Fat:

6g
Cholesterol:

205mg
Sodium:

263mg
Carbohydrates:

37g
Fiber:

1g
Sugar:

22g
Protein:

10g