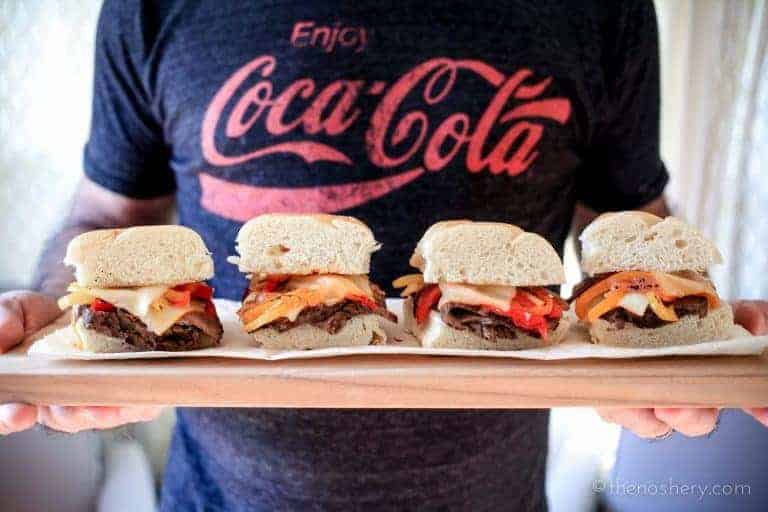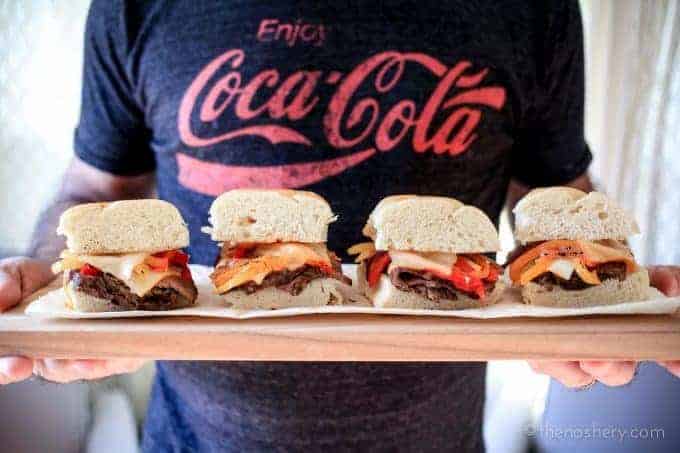 I am always looking for a reason to entertain. I love to get friends together for fun and food. What can I say? I'm a feeder. And, there is no event with a better excuse to gather friends around food for a Big Game Day party! This year I am partnering with Coca-Cola and NABISCO to help you throw the ultimate "Home Bowl" party! We got it all my friends! Sweet and savory foods, hosting tips, decoration ideas and the chance to win a Coca-Cola and NABISCO "Home Bowl" Prize Pack valued at $400!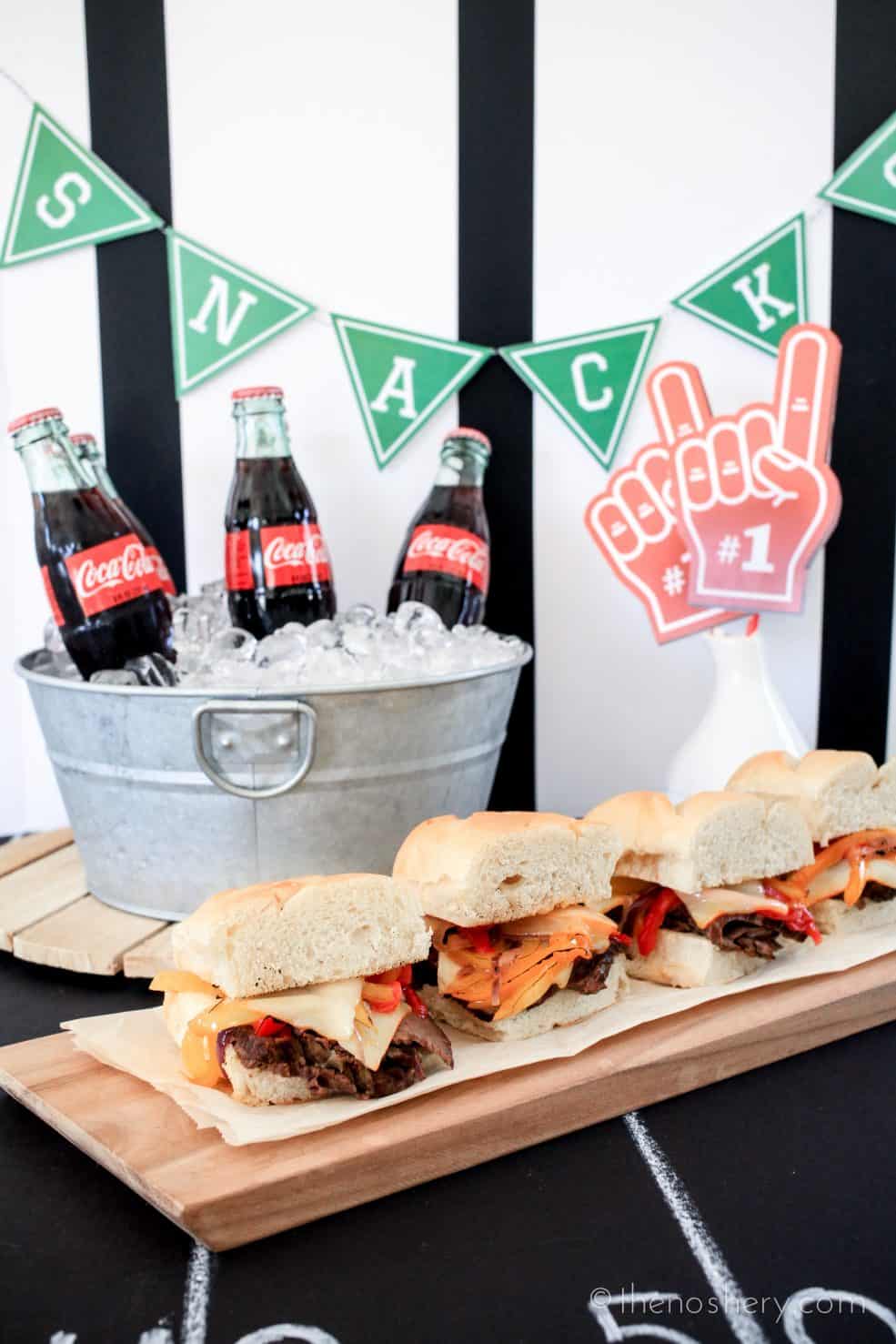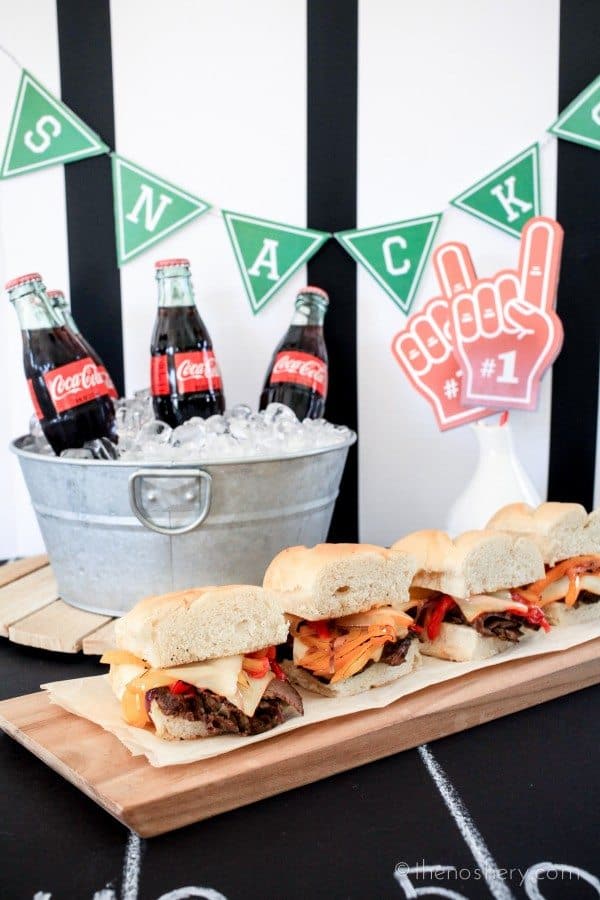 Today we are talking food! Only one of my favorite subjects! My philosophy when it comes to entertaining is to be effortlessly fabulous.  So, when preparing food for a large gathering I am always looking for something that is easy but packed full of flavor. And, nothing is more capable of delivering ease and flavor than a slow cooker. With that in mind let me tell you about these beef and pepper sandwiches. The beef sits overnight in a marinade of Coca-Cola, beef bullion, and worcestershire. Then the beef slowly braises in the slow cooker with the marinade. It finishes tender, juicy and packed full of savory beefy flavor. Pile the beef high on hoagie buns with cheese and sautéed peppers.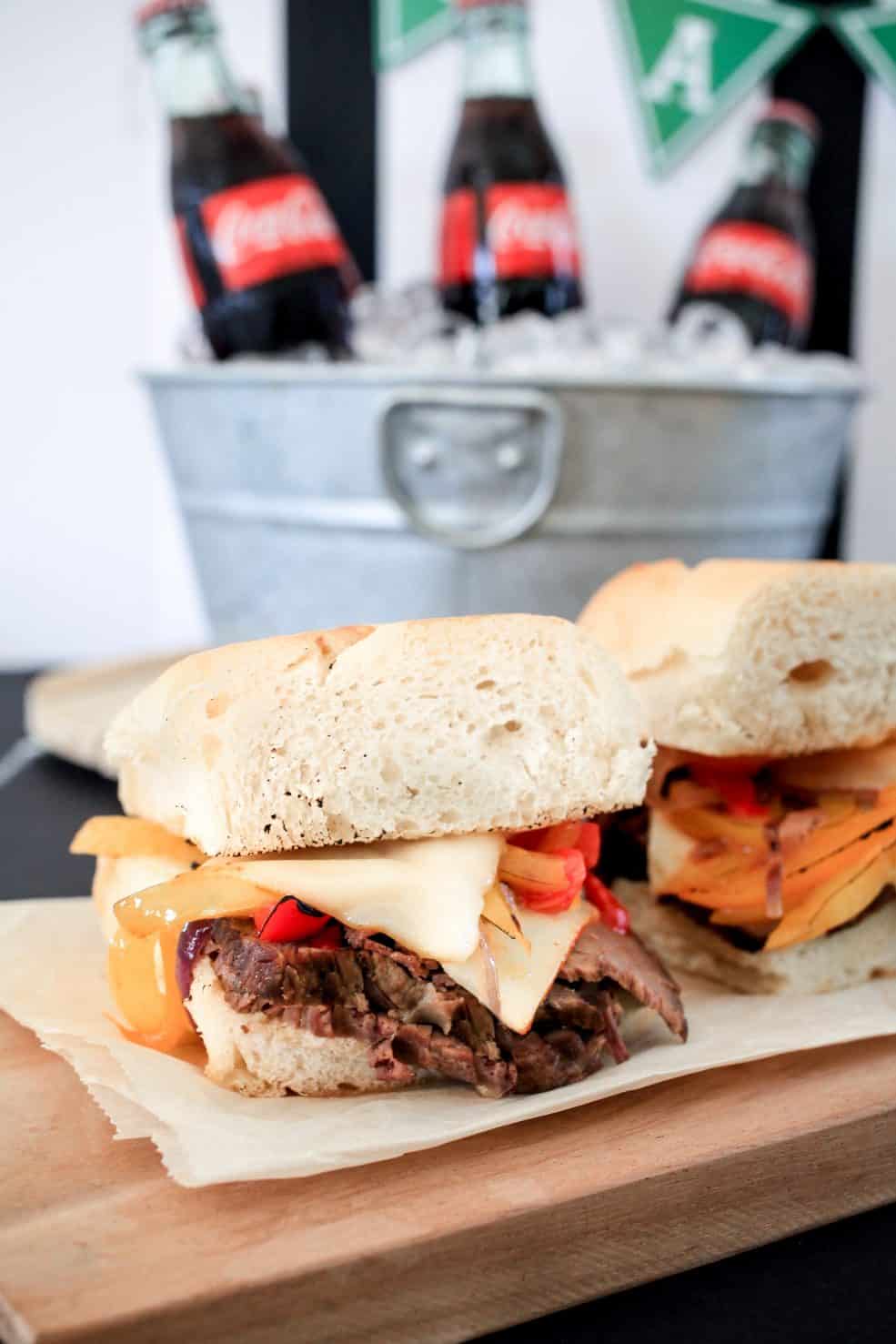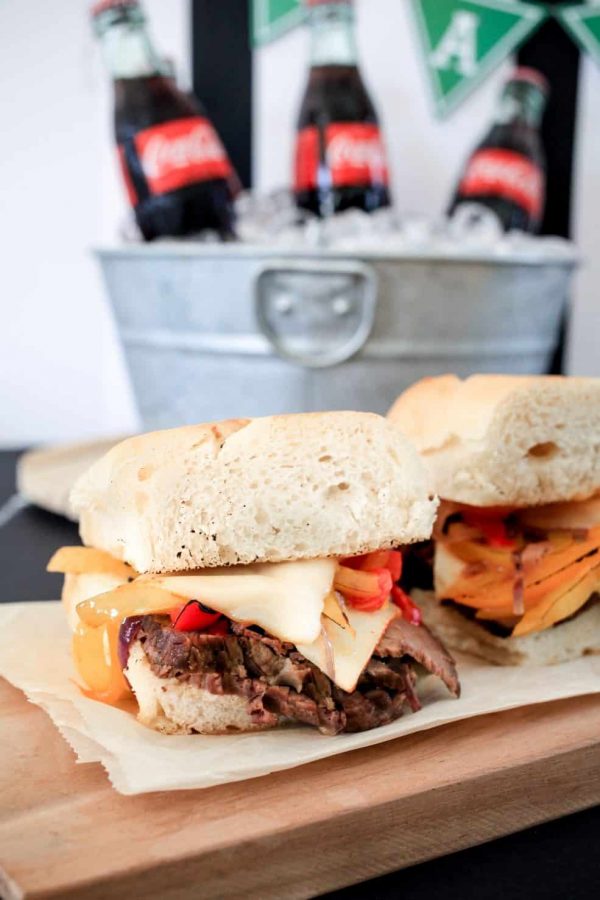 These sandwiches are the perfect game day food. Especially for those football loving fellas. If you want to make these sandwiches extra special you can serve the beef broth with the sandwiches for dipping. They are kind of amazing! I promise you everyone will declare you the "Home Bowl" queen!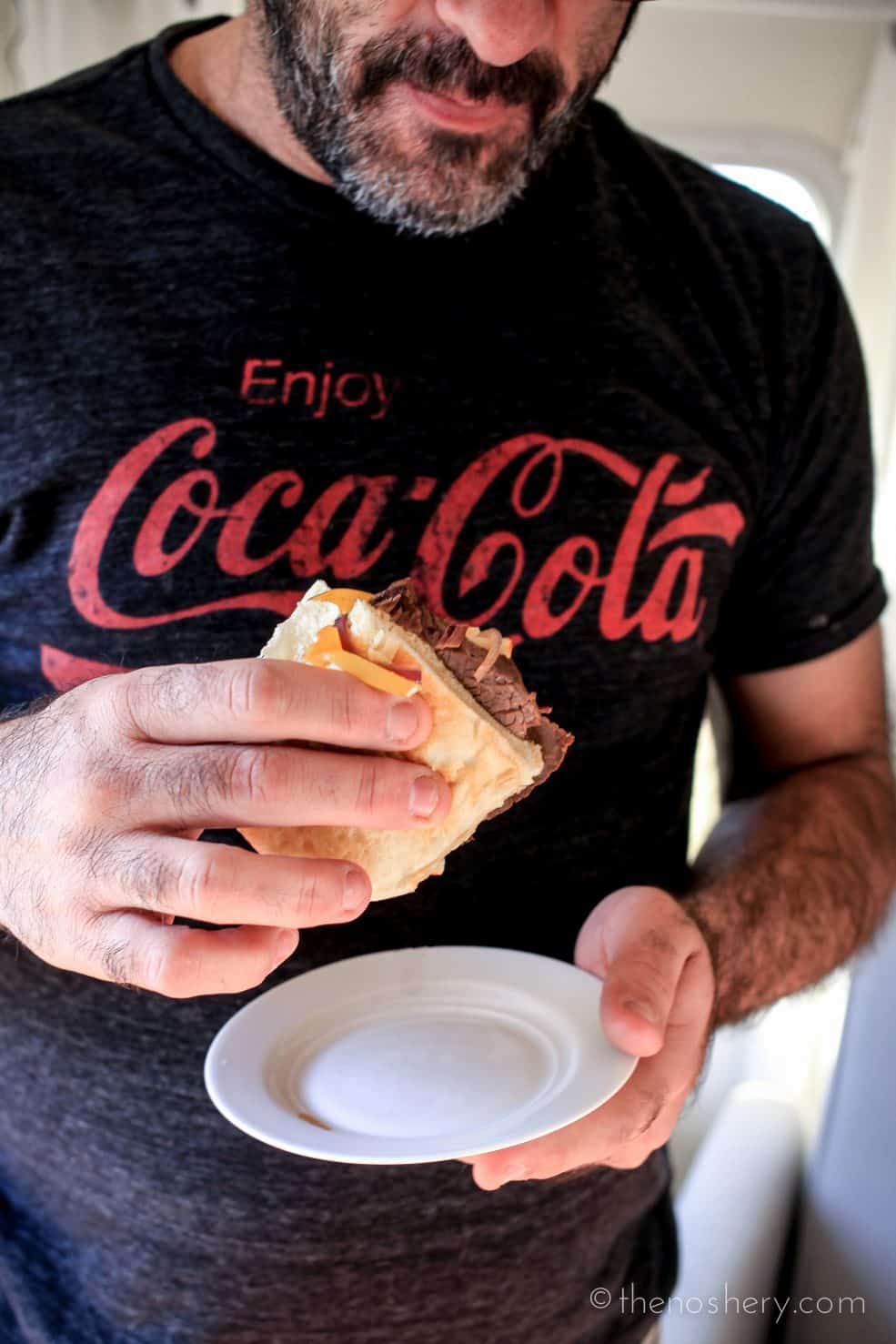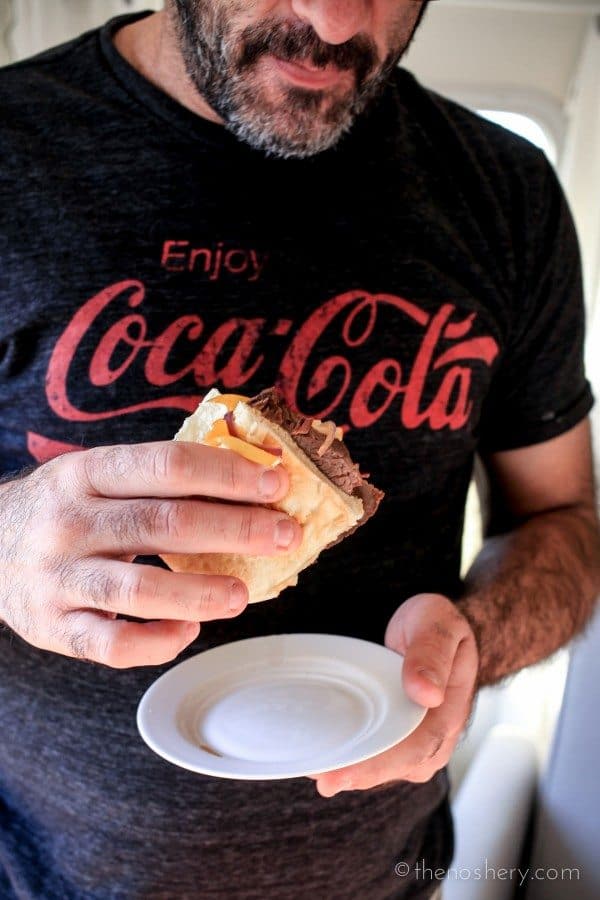 Now it's time to satisfy the sweet tooth. I wanted to make a fun and easy treat. When I was a younger, we were stationed in central Georgia. I would spend my afternoons at the youth center and treat myself to a special marshmallow filled treat, basically a large mallomar! That memory gave me the idea to make some easy mallomars with buttery RITZ Crackers


These little treats are easy to make and addictively poppable.  Buttery crisp RITZ Crackers are the perfect base for these easy RITZ mallomars, and the hint of salt perfectly complements the sweet marshmallow and chocolate. Trust me there will be a lot of drive-by-grabs with these little devils. You'll start with one and next thing you know you've eaten a dozen.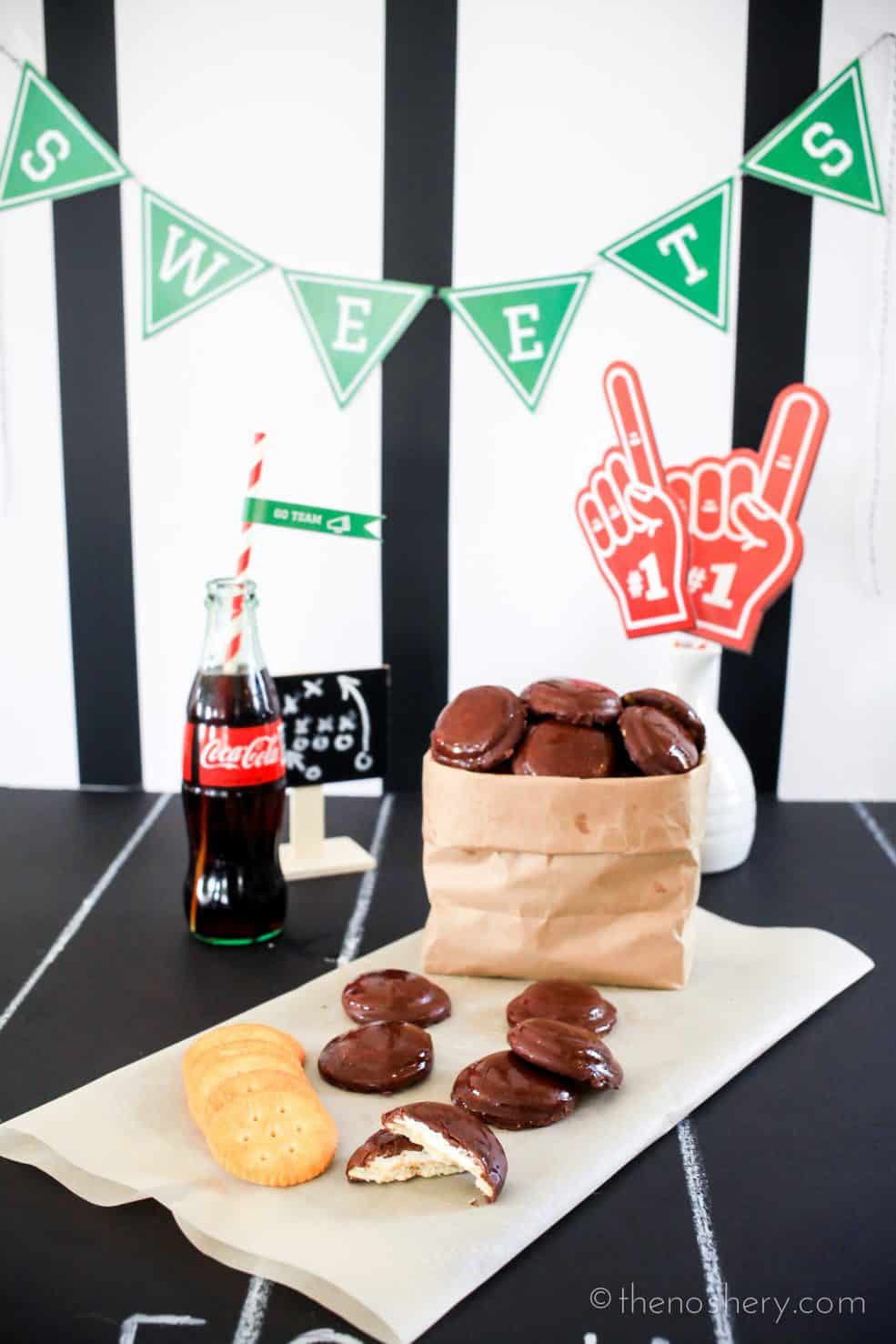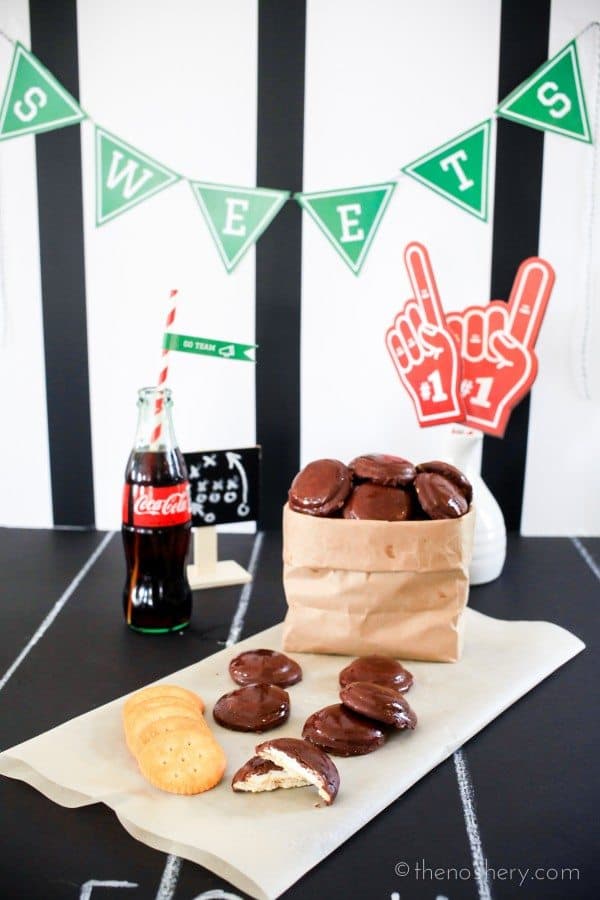 Coca-Cola and NABISCO has everything you need to score big with your guest on game day! And we are just getting started with "Home Bowl" planning so make sure you stay tuned for more amazing recipes and entertaining ideas! Be on the lookout for the next couple of weeks for more recipes and ideas to help host a fun "Home Bowl" of your own.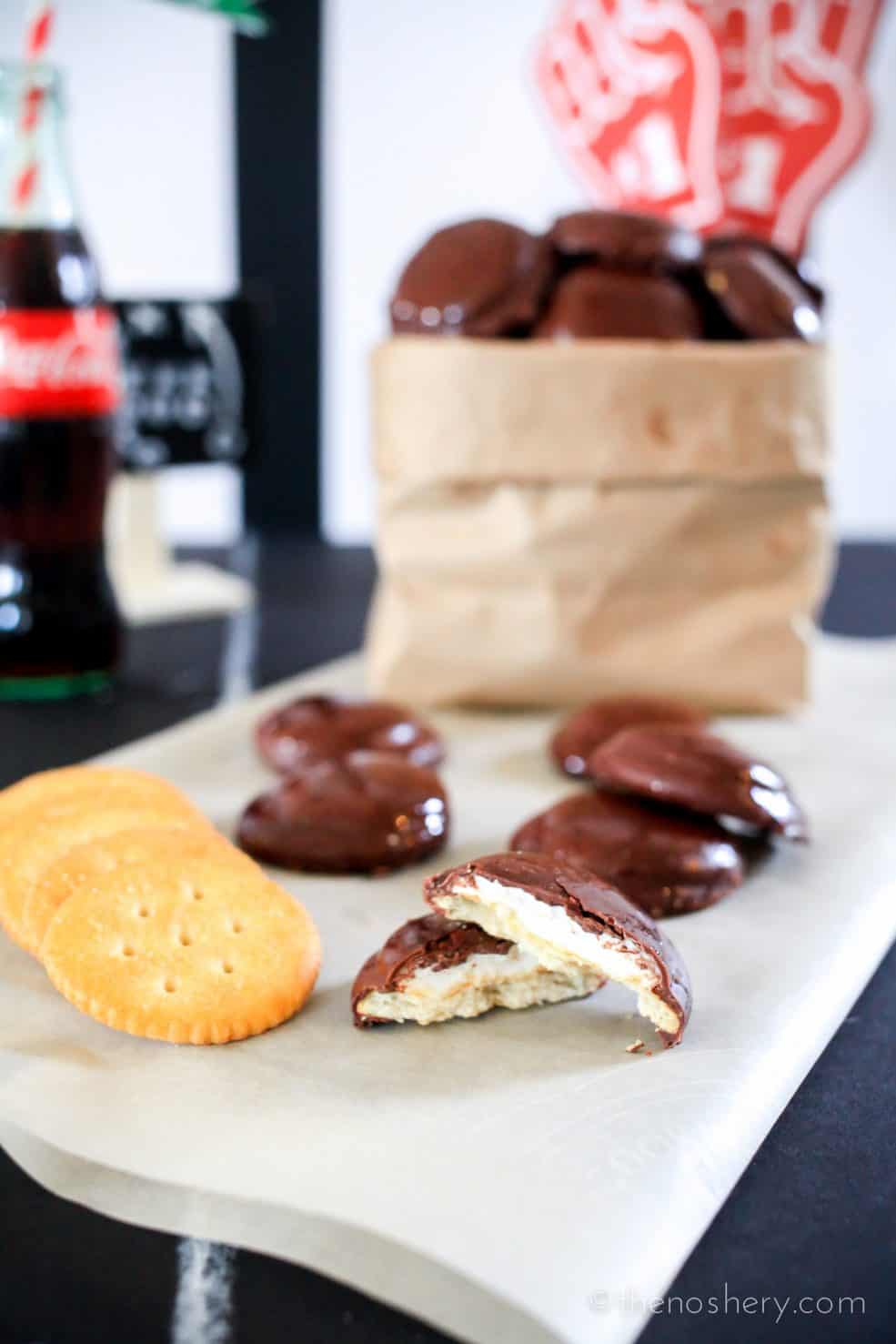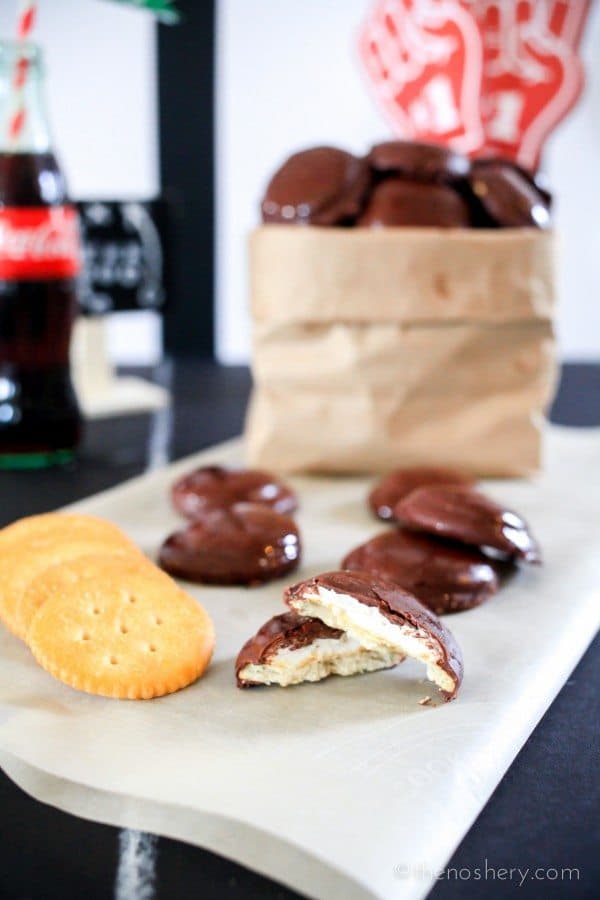 But wait! There is more! Enter for a chance to win a $400 value Coca-Cola and NABISCO Home Bowl prize pack!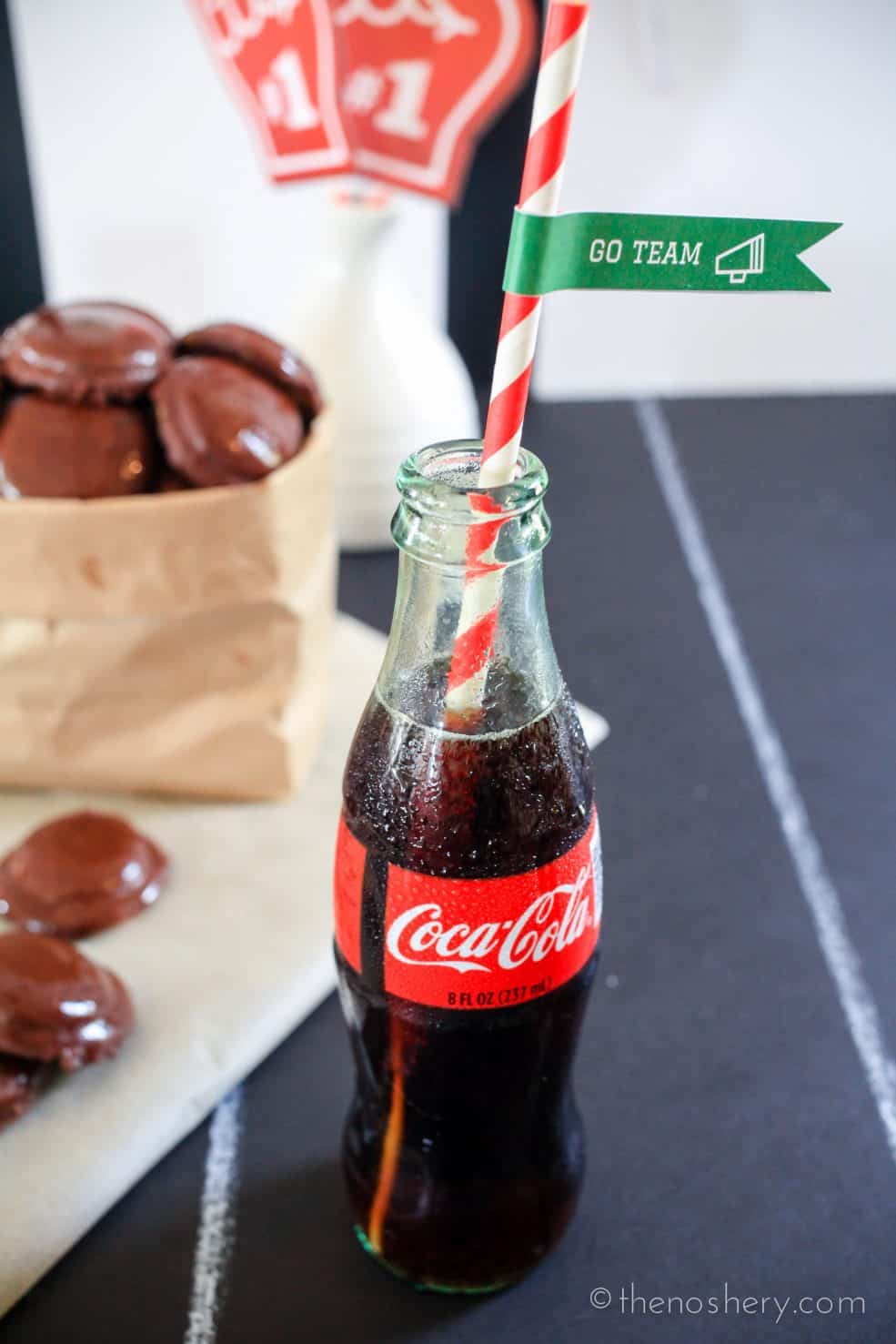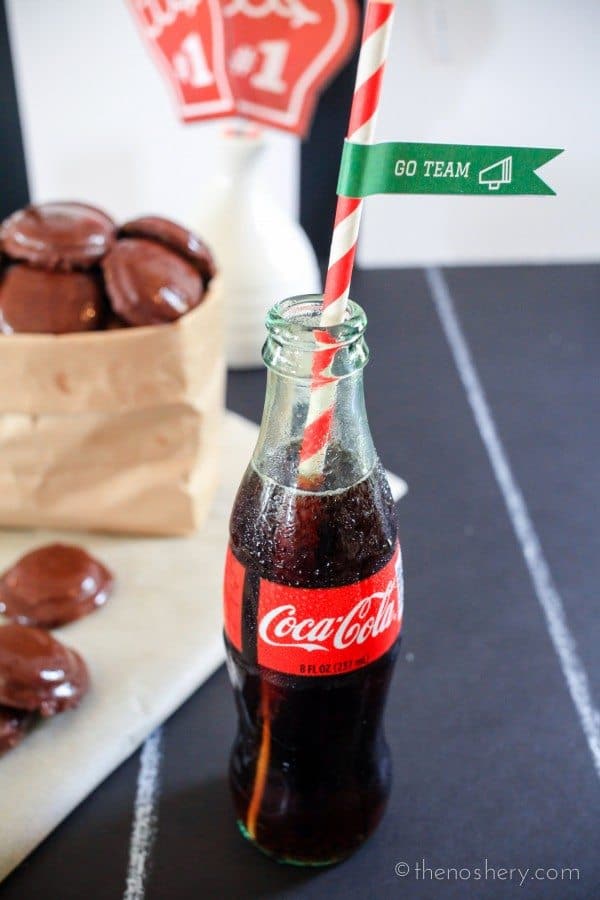 Prize!
Two winners will win one of two $400 value Coca-Cola & NABISCO "Home Bowl" prize packs!
How to Enter!
Create a Pinterest board and name it "Coca-Cola & NABISCO #HomeBowlHeroContest"
Pin favorite game day tips and tricks to your board.
Leave a link to your "Coca-Cola & NABISCO #HomeBowlHeroContest" board in the entry form below.
I will choose the best and most creative "Coca-Cola & NABISCO #HomeBowlHeroContest" Pinterest board.
Contest Entry Period 
January 4, 2016 to January 29, 2016
Winners will be chosen and contacted on or before February 1, 2016. Winners will have 24 hours to respond. If winner does not respond an alternate winner will be chosen.
Fine Print
This prize was provided by The Coca-Cola Company and Mondelez Global LLC. The Coca-Cola Company and Mondelez Global LLC are not a sponsor, administrator or connected in any other way with this promotion.
Entrants are not required to promote The Noshery or Coca-Cola or NABISCO brands for a chance to win, and, if they do, entrants need to use the #HomeBowlHeroContest hashtag or otherwise disclose that they are posting those photos as part of a Contest entry.
Coca-Cola & NABISCO #HomeBowlHeroContest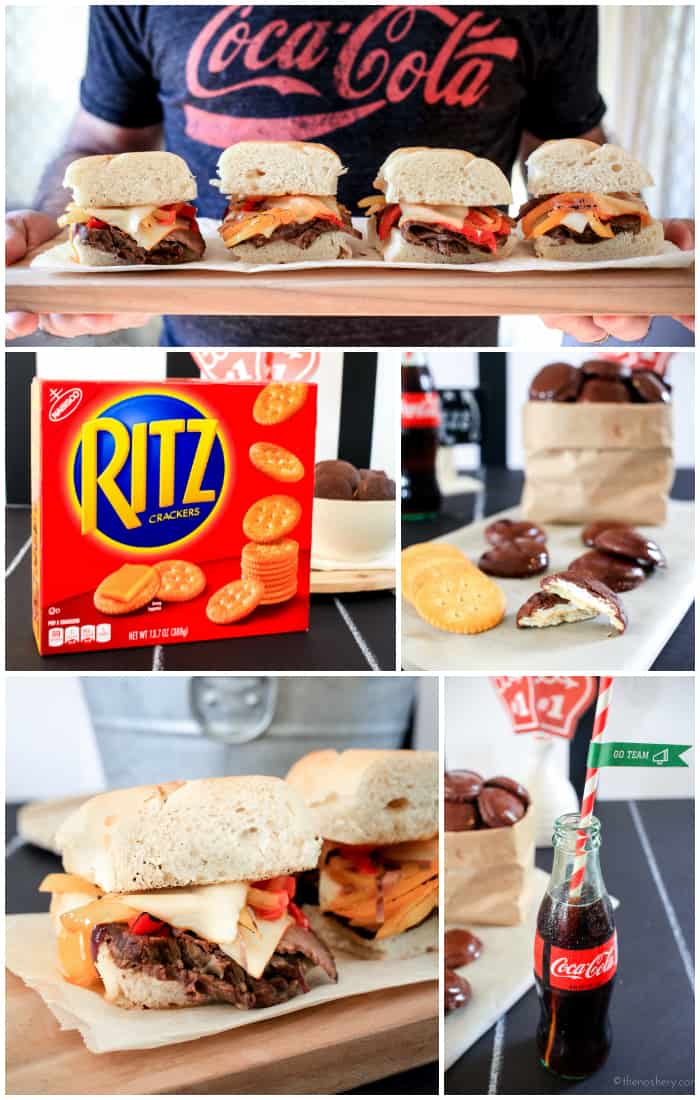 Yield: 60
Easy RITZ Mallomars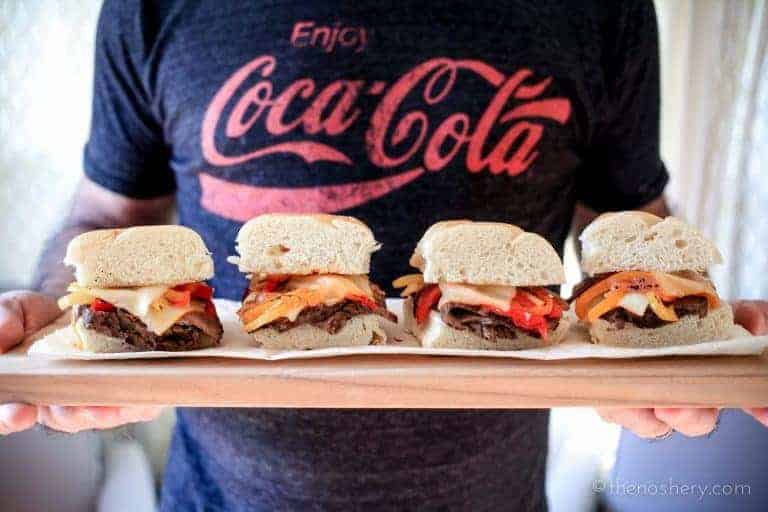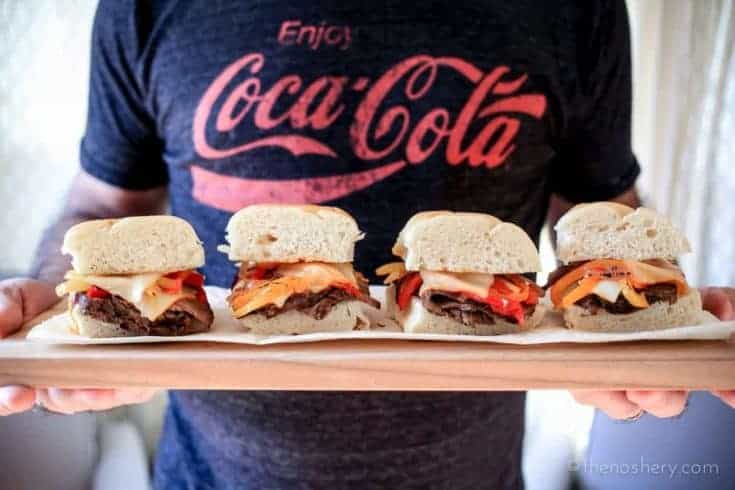 Ingredients
1 10 oz bag marshmallows
1 7 oz jar marshmallow creme
2 sleeves Ritz Crackers
2 12 oz bags semi-sweet chocolate chips
2 tablespoons coconut oil
Instructions
Place a quart side resealable plastic bag in a cup, folding the opening over the top of the cup to keep the bag open. Place two cooling racks over parchment paper. Open a sleeve of Ritz Crackers, set aside.
In a large microwaveable glass bowl combine marshmallows and marshmallow creme. Microwave marshmallow for 1 minute, with spatula. Continue to microwave marshmallow in 30 second increments, stirring each time until marshmallow is smooth. Carefully transfer marshmallow into resealable bag, try not to touch the sides of the bag. Remove as much air as you can from the bag and seal it. Cut about 1/4 inch from the corner of the bag. Pipe a dollop of marshmallow cream on each cracker, about 1 tablespoon of creme. Place on crackers on cooling rack, leaving space between each cracker. Continue until out of marshmallow creme. If marshmallow stiffens microwave in 30 second increments and stir until smooth again.
In a large microwaveable glass bowl combine chocolate chips and coconut oil. Microwave in 30 second increments, stirring each time until smooth. Spoon chocolate over marshmallow, carefully coaxing chocolate over the sides. Gently tap the racks on the counter to shake off excess chocolate and smooth. Let cool at room temperature until chocolate has set, about 4 hours.
Store in airtight container.
Notes
Spray spatula with non-stick spray to scrap marshmallow cream out of the jar.


Do not refrigerate. Refrigerating mallomars to speed up the chocolate setting will cause the chocolate to bloom and develop a chalky appearance.
Yield: 12
Coca-Cola Slowcooker Beef and Pepper Sandwiches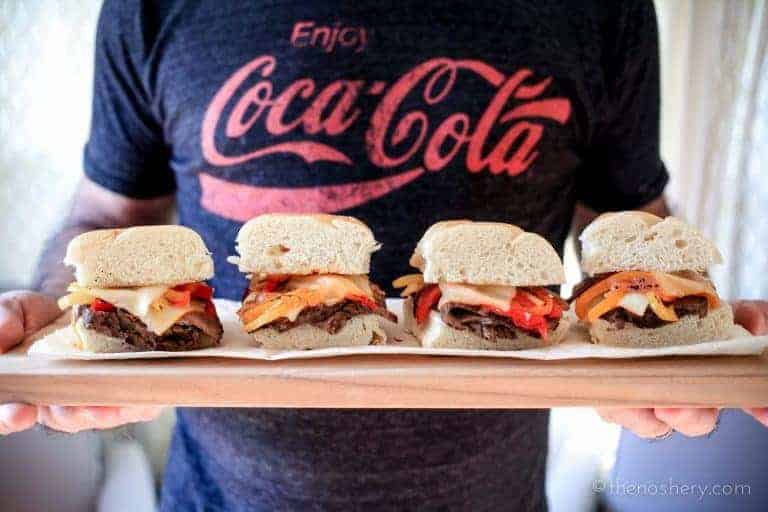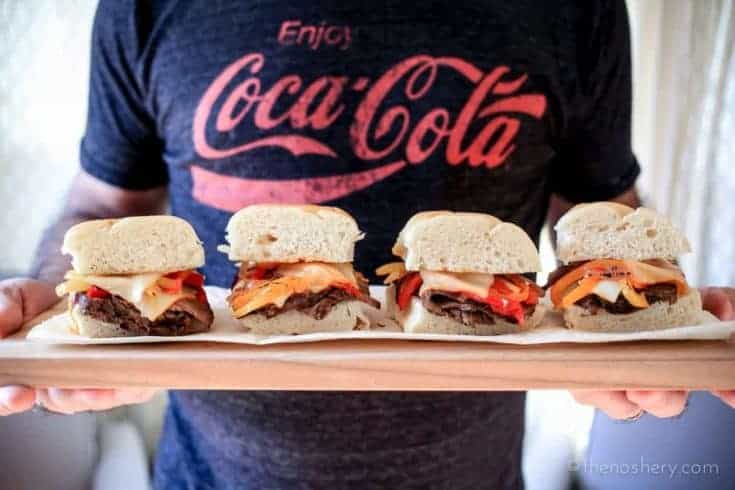 Ingredients
1 cup water
1 beef bullion cube
3 tablespoons worcestershire
1 tablespoon salt
3 cloves garlic, pressed
1 12 oz can Coca-Cola
3 - 4 lb beef round roast
3 bell peppers (red, yellow and orange), julienne
1 large red onion, thinly sliced
1 tablespoon olive oil
12 slices munster cheese
6 hoagie buns
Instructions
Combine water, bullion, worcestershire, garlic, salt and Coca-Cola in a bowl. Mix until well combined. Place roast in a container with lid or resealable plastic bag, pour marinade over roast. Roast should be almost fully submerged in marinade. Seal and place in the refrigerator marinade for 4 hour or overnight.
Place roast with marinade in a slow cooker, cook on HIGH for 4 hours or LOW for 8 hours.
When roast is ready transfer to a cutting board and let cool. While the roast is cooling sauté peppers and onions with olive oil in a large skillet over medium-high heat until tender, about 10 minutes. Once the roast is cool to the touch slice it against the grain. Divide the meat among the 6 hoagie buns, top with cheese, peppers and top bun. Slice sandwiches and serve.
Optional: Keep the broth warm in the slow cooker and provide cups for guest to dip their sandwiches.
Disclosure
: This is a sponsored post written by me as part of a partnership with The Coca-Cola Company and NABISCO. All thoughts and opinions are my own. Prizes provided by The Coca-Cola Company and Mondelez Global LLC. The Coca-Cola Company, NABISCO and Mondelez Global LLC is not a sponsor, administrator or connected in any other way with this program.