Bacon Egg Cups | If you were to ask me what is my favorite meal of the day without a thought my response would be breakfast!
I love breakfast!
I love brunch!
I love bacon!
I love breggs! I mean eggs!
These little goodies are all of the above in a little two-bite bacon egg cup package.

The other day I was scanning through my copy of William & Sonoma's: Tools and Techniques. This is a great book to have on your shelf. It has all kinds of info on different gadgets, cooking techniques and recipes. Perfect for the beginner cook!
One of the techniques it has is how to make toast cups. I thought to myself, "What a great idea!". Then I remembered Stacey Snacks' post on how to make bacon cups with eggs. And, I thought bacon egg cups in toast would be perfect!

And, they are crazy easy to make and perfect for feeding a crowd. Honestly, no one wants to have to stand in the kitchen slaving away making eggs, bacon, and toast to order. And, have you ever noticed that the toast and eggs are never ready at the same time. You either end up with cold eggs or cold toast. Bacon egg cups make it all better.
Bacon Egg Cups Recipe
12 slices of bread
12 slices of bacon
12 eggs
salt & pepper

These eggs can easily be customized to please anyone. And you can easily make different kinds in one pan.
Notes for Bacon Egg Cups
It's best to use a playable bread. Hearty whole grain bread tends to break when forming into the mold.
If you are a fan of sweet and savory consider using brioche or cinnamon toast bread.
Thick cut bacon, of course, takes longer to cook. It's best to use a good quality standard cut bacon.
Use medium or large eggs, extra large eggs and jumbo eggs overflow out of the toast cup.
If you don't have bacon on hand you can use ham instead.
If you're not a fan of runny yolks, I will have to reconsider our relationship, but you can scramble the eggs with some cheese.

For the love of eggs, bacon, and toast! You have to make these! Your friends and family will cheer declaring you most awesome person ever!
Toasty toast, creamy eggs, and salty bacon! What is not to love! Dress these up however you like, sprinkle with herbs, fresh cracked pepper or cheese. Swap out bacon for ham or use cinnamon raisin bread for a sweet and savory version……Mmmmmmm!

If there is any doubt about my love for breakfast all you need to do is look at my breakfast recipe collection. I also seem to have a thing for one pan/baking dish/sheet pan breakfasts like these Fluffy Whole Wheat Blueberry Banana Sheet Pan Pancakes, Banana Nut Protein Baked Oatmeal Cups, Mini Dutch Pancakes with Cherries & Almond Ricotta Mousse, or Blueberry Cinnamon Crunch Baked French Toast.
Quick question if I have breakfast for dinner is it still breakfast?
More Baked Egg Love:
Items Used in This Recipe:
Yield: 6 cups
A Two Bite Breakfast: Bacon & Eggs in Toast Cups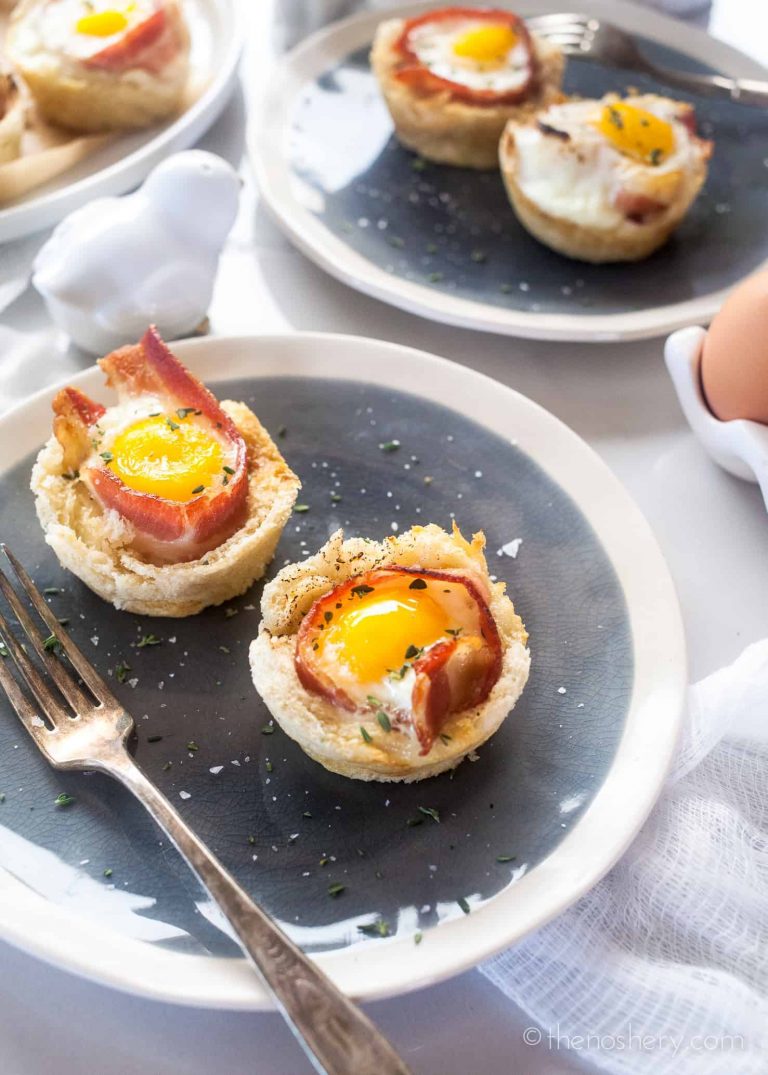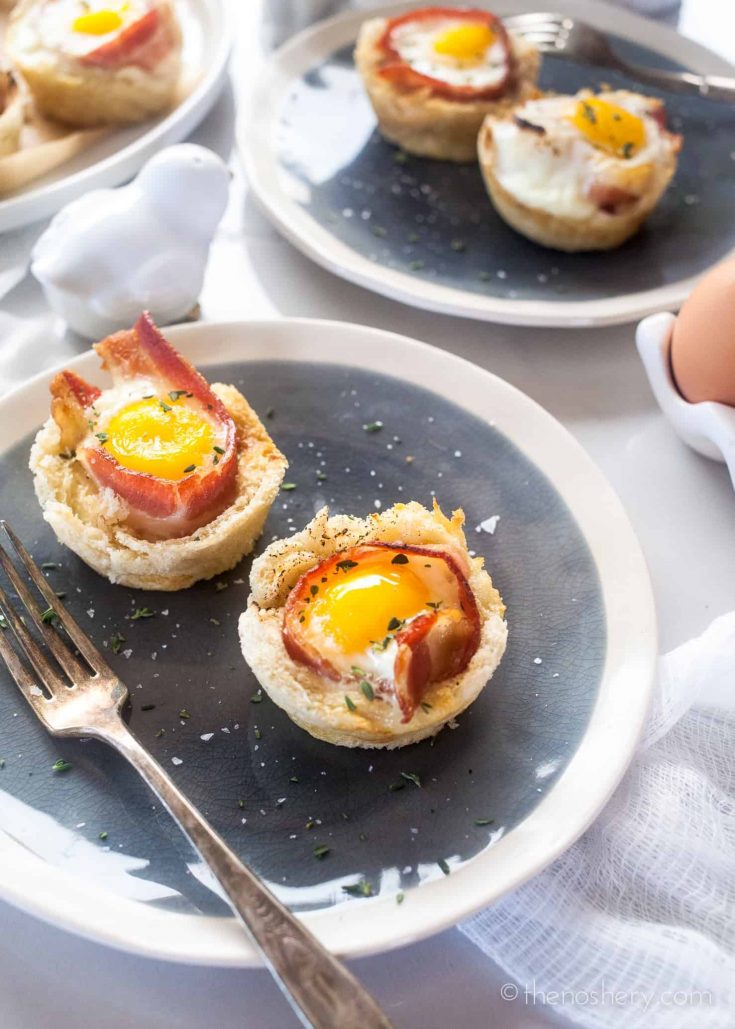 Bacon, eggs, and toast in one small package. Great for feeding a large family or a group of friends for brunch.
Ingredients
12 slices of bread
12 slices of bacon
12 eggs
salt & pepper
Instructions
Pre-heat the oven to 400 degrees. Lightly butter the molds of the muffin pan.
Trim the crust and the corners off the bread, making wonky looking circles. Using your fingers gently flatten the bread and shape into the muffin molds, set aside.
Line a sheet pan with parchment paper and lay the bacon strips on it. Roast in the oven for 10 minutes. You want them just slightly cooked and still pliable. While the bacon is cooling bake the toast cups in the oven for 5 minutes, just enough to lightly toast the cups.
Shape the cooled bacon into the toast cups, with the meaty side out. Crack an egg into each cup. (I take out some of the white so not to overflow the cups, but that is up to you.)
Lower the temperature of the oven down to 350 degrees.
Bake the egg cup in the oven for 15 - 20 minutes or until the egg whites have set and the yolks are creamy.
Run a knife along the edges and use a small spoon to pop them out. Enjoy!
Notes
If you're not a fan of creamy delicious runny eggs you can beat 4 eggs with a bit of milk, season and spoon into the cups and bake for 10 minutes or until eggs have puffed and are set. Feel free to add a bit of cheese.