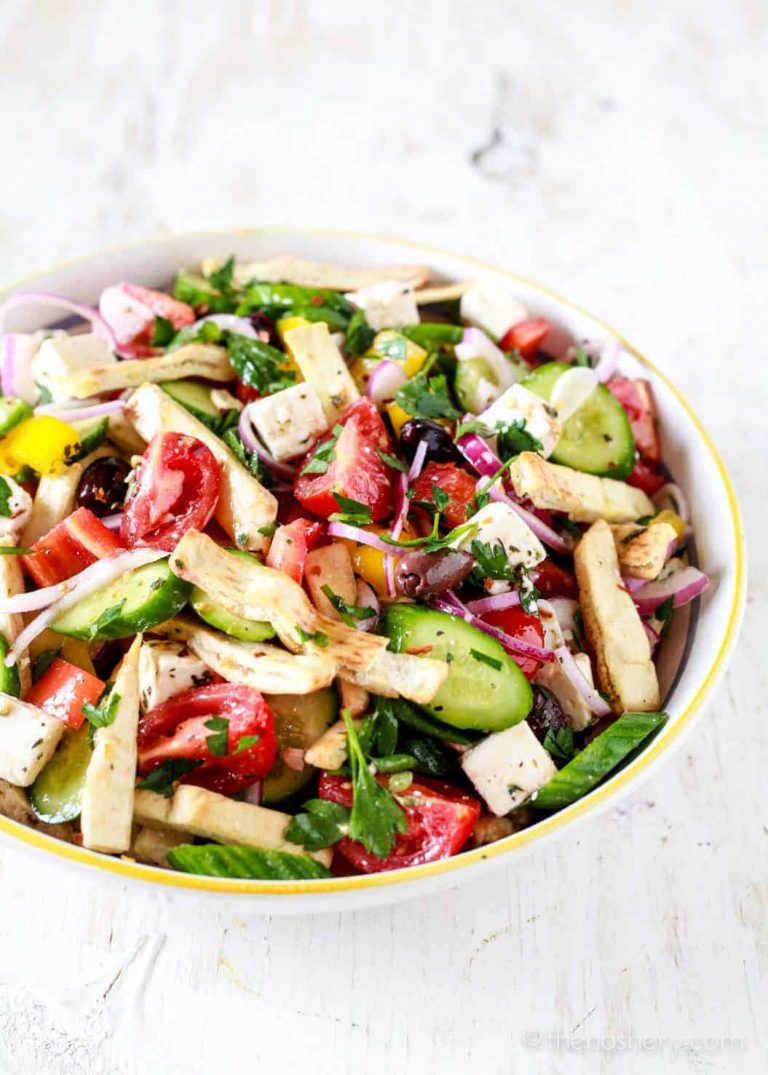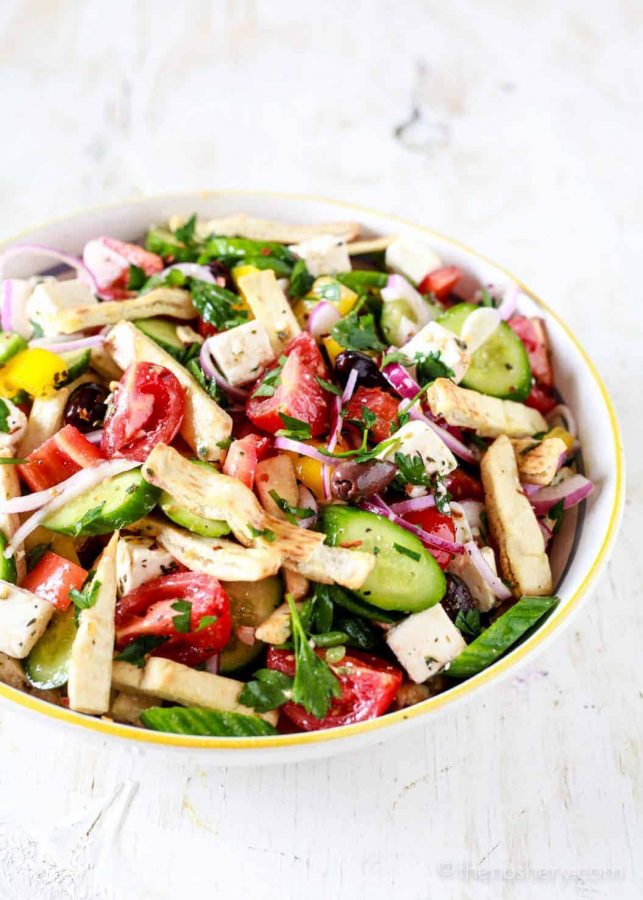 There are times when I crave vegetables and go into vegetable overload. It's nice to be able to have a meal that does not require applying heat to a piece of meat. I am happy to consume a large bowl of well-marinated vegetables and call it a day. Nothing curves a craving of fresh vegetables like a panzanella salad.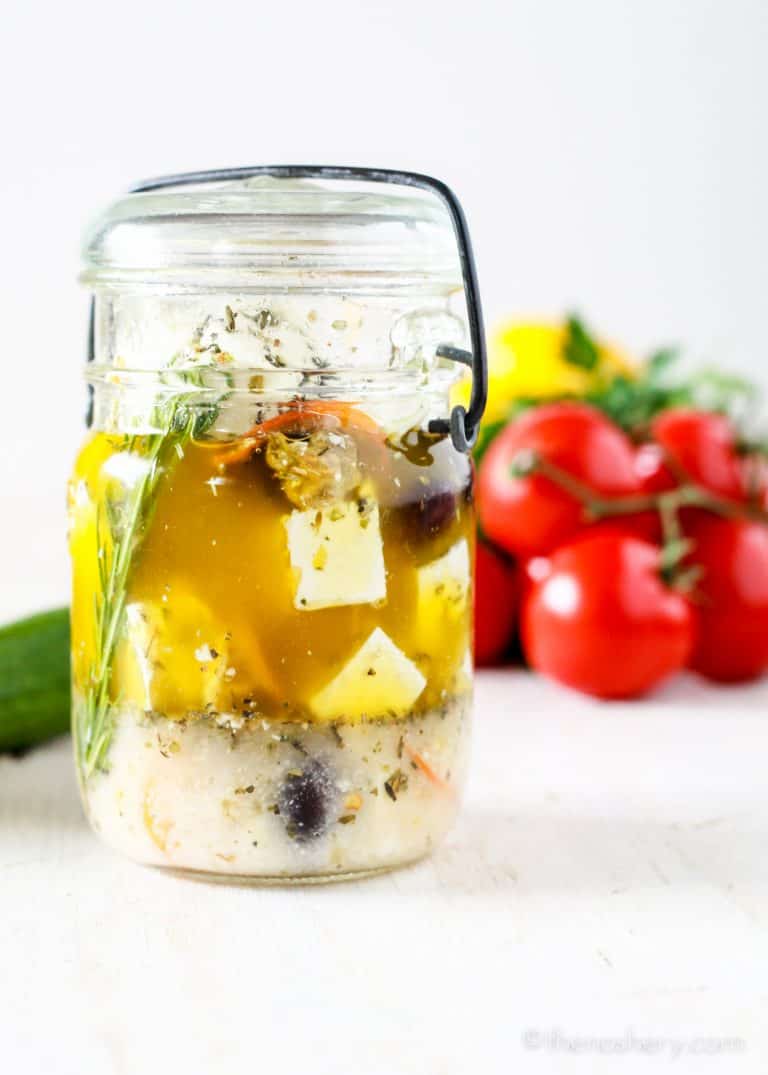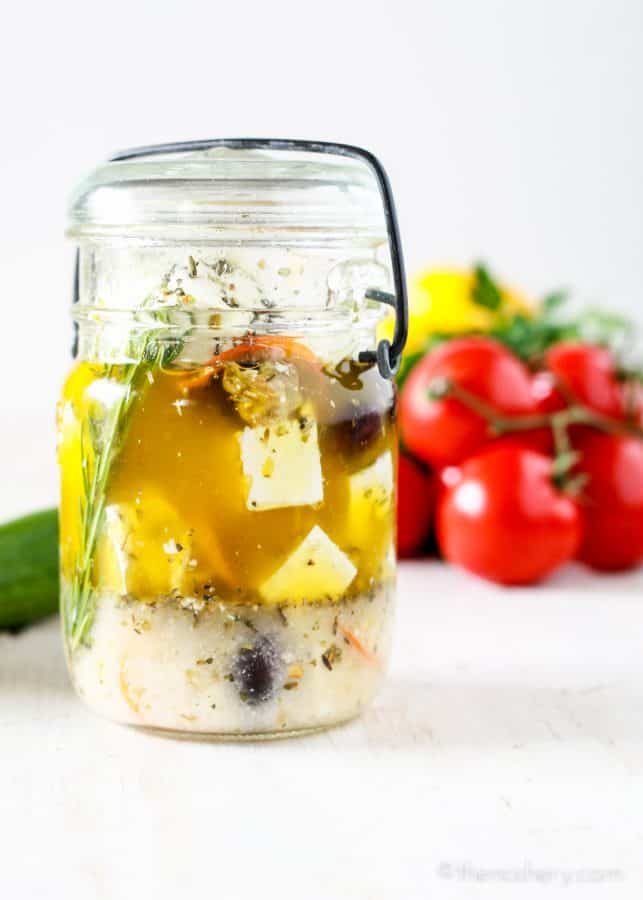 I could eat my weight in panzanella and I confess I kind of did. There is no summer salad that I love more than a panzanella. Made up of large cuts of crisp, fresh vegetables and tangy vinaigrette it's the perfect salad to accompany any grilled protein. My favorite is my Best Grilled Chicken Ever recipe. I know it's a bold statement but I love this chicken. I have made several different kinds of salad but panzanella holds a special place in my heart.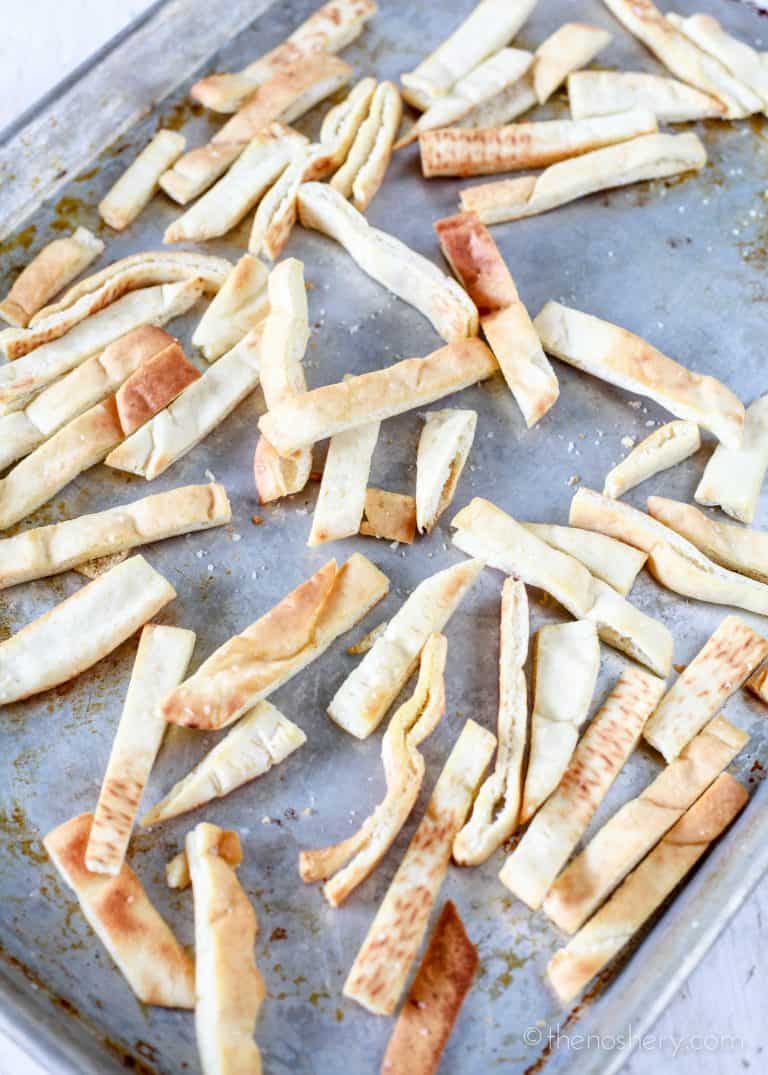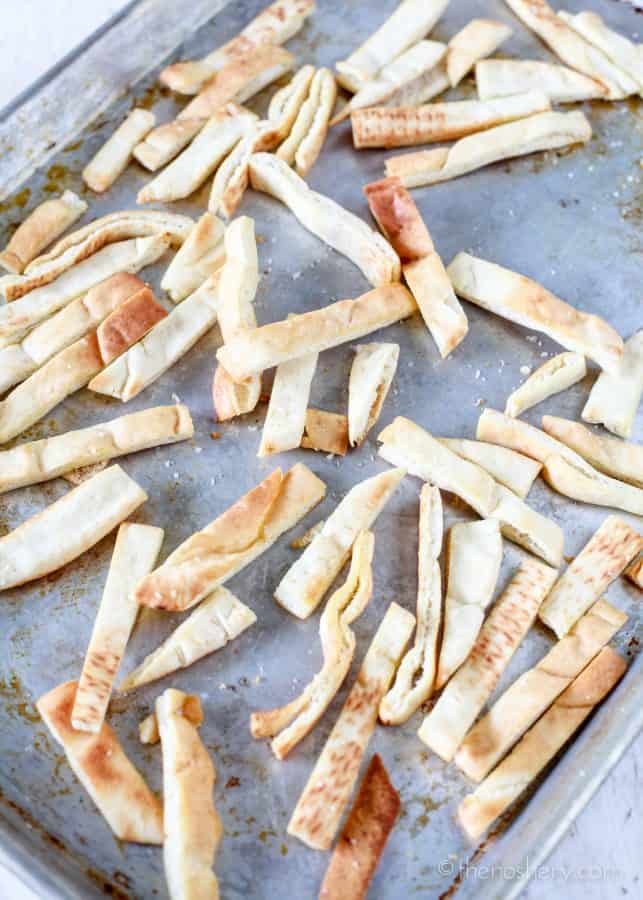 If you are not familiar with panzanella, it is a  Tuscan salad traditionally made with bread and tomatoes.  It includes chunks of soaked stale bread and tomatoes, sometimes also onions and basil, dressed with olive oil and vinegar.  I like to make mine loaded with chopped veggies and toasted bread tossed in a flavorful vinaigrette.  But this time, I thought I would go a little Mediterranean and make it with toasted pita and marinated feta cheese with kalamata olives. If you love feta cheese, you will love marinated feta cheese. It gives the cheese an extra kick and the marinade doubles as a dressing for the salad.  Allowing notes of feta to get all up in the salad's business.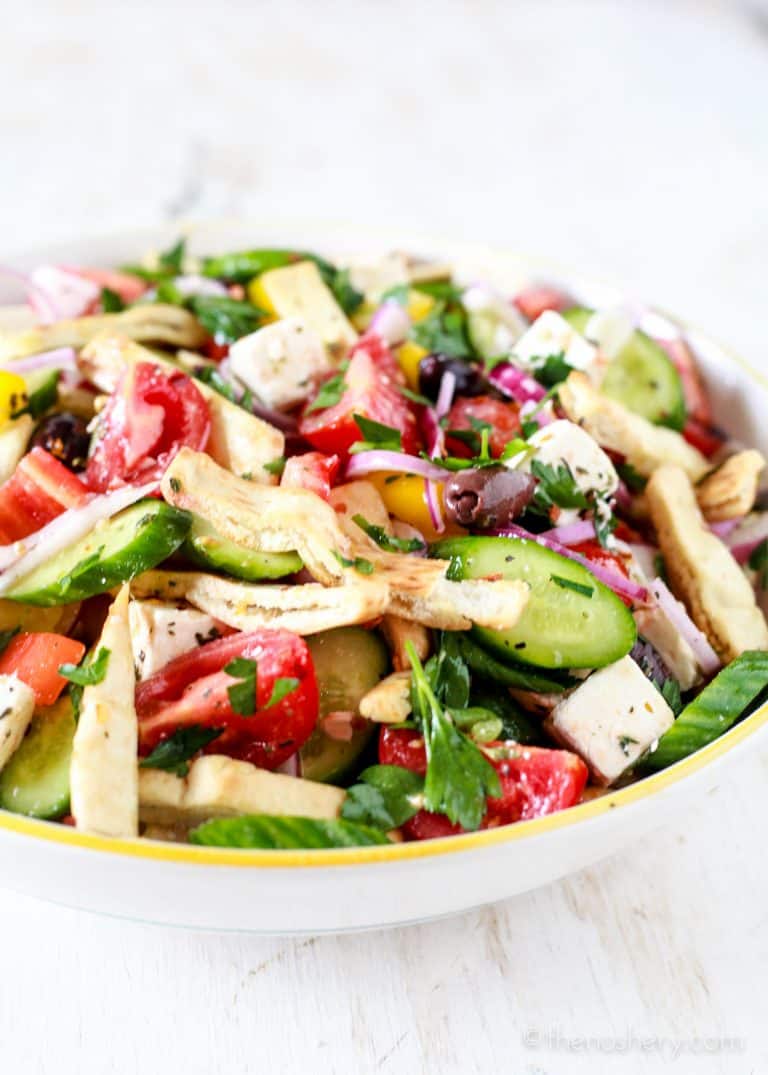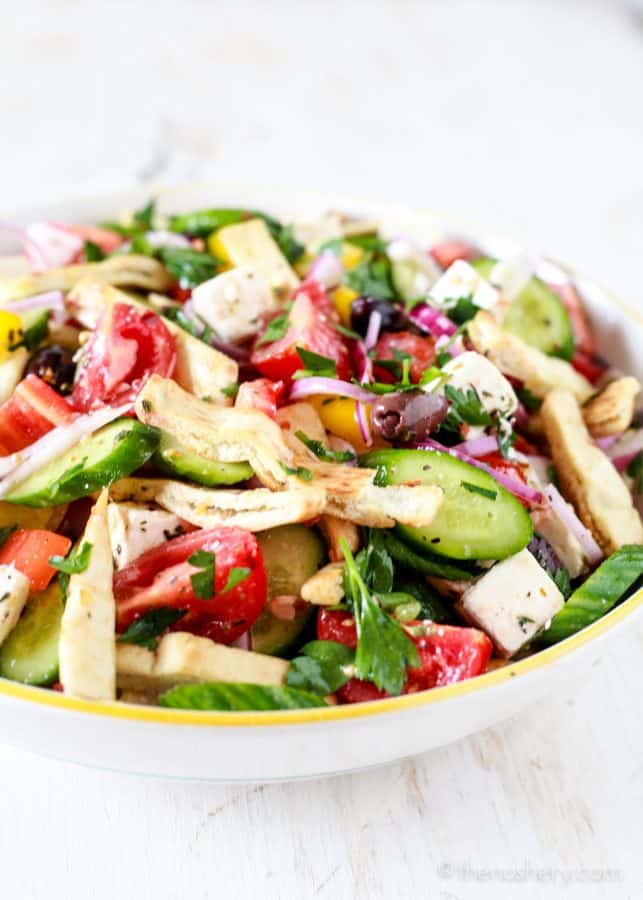 I also chose to use baby cucumbers in this salad. For no reason other than, I saw them and thought they were too cute to pass up. I have a thing for miniature versions of vegetables, but you can also use an English cucumber. If using English cucumber make sure to seed it and cut it in half slices.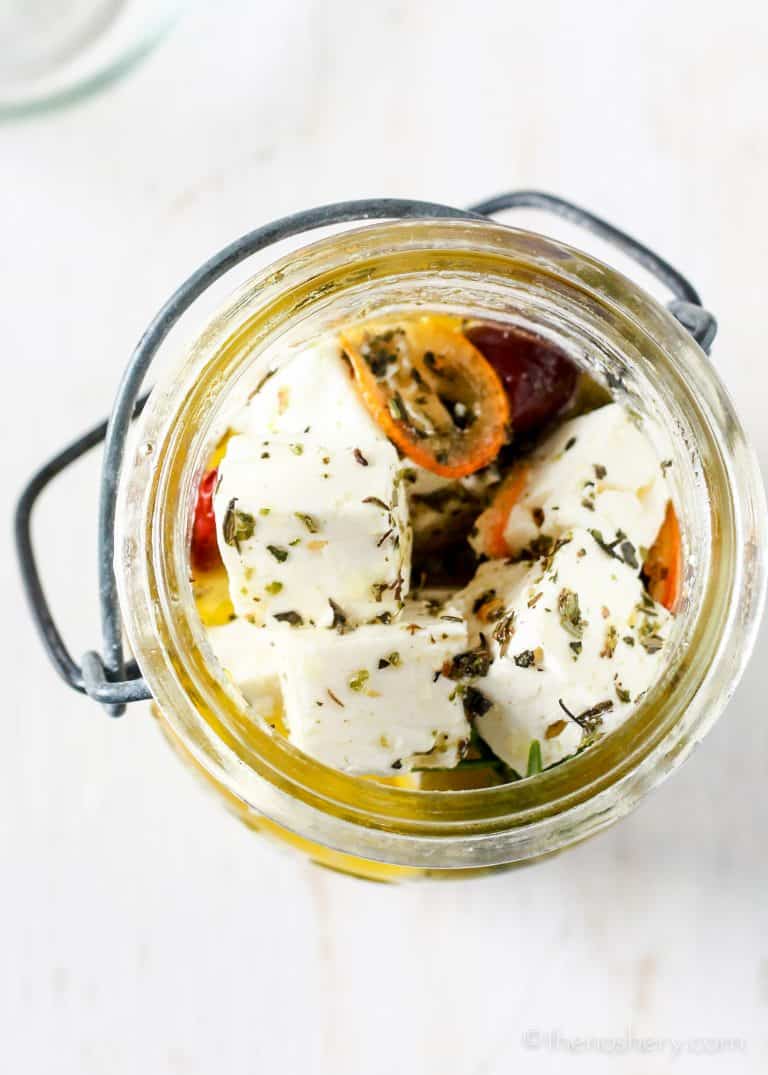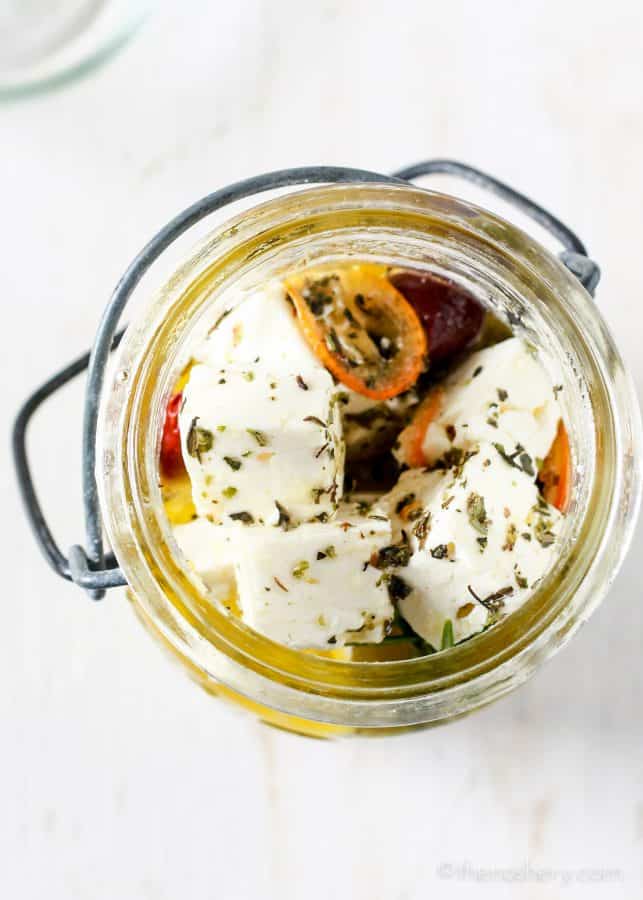 What is there not to I love about this salad. The crisp vegetables, toasted pita, tangy feta, briny olives and bright vinaigrette make you want to take one bite after another and after another. Leaving you weeping with disappointment when it is all gone.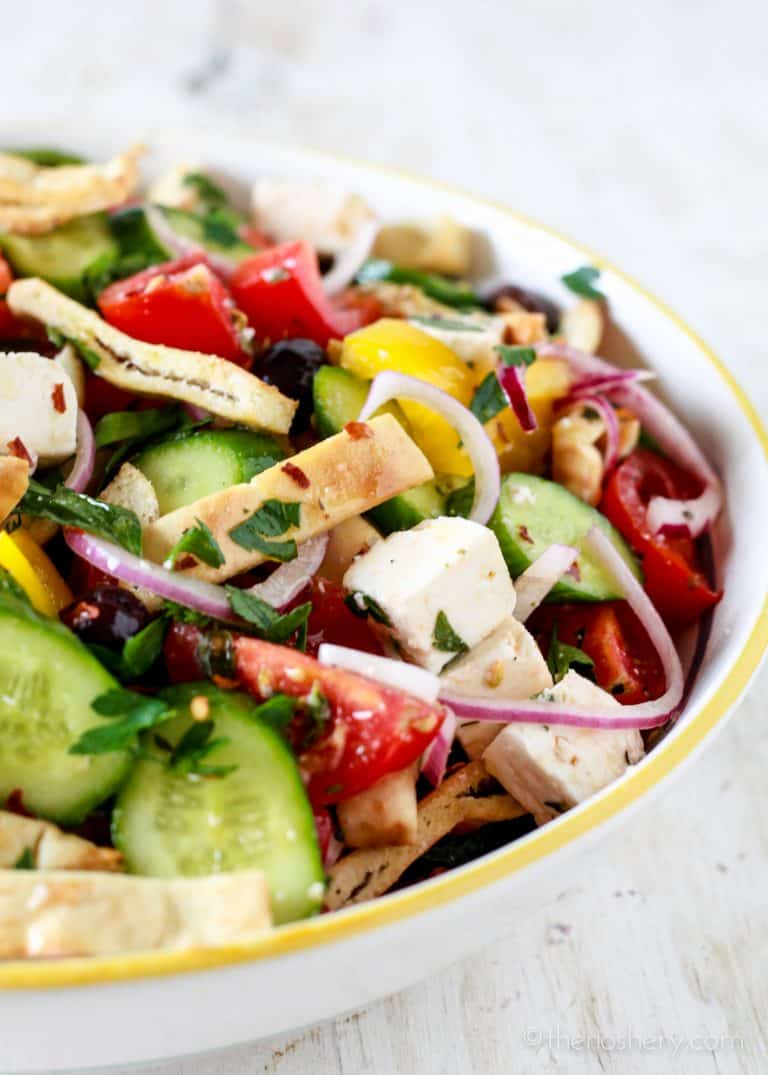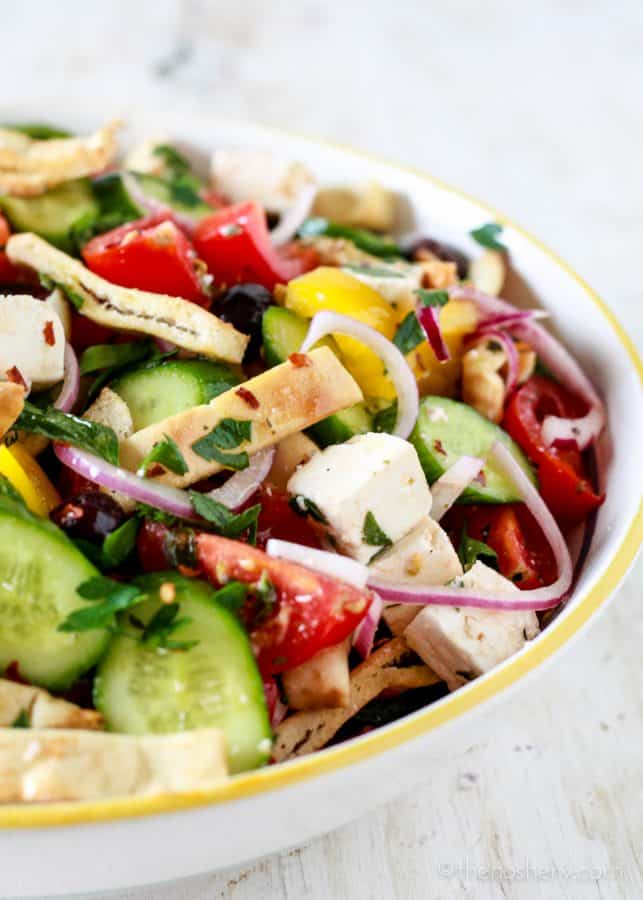 Yield: 6 servings
Mediterranean Panzanella Salad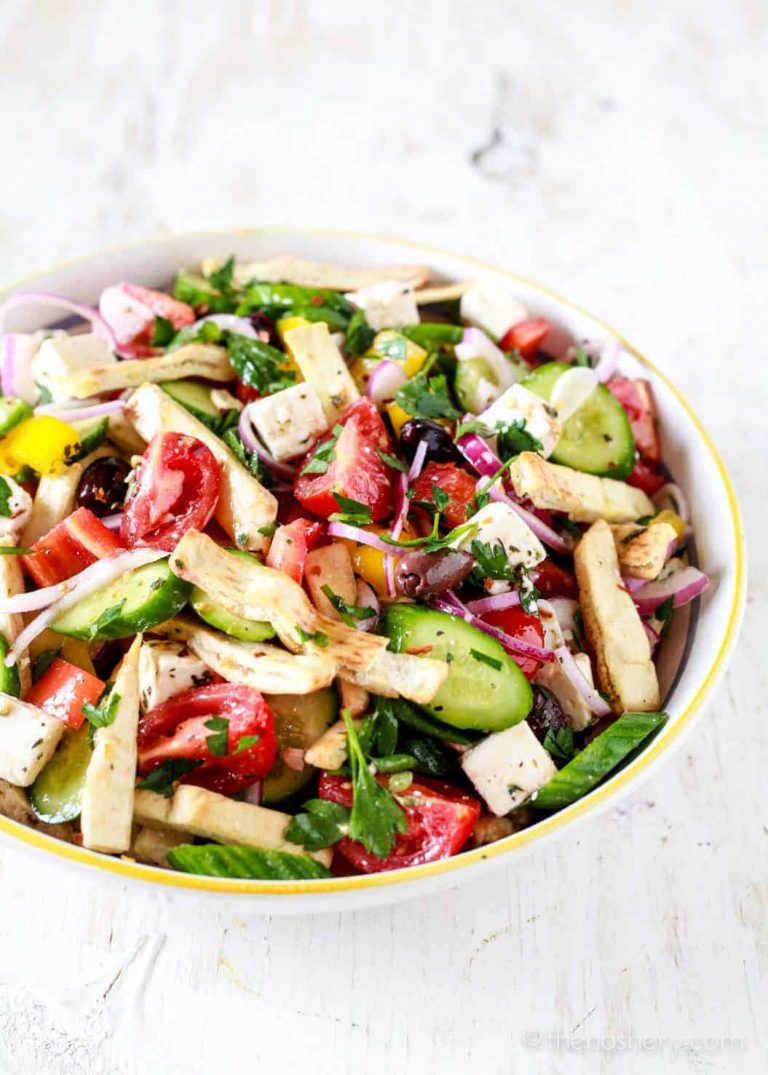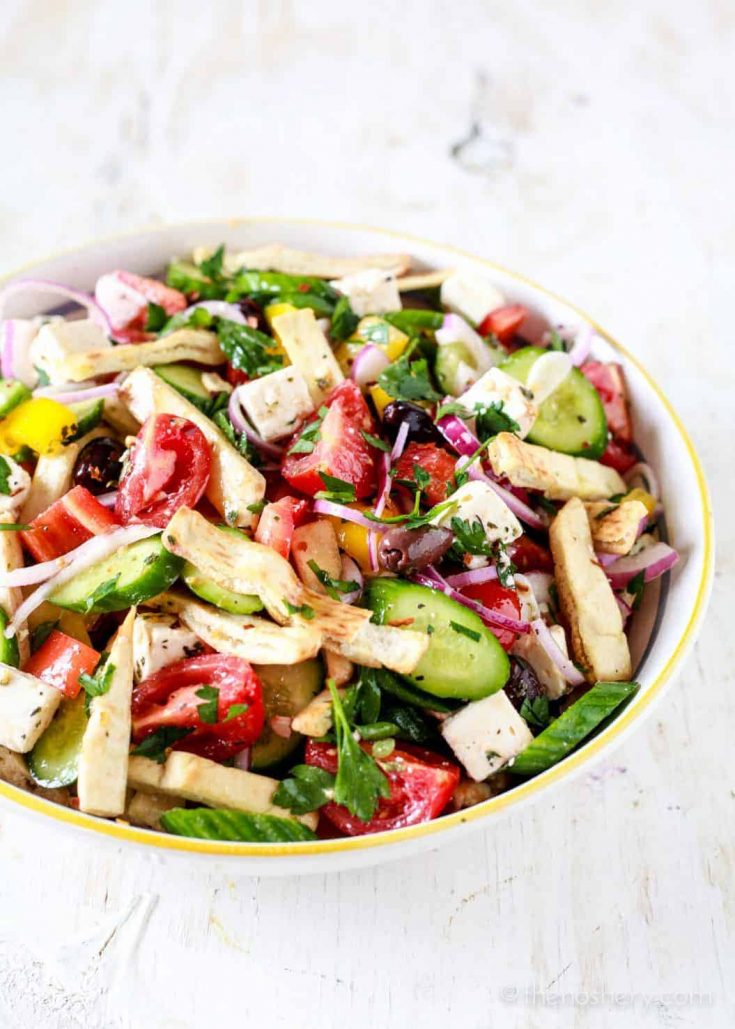 Fresh veggies tossed with a tangy dressing, marinated feta cheese, kalamata olive and toasted pita bread. A perfect side for summertime grilling.
Ingredients
Dressing
[br]
8 ounces feta cheese, cubed
2 lemons juiced
1/4 cup tablespoons olive oil
2 kumquats thinly slices or zest of 1 lemon
1 teaspoon Herbs de Provence
1 or two dried chilies (or you can use chili flakes, to taste)
1 clove garlic, minced
1 sprig of rosemary
6 kalamata olives
[br]
Salad
[br]
2 pita breads, halved and cut in strips
4 baby cucumbers, sliced at a bias
6 small vine ripe tomatoes, quartered
1 yellow pepper, small diced
1 red pepper, small diced
1/2 small red onion, thinly sliced
small handful of flat parsley leaves, torn
salt to taste
crushed red pepper (optional)
Instructions
In a small container combine all dressing ingredients, gently tossing feta cheese. Set aside to allow flavors to meld.
Heat oven to 400 degrees. Gently toss pita bread with olive oil and salt. Spread on sheet pan and toast in the oven for 8 - 10 minutes our until lightly toasted. Set aside to cool.
Combine vegetables in a large bowl. Strain feta cheese, reserving dressing. Add feta, olives and pita strips to vegetables, dress with desired amount of dressing. Season with salt and toss until well combined. Sprinkle with crushed red pepper and serve.