Oven Roasted Chicken Shawarma | "It tastes like chicken" is something people say when describing something simple. I think it's used because, when it comes to food, it's something everyone can relate to. Everyone has tried chicken at some point in their life. And although some might even consider chicken boring, I have never met someone who doesn't like chicken.
Shawarma is a dish that could never be described as boring. This oven adaptation is easy to make on a weeknight and packed full of so many spices and aromatics. It's a festival of flavor.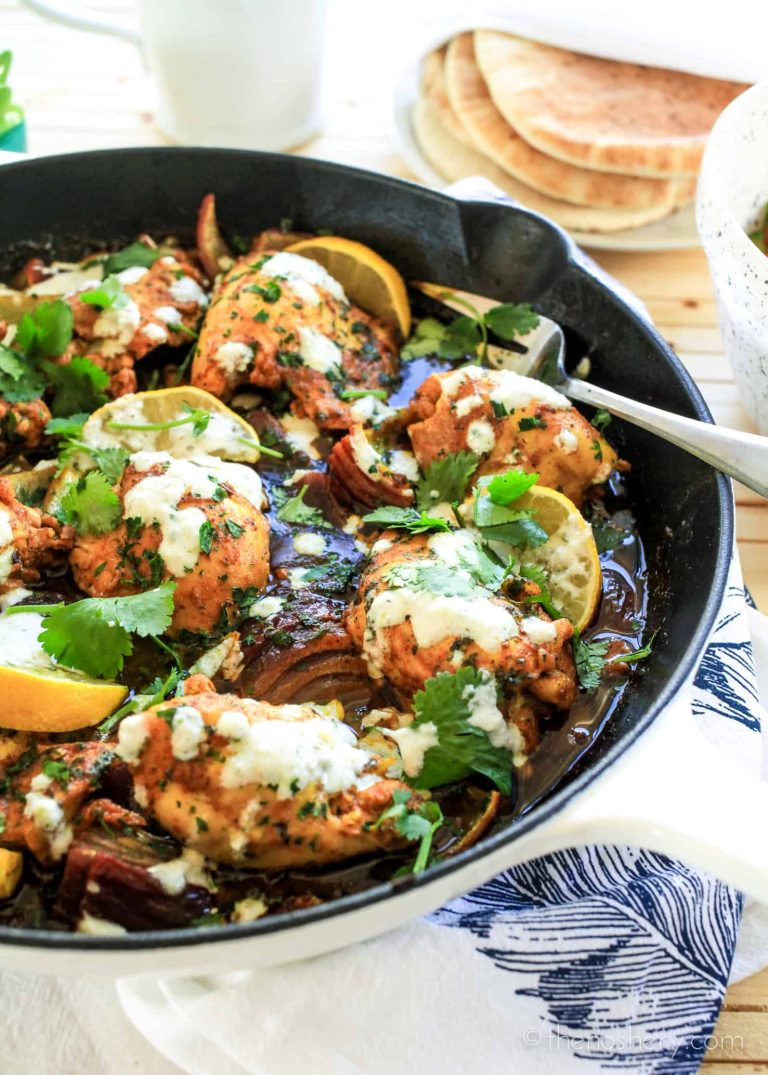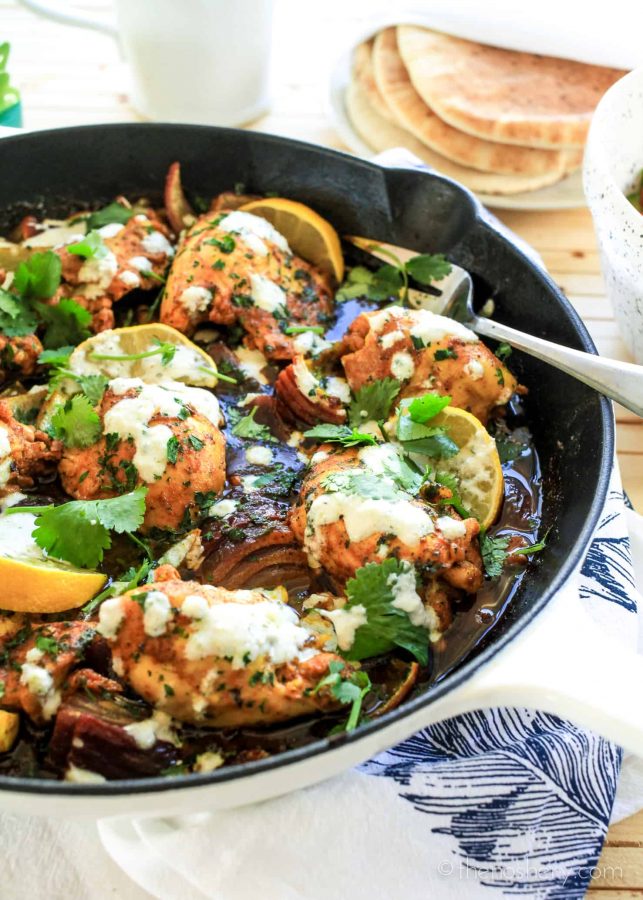 What is Chicken Shawarma?
Let's talk about shawarma. I like to describe shawarma as a Mediterranean street food flavor bomb. Meats are seasoned with a mixture of spices and then placed on a spit and slowly roasted for as long as a day.
Shawarma can be made with either lamb, beef, or chicken. It's typically served with pita bread, cucumber, tomato, eggplant, onions, tahini, hummus, or tabbouleh.
When I tried shawarma for the first time, I may have lost my mind a bit. It was so full of complex flavor. I could taste cumin, coriander, and hints of cinnamon. It was so good I licked my turmeric-stained fingers clean. I knew that I had to recreate this at home.
What does shawarma mean?
The Arabic word "shawarma" means turning, likely referring to the revolving spit it's traditionally cooked on. The apparatus turns the meat for even cooking, crispy and charred on the outside and tender and flavorful on the inside. When it's ready, it's shaved into thin slices for serving.
Shawarma vs Gyro
What's the difference between shawarma and gyro? Plated has a great article with the fine details, but the main differences are the meat and preparation.
Gyro is lamb or beef that is ground and shaped into a loaf and roasted on a vertical spit. Shawarma is packed down slices of marinated chicken, lamb, or goat.
You may have tried my shawarma wrap, but it's just as magical in skillet form. This recipe is an adaptation from a NYT Cooking recipe that I found when searching for an oven roasted chicken shawarma skillet. It turned out even more perfect than I hoped it would be!

Oven Roasted Chicken Shawarma Recipe Ingredients
2 lemons, juiced
1/2 cup plus 1 tablespoon olive oil
6 cloves garlic
2 teaspoons freshly ground black pepper
1 teaspoon kosher salt
2 teaspoons ground cumin
1 teaspoon ground coriander
2 teaspoons paprika
1/2 teaspoon ground cinnamon
2 teaspoons turmeric
Red pepper flakes
2 pounds boneless skinless chicken thighs
1 large red onion
2 tablespoons chopped fresh parsley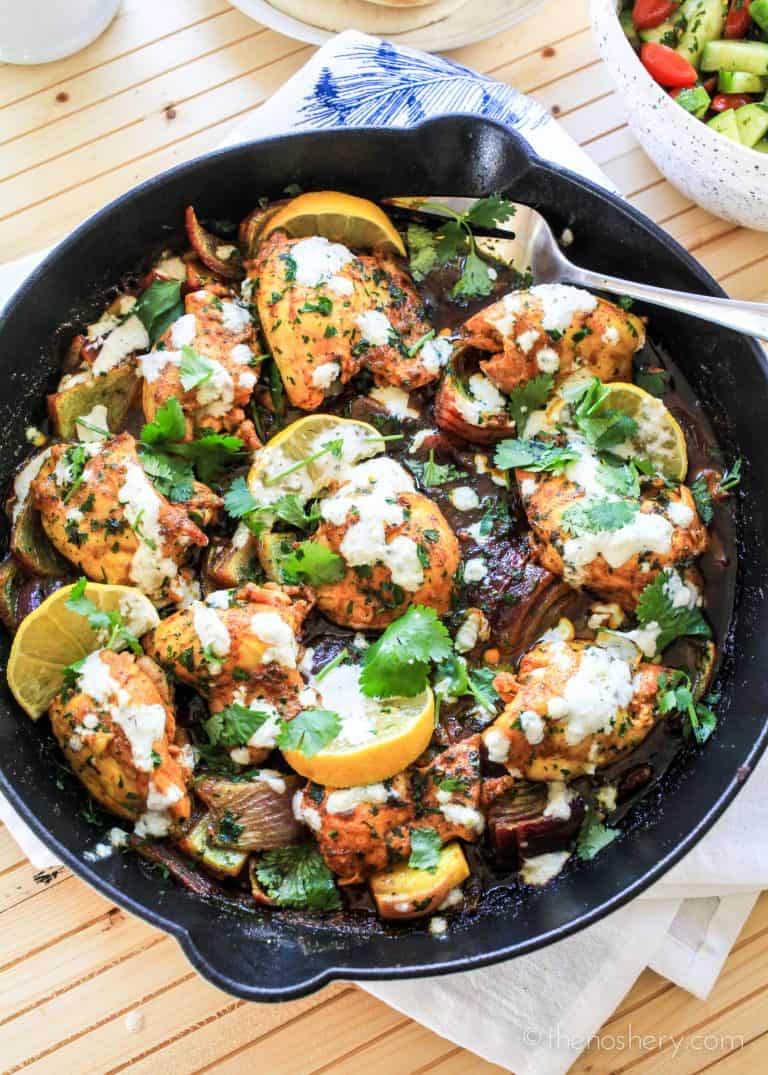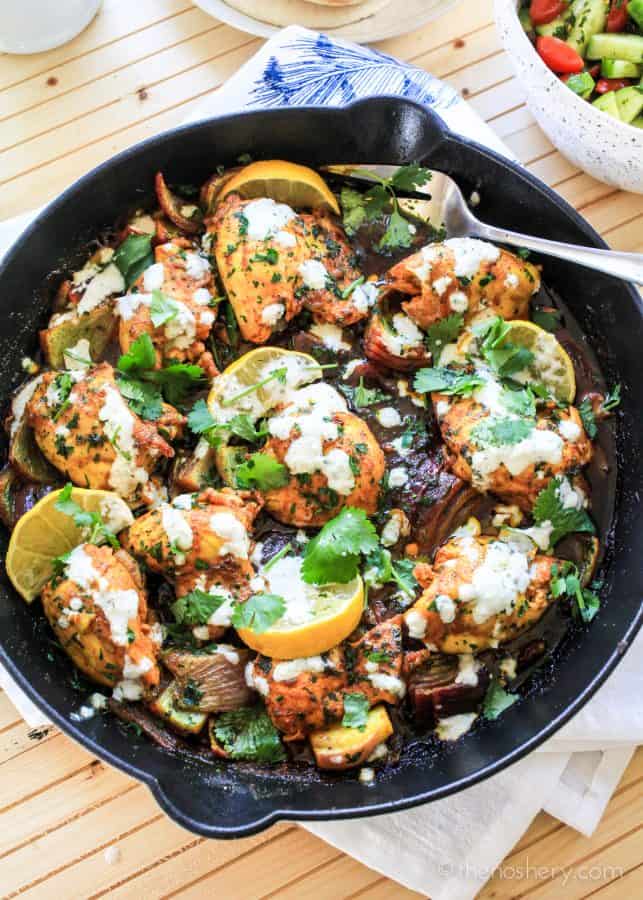 How to Make Shawarma Chicken in the Oven
To make this oven roasted chicken shawarma, whisk together your marinade ingredients in a large bowl. Add the chicken thighs, toss well to coat, and refrigerate for at least an hour but ideally at least 8-12 hours so the flavors can get moving.
When you're ready to cook, heat oven to 425 degrees and get your oven-safe skillet going over medium-high heat. First remove the chicken to a plate and simmer the marinade only. Add a quartered onion and then place the chicken on top of the onion.
Bake the chicken 30-40 minutes, and once you remove from the oven, allow it to rest. And then slice up that delicious meat and serve with all of your favorites! Voila – heaven on a plate!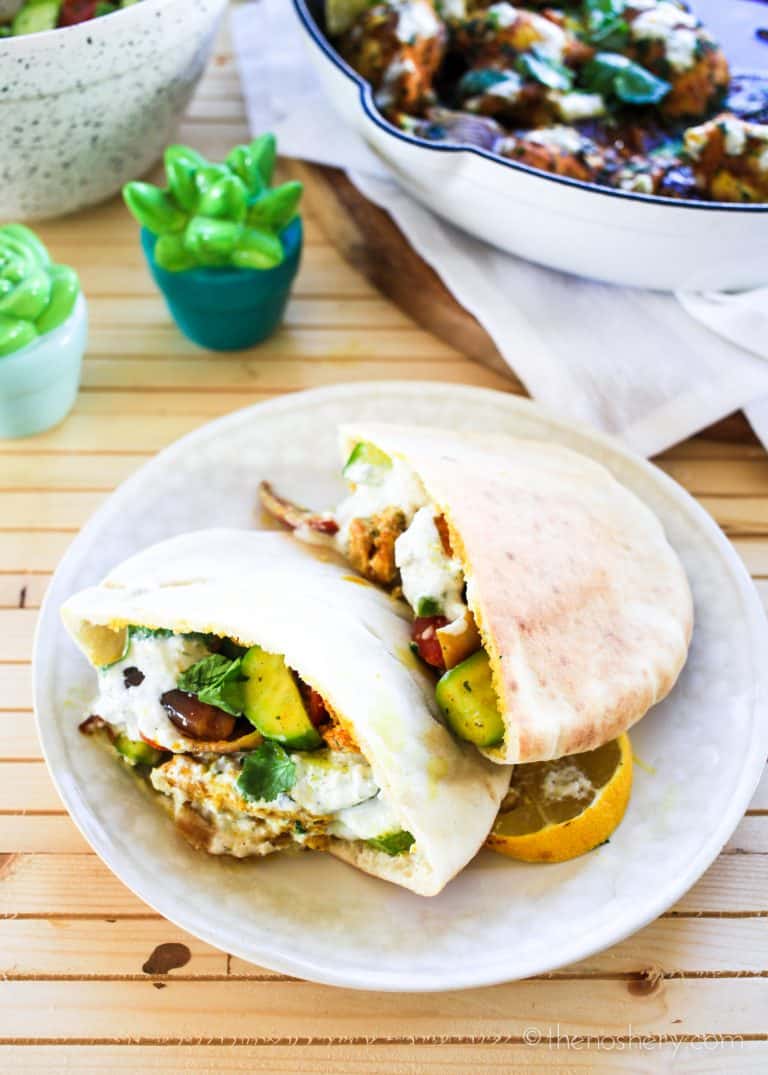 perfect weeknight dinner
This oven roasted chicken shawarma recipe can be made any day of the week. Season the chicken in the morning or when meal prepping and let it marinate. When it's time for dinner, bake it in the oven and serve with all of your favorite fixings.
I love to eat that thinly sliced chicken in a pita pocket or over some rice with tomato, cucumber, parsley, tzatziki yogurt sauce, and a hit of lemon juice. But you can enjoy it any way you like.
If you're looking for more fun flavors to spice up your dinner rotation, I love this curried roasted chickpeas & tabbouleh pita, a tasty tandoori flatbread, this spiced up shrimp harissa and tomato skillet, the legendary shakshuka, or my fun spin on a classic, tamarind & za'atar hummus. This cauliflower tabbouleh from Our Salty Kitchen is also a regular in our kitchen.
heaven in a skillet
Lately, I am obsessed with chicken skillets. I love them because they are easy to prepare and only require one skillet. If you're a meat and potatoes person, you should try this chicken skillet with mushrooms and potatoes. If you want something light and healthy, this easy Italian chicken skillet will do the trick. Whether it's grilling season or not, Half Baked Harvest's lemon and oregano grilled chicken is always a weeknight game-changer! Finally, if you are craving a killer chicken salad, you must try this pollo asado massaged kale salad.
Really when it comes to chicken, the possibilities are endless! Visit my entire chicken recipe collection for more inspiration and chicken will never be boring again!
more chicken skillet love
Yield: 6 servings
Oven Roasted Chicken Shawarma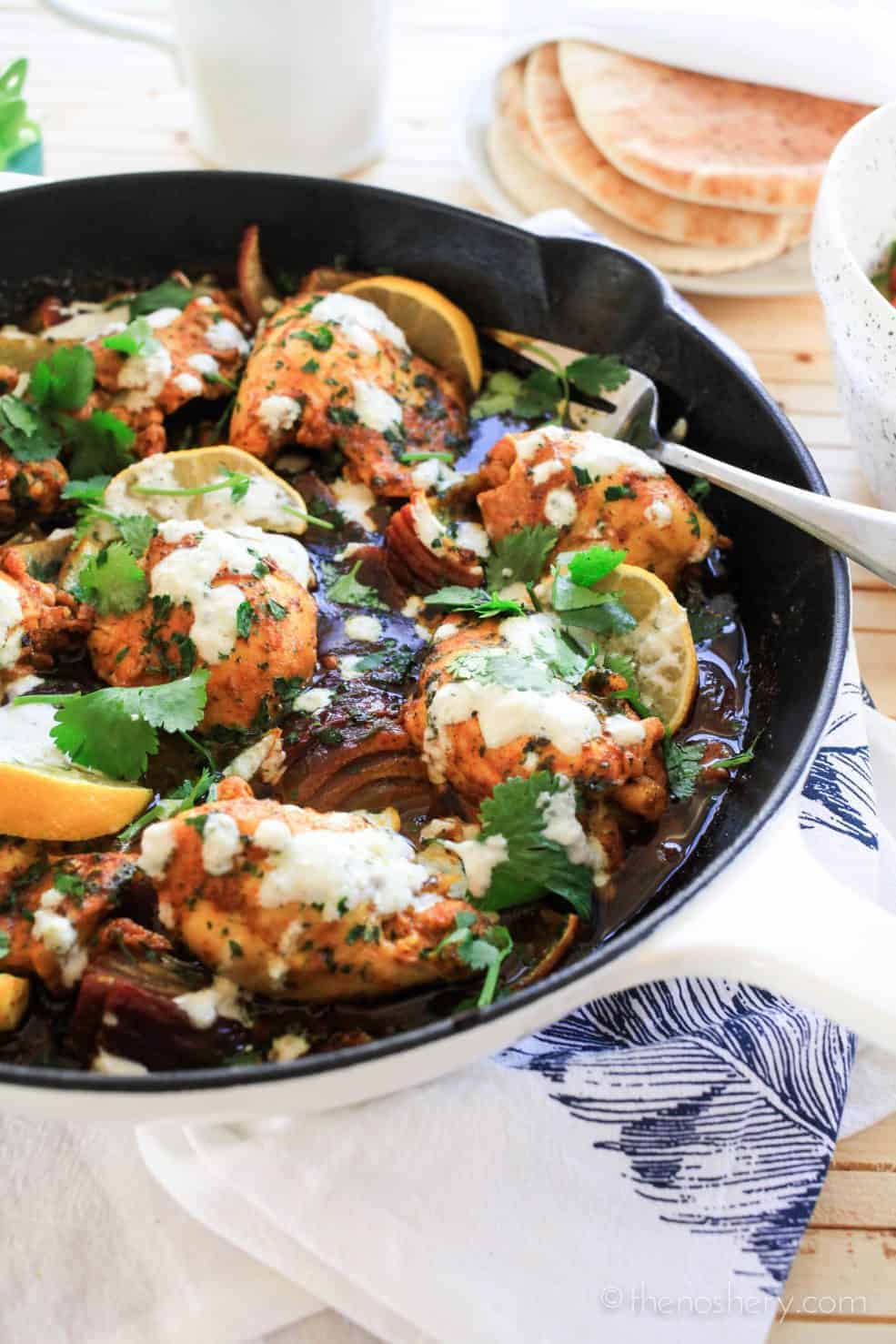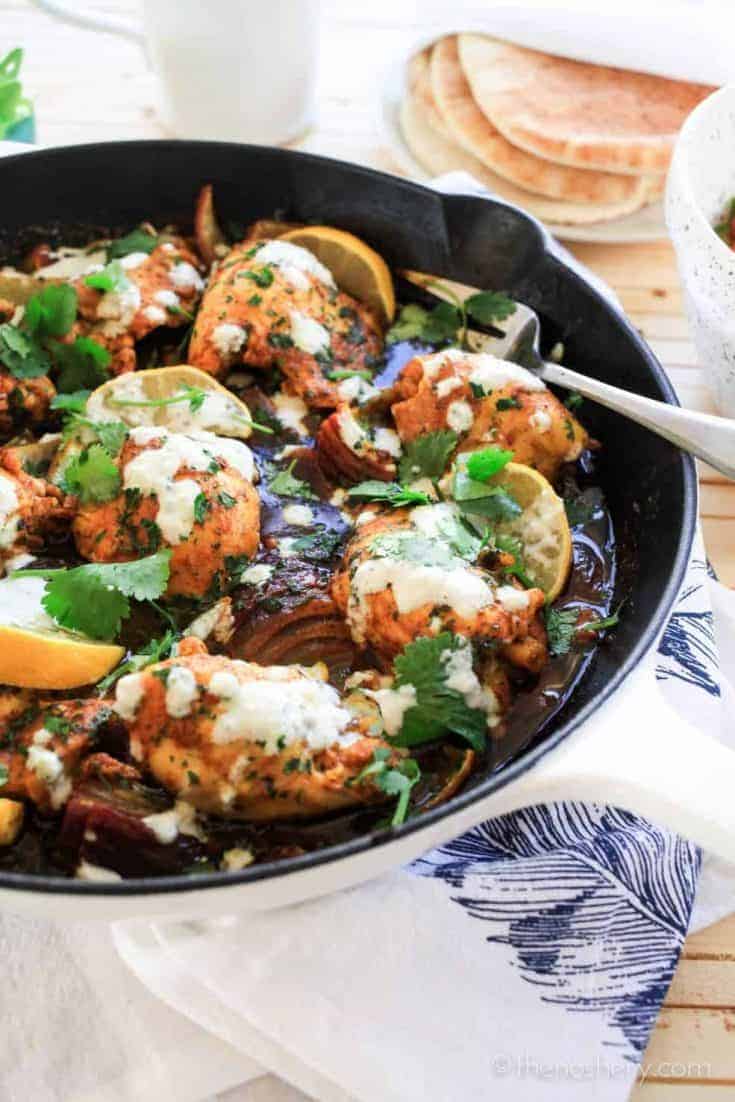 This baked chicken shawarma skillet is an adaptation of the popular middle eastern street food. This flavor bomb is the perfect weeknight meal.
Inactive Time
3 hours
18 minutes
Total Time
3 hours
35 minutes
Ingredients
2 lemons, juiced
1/2 cup plus 1 tablespoon olive oil
6 cloves garlic, peeled, smashed and minced
1 tablespoon tahini sauce
1 teaspoon kosher salt
2 teaspoons freshly ground black pepper
2 teaspoons ground cumin
2 teaspoons paprika
2 teaspoon turmeric
1 teaspoon ground coriander
1/2 teaspoon ground cinnamon
Red pepper flakes, to taste
2 pounds boneless, skinless chicken thighs
1 large red onion, peeled and quartered
2 tablespoons chopped fresh parsley
Instructions
In a large bowl combine lemon juice, 1/2 cup olive oil, garlic, tahini sauce, salt, pepper, cumin, paprika, turmeric, coriander, cinnamon and red pepper flakes, whisk until well combined.
Add the chicken and toss to evenly coat. Cover refrigerate for at least 1 hour and up to overnight.
Heat oven to 425 degrees. Heat an oven-safe skillet (like cast iron) over medium-high heat. Remove chicken from marinade and set aside on a plate. Pour marinade into the skillet and cook for 3 minutes.
Add the quartered onion to the skillet and toss once to combine. Place chicken on top of the onions and transfer to the oven.
Bake in the oven until browned, crisp at the edges and cooked through, about 30 to 40 minutes. Remove from the oven, allow to rest 2 minutes, then slice.
Garnish with chopped parsley and lemon wedges. Serve with pita bread, tomato, cucumbers, and tzatziki.
Nutrition Information:
Amount Per Serving:
Calories:

377
Carbohydrates:

5g
Protein:

30g