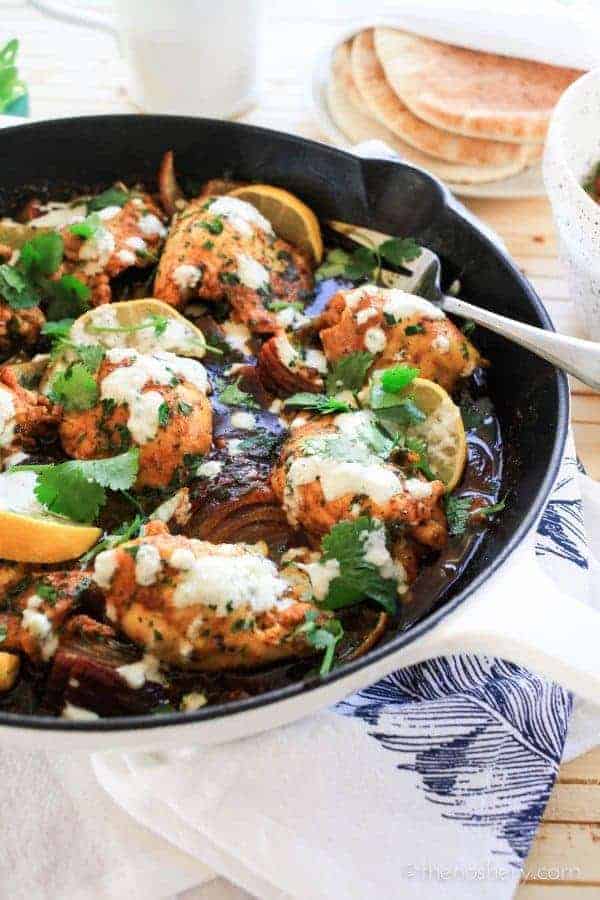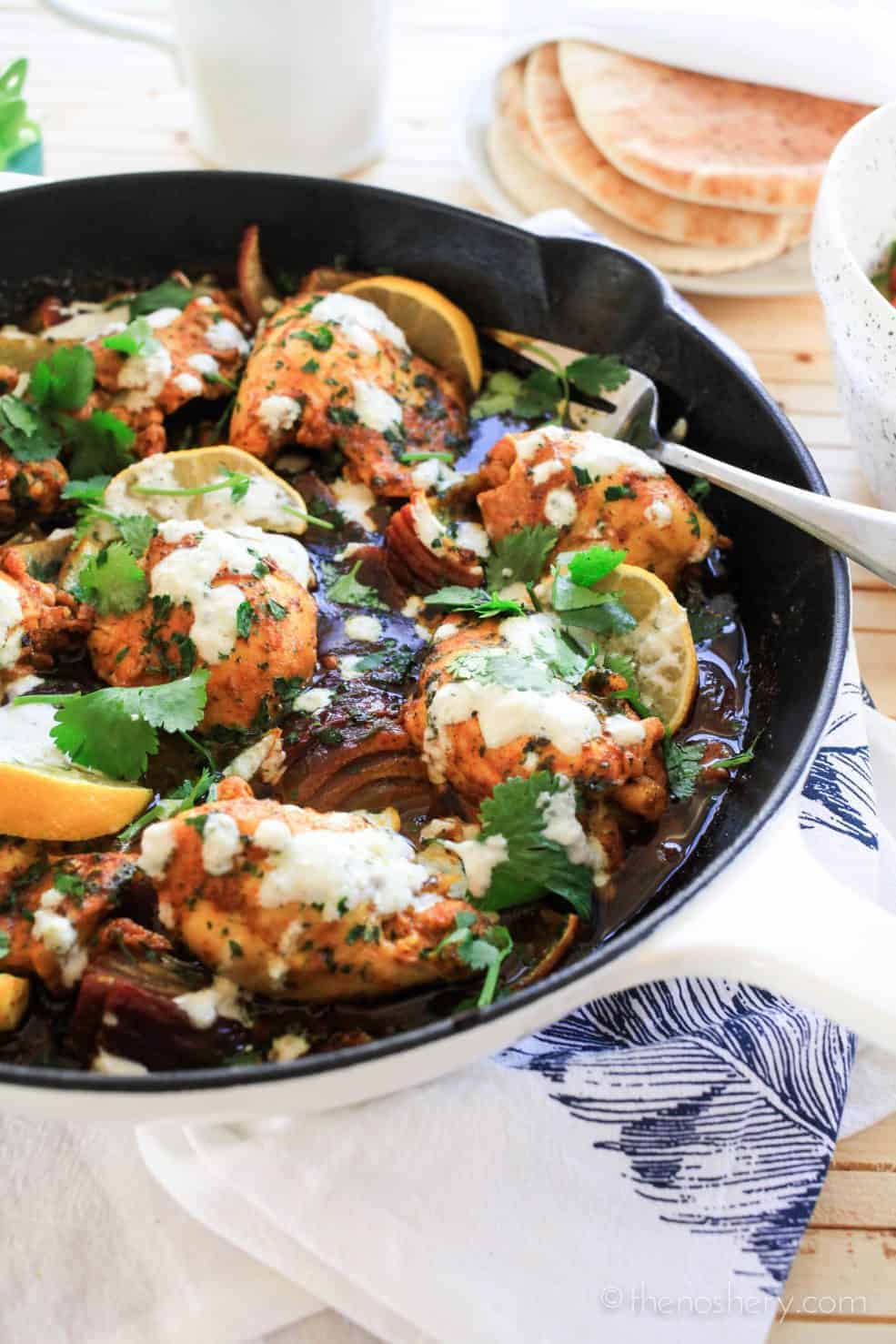 How many times have you heard someone say, "It taste like chicken." Why is that? Because everyone likes chicken! It's like the international language of food. Who has ever said no to chicken? If they do it's because they are thinking, "Chicken? Boring!" But I have a baked chicken dish that will never ever ever make you think chicken is boring.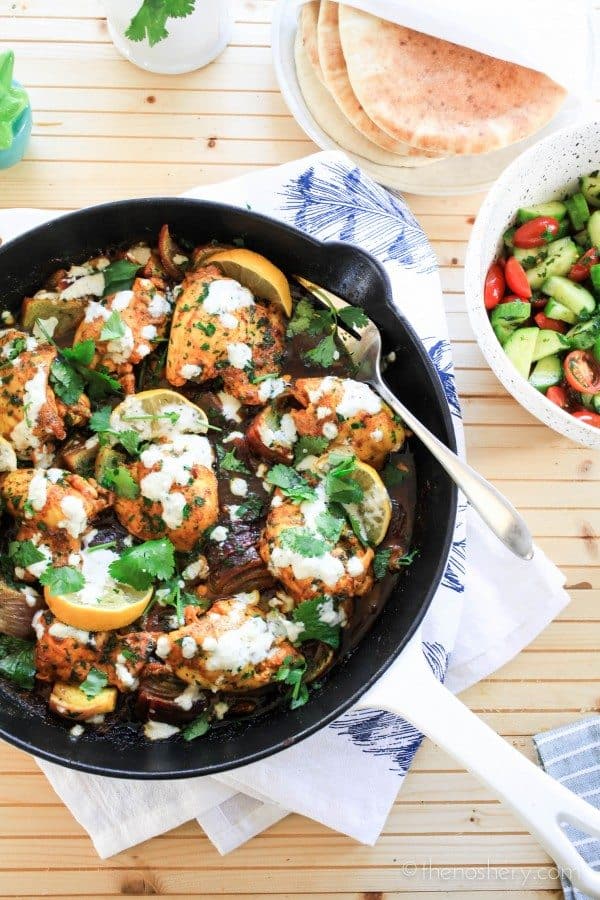 Let's talk about shawarma. Shawarma is a Middle Eastern street food flavor bomb that is slow roasted all day over a rotisserie. It can be lamb, beef, chicken or a combination.  It's typically served with pita bread, cucumber, tomato, eggplant, hummus or pretty much whatever you want. It's happiness on a plate.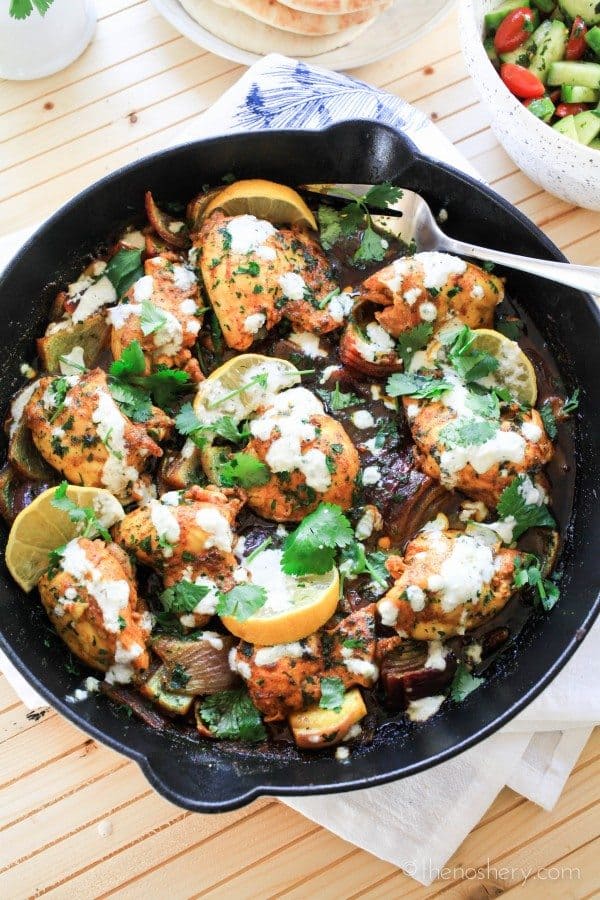 When I tried shawarma for the first time I may have lost my mind a bit. It was so full of complex flavor. I could taste cumin, coriander, and hints of cinnamon. It was so good I licked my turmeric stained fingers clean. I knew that I had to find a way to make this at home.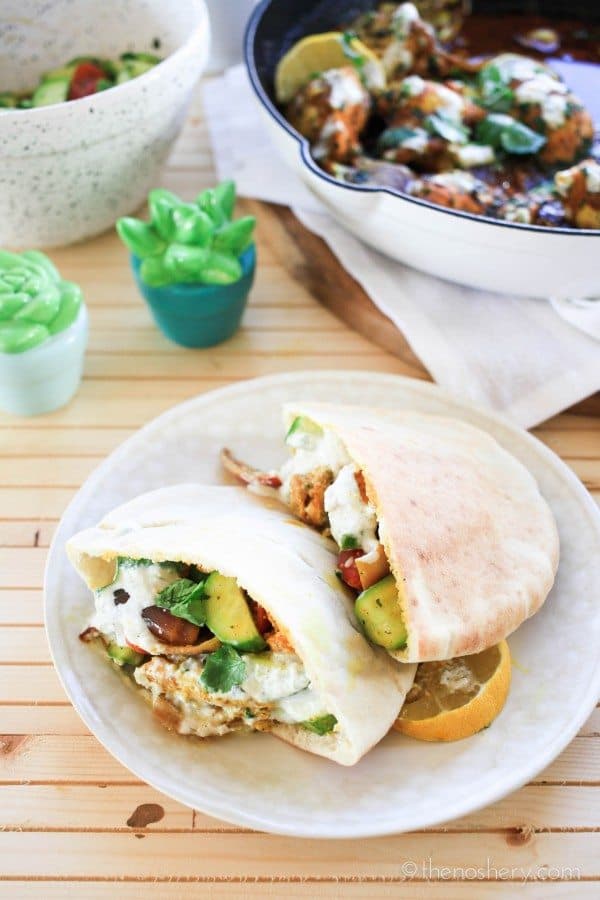 I went on a hunt for a recipe and found one in NYT Cooking that I sensed would be perfect. This adaptation is a baked chicken shawarma that can be made any day of the week. Season the chicken in the morning and let it marinade. When it's almost time for dinner bake it in the oven and serve with all of your favorite fixings.  I love to eat mine in a pita pocket with tomato, cucumber, parsley, and tzatziki. But you can enjoy it any way you like.
Chicken will never be boring again!

Baked Chicken Shawarma
A baked chicken dish flavor bomb that the whole family will love.
Ingredients
2 lemons, juiced
½ cup plus 1 tablespoon olive oil
6 cloves garlic, peeled, smashed and minced
1 teaspoon kosher salt
2 teaspoons freshly ground black pepper
2 teaspoons ground cumin
2 teaspoons paprika
2 teaspoon turmeric
1 teaspoon ground coriander
½ teaspoon ground cinnamon
Red pepper flakes, to taste
2 pounds boneless, skinless chicken thighs
1 large red onion, peeled and quartered
2 tablespoons chopped fresh parsley
Instructions
In a large bowl combine lemon juice, ½ cup olive oil, garlic, salt, pepper, cumin, paprika, turmeric, coriander, cinnamon and red pepper flakes, whisk until well combined. Add the chicken and toss to evenly coat. Cover refrigerate for at least 1 hour and up to overnight.


Heat oven to 425 degrees. Heat an oven safe skillet (like cast iron) over medium-high heat. Remove chicken from marinade and set aside on a plate. Pour marinade into the skillet and cook for 3 minutes. Add the quartered onion to the skillet and toss once to combine. Place chicken on top of the onions and transfer to the oven.


Bake in the oven until browned, crisp at the edges and cooked through, about 30 to 40 minutes. Remove from the oven, allow to rest 2 minutes, then slice. Garnish with chopped parsley and lemon wedges. Serve with pita bread, tomato, cucumbers and tzatziki.
1