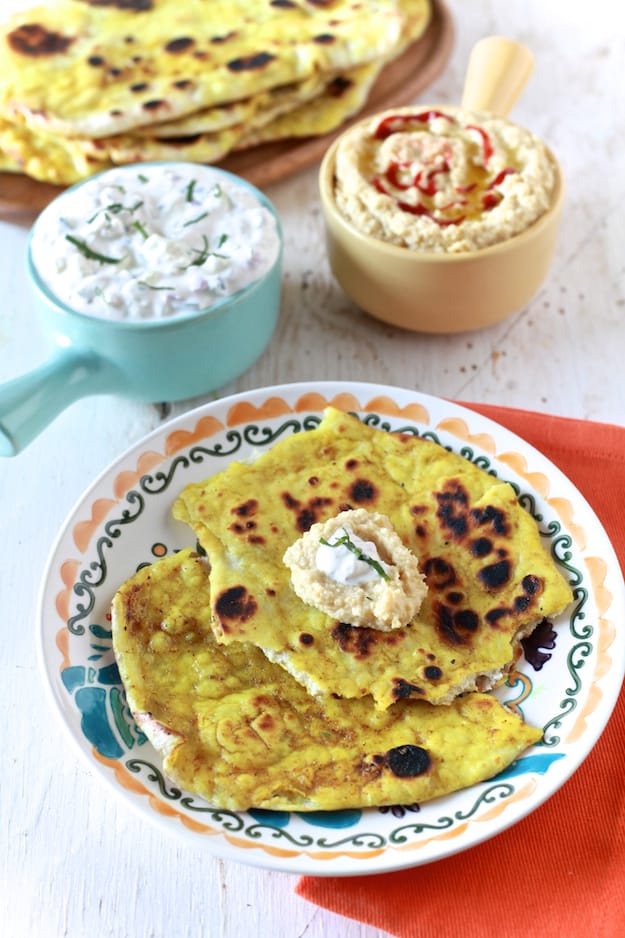 I have a love hate relationship with daylight saving time. I love the extra hour of sunlight, but I hate loosing an hour of sleep and the week it seems to take for my body to get back in time. Even though I really wanted to sleep in I got my tail out of bed and went to Barre class, but then later in the day at about 4:30 I passed out on the sofa cold and didn't wake up until 8:30 pm. Curse you daylight savings!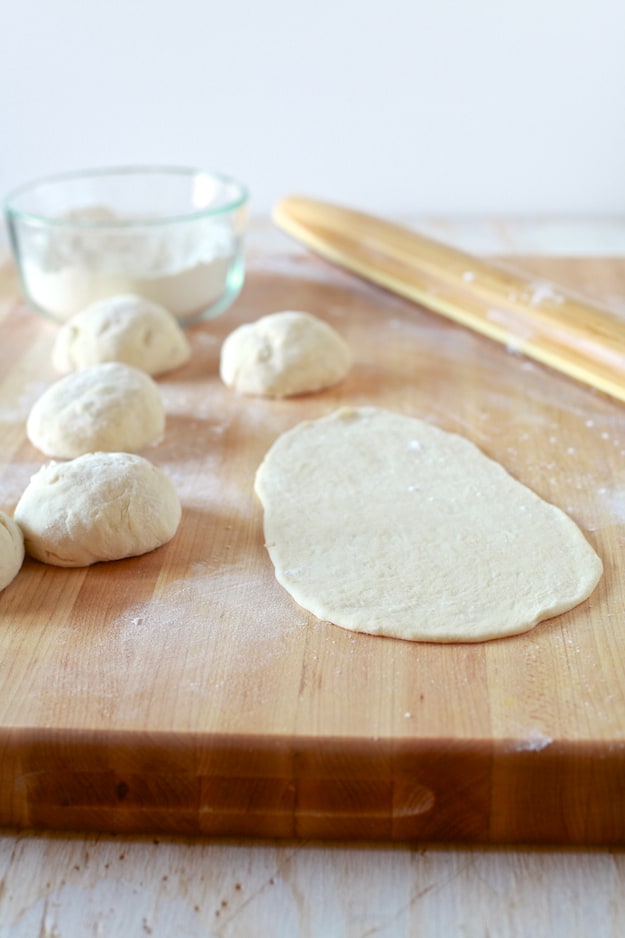 But, before I passed out on the sofa and drooled for 4 hours, I got some super sweet cooking done. When OB and I were in Tulsa there was an Indian restaurant that we frequented called India Palace. This place was amazing and legit! Also, it was never a complete meal without fresh naan bread.
I was craving some warm soft and crispy naan, so I got to work and made some myself! Warm delicious naan brushed with fragrant curry butter. Yes! You heard me right curry butter.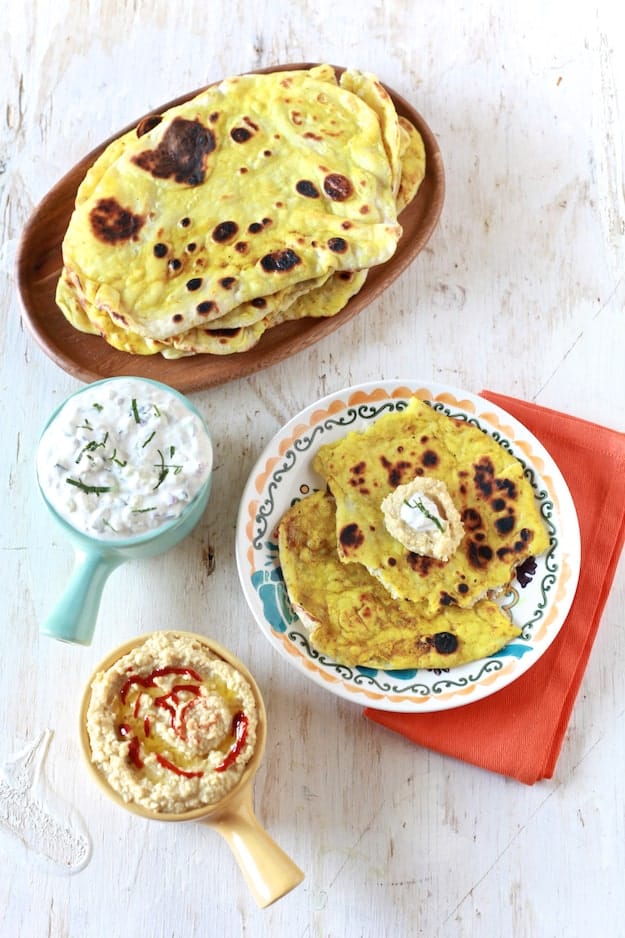 But, naan is made for dipping so, I also made some spicy hummus and yogurt dip. Hummus and I have a very close relationship, it then when I want to dip my veggies and spread on my sandwich. I love yogurt dips, which can also double as a great marinade. This yogurt dip is basically a tzatziki with a few extras tossed in like feta and cumin.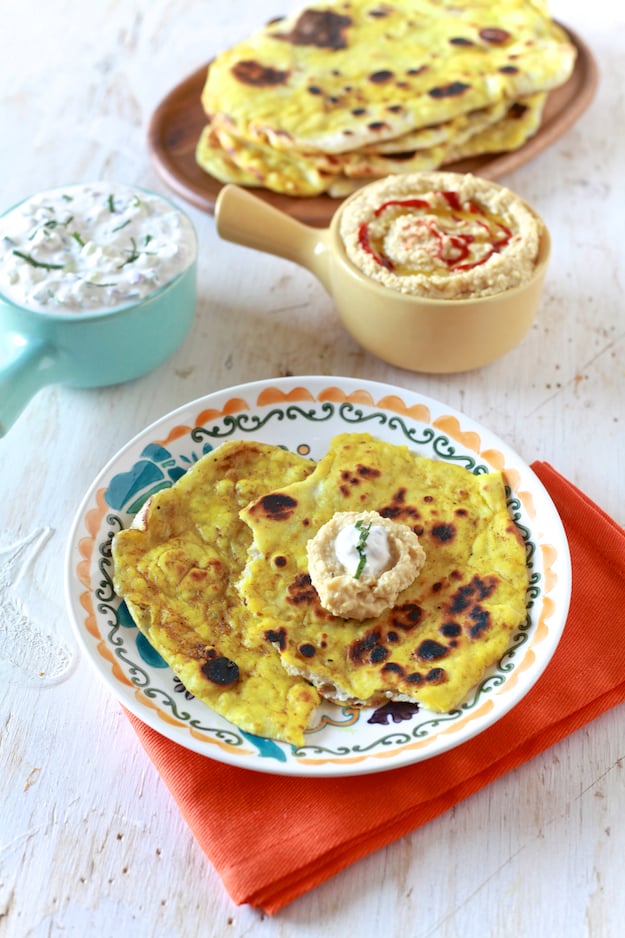 But, that is not all the dipping going on! Remember the curry butter? Keep it warm and using for dipping, it's freaking amazing! Like curl your toes and do a happy dance amazing. OB and I stood int he kitchen wolfing down and dipping pieces of warm naan while humming and dancing for joy. It was dipping madness!
If you have never had naan you MUST make it now or at least very, very soon! Naan bread should be a part of everyone's life.
Yield: 6 loaves
Naan Bread with Curry Butter, Yogurt Dip and Spicy Hummus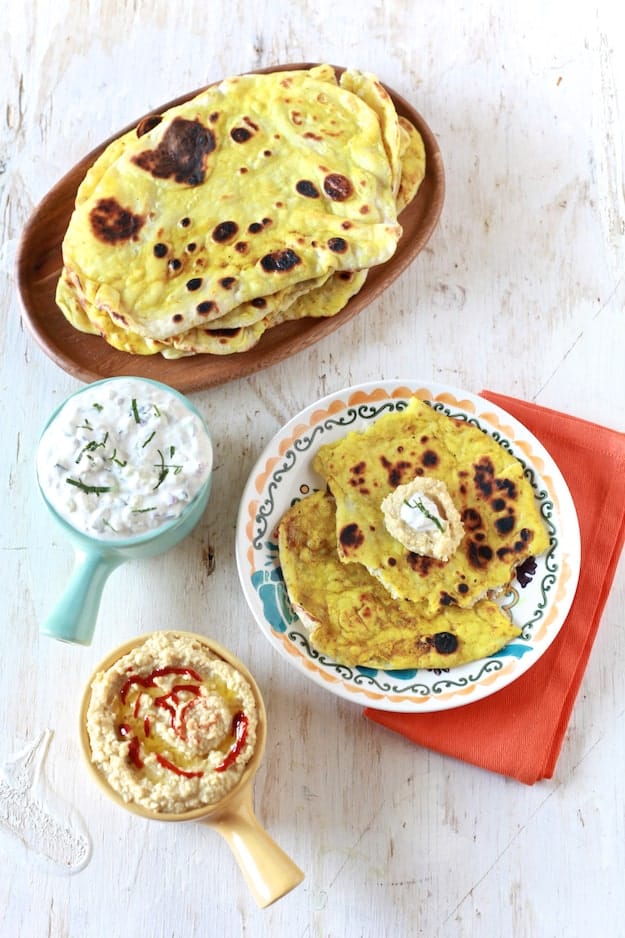 Ingredients
Naan Bread
1 teaspoon active dry yeast
2 teaspoons sugar
2 cups all-purpose flour, plus more for rolling
1 teaspoon fine sea salt
1/8 teaspoon baking powder
3 tablespoons plain yogurt
2 tablespoons extra-virgin olive oil
Melted curry butter for slathering on the finished naans, recipe follows
Coarse sea salt for sprinkling
[br]
Curry Butter
2 sticks of salted butter
1 1/2 tablespoons curry powder
1 clove garlic, minced
1 teaspoon grated fresh ginger
[br]
Hummus
2 15 oz cans garbanzo beans, drained, reserve 2 tablespoons of liquid
4 cloves garlic
2 teaspoons cumin
1 lemon, juiced and zested
1 tablespoon sriracha or harissa
1/4 cup olive oil
[br]
Yogurt Dip
1 cup greek yogurt
1/2 cucumber, small diced
1 clove garlic
4 sprigs mint, minced
2 oz feta cheese
1 teaspoon cumin
Instructions
Naan Bread
In a large glass bowl combine dry yeast, 1 teaspoon sugar and 3/4 cup warm water. Let it sit on the counter until it's frothy, about 10 minutes. In a separate bowl sift flour, salt, remaining 1 teaspoon of sugar and baking powder.
When the yeast is frothy, add the yogurt and the olive oil into yeast mixture, and stir to combine. Pour yogurt/yeast mixture in with the dry ingredients, gently mix the ingredients together with a fork. When the dough begins to come together use your hands to mix. It will seem as though there isn't enough moisture but keep working until the dough comes together sticky and pliable. As soon as it comes together, stop kneading. Cover the dough with plastic wrap or a damp tea towel and let it sit in a warm, draft-free place for 2 to 4 hours. (*While the dough rises you can work on the dips and curry butter. Procedures below.)
When you're ready to roll, prep work station with two bowls one with water and the other with flour. The dough will be very soft and sticky. Cut the dough into 6 equal portions and lightly roll each one in the bowl of flour to keep them from sticking to each other.
Shape the naan using a rolling pin. Roll each piece of dough into a teardrop shape, narrower at the top than at the bottom. It should be 8 to 9-inches long, 4-inches wide at its widest point and about 1/4-inch thick. Repeat this method with the rest of the dough.
Warm a large cast-iron skillet or griddle over high heat until it's nearly smoking. Have a lid large enough to fit the skillet and have a bowl of melted curry butter ready.
Dampen your hands in the bowl of water and pick up one of your naans, gently toss from one hand to the other to lightly dampen it. Gently lay it in the skillet for 1 minute. The dough should start to bubble.
After about 1 minute, flip the naan. It should be blistered and somewhat blackened. Cover the skillet with the lid and cook 30 seconds to 1 minute more.
Remove the naan from the skillet, brush with a bit of curry butter and sprinkle with a little coarse sea salt. Place the naan in a paper towel lined dish. Repeat with the rest of the naans and serve.
Curry Butter
Combine all ingredients in a sauce pan, melt butter and whisk together. Keep warm.
Hummus
Combine all ingredients in a food processor. Process until smoothed and well combined. If the texture is to thick you can add a little more water a tablespoon at at time. Refrigerate to allow flavors to develop.
Yogurt Dip
Combine all ingredients in glass bowl, mix together until well combined. Refrigerate to allow flavors to develop.