Tamarind and Za'atar Hummus Recipe | This post was sponsored by Pompeian. All opinions expressed on my site are my own.
Why have I always loved hummus so much? Because it's delicious on everything. Dip it, spread it, or dollop it! It's the best!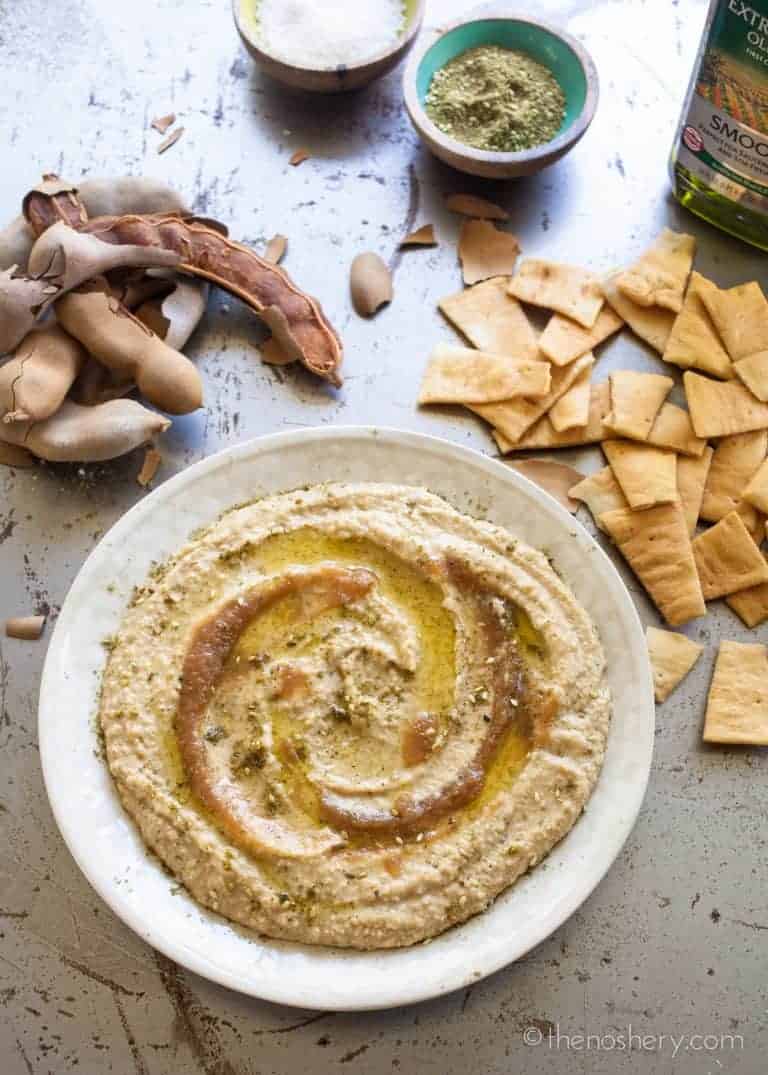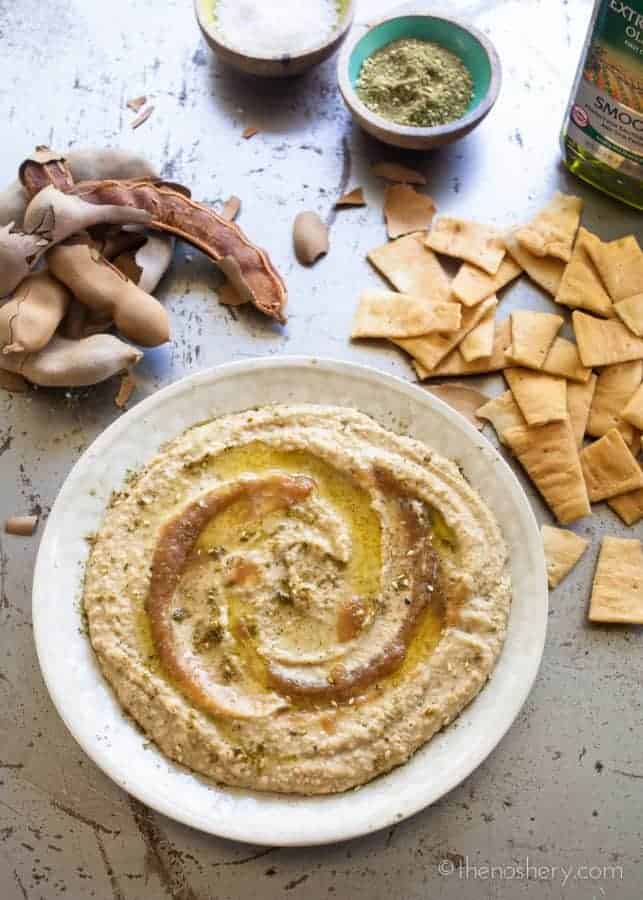 Did you know that the suggested serving of hummus is two tablespoons? If any of you can eat just two tablespoons of hummus, you deserve a prize.
I have tried time and time again to have some self-control, but I always fail. Two tablespoons of hummus? Madness!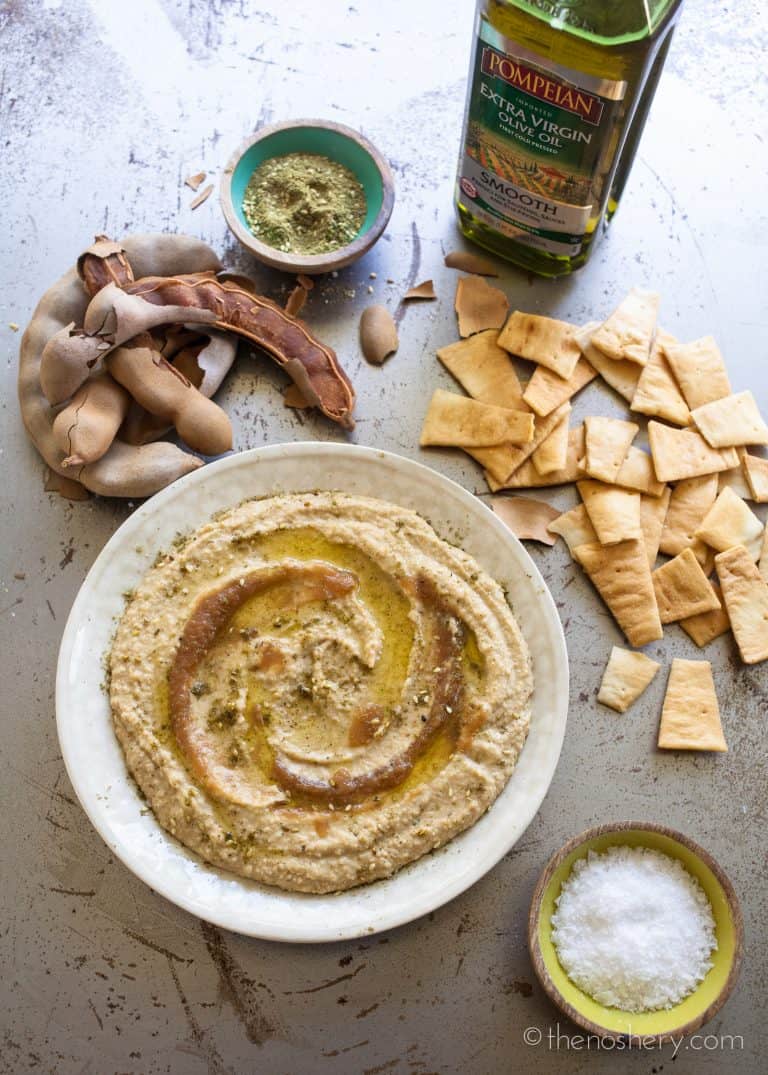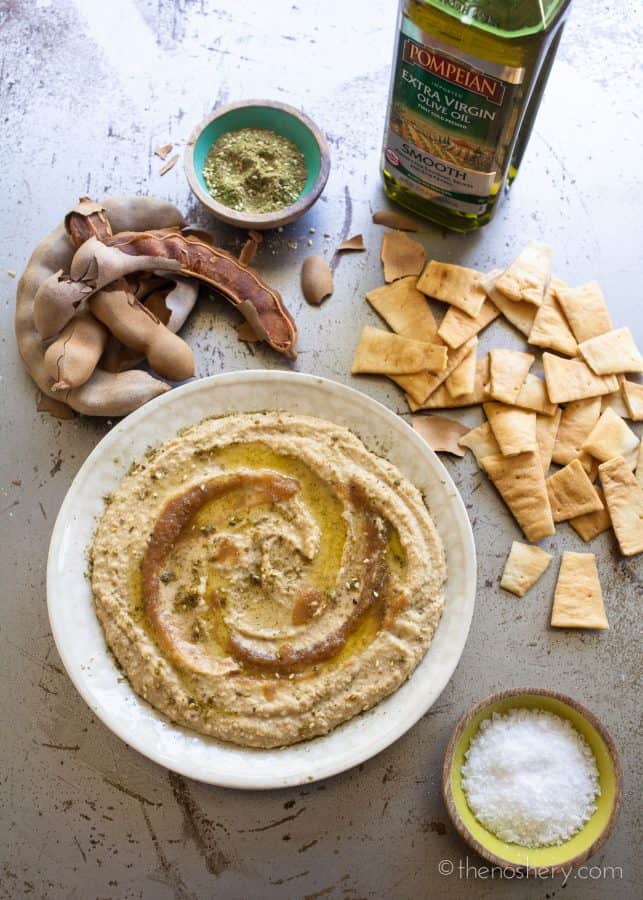 What is hummus?
Hummus is a spread popular in the Mediterranean and Middle East. Its star ingredient is chickpeas blitzed to creamy perfection with tahini (ground sesame paste), lemon juice, and garlic in the classic preparation.
It's also delicious as a dip for pita bread or raw veggies, a condiment spread on sandwiches, and eaten directly from the bowl with a spoon. Or so I've heard so from "a friend."
There was a time that the only hummus you could find in stores or in a recipe was traditional hummus, which is perfection by the way. But now there are so many different variations of store bought flavors.
To me, however, homemade hummus recipes will always be superior because you can customize it exactly to your preferences.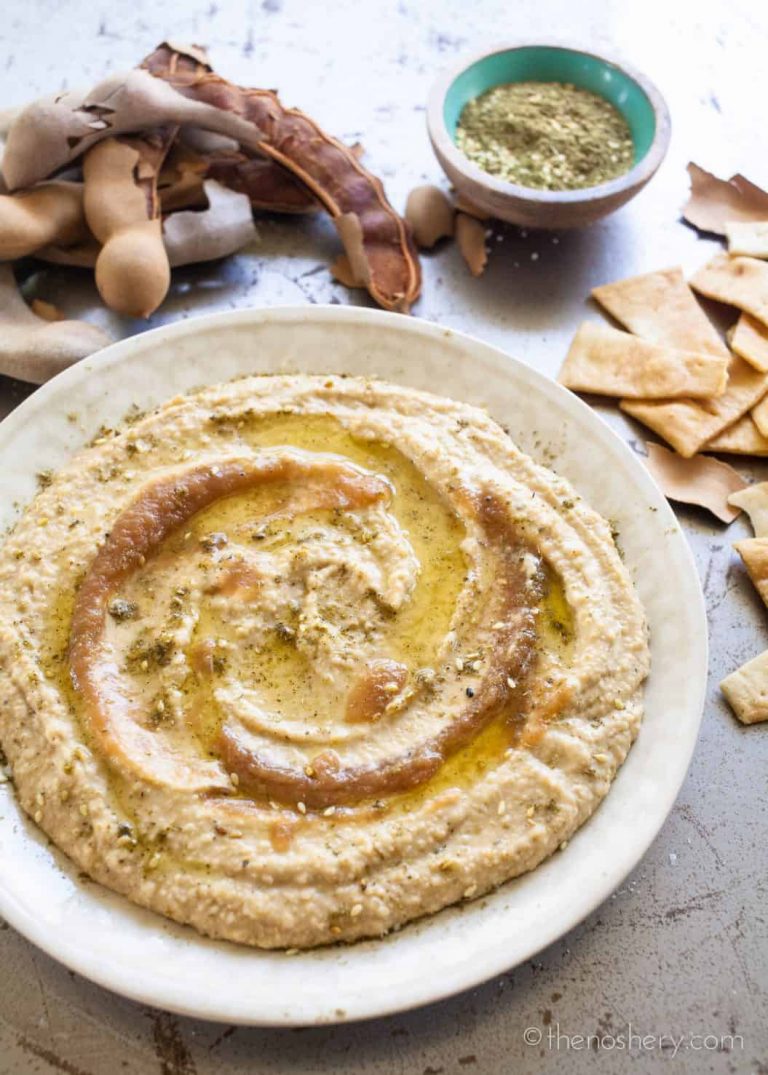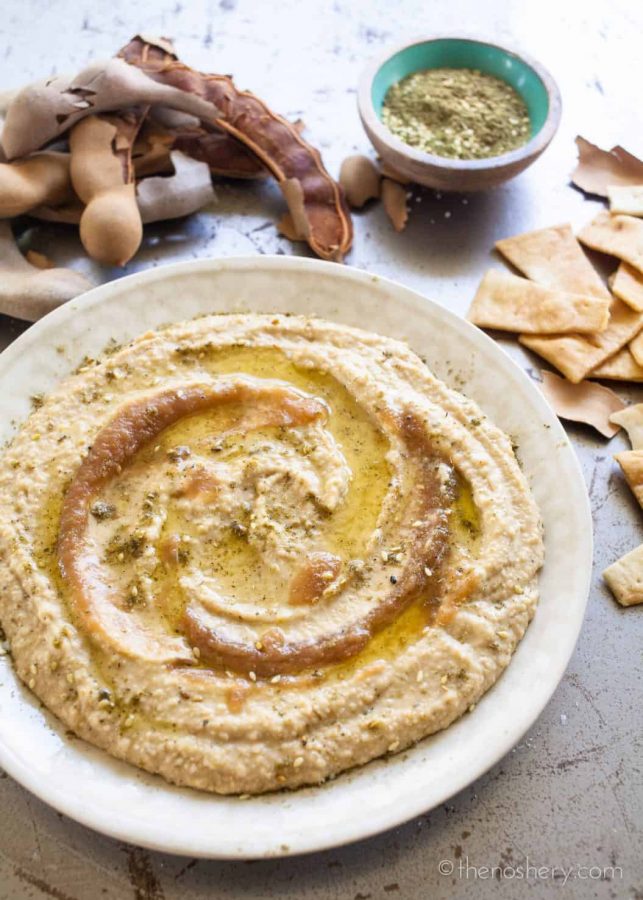 I didn't want to miss out on a single ultimate hummus flavor, so I thought I would make one of my own. This tamarind and za'atar hummus recipe combines my favorite addictive snack with a favorite childhood treat, tamarind, and a sprinkle of the Middle East with za'atar.
If you like anything sweet and tart, you will love the tamarind flavor. It's a fruit that starts off with a hint of sweetness and then turns tart. The kind of tart that tickles the back of your jaw. It's great in sauces, candies, and as a juice.
What is za'atar?
Magic is what it is. But specifically, it's a Middle Eastern spice blend that usually contains sumac and toasted sesame seeds with oregano, thyme, and marjoram. But it varies depending on who's making it. Different versions have different proportions of salt, dill, orange zest, and the wild herb it's named for, za'atar.
Za'atar is great with any protein, but I absolutely love to sprinkle it over savory foods like it's sea salt. It adds a great complexity of flavor, which helps prevent palate fatigue.
What is tamarind?
If tamarind is a new-to-you flavor, it typically comes in paste form made from the fruit of the tamarind tree. It's sticky, sour, and glorious, used in desserts, candy, and savory dishes alike in several cultures. Authentic pad Thai and other curries use it, for example. Who knew?
In some cuisines, like Indian, Latin, Caribbean, and Vietnamese, they'd be surprised to find out someone didn't know what tamarind was. It's so commonly used in some cultures that it would be like somebody not knowing what a strawberry is!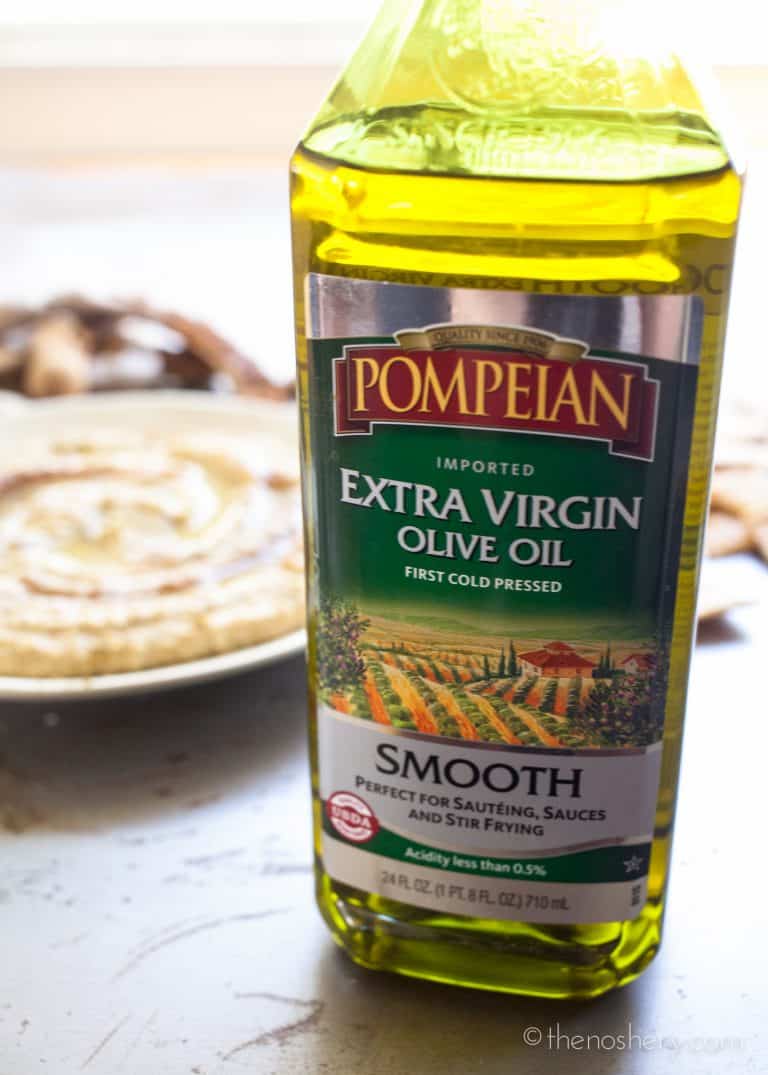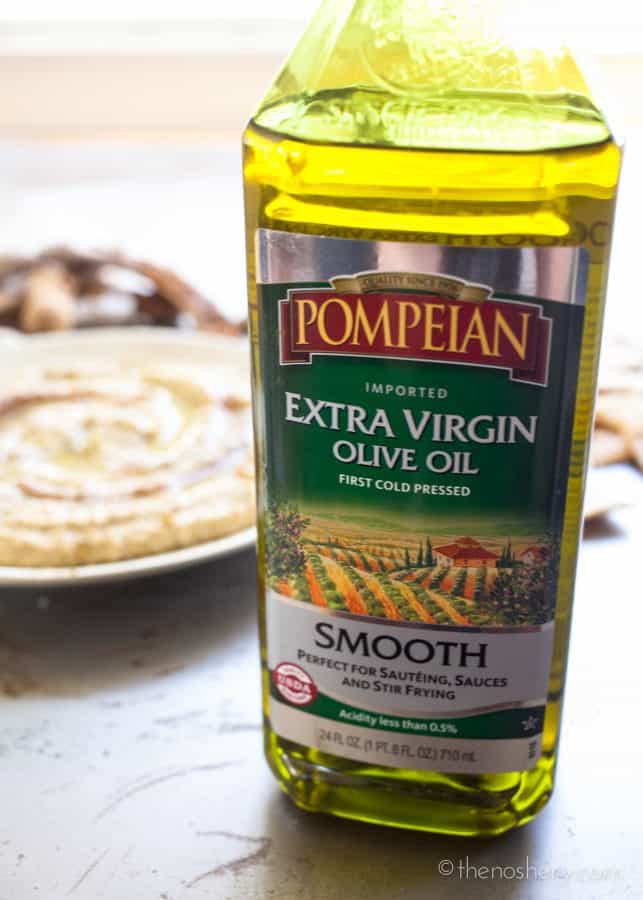 Obviously, chickpeas are the most important ingredient in hummus. Otherwise, hello, no hummus! But equally as important is quality olive oil. For this recipe, I used Pompeian Smooth Extra Virgin Olive Oil.
Pompeian Smooth is light and fruity with aromatic notes and a hint of spiciness. It perfectly compliments the sweet, tart, and earthy notes of this hummus without being overpowering. Because of its light, smooth flavor, Pompeian Smooth Extra Virgin Olive Oil is perfect in any of your favorite light dishes.
How to make Za'atar hummus
First, drain your chickpeas, reserving the liquid for later. To a high powered blender or food processor, add the chickpeas, tahini, garlic cloves, lemon juice, and za'atar. Blitz until the ingredients form a crumbly texture.
Now add the olive oil in a slow stream until it turns smooth and uniform, scraping down the sides as necessary. Then add in ¼ cup of your reserved garbanzo bean liquid to achieve that desired consistency.
Drizzle it with olive oil, tamarind, and a pinch of za'atar. It serves perfectly in a shallow dish with pita chips and some crunchy raw veggies.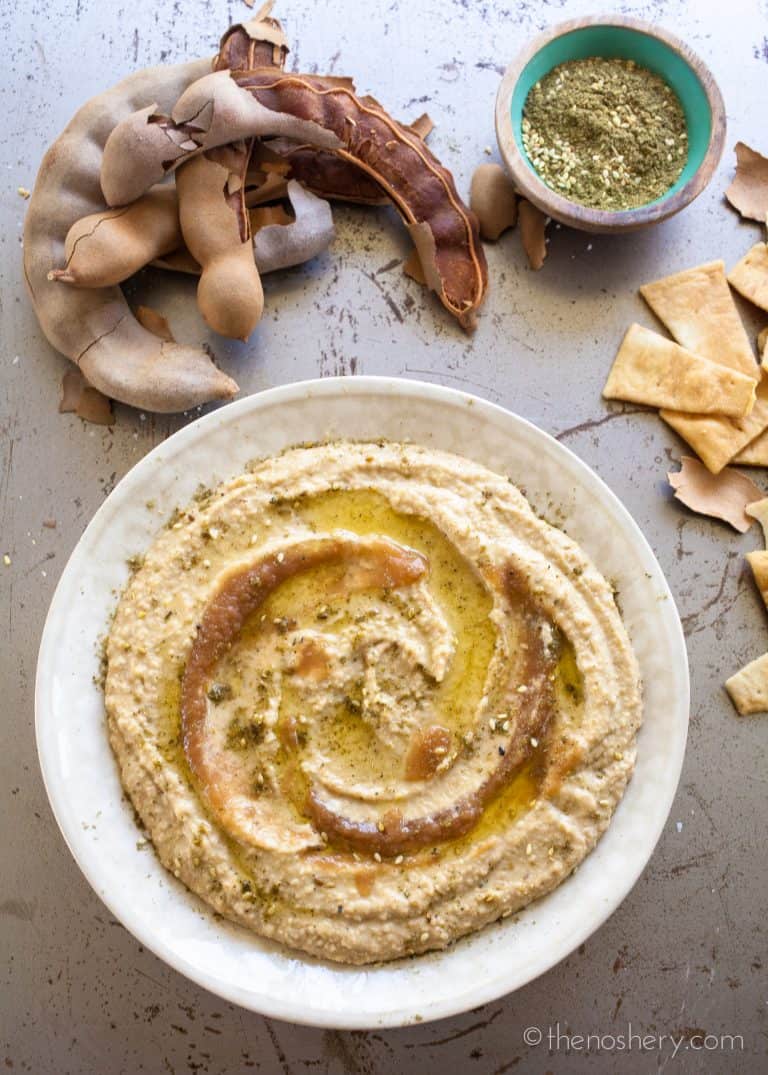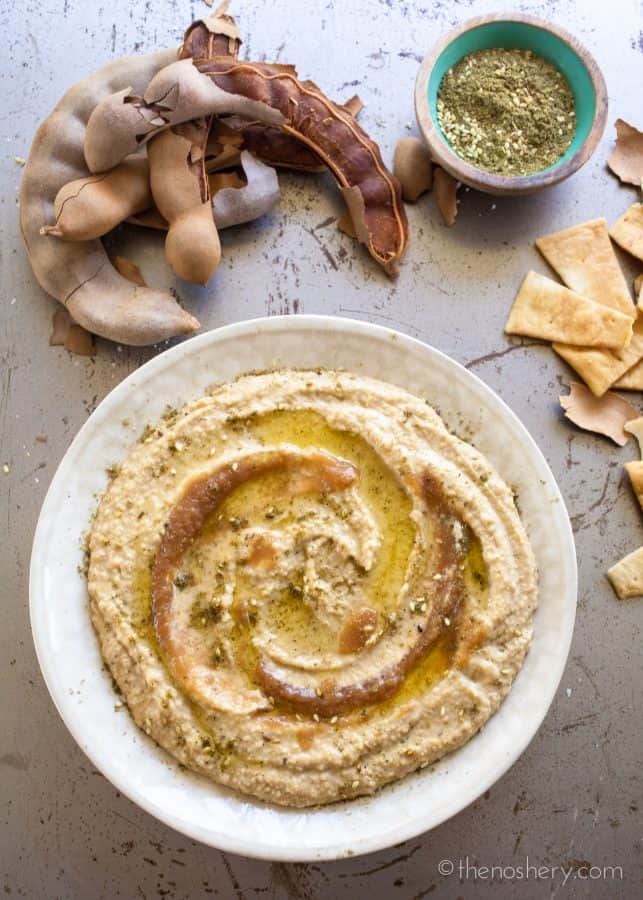 A new flavor exploration
Because of its tartness and acidity, tamarind is a perfect addition to hummus, giving it a rich brightness with a hint of sweetness. I promise you will be surprised with how the flavors play off one another.
My favorite thing about this hummus is that each bite is a little different. Which makes it incredibly addictive. This is no "two tablespoon serving" hummus, my friend.
If you're new to Mediterranean and Middle Eastern spice mixes and flavors, I have plenty of delicious and easy recipes to add to your culinary bucket list. Start with chicken shawarma wraps and The Mediterranean Dish's falafel.
The next time it's cold and rainy, make warm and comforting shakshuka or this Moroccan lamb stew. Naan is the perfect vehicle for hummus and many dips or instant flatbread for tasty tandoori chicken.
And we're just getting started. I hope this tamarind and za'atar hummus recipe is the beginning of new flavor frontier for you. Your tastebuds will thank you!
more chickpea love
Yield: 1 cup
Tamarind & Za'atar Hummus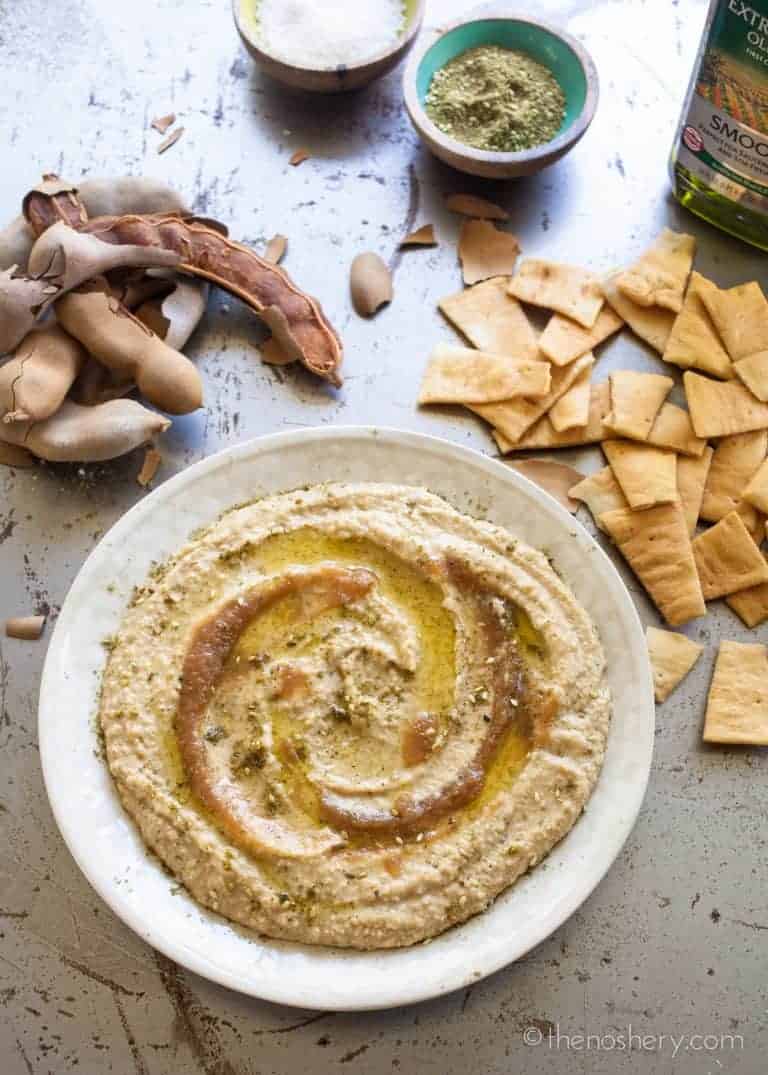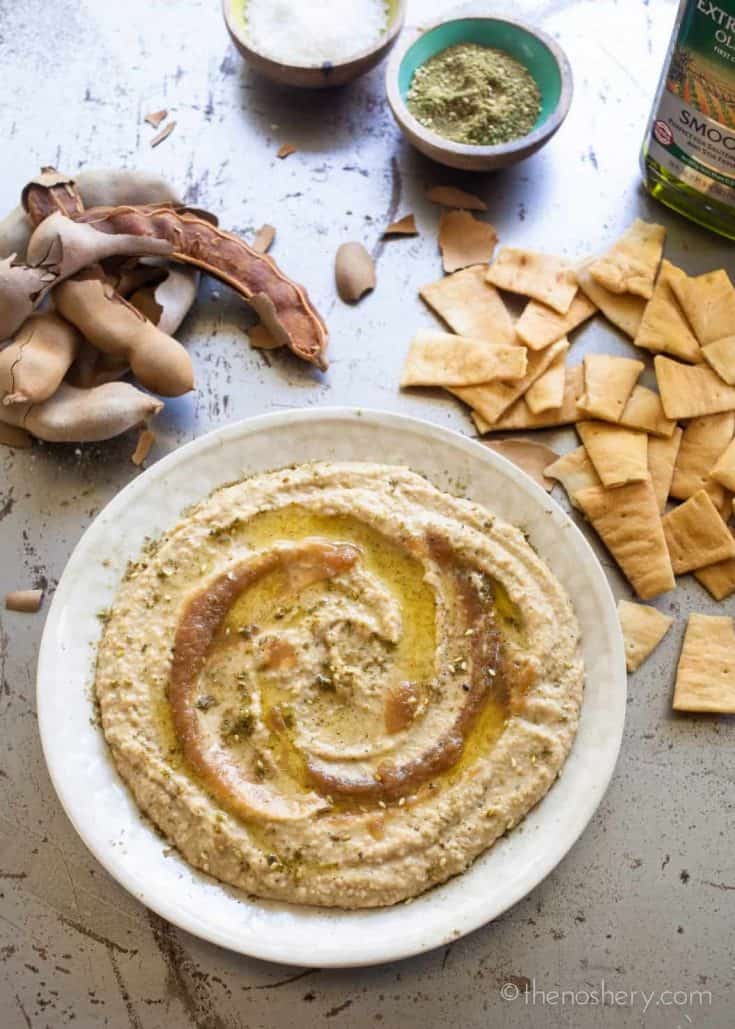 In this za'atar hummus recipe, every bite is filled with different, complex flavors, making this hummus incredibly addictive.
Ingredients
1 can garbanzos, drained liquid reserved
1/4 cup tahini
2 cloves garlic
1 lemon juiced and zested
1 tablespoon Za'atar
1/4 cup olive oil
Instructions
Combine garbanzos, tahini, tamarind, garlic, lemon juice, and Za'atar in a food processor.
Pulse the food processor until the mixture is crumbly. Slowly drizzle the olive oil into the mixture while running the food processor. Slowly add 1/4 cup of garbanzo liquid to the mixture until it reaches desired consistency.
Spread hummus in a shallow bowl. Drizzle with Pompeian Olive Oil, tamarind, and sprinkle with Za'atar. Serve with pita chip or fresh cut vegetables.
Notes
Tamarind concentrate can be found online or at many Asian markets. If you cannot find tamarind concentrate use 2 tablespoons of tamarind paste diluted in 1/3 cup water.
Recommended Products
As an Amazon Associate and member of other affiliate programs, I earn from qualifying purchases.
Nutrition Information:
Yield:
8
Serving Size:
1
Amount Per Serving:
Calories:

154
Total Fat:

11g
Saturated Fat:

2g
Trans Fat:

0g
Unsaturated Fat:

9g
Cholesterol:

0mg
Sodium:

28mg
Carbohydrates:

11g
Fiber:

2g
Sugar:

3g
Protein:

3g