Slow braised red wine beef ragù over roasted sweet acorn squash and tortellini toss in a nutty brown butter and sage sauce. It the definition of comfort and fall.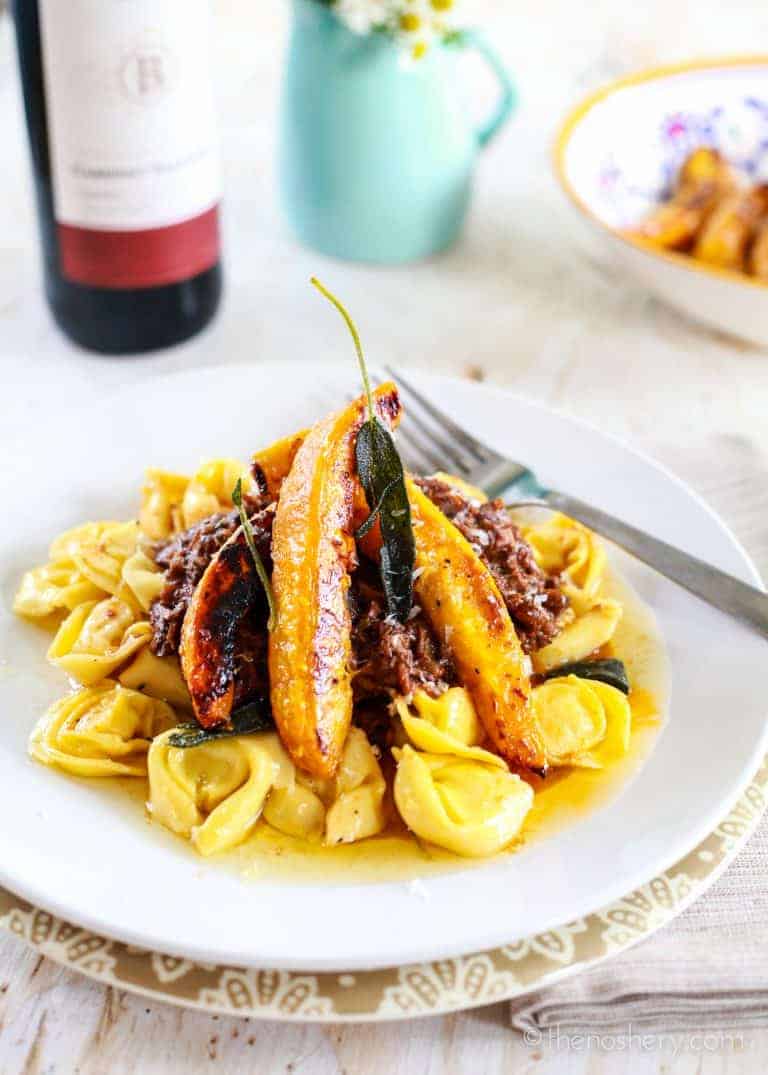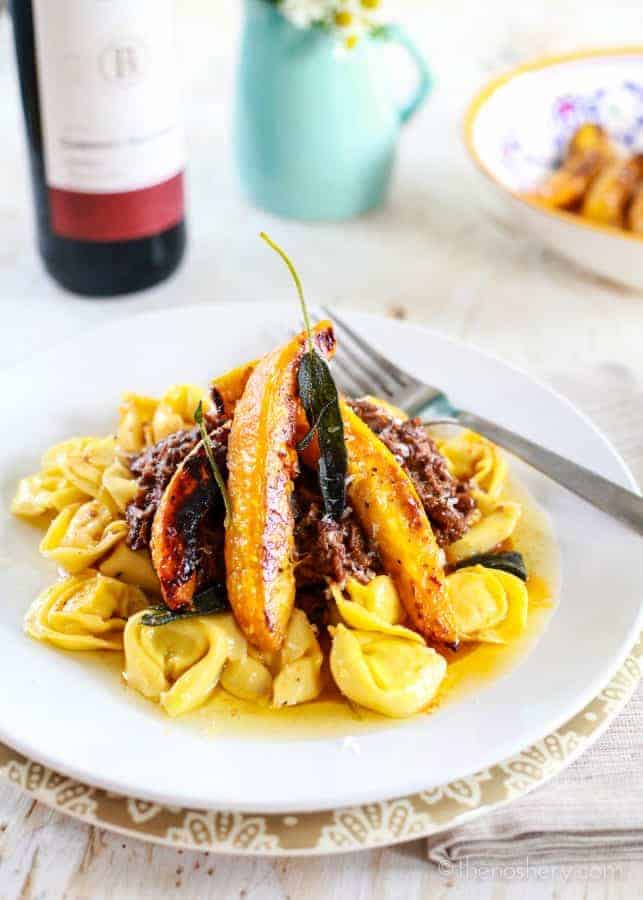 I LOVE FALL! Seriously, it's my favorite time of year. I love sweaters, boots, and scarves! I love roasted winter squash and comfort food! I Love Fall!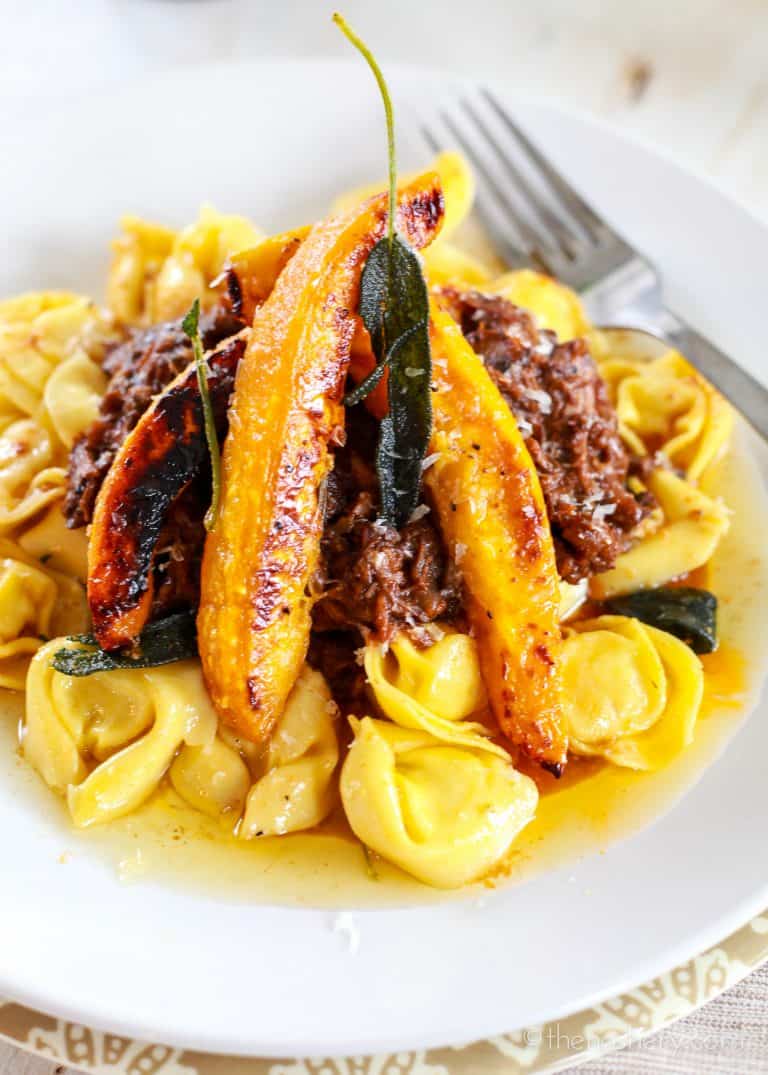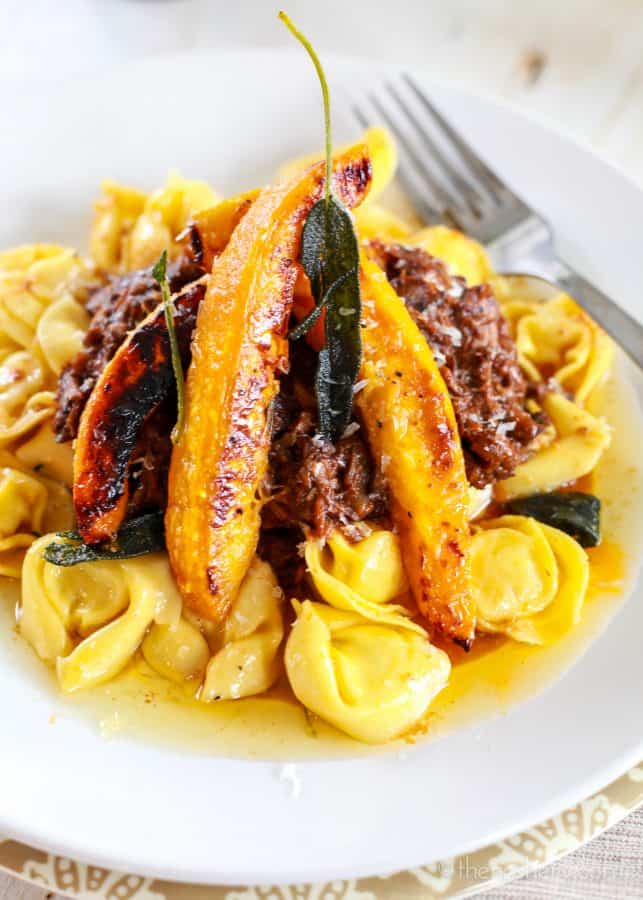 Years ago when I was a young single gal, I went out for dinner on a Fall evening with a group of my friends for a birthday dinner. We went to an Italian restaurant, and I ordered a dish that was so good that it continues to me imprinted in my memory.  It was roasted sweet potatoes, and ravioli stuffed with red wine braised beef tossed in brown butter sage sauce. It was stinking amazing!!!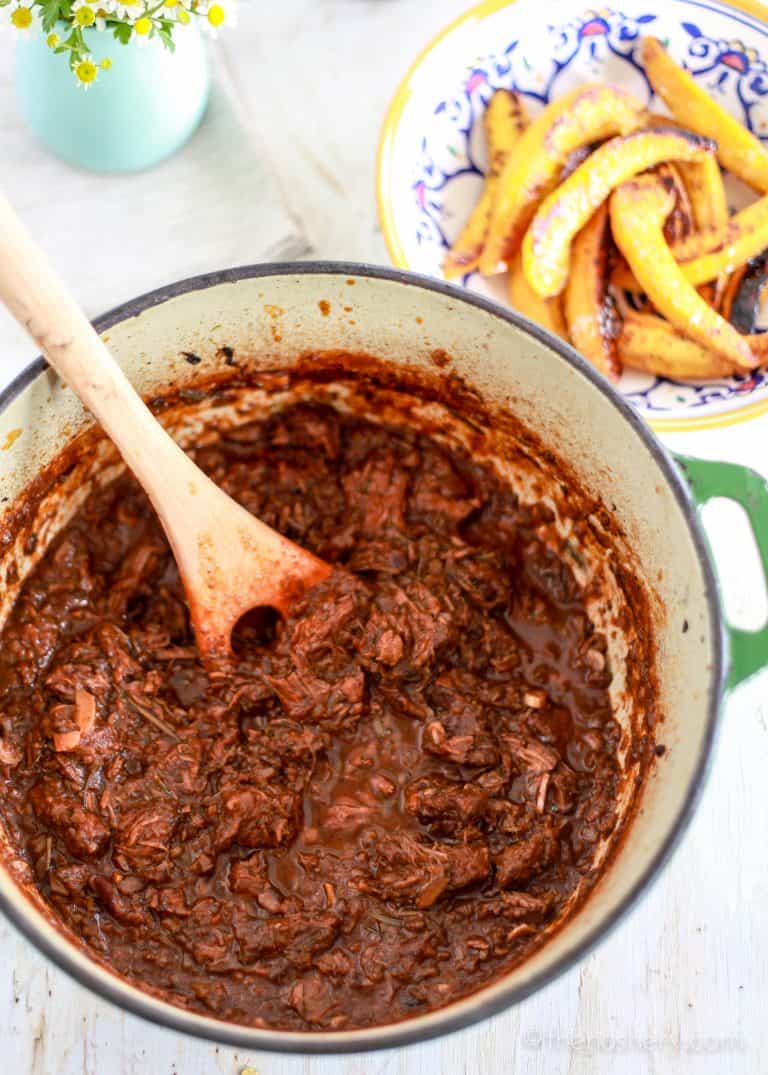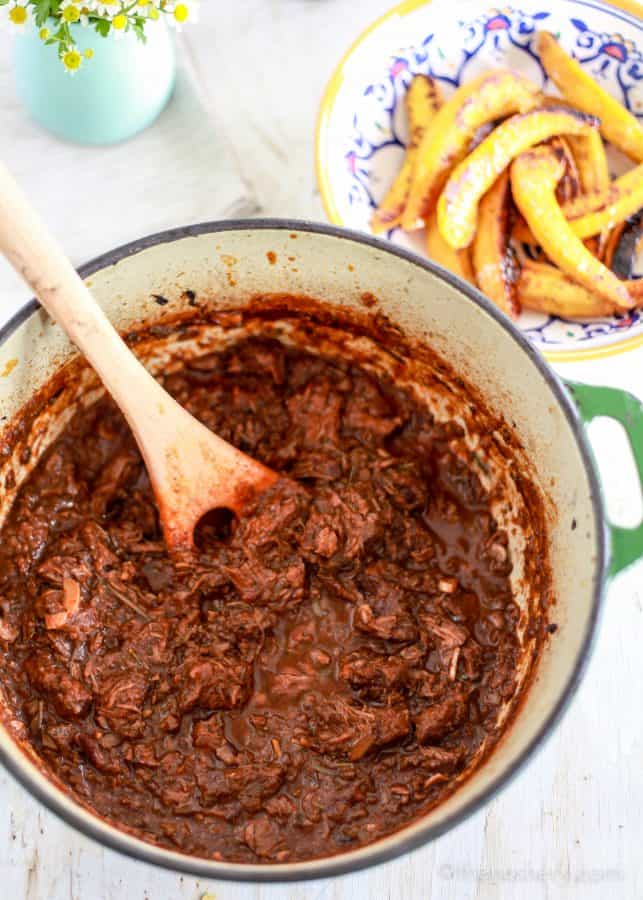 It was a wonderful night celebrating our friend's birthday over good Italian food and wine. We laughed, cheered, and savored every bite. After that dinner, we gathered outside the restaurant in front of a water fountain and did out best "ladies out on the town" pose. It was your typical girls night.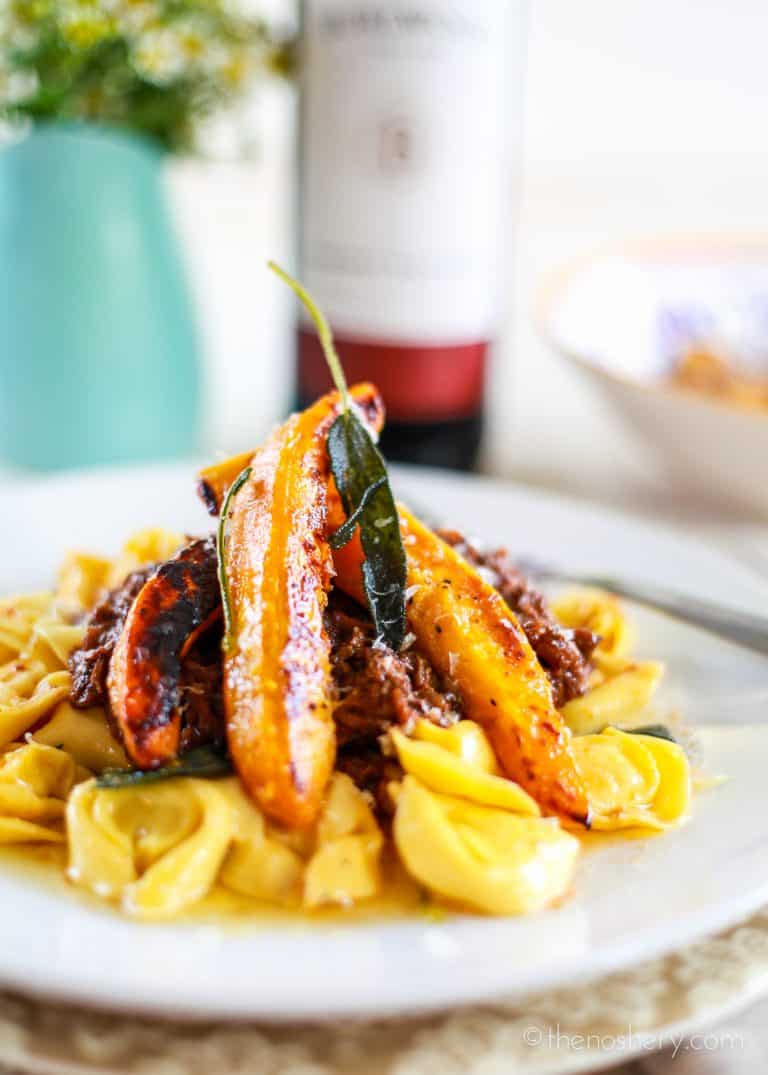 Yesterday, the temperatures dipped and it rained on and off throughout the day. It made me reminisce of that amazing bowl of pasta and the fun time I had with these lovely ladies that Fall evening. It was the perfect day to crack open a bottle of red wine and recreate a version of that memorable dinner.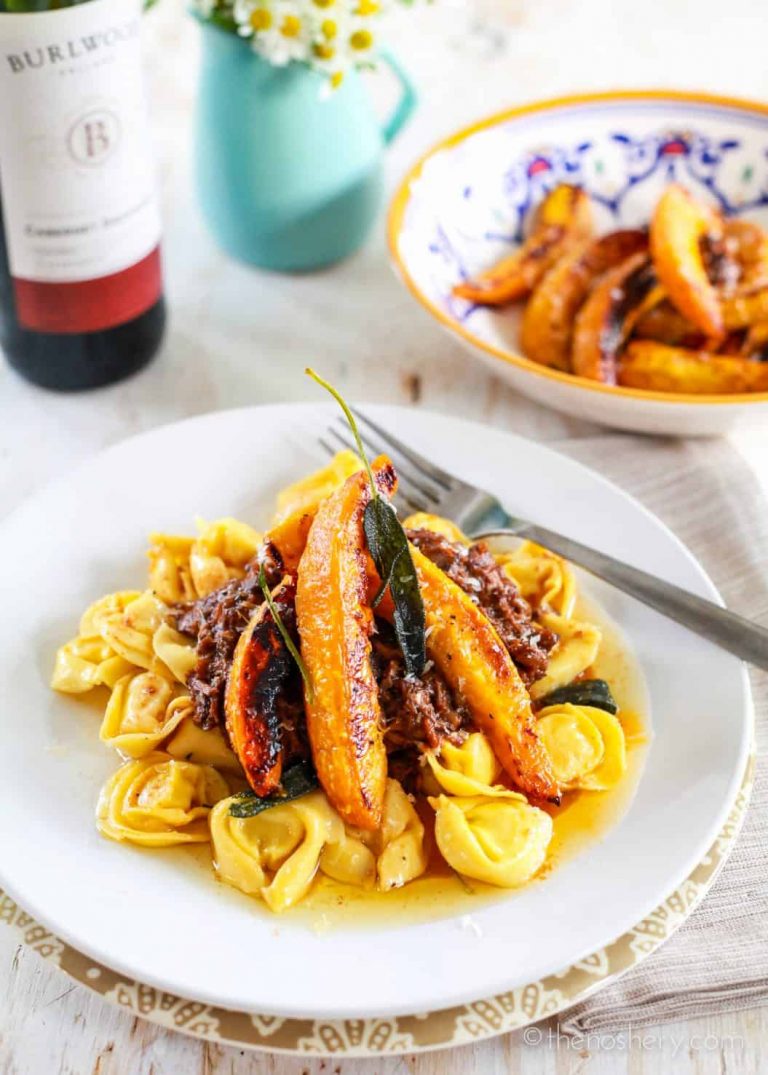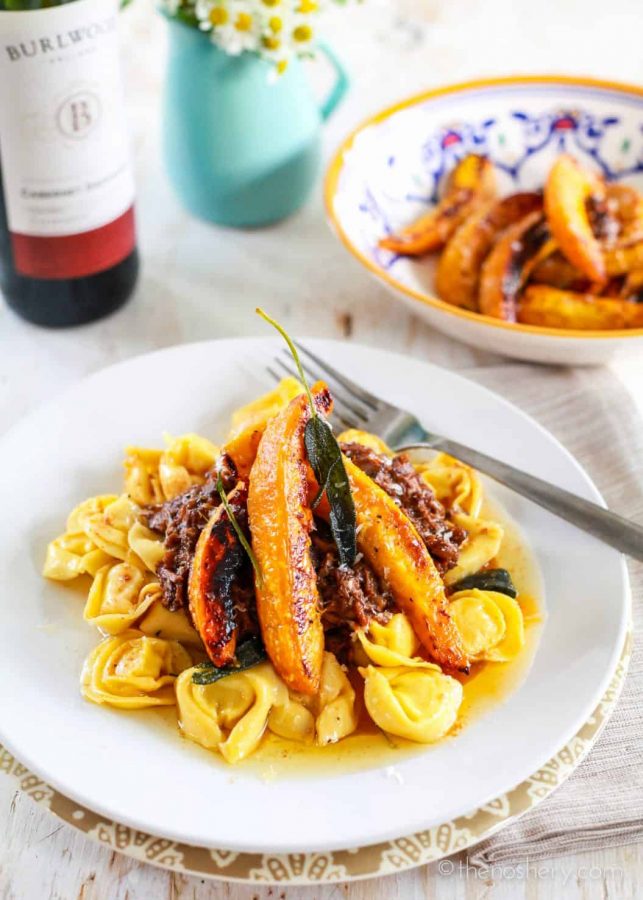 I am going, to be honest with you. The beef is time-consuming, but it's an easy dish and you end up with a wonderfully tender ragù. The remaining elements are easy and come together relatively quickly.  You can even braise the ragù the day before making assembly easy.  This is a great dish for entertaining. Your guest will be all like, "GURL! You can cook!" and you can be all like, "I know!" while tossing your hair emphasizing your fabulosity.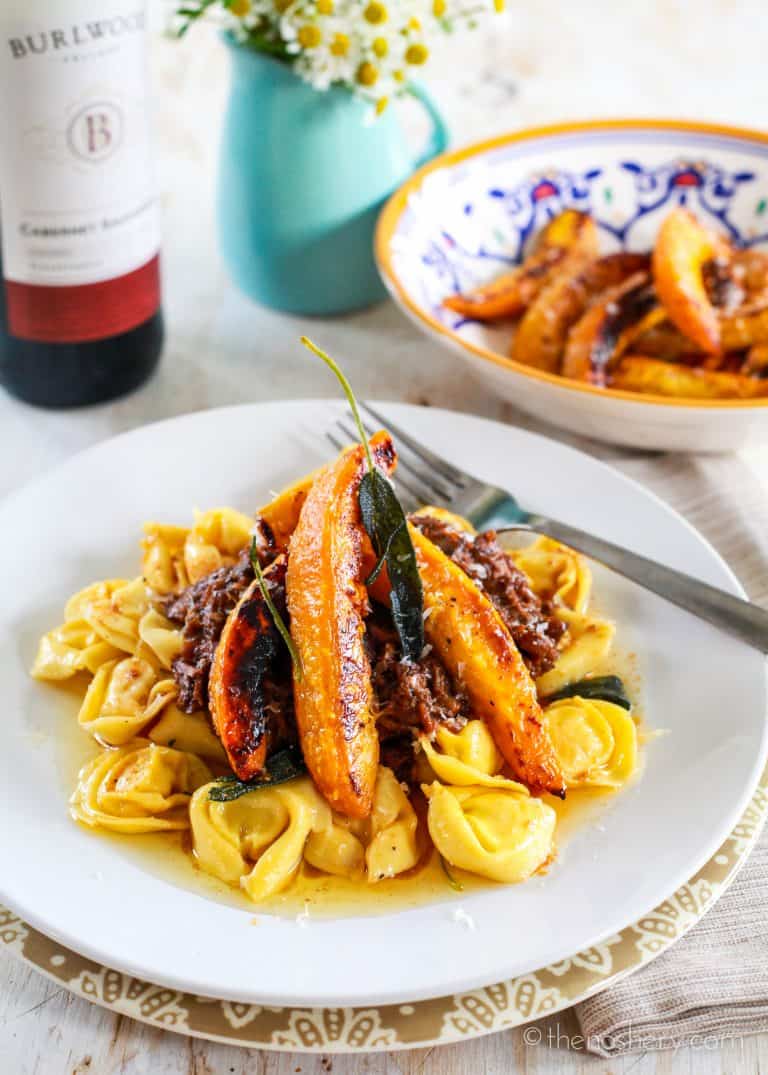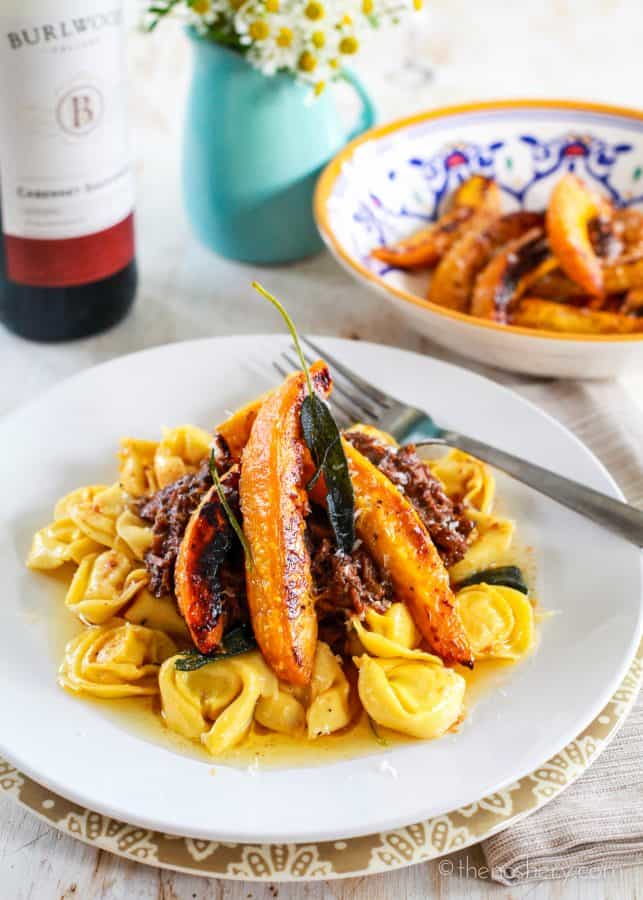 If you don't have tortellini it can easily be swapped out with ravioli or gnocchi. If you can get your hands on a pre-made pumpkin or sweet potato gnocchi go for it! Skip the pasta altogether and serve the ragù over polenta! Talk about comfort food! And, feel free to swap the acorn squash out for sweet potato, pumpkin or butternut.

Yield: 6
Beef Ragù with Roasted Acorn Squash & Brown Butter Tortellini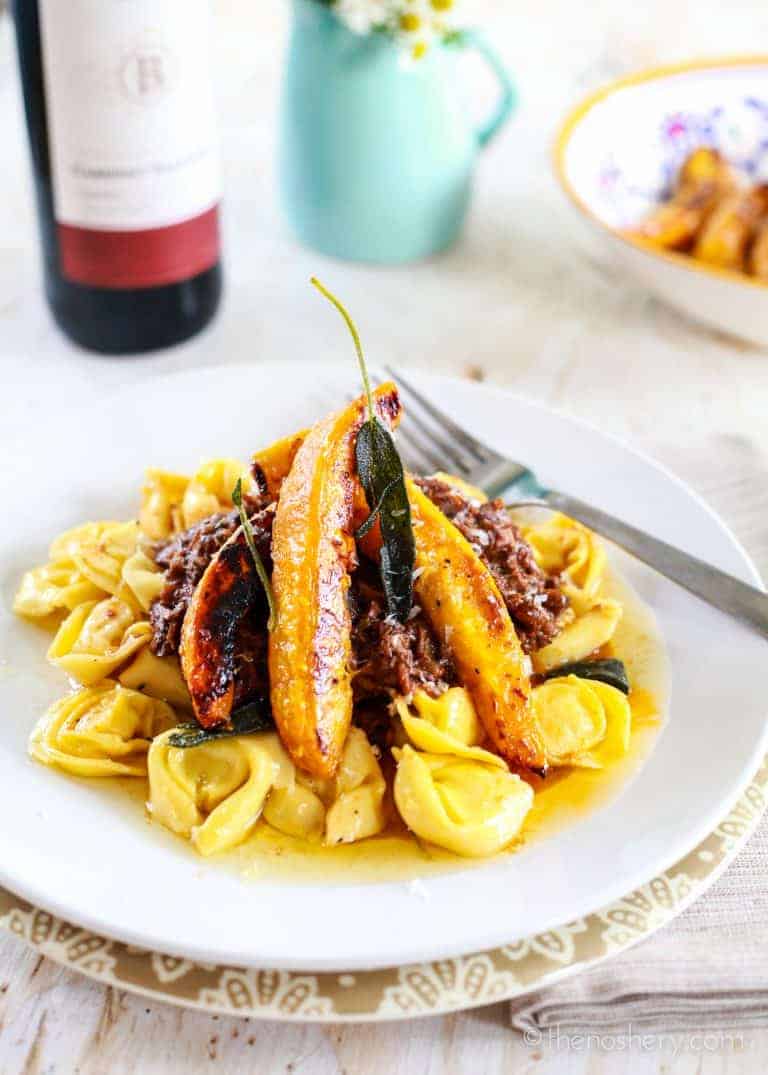 Tender beef ragù with roasted acorn squash over brown butter tortellini.
Inactive Time
3 hours
18 minutes
Total Time
3 hours
40 minutes
Ingredients
1 lb beef chuck, cut into 1-inch cubes
4 tablespoons butter
4 tablespoons olive oil
1 large onion, diced
8 oz baby portobello mushrooms, minced
1 large carrot, grated
4 cloves garlic, thinly sliced
1 cup dry red wine
2 cups vegetable stock
2 tablespoons tomato paste
1 sprig rosemary
1 sprig thyme
1 acorn squash, deseeded, segmented and peeled
1 package (20 oz) three cheese tortellini
2 stick salted butter
4 sage leaves
1/4 cup fresh grated parmesan reggiano
Instructions
Heat a dutch oven or a large heavy bottom pot over medium-high heat. Add 2 tablespoons of butter and 2 tablespoons of olive oil. Add onion, mushrooms, carrot and garlic. Cook until tender, about 8 minutes. Transfer to a plate.
Add remaining 2 tablespoons of butter and olive oil. Generously season the beef with salt and pepper. Working in batches brown the beef on all sides until caramelized, about 6 minutes. Return sautéed vegetables to the pot. Add red wine and deglaze the pot, scraping up all the brown bits at the bottom. Add vegetable stock and tomato paste and stir until well combined. Bring to a boil. Lower to a simmer and cover. Stirring occasionally, until the beef is fork-tender, 1 to 1.5 hours. Once beef is fork tender remove lid and let simmer until sauce has reduced and thickened.
While beef cooks prepare acorn squash. Toss prepared squash with 2 tablespoons of olive oil, salt, and pepper. Spread on sheet pan and roast in the oven at 400 degrees, turning once, until browned and tender, about 30 minutes.
Prepare tortellini according to package directions.
Melt butter in a 12 to 14-inch saute pan and continue cooking until golden brown. Add sage leaves and remove from heat. Toss tortellini into sauté pan and return to heat. Add the cheese, toss to coat and serve immediately. Top with beef ragù and roasted acorn squash.