Healthy Italian Turkey Meatballs Recipe | Life has been a little crazy. Obligations and travel have thrown my schedule for a loop. Early in the week, I shopped for groceries, forgetting that both OB and I were going to be busy.
Next thing I knew, I had a package of ground turkey meat that was going to turn if I didn't do something quickly.I also had a jar of my roasted tomato and vegetable pasta sauce on hand, so I figured that I could toss together some meatballs quickly.
Now, initially, I didn't plan to post these. The idea was to make some meatballs real quick and continue on with my day. But then I realized that I didn't have a simple Italian meatball recipe on the blog.
I had Blueberry Balsamic BBQ Turkey Meatballs, Lamb Meatballs with Mint Pesto Linguine, Alfredo Pasta with Meatballs, and Brie Stuffed Meatballs, which are all delicious dinners in and of themselves. But not the kind of recipe you memorize and can make with your eyes closed any time you need a little comfort food. And they definitely are not healthy meatball recipes like this one.
This really surprised me because I'm a firm believer that everyone should have a trustworthy meatball recipe. So how could I not have one on the blog?
Next thing I knew, my mission to salvage a package of ground turkey turned into a post. I was doing the whole thing.
I kind of love it when things work out that way.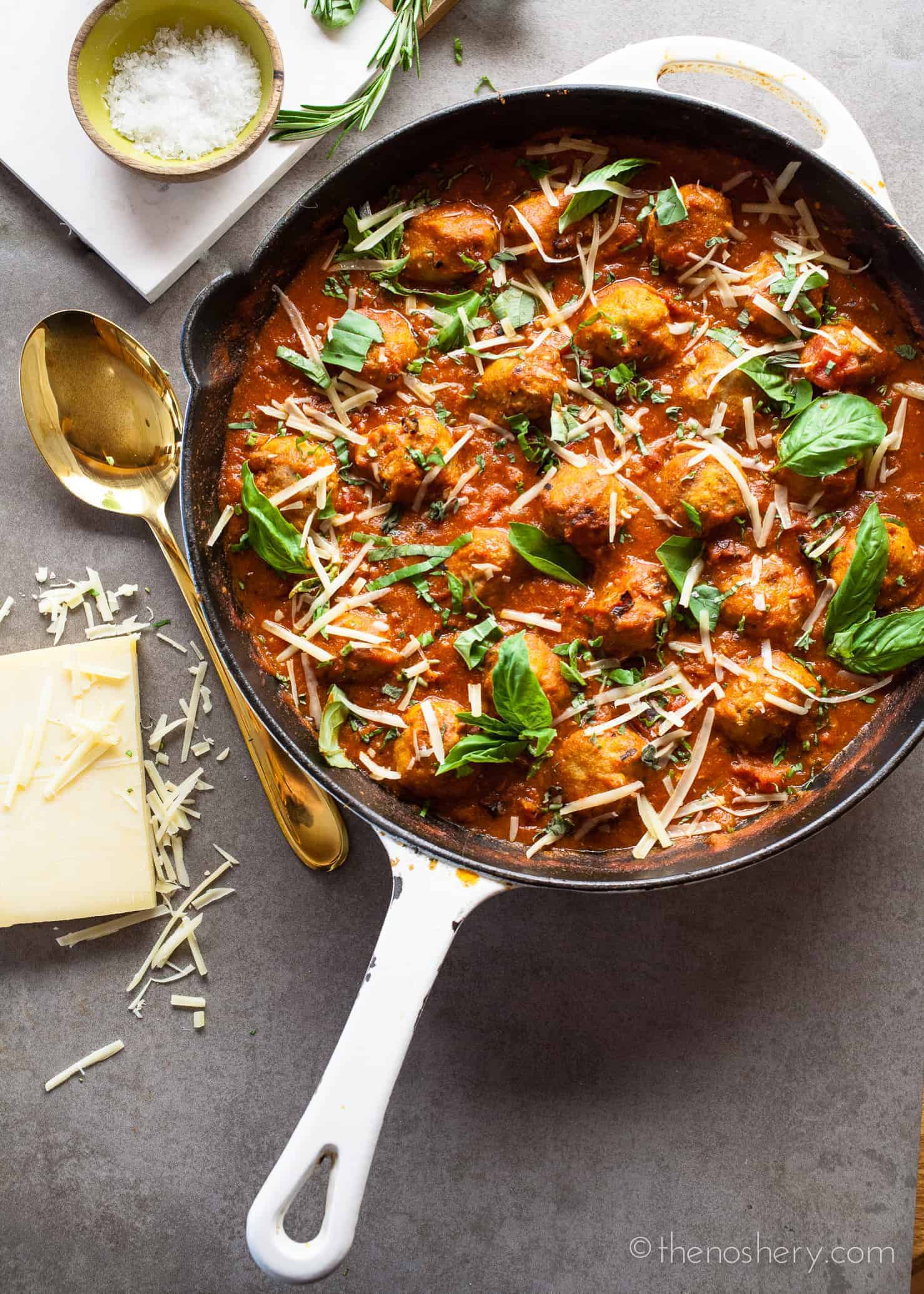 What makes them Healthy Italian Turkey Meatballs?
I wanted to make these meatballs lean and paleo friendly, so I used turkey meat instead of ground beef to lower the saturated fat. I also cooked with ghee, a paleo baking mix, and made my own tomato sauce.
Most turkey meatball recipes will call for Italian seasoned bread crumbs or white bread to be used as a binder. But if you're like me and want to do a paleo version, you can use a paleo baking flour such as Bob's Red Mill and they will hold together nicely and taste amazing without the extra carbs!
If you don't have any dietary concerns, however, you can absolutely feel free to substitute butter or olive oil for the ghee in this meatball recipe and flour for baking mix to dredge them in.
Healthy Italian Turkey Meatball Ingredients
Favorite sauce for turkey meatballs
You know I'm a huge fan of convenience and shortcuts where they don't sacrifice flavor, but you'd be surprised how much sugar is in many brands of pasta sauce on the grocery store shelves.
Since I've been more mindful of sugar and carbs lately, I made my own roasted tomato and vegetable pasta sauce for this recipe. It's truly easy to make, healthier, and has the optimal proportion of garlic, tomatoes, and veggie flavor in a pasta sauce. (At least in my book, anyway.)
If you're strapped for time, however, and looking for a healthier store-bought spaghetti sauce that will taste great with these meatballs, I highly recommend Cucina Antica Garlic Marinara Sauce. So delicious!
Your favorite jarred pasta sauce will also be scrumptious in this recipe if you're not watching your sugar or carb intake. Whichever sauce you choose, if you want to pump up the spice factor, add in a bit of crushed red pepper flakes.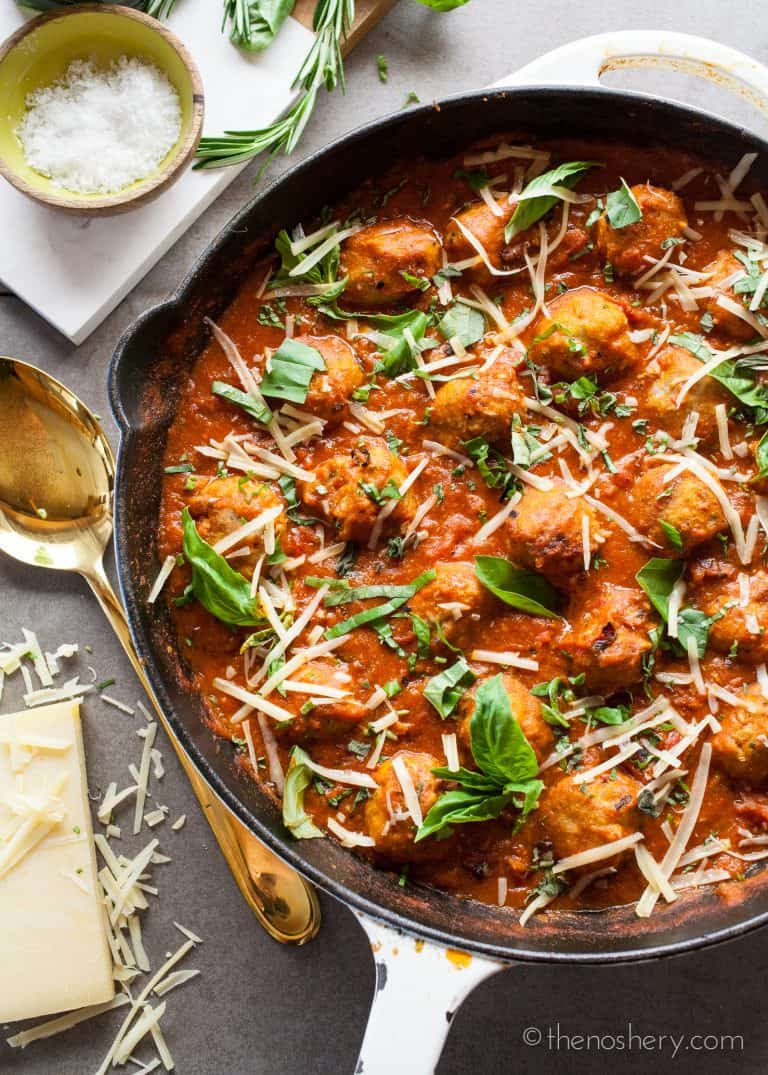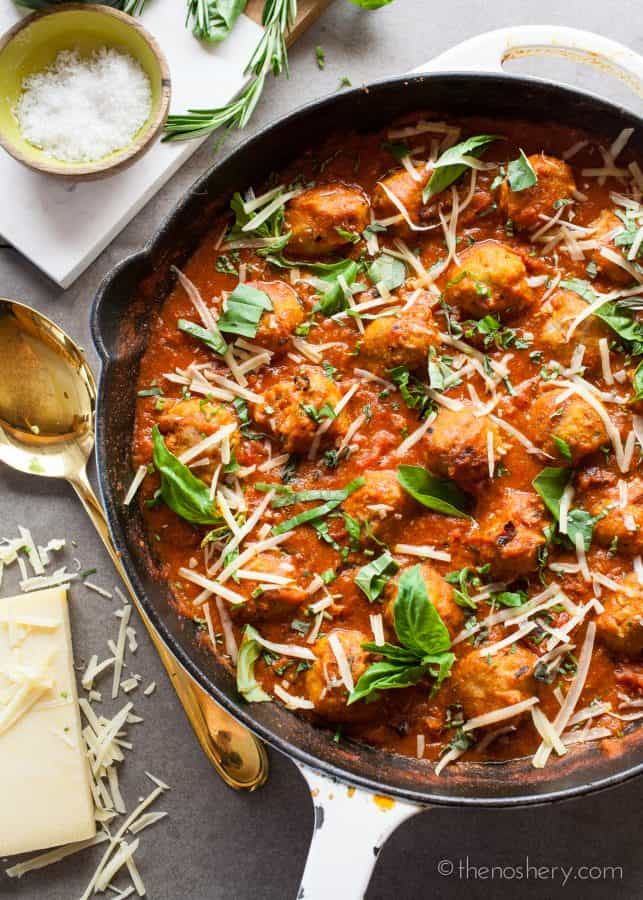 How to make healthy Italian turkey meatballs
Before digging in with your hands, line a baking sheet with parchment paper and then chop up all of your herbs and aromatic ingredients. Also pour your paleo baking mix (or flour, if you're using that) into a shallow dish for dredging the meatballs later. This will make the assembly line go a lot quicker and easier!
Then combine the chopped parsley, basil, oregano, thyme, onion, garlic, egg, salt, and pepper. Mixing up the rest of the ingredients before adding in the ground turkey keeps you from overworking the meatballs.
So does using your best kitchen tool—your hands! There's nothing like taking off your rings and digging in.
When the turkey and other ingredients are thoroughly combined, shape the mixture into about 24 meatballs, placing them on the prepared baking sheet.
Next, it's on to the dredging. Roll each meatball in the shallow dish containing your baking mix and return them to the baking sheet until it's time for their moment of glory.
Prepare a cast iron skillet or other heavy bottom nonstick pan over medium-high heat. Add the ghee (or butter) when the skillet is nice and hot. Once the ghee is melted and shimmery, brown the meatballs on at least two sides to develop that nice flavor you often miss with a baked turkey meatball.
Don't worry about them being cooked all the way through at this point because after they're all browned, you pour your pasta sauce of choice into the pan and bring the meatballs to a simmer. Let them cook through, covered, for about 10 to 15 minutes. Right now, your kitchen should smell GLORIOUS, by the way.
Then they're ready to spoon into a bowl with some zoodles, pasta, or crusty bread. Garnish with parmesan and torn basil, and get ready for one of the most comforting bites you've ever tasted!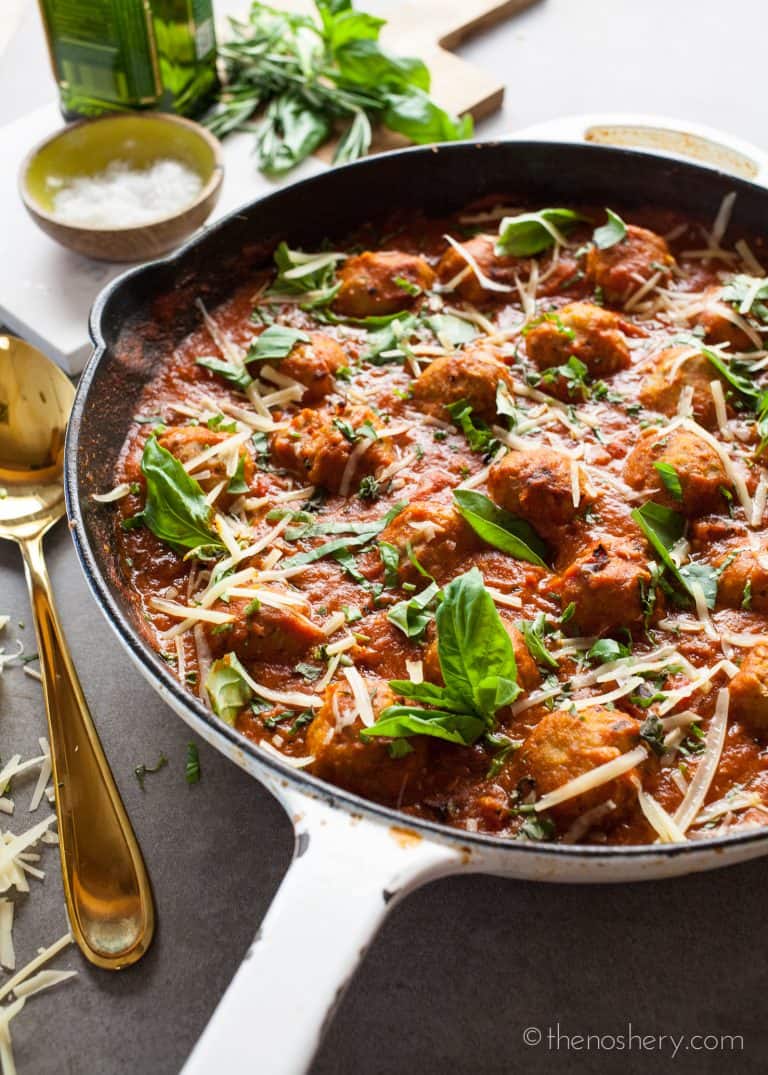 Buon appetito!
These meatballs are simple but so full of flavor. And they come together quickly with very little cooking time.
You can prepare them ahead of time and freeze them, which is perfect for meal planning. Just toss together a tasty salad while they're reheating, and you have a weeknight dinner with minimal time and effort.
If you're looking for more Italian inspiration, pasta night is one of our favorite nights around here. Give us a warm bowl of Chicken Artichoke One-Pot Pasta, FoodieCrush's Easy Cold Spaghetti Salad for potlucks, Butternut & Sausage Hash Lasagna Rolls with Creamy Sage Sauce, or Seafood Pasta (Pasta di Frutti di Mare). If you're feeling bold, you can even make your own Homemade Pasta.
But there's just as much comfort without the pasta in a dish like Baked Chicken Parmesan, my Easy Weeknight Italian Chicken Skillet, or Grandbaby Cakes' Italian Pot Roast.
As you'll find with these turkey meatballs, there's something in these Italian flavors that warms your bones and soothes what ails you. But don't take my word for it. Get you a package of ground turkey and make these soon!
more turkey love
Yield: 6 servings
Italian Turkey Meatballs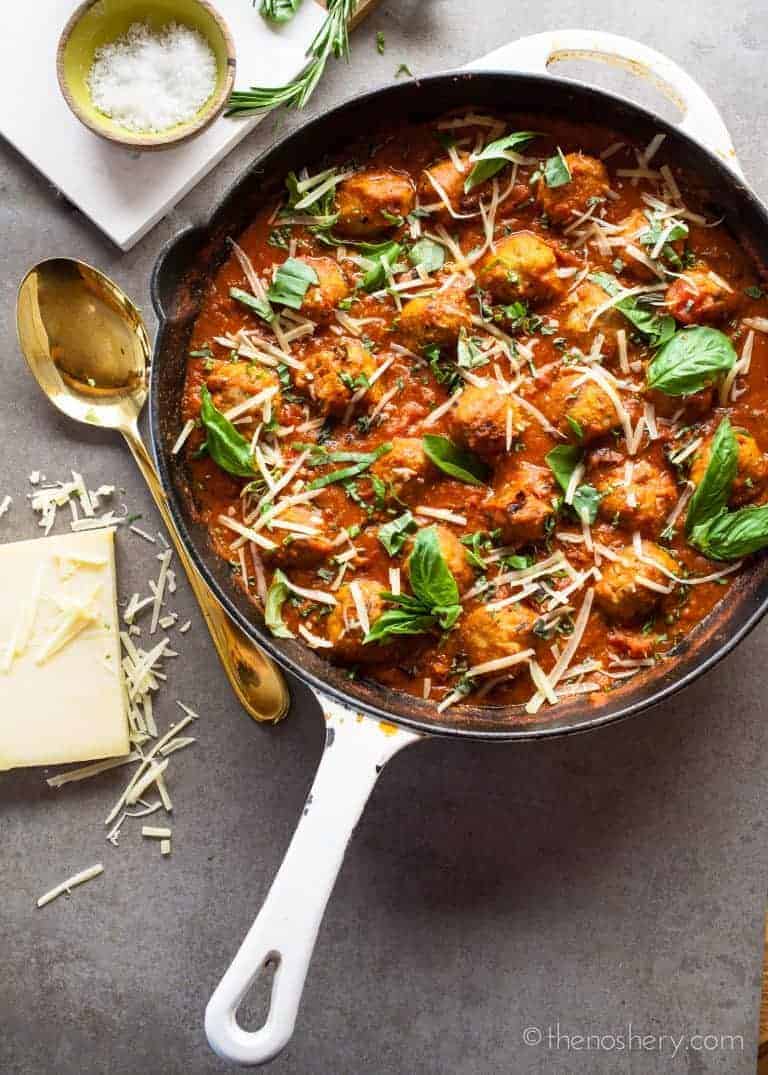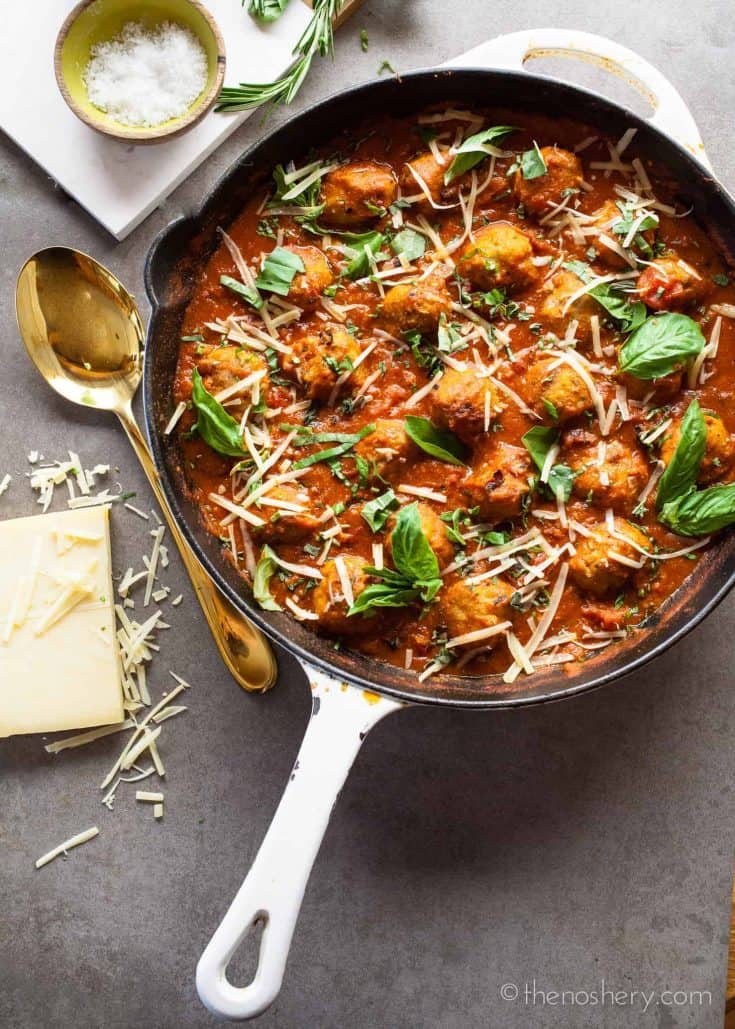 Everyone needs a dependable and simple meatball recipe. These meatballs are a healthier version that comes together quickly and is full of flavor.
Ingredients
1 lbs of ground turkey meat
1 tablespoon minced fresh parsley
1 tablespoon minced fresh basil
1 tablespoon minced fresh oregano
1 tablespoon minced fresh thyme
1 small onion, small diced
4 cloves of garlic, minced
1 egg
1/2 tsp salt
1/2 tsp pepper
1/2 cup paleo baking mix or flour
2 tablespoons ghee
shaved parmesan, for garnish
basil leaves, for garnish
Instructions
In a large bowl combine ground turkey, fresh herbs, onion, garlic, egg, salt, and pepper. Using hands mix meat together until well combined.
Line a sheet pan with parchment pepper. Shape meat mixture into about 24 balls and set aside on prepared sheet pan.
Pour paleo baking mix or flour in a shallow bowl. Gently roll the meatball in the mixture and set aside.
Heat a cast iron skillet or a heavy bottom non-stick skillet over medium-high heat. Melt ghee in the skillet. Place meatballs into the skillet and brown on at least two sides.
Pour sauce over the meatballs, cover and simmer for about 10 - 15 mins or until meatballs are done. Sprinkle with parmesan and torn basil leaves.
Recommended Products
As an Amazon Associate and member of other affiliate programs, I earn from qualifying purchases.
Nutrition Information:
Yield:
6
Serving Size:
1
Amount Per Serving:
Calories:

414
Total Fat:

25g
Saturated Fat:

10g
Trans Fat:

0g
Unsaturated Fat:

12g
Cholesterol:

139mg
Sodium:

697mg
Carbohydrates:

21g
Fiber:

2g
Sugar:

2g
Protein:

28g