Updated, from recipe archives. Originally posted in 2013.
There are some days I just want to spend all day in the kitchen. Today was one of those days. I think I was feeling sentimental and wanted some quality time with my kitchen. I decided I wanted to make something special and this recipe did the trick.
This recipe is a little labor-intensive, but since you are smarter than I am, you can make the filling a day ahead. Also, if you want to be really boss in the kitchen you can make the pasta from scratch. That's what I did today, like I said I was feeling sentimental.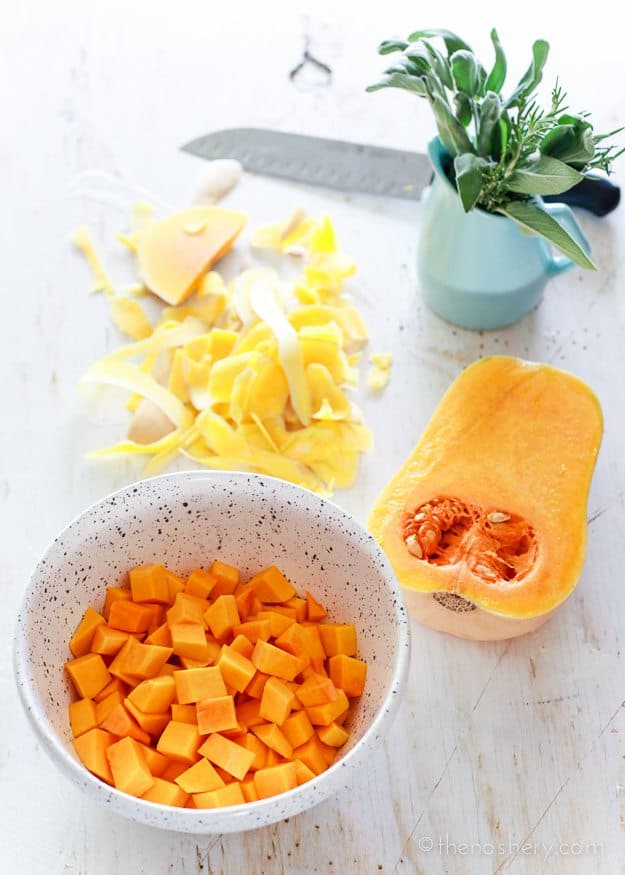 This idea came to me while looking through my posts from way back in the day, when I first started blogging. It was a butternut, sausage and sage penne pasta post. Looking back at this post was like reading my diary from when I was 15, embarrassing and painful. Seriously, it's so bad. At the time I wrote the post I never would have thought to combine butternut, sausage and sage, but now it's the most obviously perfect Fall combination.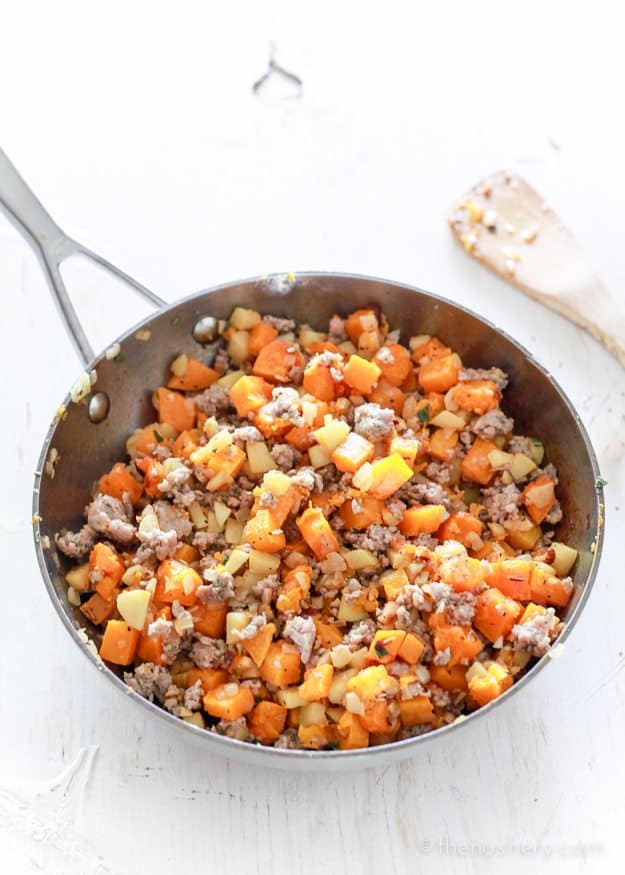 But, did you know that butternut also pairs well with ricotta and parmesan? Yeah, it does! Sound like the perfect combination for a Fall lasagna to me! Here is the deal, though, I didn't want to make a traditional layered lasagna. I love rolled or rustic lasagna! It makes the perfect individual portions. Also, if you like, you can freeze them individually in small aluminum loaf pans and have perfect single serving lasagna. Genius!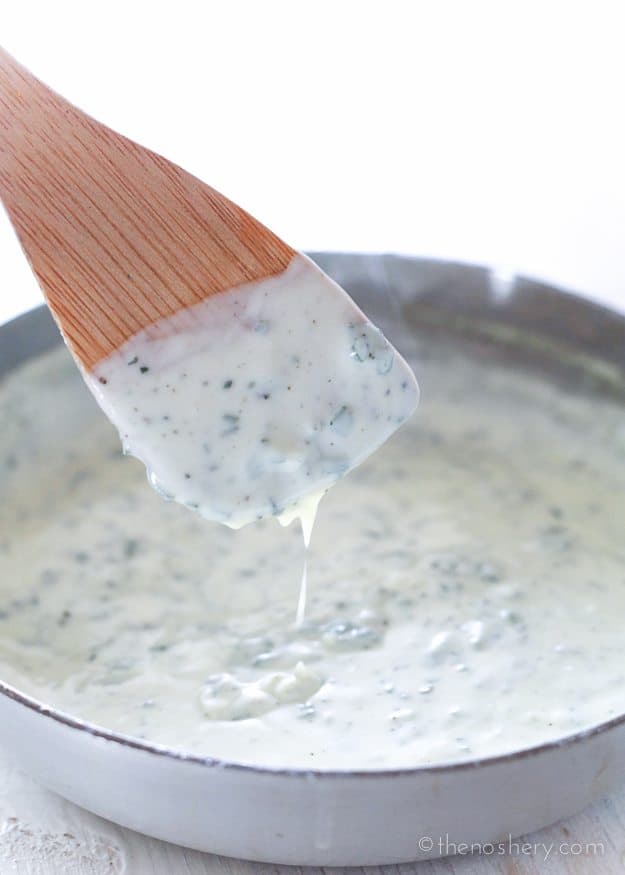 Holy smokes this turned out amazing! I was ecstatic with the results. It was everything I wanted it to be, a perfect balance of savory and sweet with some butt kicking herbage happening.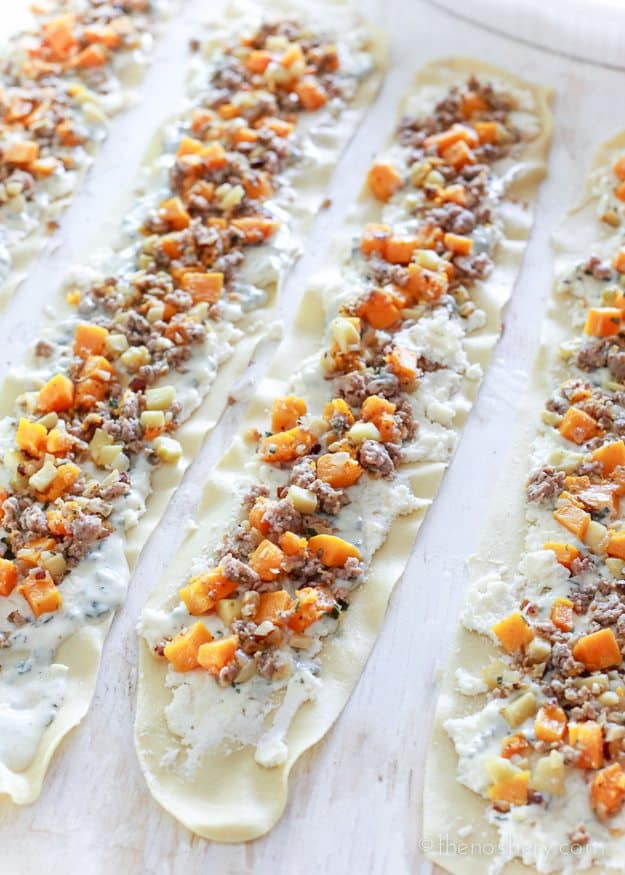 I ate this while dancing in my seat and obnoxiously declaring my mad cooking skills. I stinking love Fall! I love Fall because of things like butternut, sausage, and sage.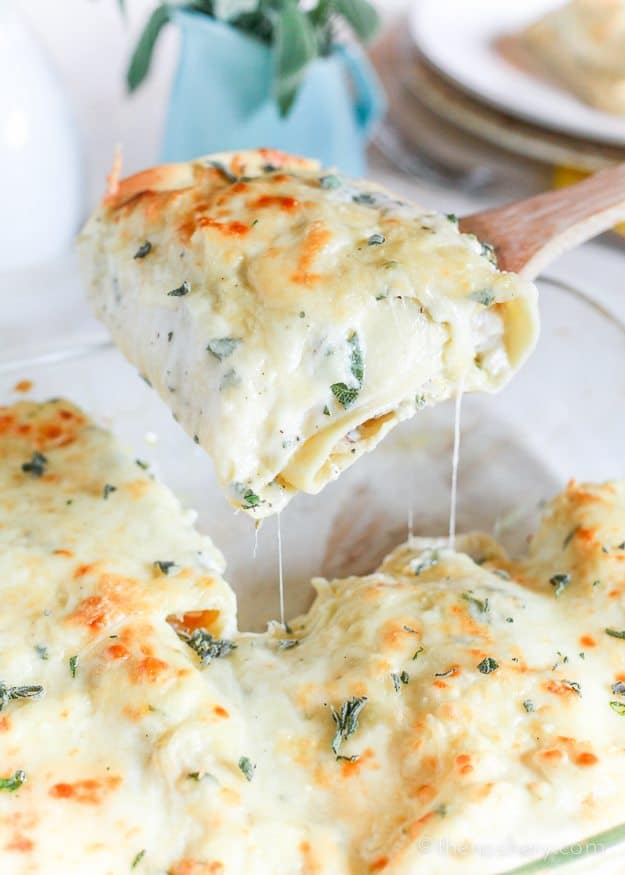 I also think the added step of making the pasta from scratch brought this dish to another level. I know that making pasta from scratch can be intimidating, but it's easier than you think and worth the effort.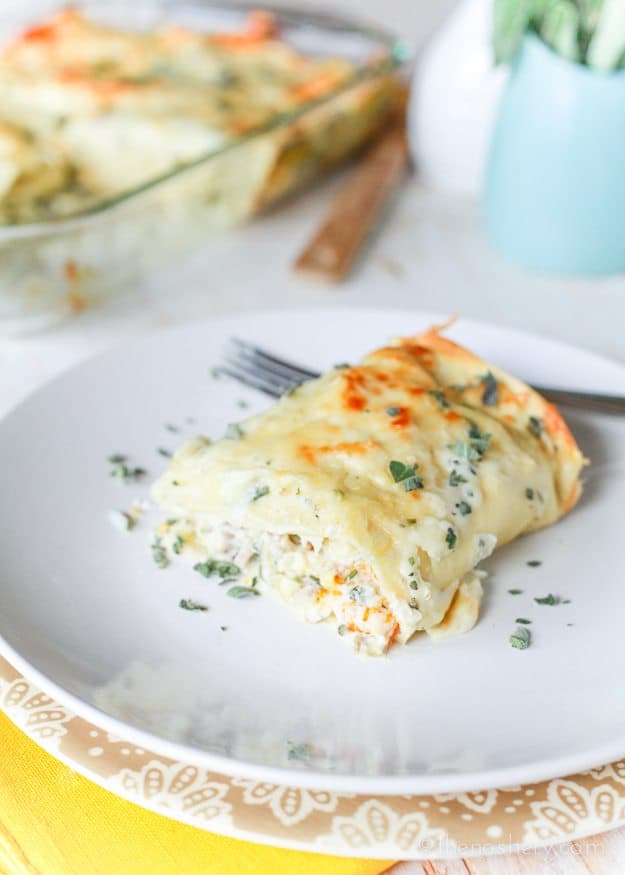 I love this dish not only because it tastes so dog-gone stinking awesome, but it's versatile. If you want to go all out, make it just like this with freshly made pasta. Stay tuned for a homemade pasta recipe coming soon. But, of course, you can use store-bought lasagna noodles. By rolling the pasta instead of layering it, you can make the perfect individual portions. Also, you can double the meat filling and serve it as a hash with fried eggs. Delicious! Skip the lasagna all together and make a penne pasta!
It's all up to you! Just make sure and try it. It's life changing.
Yield: 8 servings
Butternut and Sausage Hash Rustic Lasagna with Creamy Sage Sauce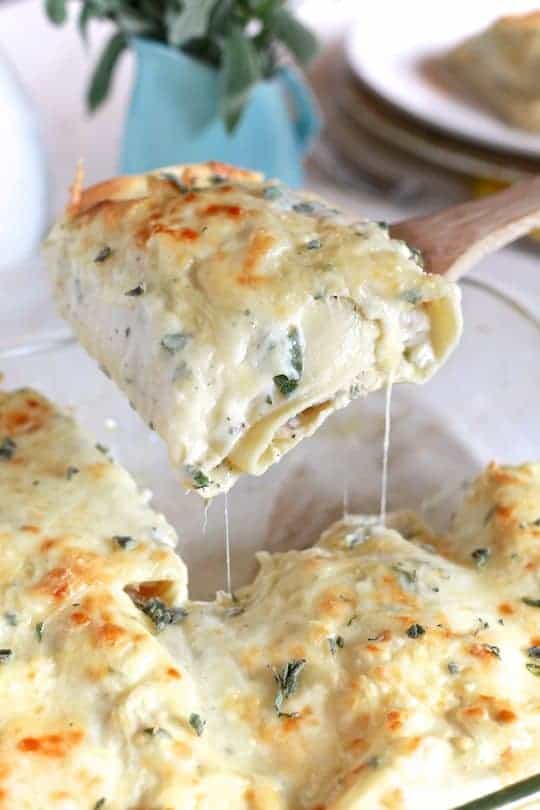 Ingredients
Filling
[br]
3 cups 1/2 inch cubed butternut squash (about 1 small butternut)
Olive oil, for drizzling
1/2 small onion, chopped
3-4 cloves garlic, minces
1 Granny Smith apple, peeled cored & small dice
1/4 cup chopped hazelnuts
salt to taste
[br]
Sausage
[br]
1 pound ground pork
1/2 teaspoon ground fennel
3-4 cloves garlic, minced
1/2 teaspoon rubbing sage
1/2 tablespoon kosher salt
1 teaspoon chopped fresh rosemary
[br]
Cheese
[br]
1 1/2 cup whole ricotta cheese
1 cup shaved parmesan
1 cup shredded mozzarella
salt to taste
[br]
Creamy Sage Sauce
[br]
1/4 cup butter
3/4 cup (lightly packed) fresh sage leaves, chopped
3-4 garlic cloves, minced
1/4 cup all-purpose flour
white wine
3 cups milk
1/4 scant cup shaved parmesan
Pinch nutmeg
8 lasagna noodles, prepared according to package directions
or
Instructions
Pre-heat oven to 400 degrees
Bring a pot of water to boil. Boil lasagna noodles according to package directions, toss lightly in oil and set aside until ready to use.
Filling
Spread cubed butternut squash on a rimmed sheet pan, drizzle with olive oil, sprinkle with salt & pepper, toss until well coated. Roast in the oven for 30 minutes, stirring once halfway. Set aside.
In a large bowl combine all sausage ingredients. Heat a large skillet over medium-high heat, drizzle with olive oil. When skillet is hot add sausage mixture, cook until browned and cooked through. Using a slotted spoon transfer sausage to a plate, keeping the dripping in the pan.
Return skillet with the sausage drippings to stove over medium-high heat. Add chopped onions and garlic, sauté until they start to get soft, about 5 mins.
Add diced apple to skillet, sprinkle with salt, cook an additional 5 minutes. Add a splash of white wine to deglaze the pan, scraping up all the brown bits at the bottom of the skillet. Add the squash and chopped hazlenuts. Sauté until the squash is lightly browned, 1 to 2 more minutes. Add cooked sausage until well combined, set aside.
Cheese
In a large bowl combine ricotta cheese, 1/2 cup shredded mozzarella and 1/2 cup shaved parmesan, stir until well combined and set aside.
Sauce
Melt the butter in a heavy medium-size saucepan over medium heat. Add garlic and sage, sauté until fragrant, about 30 seconds.
Add the flour and whisk for 1 minute. Splash with white wine and gradually whisk in the milk. Bring to a boil over medium-high heat. Reduce the heat to medium and simmer until the sauce thickens slightly, whisking often, about 5 minutes.
Whisk in the nutmeg and parmesan, continue to whisk until smooth. Season the sauce with salt and pepper, to taste.
Assemble
Spray a large 9 x 14 casserole dish with non-stick spray, spread a very thin layer of sauce on the bottom of the dish, set aside.
Lay lasagna noodles flat on a clean work surface. Reserve about 1/4 cup of sauce for topping. Spread and layer cheese mixture, followed by remaining sauce and filling on each of the noodles. Carefully roll the noodles and place in prepared dish, seam side down.
Top lasagnas with cream sauce, 1/2 cup shredded mozzarella and 1/2 cup shaved parmesan. Bake in the oven cover at 350 degrees for 15 min, remove cover, back another 20 minutes. To brown the cheese put under the Lo broiler for a few minutes, be sure to keep an eye on it.
Serve hot.
Notes
MAKE AHEAD

Butternut and sausage filling can be made a day ahead.

Assemble and freeze. Bake at 350 degrees covered for 45 minutes, remove cover bake an additional 15 minutes or until hot and bubbly. Broil on Lo to brown cheese.

Lasagna rolls can be frozen in small aluminum loaf pans for individual servings. Bake at 350 covered for 30 minutes, remove cover and bake an additional 15 minutes or until hot and bubbly. Broil on Low to brown cheese.