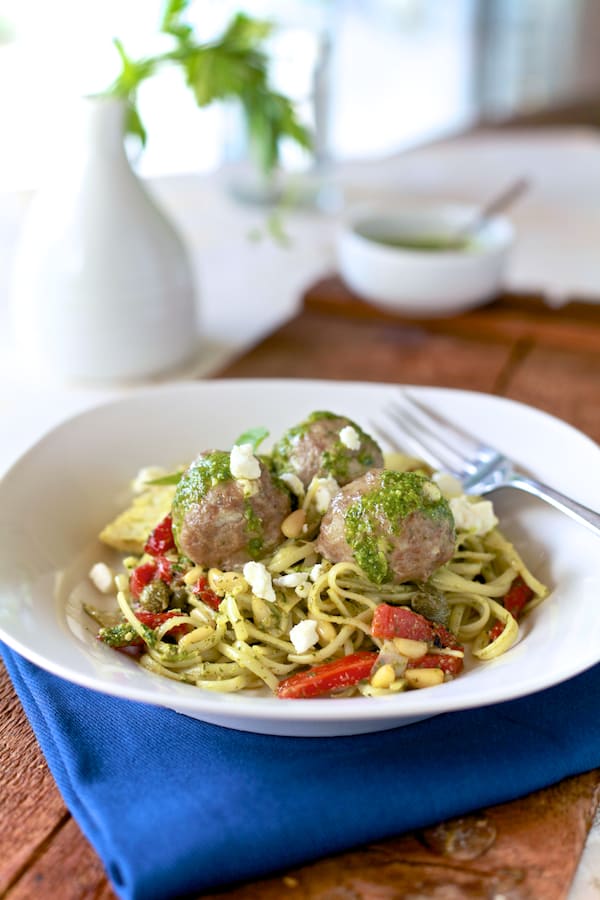 These meatballs have been rolling around in my head for months. HA!!
Get it? Meatballs…rolling around.
It's funny!
No?
Come on!
Don't get me wrong…I know it's not side-splitting hilarious, but can't I at least get a chuckle, so I don't feel like a complete doofus?
Ok, what about this one.
Where did the spaghetti go to dance?
Anyone?
THE MEATBALL!!!!
Ok, sorry. You have my permission to never speak to me again.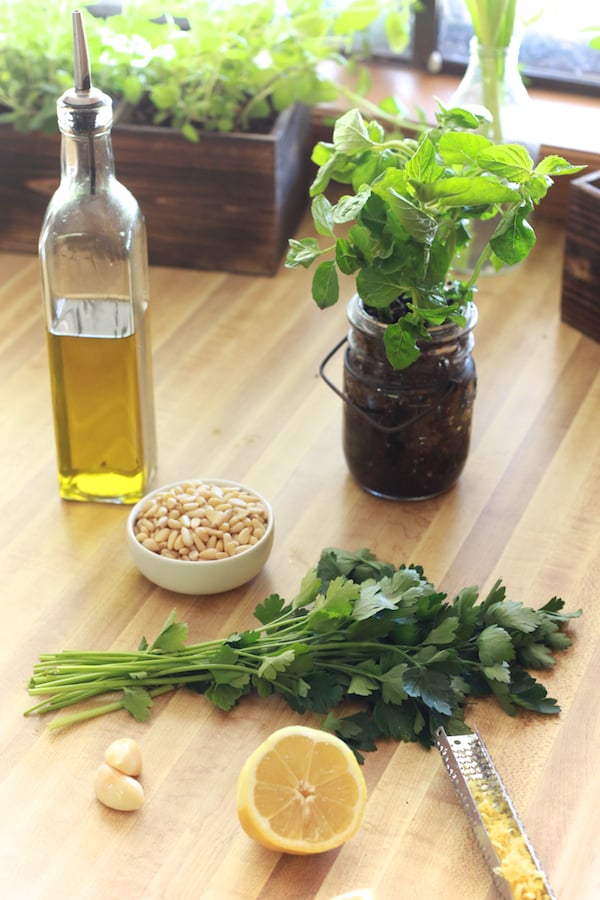 Ok, setting bad jokes aside, I think it is safe to say that everyone can get down with a plate of spaghetti……at the MEATBALL!!! HA!
*Tap, tap* You still there? Last time, I promise.
Personally, I have never been a huge fan of spaghetti and meatballs. There have been times that I will get a craving but, in general, it doesn't strike my fancy. I am sure there is some Italian grandmother rolling her eyes and saying, "That's because you haven't had my meat-ah-ball!"
I remember watching TV and someone was going to town on a huge plate of spaghetti and giant meatballs. I thought to myself; there had to be a way to make spaghetti and meatballs more interesting. That is when I thought of the lamb meatball. I love lamb. Loooooove it, and I love anything Greek. So I thought I should do spaghetti and meatballs, Greek-style.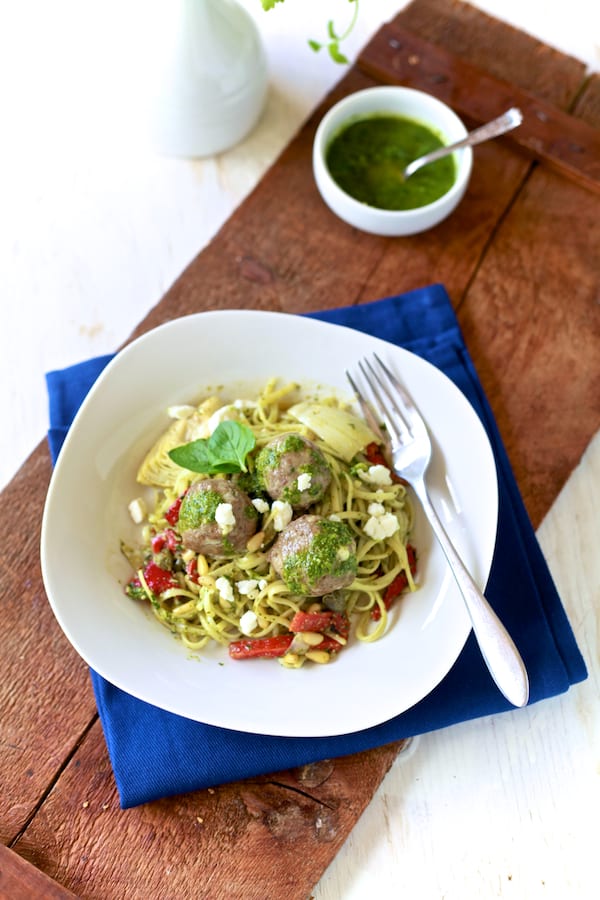 Lamb and mint are a classic pairing. I don't know how they became best friends since one eats grass and the other is grass, but they somehow came together and became the closest of friends. I love how they work in such perfect harmony. The mint complements the flavor of lamb without being overly minty while also cutting into its gaminess. It truly is a perfect pairing, so I knew that the perfect sauce to this pasta would be a mint pesto.
The great thing about this dish is not only how awesome it tastes, but also how easy it is to make. An extra bonus is that you can make its principal components ahead of time. The pesto can be kept refrigerated in a sealed container for a week; the meatballs can be frozen until ready to use. Line a sheet pan with parchment paper, roll your meatballs, line them up on the sheet pan like little soldiers and freeze them.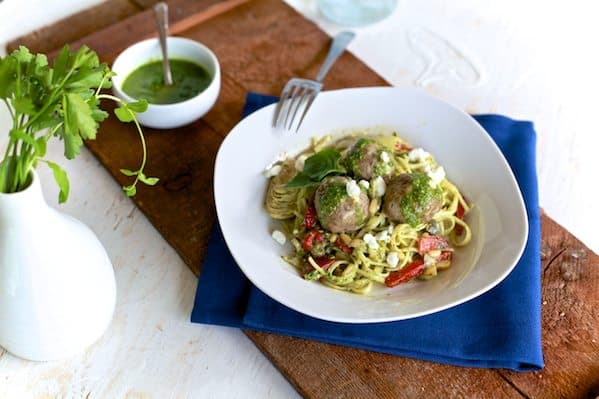 Transfer the frozen meatballs to a resealable bag until ready to use. When you are ready for heavenly lamb meatballs, bake at 375 for 25-30 minutes–no need to thaw. Toss with pasta and pesto and enjoy with vigor. They can also be the perfect appetizer, just serve the meatballs alone with the pesto as a dipping sauce. You will be a very popular hostess.
I, of course, did not bother with freezing the meatballs. I had been dreaming of this dish for months, after all. I wasn't about to willingly prolong my yearning for a tender lamb meatball.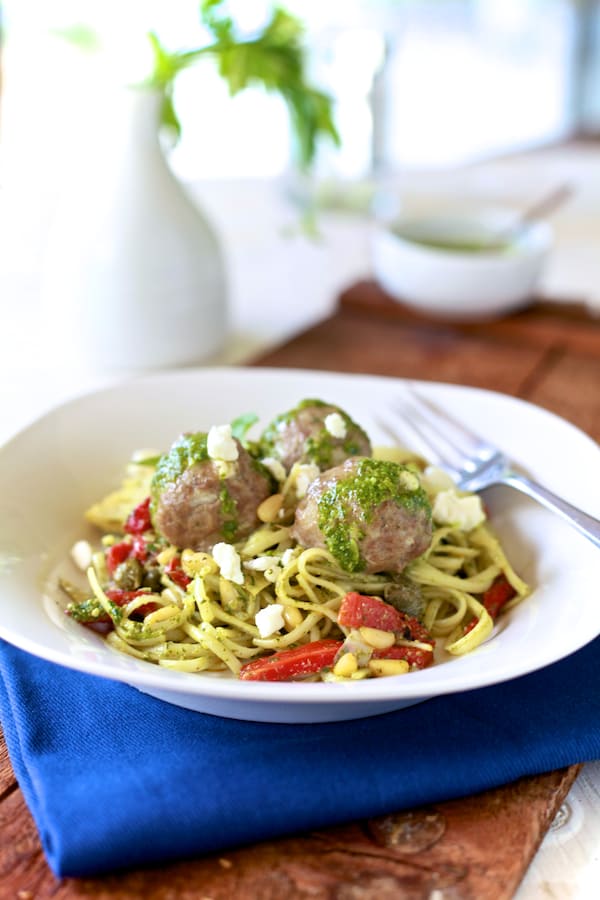 I was more than pleased with how the dish turned out. The meatballs were juicy and tender, yet they held their shape like a champ. The pesto was bright and fresh. It was truly comforting without being heavy. I am now a lover of spaghetti and meatballs, as long as the meatball is lamb, and the sauce is mint pesto.
Yield: 6 - 8 serving or 24 meatballs
Lamb Meatballs & Mint Pesto Linguine

Lamb meatballs over pasta with mint pesto is a Greek twist on the familiar spaghetti and meatballs comfort food.
Ingredients
Mint Pesto
2 cups mint leaves
1/2 cup flat-leaf parsley
4 cloves garlic
zest of 1 lemon, about 2 teaspoons
juice of 1 lemon
4 tablespoons pine nuts
4 tablespoons olive oil
1 teaspoon salt
[br]
Meatballs
1 lb ground lamb
1 small white onion, finely chopped
2 tablespoons mint pesto
1 teaspoon ground coriander
1 teaspoon kosher salt
1/2 teaspoon ground cumin
3 tablespoons semolina flour or plain breadcrumbs
1 egg
[br]
Pasta
8 oz package dry linguine (or any long noodle pasta)
2 8 oz jars quartered artichokes
2 8 oz jars roasted red peppers, sliced
4 tablespoons pine nuts
Instructions
In a food processor or blender combine all ingredients for pesto except for oil. With the processor or blender running, slowly drizzle in the olive oil until smooth and emulsified. Transfer to small bowl and refrigerate until ready to use.
In a stand mixer using a paddle attachment, combine all ingredients for meatballs. Beat until well-combined. If you do not have a stand mixer, you can use your hands. Cover with plastic wrap and refrigerate for 1 hour to let the flavor develop.
Pre-heat oven to 375 degrees.
Line a sheet pan with parchment paper. Roll the meat into balls less than 1 inch (about 2 teaspoons or a medium scoop) and place on the lined sheet pan. Keep a bowl of cold water beside you to dampen your hands with; it helps keep your hands from getting sticky. Bake for 15 minutes.
While meatballs are in the oven, boil your pasta to al-dente. In a skillet over medium-high heat drizzle 1 tablespoon olive oil. Add pasta, artichokes, pine nuts, red pepper and mint pesto. Saute until hot and well combined. Serve the pasta topped with meatballs and sprinkled with feta cheese crumbles.
Notes
MAKE AHEAD

Pesto can keep refrigerated in a sealed container for a week.

Meatballs can be frozen until ready to use. Line a sheet pan with parchment paper, roll your meatballs, line up on sheet pan and freeze. Transfer the frozen meatballs to a resealable bag until ready to use. When you are ready to use, place meatballs on parchment paper lined sheet pan and bake at 375 for 25-30 minutes, no need to thaw.