one pot pasta
It's been busy around here. Travel, work, moving back into the motor coach (YEAH!) it's been crazy busy! It's been a string of non-stop days. In the midst of all of this busyness, I still had everyday things that needed to get done…like making dinner. And, I will be honest after several days cooking trying to get ahead of the game the last thing I wanted to do was cook dinner.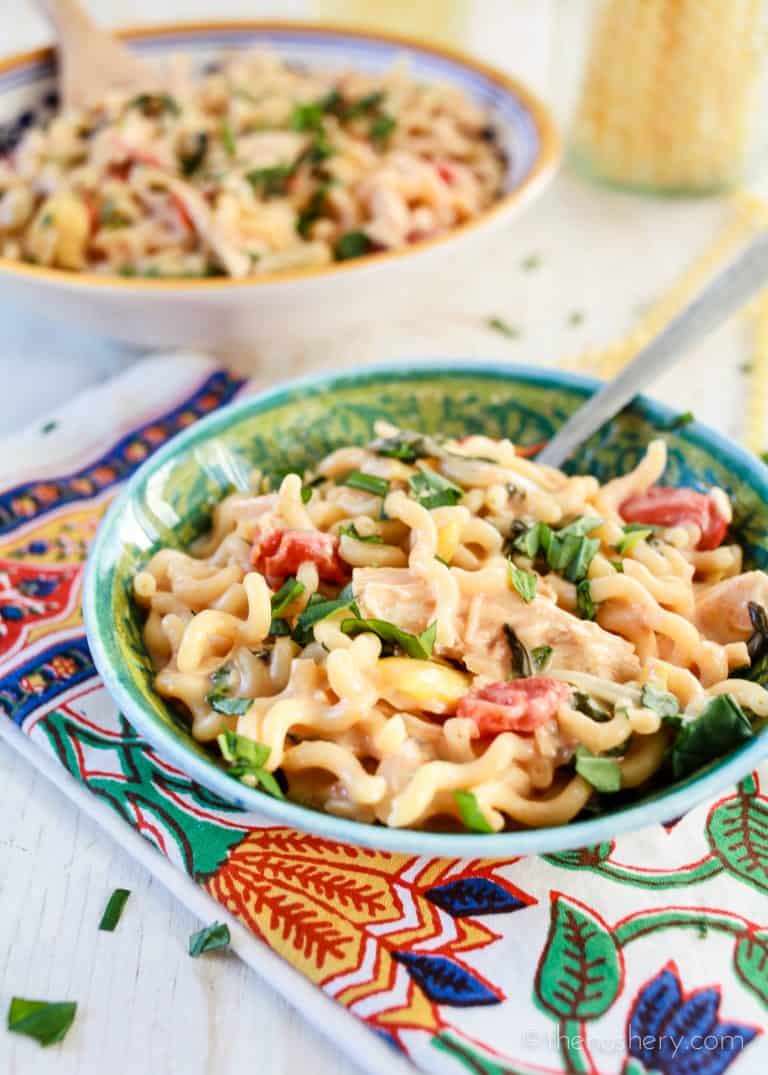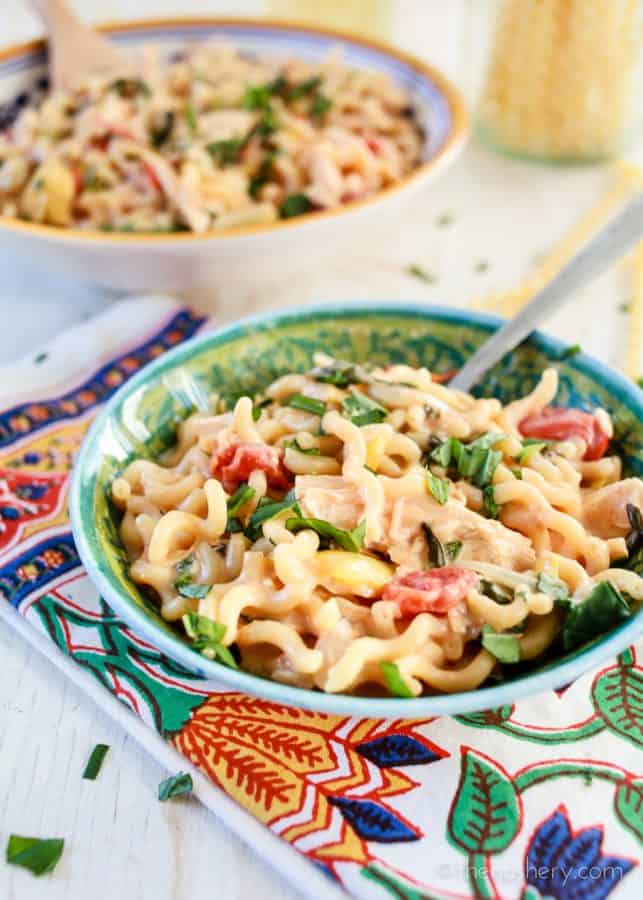 When I am tired and feeling lazy, I make pasta. Pasta is a wonderful thing and so easy to make! But, my kitchen was already clean, and I really didn't want to get it all dirty again. Normally I will make a sauce in one pan and boil the pasta in another and then combine. But, I REALLY didn't want to have to schlep out two pots in my already clean tiny kitchen. That's when one pot pasta was called to the rescue.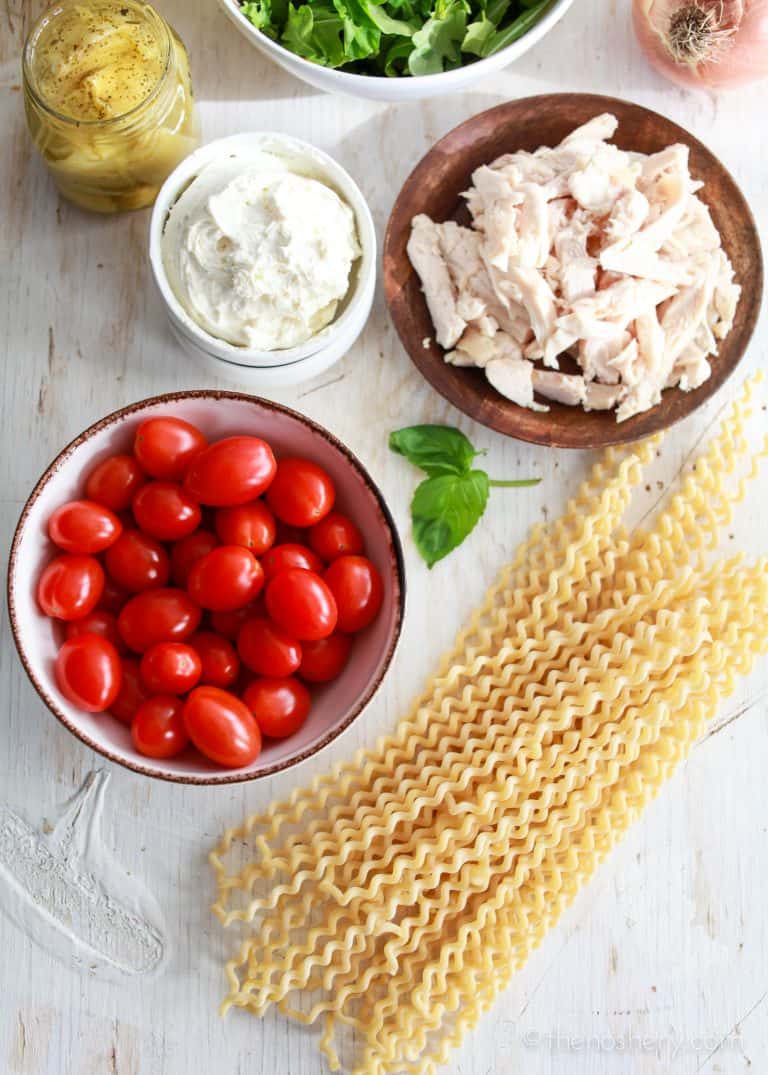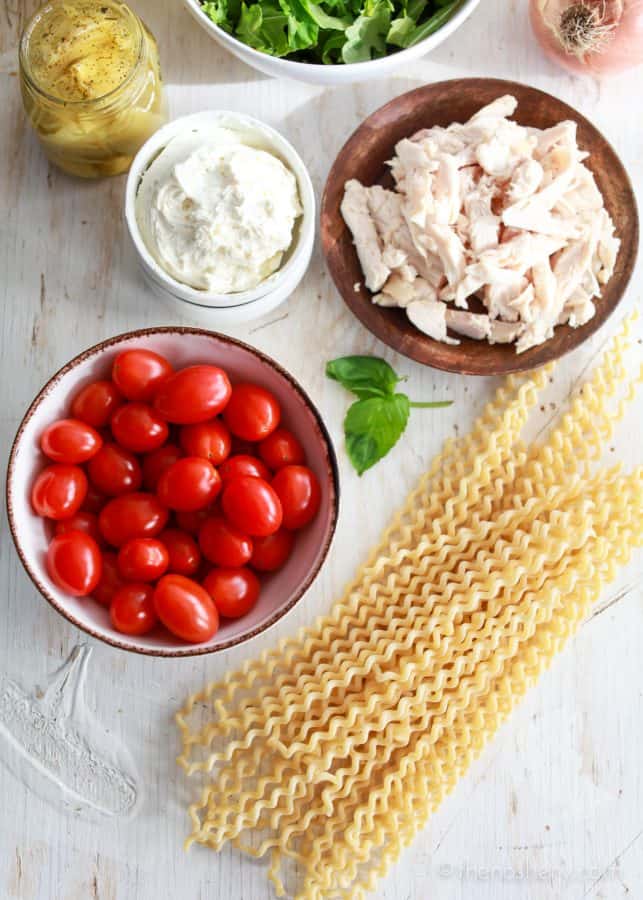 I'll be honest I've been wary of one pot pasta. I'm a firm believer in building flavor, so tossing everything in a pot and letting it go is against my nature. But, I just wanted to get dinner done. So, building flavor be darned.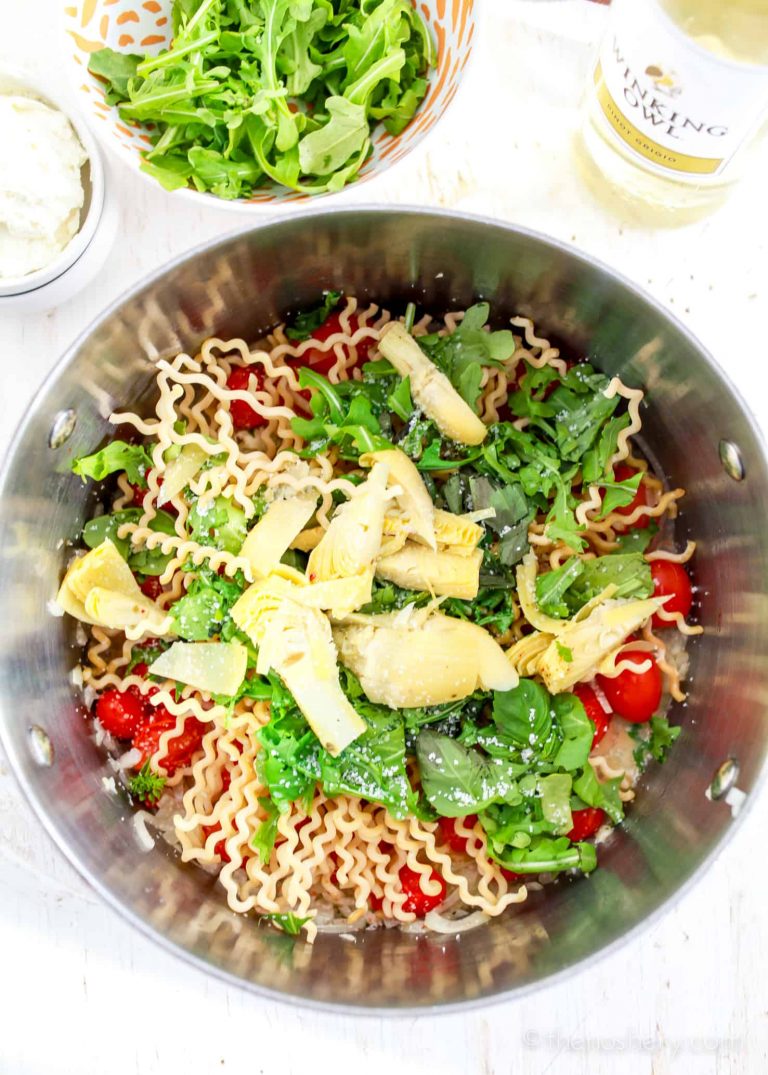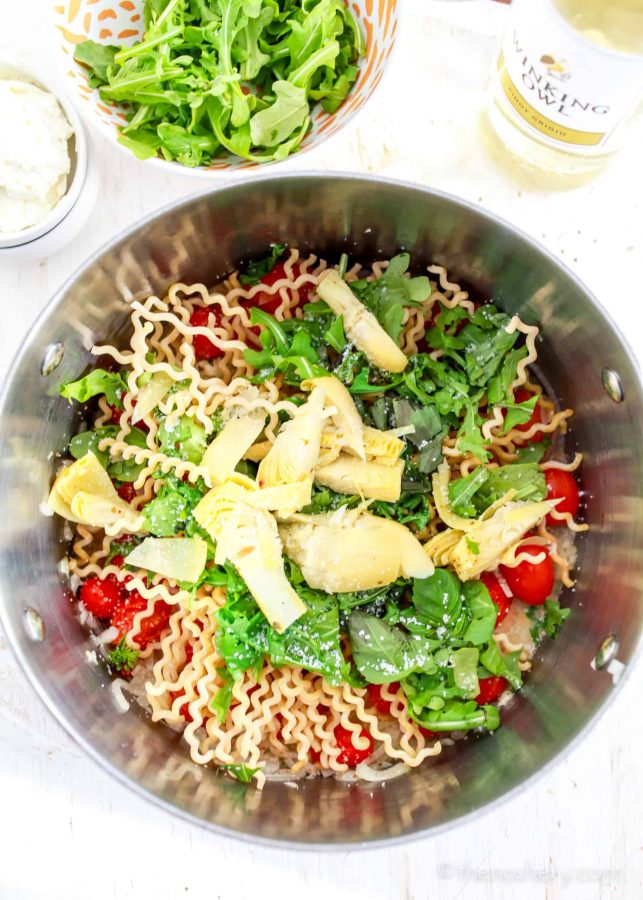 I will never diss a one pot pasta again! Not only did this get dinner on the table with only dirtying one pot but, it was perfectly satisfying. It's really a thing of beauty! It's pretty much dump, cook, and serve. I was so tired I just used complete items. You know one container of this…one jar of that.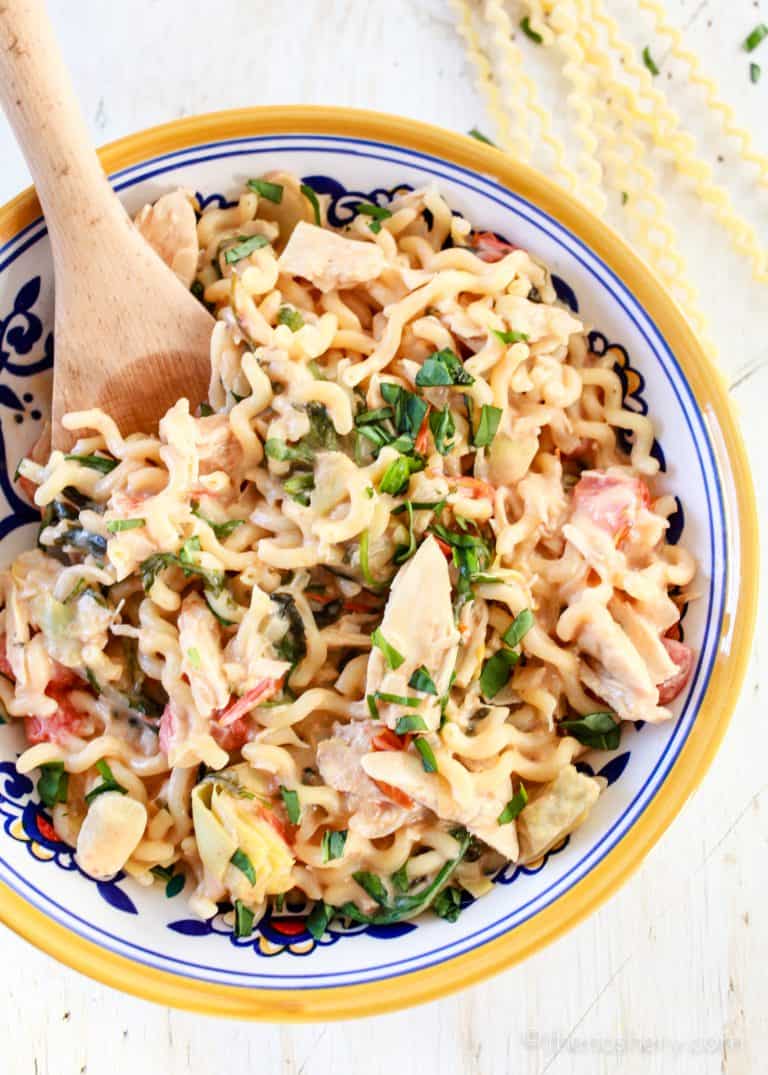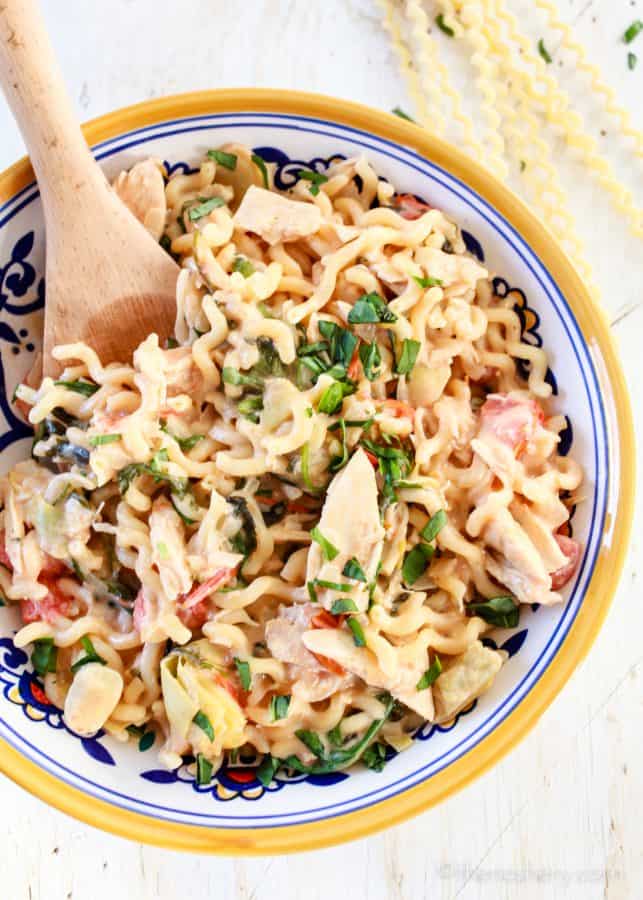 The great thing about a dish like this is how easy it is to change it up. Swap out artichoke for olives, chicken for sausage, or bucatini for penne. It's all up to you! Think of it like pizza toppings except we are talking pasta toppings.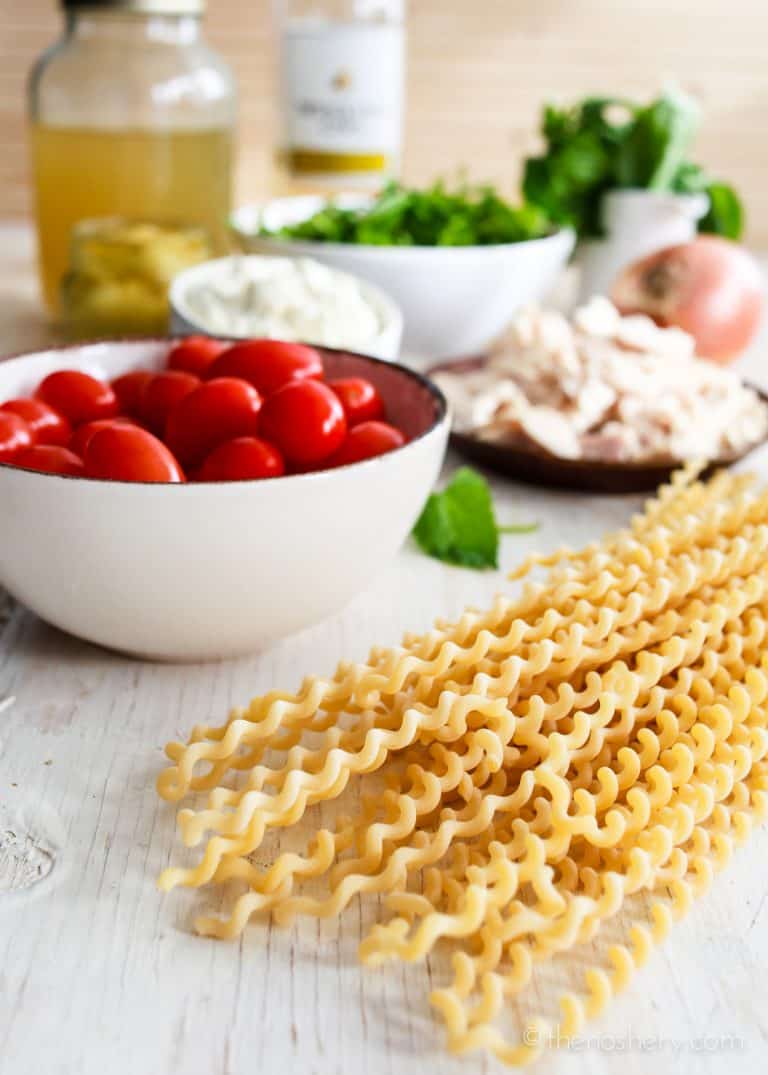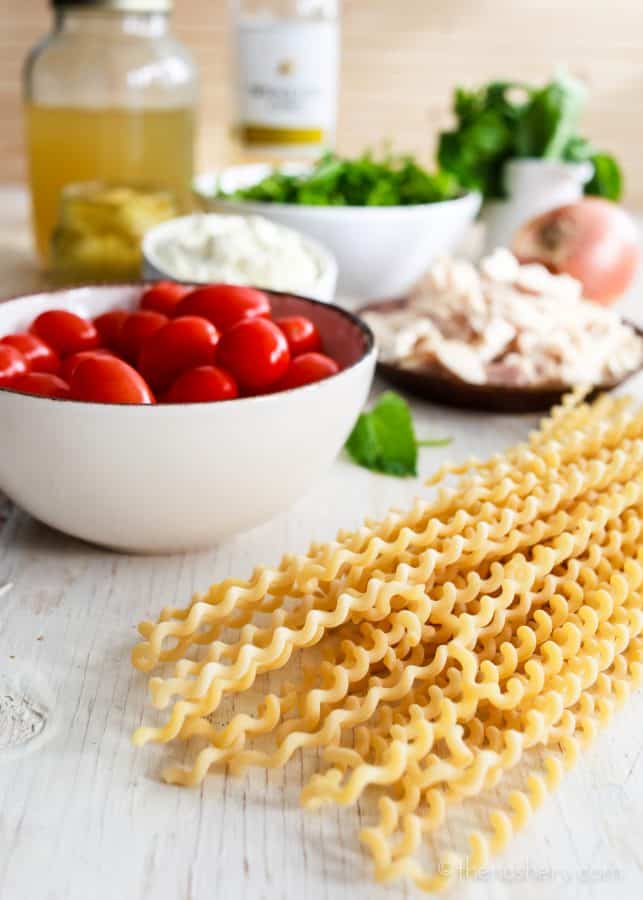 I love happy accidents like this! Here I am exhausted, and all I want to do is get dinner done, shower and crawl into bed. I was so pleased with it I made it again to share here with you! Because I am all about the giving and sharing.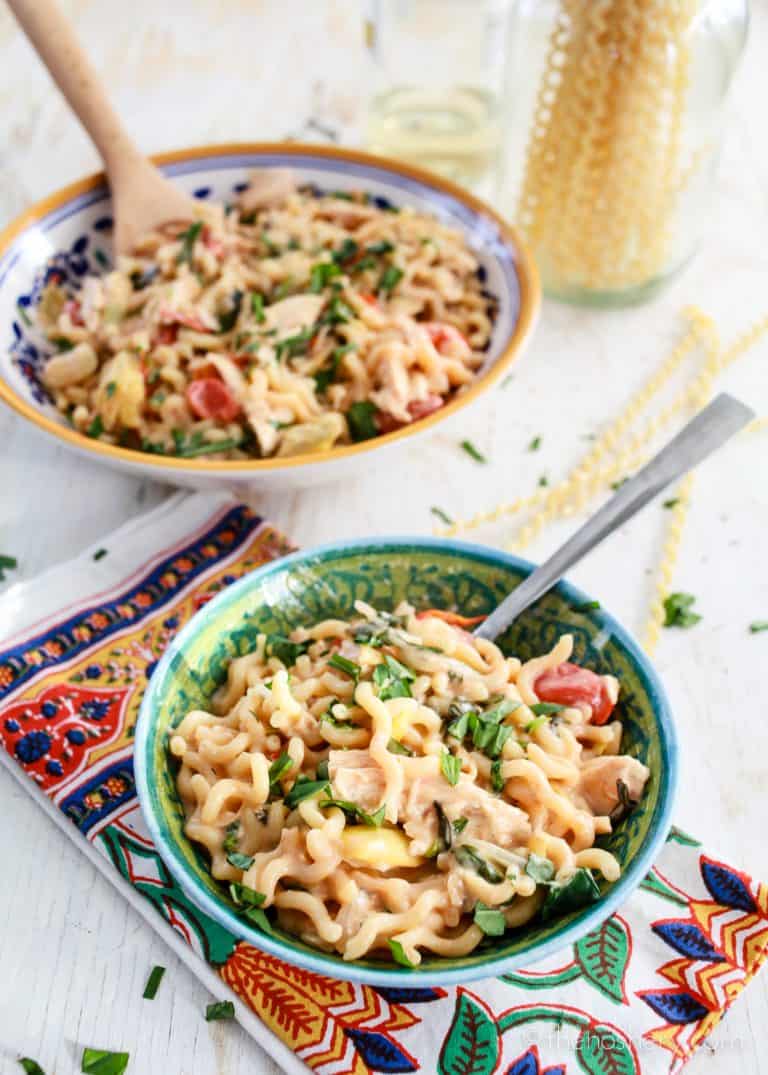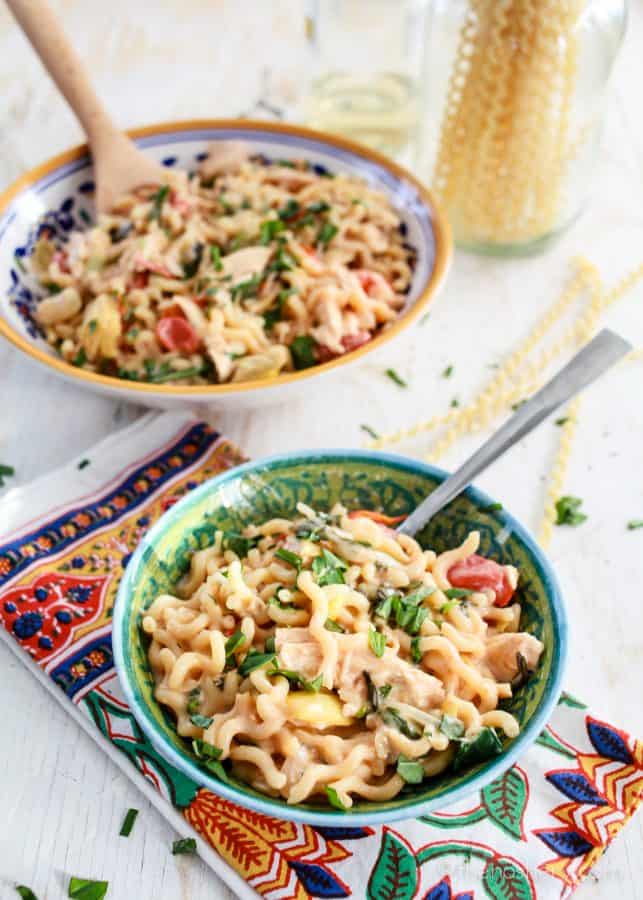 Take a look in your pantry and refrigerator and I bet you can make some variation of this dinner right now. What is most important is the liquid for flavor and the cheese for creaminess. Everything else is up to you! Mushrooms, asparagus, corn, zucchini, the possibilities are endless!
Go forth! Make one-pot pasta and be happy!
more easy dinner love
Yield: 4 servings
Chicken and Artichoke One Pot Pasta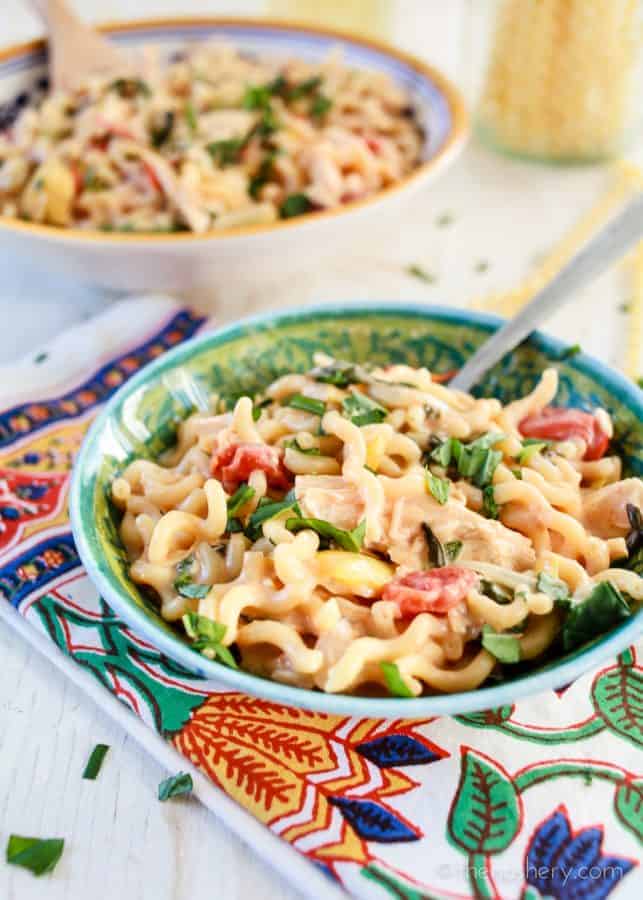 A simple and savory one pot pasta sure to please the whole family.
Ingredients
2 tablespoons butter
1 6oz jar marinated artichokes
1 10.5 oz package grape tomatoes
1 small onion, thinly sliced
4 cloves garlic, minced
8 oz dry pasta
2 cups arugula
2 cups chicken stock
1 cup white wine
1/2 cup water
1 .66 oz package fresh basil
1/2 lb rotisserie chicken breast, diced
1/4 cup Greek yogurt cream cheese
Instructions
Heat a large pot over medium-high heat add butter and liquid of marinated artichokes.
Heat until butter has melted. Add onion, garlic, and tomatoes. Cook until onions are soft. Add pasta, artichokes, 1 cup arugula and basil, reserving a few leaves of basil for garnish.
Add stock, wine, and water. The liquid should just cover the pasta. Bring to a boil: reduce heat and simmer, uncovered, until pasta is cooked through and liquid has reduced about 8-10 minutes. Stirring occasionally.
Add chicken and cream cheese stir to combine and heat chicken through. The sauce will thicken as it cools.
Recommended Products
As an Amazon Associate and member of other affiliate programs, I earn from qualifying purchases.
Nutrition Information:
Yield:
4
Serving Size:
1
Amount Per Serving:
Calories:

539
Total Fat:

15g
Saturated Fat:

6g
Trans Fat:

0g
Unsaturated Fat:

7g
Cholesterol:

79mg
Sodium:

497mg
Carbohydrates:

61g
Fiber:

6g
Sugar:

8g
Protein:

31g