pasteles There are three things you must have on the table for a proper Puerto Rican Christmas pernil, arroz con gandules, and pasteles!  This post is all about pasteles, the most magical treat wrapped in a banana leaf.
If you're not familiar with pasteles they can be a little hard to describe. Some people with compare them to tamales except that they are nothing like tamales except that they are labor intensive and wrapped. The masa of pasteles can be a mixture of yautia (taro root), plantain, green banana, and sometimes kabocha pumpkin. I like to make my masa using all of these.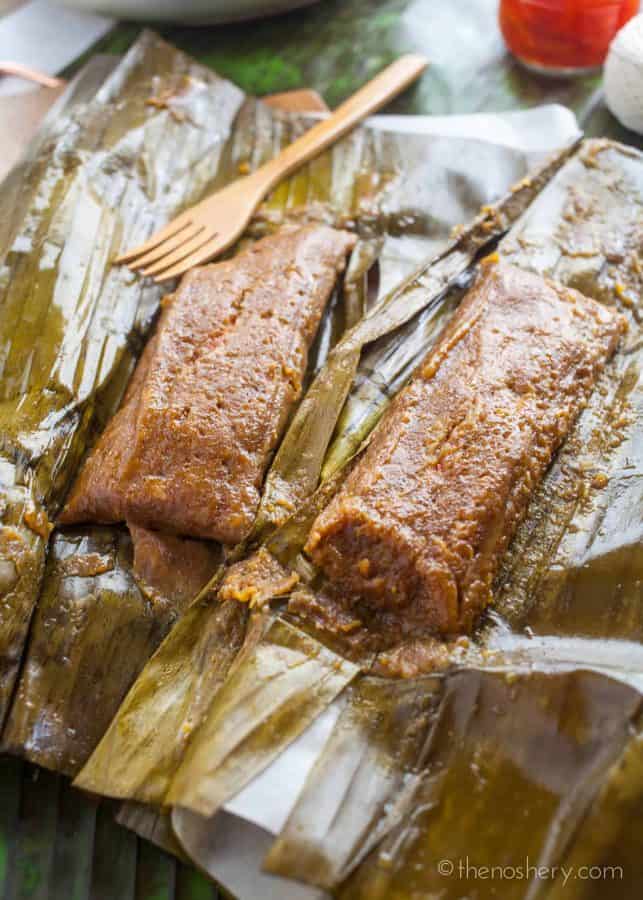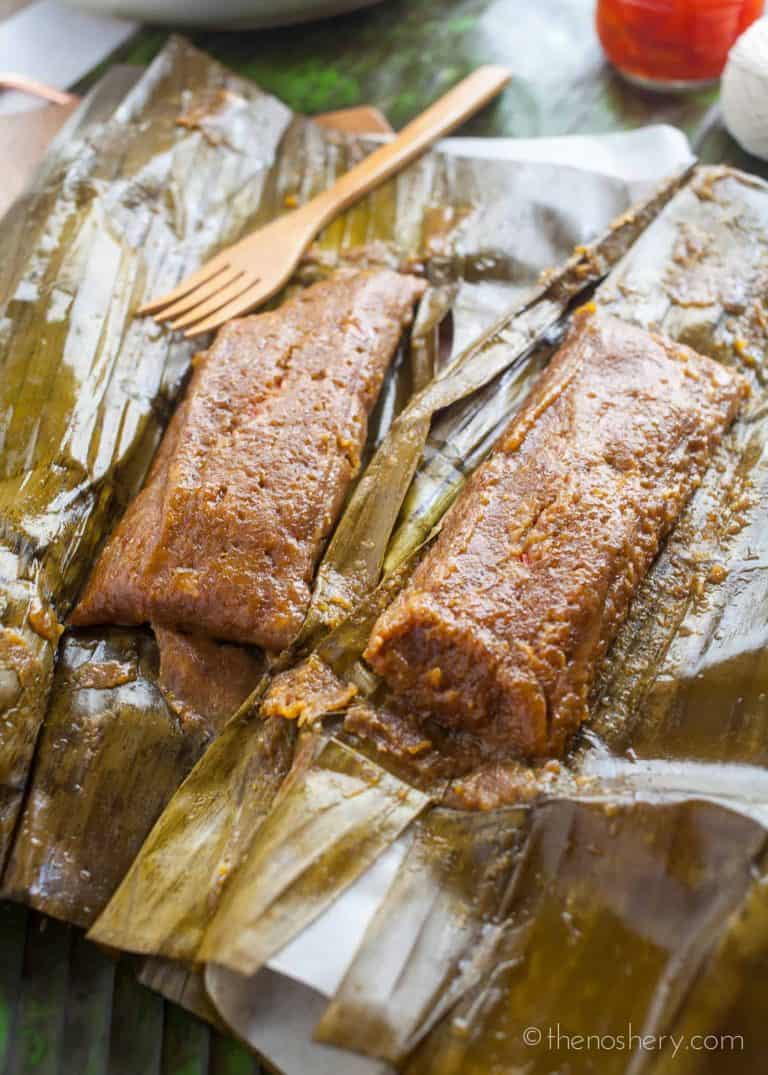 Preparing pasteles can be very labor intensive. It's a tradition for the family to gather in the kitchen and make a pasteles assembly line. In order to make it easier it is best if the process is divided over 2 or 3 days. Trust me trying to make pasteles from start to finish all in one day is exhausting.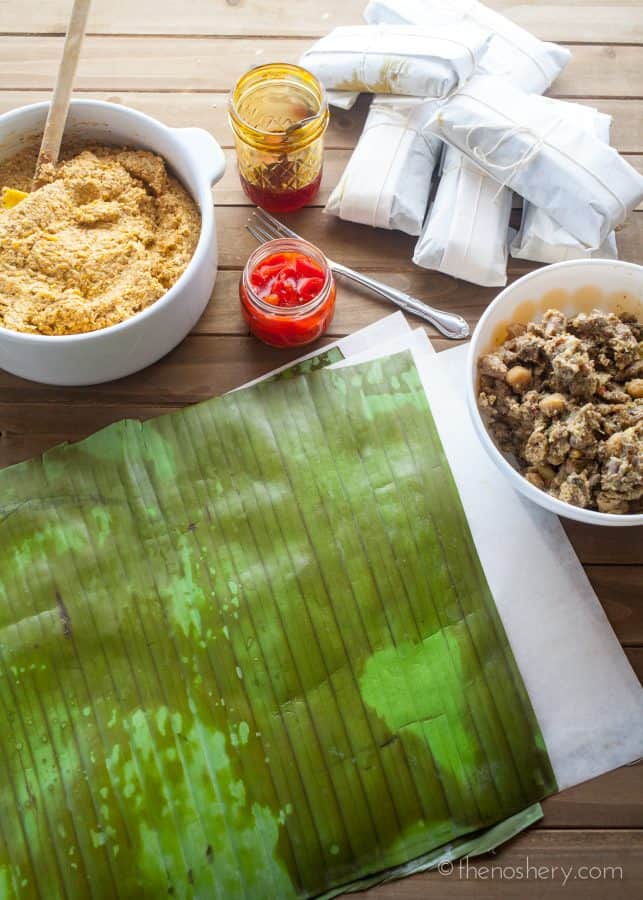 Thankfully it had become easier with the advances in modern technology. Gone are the times of hand grating yautia and plantains. Today we have food processors with shredding blades and the pressure cooker that cooks in half the time. Unfortunately, the process of peeling yautia, plantains, and green bananas is still up to us. If you have never peeled a plantain or green banana check out this tutorial on How to Peel a Plantain.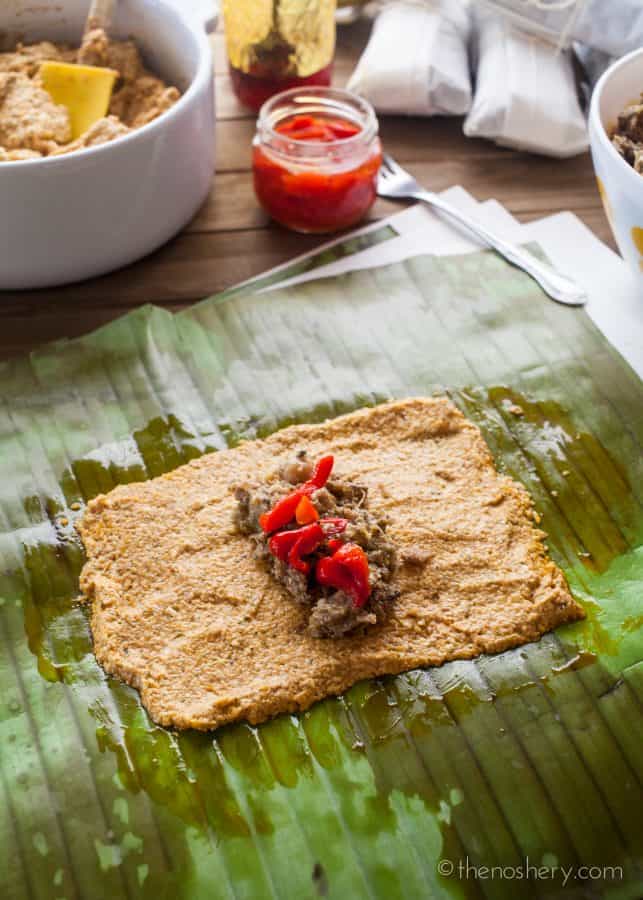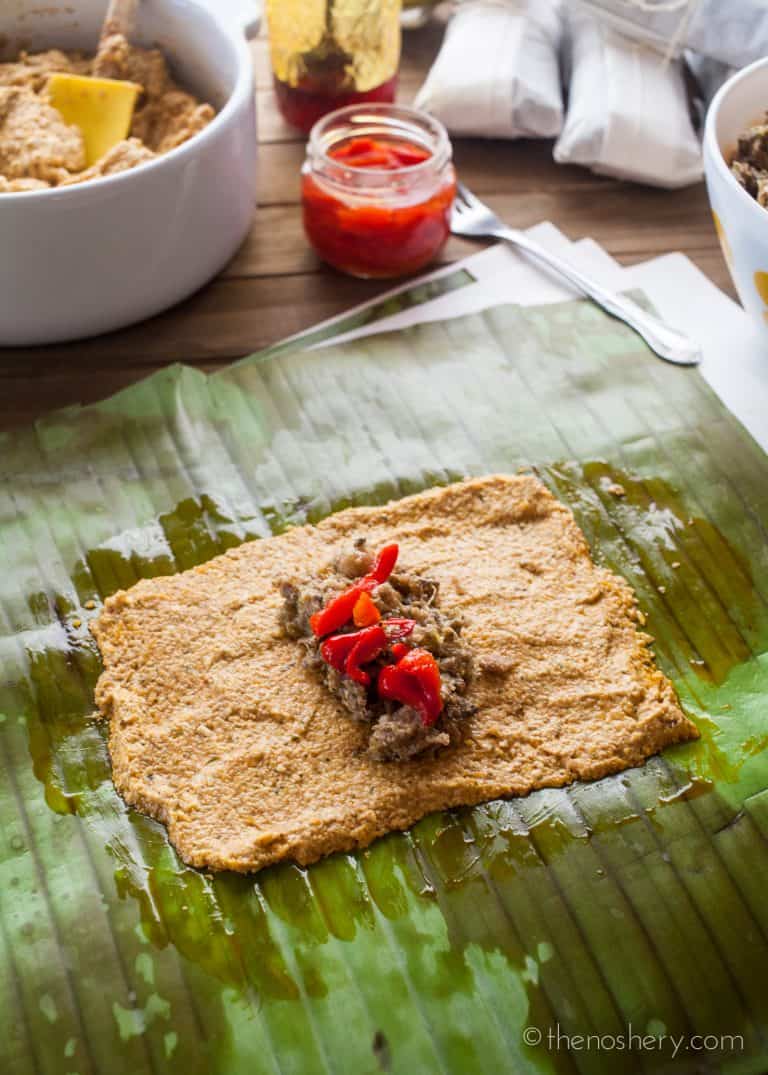 Gathering around the table with family assembling pasteles is a bonding Christmas tradition. It's a gathering of generations, with the older generation passing down culinary traditions to the younger. And, these traditions are some of the most important to pass on.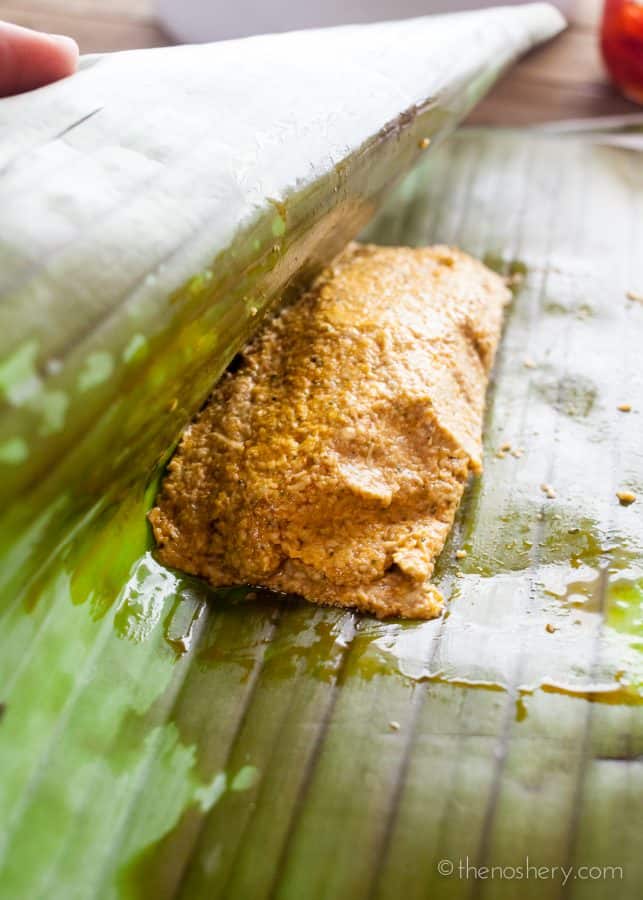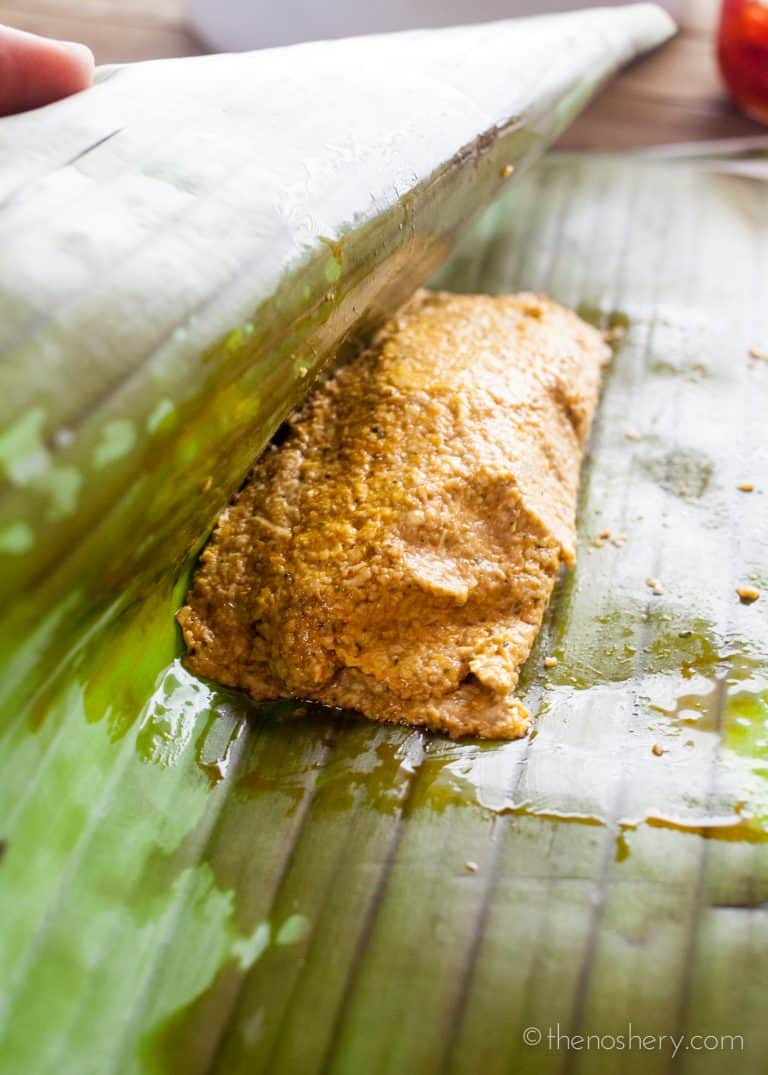 Assemble Pasteles
In Puerto Rican culture Christmas Eve is huge. It's when the family gathers for a meal, exchanges gifts with extended family, drinks, jokes, sings, and somewhere in the corner, you can hear the slamming of dominos. I always joked that pasteles are the gift you unwrap on Christmas Eve. The moment I pull a pastel from the water and start to unwrap it my mouth begins to water.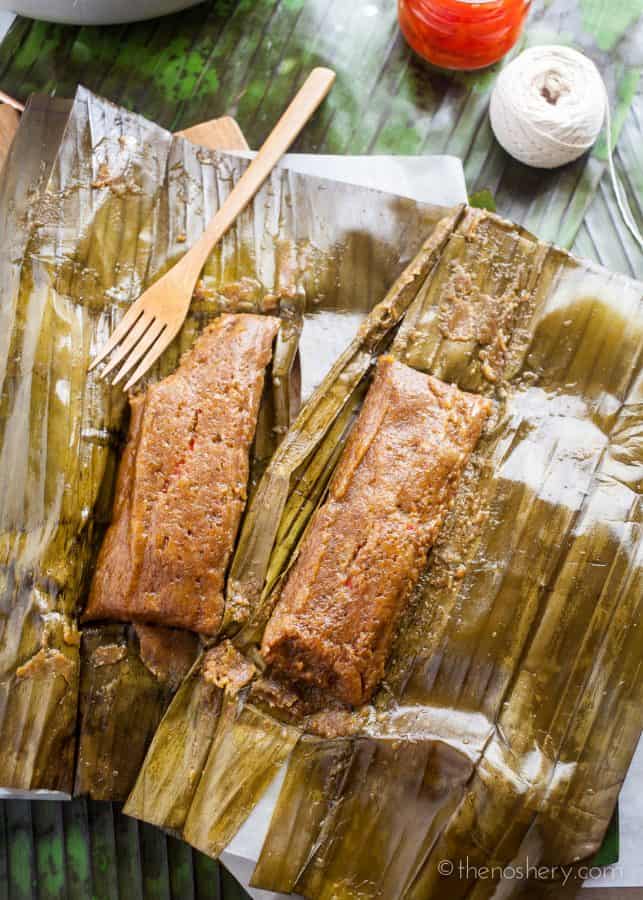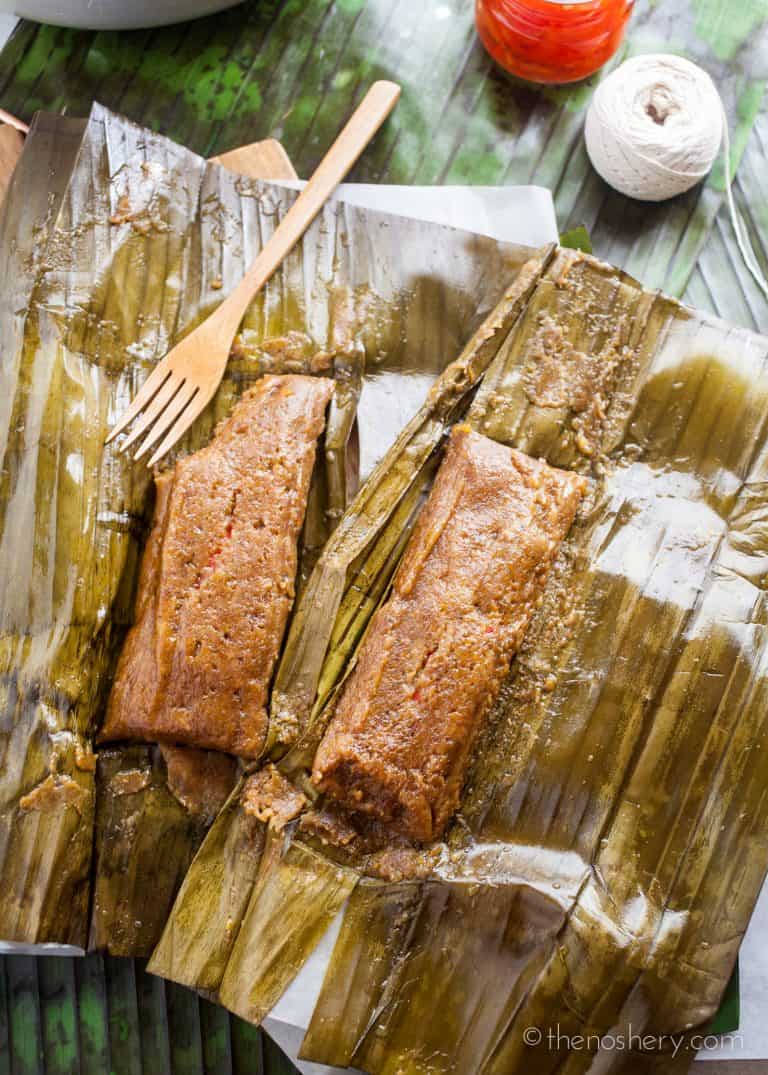 Let's be honest, they aren't the most attractive dish. And, they were a bear to photograph. But, don't let the appearance fool you they are as delicious as they are unattractive. They are tender, savory, and complex in flavor. I dance in my chair every time a pastel lands on my plate.  I say with all the confidence in the world one taste of this recipe and your knees will buckle.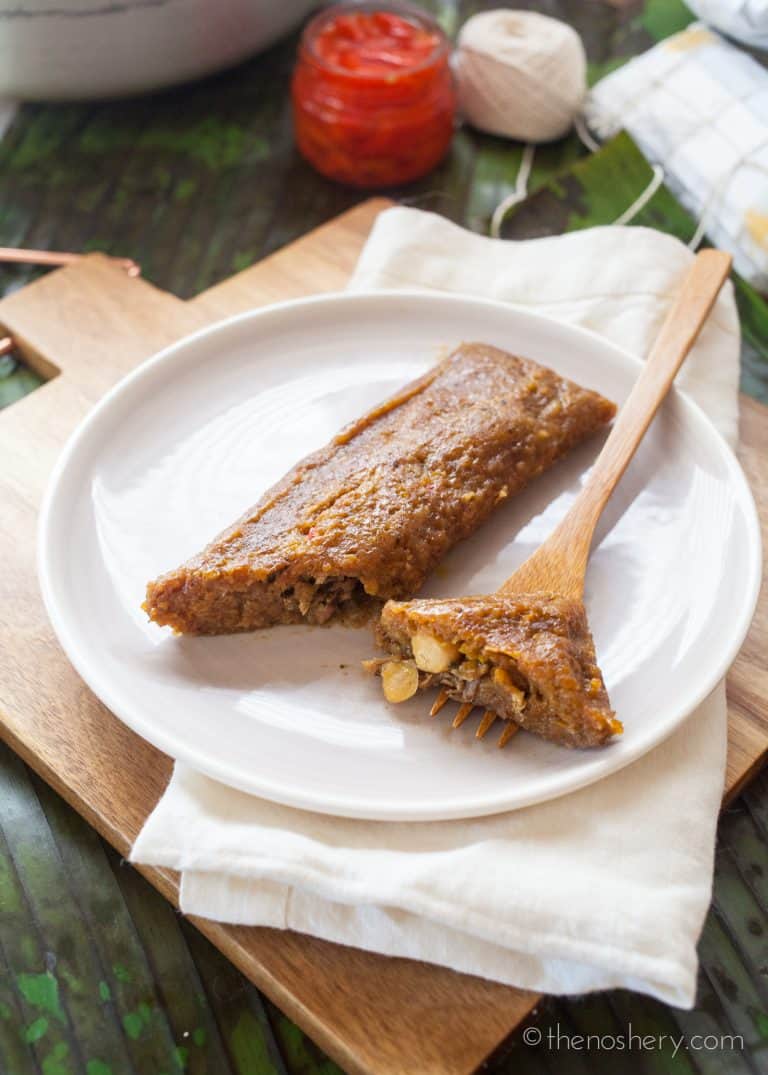 I know making pasteles can be hard work but Christmas only happens once a year. The time with family and the passing down of tradition is worth it all. The best part of pasteles is the one that gets lost at the back of the freezer and you find it months later when you're cleaning out the freezer. It's like Christmas all over again!
Need more Puerto Rican recipes? Check out my full collection of Puerto Rican recipes!
more puerto rican christmas recipes
Pasteles de Masa con Cerdo (Puerto Rican Taro Root & Plantain Pork Pockets)
Pasteles are a delicious traditional dish served in Puerto Rican during Christmas. Pasteles are seasoned taro root and plantain "masa", filled with savory pork, wrapped in banana leaves and boiled.
Ingredients
Filling
2 lbs cubed pork
¼ cup recaito
1 beef bouillon cube
1 envelope Sazon sin achiote
½ teaspoon oregano
½ cup water
½ cup chopped Spanish olives with pimentos
2 tablespoons capers
1 14.5 oz can of garbanzos


Masa


2 plantains, peeled*
3 green bananas, peeled*
1½ lbs of yautia (taro root), peeled
½ lb kabocha pumpkin, peeled
½ cup recaito
2 envelopes Sazon con culantro & achiote
1 tablespoon oregano
1 beef bouillon cube


Achiote Oil


6 tablespoons achiote seeds (annatto)
2 cups of vegetable oil


Assembly


1 small jar of pimentos
12 - 14 oz banana leaves
pasteles paper or parchment paper
butchers twine
Instructions
DAY 1


Filling
Combine all filling ingredients in a pressure cooker. Set to cook for 30 minutes. Let it come back to pressure naturally without releasing it. Uncover and set to brown/simmer for 15 minutes. Let cool and store in airtight container in the refrigerator until ready to use.


Masa
Using the fine shredder blade on your food processor or a manual grater, grate the plantain, green bananas, yautia, and pumpkin. Depending on the size of your food processor you may have to work in batches. Change out the shredder blade for the chopping blade. Working in batches process the shredded vegetables until the fine and pasty. Add remaining masa ingredients and mix until well combined. Transfer to a bowl, cover and refrigerate.


Achiote Oil
Heat 1½ - 2 cups of vegetable oil, add 6 tbs of annatto seeds to the oil. Allow the seeds to simmer until the oil reaches a bright red color.


Strain the seeds from the oil and discard the seeds. Allow the oil to cool and store in a sealed container until ready to use.


DAY 2


Prep Banana Leaves
Remove the ridge from the leaves. Cut the banana leaves into 12 x 12-inch squares and wash the banana leaves under warm running water. Working in batches microwave the banana leaves for 1.5 to 2 minutes, this helps make the leaf more flexible.


Assembly *see video above*
Set up assembly station with masa mixture, filling, achiote oil, banana leaves, paper for pastels, and butchers twine.


Stack the pastels paper and banana leaves, alternating them starting with the pastel paper. Spread 1 tsp of achiote oil on the banana leaf. Scoop ½ cup of the masa mixture onto the banana leave and spread out into a rectangle.


Place 2 tablespoons of filling down the center and top with pimentos if you like. Using the banana leaf fold the masa over the filling.


Bring the leaf ends together. Fold over twice to create a tight seal. Tuck the ends under, if the banana leaf splits a little don't stress we are going to fold it again in the paper. Do the same wrap and fold with the paper. If you use only pastel paper I recommend double wrapping.


Tie the pastel with butchers twine like a present. At this point, you can boil them right away, or you can freeze them until ready to use. When ready to cook bring a large pot of water to a boil, drop in pasteles and boil for 45 minutes for fresh and 1 hour for frozen. They can also be cooked in the pressure cooker for 30 minutes with 1 cup of water.


Using a pair of tongs pick the pastel out of the water by the string and place on a paper towel. Cut the string and gently unwrap. Enjoy!
Notes
How to peel a plantain or green banana
Recaito is a very important part of seasoning the masa. Although it can be bought in many Latin and Asian grocery stores in the frozen section
homemade is best
. It can be made ahead of time and frozen for later use.
Many of the ingredients including the banana leaves can be found at your local Latin or Asian grocery store.
77