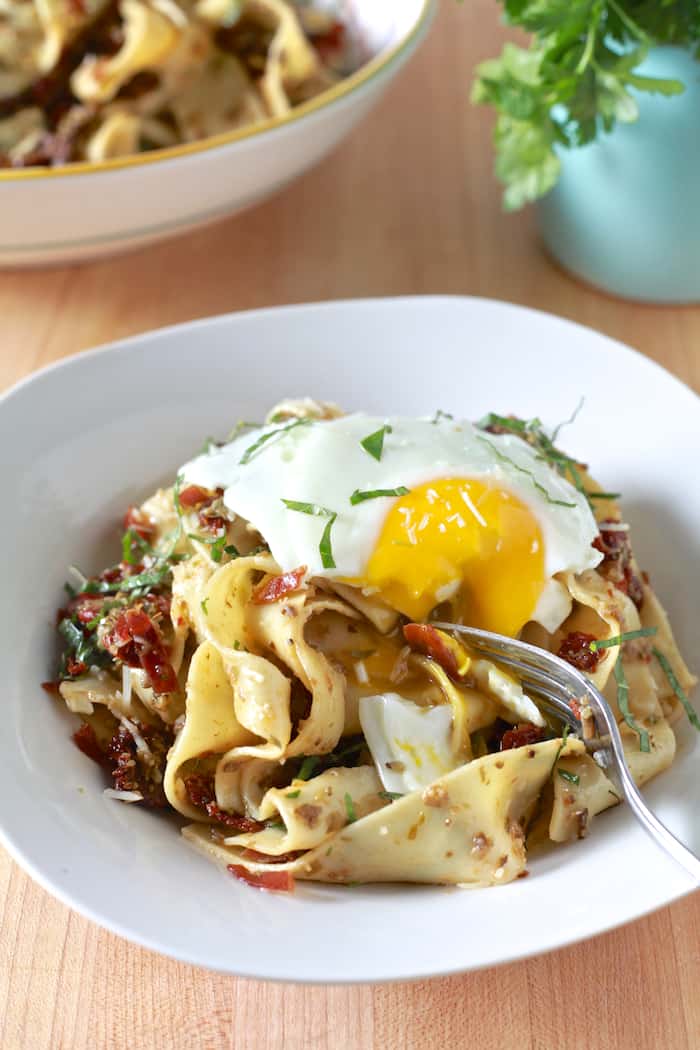 I went to an olive oil tasting.  Yes, you read that correctly an olive oil tasting, not a wine tasting. Let me say that if you ever have the opportunity to participate in an olive oil tasting you should totally do it. It a great opportunity to learn about olive oils, how truly different they are when compared to one another and a better understanding of when to use what olive oils. During my tasting, I was completely taken back by the distinct differences in flavor.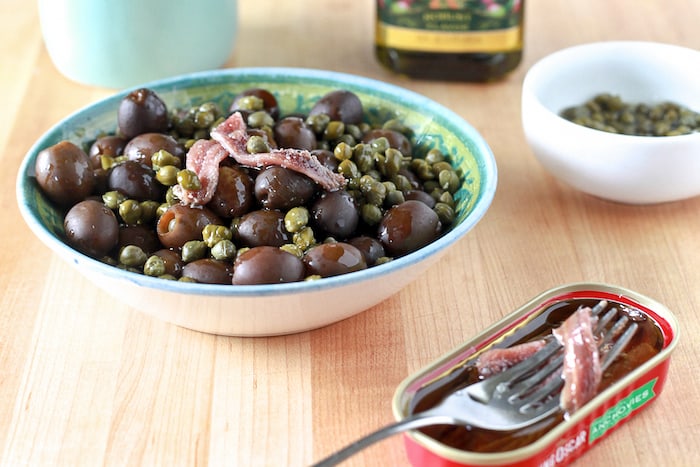 Out of the 6 oils we tasted the one that I gravitated to the most was trusty extra virgin olive oil.  First, let me say that a quality extra olive oil has almost a bright fruity taste. I don't know if it's because extra virgin olive oil has been a big part of my life since I was a little girl. In Puerto Rico, It's common to drizzle olive oil over your food right before serving so, when I tasted it I was flooded with memories of foods from home in Puerto Rico.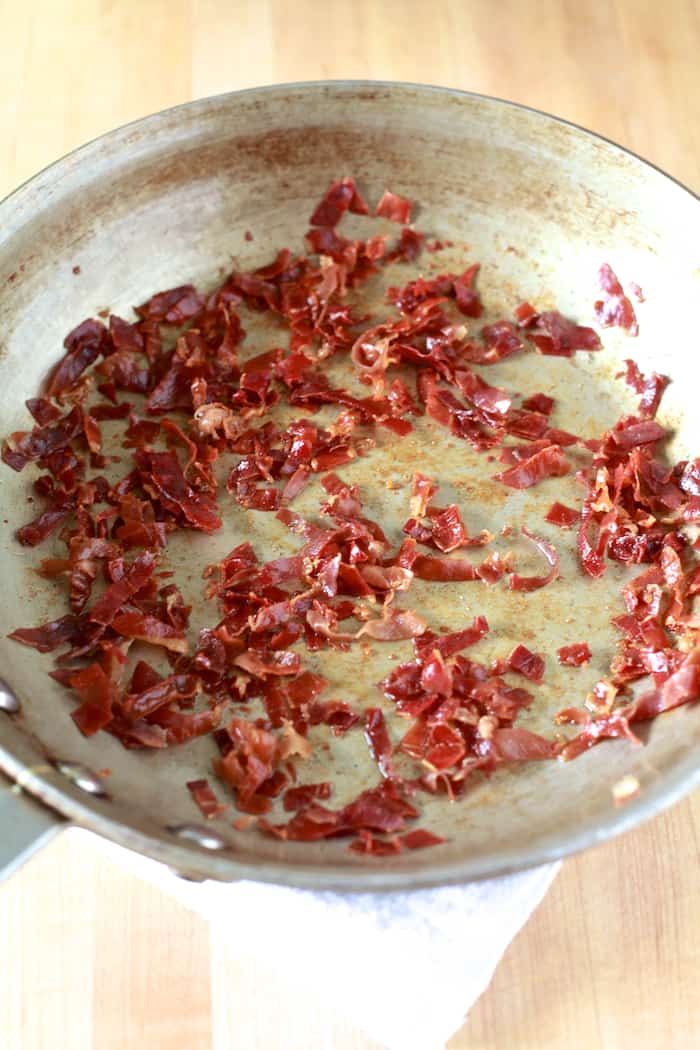 After the tasting the fruitness of the extra virgin olive oil I was inspired to create a recipe featuring olive oil. I thought of making this sort of paella rice dish but, while I was in the grocery store, I stumbled upon these BEAUTIFUL fresh pappardelle noodles. Don't worry I still have plans to share my "sort of" paella dish but, these noodles! OMG! I love, love, love pappardelle noodles. They are broad, huge and gorgeous! They are literally the mac-daddy of noodles.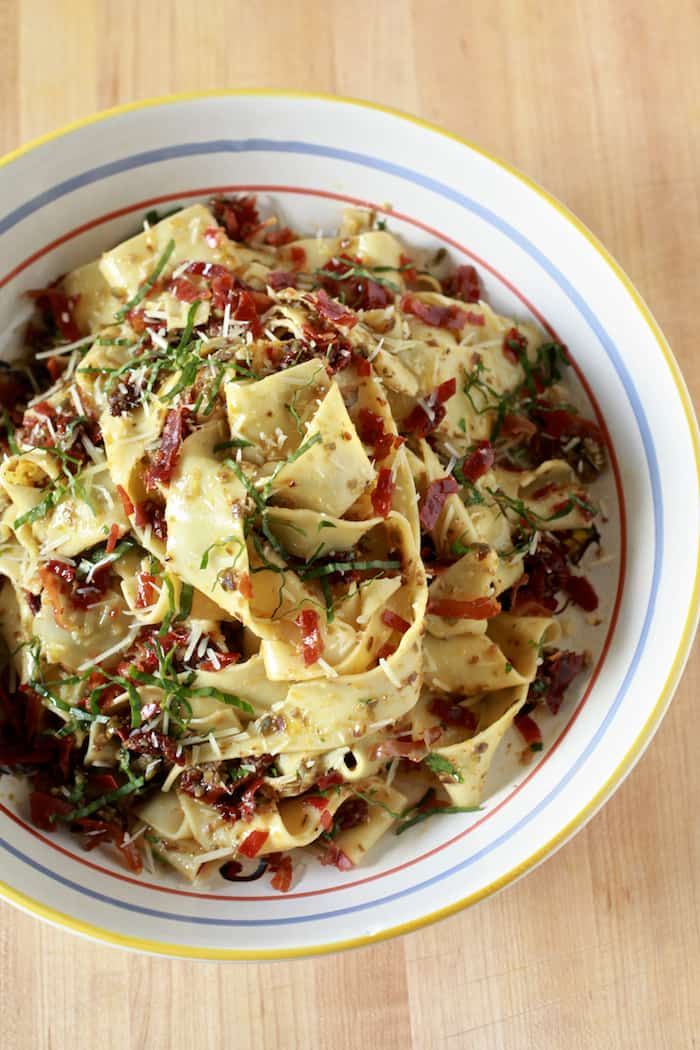 I thought to myself, what would feature extra virgin olive oil better than an olive tapenade using extra virgin olive oil!  It's like olives to the max! And, to compliment the saltiness of the olives I toss in some sweet sun-dried tomatoes. If you love olive and pasta, you must make this asap. Of course, because I believe almost every dish needs to have something crispy, crunch or munchie I added some crispy prosciutto.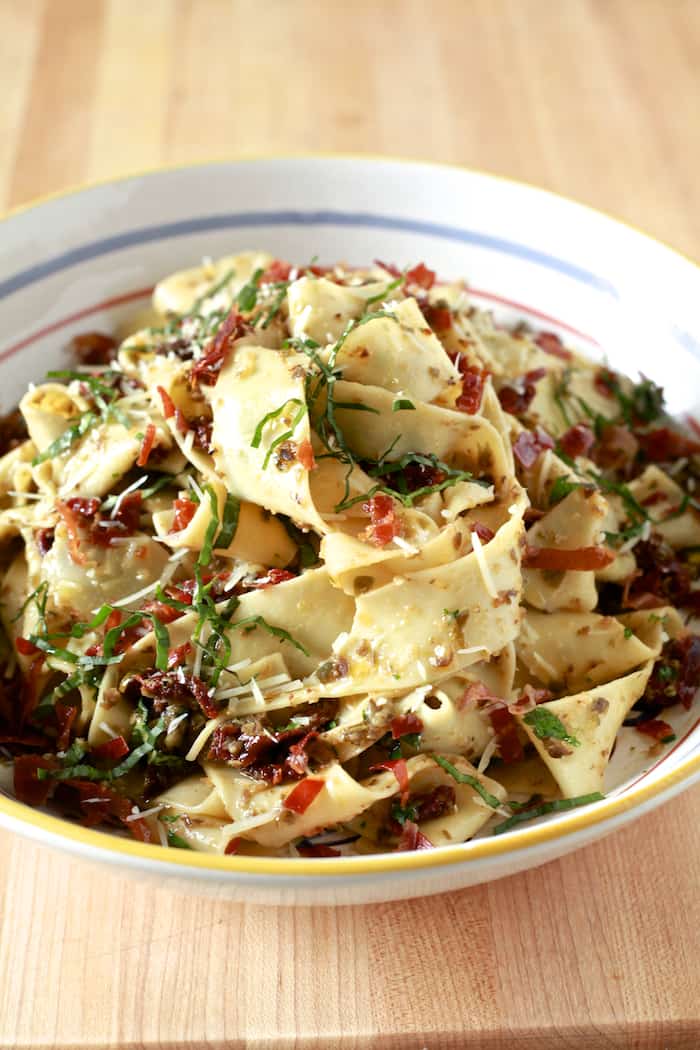 I loved this pasta. I loved it so much I would marry it and I most definitely made out with it….twice.   The second time I put an egg on it and I ended up proposing to the pasta, which was awkward since it didn't answer back.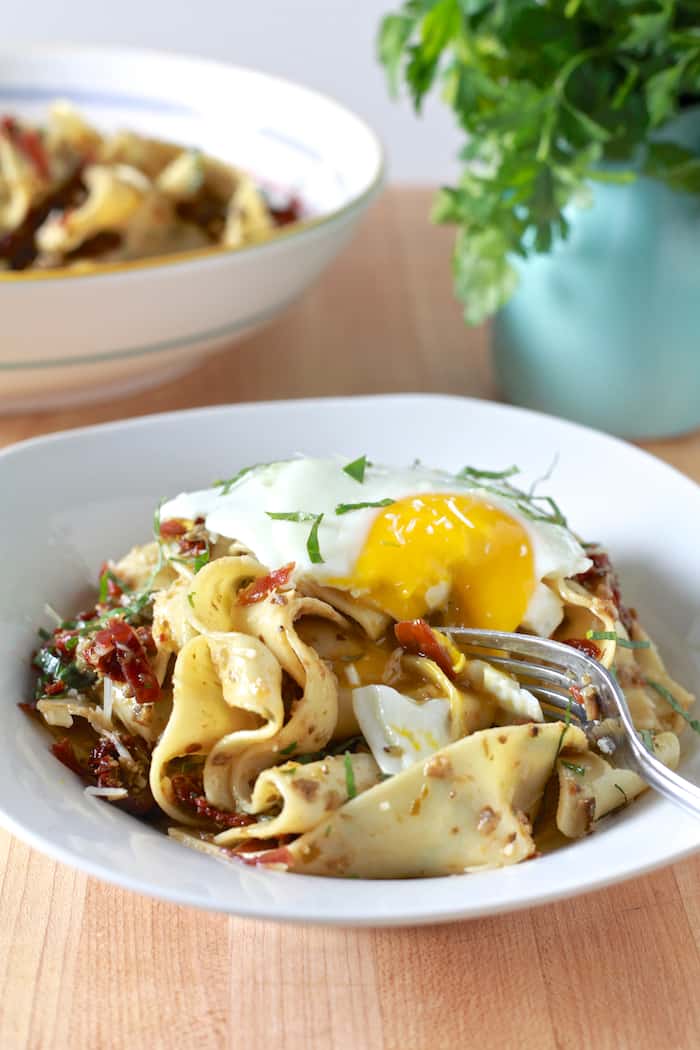 A few things about Extra Virgin Olive Oil:
It is called extra virgin because the oil comes from the very first press. When the olives are freshest.
Extra virgin olive oil is almost always a blend of different varieties of olives.
Stop storing your olive oil over the stove or anywhere near heat and light. This will effect the quality and shelf life of your olive oil and can cause it to go rancid.
When tasting extra virgin olive oil should start with a bright fruity flavor and then leave a little burn in the back of your throat.
Pappardelle pasta is usually found in the refrigerated fresh pasta area. If you cannot find pappardelle pasta a fettuccine will work just fine. You just don't get the pleasure of the mac-daddy noodles.
P.S. Don't tell anyone that the pasta rejected my marriage proposal…it kind of embarrassing.
Are you following me on Instagram, Twitter, Facebook and Pinterest? Want to get some peeks behind the scenes? Follow me on SnapChat @TheNoshery!  
Thanks for reading and subscribe to The Noshery email list to have each post delivered straight to your inbox.
Pappardelle with Black Olive Tapenade, Sundried Tomatoes & Crispy Prosciutto
Broad noodles toss in a briny and salty olive tapenade with sweet sundried tomatoes and crispy prosciutto. Take it over the top with a runny fried egg.
Ingredients
Tapenade


6 oz black olives, cured in water and salt not flavored
4 tablespoons capers
2 anchovy fillets, cured in oil
2 cloves garlic
¼ cup parsley leaves, loosely packed
¼ cup olive oil, plus more if needed


Pasta


4 slices prosciutto, julienne
splash of white wine
12 oz pappardelle
¾ cup tapenade
½ cup julienne sun-dried tomatoes
basil, chiffonade
fresh grated parmesan
Instructions
In a food processor combine all the tapenade ingredients. Process until creamy and smooth, if needed add more olive oil a tablespoon at a time. Season with salt and pepper to taste.
Prepare pasta according to package directions. Drain pasta reserving ¼ cup of pasta water. Rinse pasta under cold water to stop the cooking processes. Lightly toss in olive oil and set aside.


Heat a large skillet over medium-high heat. Add prosciutto and slowly cook until crispy, transfer to a plate lined with paper towel.


Add a splash of white wine to the hot skillet scraping up any brown bits left from the prosciutto. Add pasta, tapenade, crispy prosciutto, sun-dried tomatoes and pasta water. Toss until the pasta is well coated and warmed through. Serve hot garnished with basil and parmesan.


Top with fried or poached egg if desired.
Notes
If you want to save a little time and effort you can use a store-bought black olive tapenade at your local grocery store. It can be found in the Italian food aisle or in the deli section.
0