Bread Pudding Waffles with Blueberries and Lemon Curd | When I obsess about a recipe, it can get a little out of control. For several days, I contemplated a fun and easy breakfast recipe. Because I love breakfast.
I debated if should I make pancakes, french toast or an egg dish? The thoughts consumed me!
Yesterday was the worst! I thought about it when I woke up, in the shower, during church (when I should have been paying attention) and while in the car. I have a vague recollection of OB talking about cars or something, but all I could think of was breakfast.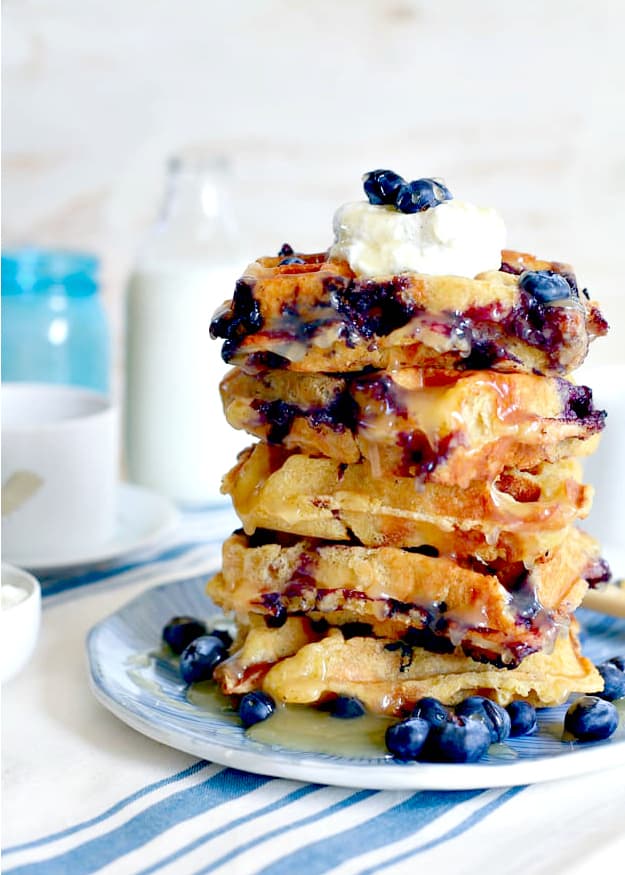 One of my favorite breakfast joints has lemon blueberry pancakes and the most amazing waffles. It's almost a week later, and I am still thinking about the combination of blueberries and lemon.
It became clear to me at that I needed to incorporate blueberry and lemon, which took an egg dish out of the equation. Who wants blueberries and lemon over their eggs?
Blueberry and lemon is one of my favorite flavor combinations. It such a perfect classic pairing. I have a few recipes with blueberry and lemon, such as this lemon blueberry grits, blueberry lemon crepe cake, and lemon and blueberry cornmeal muffins.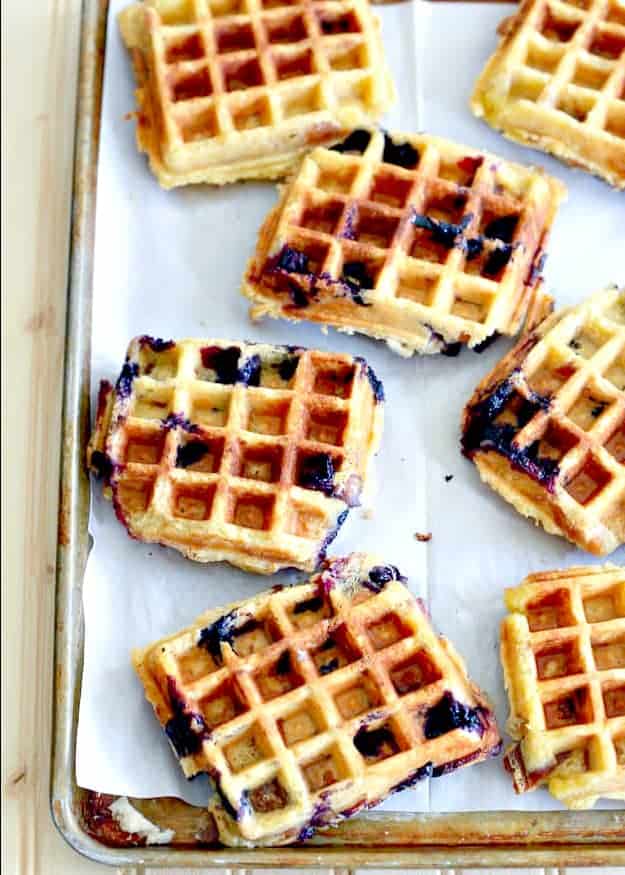 When we got home from church, my mind was still twisting and turning. WHAT DO I MAKE!? I kind of torment myself sometimes. It's almost like having an itch you can't scratch.
I tried to focus on my Sunday routine. I reviewed my refrigerator and pantry before heading out to the grocery store. Tucked away in the corner of my pantry was half a loaf of challah bread. Then like a lightning bolt it hit me BREAD PUDDING! I could make bread pudding waffles!!!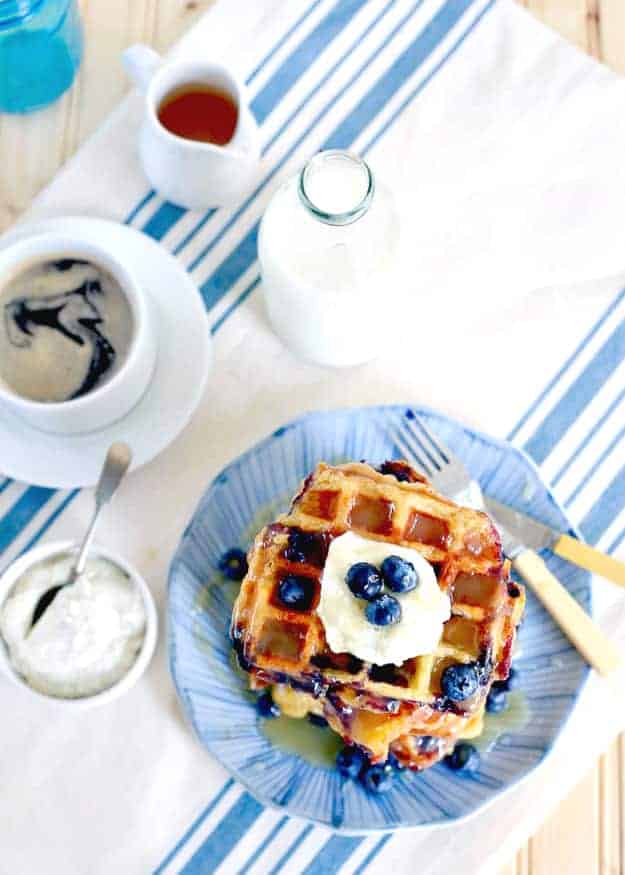 We are insane fans of bread pudding in my house. It's probably tied to all the budín (beware clicking on the link it leads to an embarrassing video) my grandmother made when I was a kid.
Bread pudding or budín is a very popular dessert in Puerto Rico, so popular that it's even sold door to door. And, what better way to have dessert for breakfast then making bread pudding into waffles!?
Bread Pudding Waffles Recipe
1 loaf challah bread cubed
2 1/2 cups heavy cream
2 eggs
4 egg yolks
1/2 cup sugar
1/2 teaspoon vanilla
1/2 cup pancake/waffle mix
1-pint blueberries
1 10 oz jar lemon curd
1 15 oz container whole milk ricotta
1 vanilla bean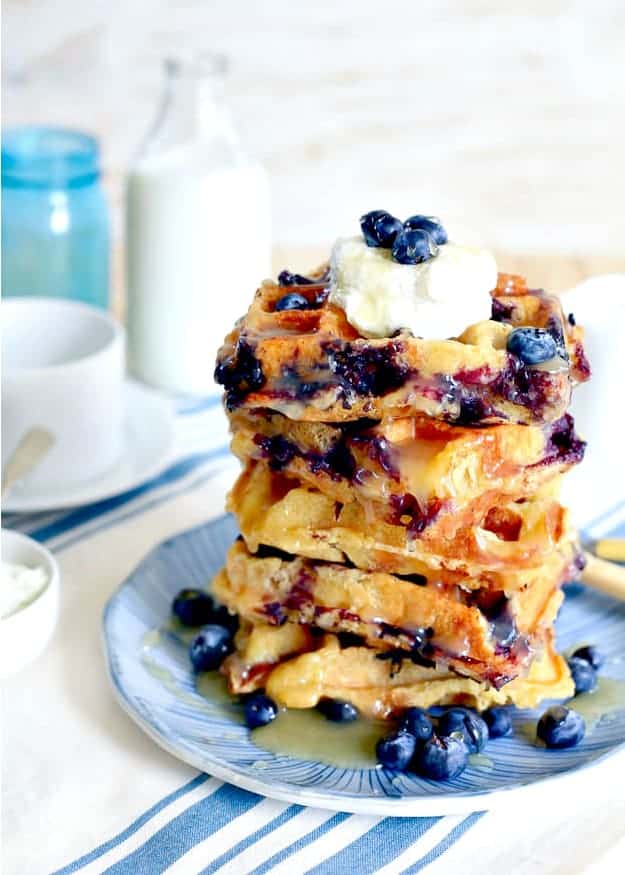 I know! Mind is blown! Right? All I did was take a basic bread pudding recipe and added a bit of store-bought waffle mix. TA-DA! Bread pudding waffles!
I love a breakfast that is basically a dessert and these waffles meet that criteria. If you are looking for more desserts that sound like breakfast you should try this creme bruel baked oatmeal. And, if you are in need of more breakfast ideas check out my collection of breakfast recipes.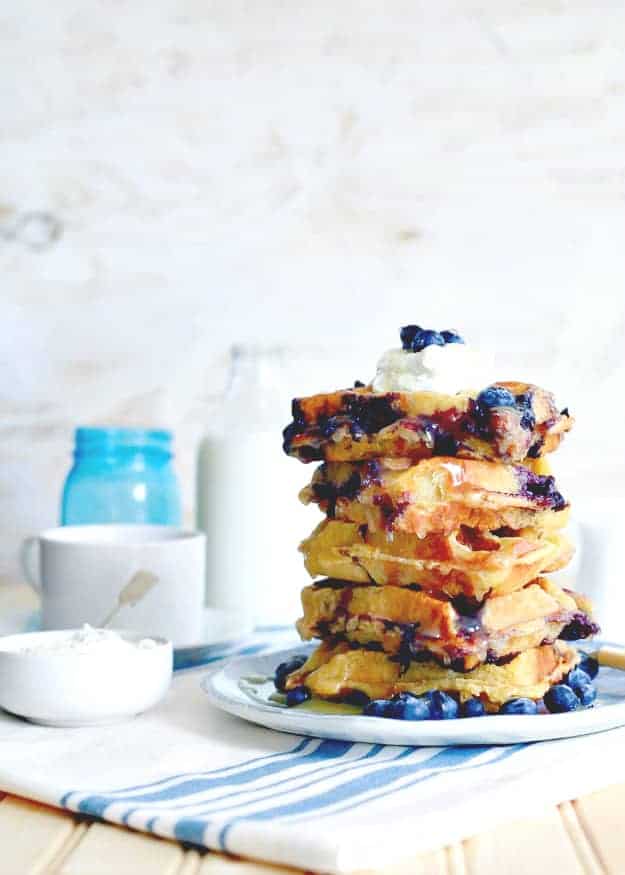 The waffles are filling and satisfying! If you know me, you know that I am texture obsessed, and I love the texture of these waffles.
One bite may be fluffy, another may be tender and the next chewy. It makes for a stimulating breakfast. Even if you aren't a fan of bread pudding, I recommend you try these waffles.
They remind you of bread pudding without too much of the "pudding". You know what I mean? Are you picking up what I'm throwing down?
more breakfast recipe love
Yield: 8
Bread Pudding Blueberry Waffles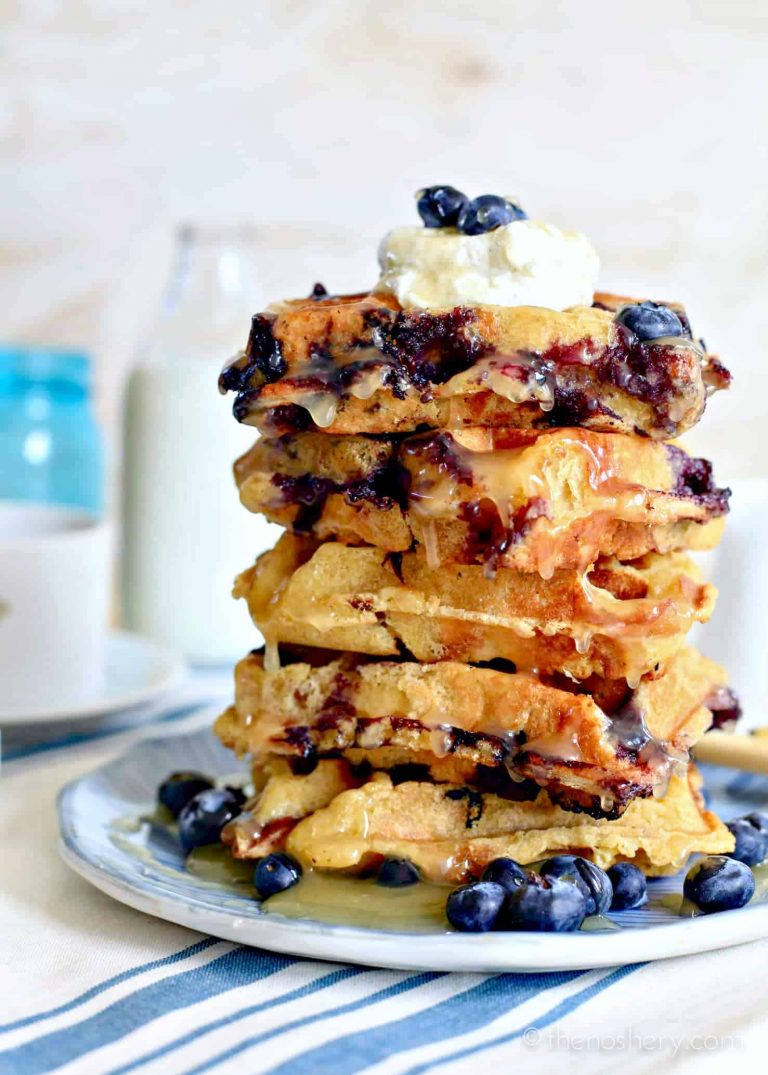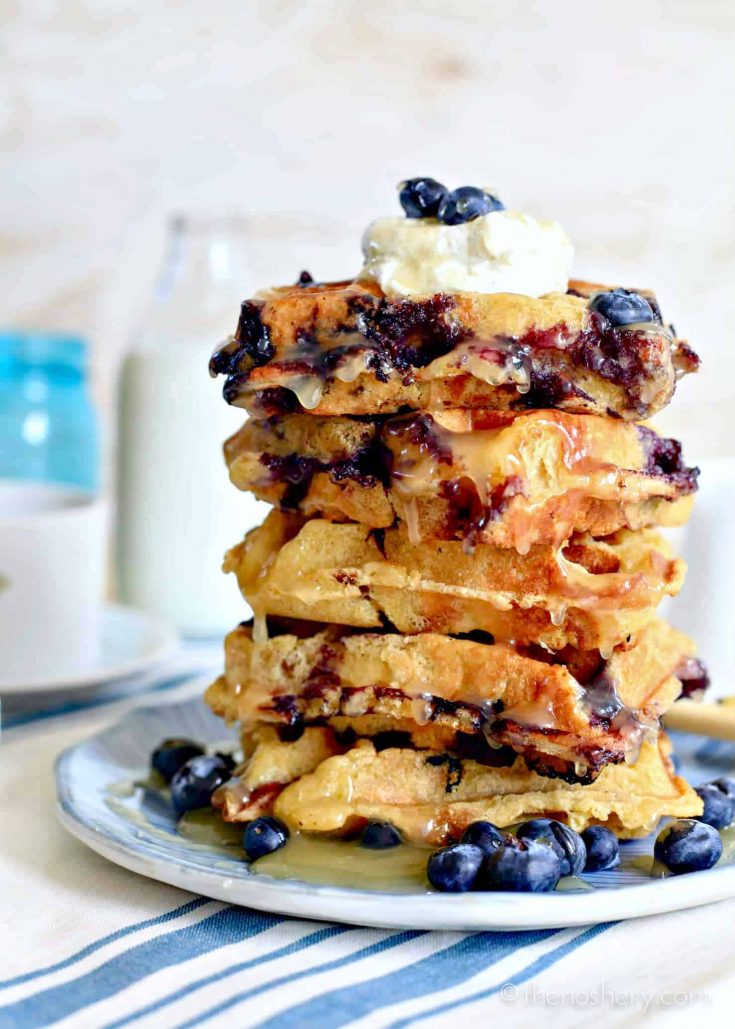 A basic bread pudding mixture is transformed into breakfast waffles.
Ingredients
1 loaf challah bread cubed, about 1/2 inch square)
2 1/2 cups heavy cream
2 eggs
4 egg yolks
1/2 cup sugar
1/2 teaspoon vanilla
1/2 cup pancake/waffle mix
1-pint blueberries
1 15 oz container whole milk ricotta
honey
Instructions
Heat oven to 350 degrees. Using a food processor or hand mixer whip ricotta cheese with vanilla bean caviar, set aside.
Spread the challah bread cubes on a sheet pan. Place in the oven to lightly toast, about 5 minutes. Set aside to cool.
In a large bowl combine, heavy cream, eggs, egg yolks, sugar, vanilla & pancake/waffle mix. Whisk together until well combined. Add toasted challah breadthe to custard mixture and fold until well combined. Using a spatula gently fold in blueberries, be careful not to burst the blueberries.
Heat waffle iron and spray with non-stick spray. Spread about 1 cup of bread mixture over each waffle mold. Close waffle maker and cook for 5 minutes or until golden brown.
While the waffles cook spoon lemon curd into a microwave safe container. Heat in the microwave 30 seconds at a time and stir. Continue to heat until curd can be drizzled.
Serve waffles warm, drizzled with lemon curd and honey, top with a dollop of vanilla ricotta.
Notes
Jarred lemon curd can be found at your local supermarket with the jams and jellies.
If preparing a large batch of waffles set the oven to 200 degrees to hold the waffles on a sheet pan until ready to serve.
Recommended Products
As an Amazon Associate and member of other affiliate programs, I earn from qualifying purchases.