This is a sponsored conversation written by me on behalf of Kikkoman. The opinions and text are all mine.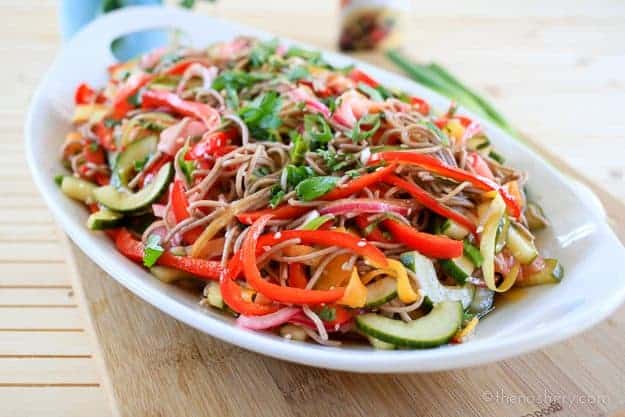 Summer is on high here in Texas and every day this week has reached triple digits. I have never been more grateful for air conditioning in my life. Although my little house stays cool with the A/C running it quickly heats up whenever I do any cooking. The heat has resulted in a bit of a cooking deterrent. We have been doing a lot of grilling and salads lately.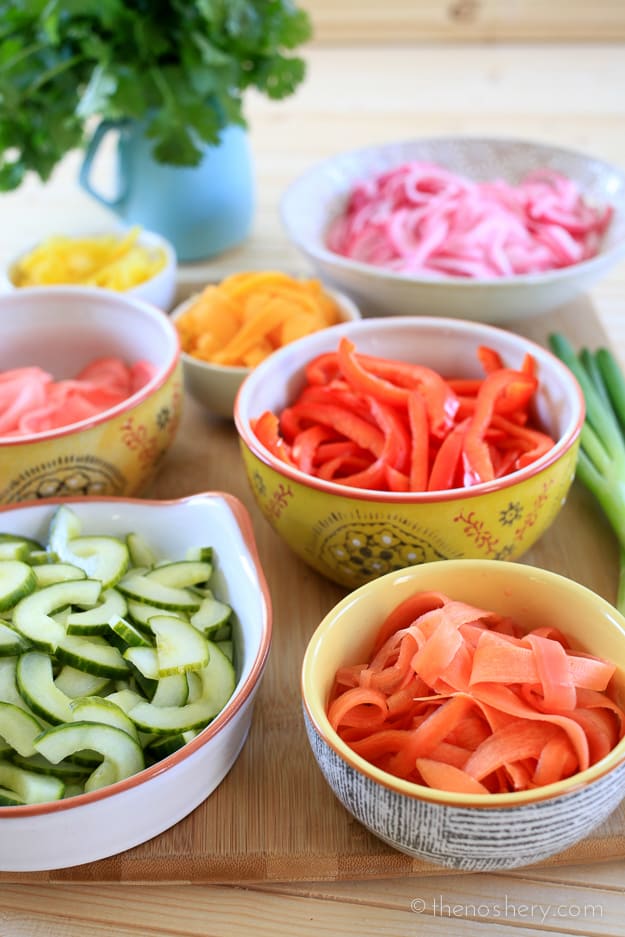 I got a great salad for you! The perfect salad to go with any of your favorite grilled proteins. This salad incorporates pickled crisp vegetable with a sweet and tangy teriyaki dressing. It's a perfect marriage of flavors! I love it because it's fresh, bright and crisp. It a great salad to enjoy on its own or on the side with a beautifully grilled pork loin or ahi tuna steak.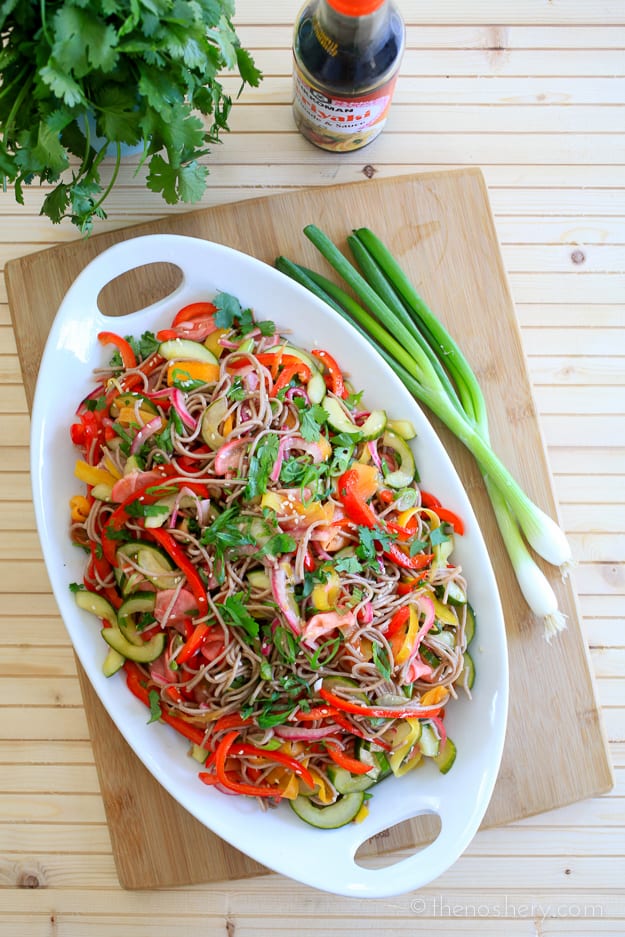 First, I was going to make a salad green and pickled vegetable salad but, then while at the store I saw soba noodles. That's when I thought a cold noodle salad would be even better! Soba noodles are Japanese buckwheat noodles, and they are excellent served cold, which makes them the perfect summer side dish.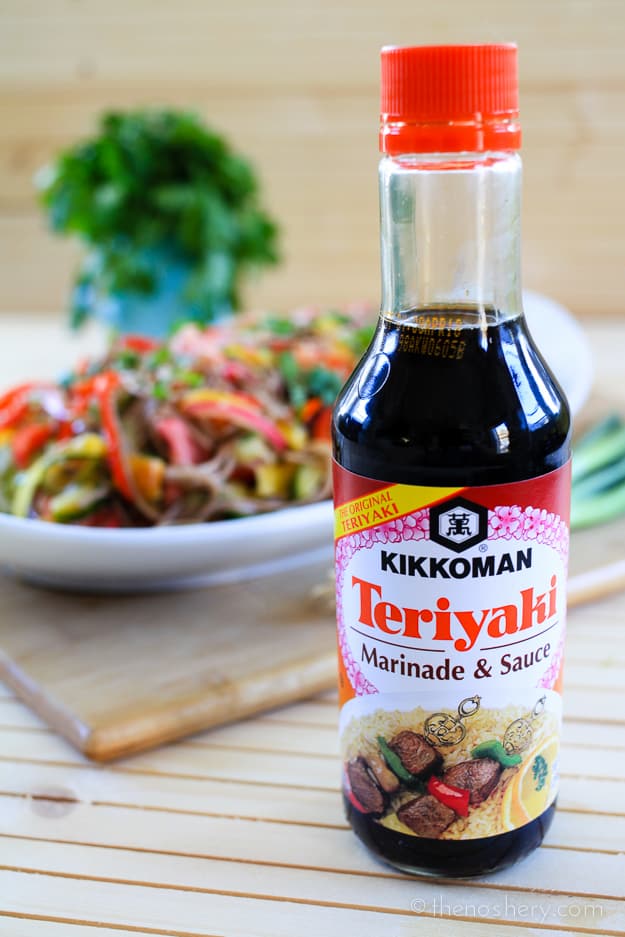 To balance out, the tart pickled flavor of the vegetables I made a teriyaki and honey dressing with Kikkoman Teriyaki. The flavors in
Kikkoman Teriyaki
add sweet depth of flavor to the dressing, standing up perfectly to the tart pickled vegetables. Teriyaki is a simple mixture of soy sauce and spices.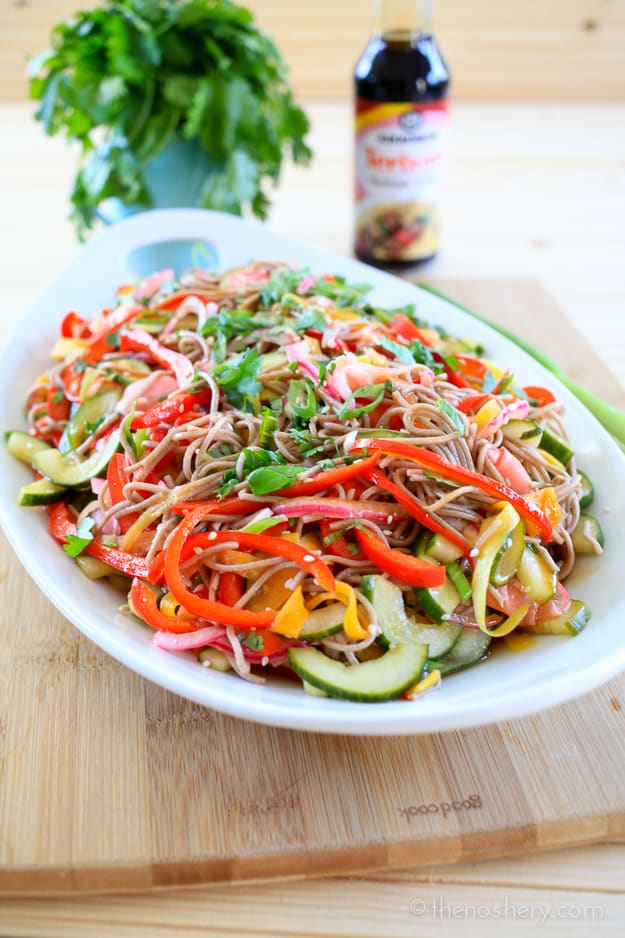 This side salad is full of flavor and texture. It's a flavor party in your mouth. It would make the perfect side to a citrus marinaded pork loin or a seared ahi tuna. You could also easily turn it into an appetizer and served it rolls wrapped in rice paper.
If you want more ideas on how to use Kikkoman Teriyaki make sure to visit Kikkoman for more recipe inspiration!

Yield: 6
Cold Soba Noodle and Pickled Vegetable Salad with Teriyaki Dressing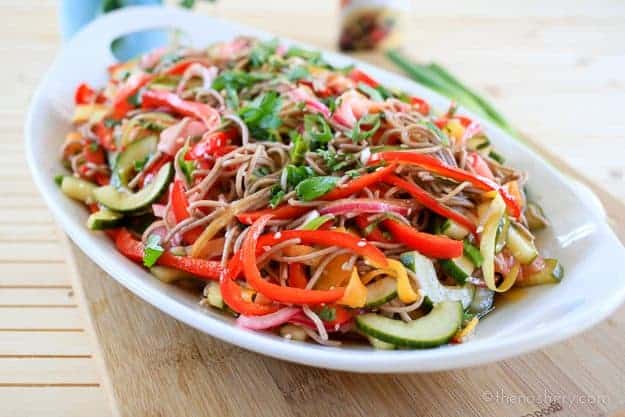 Ingredients
Salad
[br]
6 rainbow carrots, peeled into ribbons, separated by color
4 radishes, thinly sliced
1 English cucumber, halved seeded and thinly sliced
1/2 large red onion, thinly sliced
2 red bell peppers, julienne
3 cups white vinegar
6 cups water
4 tablespoons sugar
6 tablespoons kosher salt
2 bundles soba noodles
2 tablespoons sesame seeds
1/4 cups chopped cilantro
2 green green onion, cut on the bias
[br]
Dressing
[br]
1/4 cup Kikkoman Teriyaki
2 tablespoons rice vinegar
1/4 cup vegetable oil
2 tablespoons honey
2 cloves garlic, pressed
Instructions
Divide vegetable among 5 bowls or jars, you could also use resealable plastic bags. In a saucepan combine vinegar, sugar, salt and 3 cups of water. Heat over medium-high heat and stir until sugar has completely dissolved. Add remaining 3 cups of water. Pour the mixture over vegetables, making sure to cover the vegetables. Cover and chill for 30 - 45 minutes.
Prepare soba noodles according to package directions. Drain and refrigerate for 30 minutes.
In a small bowl combine dressing ingredients and whisk until emulsified. Drain pickled vegetables and toss with soba noodles, dressing, sesame seeds, green onions and cilantro. Serve cold.
Nutrition Information:
Amount Per Serving:
Calories:

272
Carbohydrates:

39g
Protein:

4g