This post was sponsored by Pompeian.  All opinions expressed on my site are my own.
Bright and light chicken salad with blueberries, pecans, jicama, and a mint chimichurri. This chicken salad is perfect to make ahead for the week.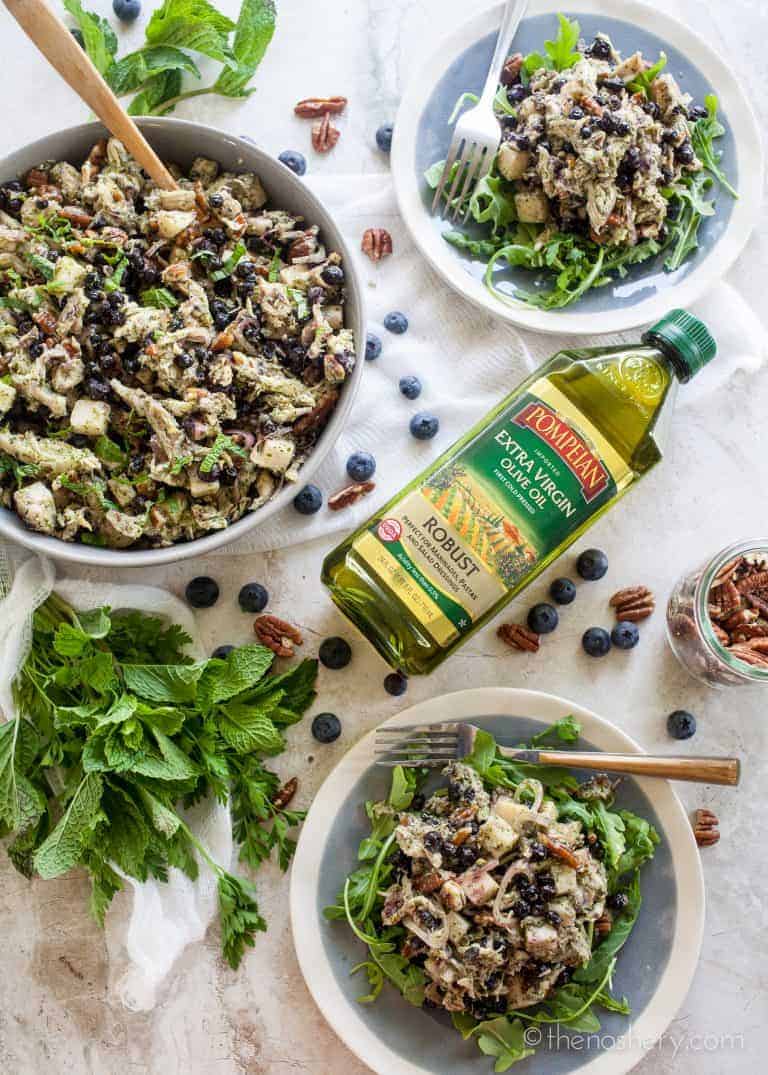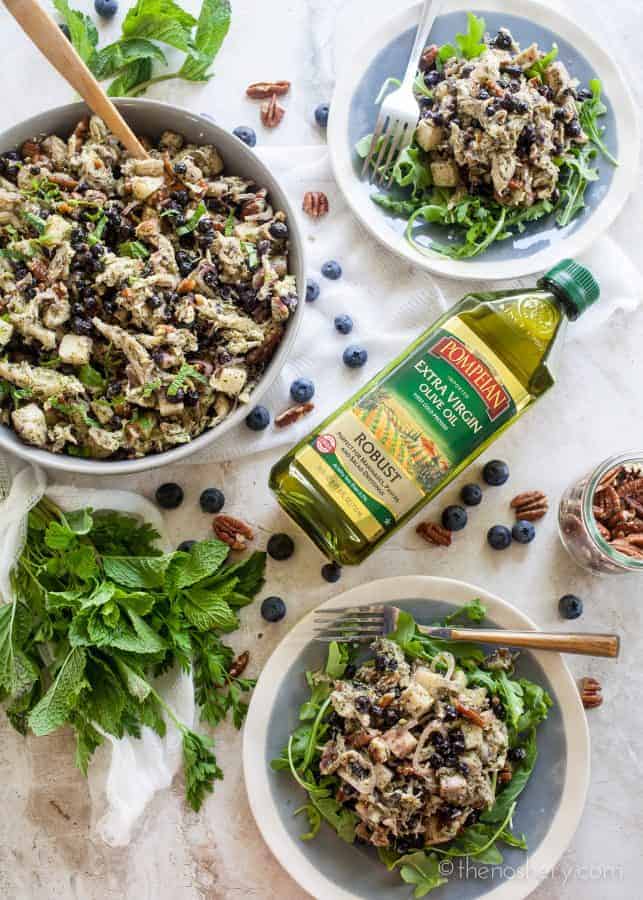 Making a large batch of chicken salad at the start of the week makes lunch easy. I love a traditional chicken salad but sometimes I'm not in the mood for mayonnaise or celery. To be honest I'm never in the mood for celery unless it has been cooked into oblivion. But, I will save my feeling about celery for another day.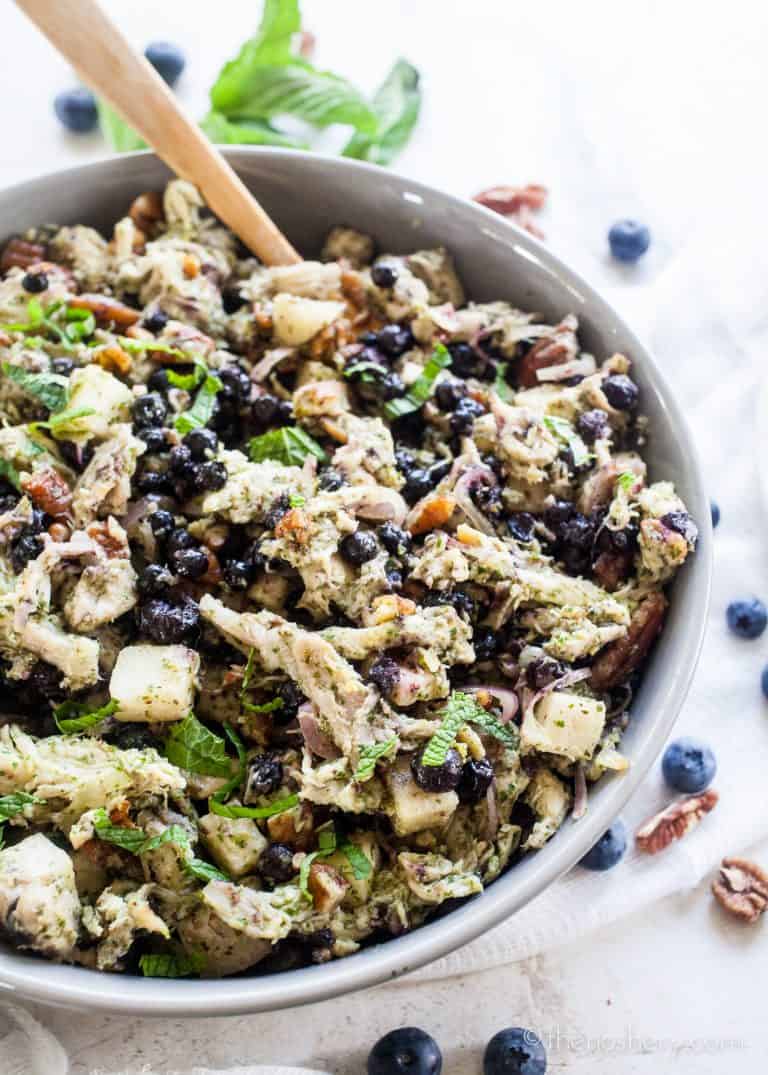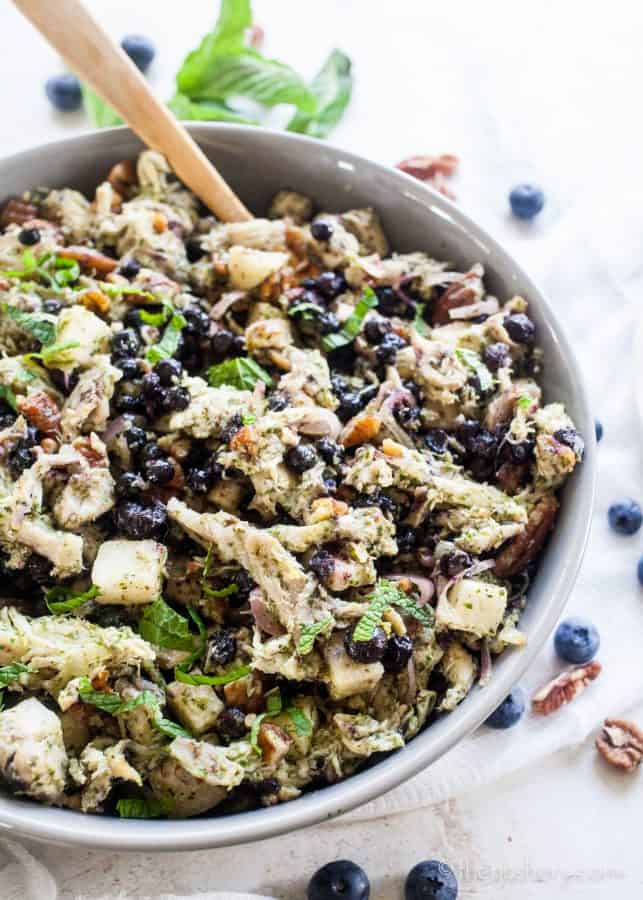 Today I am going to share a recipe that changes the chicken salad game. No mayonnaise or celery in this chicken salad. This chicken salad is light, bright, and perfect in a sandwich or on a bed of greens. The chicken salad starts with picked rotisserie chicken, dry wild blueberries, toasted pecans, shaved shallot, and crispy jicama. Jicama is a root vegetable that can be served raw. It is lightly sweet and crisp like an apple. If you cannot find jicama feel free to substitute with crispy green apple.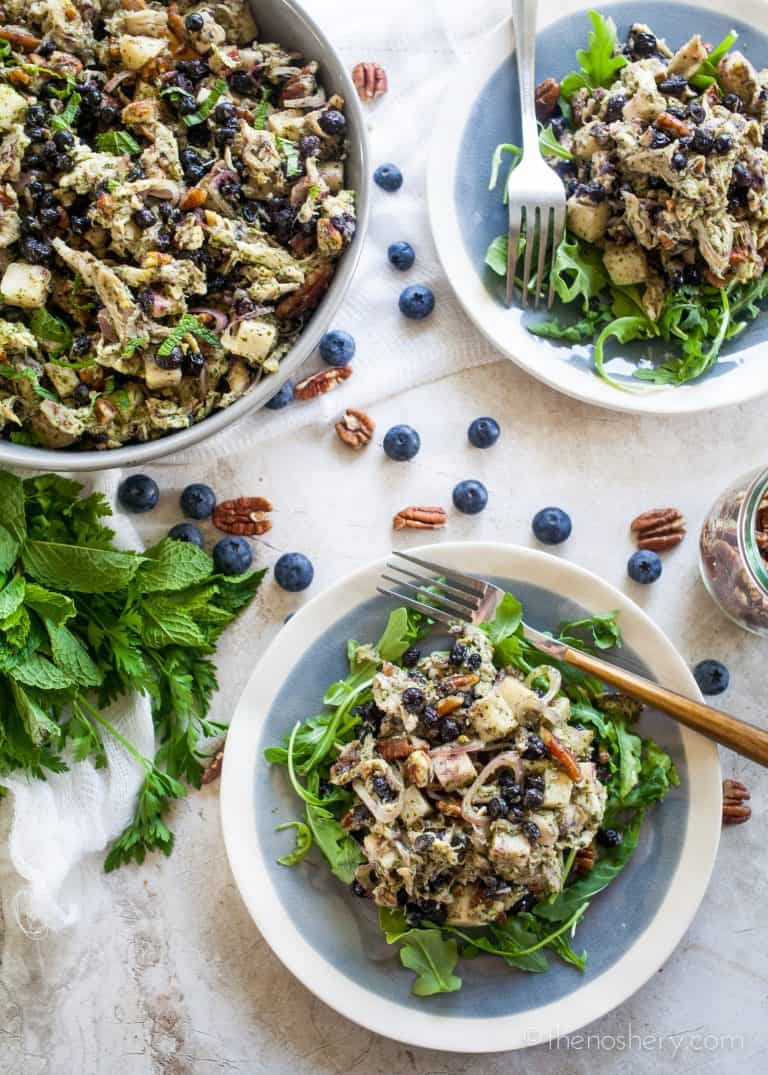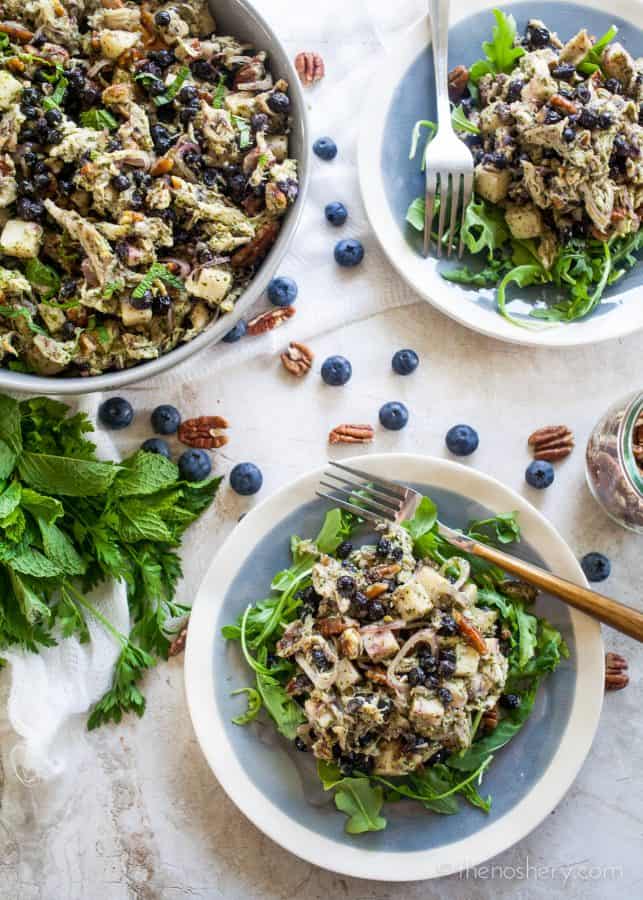 What gives this chicken salad it's flavor is the mint chimichurri dressing. Chimichurri is typically made with parsley, cilantro, olive oil, and vinegar But, mint and lemon are a great complement to blueberries so, I though a mint and lemon juice chimichurri would be great!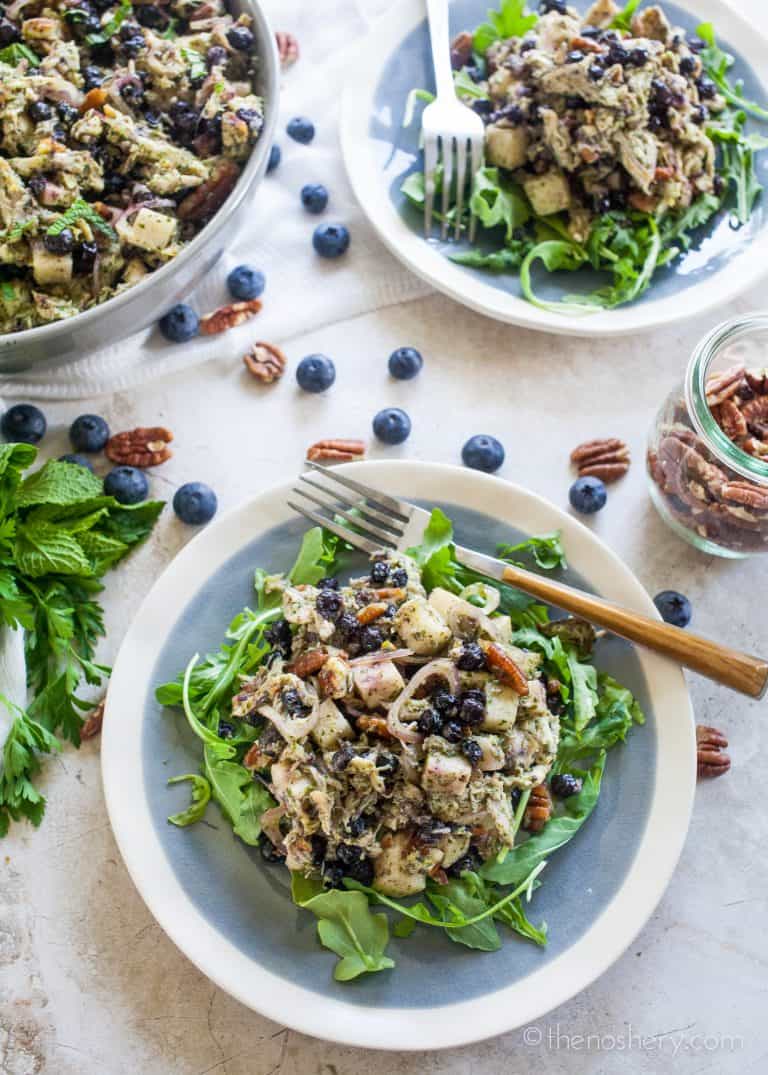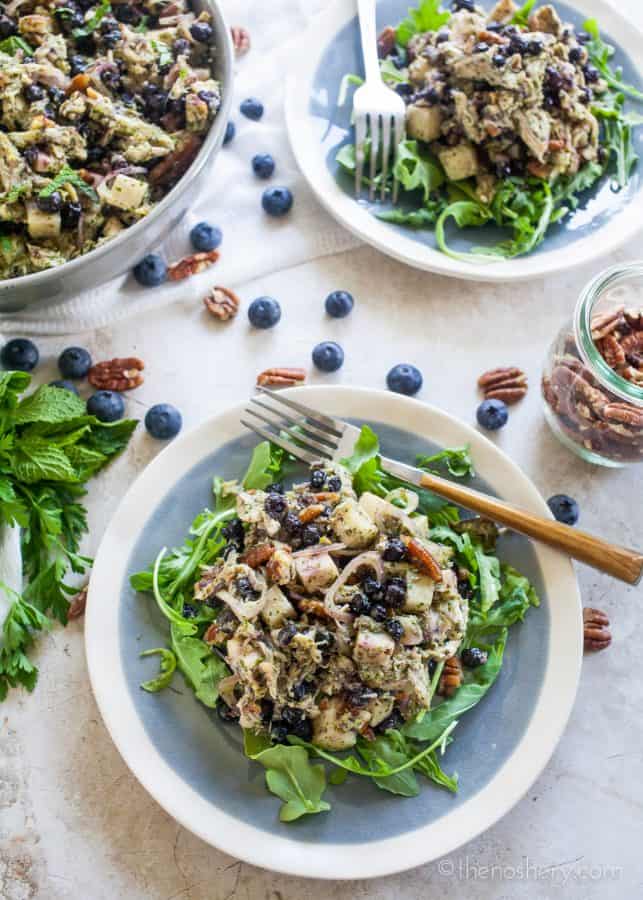 Chimichurri is one of my favorite condiments! I would describe it as a cross between a pesto and a vinaigrette. It's originally from Argentina and is typically served alongside grill meats. But, I can put it on virtually anything. In order to make a good chimichurri, it's important to have fresh herbs and quality olive oil. I love Pompeian Oils and for this recipe, I used Pompeian Robust Extra Virgin Olive Oil. Its robust flavor makes it perfect for dressings and marinades.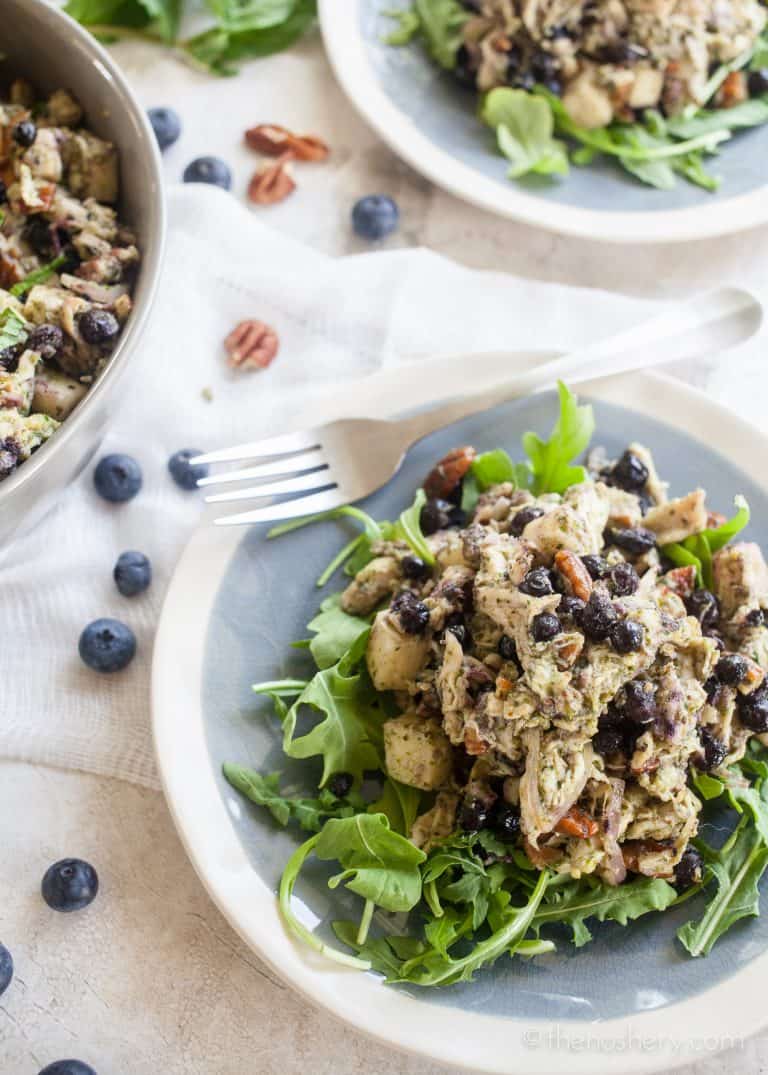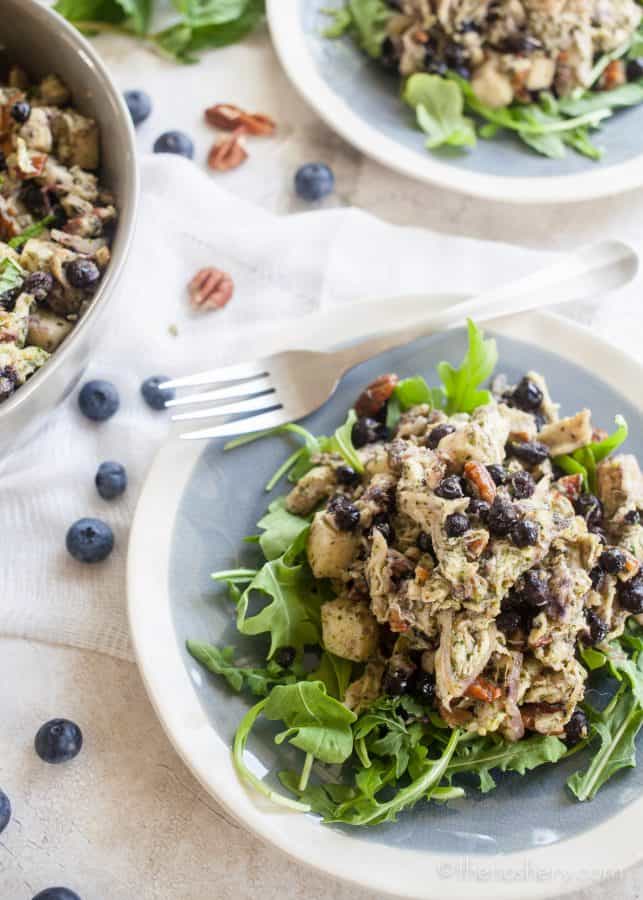 I have been using Pompeian for years because I love it and I know it's quality olive oil. Below are a few tips to help you identify quality olive oil.
5 ways to Identify Quality Olive Oil
Look for the Non-GMO Project verification seal.  All of Pompeian Olive Oils are made in compliance with the Non-GMO Project Verified Standard.
Look for the USDA Quality Monitored Seal. Pompeian was the first national brand to carry the seal through the USDA's Quality Monitored Program. Samples are tested for sensory, quality, purity, and origin to make sure every bottle is a quality product.
Look for the North American Olive Oil Association (NAOOA). Products that carries the NAOOA seal undergo frequent testing. It is also the only program where the oil is sampled from the store. Pompeian was the first brand of olive oil to carry this seal.
The olives' lot number and country of origin should be on the bottle to ensure traceability from farm to table.
Look for bottles that are darker in color. This helps prevent oxidation of the oil, keeping it fresher longer. Store your olive oil away from heat and light.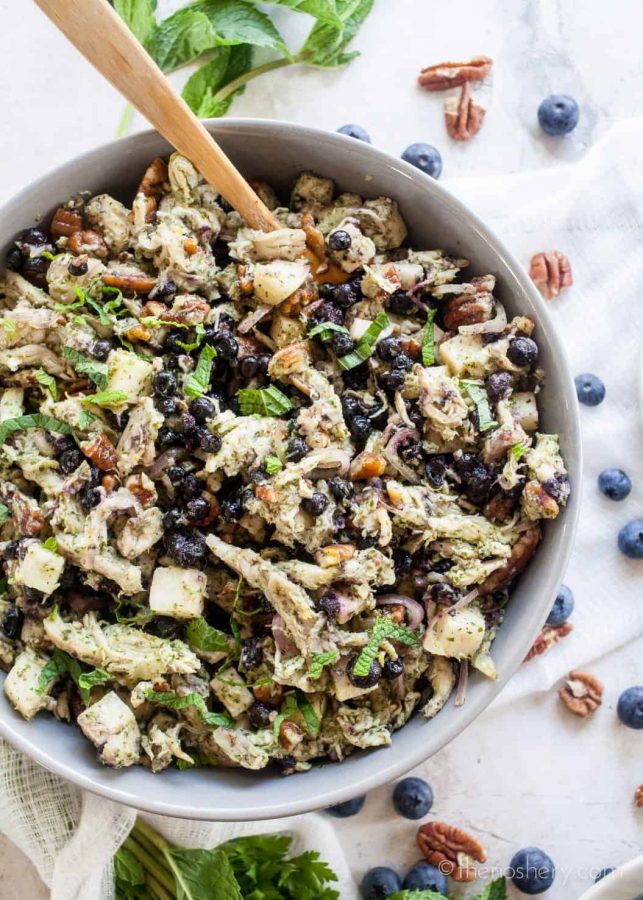 Even if you are a chicken salad purist you must try this version! It's sweet, tangy, crisp, and fresh and I am confident that it will become a regular part of your lunch rotation!
You know what else is also great for lunch? Hummus! Especially this Tamarind & Za'atar Hummus!

Yield: 6
Blueberry and Pecan Chicken Salad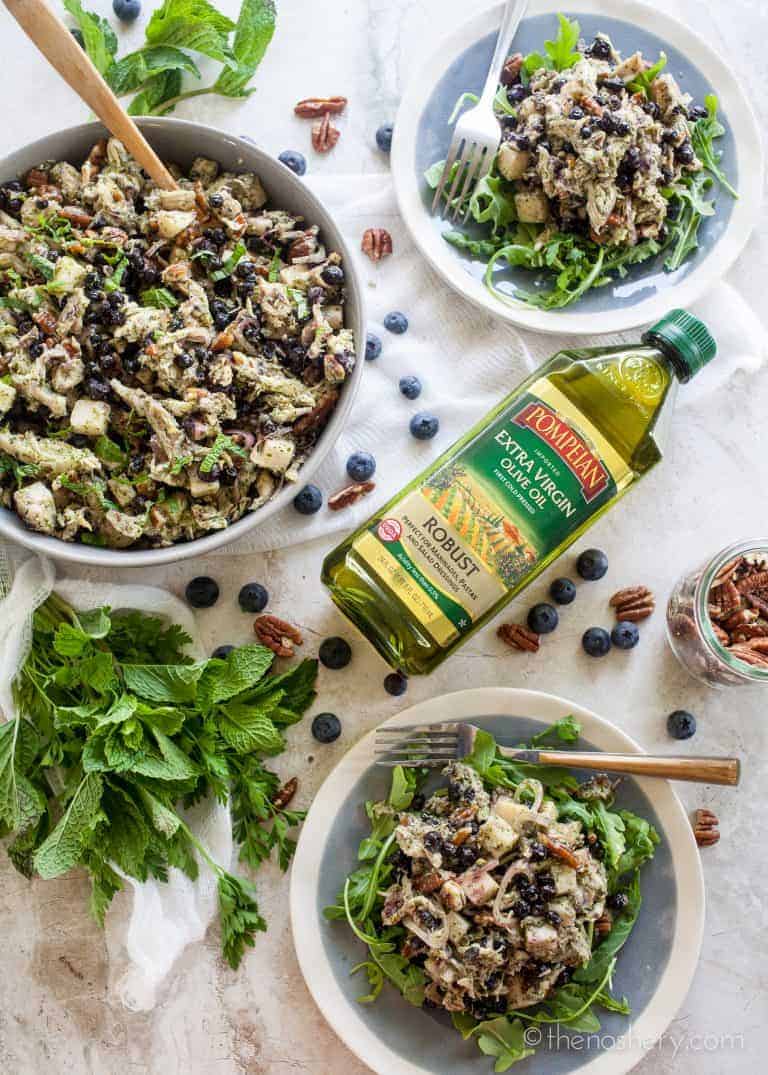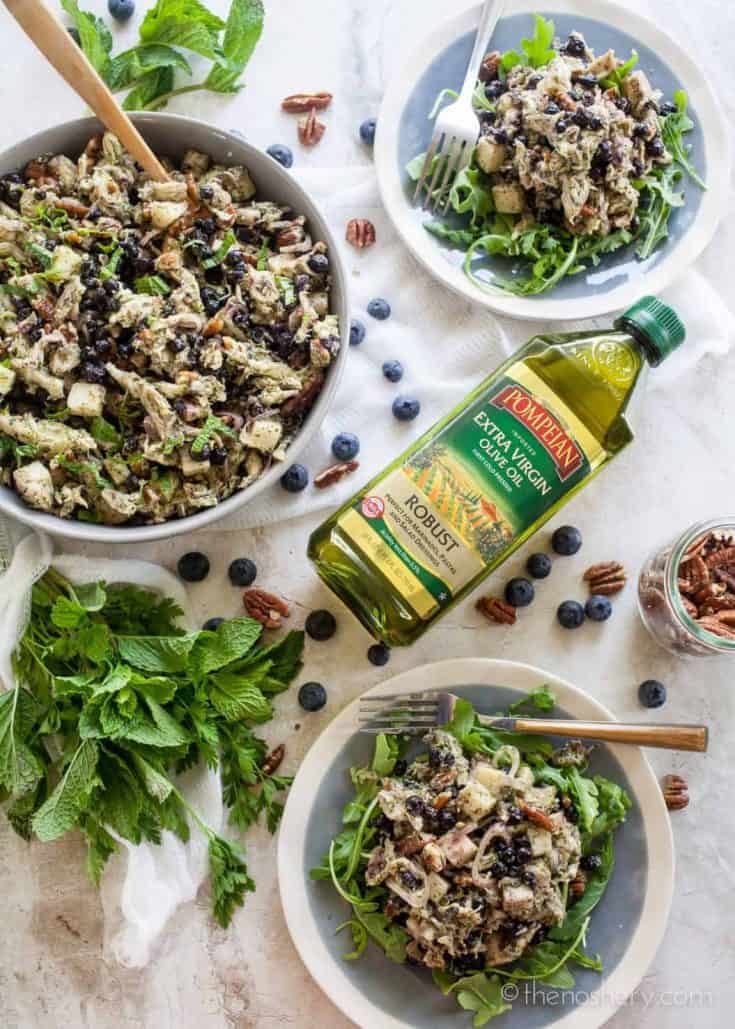 Ingredients
Salad
[br]
1 whole rotisserie chicken
10 ounces dried wild blueberries
1 1/2 cups pecan halves
2 cup small diced jicama
1 shallot, thinly sliced
[br]
Dressing
[br]
1 cup parsley leaves
1 cup mint leaves
¼ cup lemon juice
1 tablespoon red wine vinegar
zest of 1 lemon
2 cloves garlic
salt and pepper
Instructions
Heat oven to 350 degrees. Spread pecans in a single layer on a baking sheet. Roast in the oven for 5 minutes or until fragrant. Pour pecans onto a cutting board to cool. Roughly chop pecans.
Remove the skin and pick the meat of the rotisserie chicken. In a large bowl combine chicken, chopped pecans, blueberries, shallots, and diced jicama.
Add dressing ingredients in a blender or food processor. Process until smooth and emulsified. Season dressing with salt and pepper to taste. Pour over chicken salad and toss until well combined.
Serve immediately or cover and refrigerate for an hour to let flavors develop.