Roasted Butternut Squash and Red Onion with Pears & Blue Cheese | We are in that weird phase where the weather can't decide if it's warm or cool outside, so I am willing Fall into existence. We need Thanksgiving, Christmas, and New Year to get here ASAP. None of this hot weather every few days nonsense.
I think I have exclaimed enough about how much I absolutely LOVE Fall.  It is absolutely the best time of year!  I guess if you like to marinate in your own sweat and have your thighs stick together, Summer is the season for you, but I am a Fall girl through and through.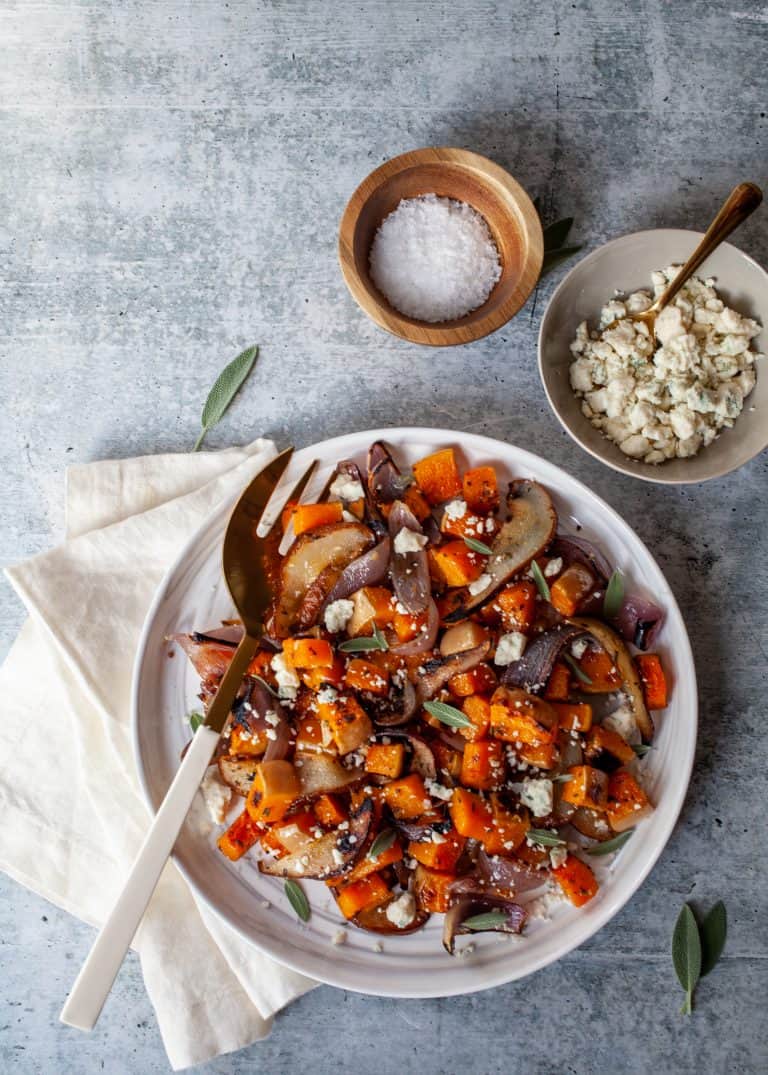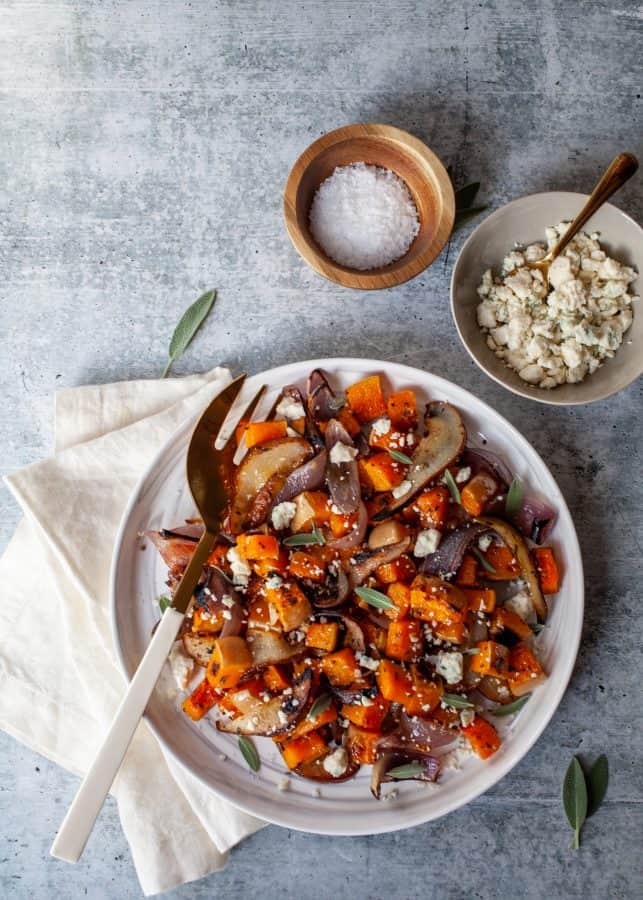 So I went to the grocery store and got a bunch of butternut squash because, aside from pumpkin, is there anything more fall than butternut squash? I think not!
While I was there, a few other ingredients jumped into my cart. Someone might not think these ingredients go together, but trust me. Together, they form one of my favorite side dishes of all time.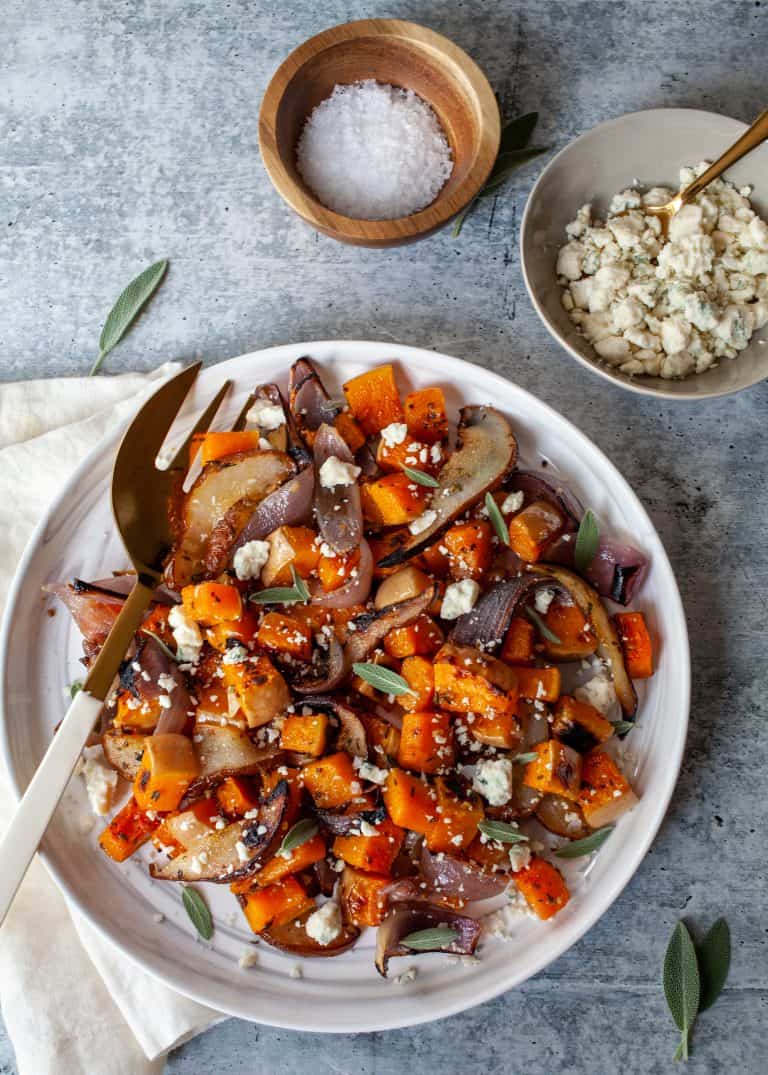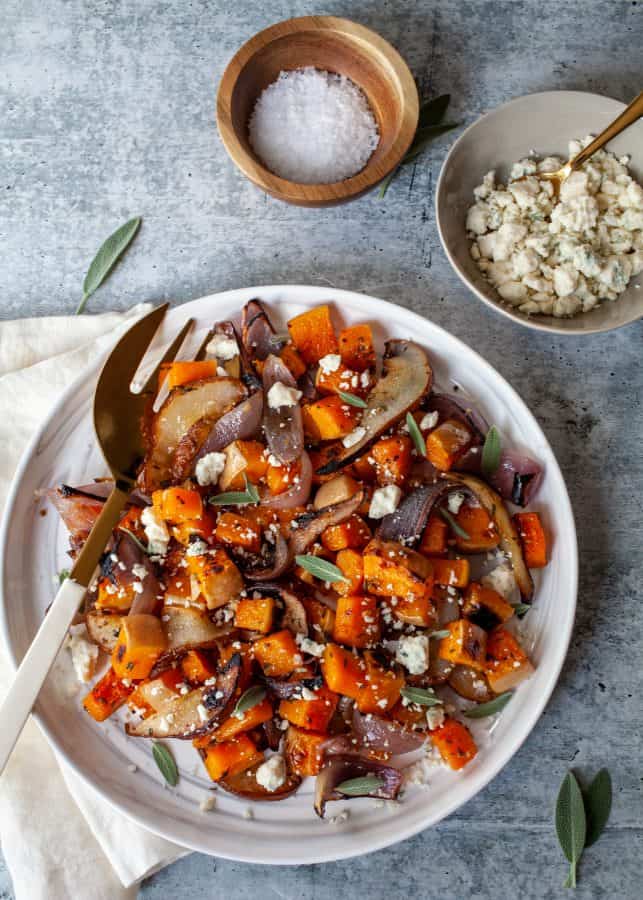 What's in Roasted Butternut Squash and Red Onion with Pears & Blue Cheese?
a Bosc pear 
butternut squash 
onion
dried cranberries
melted unsalted butter
fresh sage
fresh thyme
Kosher salt and black pepper
whole-grain mustard
crumbled blue cheese
Two of my favorite things about Fall are butternut squash and pears.  I love pears, any variety of pears.  They are so sweet and juicy and they barely have a core that you need to fiddle around with. Bosc pears hold up well since other varieties might cook faster than the squash.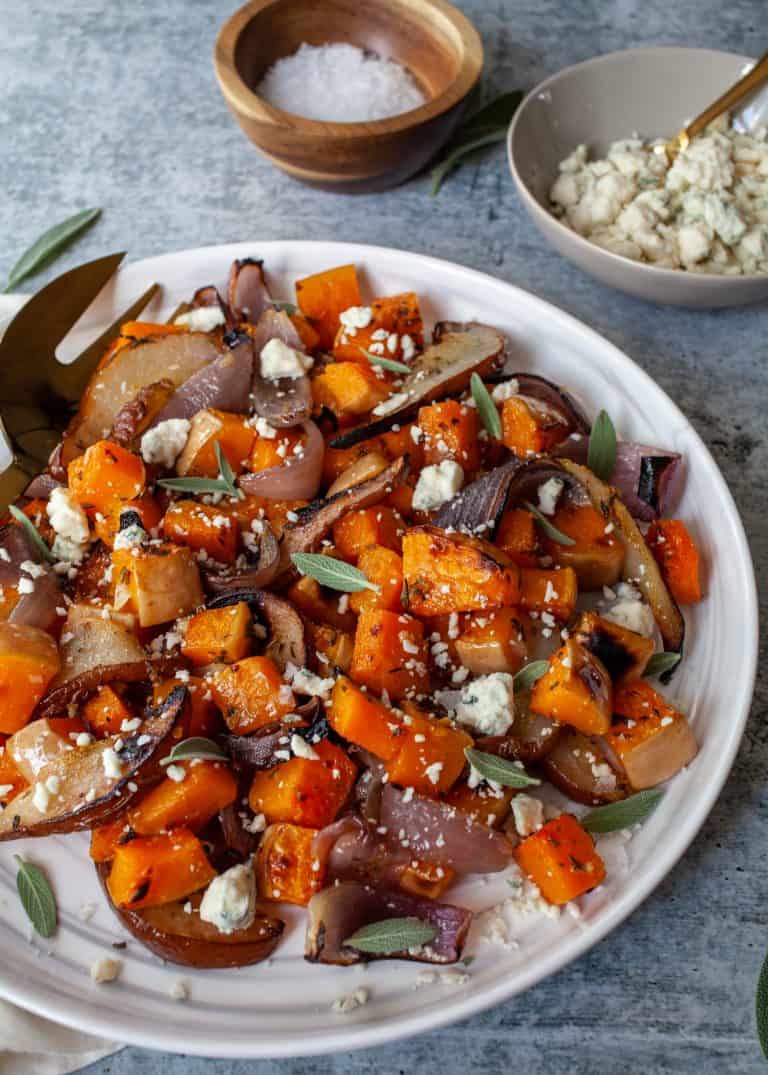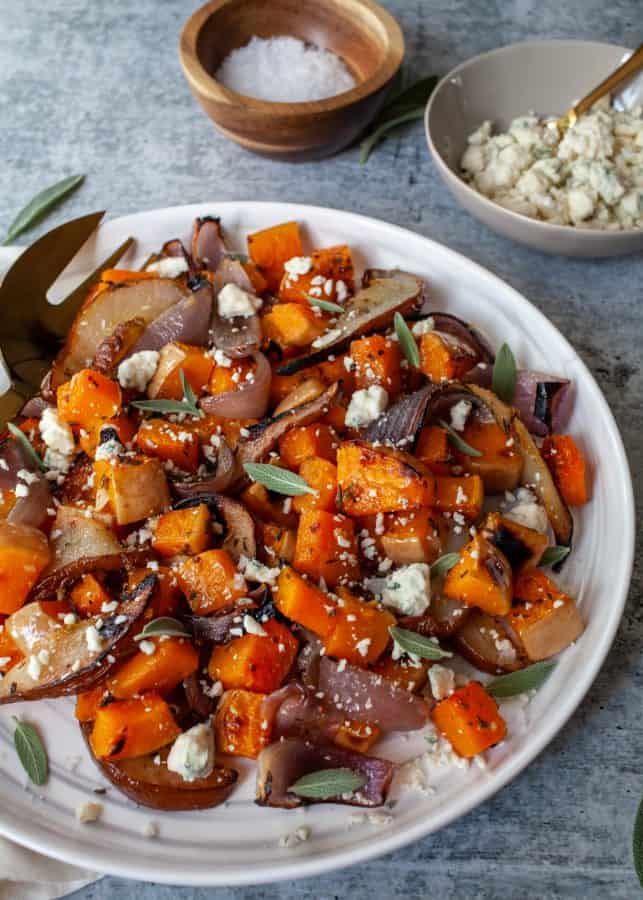 Add in some blue cheese and onions and you have a dish that's delightfully sweet from the squash and pears, earthy from the herbs, tangy from the blue cheese and mustard, and savory with the onions. Then there's the occasional burst of cranberry!
This recipe originated when I had some butternut squash leftover from an Autumn Chicken Pot Pie that I had made earlier in the week (Another tasty one, if I do say myself),  and the rest was history!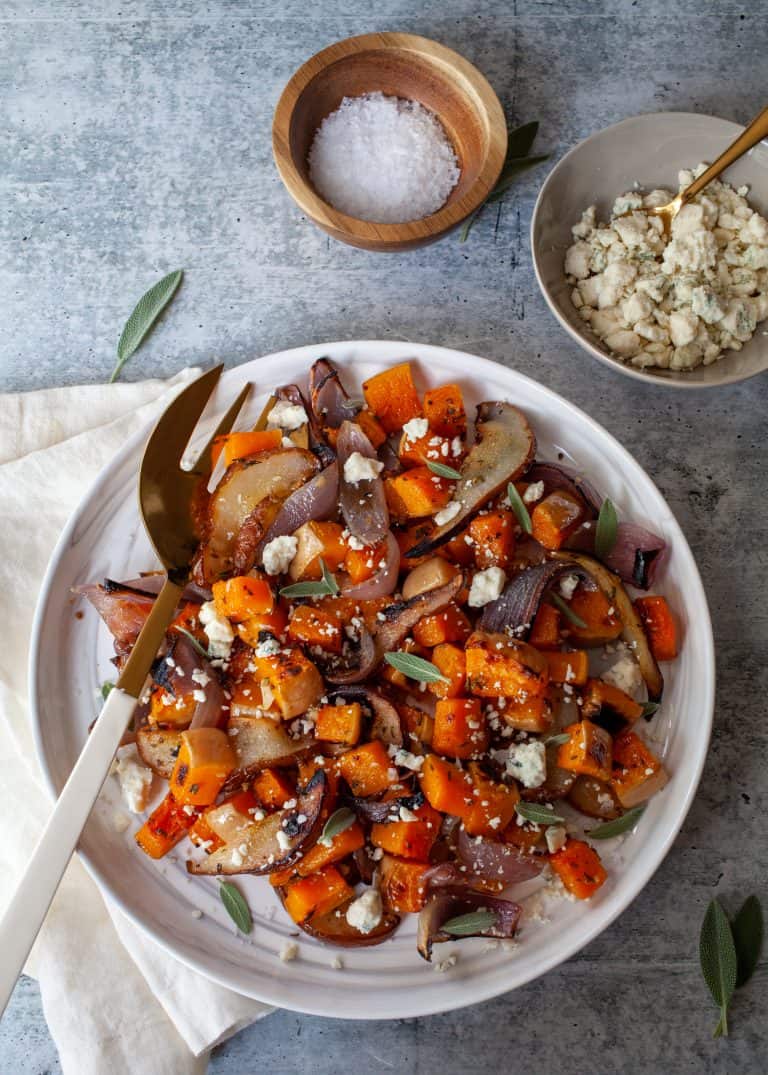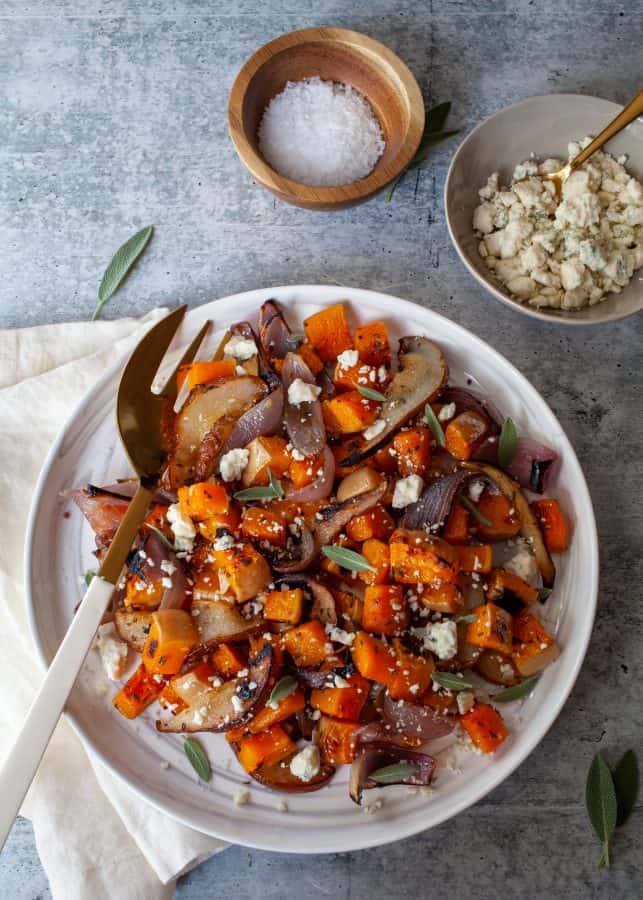 How to Make Roasted Butternut Squash and Red Onion with Pears & Blue Cheese 
Start by preheating the oven to 400 degrees F. While that's going, slice the pear in half and remove the core, slice it, and place the slices in a large mixing bowl. Carefully cube the squash, chop the onion into wedges, and add everything to the bowl with the pears.
Next, melt some butter in a small pot, and when it's nice and hot, add the fresh herbs and mustard seed. Let it bubble for a minute or two, watching carefully so the herbs don't burn. Your kitchen should be smelling nice right about now. 
Pour the herbed butter mixture over the bowl with  the squash, onion, cranberries, and pears. Add a pinch of salt and pepper and gently fold the ingredients until the butter has coated everything nicely.  Finally, this all goes into a big casserole dish or two baking sheets and into the oven to do its thing.
When it's ready, about 45-50 minutes later, remove from the oven when the vegetables and pears are tender and caramelized. But wait, there's more! Make this dish complete by scattering the crumbled blue cheese on top and baking for another five minutes or so.
You'll want to serve this right away, preferably with some rotisserie chicken for an easy dinner tonight. And this year, it's definitely going on my Thanksgiving table.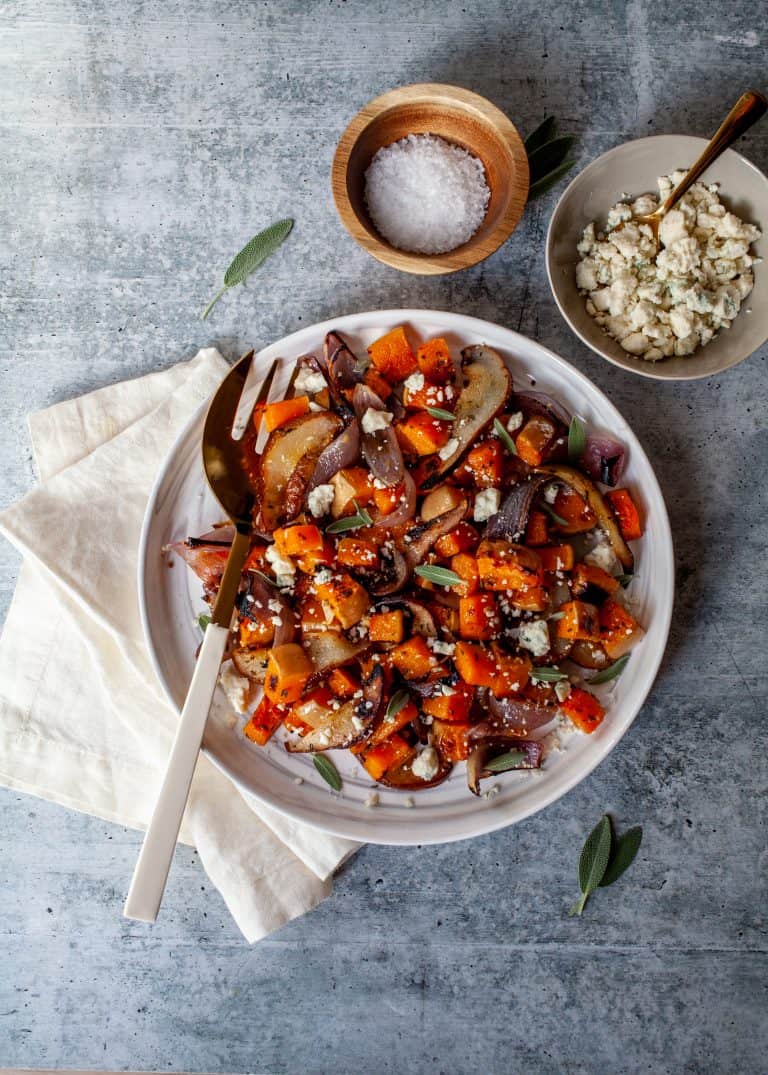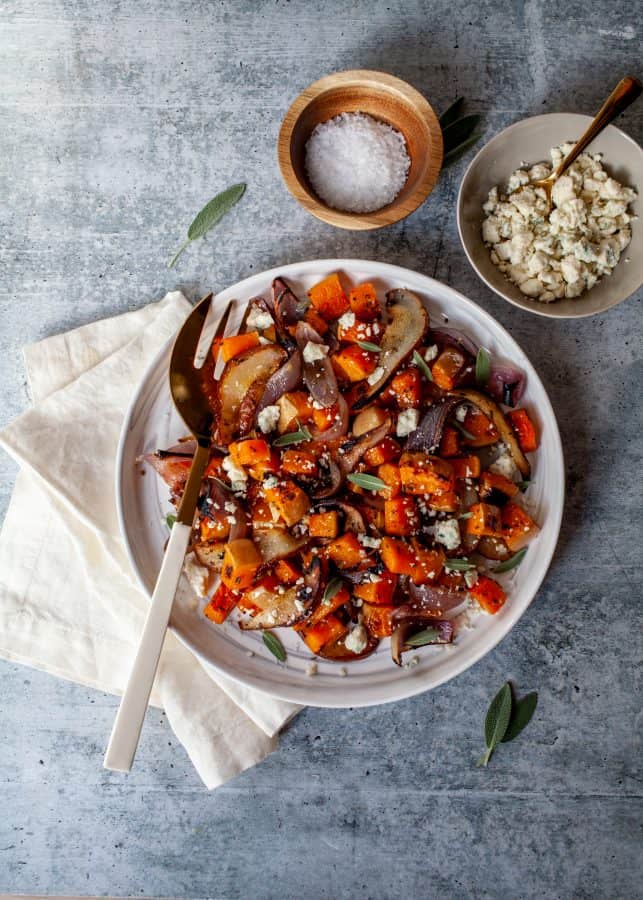 Doesn't Butternut Squash have to be Peeled Before Roasting?
It actually does not need to be peeled. Where many people peel it before roasting, the skin of butternut squash (like most winter squashes) is edible. Yes, you read that right. Of the winter squashes, however, it has a thicker skin, so if you prefer, you can remove it.
Substitutes for Blue Cheese
Though I'm partial to blue cheese, I get that not everybody is. In fact, I was a little worried my husband wouldn't like it because he doesn't like strong cheeses, but he did.
You can easily sub this dish with feta cheese, Gorgonzola, or goat cheese. If you prefer milder cheeses, shredded fontina, gruyere, or pecorino can also work.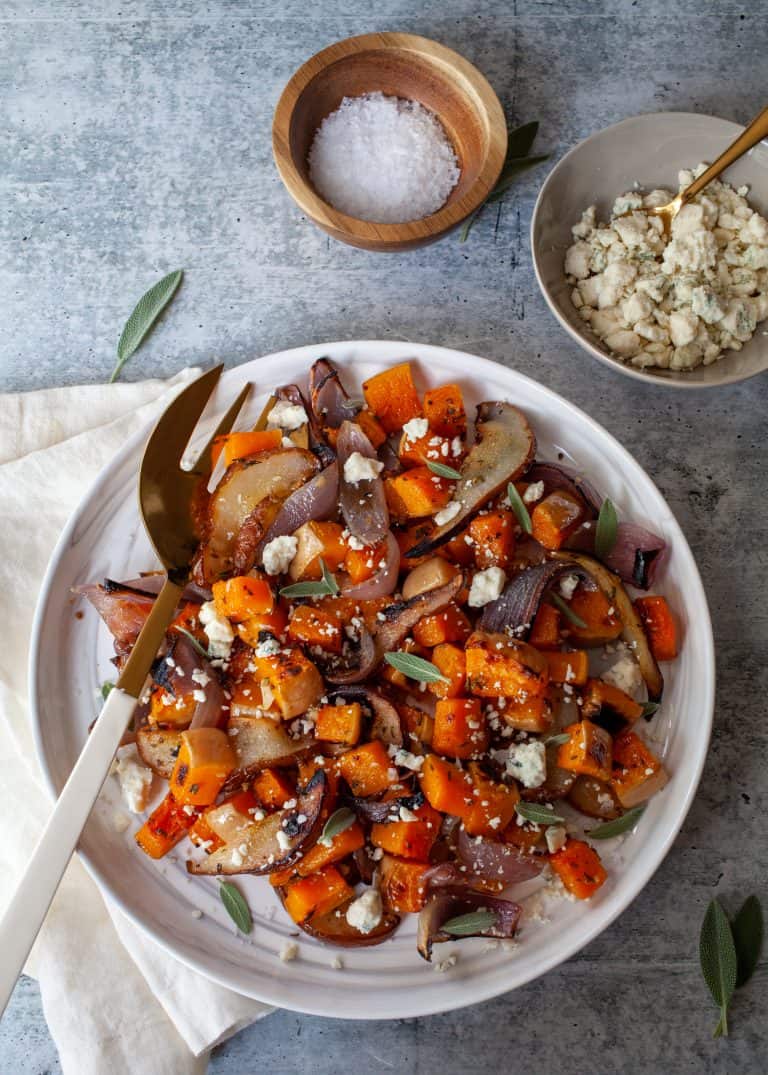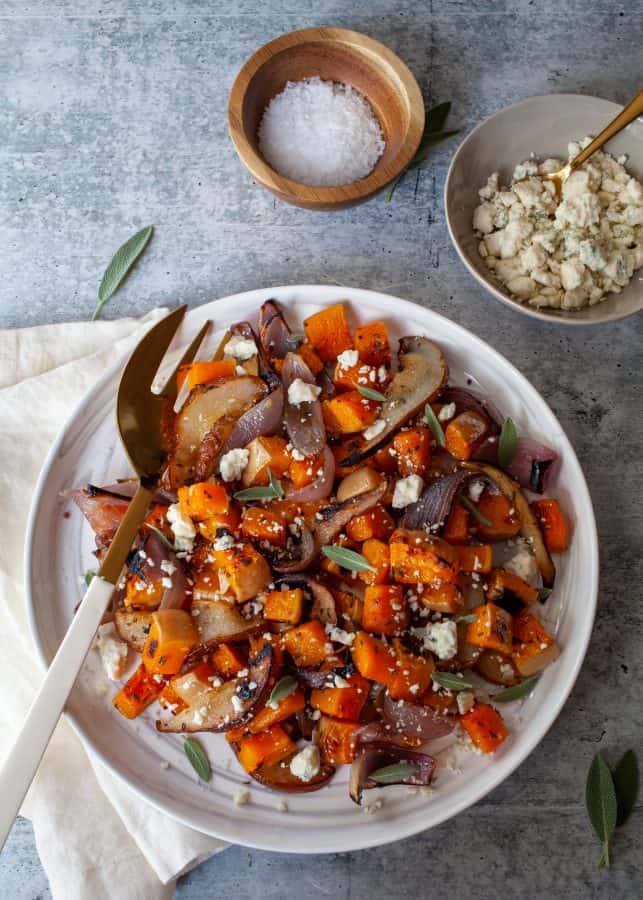 Fall is in the air 
Not only was it delicious, but this roasted butternut squash and red onion dish did the trick. We are in full fall mode here, people. In fact, I'm already thinking of Thanksgiving. It will be here before we know it, and if you need more suggestions, I have plenty!
When we think of Thanksgiving, the obvious menu involves turkey, gravy, maybe some cranberry sauce. But mostly turkey. This year, you can try this roast turkey breast, which is perfect for a smaller crowd, Thanksgiving turkey pavochon, this super flavorful apple cider glazed turkey, or an herb roasted turkey breast.
If you really want to mix things up, you can eat what we'll be having, this apple cider pork. (You're not surprised, are you?) Is it wrong to pick your main course around what goes well with roasted butternut squash and red onions?
If it's wrong, we don't want to be right.
more fall veggie dishes
Yield: 4
Roasted Butternut, Red Onions, & Pears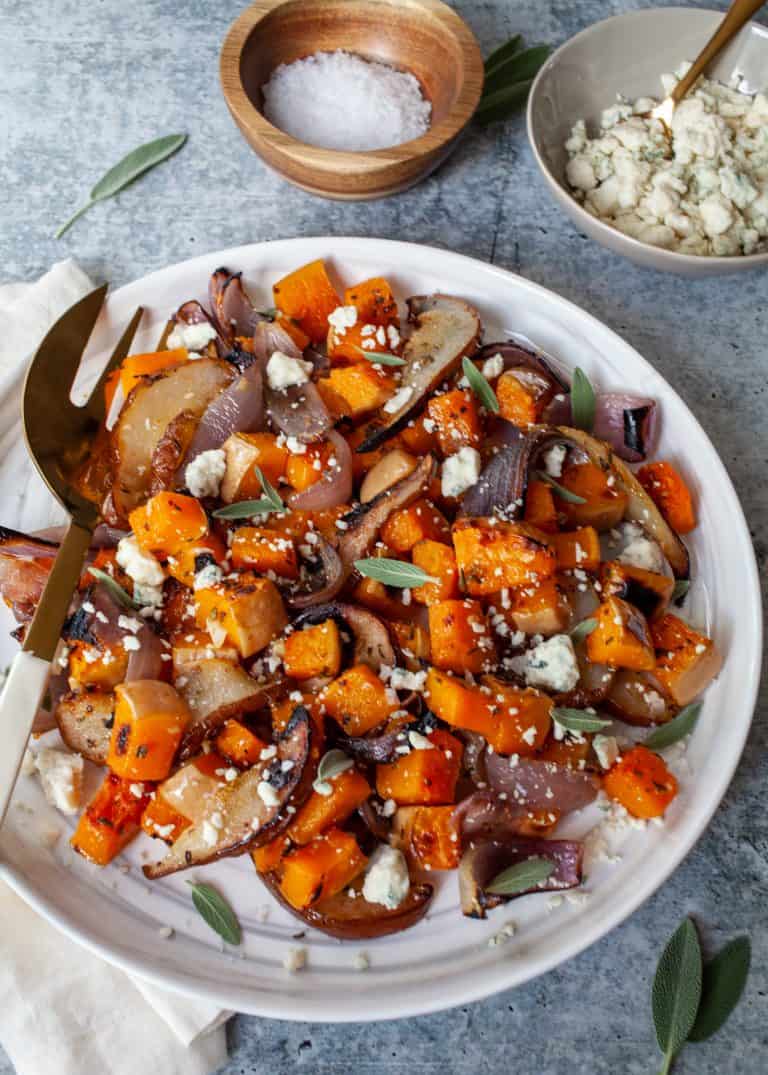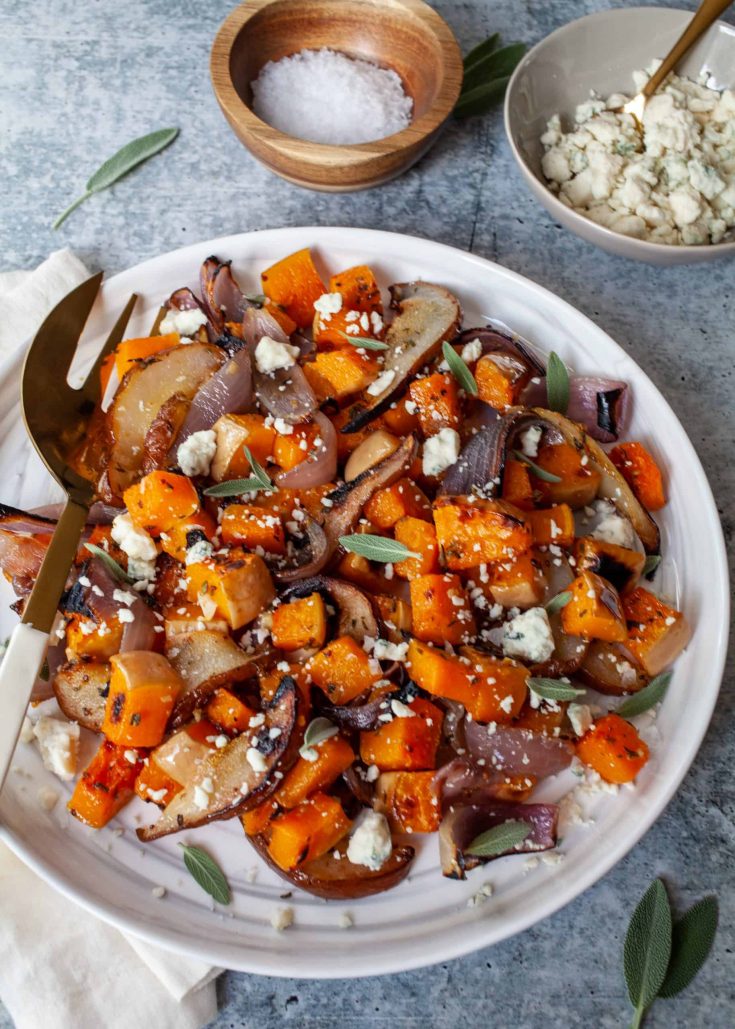 Ingredients
1 large Bosc pear, sliced
a small or 1/2 medium butternut squash (about 3/4 pound), halved, seeded, and skin on
1 yellow onion, peeled, root end trimmed but intact
1/3 cup dried cranberries
3 tablespoons unsalted butter, melted
2 teaspoons chopped fresh sage
2 teaspoons chopped fresh thyme
Kosher salt and freshly ground black pepper
2 tablespoons whole-grain mustard
1/3 cup crumbled blue cheese (about 1 1/2 ounces)
Instructions
Preheat the oven to 400 degrees F.
Half and core the pear, slice your pear, and put them in a large bowl. Cube the squash and cut the onion into wedges and add them to the pears.
On stove top, melt the butter, add the sage, thyme and mustard seeds, and cook until it begins to bubble, about 1-2 minutes. Gently combine with squash, onion, cranberries & pears. Season with salt and pepper and toss again. Pour into roasting pan.
Bake until pear, squash, and onions are tender and caramelized, about 45-50 minutes. Scatter the cheese over top and bake until melted, about 5 minutes more.
Serve immediately.
One More Thing!
Rebecca and I launched the My Plate is Always Full Podcast! Just two friends and former chefs talking obsessively about food. You can go and subscribe now!
New episodes released every Wednesday!
In the meantime follow us on Instagram @my.plate.is.always.full  or visit our website!